5 Best Spots for a Happy Hour in Vancouver
After a long day at work, you deserve to grab a meal and a drink without breaking the bank.
We have already found the best happy hour spots in Edmonton. It is only right to find the places that offer the best happy hour in Vancouver!
In this review, we have gathered the best places with amazing but affordable food and drink around the city. Continue reading to see which ones offer the best deals that suit your taste.
How Much Do Happy Hour Food and Drinks Cost in Vancouver?
The cost of meal deals during happy hour varies greatly depending on the restaurant's offers and the type of food or drink you order. You can use the table below to gauge the maximum prices of great spots during happy hours in Vancouver.
| Happy Hour Spot | Prices |
| --- | --- |
| Rogue Kitchen | Food: $12.99 below Drinks: $6.99 below |
| Coast | Food: $15 below Drinks: $10 below |
| The Keefer Yard | Drinks: $10 below |
| The Flying Pig Bar | Food: $12 below Drinks: $8 below |
| Joey's Restaurant | Food: $24 below Drinks: $9 below |
Top Happy Hour Places in Vancouver
To find the greatest happy hour deals in Vancouver, we sifted through all the bars and restaurants and picked the best using the following criteria:
1. Rogue Kitchen & Wetbar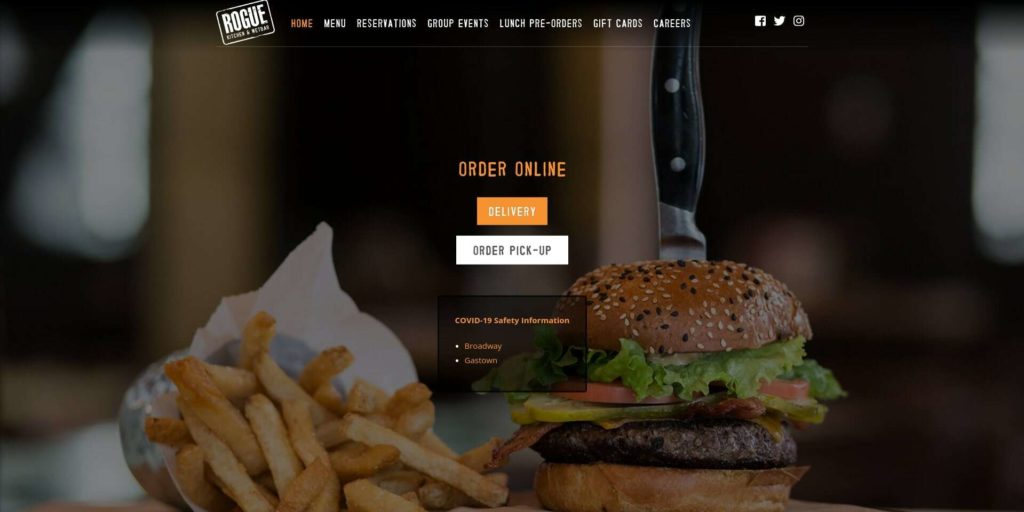 Test
Info
PRODUCTS
Beer

Wines

Craft

Mules

Cocktails

Tequila

Tacos

Nachos

Dry Ribs

WEBSITE

[email protected]

ADDRESS
Gastown: 601 W Cordova Street Vancouver, BC V6B 1G1 Broadway: 602 W Broadway Vancouver, BC V5Z 1G1
CONTACT DETAILS
Gastown:

604-678-8000

Broadway:

604-568-9400

Email: [email protected]

OPERATING HOURS

Monday to Sunday: 11:30 AM to 12:00 AM

Happy hours:

Monday to Saturday: 2:00 PM to 6:00 PM; 9:00 PM to closing

Sunday: All day
| | |
| --- | --- |
| Criteria | Ratings |
| Wide selection of food and drinks | ★★★★☆ (4/5) |
| Low prices | ★★★★☆ (4/5) |
| Happy hour timing | ★★★★★ (5/5) |
One of our picks is the Rogue Kitchen & Wetbar. The first of their strengths is that the Rogue Kitchen offers a long list of food and drinks during their happy hours.
In most bars, the company only serves alcoholic drinks at a discount. However, Rogue Kitchen not only offers a wide variety of discounted beers, cocktails, and wines: they also offer good food alongside them.
Some of their drinks include craft beer at $2 off per pitcher and an 18 oz session lager for $6.99, for example.
Another strength of the Rogue Kitchen is that they serve generous portions of food. For example, you can order a very large plate of nachos for only $12.99.
In addition, the restaurant's ambiance and design is simply unique. The Rogue Kitchen combines vintage wood and brick design with modern architecture, which results in a familiar yet nostalgic vibe.
To get more insight into the restaurant's services, we asked a few customers for their opinions. One of the customers stated that the bar offers great deals due to a mix of good pricing and generous food portions.
However, some complained that there were instances when the food they received was cold and stale.
Regardless, the customers say that the bar makes the food complementary if they serve such food by mistake.
A combination of great service and amazing meals gives the Rogue Kitchen a spot in our list. Luckily, their deals are available at two different locations in Vancouver!
Two different locations
Generous portioning of food
All day happy hours on Sundays
Available for reservations
Inactive social media
Reports of stale food
Customer Reviews
Beautiful venue
The decor and atmosphere are unique and beautiful. We enjoyed the Sunday happy hour pricing on drinks and appetizers. The sweet chilli cauliflower was our favourite appetizer and pink lemonade cocktail. – Jessica D, Google Reviews
Wonderful service from attentive staff
Randomly stumbled on this place while in town. Was pleasantly surprised by the beautiful atmosphere, great all day (Sunday) happy hour and wonderful service! I believe Jenn (? Green and pink accents in her hair- which looked killer btw) was our server. She was very engaging and attentive. We had a great experience! 10/10 recommended! -Jillian L, Google Reviews
2. Coast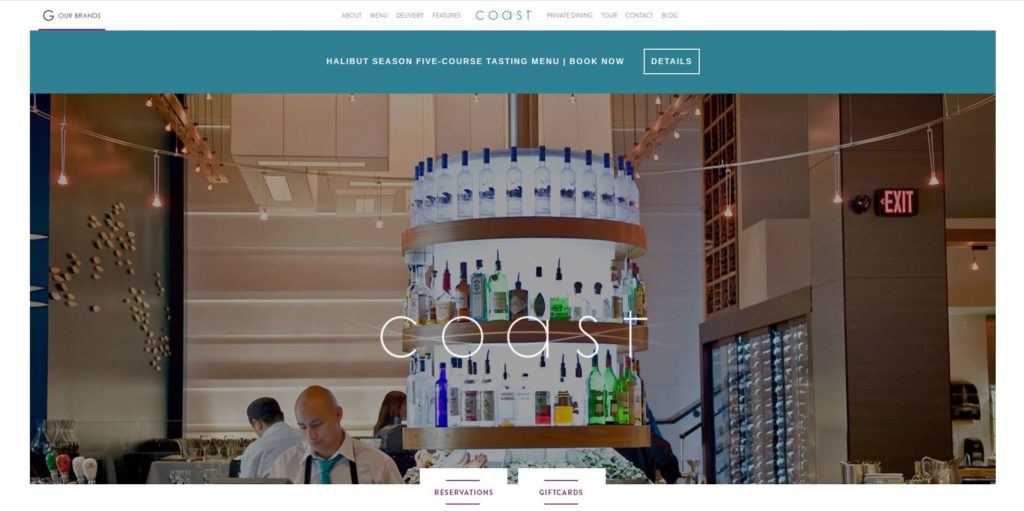 Test
Info
PRODUCTS
BeersWines

Cocktails

Salads

Seafood Dishes

WEBSITE
https://www.glowbalgroup.com/coast/#
ADDRESS
1054 Alberni Street, Vancouver, BC V6E 1A3
CONTACT DETAILS
604-685-5010

Email: [email protected]

OPERATING HOURS
Weekdays: 11:30 AM to Late

Weekends: 2:30 PM to Late

Happy hours:

Daily: 2:30 PM to 5:30 PM
| | |
| --- | --- |
| Criteria | Ratings |
| Wide selection of food and drinks | ★★★★☆ (4/5) |
| Low prices | ★★★★☆ (4/5) |
| Happy hour timing | ★★★☆☆ (3/5) |
Up next on our list is Coast. Coast is a restaurant that has a fancier vibe when compared to others in the list, so it may be a good place to go if you want something a bit more polished.
Aside from their unique ambiance, what sets the Coast apart is their focus on seafood. Their lunch, dinner, and happy hour menus are mostly composed of fish, shrimp, and other sea creatures.
Is it good? We think so – most of what we tried certainly tasted fresh, which is especially important when you're talking about seafood.
Prices are good too, as you can get a host of appetizers for less than $15, including sushi, prawn cocktails, and salads. The drinks are even cheaper, which are available for $10 below, including martinis and cocktails.
However, one of the downsides of the Coast is the duration of their happy hour deals. Their offers are only available for 3 hours a day, so you will have to move very quickly after work if you want to get food and drinks for cheap.
Regardless, many of the customers we interviewed were happy with the atmosphere, food, and service that the restaurant offers. All of these combined earn the Coast a spot on our list.
Offers a wide range of seafood options
Ambiance and dining is fancier than most competitors
Customer Reviews
Fresh and delicious seafood
Hands down one of the best seafood towers I have ever tried. Everything was super fresh and the sauces were amazing. I would definitely come back for it. –Mercedez C, Google Reviews
Fantastic service
Beautiful resturant with an elegant but cozy atmosphere. Service was incredible and the food and drinks were fantastic. Highly recommend this place if you want some really good seafood from excellent chefs. –Netty, Google Reviews
3. The Keefer Yard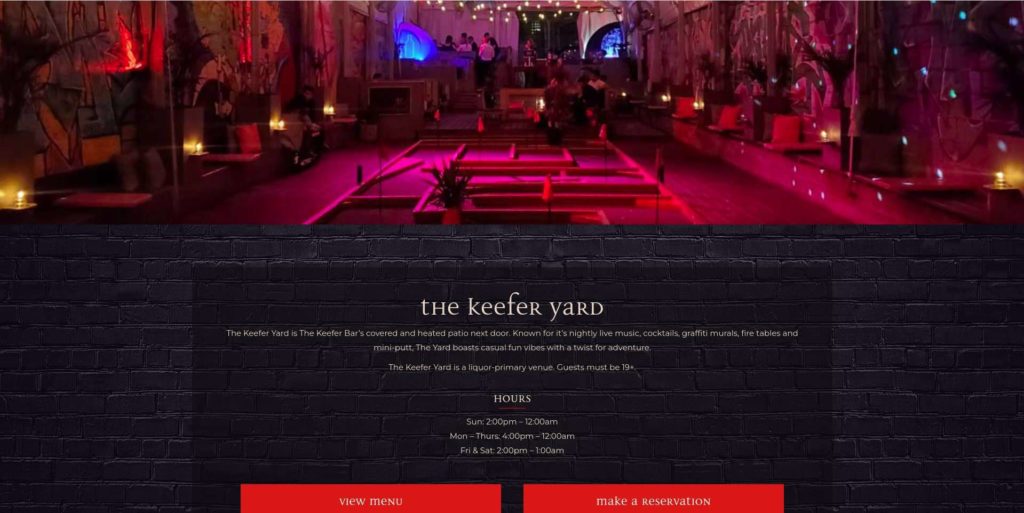 Test
Info
PRODUCTS
Beers

WInes

Cocktails

Snacks

Dumplings

Tacos

Desserts

WEBSITE
thekeeferbar.com/yard/
ADDRESS
135 Keefer St., Vancouver, BC V6A 1X3
CONTACT DETAILS

Email: [email protected]

604-688-1961

OPERATING HOURS
Sunday: 2:00 PM to 12:00 AM

Monday to Thursday: 4:00 PM to 12:00 AM

Friday and Saturday: 2:00 PM to 1:00 AM

Happy hour:

Monday to Thursday: 4:00 PM to 6:00 PM

Friday: 2:00 PM to 6:00 PM
| | |
| --- | --- |
| Criteria | Ratings |
| Wide selection of food and drinks | ★★★★★ (5/5) |
| Low prices | ★★★★★ (5/5) |
| Happy hour timing | ★★★★☆ (4/5) |
The Keefer Yard is set in a covered patio and is well known for the live music, drinks, and its casual vibe. Its decor feels cozier and more homely compared to the traditional brick-and-wood aesthetics other bars use.
The yard's casual tone is emphasized when you go on their website. If you open their site, you will be greeted by a direct yet humorous list of policies dubbed the "Keefer Code of Conduct."
Aside from their friendly feel, one of the things we like about the Keefer Yard is their wide selection of discounted drinks during happy hour. Most of their drinks offered are available for around $5, including some of their cocktails.
The food they serve is understandably not included in their happy hour discounts because they are already budget-friendly. For $10, you can get a brisket bao, dumplings, or a plate of Japanese cream puffs.
Another strength of the Keefer Yard is that they offer meals for the health-conscious. The bar offers and properly labels the vegetarian and gluten-free options they have on the menu.
If you decide to stay past their happy hour, you will be left with a lot more to do than you expect. The Keefer Yard offers a mini-golf course, which you and your friends can use for $10 per round.
If you want a change of pace, you can visit the Keefer Bar next door, which offers a more moody atmosphere and 25 different cocktails.
The perfect combination of affordable meals, the variety of drinks, and the myriad of things to keep you occupied earn the Keefer Yard a spot in our list.
Wide variety of food and drinks
Clearly labelled vegetarian and gluten-free meals
Numerous events to participate in
Only drinks are discounted during happy hour
Happy hour promos are relatively shorter compared to other bars
Customer Reviews
Wide selection of creative drinks
Incredible selection of spirits you won't likely find anywhere else. The drinks are super creative and delicious. Perfect cozy area for drinks with friends or a date night. The Keefer Yard next door has mini golf, but not as many drinks. Definitely worth checking out. –JB, Google Reviews
Quick service
Even after waiting a while for our initial drink orders to be taken at the Keefer Yard, we were very pleased by how quickly both the drinks and food came out. I absolutely love that this place does Dim Sum and it was delicious! Their cocktails are so creative, it was difficult to choose. The sangria was probably my favourite, but the Freezie was a close second. If you make a reservation for two, know that you will be sat in the centre of the yard which means your back will be to the wall, but it makes for cool photos!! We had to ask about the golf, but we did get to play (and bonus it's for charity). We will be back.
We did return to the Keefer Bar, which we assumed had the same menu as the Keefer Yard. We were delighted to find out the drink menu was completely different. Great place!! –Catherine B, Google Reviews
4. The Flying Pig Bar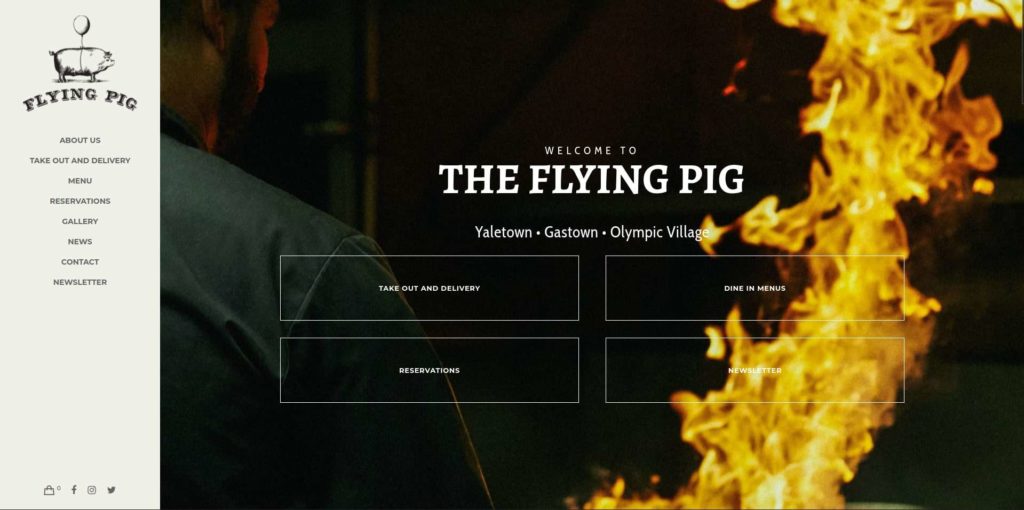 Test
Info
PRODUCTS
Beer, Wines, Sandwiches, Salads, Lunch And Dinner Options, Chicken Wings
WEBSITE
theflyingpigvan.com
ADDRESS
Yaletown: 1168 Hamilton Street, Yaletown, Vancouver BC Gastown: 102 Water Street, Gastown, Vancouver BC Olympic Village: 127 2nd Avenue West, Olympic Village, Vancouver BC
CONTACT DETAILS
Yaletown:

604-568-1344

Email: [email protected]

Gastown:

604-559-7968

Email: [email protected]

Olympic Village:

604-569-1111

Email: [email protected]

OPERATING HOURS
Yaletown and Gastown:

Sunday: 11:00 AM to 10:00 PM

Monday/Tuesday: 3:00 PM to 11:00 PM

Wednesday/Thursday: 12:00 PM to 11:00 PM

Friday: 12:00 PM to 12:00 AM

Saturday: 11:00 PM to 12:00 AM

Olympic Village:

Sunday: 11:00 AM to 10:00 PM

Monday/Tuesday: 3:00 PM to 10:00 PM

Wednesday: 12:00 PM to 10:00 PM

Thursday: 12:00 PM to 11:00 PM

Friday: 12:00 PM to 12:00 AM

Saturday: 11:00 PM to 12:00 AM
| | |
| --- | --- |
| Criteria | Ratings |
| Wide selection of food and drinks | ★★★★☆ (4/5) |
| Low prices | ★★★★★ (5/5) |
| Happy hour timing | ★★★★☆ (4/5) |
Up next on the list is The Flying Pig bar. According to their website, their name represents their big dreams and their desire to make the impossible happen.
The Flying Pig bar does make the impossible happen by serving great food at such a relatively cheap price during happy hour. Most of the food they serve is available at around $10.
You can get salmon cakes for $8 or BBQ glazed chicken wings for $11.50 if you are feeling hungry. If you want smaller meals, they also offer sandwiches and salads.
The drinks they offer are affordable, too. For just under $8, you can have a lager, ale, and other alcoholic drinks you may desire.
Despite their cheap happy hour deals, you might want to be careful with their non-happy hour menu as their regular prices are quite costly. Some regulars even say you should expect to spend at least $50 per head when ordering off the regular menu.
When you enter their bar, you will be greeted with a venue fancier than most bars, on the other hand. This makes them perfect for either a next-level happy hour or even a casual date.
However, you may want to make a reservation as many of our interviewees reported that the restaurant can get pretty busy. They can get so busy that your meals may come slightly late, so it may be best to put your orders in early.
Setting aside the fact that there can be slight delays, frequent customers attest to the restaurant's great service and amazing food. You can try their services for yourself at one of the three restaurants closest to you.
Three different locations to choose from
Affordable menu items during happy hour
Generous portioning of food and drinks
Food may take a while to arrive
Regular menu deals are quite pricey
Customer Reviews
Friendly and attentive staff
Came for happy hour and the salmon cakes and wings were delicious. Good prices and portions.
Servers were attentive and friendly. The outdoor seating that they have was also very nice. –Clinton C, Google Reviews
Great service
Service was great here! The server knew the menu very well, answered all our questions like portion sizes and most popular dishes. Restaurant had a fancy vibe; Perfect for casual dinner or dates. They also have live music.
Food presentation was beautiful but the flavor was a bit lacking. Ex. Steak was kind of chewy and braised shortrib was a bit bland. – Victor, Google Reviews
5. Joey's Restaurants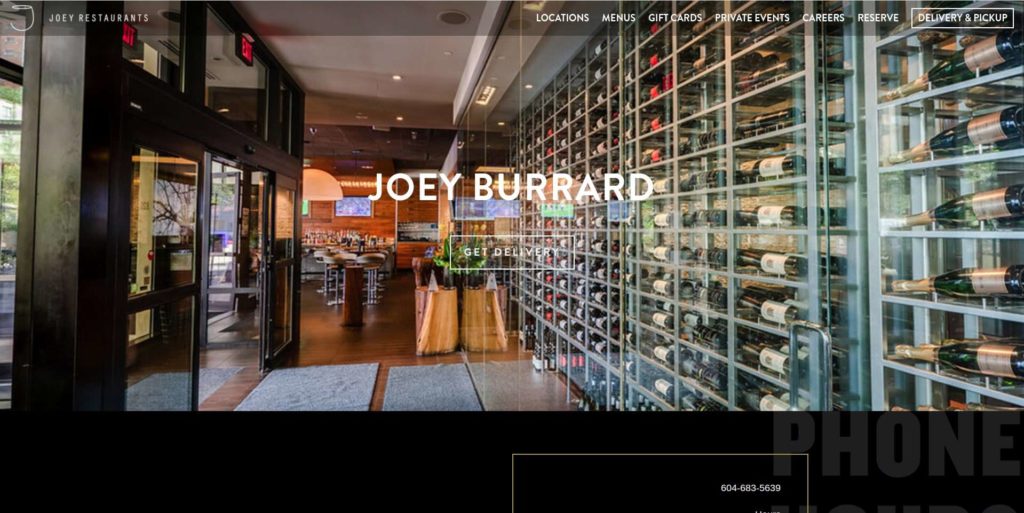 Test
Info
PRODUCTS
Beers, Ales, Wines, Liquors, Snacks, Lunch And Dinner Options, Sandwiches, Salads,
WEBSITE
joeyrestaurants.com/locaation/joey-burrard
ADDRESS
820 Burrard Street, Vancouver, BC
CONTACT DETAILS
604-683-5639
OPERATING HOURS
Sunday to Thursday: 11:00 AM to 1:00 AM

Friday to Saturday: 11:00 AM to 2:00 AM

Happy hours:

Daily: 2:00 PM to 5:00 PM

Sunday to Thursday: 9:00 PM to closing
| | |
| --- | --- |
| Criteria | Ratings |
| Wide selection of food and drinks | ★★★★★ (5/5) |
| Low prices | ★★★☆☆ (3/5) |
| Happy hour timing | ★★★★☆ (4/5) |
Joey Burrard is only one of the dozens from the Joey family of restaurants found all over Canada and the United States. The biggest strength of the one here is the large space, making sure that you and your friends will be seated more often than not.
Another thing we like about Joey's is their diverse menu during happy hour. You can pick what you want from 13 different happy hour drinks and more than a dozen food options.
In addition, the restaurant's online menu includes the nutrition facts of each food they serve. That's fairly unusual, even now that more people are paying attention to their health.
As such, we're big fans of this approach. Including these details is incredibly helpful, especially for those concerned about their health and diet.
The service is also fairly consistent. We were pleased by what we saw on our visit, and it was echoed by the experiences of customers we polled.
Despite these advantages, Joey Burrard struggles against the others when it comes to their prices. Joey's happy hour food and drinks are more costly compared to others on the list.
Except for the high prices, everything else about Joey Burrard makes them a worthy inclusion in our list.
Modern , beautiful, cozy ambiance
Wide variety of food and drinks options
Well-detailed nutrition facts for every food served
Food and drinks are relatively expensive
Customer Reviews
Excellent Service
Went here with my friends for dinner on Feb 6. Excellent service! We all enjoyed the food very much. We were served by Gui, lovely guy. I expressed how I loved the food and that I think it's better than other restaurants I have been to, personally. They really appreciated my positive feedback and the manager Casey decided to give us a dessert and an appetizer on the house! Will definitely go back. – Lay Tan, Google Reviews
Slightly overpriced
Joey Burrard is an amazing place to dine in. It has an amazing ambience and I really enjoyed eating there. It was a bit overpriced but it was totally worth it. I would really suggest everyone to visit this amazing restaurant at least once. Order the brownie there. – Kashish J, Google Reviews
What should you look for during happy hours?
Not all bars, restaurants, and happy hour deals are made the same. To find the right happy hour spot for you, you might want to consider the following:
Customer reviews
Client testimonies are some of the most reliable sources when it comes to the quality of food and service of a restaurant. It would be best if you checked customer ratings, reviews, and criticisms of the restaurant you fancy before going.
Before deciding on whether or not to visit a place during happy hour, you might want to look at their menu first.
It would be best to take note of the options in their menu. Some restaurants have specific offers such as seafood, which you might not like at all.
Please take note of their prices as well, since some bars and restaurants charge more than others. Happy hours are supposed to be about affordable food and drinks, so it would be best to make sure their menu will not break the budget.
The time of the happy hour
Not all happy hours happen at the same time. Some spots have the end of their promo early in the afternoon while others reach the early hours of the evening.
To take advantage of these deals, it would be best if you checked the exact timing of your preferred spot's happy hour,
FAQs about Happy Hour in Vancouver
---
More Resources for your Food and Drink Cravings