The 4 Best Wedding Caterers in Vancouver
Food and drinks are crucial components of any wedding. They contribute to the celebratory air, and their quality can undoubtedly affect the mood of your guests.
Knowing this, consider working with professional caterers for your wedding dishes. Wedding catering companies can alleviate the burden of planning for the day itself.
Their assistance also helps ensure that a part of your reception goes smoothly. If you're looking for reliable options, you've come to the right place. We'll be discussing the best wedding catering providers in Vancouver today.
How much does wedding catering cost in Vancouver?
Like other wedding services, catering does not have an exact price point. After all, catering companies have different specialties and menus, meaning that they also use varying ingredients.
Additionally, some catering companies offer unique packages that help couples get the most bang for their buck. While we can't provide an exact price, we have compiled the starting rates for various catering companies across Vancouver.

See the table below.
| CATERING COMPANY | STARTING PRICE |
| --- | --- |
| Supper Club YVR | Contact for more information |
| AZAR | Starts at CAD 65/person |
| Mega Alexander Foods | Starts at CAD 59/person |
| Cocktails & Canapes | Contact for more information |
| Pacific Coast Catering | Contact for more information |
The Best Wedding Catering Providers in Vancouver
Before we delve into Vancouver's top wedding catering companies, we must first discuss the criteria we followed when assessing each option. Doing so can help you get a better grasp of our review process.
1. Supper Club YVR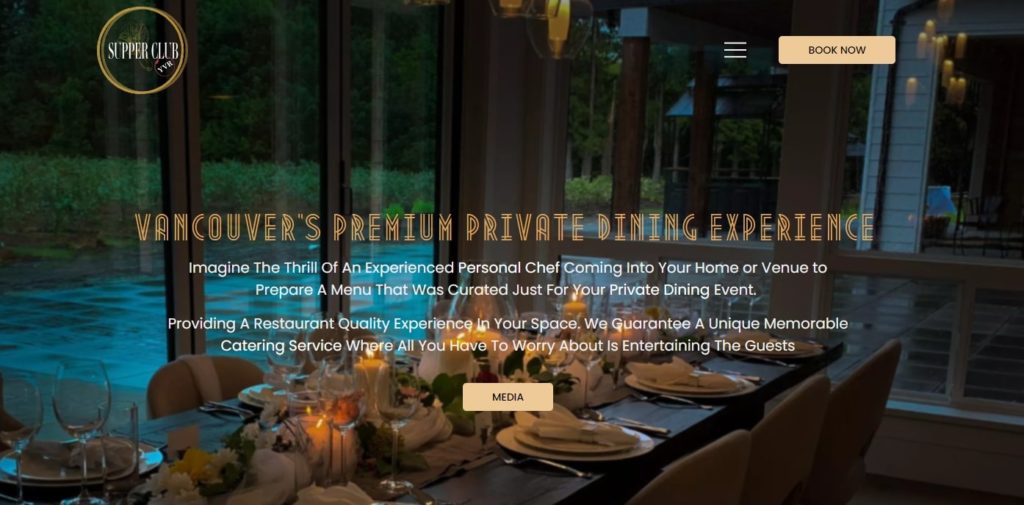 SERVICES

Private Dining

Corporate Catering

Wedding Services

Beverage Service

Cooking Classes

Fondue Service

Other Services

WEBSITE
https://supperclubyvr.com/
ADDRESS
Vancouver
CONTACT DETAILS
Phone: 778-870-3463
OPERATING HOURS

By appointment
| | |
| --- | --- |
| CRITERIA | RATING |
| Menu Selection | ★★★★★ (5/5) |
| Expertise | ★★★★★ (5/5) |
| Pricing | ★★★★★ (5/5) |
| Customer Service | ★★★★★ (5/5) |
Established in 2015, Supper Club YVR is a catering company that we highly recommend due to the team's capability of making your dream wedding menu come true.
See, Supper Club YVR consists of professional chefs with years of experience under their belts. Each chef has a unique background and specialization, allowing Supper Club to consistently deliver when it comes to cooking.
As for the key offering, Supper Club YVR is most known for their personalized menus and private dining experience.
The Supper Club YVR team takes the time to consult with each client, learning more about their event and their desired menu. This effort thus leads to the creation of one-of-a-kind menus that clients in the past have praised.
Unfortunately, the exact rates aren't posted on their website. To make up for this, Supper Club YVR offers tasting menus, featuring some of their iconic dishes.
You can avail of these tasting menus to have a better grasp of what Supper Club YVR has to offer. Moreover, you can book an appointment to see if they can deliver what you need.
Overall, Supper Club YVR is a great wedding catering option if you're looking for unique experiences and delicious dishes made by experts. Definitely check out this company if you have the budget to spare.
Chefs are accommodating about dietary restrictions
Catering company consists of trained, professional chefs
Offers catering for other special events
Rates are not available on the company's website
May be booked and busy
Customer Reviews
One of the best meals I have ever had
"Shahni cooked for our intimate wedding reception. It was by far one of the best meals I have ever had! Our guests are still talking about how good the food was a week later. Service and presentation were also 5 star. None of our guests had to ask for anything, very intuitive service. Shahni even made our small kiddos a quick meal on the fly. Exceptional!" – Christine Schubert
Variety of fresh and unusual dishes
"Shahni listened to our needs and treated us to a variety of fresh and unusual dishes. Some of our favourites included gluten-free pasta with a delicious, creamy sauce, the endive and orange salad, the cornbread, and the faro salad. The roast chicken and the roast pork, were tender and tasty. The deconstructed pavlova was my favourite dessert – oh no wait! It was the apple strudel – or was it the panna cotta?!" – Ragini K
2. Mega Alexander Foods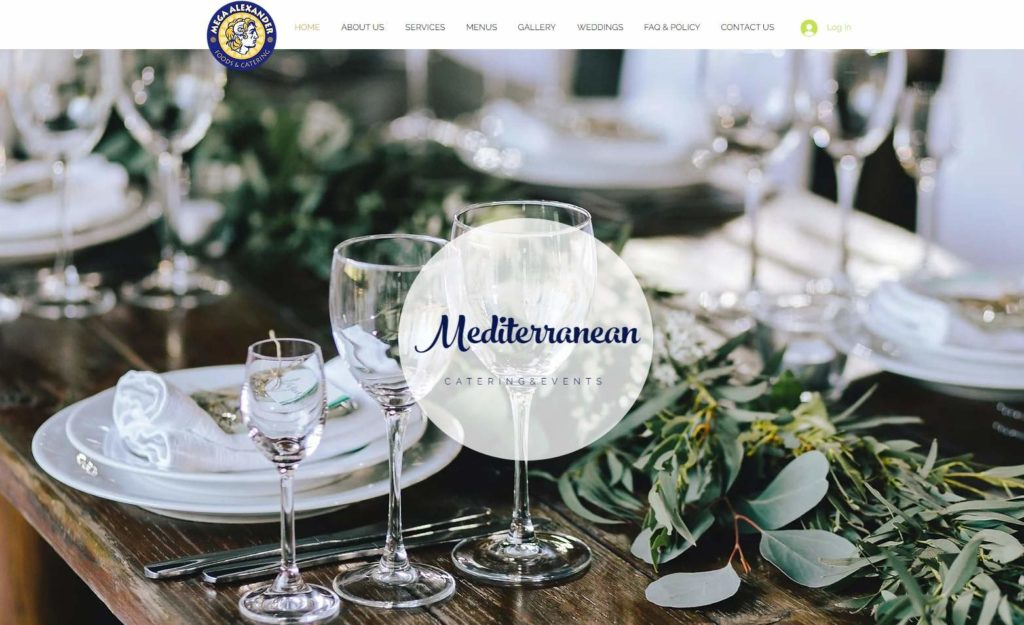 | | |
| --- | --- |
| CRITERIA | RATING |
| Menu Selection | ★★★★★ (5/5) |
| Expertise | ★★★★★ (5/5) |
| Pricing | ★★★★★ (5/5) |
| Customer Service | ★★★★★ (5/5) |
Mega Alexander Foods is a catering company committed to introducing clients to gourmet excellence. The owner and head chef, Kaliopi Pappas, is an experienced chef who has specialized in Mediterranean cuisine, particularly Grecian dishes, for several years now.
Coming across Kaliopi Pappas and her catering company, we found that there is so much to like about their services. For one, Mega Alexander Foods works closely with clients to create personalized menus for their weddings and events.
This customized option is perfect for couples who want to provide their guests with a unique dining experience.
Of course, the catering company also has a set of dishes they are known for, so you can easily opt for Mega Alexander Food's chicken or seafood entrees if you aren't too particular.
In addition to their personalized and regular menus, Mega Alexander Food also comes highly recommended by our team because of their cooking and customer service expertise.
Suppose you have guests with food and drink allergies. In that case, you need not fret since Kaliopi Pappas and her team can accommodate restrictions.
Do note that we also recommend this catering company because of their ingredients.
See, Kaliopi Pappas believes that top-quality ingredients lead to tasty dishes, which is why Mega Alexander Food only uses locally sourced produce and the freshest ingredients.
More than just a wedding catering company, Mega Alexander Food is a team of service providers that will do its utmost to make your wedding the best it can be. Overall, if you're looking for a professional and reliable caterer, turn to Mega Alexander Food.
Transparent and reasonable catering rates
Quick to respond and easily accommodates client requests
Uses fresh ingredients only
Dishes lean towards Mediterranean cuisine, which may not suit all palates.
Might be booked and busy
Customer Reviews
Reliable and constantly kind
"Kali catered our wedding for us, and she did an amazing job. Throughout the wedding planning process she was reliable and constantly kind. Moreover, despite working at our venue which had no kitchen facilities, she provided us with a beautiful and delicious buffet! Her staff were kind and attentive throughout the evening. We had a beautiful day, and Kali and her wonderful staff were a big part of that." – Jennifer Nundal
Professional, friendly and helpful
"Mega Alexander Foods is absolutely spectacular! Kali and her staff are incredibly professional, friendly and helpful. Kali helped us plan and organize our celebration and went beyond the scope of just the food! She helped us connect with other vendors and coordinated everyone as well! On top of it all, the food (taste and presentation) EXCEEDED all of our expectations. Absolutely DELICIOUS. I would work with Kali again in a heart beat. Thank you for making our day so amazing Kali!!" – Magda Grala
3. Cocktails & Canapes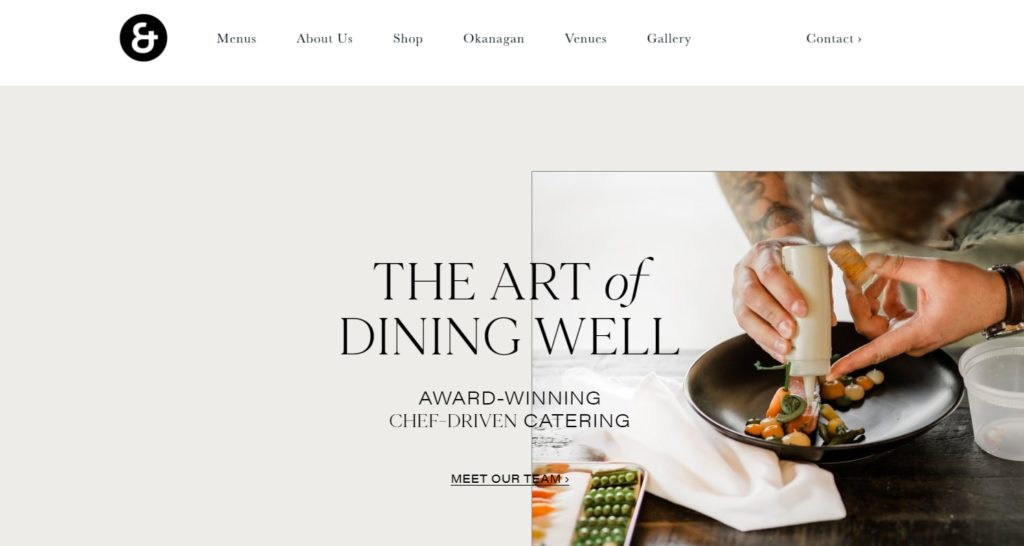 | | |
| --- | --- |
| SERVICES | Event Catering |
| WEBSITE | https://www.cocktailsandcanapes.ca |
| ADDRESS | 686 Powell St, Vancouver, BC V6A 3G1, Canada |
| CONTACT DETAILS | Phone: 604-424-8788 |
| OPERATING HOURS | Monday to Friday 9:00 AM–5:00 PM |
| | |
| --- | --- |
| CRITERIA | RATING |
| Menu Selection | ★★★★★ (5/5) |
| Expertise | ★★★★★ (5/5) |
| Pricing | ★★★★★ (5/5) |
| Customer Service | ★★★★★ (5/5) |
Up next is Cocktails & Canapes, a catering company that caught our eye with their peculiar name. Without prior knowledge, one can expect this business to only serve cocktails and canapes, going by their name.
Imagine our surprise when we found out that they could do more than that. Cocktails & Canapes is a full-service catering company that has been steadily impressing the Vancouver scene since its inception in 2013.
The small yet talented team at C&C consists of noteworthy individuals who are all people-driven, which we find commendable.
They prioritize their client's satisfaction above all else, which is evident in how they work closely with each client to accommodate their needs, wants, and concerns.
Of course, being client-driven doesn't necessarily mean they don't focus on the food. If anything, Cocktails & Canapes is known for their impressive spreads, made by experienced chefs.
Each dish prepared by C&C is scrumptious, featuring fresh, natural ingredients.
You can expect flavorful dishes with seafood, vegetables, meats, or even sweet components if the menu calls for it. We also like that they are plated beautifully, allowing diners to first eat with their eyes.
Aside from the quality of their cooking, C&C stood out to us because of their excellent customer service. They have a fast response time and are always willing to engage in a dialogue with their clients.
We like that they help clients customize their menus, too, so each wedding is made more special. All in all, if you're looking for a wedding caterer that values your wedding celebration as much as you do, Cocktails & Canapes is the business for you.
High-quality dishes made with natural ingredients
Excellent customer service
Flexible catering services
Closed on weekends
Might be booked and busy
Customer Reviews
The culinary team is so talented
"My wife and I recently got married and decided to use Cocktails & Canapes for our catering. We could not be happier with the quality of the food and the level of service and support we received on our special day. Leading up, the tasting we came in for was incredible. The culinary team is so talented. The food at the wedding was an identical experience to that of the tasting. This team is definitely very skilled in their craft. Can't wait to dine with them again!!" – Kaelen Cohen
Absolutely delicious food
"Cocktails & Canapes make absolutely delicious food that all of our wedding guests absolutely raved about! Highly recommend!" – Dominique McCrimmon
4. Pacific Coast Catering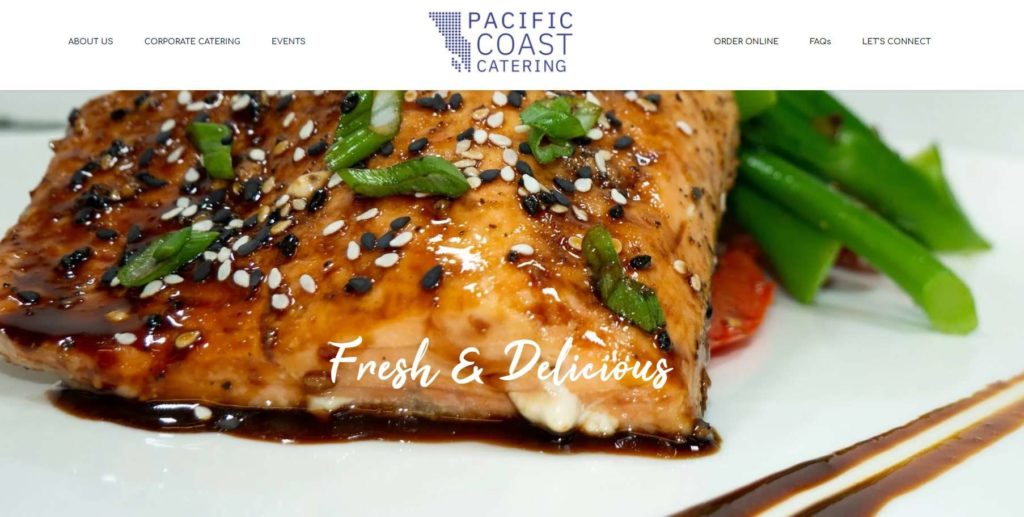 | | |
| --- | --- |
| SERVICES | Corporate and Event Catering |
| WEBSITE | https://pacificcoast.catering |
| ADDRESS | 950 Powell St #103, Vancouver, BC V6A 1H9, Canada |
| CONTACT DETAILS | Phone: 604-639-9229 |
| OPERATING HOURS | Monday to Friday 8:30 AM–4:30 PM |
| | |
| --- | --- |
| CRITERIA | RATING |
| Menu Selection | ★★★★★ (5/5) |
| Expertise | ★★★★★ (5/5) |
| Pricing | ★★★★★ (5/5) |
| Customer Service | ★★★★☆ (4.75/5) |
When it comes to reliable catering services in Vancouver, Pacific Coast Catering is one to always mention.
This catering company is most known for their work with corporate events, but their talented team can also accommodate the tight deadlines and rush of weddings.
One of the things we like most about Pacific Coast Catering is their flexibility. Unlike other overpriced catering companies, Pacific Coast Catering is prepared to work within the client's budget.
Their knowledge of cooking and catering allows the team to come up with wedding menus that are both delicious and cost-friendly. They can cook for a small wedding of 50 people or even a large event with 450 guests.
Another reason we recommend Pacific Coast Catering is their timeliness. They arrive early to each wedding and get their job done quickly. This relieves wedding stress and helps the wedding run smoothly.
Finally, we made sure to include Pacific Coast Catering in our list because of their conscientiousness regarding food allergies and dietary restrictions.
The team at Pacific Coast Catering always makes a point to provide healthy and safe meals for everyone. If you or any guest needs accommodations, you simply inform the team and they'll work around them.
Capable of handling events of all sizes
Conscious of dietary restrictions and works around it
Prompt responses to inquiries
No consultations on weekends
Shorter operating hours
Customer Reviews
Consultation and planning was so smooth
"Pacific Coast Catered did our wedding downtown Vancouver and one of the highlights was the food. Everything from the cocktail hour goodies to the 4 course dinner, it was all done with immense thought and detail. There were no hiccups!
The consultation and planning was so smooth, which made it was one less thing I had to think about as a bride.
The staff at the event were great, to not only us, but my family and friends, they treated everyone at the wedding with care and poise.
Would 100% recommend." – Olivia Wiebe
Eye for detail and attention
"We had Pacific Coast cater our (pandemic) wedding. Our guest (all 17 of them) raved about the quality of the food and the service. We were especially impressed by the eye for detail and the attention they took to our requests. They even took care of pouring and serving the champagne that we bought. The quality and care were highlights of our day." – Niel S
FAQs about wedding catering in Vancouver
---
To get the most out of your wedding catering in Vancouver, make sure you consider everything a company has to offer. Hopefully, our guide can help you through the selection process.
When done right, wedding catering can be an excellent way to provide your wedding guests with an unforgettable dining experience. Good luck!
If you're looking for desserts to finish the wedding with, check out our list of the best cake deliveries in Vancouver!