The FlyOver Canada Experience
Flying over the whole of Canada can be an expensive venture, but fret not – we've cracked the code to experiencing this without draining your wallet.
Buckle up as we guide you through FlyOver Canada, from fun facts about the exhilarating ride to the best accommodations and dining options right here in the city. Get ready for a quick adventure that allows you to soar above the country without ever leaving Vancouver.
What is FlyOver Canada?
FlyOver Canada is an exhilarating flying simulation ride that immerses guests on a virtual journey across Canada using a multidimensional film, a massive spherical screen, motion seats, and immersive effects like wind, mist, and scents.
Through advanced technology, this ride provides an authentic flight experience. Up to 61 people at a time can sit in their chairlift-style seats, as they get enveloped in a seamless and high resolution projection to keep them fully engaged.
FlyOver Canada, located at the west promenade of Canada Place, was the first FlyOver attraction that opened its doors in 2013.
Since 2016, the owners (transitioning from Soaring Attractions to the current owner, the Phoenix-based company Pursuit) have introduced three similar rides in Minnesota, Iceland, and Las Vegas.
Fun Facts about The FlyOver Canada Experience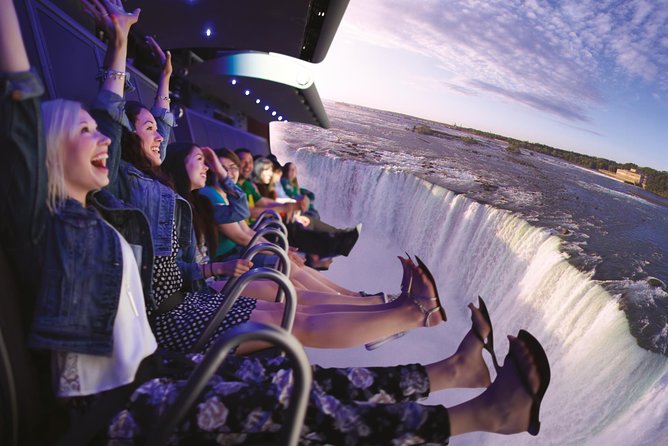 FlyOver Canada takes less than half an hour. The entire experience lasts approximately 25 minutes, including the eight minutes spent on the Ultimate Flying Ride.
FlyOver Canada was inspired by Soarin' Over California. Vancouver entrepreneurs Stephen Geddes and Andrew Strang wanted to create a new tourist attraction in downtown Vancouver.
The concept of Soarin' Over California ride at Disneyland and Epcot provided early inspiration for what FlyOver Canada aimed to offer.
The film for FlyOver Canada is a complex production. Compared to Soarin' Over California whose film features attractions in one single day, the film at FlyOver Canada features two full days equating to two sunrises and two sunsets.

The filming is not that simple, however, as it took the production team over two years to bring the film to its final form.
FlyOver Canada is not an IMAX theater. But intriguingly, it's located where an old IMAX theater used to be at Canada Place.
FlyOver Canada is designed for all ages. The oldest participant to date was an impressive 104-year-old.
What to Expect and See at the FlyOver Canada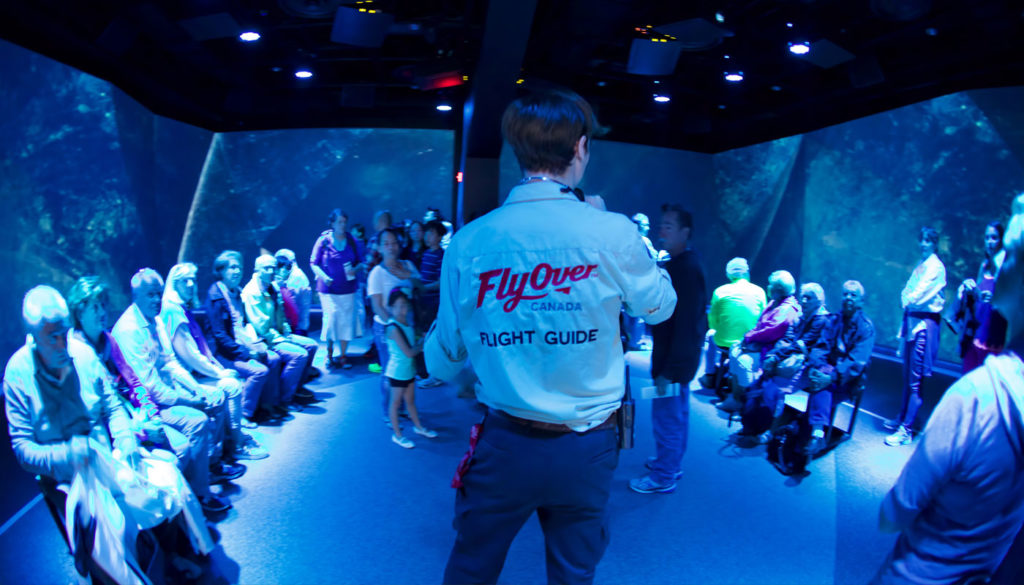 The FlyOver Canada experience begins with a brief pre-show film, offering guests a sneak peek of what they'll encounter in the featured films. Following this, guests are guided to the boarding zone for a pre-flight briefing.
From there, you'll proceed to the next stage, where you'll fasten your seatbelt and wait for the main show to begin.
At the moment of writing, the FlyOver Canada film is being showcased from June 26 to September 27, 2023, while Legendary Iceland: Landscapes and Lore is running from September 5 to December 14.
There are two more films to catch this year: Howlover Canada, a Halloween-themed film suitable for the whole family, is scheduled to run from September 28 to October 31; and Soar with Santa will take its turn from November 16 to January 2.
Once guests are comfortably seated, the floor moves away, suspending their feet in the air just before the wrap-around screen.
The seats, equipped with a 6DOF motion system, can move in all directions to match the scenes, while the wind and other effects enhance the immersive experience.
If you're watching the FlyOver Canada film, you'll have the opportunity to virtually soar over the stunning landscapes of the Rocky Mountains, Niagara Falls, and even experience a meta moment by flying over FlyOver Canada itself in downtown Vancouver.
Things to Know about FlyOver Canada
Operating Hours: FlyOver Canada is open daily from 10 AM – 9 PM.
Restrictions: All ages are welcome to experience FlyOver Canada, provided they meet certain requirements. Participants should be over 102 cm or 40 inches tall and not pregnant, afraid of heights, or prone to motion sickness.
Fees: For the week of September 24-30, admission fees for FlyOver Canada vary from CAD 29 to CAD 33 if you make your booking online.
Prices fluctuate depending on the anticipated visitor traffic each day. But generally, opting for online tickets is a more cost-effective option compared to purchasing them at the gate, where prices for the same dates can go up to CAD 39.
Children aged 15 or under enjoy a discount of CAD 10 off the adult admission price, and young kids can ride for free when accompanied by their families.
To secure the best possible price, it's advisable to book well in advance and consider selecting a date during the middle of the week or in the early or late part of the season.
If you're planning to visit FlyOver Canada with a group of 15 or more people, you can inquire about group pricing or bulk ticket options for additional savings.
Parking: There is on-site parking at Canada Place. You can access this parkade managed by WestPark by entering at the base of Howe Street, located underneath Canada Place.
You can also make use of the covered parkade located at Convention Centre East. To reach FlyOver Canada from there, follow the signs directing you to the North within the parkade.
For shorter stays, metered street parking is available nearby, with a maximum limit of two hours.
How to Get to FlyOver Canada
Car: FlyOver Canada is easily accessible by car from anywhere in downtown Vancouver. Its exact address is 201-999 Canada Place, located near the waterfront.
SkyTrain: Waterfront Station is conveniently located just a brief five-minute walk from FlyOver Canada. To reach the attraction from the station, simply exit and head west on West Cordova Street.
Afterward, take a right turn onto Hower Street and continue walking until you arrive at Canada Place.
SeaBus: From Lonsdale Quay in North Vancouver, you can take the Seabus and also get off at Waterfront Station.
Walking: FlyOver Canada is easy to reach by foot from anywhere in downtown Vancouver.
If you're in the vicinity of Howe or Burrard Street, you can simply head north toward Canada Place. If you're near Stanley Park, you can take a scenic stroll by walking east along the Coal Harbour seawall, which will lead you to your destination at Canada Place.
Other Things to See Near Flyover Canada
Canada Place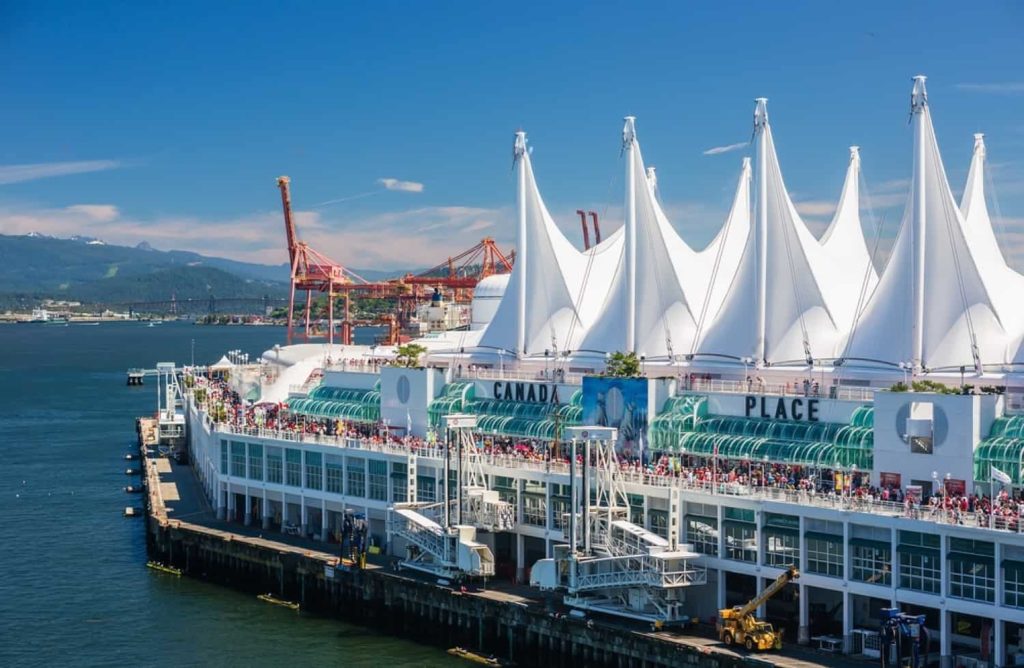 Right where FlyOver Canada is located, Canada Place is a stunning waterfront landmark. Visitors can enjoy the iconic white sails and take a leisurely walk along the promenade or the Canadian Trail.
It also offers fantastic views of the North Shore Mountains and the bustling Coal Harbour, especially from its outdoor terraces.
Gastown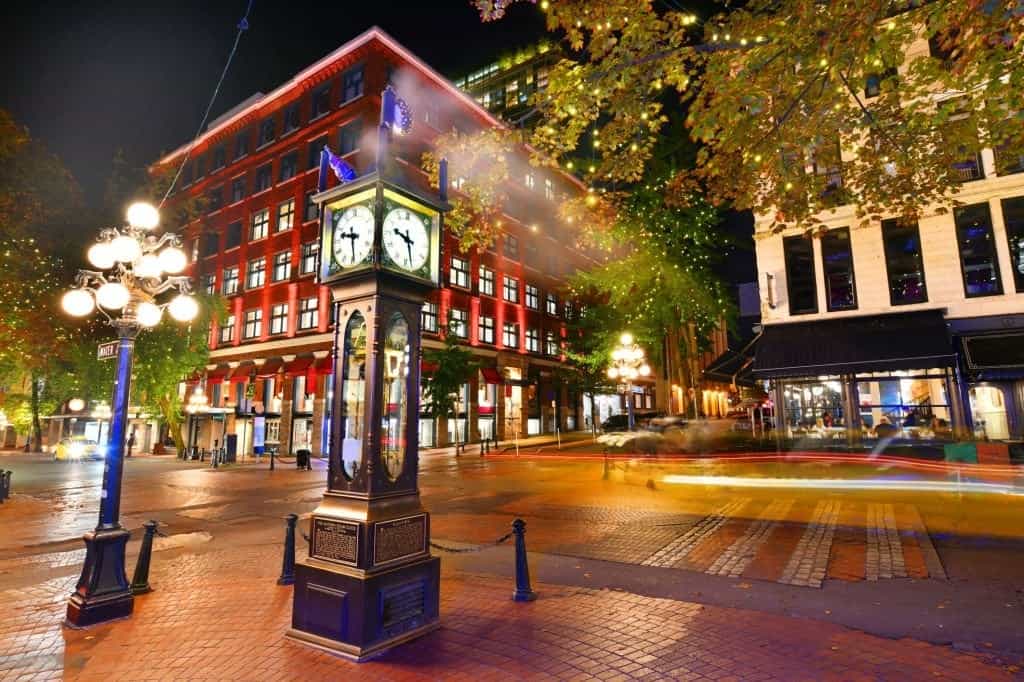 This historic neighborhood is known for its cobblestone streets and the famous Gastown Steam Clock, which releases steam and chimes every 15 minutes.
Also, don't miss the chance to explore the unique boutiques and art galleries that line Water Street in Gastown for a delightful shopping experience.
Stanley Park
A short drive or walk away, Stanley Park is a natural oasis within the city. Guests can enjoy leisurely walks or bike rides along the seawall, visit the Vancouver Aquarium, or simply relax amidst the lush greenery with their furry friends.
You'll also discover here the magnificent Totem Poles, which represent indigenous art and culture. These intricately carved totems provide a glimpse into the traditions of Canada's First Nations, so it's surely an educational and culturally enriching experience. 
Be sure to take your time exploring the surrounding area, as Stanley Park offers scenic viewpoints that allow you to fully immerse yourself in this urban park.
Robson Street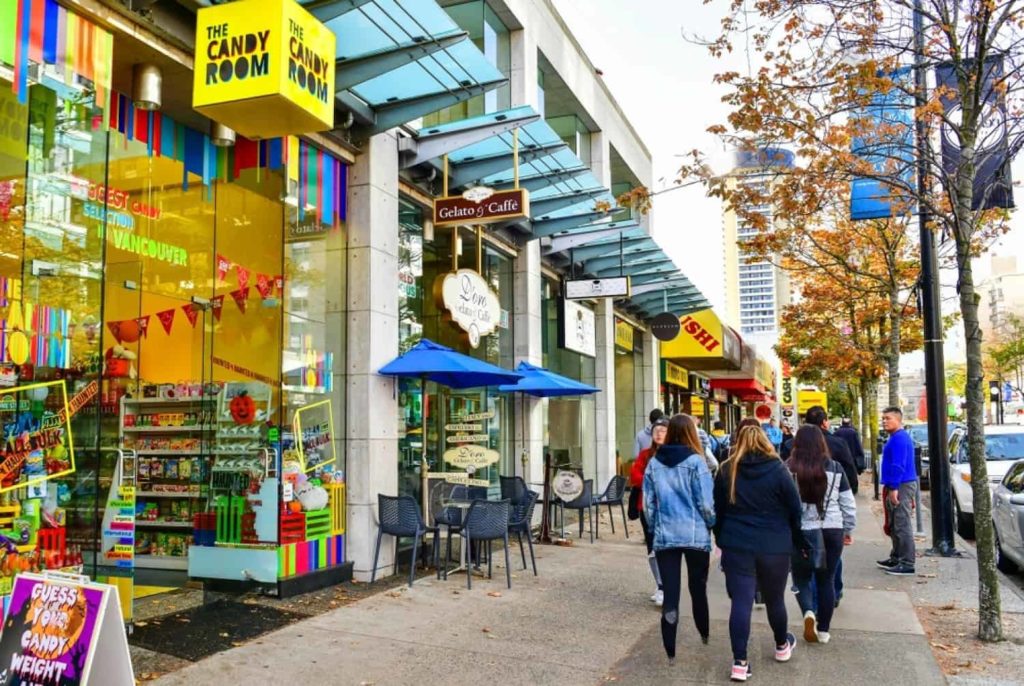 Robson Street (What is Robson Street in Vancouver known for?) is a bustling shopping and dining district. It's famous for its upscale boutiques and department stores, making it a prime destination for shoppers.
At night, the street comes alive with a diverse selection of restaurants, offering international and local cuisine. Robson Street also boasts a vibrant cultural scene with street performers and artists showcasing their talents, just a short walk from FlyOver Canada.
Where to Stay near FlyOver Canada
St. Regis Hotel
Address: 602 Dunsmuir St, Vancouver, BC V6B 1Y6, Canada
Phone: +1 604-681-1135
Pricing: $$
This hotel is not affiliated with the renowned luxury brand of the same name. But it has been a cherished part of Vancouver's hospitality scene for a century now and has also gained recognition for its exceptional service.
While the rooms may be slightly cozier than some may anticipate, they are thoughtfully equipped with all the essential amenities to ensure a comfortable and pleasant stay.
It's just 14 minutes away from FlyOver Canada. You can walk all the way and discover worthwhile stops on the streets of Howe, Granville, or Seymour.
Auberge Vancouver Hotel
Address: 837 W Hastings St, Vancouver, BC V6C 1B6, Canada
Phone: +1 855-678-8998
Pricing: $$
Even closer to FlyOver Canada is Auberge Vancouver Hotel, which is just a 7-minute walk away. It's a boutique hotel with modern amenities and beautiful views, particularly from the rooftop terrace.
For added convenience, the rooms feature fully-equipped kitchenettes, and there's an abundance of dining options nearby. If you're in the mood for brunch, you can explore the delightful offerings at Palate Kitchen, located just across the road.
EXchange Hotel Vancouver
Address: 475 Howe St, Vancouver, BC V6C 2B3, Canada
Phone: +1 604-563-4693
Pricing: $
If you're visiting FlyOver Canada, the EXchange Hotel Vancouver is another ideally situated option for your stay.
You can easily access a variety of exciting attractions from here, whether you're keen on exploring Stanley Park, Gastown, or Chinatown, it's all within effortless reach.
Their concierge team might also be able to help in securing your tickets to FlyOver Canada or arrange transportation options should you need them during your stay in the city.
Fairmont Waterfront
Address: 900 Canada Pl, Vancouver, BC V6C 3L5, Canada
Phone: +1 604-691-1991
Pricing: $$
This is not the haunted Fairmont Hotel Vancouver, often listed among Vancouver's haunted places (haunted houses vancouver). Instead, this hotel is perfectly situated by the waterfront, just a quick four-minute stroll from FlyOver Canada.
In addition to the convenience of various in-house amenities and captivating harbor views, the hotel's unique connection to the train station and mall via the basement level is an added bonus worth highlighting.
Of course, the luxury and convenience typically come with a hefty price tag. Guests who are part of the loyalty program can also unlock additional perks and amenities to enhance their stay.
Executive Hotel Le Soleil Vancouver
Address: 567 Hornby St, Vancouver, BC V6C 2E8, Canada
Phone: +1 604-632-3000
Pricing: $
Recognized as one of the country's top 25 most luxurious hotels, Hotel Le Soleil promises an elegant and comfortable stay for their guests. The spacious rooms come equipped with Keurig coffeemakers, and the city's top attractions are mere steps away.
FlyOver Canada, for one, is only a swift 3-minute car ride from this hotel.
Note however that pet lovers will need to pay extra for their stay if they're bringing their furry friends along.
Where to Eat near FlyOver Canada
The Flying Whale Waterfront Cafe
Address: 999 Canada Pl #201, Vancouver, BC V6C 3E1, Canada
Phone: +1 855-463-4822
Pricing: $
After your exhilarating "flight" over Canada at the simulator ride, you'll find The Flying Whale Cafe conveniently located near the exit of FlyOver Canada.
This strategically placed cafe offers a diverse menu, ranging from casual drinks and sweets to lunch options and alcoholic beverages.
While it's a great place to visit at any time, it would be nice to drop by when you visit FlyOver Canada. The cafe can get quite busy with guests from the same attraction, so it's a great opportunity to discuss the experience while savoring refreshments!
Five Sails Restaurant
Address: 999 Canada Pl Suite 410, Vancouver, BC V6C 3E1, Canada
Phone: +1 604-844-2855
Pricing: $
If you value recognition as a criterion for choosing a restaurant, then Five Sails inside the Pan Pacific Hotel is a must-visit on your list.
This establishment holds a Four Diamond Award from AAA, which signifies a distinctive culinary experience that is just one diamond short of being considered leading-edge. And a few more nods from other award-giving bodies.
Aside from the waterfront views that you'll savor here, their dishes are really exceptional. Be sure to get their apple dinner dessert at the end of your meal to make the most of your experience.
Miku Vancouver
Address: 200 Granville St #70, Vancouver, BC V6C 1S4, Canada
Phone: +1 604-568-3900
Pricing: $$
Previously nestled on West Hastings St, the latest iteration of Miku on Granville St hasn't strayed too far from the vicinity of Canada Place. In fact, after your captivating FlyOver Canada experience, all it takes is a leisurely six-minute stroll to reach this place.
As pioneers of the Aburi cuisine in the city, Miku has built a well-deserved reputation for using fresh local ingredients and offering consistent high-quality sushi.
If it's your first time dining at Miku, you'll be in for a treat with their exquisite Salmon and Ebi Oshi, while sushi lovers have to try the Oshi sampler.
Bella Gelateria Gelato & Coffee
Address: 1752 Davie St, Vancouver, BC V6G 1W3, Canada
Phone: +1 604-569-1010
Pricing: $
If your virtual flight adventure leaves you craving something sweet, make your way to Davie St and indulge in some delectable gelato at Bella Gelateria. All handcrafted and made with seasonal ingredients, their gelato is a refreshing delight on a warm day.
Bella Gelateria is also not shy on the recognition front. Among many awards, it has won an International Gelato Master of the Year award at the MIG Exhibition in Italy.
When you visit, be sure to ask for their Black Sesame and Espresso with Chocolate Bark flavors – they're unquestionably our must-tries.