5 Best Bathroom Renovation Services in Vancouver
Did you know that the average person spends nearly 100 days in the bathroom over their entire lifetime? That's 2,400 hours of singing in the shower, enjoying a bubble bath, and brushing your teeth!
If we spend that much time in the bathroom, getting a clean, comfy, and visually pleasing one sounds like a worthy investment. Hiring bathroom renovation services can be life-changing if you choose to work with the best in town!
So, to help you make the most out of those 100 days, consider getting professional advice from these top bathroom renovation services in Vancouver!
How much does a bathroom renovation cost in Vancouver?
Bathroom renovations within Vancouver can cost anywhere between $6,000 and $25,000, depending on the scope of work, sourced materials, and size of the bathroom. Other factors contributing to rates include additional demolitions, furniture, and new bathtub or toilet units.
How We Chose
1. Grand Renovations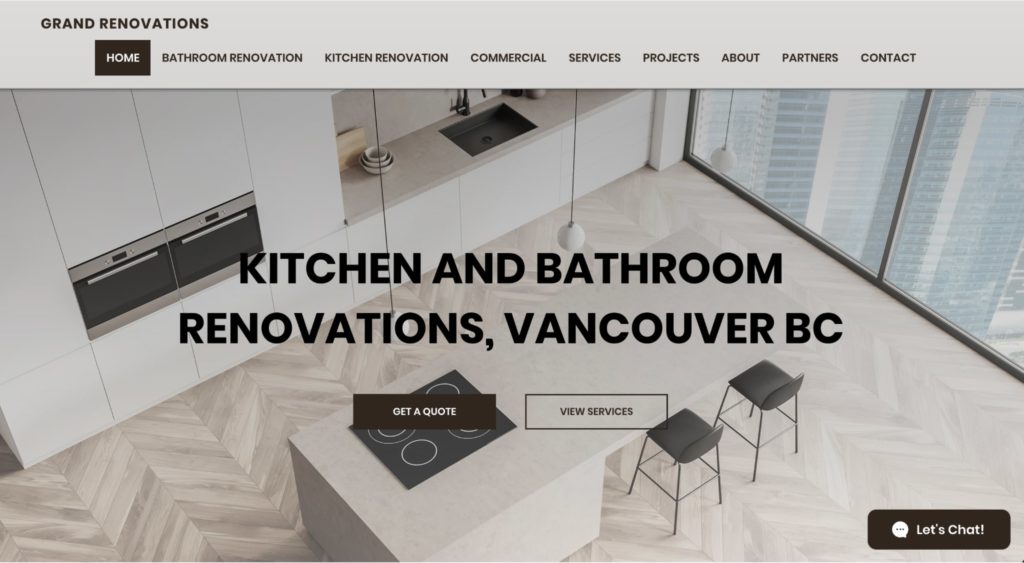 Test
Info
WEBSITE
https://www.grandrenovations.ca/
ADDRESS
601 W Broadway #400, Vancouver, BC V5Z 1E6, Canada
SOCIAL MEDIA
Facebook
CONTACT DETAILS
+17783225724
OPERATING HOURS
Monday to Friday: 10:00 am to 6:00 pm

Saturday: 10:00 am to 4:00 pm
Grand Renovations pays very close attention to detail when it comes to storage solutions, shower and bathtub upgrades, and vanity makeovers, making them a solid choice for small to large bathrooms.
A few of their specialized services include shower pan replacements, bathtub installations, and in-floor heating solutions from Canadian manufacturers like Lauzon, Mercier, and Pravada.
Since bathrooms come in different sizes, the renovator focuses on optimizing small spaces to help maximize function.
Their comprehensive approach involves a design proposal with 3D rendering, aligning the project with budget constraints and client requirements.
The construction phase promptly follows proposal acceptance and may entail demolition, plumbing, and electrical installations.
To ensure your precise preferences for elements such as ceilings, windows, and bathtubs are met, take advantage of manufacturers' complimentary consultations and estimates for first-time clients.
Can optimize small bathroom solutions
Uses 3D rendering for redesign
Free initial consultation and estimates
Mainly does residential bathroom renovations
Limited range of partner manufacturers
Customer Reviews
Great attention to detail
I had the pleasure of collaborating with Grand Renovations to remodel my bathroom in Vancouver, and the experience was truly exceptional. The team's professionalism, attention to detail, and dedication to delivering quality results were remarkable. From the initial planning stages to the final touches, they exhibited a level of expertise that made the entire process seamless and enjoyable. I am delighted with the outcome of my renovated bathroom, and I wholeheartedly recommend Grand Renovations to anyone seeking top-notch renovation services. – Karen Stoneberg, Google Reviews
Outstanding results
I hired the Grand Renovation crew to do my bathroom renovation, and I must say, the result is truly outstanding. The team was incredibly attentive to every detail of the project, including the choice of materials, the layout, the color scheme, and even the smallest finishing touches, ensuring that every aspect of the renovation was executed flawlessly. – Nanci, Google Reviews
2. Vancouver Tiling and Renovations
Test
Info
WEBSITE
http://www.vancouvertiling.ca/
ADDRESS
860 Jervis St, Vancouver, BC V6E 2B3, Canada
SOCIAL MEDIA
Instagram
CONTACT DETAILS
+16047895671
OPERATING HOURS
Monday to Saturday: 7:30 am to 8:00 pm

Sunday: 9:00 am to 6:00 pm
Vancouver Tiling and Renovations are specialists in bathroom remodeling, particularly in the realm of tile flooring.
Hamid and his small yet meticulous team handle a variety of bathroom tile sizes and shapes, making them a reliable choice for challenging geometric spaces.
Their services encompass bathtub installation, shower makeovers, glass panel remodeling, and plastering, and they utilize quality products from Nuheat, Schluter System, and Mapei.
With a three-year warranty, all tiles and bathroom systems are guaranteed. They work with a diverse range of tile types, including ceramic, porcelain, glazed porcelain, mosaic, metal, and glass.
They also skillfully use a variety of stone materials like granite, marble, slate, limestone, pebble, and travertine for countertops and flooring. These services can be seamlessly included in a full bathroom renovation.
Specializes in bathroom tiling
Offers a wide range of tile options
Offers three-year warranty
Relatively long turnover rate (1 to 2 weeks for minor tiling, 3 to 4 weeks for major tiling work)
Small team
Customer Reviews
Organized and responsive team
Hamid helped us with our washroom Reno and we are very happy with the results. He is responsive and organized. Would recommend his services. – Marina Regi, Google Reviews
Expert tiling
Hamid helped us with our washroom Reno and we are very happy with the results. He is responsive and organized. Would recommend his services. – Erika Penner, Google Reviews
3. Van Bath Renos
| Test | Info |
| --- | --- |
| WEBSITE | https://www.vanbathrenos.ca/ |
| ADDRESS | 422 Richards St, Vancouver, BC V6B 2Z4, Canada |
| SOCIAL MEDIA | Instagram |
| CONTACT DETAILS | +16042601324 |
| OPERATING HOURS | Monday to Friday: 8:00 am to 5:00 pm |
With over three decades of experience, Van Bath Renos has been transforming bathrooms, offering services ranging from bathtub conversions to intricate tiling work.
Their approach to bathroom remodeling involves close collaboration between clients and their skilled craftsmen. The process begins with a comprehensive checklist to align the project with the client's vision and budget.
This checklist covers a wide range of options, including extensions, upgrades, conversions, and accessibility improvements tailored for those with limited mobility.
While additional features may incur added costs, the renovator places a premium on maximizing the value of investments, particularly in disability-friendly fixtures like walk-in bathtubs, showers, and toilets.
Specializes in bathroom safety and accessibility remodeling
Wide service coverage
Complaints about responsiveness
Customer Reviews
Little to no need for supervision
VBR and team managed our replacement bathroom end to end in a seamless manner. Professional, consultative, reliable and responsive at all times. In addition, the team were also willing to go the extra mile, as circumstances required – especially helpful since we were out of the country for the duration of the project. Highly recommended! – Stina Sebastian, Google Reviews
Experienced in renovating antique homes
Van Bath Renos went the extra steps to ensure a great bathroom and renovation for us. We have more renovations to do on our largely original 50 year old home and we don't expect we'll be asking anyone else. Thank you to everyone in the team. – Farda Nasir, Google Reviews
4. Enzo Design Build
Test
Info
WEBSITE
https://enzodesignbuild.com/
ADDRESS
1111 W Georgia St Suite 1600, Vancouver, BC V6E 4G2, Canada
SOCIAL MEDIA
Instagram
CONTACT DETAILS
+16046796966
OPERATING HOURS
Monday to Friday: 8:00 am to 5:00 pm

Saturday: 9:00 am to 3:00 pm
Enzo Design Build's bathroom work has received recognition from prestigious organizations, including the Georgie Awards, National Kitchen-Bath Association, National Awards for Housing Excellence, and Havan Awards.
Choosing a design and build construction firm like Enzo means clients benefit from a seamless integration of design, engineering, and construction under one contract.
A dedicated project manager oversees the process, manages contracts, secures permits, and ensures effective communication among the construction team.
The firm offers free consultations, storage solutions, tiling, shower installations and conversions as well as lighting and fixtures. All those components will be proposed and all the materials will be procured by the project manager.
This approach minimizes change orders and ensures accurate cost estimation.
Award-winning renovation company 
Operates as a design-build firm
Assign a project manager per client
Long turnover rate
Relatively pricey
Customer Reviews
Fair and organized team of bathroom designers
As a supplier and having worked with many Design Builds, working with the team at Enzo was a wonderful experience! They are fair, organized, professional and very responsive which helps to provide a great experience for the client. We look forward to working with them again on another one of their stunning projects. – Luisa Dizon, Google Reviews
Stress-free renovation planning
Having to deal with a renovation is not easy, but having the right team working with you makes the difference! I can honestly say that Enzo's team did incredible work at my house. Sahar and her team were so attentive, approachable, reliable, transparent and very creative. I knew it was the right choice since the very first call with Meysam, he truly listened to us and what we wanted. Also, on our second meeting, they came up with innovative ideas from what we talked about before and they definitely excelled. Their work is exceptional, not only they delivered the project on time, but on budget too. We will be happy to recommend you guys to friends and family. – Daniel Zarrabian, Google Reviews
5. iForest Design and Build
| Test | Info |
| --- | --- |
| WEBSITE | https://iforestdesignbuild.ca/ |
| ADDRESS | 1375 Maple St, Vancouver, BC V6J 3S1, Canada |
| SOCIAL MEDIA | Instagram |
| CONTACT DETAILS | +16043511140 |
| OPERATING HOURS | Monday to Sunday: 9:00 am to 5:00 pm |
Angela James established iForest Design and Build in Vancouver, with a focus on sustainable bathroom renovations. Their mission involves crafting enduring bathrooms using responsibly sourced materials, prioritizing longevity over aesthetics.
Key services encompass toilet remodeling, sink and vanity installation, shower makeovers, and tiling. These services are integrated into the construction phase following client approval of design proposals from Angela's project management team.
Because the renovator also offers property management services, they also make bathroom designs with the aim of boosting property value.
Moreover, all of their specialty trade partners are licensed and insured.
Big team of in-house interior designers and project managers 
High focus on sustainable designs
Short labor and installation warranty
Relatively pricey services
Customer Reviews
Energy-efficient bathrooms
I recently hired iForest for a main floor renovation, and it was a fantastic experience from start to finish. Their expertise in sustainable design and their dedication to quality craftsmanship were evident throughout the project. They transformed my house into a stunning and energy-efficient home. The team's professionalism, reliability, and attention to detail were impressive. I would recommend them to everyone! – Roberto Lara, Google Reviews
Skilled and respectful contractor
Just had our kitchen and bathroom renovated! They were so professional and the quality was incredible. The design is perfect and now every time I walk in there it makes me so happy! Highly highly recommend to all, such a great company and wonderful to work with to create the best space. The contractor was very skilled and respectful. We are so impressed with the workmanship.. – Claire Lingley, Google Reviews
---