The 5 Best Breakfast Cafés in Vancouver 
Imagine it's the first thing in the morning and you crave that relaxing and cozy breakfast vibe to kick off your day.
What better way to do this than to fill your tummy with good food along with your daily caffeine fix!

So, invite a friend over, go for a solo ride, or bring your family together as we give you a list of the best breakfast cafes in Vancouver.
How much does a meal in a breakfast café cost in Vancouver?
Getting your daily fix of caffeine is a must when visiting cafes, but what about the food?
Well, you can either opt in between light meals, sandwiches, pancakes, or straight to desserts right away. Below is a list in completing a breakfast meal in Vancouver:
BREAKFAST CAFES
PRICE
Jam Café

Sandwich: $22

Pancakes: $18-19

Coffee: $4-7

Catch 122

Sandwich: $16-18

Pancakes: $18-21

Coffee: $3-10

Café Medina

Sandwich: $18

Coffee: $3-6

Sophie's Cosmic Café

Sandwich: $16-22

Pancakes: $16-22

Coffee: $3-10

Breka Bakery & Café

Sandwich: $4-10

Cake slices: $5-6

Coffee: $2-6
The Best Breakfast Cafés in Vancouver
We hope that the data above gave you an idea on the cost range in different breakfast cafes.
That said, we used the following criteria below in selecting various shops to give you further reasons on why you should go ahead and try their food:
1. Jam Café
MENU

Cornbread

Buttermilk Biscuits

Fried Chicken

Waffles

Sandwiches

Coffee

ADDRESS

Beatty Street:

556 Beatty Street Vancouver, BC V6B 2L3




Kitsilano:

2153 West 4th Avenue, Vancouver, BC V6K 1N7

WEBSITE
https://jamcafes.com/
CONTACT DETAILS

Beatty Street:

778-379-1992 / [email protected]




Kitsilano:

604-423-3350 / [email protected]

OPERATING HOURS

Open every day

Weekdays: 8 AM – 2:30 PM

Weekends: 8 AM – 3 PM
| | |
| --- | --- |
| Criteria | Ratings |
| Food variation | ★★★★☆ (4/5) |
| Coffee or beverage menu | ★★★☆☆ (3/5) |
| Overall aesthetic | ★★★★★ (5/5) |
| Affordability | ★★★☆☆ (3/5) |
Jam Café is one of the most popular all-day breakfast and lunch cafés in Vancouver. It has roots in Victoria dating back to the spring of 2012.
Its downtown Vancouver branch began operation in early 2016. They primarily offer family home style recipes from the south namely their house made cornbread, buttermilk biscuits, and fried chicken.
What you can see on their menu are mostly family home style recipes which will surely bring you that delight and sense of company.
Jam Café Vancouver offers a wide selection whether you want to dig in on a classic or savory breakfast, sandwiches in lunch, or dessert for that sugar-rush. A couple of side dishes are also in store for you as well as its mini menu for kids 12 and under.
Jam Café, however, has a limited coffee menu but you might want to take a sip of its Lavender Latte or London fog.
If you want that extra kick, "Spiked Iced Jam Coffee" is one of the go-to drinks among its seven selections.
As soon as you open the door, you're welcomed with a fresh vibe due to its rustic, vintage, and countryside feel given the overall aesthetic and decorations.
Jam Café is a good spot for family brunches or even a quick bite with a couple of friends.
Take note though that Jam Café Beatty – Vancouver doesn't take reservations unlike in Jam Café Vancouver – Kitsilano where it offers a one-group booking of 8 to 12 people so this might be something you might want to consider.
But if you don't mind lining up for a relatively expensive breakfast or brunch, then Jam Café is a must-visit for you.
Wide variety of food
Overall aesthetic
Open everyday
No reservations allowed
Relatively expensive food
Limited coffee or beverage menu
Customer Reviews
Unique options
"A great place for brunch with a lot of unique options. Their tiramisu pancakes are very sweet, so I recommend you get that if you feel like you're in a dessert mood. Their Later Tater bowl is always a good choice. We waited about 20 minutes – it was a rainy Monday – which I think is a good enough waiting time." – Narae Lee, Google Reviews
Worth the wait
"super cute and tasty brunch spot! The long line and busyness of the restaurant was daunting but it pases fairly quickly! The food was definitely worth the wait and as other reviewers mentioned, portions were generous. We got the veggie bowl and it was delicious (asked for without gravy though). The blueberry pancakes were good as well, very thick and cakey and did not disappoint. Servers were also really friendly and the bathrooms were good. Their iced latte was just okay. Definitely want to come back!" – Karina Sanches, Google Reviews
2. Catch 122 Café Bistro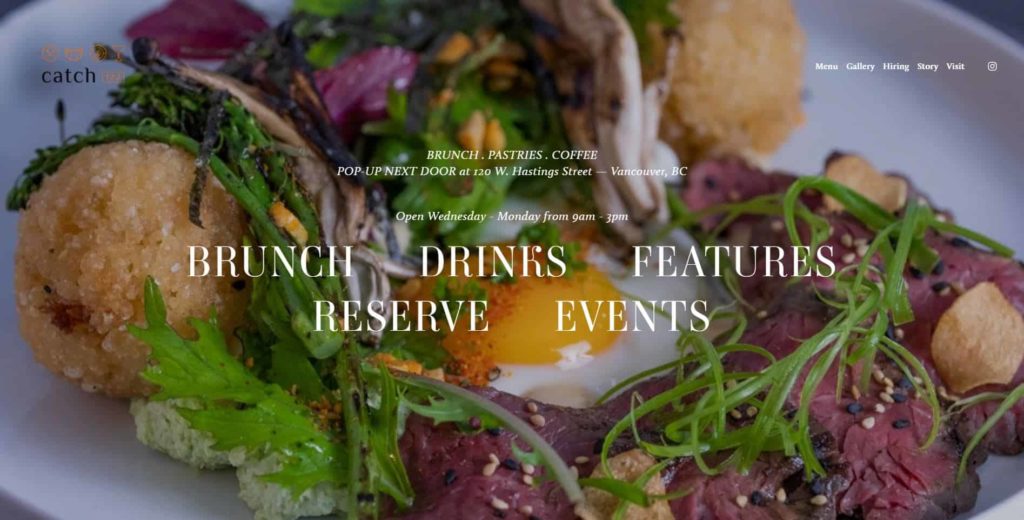 MENU

Burgers

Sandwiches

Croissant

Pancake

Toasts

Bagels

Coffee

ADDRESS
120 W. Hastings St Vancouver, BC
WEBSITE
http://www.catch122.ca/
CONTACT DETAILS

604-731-3474

OPERATING HOURS

Open Wednesday to Monday 9 AM – 3 PM
| | |
| --- | --- |
| Criteria | Ratings |
| Food variation | ★★★★☆ (4/5) |
| Coffee or beverage menu | ★★★★☆ (4/5) |
| Overall aesthetic | ★★★★★ (5/5) |
| Affordability | ★★★☆☆ (3/5) |
Catch 122 pays homage to the satirical novel by American author Joseph Heller titled "Catch-22." It's also a wordplay of its location as well as its establishment year which is 2012.
This café bistro opened in 2012, giving value to its coffee-lover customers and foodies who just like to dig in over brunches.
Owners Brent and Tammy, who are also husband and wife, designed the whole interior. We like that you'll be welcomed with brick walls, vintage décor, and a spacious dining area.
Adding to that rustic vibe are the tables and chairs, most were created by Brent himself, that are made out of reclaimed wood.
Catch 122 has plenty to offer, serving mainly Fresh-inspired cuisine. You can choose from a wide selection of starters, pastries, sandwiches, desserts, and vegetarian options.
However, if you've got kids younger than 12 years old, you'll have to physically visit this restaurant for its kids menu. We think Catch 122 should make it available online, to make it more convenient for busy parents.
For its coffee selections, Catch 122 uses Stumptown & Elysian in-season and direct trade beans. You might want to kickstart your day with different latte drinks in Matcha Oat, Turmeric Chai, Lavender Oat, and Hojicha Rosemary Oat.
Reservations are allowed in Catch 122 if you want to make sure you have a seat. But, take note, this cafe is closed every Tuesday.
Some of its sandwiches are actually sold at a reasonable price such as chorizo breakfast sandwich, belt sandwich, and southern fried chicken sandwich.
So if you're willing to spend as much on its other food, Catch 122 could capture what your taste buds are looking for.
Wide variety of food
More selection in coffee and beverages
Reservations allowed
Good for hosting events for small to medium audience
Some dishes are relatively expensive
Kids' menu is only allowed upon request
Customer Reviews
Overall experience a thumbs up
"Great experience. Food, atmosphere, decor and service — checks all the box. We had Churros for starter, Bulgogi steak n egg, Salmon gravlax bagel, BELT sandwich and Tiramisu. Everything was perfectly done.
Price might seem bit expensive but compared to other places in Vancouver, I think its fine. Overall, highly recommended." – Moeen, Google Reviews
Simply delicious
"I had a truly delicious brunch today: the BULGOGI STEAK N EGG. What a nice surprise for my first time here. Compliments to the chef! I look forward to returning, especially to try some of the pastries." – Sandra Chan, Google Reviews
3. Café Medina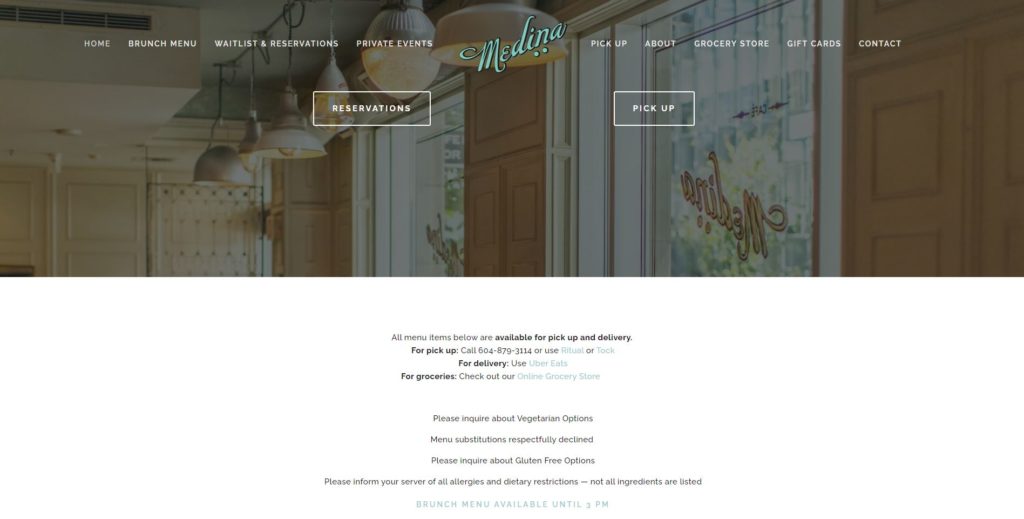 MENU

Burgers

Toasts

Sandwiches

Egg dishes

Coffee

Tea

ADDRESS
780 Richards St. (between Robson & Georgia) Library District, Vancouver, BC V6B 3A4
WEBSITE
https://www.medinacafe.com/
CONTACT DETAILS

604-879-3114

OPERATING HOURS

Open every day

Grocery: 12 PM – 4 PM

Brunch: 9 AM – 3 PM
| | |
| --- | --- |
| Criteria | Ratings |
| Food variation | ★★★★☆ (4/5) |
| Coffee or beverage menu | ★★★☆☆ (3/5) |
| Overall aesthetic | ★★★★★ (5/5) |
| Affordability | ★★★★☆ (4/5) |
Launched in 2008, Café Medina is known for its Mediterranean-inspired cuisine. We like it because it veers away from the vintage-looking cafes with its more stylish and unique aesthetic.
After all, according to its website, its name "Medina" was actually derived for having a "radiant or enlightened city" vibe.
Through the years, Café Medina has also had a couple of visible upgrades for practical purposes.
It has increased seating capacity, an expanded bar, and an open kitchen, online grocery, among others, since moving to its new location in 2014.
Just like most cafés, Café Medina offers a wide variety of food. Some of its dishes also have vegetarian options such as La Santé, Paella, Harissa "Burger," and Tagine.
While it serves a limited selection of coffee, you might want to try the Medina Iced Tea instead in its zero-proof menu.
Unlike other breakfast or brunch cafes, Café Medina is open to serve every day and accepts reservations for two to six people only.
Walk-ins are welcome but the best way to enjoy your experience is to book reservations exclusively through its website.
Also take note that Café Medina doesn't have a waiting area so you might want to hold on to your phone and wait for the staff to call you.
Wide variety of food
Open everyday
Offers an online grocery store
Good for private events
Majority of food are relatively expensive
Limited coffee and tea menu
No reservations via email or phone
No waiting area
Customer Reviews
Welcoming atmosphere
"This cafe is always booked but we managed to book a table today! The atmosphere itself is very lively and welcoming, and service is fast too. Their main plates are good, nothing too special, but what stands out are their waffles! The waffles are so fresh and taste perfect alone. You also have the choice of adding toppings for $1.50, which I think is worth it. The mixed berry compote and the milk chocolate lavender pair so nice with the waffles, but I'm sure any of the other toppings are just as tasty :)" – Ni, Google Reviews
Friendly staff
A popular brunch place for good reason. We came here on a Monday at 9:45 ish for 2 and the inside tables were already full. Luckily the weather was good and we got a spot at the patio. The food is spectacular to get you a well balanced meal. I loved my paella, loads of flavor and veggies to start off my day! The waffle was also very soft and not overly sweet so you can choose how much sauce you'd like to dip for yourself. The service was really great too, prompt and friendly and the entire staff considerate all around. Well deserved popularity and I'd love to try more of their menu if I get the chance!" – Lucy Chai, Google Reviews
4. Sophie's Cosmic Café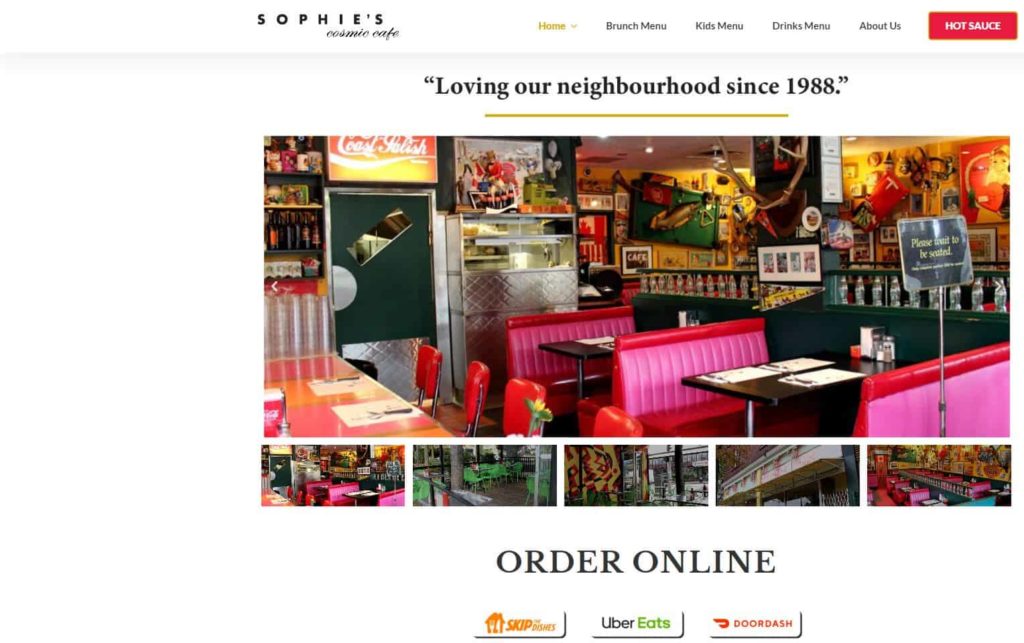 MENU

Egg dishes

Omelettes

Burgers

Sandwiches

Vegetarian

Milkshakes

Coffee

ADDRESS
2095 W 4th Ave Vancouver, BC V6J 1M7
WEBSITE
https://sophiescosmiccafe.com/
CONTACT DETAILS

(604) 732 6810

OPERATING HOURS

Open every day 8 AM – 3 PM
| | |
| --- | --- |
| Criteria | Ratings |
| Food variation | ★★★★★ (5/5) |
| Coffee or beverage menu | ★★★★★ (5/5) |
| Overall aesthetic | ★★★★★ (5/5) |
| Affordability | ★★★★☆ (4/5) |
Sophie's Cosmic Café boasts a three-decade run of service for its comfort food over brunch, specialty coffee and tea, and milkshakes.
It's one of the breakfast and brunch cafés in Vancouver you wouldn't want to miss out on.
They offer the widest range of variation as far as its food is concerned. You'll find almost everything from eggs and omelette dishes to salads, burgers and sandwiches, as well as vegetarian selections.
Sophie's Cosmic Café's burgers use beef that's "local valley free-range, grass-fed & grain-finished". It's guaranteed to not have any added hormones or steroids.
Its Cosmic Workout Burger and Oyster Burger are two of the must-tries should you decide to dine in Sophie's.
Sophie's Cosmic Café's Workout Burger maintains the classic savory taste while the Oyster Burger leaves a mix of freshness and saltiness in your mouth.
Its kids' menu has relatively more choices compared to other breakfast cafes too.The strawberry pancakes would be good for your kids' sweet tooth while the Little Lumberjack breakfast would definitely fill one's tummy.
Considering its beverages, Sophie's Cosmic Cafe also has one of the most choices. It has as many as 25 flavors for its milkshakes and seven different drinks for its specialty coffee and tea.
They're a little pricier than other cafés, but we think it's worth it.
It has the widest menu variety and you won't run out of options to choose from. It's also a plus that Sophie's Cosmic Café has established itself as one of the longest-running cafés in Vancouver.
Apart from their food, we're big fans of Sophie's retro-esque interior with their classic red diner-style booths. This, combined with original artwork, vintage toys, picture frames and other collectibles, gives this cafe a lively ambiance.
Compared to other cafes, Sophie's gives off a much more bistro vibe than a café but their selection of food and drinks are quite the game-changers.
Has the widest selection of food and drinks
Offers many specialty dishes
Open everyday
Established name for the past three decades
Dining area is relatively cramped
Relatiev expensive price
Customer Reviews
Nostalgic feeling
"Great little cafe, tons of cool nostalgia all over the walls. Coffee was great. classic eggs Benny was perfect as well. Pancakes were huge and fluffy. But the deep fried homefries? Absolutely killer. Maybe the best breakfast potatoes I've had.
And our server was a delight, attentive, patient and friendly." – Stefan Rees, Google Reviews
Worth the penny
"I love Sophie's. We love Sophie's. Every time I've come to this spot I've enjoyed the food and haven't been shocked by the prices. Like I have elsewhere. Yes it's expensive, but relative to what you get it's definitely worth it in my eyes. The portions are huge, and it came fast and warm. Good servers too. Amazing date spot or a good breakfast with some friends!" – Gavin Lemon, Google Reviews
5. Breka Bakery & Café
MENU

Desserts

Cakes

Cookies

Breads

Donuts

Coffee

ADDRESS

6533 Fraser St., Vancouver, BC V5X 3T

855 Davie St., Vancouver, BC V6Z 1B7

821 Denman St., Vancouver, BC V6G 2L7

740 West Hastings St., Vancouver, BC V6C 1A3

812 Bute St., Vancouver, BC V6E 1Y4

3750 West 4th Ave., Vancouver, BC V6R 1P3

4554 Main St., Vancouver, BC V5V 3R5

WEBSITE
https://www.breka.ca/
CONTACT DETAILS

604 559-0900

OPERATING HOURS

Open 24/7
| | |
| --- | --- |
| Criteria | Ratings |
| Food variation | ★★★☆☆ (3/5) |
| Coffee or beverage menu | ★★★★★ (5/5) |
| Overall aesthetic | ★★★★★ (5/5) |
| Affordability | ★★★★★ (5/5) |
If you have a sweet tooth and are someone who wants to hang out and chill over cups of coffee, then Breka Bakery & Café is the place to be.
It specializes in pastries and desserts but also offers light meals for those who are still craving for more.
We like Break Bakery & Cafe because not only do they have 7 branches spread throughout Vancouver, but they're also open 24/7 all-year round! So if you need a caffeine fix or a meal in the early hours of the day, this cafe is a great option!

Breka Bakery & Cafe offers quite a wide selection of coffee at very affordable prices. From espressos, mochas, and other hot classics to iced drinks, iced blends, and smoothies, they've got you covered.
It's popularly known for its signature family-sized apple strudel called "Bienenstich" and its rye breads.
But we highly suggest trying its paninis, especially the steak & cheese flavor, for breakfast. The steak & cheese panini not only has rich and savory flavors but also makes a pretty decent and satisfying breakfast meal.
Since Breka is open 24/7, expect that diners will tend to stay longer for as long as they want. We recommend going earlier than usual, especially on the weekends.
Do not fret though as Breka, again, has multiple branches available. It also displays more modern and stylish vibes compared to other cafés
You might want to consider absorbing that energy over a light meal, sweets and a cup of coffee in Breka.
Open 24/7
Specializes in desserts and pastries
Wide selection of coffee
Expect a crowded place
Limited selection for meals
Customer Reviews
For the sweet tooth
"So good I had to go back the next day. Wonderful selection of savory and sweet items. Delicious coffee. Milk alternatives at no extra cost. Open 24 hours. It was consistently busy both times we visited. Will be a standard stop in every time I'm in Vancouver." – Ariel, Google Reviews
Busy weekends
"For the first time, we found a seat inside! Weekends are very crowded but we managed to seat inside on a Thursday evening.
I've been to the other locations, this one has more visitors due to the great location.
I loved Cheese Steak Panini before so I ordered again. We also ordered a strawberry banana smoothie which was ok. I would suggest the green smoothie (green grapes, spinach and green apple) which was very tasty!
Nice place to hang out with friends and have delicious bites and sips :)" – Hamid, Google Reviews
FAQs about Breakfast Cafés
---
Now that you have reached this point, make sure to get that daily dose of caffeine and visit the best breakfast cafés in Vancouver. We hope this review article helped you in picking the right spot for you.
How about visiting the best coffee shops in Vancouver? We got you covered too by viewing this review article.*