The 7 Best Burger Joints in Vancouver
There are few culinary dishes as delicious and iconic as the burger. This glorified sandwich has been popularized through pop culture throughout the years and has birthed many unique variations.
To help you see and taste the difference between all these variations, we've prepared a list of the best burger joints in Vancouver.  To add some credibility to our entries, we've also sandwiched some reviews, pros & cons, and breakdowns between each of our entries.
How Much Does a Burger Cost in Vancouver?
Before we dig into the list, let's get you up to speed on basic burger costs. Since we'll be focusing on burgers specifically, we thought it might be helpful if we included the price ranges for some of our entries:
| | |
| --- | --- |
| Burger joint | Burger price ranges |
| MitBit Restaurant | $10.99 – $16.99 |
| ChiMec Fried Chicken & Burger Vancouver | $13.00 |
| Alibi Room | $16.00 – $18.00 |
| Vonns | $13.00 – $23.00 |
| Bin 4 Burger Lounge | $15.75 – $19.25 |
| MeeT in Gastown | $14.75 – $17.75 |
If you've got a particularly big appetite, don't forget to bring an extra dollar or two for some fries or an extra side dish.
The Best Burger Joints in Vancouver
Since you've got a rough idea now of how much you'll be spending, it's time to see the various, mouthwatering selections that you'll be spending your money on. So, without further ado, we proudly present the best burger joints in Vancouver:
1. MitBit Restaurant
SERVICES
Burgers
Wraps
Rice plates
Fries
Delivery
Pick-up
WEBSITE
https://www.mitbit.ca/
ADDRESS
990 Denman St, Vancouver, BC V6G 2M1, Canada
CONTACT DETAILS
Phone number: (604) 565-5678
OPERATING HOURS
Monday: 12 pm – 10 pm
Tuesday: 12 pm – 10 pm
Wednesday: 12 pm – 10 pm
Thursday: 12 pm – 10 pm
Friday: 12 pm – 12 am
Saturday: 12 pm – 12 am
Sunday: 12 pm – 10 pm
The MitBit Restaurant is a lot like the classic burger joints that you often see in movies from the late 50s and 60s. But this place differs a lot in their menu offerings, which include wraps, and rice plates topped with chicken, beef, and veggies.
But with all due respect, we highly doubt you'll be coming here for the rice bowls and wraps, as good as they may be. If you've come instead for a hefty classic burger fresh off the grill and topped with all the works… then you've come to the right place.
With this in mind, if there's one issue serious burger lovers might have, it's this restaurant's lack of diversity with fries. Now don't get us wrong: you can never mess up with traditional salted fries, but sometimes it pays to get creative and throw in some additional toppings.
Like any serious burger joint, MitBit stays open late on Fridays and Saturdays to serve up burgers to late-night adventurers and Vancouverites out for a night on the town. So, whether you're out for lunch or having midnight cravings, this place has you covered.
Serves rice bowls and wraps
Open late on weekends
Very friendly staff
Family-owned establishment
Limited options for french fries
Customer Reviews
MitBit's burgers are every bit as delicious as they are picture-perfect, just ask these patrons:
"Juiccccyyyy burger!!! Finally I found a place to have food in downtown Vancouver I'm very pleased with food quality and creative staff I got a fresh and hot monster burger with fries with having that juicy burger I had flavour party in my mouth with each bite!!!
Love it I will go back there with my friends and have another party!!!" – Kam A.
"It was a delightful meal, not only to our stomach but to our eyes! I expected the color, the fragrancy and the moisture, but honestly, what a surprise with the tenderness of the meat. When they all came together, it was mind-blowing. They were served in generous portion. Overall, super tasty food and friendly staff, definitely worth more than one try! Definitely recommend." – Elahe H.
2. ChiMec Fried Chicken & Burger Vancouver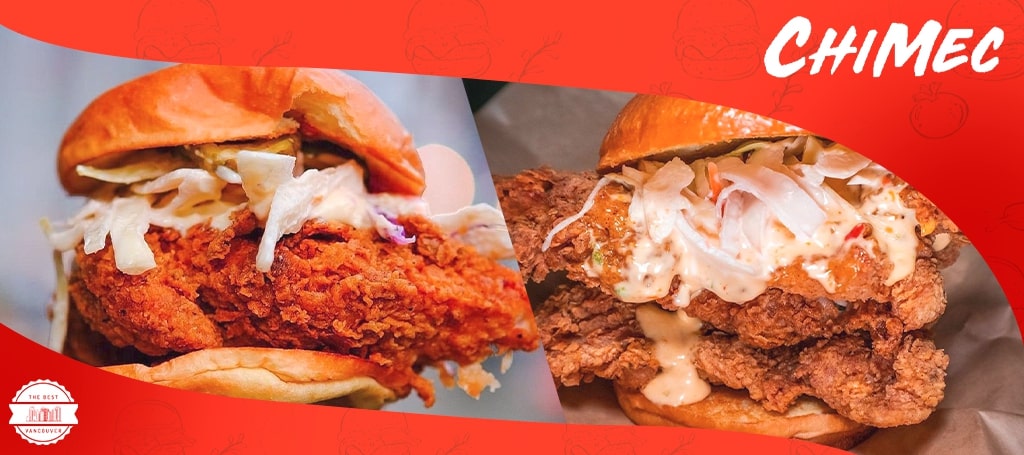 SERVICES
Fried chicken
Chicken burgers
Chicken wings
Caesar salads
French fries
Delivery
Pick-up
WEBSITE
http://www.chimec.ca/
ADDRESS
835 Denman St, Vancouver, BC V6G 2L7, Canada
CONTACT DETAILS
Phone number: (604) 331-0058
OPERATING HOURS
Monday: 11:30 am – 3 pm / 4 pm – 10 pm
Tuesday: 11:30 am – 3 pm / 4 pm – 10 pm
Wednesday: 11:30 am – 3 pm / 4 pm – 10 pm
Thursday: 11:30 am – 3 pm / 4 pm – 10 pm
Friday: 12 pm – 3 pm / 4 pm – 10 pm
Saturday: 12 pm – 3 pm / 4 pm – 10 pm
Sunday: 12 pm – 3 pm / 4 pm – 10 pm
Ok, so we might be cheating with this particular entry but if you think about it, the ChiMec Burger has all the makings of a standard burger. It's got pickles, pickled onions, secret sauce, juicy, crispy chicken, and even coleslaw, all sandwiched between two toasty golden brown buns.
If that painted mental picture doesn't make your mouth water and your stomach growl, we're not quite sure what will. But all jokes aside, this chicken burger is definitely nothing to scoff at seeing as how it's one of ChiMec's specialties.
A restaurant takes a big risk when it puts out a dish that literally carries the establishment name on the menu. And for this place, that risk has paid off, since hundreds of Vancouverites flock to the restaurant on a daily basis.
Patrons can choose to have their ChiMec burger in original, medium, or spicy variations. Regardless of which they choose, they'll be treated to an utterly massive heaping helping of juicy, deep-fried poultry.
Extremely large serving size
Great value for money
Offers 3 different spice levels
Doesn't serve standard beef burgers
Customer Reviews
Fried chicken has always been delicious and when you combine this with a timeless burger, you get a recipe for endless rave reviews:
"Fresh, tasty chicken sandwich that is a huge portion enough for two really. I had the spicy version and indeed was but all good. Clean, friendly staff, small interior space and outdoor patio is next to busy Denman street traffic. Recommend" – Robert D.
"One of the best fried chicken shops in the city (if not the best). The chicken tastes fresh, the place looks very clean, and the owners are very friendly and polite. The portions also huge so really love that." – Masih Y.
3. Alibi Room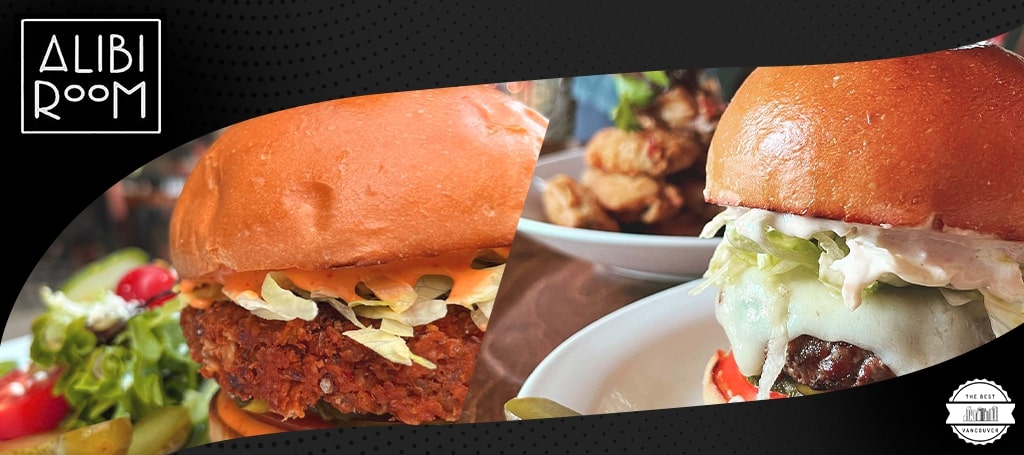 SERVICES
Burgers
Bar chow
Beer
Cocktails
Wines
WEBSITE
http://alibi.ca/
ADDRESS
157 Alexander St, Vancouver, BC V6A 1B8, Canada
CONTACT DETAILS
Phone number: (604) 623-3383
OPERATING HOURS
Monday: 8 am – 6 pm
Tuesday: 8 am – 6 pm
Wednesday: 8 am – 6 pm
Thursday: 8 am – 6 pm
Friday: 8 am – 6 pm
Saturday: 8 am – 6 pm
Sunday: 8 am – 6 pm
Any bar worth its weight in beer should have some decent bar chow to go with their delicious brews. The Alibi Room is certainly no exception to this rule and it adheres to it in deliciously fantastic fashion.
Patrons can choose between a classic all-natural beef burger or a less traditional house-made veggie burger. Both of these dishes have been tried and tested by hundreds of patrons and they both have passed with flying colors.
A big part of their success in making these burgers has a lot to do with their house-made smoked onion mayo and spicy vegan mayo. These two sauces complement the savory taste well and balance the flavors without being too overpowering.
Aside from serving delicious burgers, the Alibi room has a row of beer taps that would bring a tear to any beer lover's eye. With 50 different selections of golden brews, you're sure to find the perfect pairing for your burger here.
Offers a delicious veggie burger
Uses house-made mayo
Serves 50 different local and exported brews
Limited selection of burgers
Customer Reviews
Between the 50 unique beers and 2 delicious burgers, these patrons just can't get enough of the Alibi Room:
"Extensive beer menu, limited food menu but what we had was delicious. Recommend a "flight of four" beers — let the bartender pick. And I really enjoyed the house-made veggie burger + The Works (including bacon!). We sat downstairs where there was just bar service (no waiter, just order from the bar and they bring your food). Fun atmosphere for our family of 5 (including 3 teens)." – Chris H.
"Absolutely fantastic food and drinks no matter your preference I had the chicken wings and a veggie burger and I was blown away by the great taste and termendous value. Too top it off the the amounts of Kraft beers available are stupendous." – Vick M.
4. Vonns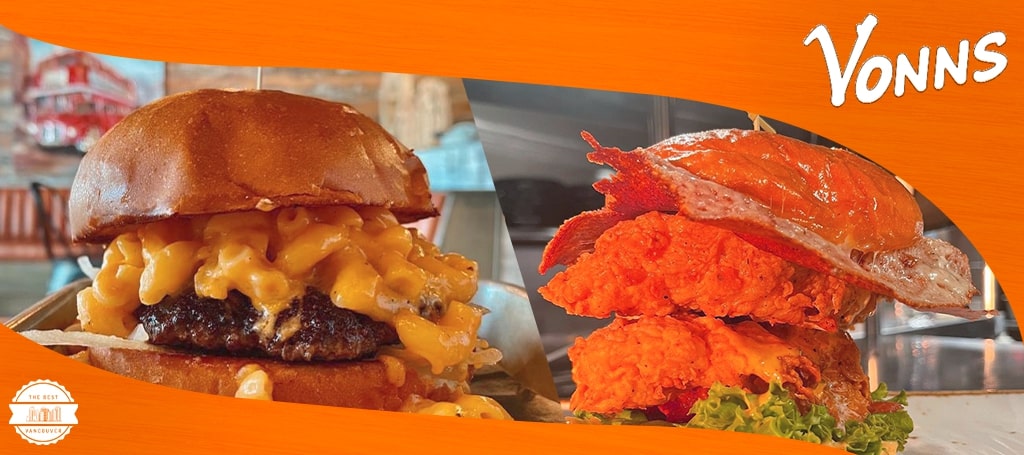 SERVICES
Burgers
Chicken
Cheesesteaks
Veggie burgers
French fries
WEBSITE
https://vonns.ca/pages/about-us
ADDRESS
1184 Denman St #104, Vancouver, BC V6M 2M9
CONTACT DETAILS
Phone number: 604-669-8988
Email:

[email protected]

OPERATING HOURS
Monday: 11 am – 10 pm
Tuesday: 11 am – 10 pm
Wednesday: 11 am – 10 pm
Thursday: 11 am – 11 pm
Friday: 11 am – 12 am
Saturday: 11 am – 12 am
Sunday: 11 am – 11 pm
Vonns is Vancouver's very own burger bar by the sea, complete with chicken sandwiches, cheesesteaks, and of course, burgers. These dishes are made using the highest quality local ingredients and patties are never frozen.
If you intend to visit Vonns, you may want to skip a meal or eat a light snack in lieu of anything heavy. We say this because you get what you pay for here and for around 13 dollars you'll get a huge burger that's jampacked with flavor and tough to finish on a full stomach.
For particularly ravenous patrons, this joint has an answer in the "Daredevil" burger. This monster stacker is Vonn's classic burger piled high with 3 extra premium patties making for a whopping, mouth-watering hand full.
There's a pretty big chance that you'll be absolutely stuffed by the time you're finished chowing down here. Luckily, Vonns is a short stroll away from the shores of English Bay Beach, which makes for a pretty good breather after a hefty meal.
Located next to a scenic beach park
Serves an extremely large burger
Offers truffle fries
Also serves delicious cheesesteaks
Portions can be a bit large for some diners
Customer Reviews
Vonns has been the culprit behind many loosened belts and tight-waisted trousers thanks to their large, delicious burgers:
"MUST TRY!!!!!!! the food here was unreal. So delicious and fresh. The staff were also very friendly and I loved the aesthetic. Best Buffalo chicken sandwich I think I've ever had 10/10. And they have great tasting unique sodas – try the passion fruit!" – Aleksandra T.
"Such a wonderful place! We ordered classic burger & original chicken burger and bother were so delicious, the fries also is freshly made and so yummy. The staff are very kind, they even offered us truffle chips on the house that was soooo good. Delicious food, nice decoration, perfect location. Highly recommended" – Leen D.
5. Bin 4 Burger Lounge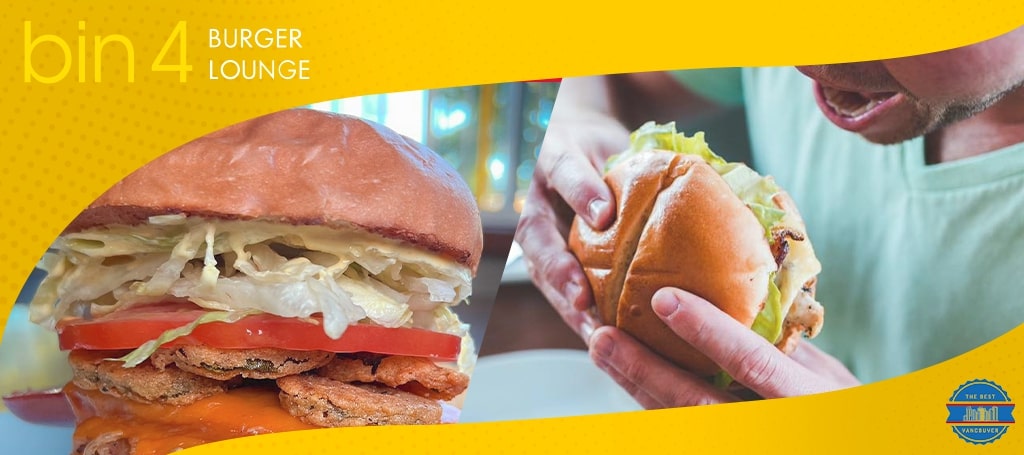 SERVICES
Burgers
Fries
Draft beer
Cocktails
Wines
Salads
WEBSITE
https://www.bin4burgerlounge.com/
ADDRESS
2996 Granville St, Vancouver, BC V6H 3J7, Canada
CONTACT DETAILS
Phone number: (604) 428-7649
OPERATING HOURS
Monday: 11 am – 11 pm
Tuesday: 11 am – 11 pm
Wednesday: 11 am – 11 pm
Thursday: 11 am – 11 pm
Friday: 11 am – 11 pm
Saturday: 11 am – 11 pm
Sunday: 11 am – 11 pm

The Bin 4 Burger Lounge is a neat modern grill located in South Granville just next to Granville Park. These folks have made a name for themselves serving great burgers, delicious fries, and various local craft beers.
At this establishment, a lot of thought goes into what a burger is made with, served with, and enjoyed with. This focus has resulted in a ton of special burger preparations such as the greek-isles burger, or the spicy, Angry Bull burger.
Like a true burger lounge, Bin 4 offers a long list of sandwiches to choose from with a total of over 20 unique burgers. With each of these dishes, diners can expect a piping hot serving of french fries or onion rings and house-made aioli.
We would be remiss if we didn't also draw some attention to this establishment's unique modern aesthetic. The restaurant's dark wood furnishing, leather seats, and marble countertops make it a cool choice for date night or a sophisticated dinner.
Has over 20 different burgers to choose from
Serves great onion rings
Long operating hours
Relatively far from downtown Vancouver
Customer Reviews
These patrons were absolutely delighted with the Bin 4 Burger Lounge:
"Bust burger ever, the minted lamb was amazing, and the basil aioli dip was great with the home cut fries, fried pickles. The truffle burger is a must try for truffle lover. The burger is really juicy and tasty. I would suggest adding dill to fried pickles so there would be a difference between the batter used for Onion ring and the batter for the pickles. That was just an opinion. All in all this restaurant is a gem and the experience and service are fabulous. Did I mention the happy hour?" – Ali Z.
"We enjoyed the Big Spenny and Big Dipper burgers on Bin 4's patio yesterday. Both the burgers were flavourful and delicious. I would recommend trying deep fried pickles as sides. We had lime berry sangria and Helios golden lager for drinks. The sangria was not just refreshing but grog to look at too! All in all, a great burger lounge to chill on a summer evening" – Vidhi M.
6. MeeT in Gastown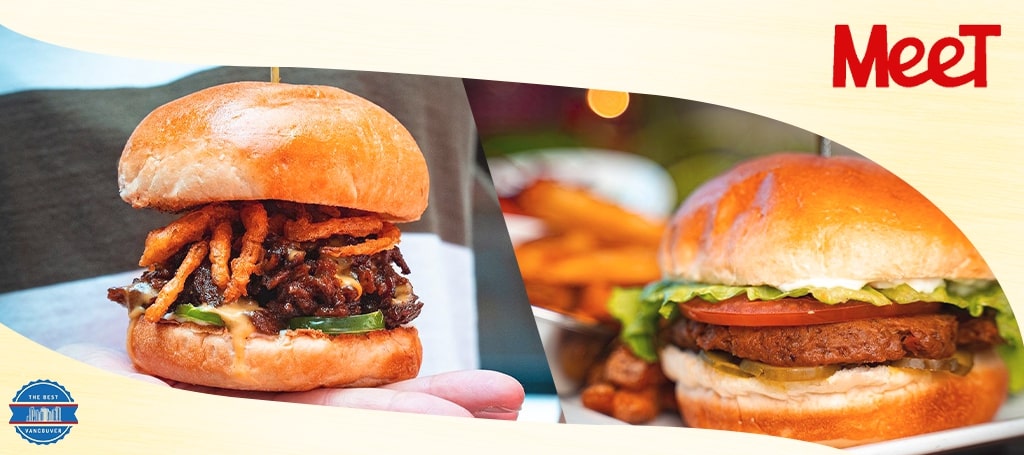 SERVICES
Vegan burgers
Salads
Fries
Vegan desserts
Rice bowls
Cocktails
Beer
Wine
Juices
WEBSITE
https://www.meetonmain.com/
ADDRESS
inner Courtyard, 12 Water St, Vancouver, BC V6B 4K7, Canada
CONTACT DETAILS
Phone number: (604) 696-1111
Email:

[email protected]

OPERATING HOURS
Monday: 11 am – 10 pm
Tuesday: 11 am – 10 Pm
Wednesday: 11 am – 10 pm
Thursday: 11 am – 10 pm
Friday: 11 am – 11 pm
Saturday: 11 am – 11 pm
Sunday: 11 am – 10 pm
While many burger gastronomers might consider using meat substitutes as a cardinal sin, we think they'll take exception to this delicious vegan burger. This restaurant is no stranger to first-time vegans and so far they have yet to disappoint a burger lover.
Now in case we haven't made it clear, as a vegan eating establishment, these folks don't use any meat in their burgers. Instead, they opt to use meat alternatives made from tofu, spices, and other plant-based products.
Vegan ingenuity really is endless, and to prove it these folks even have a decent "chicken" burger. To make this, these folks make use of deep-fried cauliflower coated in a delicious sauce for that extra taste explosion.
Another unique upside to dining at MeeT, is the variety of french fries and various side dishes available. If you're not satisfied with standard salted fries, you can opt for poutine that can be topped with gravy, vegan cheese, kimchi, or even salsa.
Serves fully vegan burgers
Has great poutine side dishes
Great for those wanting to try vegan dishes
Not everyone is comfortable with eating meat alternatives
Customer Reviews
Anyone who thinks vegan burgers are tasteless will have a hard time arguing their point after seeing these reviews:
"Wonderful place!! It's my first time eating like a vegan and what a surprise!!! The food here is amazing delicious ~ I love their salads, burger and brunch!!! And the employees are all kind and nice!! And I enjoyed this place so much~ it's beautiful, clean and chill. How lucky I am!!! We are so happy to having our brunch here and we will come back again soon!!" – Lillian C.
"We came here for mothers day and it was a good experience, but not great. The "patty" of my burger was really good, but one of the vegan cheeses left a lot to be desired. If you're not a fan of sweetness in cheese, I would ask to replace the cashew cheese with the other alternative they had available. As for the rest of the burger, it was just like the burgers you'd get from a restaurant such as Brown's or Moxie's 🙂 Our server (a young white woman with dark, nearly shaved hair) was very friendly and helpful. I'm sorry for not remembering her name!" – Roxanne J.
7. Blaze Burger
SERVICES
https://blazegourmetburgers.com/menu/
WEBSITE
https://blazegourmetburgers.com/
ADDRESS
43 E 5th Ave, Vancouver, BC V5T 1G7
CONTACT DETAILS
(604) 568-5486


[email protected]

OPERATING HOURS
Dine-in is available for lunch until 4pm only. Pickup and delivery is available after 4pm through the back door (in the alley between 4th & 5th ave).

Mon: 11:30a.m.–3:30p.m.
Tues: 11:30a.m.–10:30p.m.
Wed: 11:30a.m.–10:30p.m.
Thurs: 11:30a.m.–10:30p.m.
Fri: 11:30a.m.–11p.m.
Sat: 4–11p.m.
Sun: 4–10p.m.

Catering Hours
Mon-Sun: 11:00am-11:00pm
Blaze Burger is not your usual restaurant. They operate as a ghost kitchen and keep their focus mainly on the food they serve.
We love how they only use certified Angus beef patties and as much as possible, they source all of their ingredients locally. Unlike other burgers out there, with their Blaze Secret Sauce, your mouth will definitely be watering just by looking at the burger.
Aside from Doordash and Uber Eats, they also offer delivery through Ritual, Foodee, and Hungerhub. More choices mean more delivery locations.
The only catch here is that they are only open for limited hours therefore you must always call or check their hours first before going.
Offers gluten-free, vegetarian, and vegan options
Can order through their website as well
Do not offer other items aside from burgers and side dishes
Customer Reviews
Here are reviews from their satisfied customers:
"There really is nothing like a good burger. Blaze Gourmet Burgers has soft-opened at their new location on 5th Ave. The space was previously occupied by Peaceful Restaurant, but you'd hardly recognize it with the current renovations and I can only imagine how better it'll look once it's fully up and running with a bar and event space. In the current setup, they are open for take-out and have a few tables inside and out for those that can't wait to get their hands on their burger. Delivery is also currently an option thru the standard delivery services. Now about those burgers… I chose the Mushroom Lovers burger and some yam fries. The burger includes Swiss cheese, sautéed mushrooms, banana peppers, jalapeños, crispy bacon, lettuce, tomato, and Blaze's Secret Sauce. It was outstanding. The bun was light and fluffy and did a good job holding things together. The flavours were intense and the beef patty was juicy. You'd have to ask my daughter how the yam fries were. I suspect they were good, cuz she stole them all. If you're looking for a legit burger, you'll want to consider Blaze Gourmet Burgers. Whether it's a beef burger, chicken burger, or their vegan offerings, if it's anything like what I just finished eating it will be delicious."
"Hidden gem in the Mount Pleasant neighborhood. Was craving burger so badly as I haven't been having burger for a long time Got the Smokey BBQ Blaze Burgers and Onion Rings from Blaze Burger and they were sooo good The angus beef patty was sooo juicy, the smoky flavour was so on point, and wasn't overly rich"
FAQs About Burgers
---
That concludes our mouth-watering list of the best burger joints in Vancouver. Now that you're familiar with all the delicious burgers that the city has to offer, it's time to head out or dial up your restaurant of choice to satisfy your savory cravings.
If you're eating various foods and drinking sugary beverages all day long, your teeth can build-up plaque over time. To keep your smile in tip-top shape, check out our list of the best dentists in Vancouver.
As with all of our lists, we've included helpful info such as reviews, summaries, and FAQs to make choosing a dentist easier.