The 5 Places Where You Can Get the Best Car Wash in Vancouver
Let's be real: washing the car by yourself can be tedious. For those who don't have the time to do it anymore, going to a car wash is really a much better value.
For today, we decided to review the best car wash services in Vancouver and check out their pros and cons. Of course, we visited them first to know what their services are really like.
How much does going to a car wash in Vancouver cost?
Many car wash services offer different packages that are much cheaper than just getting those services one-by-one. However, the price will still differ due to the size and type of vehicle.
The table below shows the base price of each car wash on the list.
Car Wash Service
Price
Shiny Mobile Car Detailing & Mobile Car Wash
Interior & Exterior Package: $89.00-$500.00
Exterior Only Package: $300
Tiago's Auto Spa
Wash and Wax: $229 and up
Car Wash Package: $70 and up
Fraser Car Wash & Auto Detailing
Mini Detail: $70
Complete Detail: $475
Steam Tech Auto Spa
Wash Packages: $175+
Husky Car Wash
Ultimate Car Wash: $14.55
The Best Car Wash in Vancouver
Now let's take a look at what we thought of each one. Make sure that you read to the end of the article as we also answered some frequently asked questions about the best car washes in Vancouver!
1. Shiny Mobile Car Detailing & Mobile Car Wash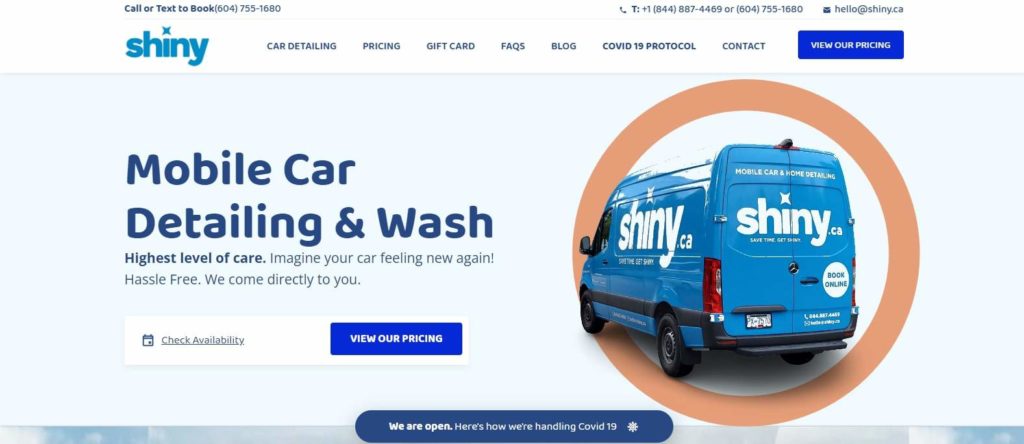 SERVICES
Auto Detailing
Car Wash
ADDRESS
415 W Cordova St #210, Vancouver, BC V6B 1E5, Canada
CONTACT NUMBER
604-755-1680
WEBSITE
https://www.shiny.ca/
OPERATING HOURS
Monday-Sunday: 9am-6pm
While they have much shorter working hours compared to other car wash services on this list, it's hard to overlook them as they're very thorough when cleaning cars.
Out of all their services, what we like the most here is their usage of eco-friendly chemicals. This ensures that the remaining chemicals won't affect any possible wildlife or plant life in the area where you got your car wash.
Besides that, being a mobile car wash is also a big advantage here. You won't need to drive your dirty car to their place as they'll be the ones going to you.
Their staff are also fully trained. They typically have experience in the automotive industry even before working in Shiny.
In any case, their van comes with all of the equipment they need to wash your car. They also claim to use 90% less water when cleaning your car compared to different car wash services in Vancouver – not bad, given that we should be more conscious of how we use water now.
It's a bit disappointing that they don't accept cheques, though. However, they do accept credit, debit, and cash.
Aside from that, Shiny Mobile Car Detailing & Mobile Car Wash is still worthy to be called one of Vancouver's best car wash services, in our opinion. That's due to the convenience and thorough car wash they offer.
Uses eco-friendly chemicals for car wash
Can go to your preferred location or home through mobile wash services
Fully-trained staff
Doesn't accept cheques
Shorter business hours
Customer Reviews
Went above and beyond
"Had Tyson do a full car detail last week on one of my cars and it was so good. He was so good that I immediately booked this week for him to do my other car. All I can say is he's a pro. The set up is pro. They have all their own power and water and gear and he went above and beyond. I'll def use them again and highly recommend. Easy to book. So good." – Crabby Ermine
Will definitely be using Shiny again
"We just bought a used car from Craigslist and realized it was much dirtier than at first glance. I booked Shiny with only a day's notice and Griffin, the tech, arrived early. He did a fantastic job and even stayed an extra hour at no charge because he wanted to do it right. The car is leaps and bounds better than when we bought it and I was incredibly impressed by Griffin's professionalism, advice and service. I will definitely be using Shiny again in the future!" – D K
2. Tiago's Auto Spa

SERVICES
Interior Detailing
Exterior Detailing
Full Interior Detailing
Car Wash
ADDRESS
55 E 5th Ave, Vancouver, BC V5T 1G7, Canada
CONTACT NUMBER
604-568-3110
WEBSITE
https://tiagosautospa.com/
OPERATING HOURS
Monday-Saturday: 9am-6pm
You can give your car a treat by bringing it to this auto spa. They have different car wash services that can really make your car look and smell good.
One of the highlights for us was their wash and wax service, which combines car wash and waxing. They use synthetic Japanese wax on your car so it won't get damaged by UV rays and tree sap that can potentially corrode your car's paint.
If you're planning to go here, it's best to avoid going on Sundays as they're closed during that day. Their basic car wash package is also only available to returning customers.
Besides those things though, we like their customer service here too. Online booking is fast and they respond to your queries immediately.
Even during the duration of your service, they email you so you can also know if your car is ready for pick-up.
What if you don't want to go out and leave your car inside their service? Well, you won't need to worry as the lounge here is also comfortable and you can easily wait there as they clean your car.
So, if you want to visit an auto spa that provides you with more than just a car wash, then we definitely recommend this place.
Wash and wax service package
Uses high-quality wax
Fast response
Comfortable customer lounge
Closed on Sundays
Basic car wash package is only available to returning customers
Customer Reviews
Absolutely Amazing
"The team at Tiago's is absolutely amazing. The quality of work is exceptional and they are always on time.
Just got my car ceramic coated and the car has never looked better.
Highly recommend anyone to take their car in and feel comfortable knowing the results will be stunning!" – Cameron Culin
Looked as good as new
"Fantastic experience today at Tiago's. The car needed lots of TLC after a summer of logging roads, road trips, and over all neglect. As a first time client they give you a great walk through and give you lots of pointers to better care for your car. Upon getting the car back I was blown away with what the detail did for the black paint. The inside also looked as good as new. I'm looking forward to bringing the car in after the winter for a full cut and polish." – Adam Thornton
3. Fraser Carwash & Auto Detail

SERVICES
Cleaning
Waxing
Polishing
ADDRESS
725 E 45th Ave, Vancouver, BC V5W 1X8, Canada
CONTACT NUMBER
604-327-7761
WEBSITE
https://frasercarwash.com/
OPERATING HOURS
Monday-Sunday: 10:30am-7pm
While their place is a bit smaller than other car wash services out there, you can trust Fraser Carwash & Auto Detail to make your car look good as new.
They have been in the business since 1999 and have done car washing for many years now. You can trust their refined process here as their staff is knowledgeable and careful when dealing with cars.
However, we find it a bit of annoyance that they don't have an online booking option since so many companies now offer that.
It's also better to register here for a membership as they give huge discounts to members. In our opinion, membership here is really worth it as they give a 30% discount to members.
Despite not being BBB-accredited too, they also respond to most issues when called, we were told by other clients. So, if you find that they didn't thoroughly clean your car, you can easily call them for a do-over
Overall, despite a few issues, we think this is a good place to visit for those who are looking for a long-term car wash solution.
Have been around for more than 20 years
Huge discount to members
Responds to problems easily
Not BBB-accredited  
No online booking 
Customer Reviews
Excellent job
"Booked same day service. Small location, family run business. They did an excellent job washing and waxing my car. My car sparkled when I left! I will definitely be going back there for further service!" – Nancy Kwasty
Excellent customer service
"Excellent customer service and even better car wash service. Cleaned my car like never before! I was so satisfied and content with the results. Would definitely recommend this place to any and everybody." – Khalid Darab
4. SteamTech Auto Spa

SERVICES
Steam Car Wash
Detailing
ADDRESS
1009 E 63rd Ave, Vancouver, BC V5X 2L2, Canada
CONTACT NUMBER
778-697-0088
WEBSITE
https://steamtechautospa.ca/
OPERATING HOURS
Tuesday-Friday: 10am-5pm
SteamTech Auto Spa is only open to the general public for 4 days a week but if you're a member, you can visit them even on Saturdays.
They only have 2 staff members, which means that they can't clean many cars at once. This might make cleaning your car longer too as they can only handle a few cars at once.
While having a few staff can be a problem for some of you, we think that it's also great in its own way.
You see, with two staff members, the company ensures that the quality of their cleaning and detailing will be consistent and the two team members are experienced ones with years of experience in handling cars in different states of use.
They use steam to clean your car, by the way. Steam cleaning is very useful nowadays as it's a very effective way to clean viruses and steam has also been a CDC-recommended way of killing viruses.
Other than that, they have detailing and steam cleaning packages, which means you can get more for an affordable amount. You can book online with the package you want and the type of car you have so you can easily see the price even before you can submit the booking.
They also have an online payment option, which is great as we want to minimize the contact with other people due to the pandemic. It's also really useful as after paying, you can just go there alone and without bringing anything.
Ultimately, for this company, the pros really outweigh the cons. This company has also consistently shown great car cleaning services.
Experienced staff
Steam cleaning
Offers package combos 
Has an online payment option
Only open from Tuesday-Sunday
Only has 2 staff
Customer Reviews
The best price
"I thought I needed an ozone treatment for my vehicle after I had a few friends vomit in my vehicle. Mikey was very honest and told me I didn't need it. He didn't try to upsell me where others would have. My car looks newer than new and after canvassing a bunch, Steam Tech had the BEST price. I will be back." – row rivera
Never been cleaner
"Very impressed with Mike and the team at SteamTech; highly recommend them. Here's how they set themselves apart:
-Immediately picked up and answered my initial questions about their service.
-Drove to me the next day to provide an estimate
-Accommodated my need for the emergency service by slotting me in despite their fully booked up schedule.
-Friendly and very responsive.
-Excellent results. The car's interior has never been cleaner." – Jake Schroeder
5. Husky Car Wash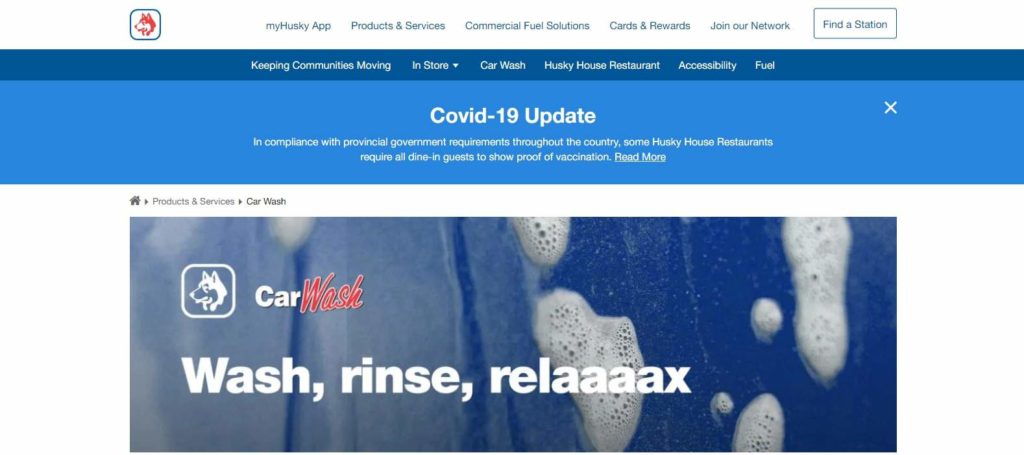 Husky Car Wash station is an auto car wash place. Since this is a gas station, we already like the convenience of the car wash here.
You can easily fill your car's tank right after you have it washed, you see. Or if you want, you can also get snacks here while you stay inside your car.
However, as it's an auto car wash service, don't expect them to have anything that can clean the interior of your car like other car wash services that offer handwashing.
Unlike others on this list, though, Husky Car Wash has an extremely affordable option. They have a self-serving wand wash where you can clean your car as you like it cleaned.
The wand is automated and will automatically turn off if it spends all of your payment.
If that's not your thing, they also have touchless wash, which doesn't use car brushes and only uses jets of water. This is great as it ensures that there will be no abrasion from brushes on your car.
If you're a frequent visitor of this gas station, they also have myHusky where users can get a reward point from shopping. Those who have saved enough points can get a free car wash too.
Alongside that promotion, they also have one for frequent buyers. Customers who get 5 washes there will get the 6th one for free.
We think that the promotions here are great and that this place is really a good car wash service in Vancouver for those who are looking for a more affordable replacement.
Convenient location
More affordable car wash option
Touchless washing option
Has a point system where customers can get a reward
6th visit is free
Only cleans the exterior of the car
Auto car wash might not be as thorough 
Customer Reviews
No scratches
"Got my truck sparkling clean. Touchless service ensured no scratches and meant I didn't need to remove my ski racks." – Andrew C.
Not too pricey
"Touchless Car Wash is the bomb. Thorough job, not too pricey for the works. Drier could be a bit better, but 80-90% dry after 1 min. Fits small cars through 2 door long box pickups at least." – P O
FAQs About Car Washes
---
If you ever find yourself needing a car wash service in Vancouver, well give them a call so they can take the problem off of your hand!
Did we miss an amazing car wash service in Vancouver? Give us a message and we'll review them!
Now, if you somehow find that your car isn't looking and working as good as before, maybe it's best to replace it. For affordable cars, here is an article on the best used car dealers in Vancouver to know where you can look for your next car with an even more affordable rate.