The 6 Best Landscape Maintenance Services in Vancouver
Maintaining the garden is a key responsibility that homeowners have. An unkempt lawn, after all, can be an eyesore.
Regular maintenance can help keep your garden looking its best and prevent it from becoming overrun with weeds or other pests. However, not everyone has the time to maintain their lawns.
We have taken up the task of evaluating the local businesses in the area and have found the top landscape maintenance services in Vancouver for you.
How much does landscape maintenance cost in Vancouver?
The cost of landscape maintenance depends on several factors, including the complexity of the job, the size of the lawn, and the type of services required.
To give you a better idea of how much you may have to spend, we have compiled the starting prices of standard landscape maintenance services in Vancouver.
| SERVICE | STARTING PRICE |
| --- | --- |
| Landscaping | $150 |
| Landscape Design | $1,500 |
| Gardening | $75 |
| Snow Removal | $75 |
The 5 Best Landscape Maintenance Services in Vancouver
Our goal is to provide accurate assessments, which we cannot do without proper criteria. For the best landscape maintenance services in Vancouver, we considered the following factors:
1. EcoBridge Landscape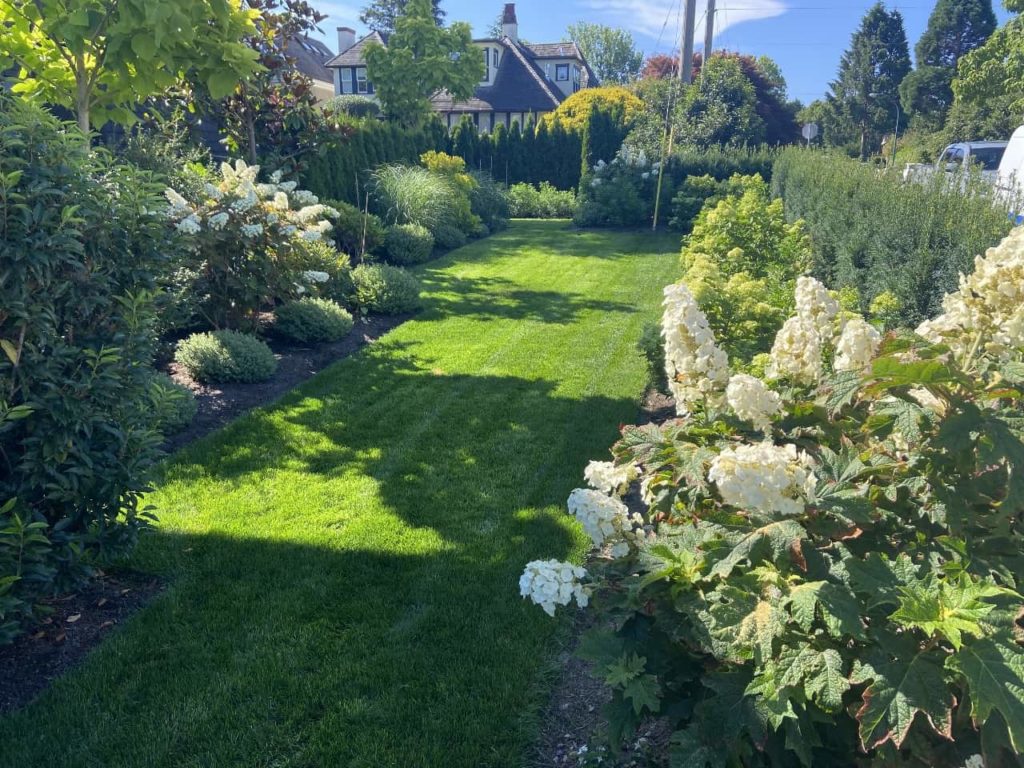 SERVICES
Hardscape Construction

Garden and Sod Installation

Lawn and Garden Maintenance

WEBSITE
https://www.ecobridgelandscape.com/
ADDRESS
#300-3665 Kingsway, Vancouver, BC V5R 5W2
CONTACT DETAILS
(778) 222-1701
OPERATING HOURS
Monday– Friday: 8:00 – 18:00

Saturday: 9:00 – 13:00
| | |
| --- | --- |
| CRITERIA | RATING |
| Range of Services | ★★★★☆(4/5) |
| Quality of Services | ★★★★★(5/5) |
| Customer Service | ★★★★★(4/5) |
| Professionalism | ★★★★★(5/5) |
| Communication | ★★★★★(5/5) |
| Accessibility | ★★★★★(5/5) |
EcoBridge Landscape crafts cleaner, greener landscapes that truly connect with nature. Based in Vancouver and the surrounding areas, they go beyond aesthetics, embracing environmentally-friendly practices for vibrant outdoor spaces. They use sustainable practices, like organic composted mulch and soil that are environmentally friendly as well as safe for pets and children.
What sets them apart is their commitment to understanding clients' unique needs, resulting in tailored landscaping solutions, including full garden maintenance, hedge trimming and pruning, as well as power-washing and mulch applications.
From sourcing native plants to hardscaping, they create enduring landscapes that harmonize with nature. Their comprehensive services cover design, construction, installation, and maintenance, making them a go-to for all landscaping needs across Vancouver, North Vancouver, West Vancouver, Burnaby, Richmond, and New Westminster.
Their deep appreciation for the natural world is evident in their designs, encouraging relaxation, play, and nature enjoyment. Transparent and courteous, they prioritize client satisfaction through clear communication and meticulous execution. Their attention to detail, use of quality materials, and a commitment to leaving properties pristine make them a pleasure to work with.
EcoBridge Landscape's sustainable and future-focused approach shines through.
Complying with local regulations and aiming for eco-friendly practices, they envision people-centric outdoor spaces that contribute to wellness and energy.
Despite being a smaller team, their passion drives remarkable results. Keep in mind that their dedication might lead to potential delays for large-scale projects or during peak seasons. Nonetheless, their transformative landscapes are a testament to nature's inspiration and rejuvenating power.
Customer Reviews
"David is truly a hands on owner, and it resonates with his exceptional customer service and the quality of his work. He sets out with a plan, and makes you feel from the start, that the end product will be worth the handwork, and he does not disappoint. David and his team are always going that extra mile when you don't even ask, he always exceeds expectations. I know that its not just myself that sees this, but my other client's that I have introduced to EcoBridge, who are also blown away. If you have any landscaping vision, and want it done the right way, then please contact David & his team at EcoBridge.
"I would give David and the EcoBridge Landscape team 10 stars if I could, because 5 stars isn't enough. David is incredibly knowledgeable about plants, flowers and vegetable gardens; in fact he has a master's degree in Agricultural Science! He is highly professional, innovative and extremely hardworking. My garden already looks 10x better after EcoBridge worked for just a few hours on planting, creating new beds, mulching, soil amendment, pruning and major clean up.."
2. Great Lawns & Beyond Landscaping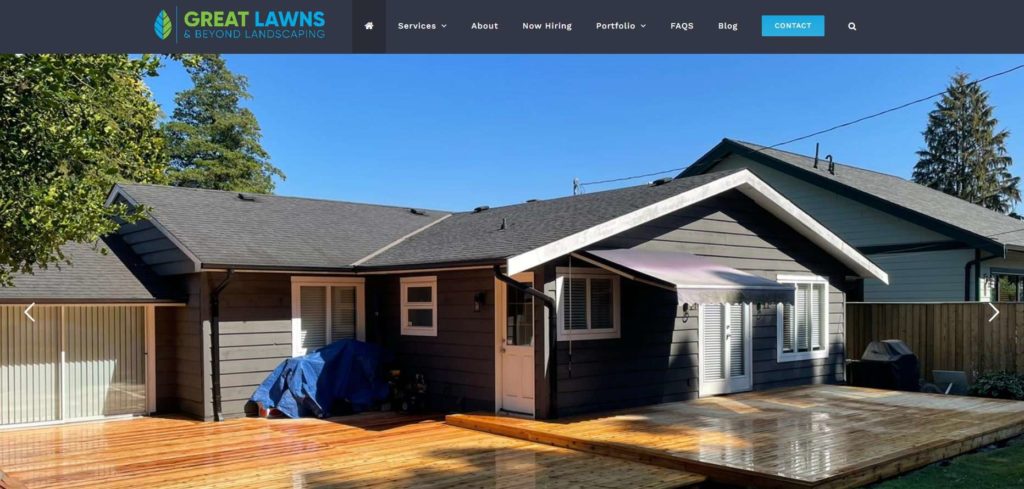 SERVICES

Lawn & Garden

Property Maintenance

Landscaping Construction

Snow Removal, Irrigation

WEBSITE
https://lawnsbeyond.com/
ADDRESS
712 Copping St, North Vancouver, BC V7M 3G3, Canada
CONTACT DETAILS
Phone: 778 991 3202
OPERATING HOURS

Monday-Friday: 7:30 AM-8:00 PM

Saturday & Sunday: 8:00 AM-5:00 PM
| | |
| --- | --- |
| CRITERIA | RATING |
| Range of Services | ★★★★★(5/5) |
| Quality of Services | ★★★★★(5/5) |
| Customer Service | ★★★★☆(4/5) |
| Professionalism | ★★★★★(5/5) |
| Communication | ★★★★☆(4/5) |
| Accessibility | ★★★★★(5/5) |
Great Lawns & Beyond Landscaping is a highly respected landscaping company that has been serving Vancouver since 2016. Over the years, the company has earned a stellar reputation for its reliable services covering natural and artificial grass.
We like that they are very thorough when maintaining lawns. If the client requests it, the team performs mowing, hedging, power raking, fertilizing, and even soil installation.
In addition, the Great Lawns & Beyond Landscaping team makes it a point to assess the property after consulting with clients. Doing so helps the team determine which solutions best suit the customer's needs.
Their year-round services are also reasons we recommend this company. During the warmer seasons, you can avail of regular maintenance, ensuring your lawn and garden look their best all year round.
Meanwhile, during winter, the team provides snow-clearing and removal services, allowing you to enjoy your outdoor spaces even during the colder months.
Another noteworthy fact about Great Lawns & Beyond Landscaping is that the team is insured, so customers have peace of mind that their property is in safe hands.
Overall, Great Lawns & Beyond Landscaping makes an excellent choice for landscaping maintenance because of their extensive services, reliable team, and year-round solutions.
Certified and insured team
Highly communicative
Free estimate available
A few issues with service quality
Slow customer after-care service
Customer Reviews
Professional and reliable
"We hired on Great Lawns and they haven't let us down. We had a big clean up to do as well as biweekly maintenance now. Everyone has been professional and reliable. Cory has been great to deal with as well. Highly recommend!" – Priscilla G.
Fabulous and thorough job
"The staff pruned and trimmed a large cedar hedge that runs the length of my property. Besides the considerable work involved in this, the clean-up is also extensive. They did a fabulous and thorough job in both areas. It's the second year I've used them and will continue to as they consistently do excellent work." – Kevin B.
3. Landscaping Vancouver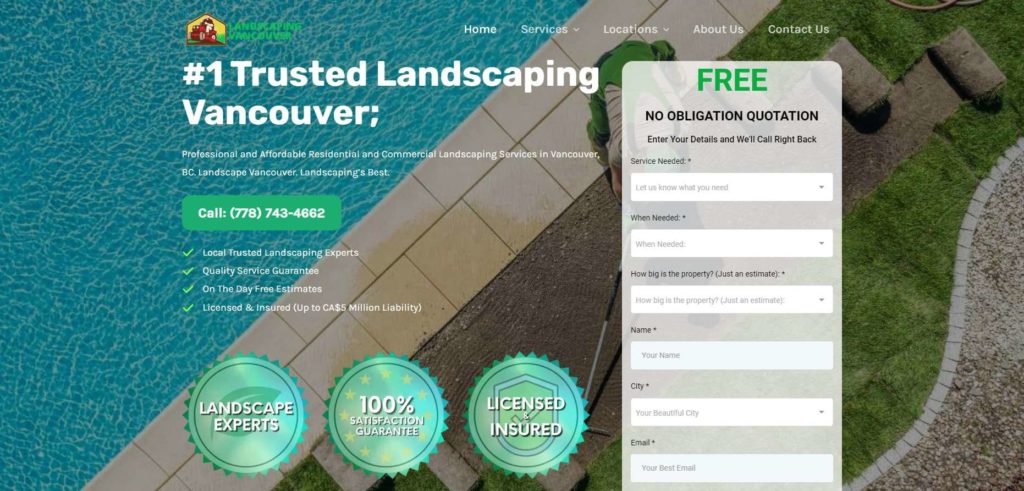 SERVICES

Concrete Contractor

Snow Removal

Deck Builder, Lawn Care

Tree Service, Fence Builder

Excavation Contractor

WEBSITE
https://landscaping-vancouver.com
ADDRESS
7911 Angus Dr., Vancouver BC, V6P 5K8, Canada
CONTACT DETAILS
Phone: 778 743 4662
OPERATING HOURS

Open 24 hours
| | |
| --- | --- |
| CRITERIA | RATING |
| Range of Services | ★★★★★(5/5) |
| Quality of Services | ★★★★☆(4/5) |
| Customer Service | ★★★★★(5/5) |
| Professionalism | ★★★★☆(4/5) |
| Communication | ★★★★★(5/5) |
| Accessibility | ★★★★★(5/5) |
It would be remiss not to recommend Landscaping Vancouver, a locally-owned business that offers quality landscaping maintenance services at quality prices.
Their range of services may not be the most extensive, but it covers critical parts of lawn maintenance. Aside from the standard lawn care, they also offer tree services, excavation, snow removal, and more.
We like that each service is curated to fit the client's needs. Landscaping Vancouver can accomplish such feats because their team consists of experts who are also licensed and insured.
Another remarkable fact about this company is that they offer one-time and recurring services. Clients need not worry about getting trapped in contracts and can adjust their services to fit their budget.
Other than that, we also appreciate that Landscaping Vancouver offers no obligation quotations. This way, customers know exactly the cost of their project and any additional services they may need.
After our thorough assessments, we believe that Landscaping Vancouver is a great choice if you're looking to get quality lawn care services at competitive prices.
Licensed and insured landscapers
Affordable service prices
Open 24/7
May be fully booked and unavailable
Few reviews on Google
Customer Reviews
Fast and reliable service
"We are very pleased that we chose V6C Landscaping Vancouver for our landscaping project. We provide the best service, fast and reliable service. The Best Price Guarantee is hard to beat and the results are amazing. Good friendly staff. We highly recommend V6C Landscaping Vancouver to any Vancouver homeowner looking for world class landscaping services. 🤩 🤩 🤩" – Khadi D.
Prompt, courteous, and knowledgeable
"V6C Landscaping Vancouver performed an excellent job! They were prompt, courteous, and knowledgeable about the finest landscaping options for our needs. I cannot recommend them highly enough, and we would gladly work with them again if we needed extra landscaping." – Roy C.
4. Vancouver GardenBox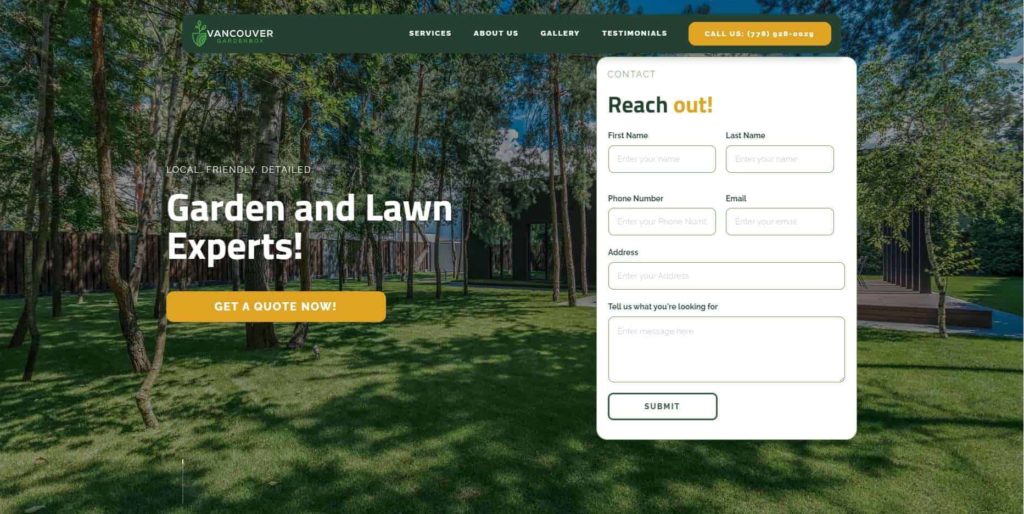 SERVICES

Property Maintenance

The GardenBox Clean Up

Hedge & Tree Trimming

Installation, Blackberry Bush Removal

WEBSITE
http://www.vancouvergardenbox.com/
ADDRESS
2684 E 24th Ave, Vancouver, BC, V5R 1E2, Canada
CONTACT DETAILS
Phone: 778 928 0029
OPERATING HOURS

Monday-Sunday: 7:00 AM-7:00 PM
| | |
| --- | --- |
| CRITERIA | RATING |
| Range of Services | ★★★★★(5/5) |
| Quality of Services | ★★★★★(5/5) |
| Customer Service | ★★★★☆(4/5) |
| Professionalism | ★★★★☆(4/5) |
| Communication | ★★★★☆(4/5) |
| Accessibility | ★★★★★(5/5) |
Vancouver GardenBox caught our attention for a number of reasons, the first of which is their core principle.
See, Vancouver GardenBox seeks to incorporate a personal touch in their projects, ensuring each is tailored to the client's needs.
They begin with a proper assessment on the property, and the team then comes up with the best solutions, from lawn care to planting and even design.
Of course, the client's request is the priority, but Vancouver GardenBox can provide recommendations and solutions if the customer needs them.
We also like how detailed they are with their services. The team offers a variety of options, including gardening, lawn care, hedging, bush removal, and even sod installation.
Clients can mix and match these services and even request recurring maintenance!
Any inquiries are answered as soon as possible, and estimates are provided quickly. Moreover, the company is always transparent about costs, so customers will know the exact amount for their project.
Reasonable prices
Punctual and efficient in their work
Open all days of the week
May impede walkways when working
Complaints about unprofessional behavior
Customer Reviews
Thoughtful, professional and friendly
"My back yard is/was a landscapers nightmare – overgrown and formless. However, after just 2 visits Riley and his team have begun to transform it back to some sense of order. They listened to my suggestions and offered advise. Their approach is thoughtful, professional and friendly. I'm fortunate to have found GardenBox." – Gerald G.
Great price point and excellent work
"This company is simply amazing. I made a call and the job was done with no hassles or issues. Great price point and excellent work. They cleaned up my yard, pruned, mowed, weeded, you name it. I'm so impressed with the service. Highly recommend this company. Riley was amazing. I will continue getting maintenance care going forward." – Niki P.
5. Seymour Lawn Maintenance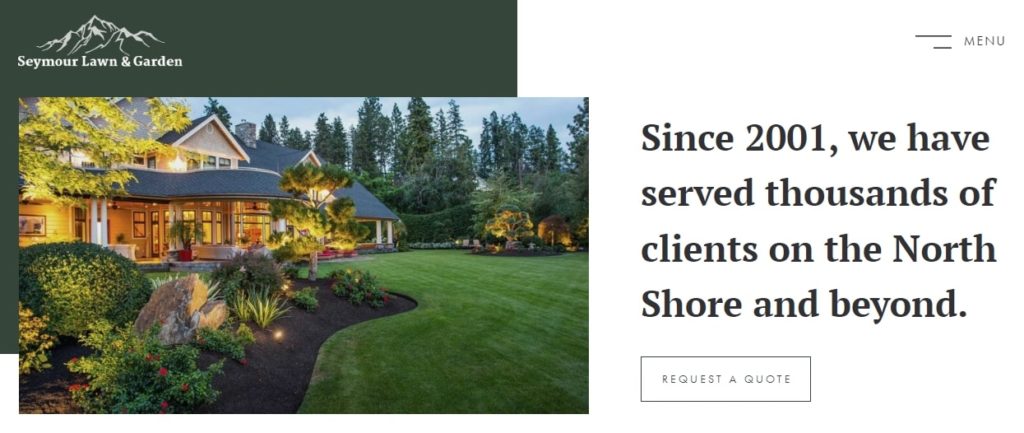 SERVICES

Softscaping, Hardscaping

Lawn Restoration/Maintenance

Property Maintenance, Tree

Hedge & Shrub Installation and Care

WEBSITE
http://www.seymourlawnmaint.com/
ADDRESS
718-333 Brooksbank Ave, North Vancouver, BC V7J 3V8, Canada
CONTACT DETAILS
Phone: 604 990 1252
OPERATING HOURS

Monday-Saturday: 8:00 AM-6:00 PM
| | |
| --- | --- |
| CRITERIA | RATING |
| Range of Services | ★★★★★(5/5) |
| Quality of Services | ★★★★★(5/5) |
| Customer Service | ★★★★☆(4/5) |
| Professionalism | ★★★★☆(4/5) |
| Communication | ★★★★☆(4/5) |
| Accessibility | ★★★★☆(4/5) |
Seymour Lawn Maintenance is one of the longest-standing landscape maintenance companies in Vancouver.
The company started operating in 2001, offering lawn mowing services. Over time, the family business grew to include other offerings, making them a full landscape maintenance company.
Now, there are many things to like about Seymour Lawn Maintenance, but what drew our attention was the team's commitment to creating personalized experiences for clients.
Aside from the customized approach, this company pinged on our radar because of their extensive range of services. They offer softscaping, hardscaping, and hedging alongside various lawn restoration services.
It's worth noting that Seymour Lawn Maintenance offers these services a la carte, but you can also avail of packages to save money. Plus, the company offers free estimates within 24 hours of inquiry.
For instance, the company's All Season package includes lawn maintenance services all year round, ensuring that your outdoor space looks great regardless of the season.
Overall, Seymour Lawn Maintenance delivers quality services with a personalized touch at competitive prices. This alone makes them one of the best companies for your lawn care needs in Vancouver.
Many years of experience
Exceptional team of dedicated employees
Client-collaborative work process
Poor customer after-care service
Closed on Sundays
Customer Reviews
Polite, professional and helpful
"My wife and I recently freshened up the front garden, pathway and had Seymour LM install a new flagstone pathway in the backyard. Ryan was very polite, professional and helpful in the whole process. His staff were very careful not damage existing plants, while adding the mulch and top soil. The staff who installed the flagstone did a wonderful job in placement, level and clean up. We would definitely use the services of this company again. Excellent work, job well done." – Paul B.
Prompt, friendly, helpful, and accommodating
"Ryan and his team have recently built a fabulous new garden in my back yard and re-worked my existing plantings. They have also replaced and now maintain our lawns. In spite of how busy they are during this season, the team is always prompt, friendly, helpful, and accommodating of our requests. A true pleasure to work with Seymour Lawn Maintenance. I would highly recommend them" – Bosch Crew
6. Para Space Landscaping Inc.

SERVICES

Landscape Maintenance

Landscape Installation & Design

Irrigation System Management

Plant Health Care

WEBSITE
http://www.paraspaceinc.com/
ADDRESS
3751 Napier Street, Burnaby BC V5C 3E4, Canada
CONTACT DETAILS
Phone: 604 291 2800
OPERATING HOURS

Monday-Friday: 8:00 AM-5:00 PM
| | |
| --- | --- |
| CRITERIA | RATING |
| Range of Services | ★★★★★(5/5) |
| Quality of Services | ★★★★★(5/5) |
| Customer Service | ★★★★☆(4/5) |
| Professionalism | ★★★★☆(4/5) |
| Communication | ★★★★★(5/5) |
| Accessibility | ★★★★☆(4/5) |
Para Space Landscaping Inc. is a landscape maintenance company that several institutions, including the Canadian Nursery Landscape Association and the British Columbia Landscape and Nursery Association, have commended.
Their commitment to sustainable practices makes them stand out from the rest. We like that every service offered by the company has the environment in mind.
For instance, Para Space Landscaping Inc. helps clients reduce their water consumption related to gardening by introducing properly maintained irrigation systems.
Another offering that caught our attention was their Plant Care, which involves ecologically sound plant health management. Opting for this service ensures that any plants in your garden are healthy, thriving, and free from pests.
Aside from these eco-friendly services, Para Space Landscaping Inc. also offers more traditional options, such as comprehensive lawn maintenance services. This differentiates itself from others with its proactive communication feature.
This means that a staff member from the company is personally assigned to your property, and they'll keep you updated with the status of your project.
Moreover, we like that they have experience working with different property types, from residential to commercial properties. So you can rest assured that your project is in good hands.
Overall, Para Space Landscaping offers quality, eco-friendly landscaping services with attentive customer service at competitive prices — making it one of the top companies to choose for landscape maintenance in Vancouver.
Many decades of experience
Consistent, high quality landscaping services
Proactive communication with clients
Can be messy while they work
Closed on weekends
Customer Reviews
Responsive and knowledgeable
"We recently had Para Space (we worked with Cody) come over and help us with the landscaping in our front yard. He listened attentively and was very responsive and knowledgable about what we wanted. The communication always was quick and reliable. We did a huge overhaul and could not be happier with the results! Everyone was so nice and professional and our grass has seriously never looked better!" – Mily P.
Professional, top-notch workmanship
"I've worked with Para Space a few times in the past for our townhouse projects, and it was a great experience. Jennifer and her team were very professional, top notch workmanship and always completed the work in the provided time frame. I've worked with several landscapers in the past and Para Space is now my go-to contractor for landscaping works." – Calvin H.
FAQs about Landscape Maintenance in Vancouver
---
Hopefully, our top recommendations for landscape maintenance services in Vancouver can help you find the professional to work on your property.
If you want to try artificial turf for longevity, we suggest checking out our list of most reliable artificial turf installers in Vancouver.