The 10 Best Carpet Cleaners in Vancouver
If you've ever stained a pure white carpet, then you know how stressful it can be to clean. The worst part is that without proper quick cleaning, those stains can last for years and years.
But don't worry, cleaning methods have come a long way, and some carpet cleaning companies can handle even the toughest stains. We can prove it to you right now, as we've made a list of the best carpet cleaners in Vancouver right here!
In this list, we've included each company's background, contact info, operating hours, and any other necessary data. But, before we dive into each entry, let's take a look at how much you may need to spend for a carpet cleaning service.
How Much Does Carpet Cleaning Cost in Vancouver?
For the most part, rates will vary with each cleaning service due to labor costs, cleaning products, and other fees. But, to give you a general idea of what to expect, we've taken the time to put together this guide:
| | |
| --- | --- |
| Service | Average Cost |
| Per room carpet cleaning | $25 – $75 |
| Per square foot carpet cleaning | 30 cents – 50 cents |
| Upholstery cleaning | $45 – $75 |
| Rug cleaning | $15 – $40 |
| Additional treatments | $10 – $20 per treatment |
On average, you can expect a total bill of $70 for studios and small apartments. This cost can also go up to $300 dollars for large homes.
The Best Carpet Cleaners in Vancouver
Now that you're familiar with carpet cleaning costs, it's time to see our picks for Vancouver's best carpet cleaning services.
Have a look, and see which company best suits your cleaning needs.
1. ProClean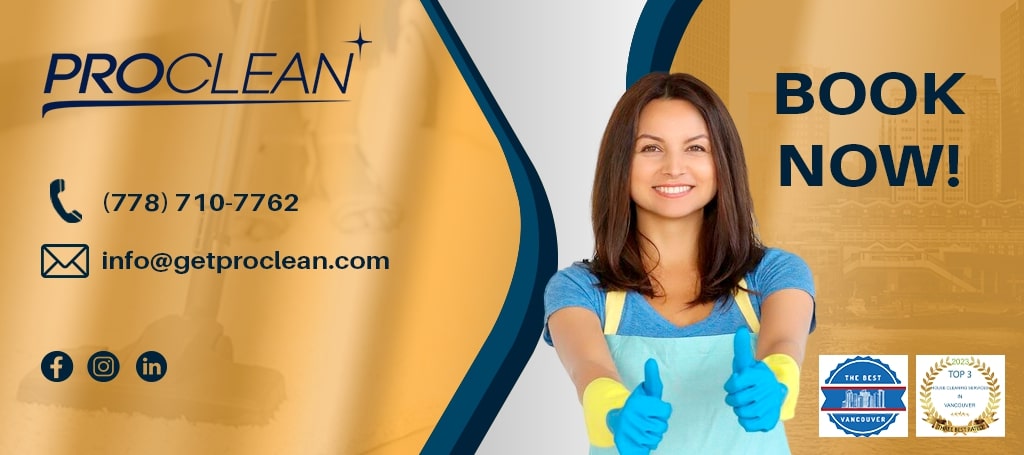 SERVICES
Residential, Commercial, Home Cleaning, Move In & Move , Out, Cleaning Vancouver, Carpet Cleaning, Office Cleaning Services, Pressure Washing Cleaning, and Window Cleaning.
WEBSITE
getproclean.com
ADDRESS
1255 Seymour St, Vancouver, BC V6B 0H1, Canada
CONTACT DETAILS
(778) 710-7762


[email protected]

OPERATING HOURS
Monday – Friday, 8:00 AM – 8 PM
Saturday, 9:00 AM – 6 pm
Sunday, 9:00 AM–2 PM
ProClean is one of the best cleaning agencies to partner with if you're looking to get your carpet look good as new. ProClean began after realizing a need for an economical yet quality cleaning service. They have built their firm reputation on offering service that is superior to the competition at reasonable pricing.
Just like any other professional cleaning agency, they are licensed and appropriately insured to ensure their integrity and dependability. Furthermore, all of their personnel are full-time employees, not contractors or subcontractors.
We all know that having a carpet is kind of like a high risk high reward situation since adding a premium one in your living room can create a timeless appeal and is certainly a good addition to your home however, it also becomes a potential breeding ground for harmful disease-manifesting microorganisms over time.
Thankfully, with ProClean and its in-house staff of expert cleaners, you no longer need to search for another carpet cleaning service provider in Vancouver since ProClean has been the most trusted and chosen local business in Metro Vancouver for doorstep care of carpets and area rugs.
Ever since they started they have been devoted to providing an environmentally responsible and inexpensive cleaning service for their consumers. They prioritize express cleaning and speedy restoration procedures to bring out the natural shine of carpets and area rugs.
Their technicians have years of experience using the newest generation of steam cleaning equipment. ProClean is also the one of the only brands you can trust for same-day carpet cleaning in North Vancouver.
Aside from their excellent carpet cleaning, their cleaning professionals have received professional cleaning training. They have been taught to execute cleaning tasks on schedule and to exceed client expectations. Their services are reasonably priced, and their pricing is suited to your needs. ProClean continues to provide excellent value to both residential house cleaning and small business clientele.
Flexible hours
Licensed and insured
Transparent rates
Experienced professional cleaners
Customer Reviews
Will be using them again and highly recommend.
"I used Proclean to clean our new loft and extremely happy with provided service! Communication with Luis worked well and his team made the place shiny and spotless. Will be using them again and highly recommend." – Albina Sakhautdinova
Had a great first experience with 2 female house cleaners from Pro-Clean today!
"Had a great first experience with 2 female house cleaners from Pro-Clean today! They arrived on time, they were very friendly, polite, listened to my cleaning needs. They vacuumed , mopped, cleaned all the floors and the bathrooms in the house as I requested. I am pleased with their level of cleaning service. I will definitely use Pro- Clean again and would recommend them to anyone looking for once in a while house cleaning. I am going to ask if they are available for two hours every two weeks." – Kathleen Hachey
2. C & M Cleaning Services
C & M Cleaning Services is a cleaning service company based in Vancouver that cares about all of their clients.
To show how much they care, they only use nontoxic products to ensure that your place is spotless.
We like that they use organic cleaning products to make sure that each environment they clean is as healthy as can be.
The vacuums they use are of the best quality and uses a HEPA filtration system that can clear dust, pollens and allergens.
We think that their team is very efficient and can do the job very well. They're efficient, thorough and meticulous.
They also have a wide range of cleaning services they offer and they pretty much to any cleaning job!
One of their services is their carpet cleaning and for this they use the best equipment and make use of excellent methods that thoroughly clean carpets.
They'll surely do a fantastic job and we think they're one of your best options.
Uses organic cleaning products
Efficient and thorough team
Wide range of services
Operating hours unavailable on website
Customer Reviews
"I have been using their services for 2 years now, even after moving homes. Yuvvone is a pleasure to deal with – service focused, always open to taking feedback, with always with a smile. The same ethos is seen throughout the team – Joselyn, Bianca and Paola are always prompt, cheerful and thorough. Anything missed, is happily taken care when pointed out. They are responsive, punctual and thoroughly professional. Highly recommend them!"
3. Aero Carpet Services Ltd.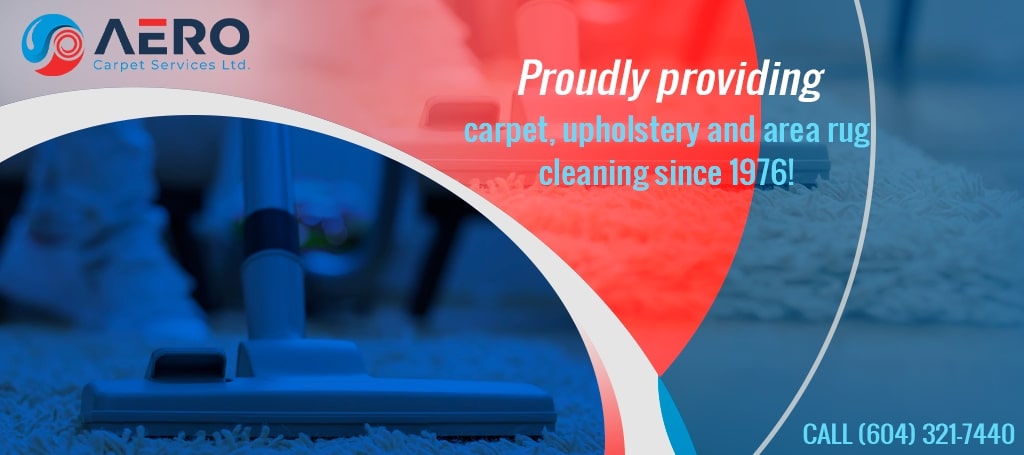 BEST FOR
Area Rug and Carpet Cleaning
SERVICES
Residential Carpet Cleaning
Commercial Carpet Cleaning
Area Rug Cleaning
Upholstery Cleaning
WEBSITE
aerocarpetservices.com
ADDRESS
4081 McConnell Drive Burnaby, BC V5A 3A7
CONTACT DETAILS
(604) 321-7440


[email protected]

OPERATING HOURS
Monday – Friday, 8:00 AM – 4 PM
If you're looking for leading companies that provide excellent carpet cleaning services in Vancouver, then look no further away from Aero Carpet Services LTD. Founded in 1976, They have been a leader in carpet, upholstery, area rug, and tile and grout cleaning for almost 45 years.
Nikola Kresic and Jon Wyma, the newest owners of Aero Carpet Services in April 2022. They both have worked with, shared office space with, and been mentored by all of Aero's prior owners through their sister firm, Point Three Carpet Maintenance, and as employees of other companies before that. All of their long-tenured professionals are still on the job and eager to work with you again soon!
Their skilled specialists know how to restore the beauty and longevity of your carpets while also creating a healthier interior atmosphere. They exclusively use the most effective and eco-friendly home carpet cleaning products.
Moreover, Aero Carpet's fully equipped rug washing facility is the only one in the city, and they use a chemical-free moth treatment for an environmentally friendly clean.
With technicians boasting years of experience, and long-term partnerships with major carpet manufacturers, property managers, and residences in BC, you can trust them to get the job done right.
Check out their Instagram @aerocarpets for proof of their impressive cleaning processes.
With their hot water extraction procedure, they can completely clean your carpet. Carpet manufacturers advocate this procedure to restore the look of your carpets and promote a healthier interior atmosphere.
Experienced carpet cleaners
Transparent and competitive rates
30 day guarantee on all of their cleaning services
Only uses Eco-Friendly products
They provide drop-off and pick-up service for area rugs in Metro Vancouver
Customer Reviews
Competitive quote and were on time
"This his my first time I've used Aero Carpet services and I was very impressed . I'm president of my council and this business was recommended to me . Their quote was competitive, they were on time , sent a crew that were in and out in a day working on 6 floors with 166 units , very professional and carpets were completely dry by morning . They left our complex with no mess or addl work for me to do ." – Diane Barry
Very impressive work!
"I live in a condo with 4 floors. The building carpets are light coloured and were very stained. I used many different products to clean one particular grease stain, without success. After the Aero team cleaned our carpets all stains were gone and the carpets looked like new! Very impressive work!" – Susan van Gurp
4. SmithWerks Carpet & Upholstery Cleaning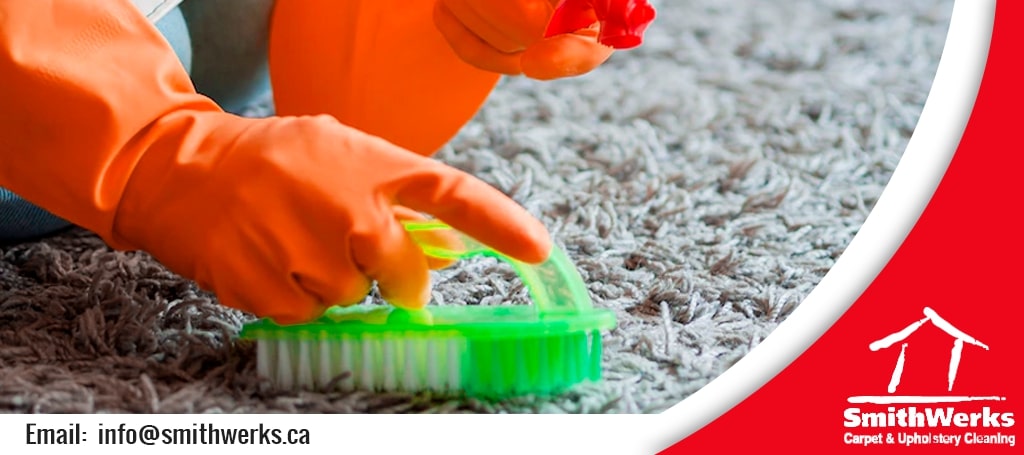 BEST FOR
Household carpet cleaning
SERVICES
Household carpet cleaning
Commercial carpet cleaning
Rug cleaning
Upholstery cleaning
WEBSITE
https://smithwerks.ca/
ADDRESS
Vancouver: 422 Richards St, Vancouver, BC V6B 2Z4, Canada
North Vancouver: 258-1488 Main St, North Vancouver, BC V7J 1C8, Canada
West Vancouver: 400-1681 Chestnut St, Vancouver, BC V6J 4M6, Canada
CONTACT DETAILS
Phone numbers Vancouver: (604) 916-0294
North Vancouver: (604) 924-0518
West Vancouver: (604) 629-5901
Email:

[email protected]

OPERATING HOURS
Monday: 8 am – 5 pm
Tuesday: 8 am – 5 pm
Wednesday: 8 am – 5 pm
Thursday: 8 am – 5 pm
Friday: 8 am – 5 pm
Saturday: 9 am – 3 pm
Sunday: 9 am – 3 pm
Without a doubt, SmithWerks is one of the most popular carpet cleaning companies in Vancouver. With 3 separate branches all around the downtown area, it's an understatement to say that these folks are very well-known here.
They have a strong reputation for good reason as they provide excellent carpet cleaning for all households. Whether you live in a small townhouse or a large suburban home, this company will keep your carpets, rugs, and upholstery looking spick and span.
If you'd like to get a quote, their website makes it quick and simple. With just the click of a button and a bit of information, you can get an accurate estimate of your cleaning charge.
Open for service on weekends
Top-notch residential carpet cleaning
Fully-trained technicians
Multiple branches throughout Vancouver
Limited services compared to other companies
Customer Reviews
Here's what some clients had to say about the great service they received:
"I'm very impressed with the results from having my microfibre couch cleaned by nick at SmithWerks. My couch is fairly expensive and stains easily. I was ready to throw it out before SmithWerks made it look close to new again. Highly recommended" – Simon C.
"Adrian was punctual and professional. I appreciate that he took time to explain what he was doing. He was very knowledgeable and clearly cares about the quality of his work. My carpet looks so much better. I will definitely have him back again." – S.H.
5. Refresh Carpet Cleaning Vancouver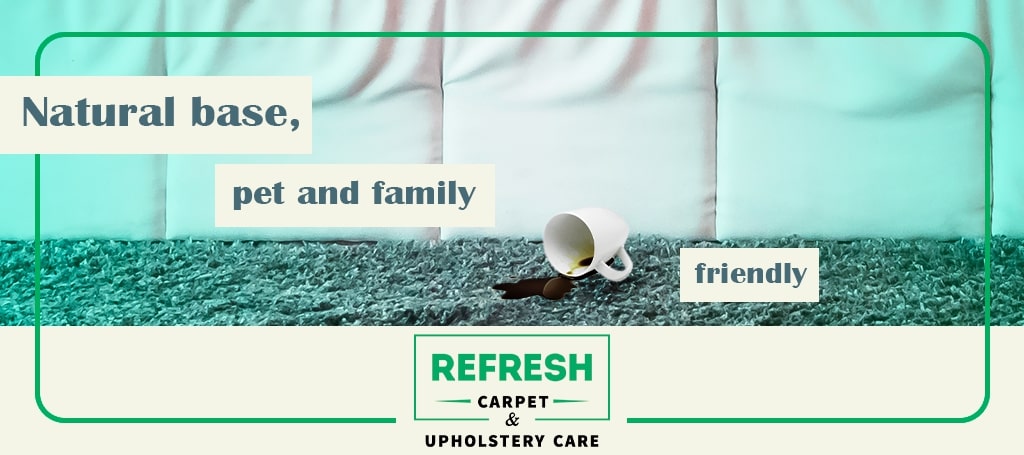 BEST FOR
Tough stains and spills
SERVICES
Household carpet cleaning
Rug cleaning
Upholstery cleaning
Tile & Grout Cleaning
WEBSITE
https://refreshcarpetclean.com/
ADDRESS
225 West 8th Avenue #300R, Vancouver, BC V5Y 1N3
CONTACT DETAILS
Phone number: (604) 332-1463
OPERATING HOURS
Open 24/7
Refresh Carpet Cleaning is a service that pays very close attention to detail. This makes them an excellent answer to seemingly permanent stains on both carpet and upholstery.
These folks are so meticulous their technicians will actually look over a finished carpet and spot clean any particularly stubborn stains. Since this company takes pride in its work, this spot cleaning comes at no additional cost to you.
Quotes are also free and there are no hidden fees or underhanded upsells, from what we've seen. If you opt for this company, you can look forward to a 4-step cleaning process that eliminates stains and keeps your carpets fresh.
The process begins with a preliminary inspection and a pre-treatment solution for your carpets. After that the technicians will use a high-powered steam rinse to deep clean your floors, then to finish up, they apply a finishing solution to help keep your floors clean.
With service like this, it's easy to see why these folks are so well-regarded at carpet stain removal.
Open 24 hours a day, every day
Comprehensive cleaning process
Post-cleaning treatment for future stain protection
Technicians are fully insured and covered by WCB
Finding a schedule can sometimes be difficult because they're always booked
Customer Reviews
As you can see, the only thing left when these carpet cleaners were through was a good impression:
"Very easy booking process and really good pricing! Received a call on the day to advise of traffic delays due to the snow storm, but they still arrived well within the arrival time. Bedroom, hallway and living room carpet and sofa upholstery clean was done quickly and Dario was finished before I knew it. He even took the time afterwards to do some final spot checks/cleans on our carpet to make sure we were happy. Thanks Refresh!" – Annika O.
"Mike was early for our appointment but did phone ahead to make sure it was ok to arrive earlier than estimated. He was professional at his work, very quick & an awesome person to chat with. The carpets look absolutely gorgeous now. Thank you Mike. Looking forward to our next carpet cleaning." – Marian G.
6. Dazzle Carpet Cleaning Vancouver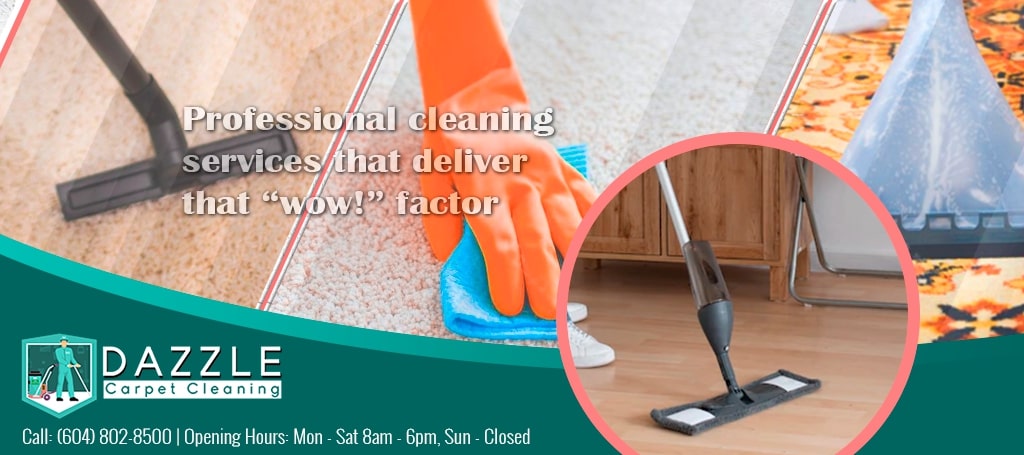 BEST FOR
Scent-free cleaning products
SERVICES
Carpet cleaning
Commercial cleaning
Rug cleaning
Emergency spot cleaning
Upholstery cleaning
Tile & grout cleaning
WEBSITE
https://www.dazzlecarpetcleaning.com/
ADDRESS
1661 E 2nd Ave unit 102, Vancouver, BC V5N 1E1, Canada
CONTACT DETAILS
Phone number: (604) 913-7325
Email:

[email protected]

OPERATING HOURS
Monday: 8 am – 6 pm
Tuesday: 8 am – 6 pm
Wednesday: 8 am – 6 pm
Thursday: 8 am – 6 pm
Friday: 8 am – 6 pm
Saturday: 8 am – 6 pm
Sunday: closed
For a company that truly puts customers first, look no further than Dazzle Carpet Cleaning. These folks use eco-friendly cleaning solutions, high-tech tools, and good old-fashioned elbow grease to make short work of tough stains.
The best part about their natural cleaning products is the absence of any odors or strong perfume scents. This makes them an excellent option for people with sensitive noses or delicate newborns.
Dazzle constantly explores new ways to achieve the best cleaning results by making use of the industry's latest cleaning technology and scent-free natural cleaning solutions. By doing so they are able to provide safe, top-notch services at a great price.
Eco-friendly cleaning products
Scent-free cleaning solutions
Budget-friendly pricing
Not ideal for those who enjoy a strong post-clean scent
Customer Reviews
In case you're still skeptical about this company's capabilities, here are some rave reviews that might change your mind:
"3 Children, water based paints and an arts & crafts session – I think you can see where this is going! Yep paint all over the living room carpet!
Fast forward 8-12 hours and Dazzle Carpet Cleaning have not only arrived bang on when they said they would arrive, they also completed a full inspection of the area to be cleaned, walked us through the equipment that would be used, explained the whole process in complete detail and have a provided the most professional experience I have ever encountered.
I can not rate the company high enough and we will be booking another visit to clean all the carpets in our house in the summer!
Seriously a 5 star service – extra Kudos to our technician Dalton who made all of the above possible !" – Gareth B.
"Dazzle were on point from the start. Booking them was easy and I appreciated the call back to check in on the service quality. Dazzle (specifically Aiden) did a wonderful job cleaning the carpet in our apartment. It was cleaner after they cleaned it than when we moved in. Good price, efficient, professional. Thank you!" – Melissa T.
7. GreenWorks Carpet Care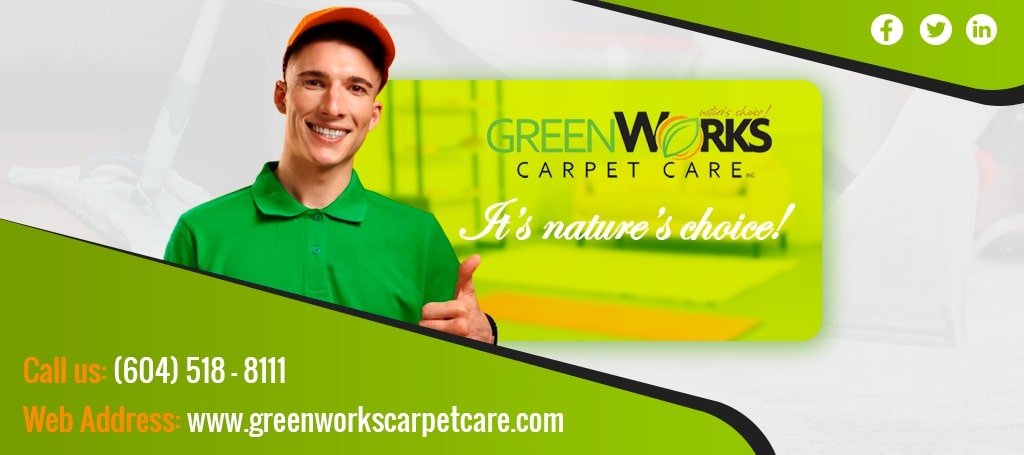 BEST FOR
Multiple cleaning needs & homes with pets
SERVICES
Carpet cleaning
Upholstery cleaning
Tile & Grout cleaning
Commercial cleaning
Mattress cleaning Leather cleaning
Stain & odor removal
Vehicle interior cleaning
Rug cleaning
WEBSITE
http://greenworkscarpetcare.com/
ADDRESS
156 21st St W #306, North Vancouver, BC V7M 1Y9, Canada
CONTACT DETAILS
Phone number: (604) 518-8111
Email:

[email protected]

OPERATING HOURS
Monday: 9 am – 5 pm
Tuesday: 9 am – 5 pm
Wednesday: 9 am – 5 pm
Thursday: 9 am – 5 pm
Friday: 9 am – 5 pm
Saturday: 9 am – 5 pm
Sunday: 9 am – 5 pm
Greenworks offers the most residential cleaning services out of all the entries on this list. They go beyond regular carpet cleaning and even offer mattress, cleaning, leather furniture cleaning, and even deodorization.
All of these services make them the prime choice for clients with multiple cleaning needs and also pets. In particular, their odor removal service ensures that your home is a fresh, pleasant space for both you and your pets.
This company also offers a Rotovac service which lifts and removes even the toughest stains with ease. The Rotovac works by using a rotating bed of brushes, spray jets, and vacuums to simultaneously clean and remove dirt, dust, pet hair, and stains.
If you need a cleaner that can handle multiple messes made by you, your children, or your pets, Greenworks is the way to go.
Multiple services offered
Great for pet owners
Free quote available on their website
The scent removal service will cost you extra
Customer Reviews
If pets could type, we're certain they would leave positive reviews just like their owners:
"The job that GeenWorks did was very good. We have a couple of dogs so there were a couple of nasty spots to be removed and they did a perfect job. As well very polite and professional" – Carole W.
"They did a great job of refreshing an old carpet that has tolerated a family with 2 dogs for 20 years. GreenWorks got out stains that previous cleaners said couldn't be removed. Great quality and reasonably priced. Our tech also was following Covid 19 precautions. I would highly recommend this company." – Stewart W.
8. Primero Cleaning Services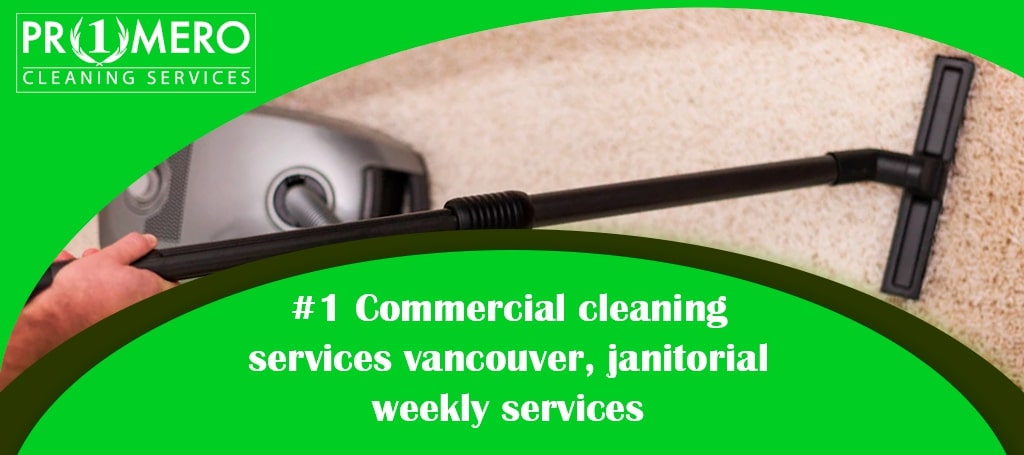 BEST FOR
Commercial cleaning
SERVICES
Building maintenance
Weekly janitorial services
Restaurant cleaning services
Office cleaning
Grocery store cleaning
Mall cleaning
WEBSITE
https://primerocleaningservices.ca/
ADDRESS
110 – 1231 PACIFIC BLVD. V6Z 0E2, Vancouver, BC
CONTACT DETAILS
(604) 723-8548 |

[email protected]

OPERATING HOURS
Contact for more details
Primero Cleaning Services can customize the professional strata janitorial services in Vancouver to meet your weekly commercial cleaning services needs and budget. They can tailor a building cleaning services and janitorial building maintenance services to specifically suit to your needs.
Their team strives to deliver the right Vancouver cleaning services solutions for your specific facility at a competitive price
Unlike other companies, Primero Cleaning Services loves to maintain relationships with clients and become more than just a cleaning service. They want to be part of the routine that makes your life better, healthier, and cleaner.
Free quote
Fully insured
Uses non-toxic cleaning products, sponges, and scrub pads
A bit pricier compared to the other companies
Customer Reviews
If pets could type, we're certain they would leave positive reviews just like their owners:
"We have been using Primero Cleaning at Regal Grooming Lounge for over three years. With the exception of a few minor things, the service has been impeccable and on time. Davide, the owner, is very professional, takes pride in what he does, and is quick to address deficiencies. I have no hesitation recommending Primero to my friends."
"We are using Primero's services for about an year now and the service has been on time and as per schedule. Davide is always communicative and understanding. Keep up the good work!"
9. Carpet Cleaning Vancouver Pros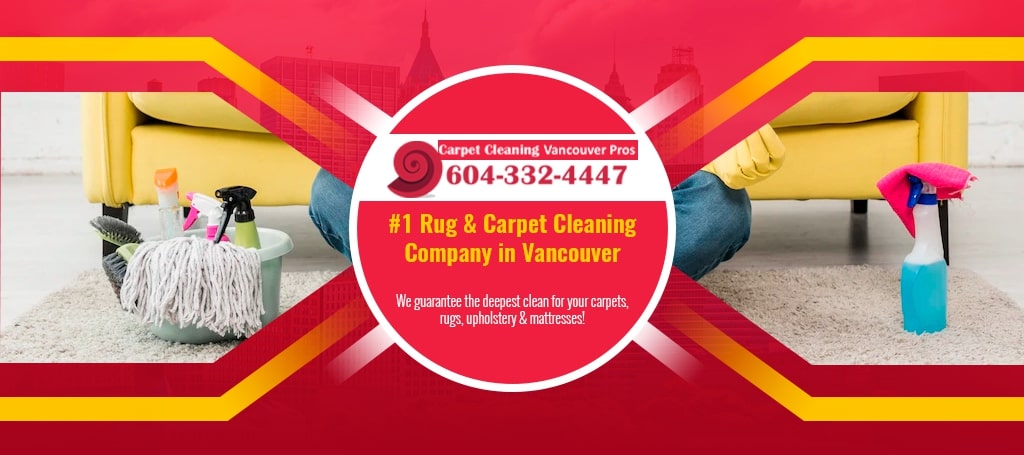 BEST FOR
Rug and Carpet Cleaning
SERVICES
Residential Carpet Cleaning, Commercial Carpet Cleaning, Upholstery Cleaning, Furniture Cleaning, Mattress's Cleaning, Area Rug and Rug Cleaning, Tile and Grout Cleaning, etc.
WEBSITE
https://www.carpetcleanvancouver.ca/
ADDRESS
1350 Burrard St #127
Vancouver, BC V6Z 0C2
CONTACT DETAILS
(604) 332-4447
OPERATING HOURS
Monday-Sunday: 9am-6pm
Carpet Cleaning Vancouver Pros is the company that you can count on for rug and carpet cleaning services of the highest quality. This is where you can find the most professional and experienced team of carpet cleaners in Vancouver.
With them, you are guaranteed satisfaction. They make certain to provide the best treatment and service there is at the best deals.
They also prioritize their client's safety. Hence, they only utilize safe and non toxic professional products.Whether it is for commercial, residential, furniture or upholstery cleaning, they have you covered.
High quality carpet cleaning methods
Top quality cleaning products
Best cleaning equipment.
Rates are unavailable online
Customer Reviews
Here's a review from one of Carpet Cleaning Vancouver Pros clients:
"I had two throw rugs in my bedroom that I LOVED, but after so long, there's only so much beating them on the porch could do. I really thought I would have to just throw them out. I searched online and found this company not too far away and highly recommended. They were so great! Warm and friendly from the first time I walked in. So they even saved me money. In less than a week I received a nice follow up call letting me know they were ready. I can't tell you how impressed I am. It's a simple service, but I've been treated so well, that I can't tell you how unusual and special it is.
Highly recommended!!
Here's another one:
"We had a bad leak that unfortunately caused a bad stain on our carpet. We had about 2 other companies give us quotes over the phone. Owner actually came out to take a look at the carpet to give us a free and no obligation quote. I agreed to the price and was impressively ready to clean the carpet. Overall services were very professional and left my carpet spotless! Would I use you again? Absolutely. Thank you!"
10. Kirei Cleaning Services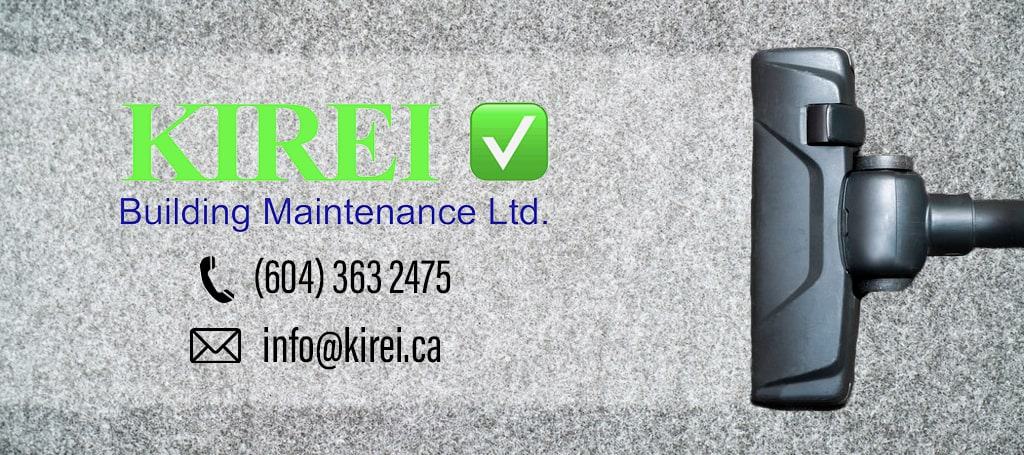 BEST FOR
Commercial carpet cleaning
SERVICES
Office cleaning
Commercial carpet cleaning
Household carpet cleaning
Power washing
Move-in/out cleaning
Appliance cleaning
WEBSITE
https://kireicleaning.ca/
ADDRESS
170 – 422 Richards St, Vancouver, BC V6B 2Z4, Canada
CONTACT DETAILS
Phone number: (604) 363-2475
Email:

[email protected]

OPERATING HOURS
Monday: 9 am – 5:30 pm
Tuesday: 9 am – 5:30 pm
Wednesday: 9 am – 5:30 pm
Thursday: 9 am – 5:30 pm
Friday: 9 am – 5:30 pm
Saturday: 9 am – 5:30 pm
Sunday: 9 am – 5:30 pm
Among our list of the best carpet cleaners in Vancouver, Kirei is one of the largest. Their team consists of over 30 dedicated men and women, all of whom are very well-trained and capable.
Though the company does offer residential carpet cleaning, it truly shines in commercial cleaning applications. For years now, this company has provided cleaning services for many businesses.
It's hard enough to meticulously clean a household carpet, but Kirei goes above and beyond servicing whole office floors and leaving them spotless. What makes them especially suited to commercial carpet cleaning is their ability to work around your business's hours while still delivering top-notch cleaning.
It is for this reason that Kirei has claimed a spot as one of the top commercial carpet cleaners in Vancouver.
Very large technical team
Highly capable in all forms of cleaning
Established as one of the best commercial carpet cleaners
Commercial cleaning costs are generally higher than residential costs
Customer Reviews
Both individuals and businesses alike were thrilled by Kirei's services:
"Ricardo you are the man!
We were fully aware we couldn't get every stain out of these carpets. But since they hadn't been cleaned in 5 years I would say this was a great new lease of life for the unit!
Ricardo was friendly and helpful even doubled the effort on stubborn areas.
Thank you Julio for your assistance and invoice via email after completion" – Dave M.
"This review is long overdue! Kirei has been providing weekly cleaning services for my law firm for over a year now, and I can't imagine anyone else doing a more exceptional job. Their approach to customer service is refreshing; they are trustworthy, attentive, responsive, and make a tremendous effort to ensure that my office's security is a priority. I couldn't be happier! I highly recommend them to anyone looking for professional cleaning services at a fair price" – Almin D.
FAQs About the Best Carpet Cleaners in Vancouver
---
That wraps up our list of the best carpet cleaners in Vancouver. Now that we're finished, you can say goodbye to stains and hello to clean, fresh-smelling carpets.
Regardless of which of these cleaners you opt for, you can be sure that each of them will put the "C" in Clean!