The 5 Best Computer Stores in Vancouver
Whether you're purchasing a laptop, desktop, or tablet, there are several factors to keep in mind. You must consider the device's processor, hard drive, memory, graphics card, and operating system before making a purchase.
These five components are the heart and soul of your computer and with the advancement of technology, computers today are as modern as ever. That's why it's important to keep up with the latest trends, so you can get the best computer on the market.
Whether you're looking to buy a new model or upgrade your current setup, we've got you covered with our list of the best computer stores in Vancouver.
How much do computers cost in Vancouver?
You've probably questioned how much a computer should cost, whether you're buying a new laptop or upgrading a few out-of-date desktops. It's critical to create a budget that revolves around your requirements.
Most stores charge their customers based on the computer's specifications. To give you an idea of how much a computer will cost, here's a quick estimation chart for your reference:
| PRODUCT | ESTIMATED PRICE |
| --- | --- |
| Desktop | $530 - $1000 |
| Laptop | $500 - $800 |
| Computer accessories | $300 -$400 |
| Gaming peripherals | $1,000 - $1,200 |
Best Computer Stores in Vancouver

We understand how searching for the right computer to suit your needs is tiring. There are many factors to consider, especially when you're going to use it daily. That's why we've assessed the companies we've included on this list based on the following criteria:
1. Memory Express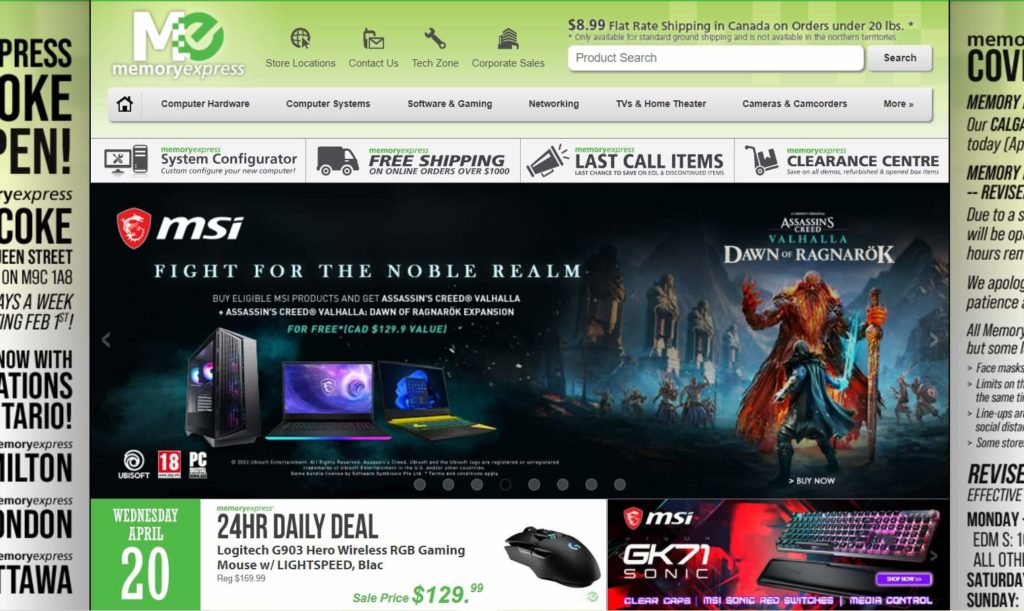 Test
Info
PRODUCTS
Computer Hardware

Computer Systems

Software & Gaming

Networking

TVs & Home Theatre

Cameras & camcorders

Accessories

WEBSITE
https://www.memoryexpress.com/
ADDRESS
1900 West Broadway Vancouver, BC V6J 1Z2
CONTACT DETAILS
Phone: 778-945-2488

Email: [email protected]

OPERATING HOURS
Mondays - Fridays (10:00 AM - 08:00 PM)

Saturdays (10:00 AM - 06:00 PM)

Sundays and Holidays (11:00 AM - 06:00 PM)
| | |
| --- | --- |
| Criteria | Rating |
| Variety | ★★★★★ (5/5) |
| Customer Service | ★★★★☆ (4/5) |
| Price | ★★★★☆ (4/5) |
| Payment Options | ★★★★☆ (4/5) |
Memory Express has established itself as the premier destination for computer products and services since 1996. They have grown into a multi-million dollar corporation with numerous retail locations across Canada.
Memoryexpress sells various products ranging from computer hardware to home theater systems. Through referrals and word of mouth, their customer base has grown exponentially from year to year.
According to the customers we interviewed for this review, there are a lot of conflicting opinions about the company's customer service. So when dealing with this company, keep these mixed reviews in mind.
Nevertheless, what we liked about Memory Express is they offer 24-hour daily deals for their customers. They are upfront and transparent about their prices, and that's a huge green flag for us.
It is worth noting that they have achieved premier partnership levels with key vendors such as Microsoft, Intel, and AMD. These well-known companies are known for producing high-quality, well-designed, and long-lasting products, enhancing the store's trustworthiness.
It is also worth mentioning that they charge an environmental surcharge as required by the provincial government. This fee is used to support provincial recycling and disposal programs.
When it comes to payment options, Memory Express accepts VISA or Mastercard issued from a Canadian financial institution and Paypal. However, it is important to note that Paypal is not available for prepaid in-store pick-up orders.
Memory Express provides top-notch security to ensure that the identity and private information of their customers remain hidden from prying eyes.
But the real icing on the cake here is the selection of in-store services that they offer – services that you almost can't find anywhere else.
We're talking about Memory (RAM) Installation ($15-$50), Standard ($50) and Priority ($75) In-Store services, Standard ($50-$75) and Premium ($75-$100) Customer System Build and lastly, Quickmount.
When you buy a CPU and Motherboard from them, you get their Quickmount service for free. Their professionals will install the CPU, update the BIOS, and do a post-check on the motherboard for you!
Overall, this business deserves to be on our list. Their years of experience and dedication have left an impression on customers, making them one of Vancouver's go-to computer stores.

Variety of products
Offers 24-hour daily deals 
Wide range of in-store services
5 locations in Vancouver
Mixed customer service reviews
30-day warranty only for refurbished and clearance items
Customer Service
Excellent selection and value
"Great selection and price, knowledgeable and friendly staff, hassle-free returns, free parking. Our go-to for all our computer/gaming needs." -Leya E.
Helpful and knowledgeable staff
"Staff was super helpful. I was having trouble with my new gaming PC, they uploaded Windows for me on the spot without charging me a fee and answered all the questions I had, plus they gave me free screws that I was missing." -Aria C.
2. BC Computers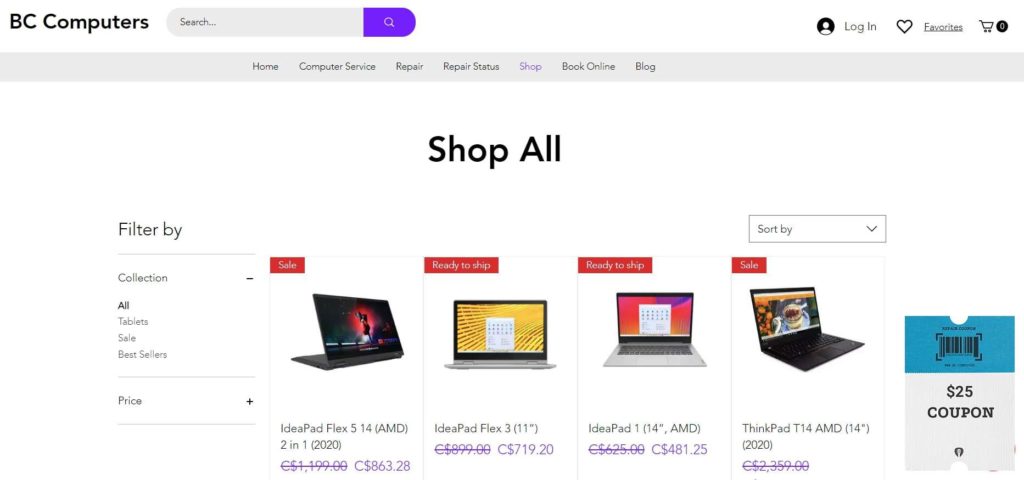 Test
Info
PRODUCTS
Desktops

Laptops

Tablets

WEBSITE
https://www.bc-computers.ca/
ADDRESS
1310 Burrard St, Vancouver, BC V6Z 2B7, Canada (Downtown Vancouver, Burrard & Drake) ​#108-2030 Marine Drive, North Vancouver, BC V7P 1V7, Canada (Next to Dennis)
CONTACT DETAILS
Phone: 604-200-2995
OPERATING HOURS
Monday - Friday (10:00 AM - 09:00 PM)

Saturday - Sunday (10:00 AM - 06:00 PM)
| | |
| --- | --- |
| Criteria | Rating |
| Variety | ★★★★☆ (4/5) |
| Customer Service | ★★★★☆ (4/5) |
| Price | ★★★★★ (5/5) |
| Payment Options | ★★★★☆ (4/5) |
BC Computers has established itself as a reputable computer repair service in Metro Vancouver. They are pleased to serve the communities of Vancouver, North Vancouver, West Vancouver, Burnaby, Richmond, Coquitlam, Port Moody, Surrey, Langley, Maple Ridge, and White Rock.
Although when it comes to product variety, BC Computers' inventory is a bit small compared to other stores. They focus more on selling laptops and tablets as their main services are computer service and repair.
Nevertheless, we included this store in our list because of their computer knowledge expertise. They are always available to advise customers and work on ensuring that your items are as good as new.
In-store services at BC Computers include free computer and laptop diagnostics as well as a 15-minute phone consultation. They make these services available to their consumers so that they can get their computers looked out and serviced appropriately.
They accept credit/debit cards, PayPal, and cash as payment methods. We appreciate that they also provide payment plans to their customers.
If you are not completely satisfied with your purchase, you may return it to BC Computers within 14 days for a full refund or exchange. Just make sure to return it in its original packaging and with proof of purchase.
Unfortunately, we noticed that there are a lot of mixed reviews for this company.
Some customers shared issues they had regarding the company's transparency when informing customers about the status of their orders and repair status.
While some reported how satisfied they are with the exceptional customer support of on-site staff, it is crucial to keep this in mind when you plan to purchase with them.

Product knowledge
Multiple branch locations
Free 15-minute consultations
14-day return policy on purchases
Limited stock inventory
Mixed reviews on customer service
Customer Reviews
Excellent service at a reasonable cost
"I had a perfect experience in this store! My computer had a problem that no one could fix but the professional team in this store could find and fix it. Good people with good service and a reasonable price." -Elahe M.
Low cost and quick turnaround
"I love doing business with these guys. I Had a great experience with Arkan. He fixed my Alienware gaming laptop with a board issue at a very reasonable cost and quick turn around. Highly recommended." -Mike N.
3. Optic PC Solutions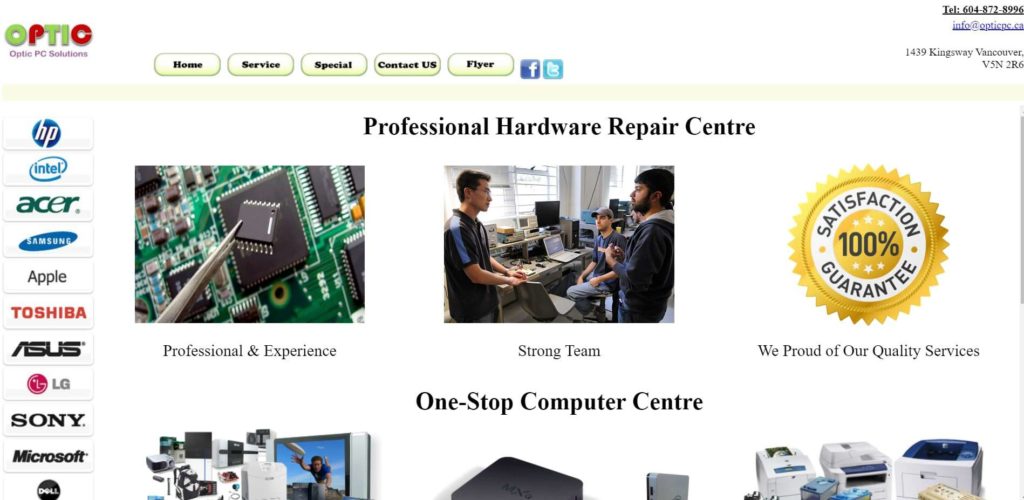 Test
Info
PRODUCTS
Computer Accessories

Home Theater Android TV Box

Ink & Toners

WEBSITE
http://www.opticpc.ca/
ADDRESS
1439 Kingsway Vancouver, V5N 2R6
CONTACT DETAILS
Phone: 604-872-8996

Email: [email protected]

OPERATING HOURS
Mondays - Saturdays (10:30 AM - 6:30 PM)

Closed on Sundays
| | |
| --- | --- |
| Criteria | Rating |
| Variety | ★★★★★ (5/5) |
| Customer Service | ★★★★★ (5/5) |
| Price | ★★★★★ (5/5) |
| Payment Options | ★★★★☆ (4/5) |
Established in 2000, Optic PC has strived to be a one-of-a-kind leader in the IT services industry.
They started their business to provide friendly, fast, and dependable services in Greater Vancouver, both for businesses and residential customers.
We are amazed at their commitment to keeping their service quality high while keeping their prices low.
We felt we had to include this store in our list for all those customers out there who are missing bits and pieces of necessary parts for their computers.
While the shop focuses mainly on computer repair, Optic's wide inventory of computer accessories is endless. We like that their products cater to almost all computer brands, making them a one-stop computer shop.
Unfortunately, we couldn't find the payment methods they offer. However, we do appreciate that Optic PC is consistent when it comes to giving fair prices.
All in-store work prices are based on a per-project basis, with no hourly rate. This means before you leave your computer, you know how much it costs.
They also provide phone and tablet repair services, with an emphasis on LCD screen damage, parts, and software. You can also bring your computer in for data recovery, malware removal, hard drive, and drive re-formatting which take 2 to 7 business days to complete.
Plus, with the outstanding customer service we've heard about, it is not surprising to see the overwhelmingly positive reviews this shop has been getting.
We believe that this shop is a must-visit for both newcomers and veterans. We understand that shopping for computers is not for everyone, and we appreciate Optics' ability to provide expert advice and quick solutions.

Amazing customer reviews
Fair prices
Special deals on products
On-Site repair services
Per project rate for repairs
No payment methods provided
Only one branch in Vancouver
Customer Reviews
Quick assessment and service
"I came to Sam's computer shop to repair my ASUS ROG laptop. My laptop wouldn't turn on for more than few minutes and the battery wouldn't hold a charge. Right away when I went into Sam's shop, he diagnose the problem immediately. Turns out it was a battery problem. The next day, he swapped my battery out and got my computer ready to be picked up by Mid Day. Thanks for the great service Sam!." -Chen M.
Fair estimate
"I've been here three times, each time they did a diagnostic and gave me an estimate. All three times they did not go over the estimate. Very much appreciated in this day and age." -William A.
4. Canada Computers and Electronics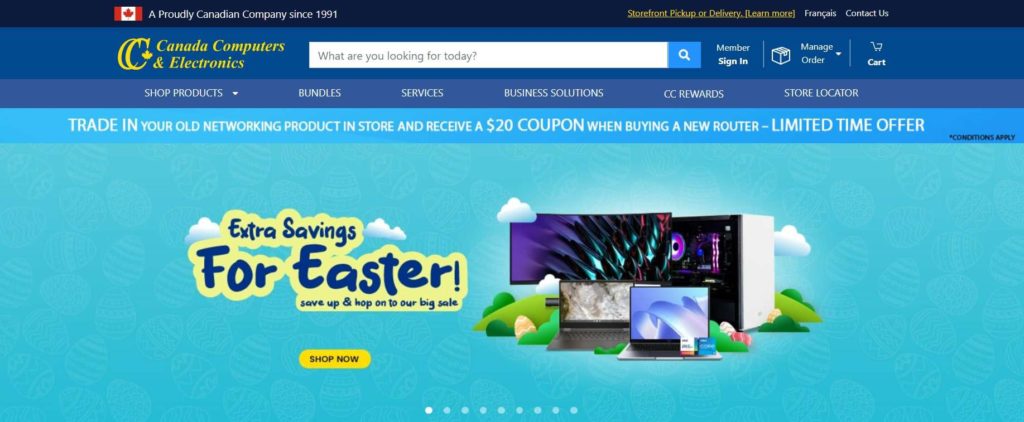 Test
Info
PRODUCTS
Cables and Adapters

Cell Phones & Accessories

Laptops and Tablets

Desktop Computers

Computer Components

Monitors & Mounts

Printer

Inks and Toners

Keyboard & Mice

Networking

Headsets & Headphones

Speakers

Television & Home Theatres

Chairs & Desks

Console Gaming

Cameras & Drones

WEBSITE
https://www.canadacomputers.com/
ADDRESS
3057 Grandview Hwy, Vancouver, BC V5M 2E4
CONTACT DETAILS
Phone: 778-724-0335

Email: [email protected]

OPERATING HOURS
Mondays - Fridays (10:00 AM - 08:00 PM) Sundays (11:00 AM - 06:00 PM)
| | |
| --- | --- |
| Criteria | Rating |
| Variety | ★★★★★ (5/5) |
| Customer Service | ★★★★★ (5/5) |
| Price | ★★★★★ (5/5) |
| Payment Options | ★★★★☆ (4/5) |
Canada Computers & Electronics, founded in 1991, is a retailer of personal computers, components, and consumer electronics.
Over the course of its 30-year history, they have consistently provided customers with the best products at the best prices that the computer retail world has to offer.
When it comes to variety, buyers can expect Canada Computers & Electronics to be fully stocked with almost everything you need. They have hardware, software, cameras, gaming consoles, accessories, and even gaming chairs!
According to the customers we've talked with for this review, they go above and beyond when it comes to customer service. However, their store seldom answers their phones.
Because of this, some clients expressed their concerns about this matter because most of them didn't like that they had to travel to their store just to check prices.
As for payment options, this store accepts Cash, Visa, MasterCard, and American Express payments. However, it is important to note that they only ship within Canada, and they only offer free shipping on selected items.
Customers will appreciate the fact that once an order is placed, a tracking number will be provided on the website so that you can track your orders.
When it comes to their services, the corporate sales program stands out among the company's various projects.
They supply you with a corporate representative who will provide technical advice, tailor solutions to your needs and help you grow your IT network. They also provide huge quantity discounts and exclusive packages.
Furthermore, the company presents its customers with its CC rewards program which is their redesigned loyalty or membership service.
You may now earn a point for every dollar spent in-store or online, which you can use to get rebates on future purchases at any Canada Computers & Electronics store.
You'll also receive advance notice of upcoming promotions, bonus points on chosen products, invitations to special events, exclusive email blasts, and the newest technological news delivered directly to your inbox.
Offers bundle packages
Exclusive rewards program
Multiple branch locations
Not responsive to phone inquiries
Limited shipping locations
Customer Reviews
Wide selection of products
"Great selection of computer products. My only issue is they never answer their phone so you actually have to visit one of the stores. Still worth checking out. Good deals!." Andy K.
Great deals and plenty of supplies
"Great deals, ample stock, and just all around a good place. I was helped by 3 knowledgeable staff members, sadly i cant remember all their names but I do recall Vanessa. this will be my go to for electronics. Incredible service!." -Mesoe O.
5. PC Galore
Test
Info
PRODUCTS
Laptops

Desktops

Phones & Tablets

Adapters & Cables

Accessories

Gaming Consoles

Computer Parts

Computer Peripherals

WEBSITE
https://www.pcgalore.com/
ADDRESS
2744, W 4th Ave, V6K 1R1 Vancouver BC
CONTACT DETAILS
Phone: 604-732-7816
OPERATING HOURS
Mondays - Saturdays (10:00 AM - 06:00 PM)
| | |
| --- | --- |
| Criteria | Rating |
| Variety | ★★★★★ (5/5) |
| Customer Service | ★★★★★ (5/5) |
| Price | ★★★★☆ (4/5) |
| Payment Options | ★★★★☆ (4/5) |
PC Galore was the first and oldest used computer store in Vancouver. In 1994, they opened their first store in Kitsilano, and now have locations on the North Shore and in Richmond.
PC Galore has a large selection of used and refurbished laptops, desktops, smartphones, tablets, cameras, printers, monitors, and accessories. We appreciate the variety!
We like how this company gives us a lot of choices. PC Galore carries all major computer brands, including Apple, Acer, Asus, Dell, Sony, and many others.
With 25 years of experience, this shop has garnered the loyalty of many of its customers. We have received numerous compliments on their excellent customer service and knowledgeable staff.
This is especially useful for first-time buyers who are unfamiliar with the factors to consider before purchasing a computer.
Aside from computers, PC Galore also offers electronic repairs. They fix both hardware and software issues, and upon looking at customers' feedback, this company stays true to its word.
They guarantee that if you are not satisfied with your experience, they will give you store credit or exchange.
Just when you think that's where their services end, PC Galore also accepts your old computers and electronic devices in exchange for something newer.
PC Galore provides customers with the exact prices of their products when it comes to pricing and payments. Their preferred payment method, however, is not specified on their website.
When it comes to the store's services, they offer on-site and in-store repair, virus removal, Windows, and Apple repair, and the one that sets them apart from the rest, remote connection.
PC Galore offers remote connections services for computer problems that can be resolved easily via remote desktop. This service is easy and convenient for both parties as it addresses issues without going to the store itself to have your computer checked out.
Additionally, they do surgical microscope repair. This is for electronic devices that have been damaged by water. PC Galore employs cutting-edge surgical microscope technology to repair water or liquid damage.
Overall, we believe this company is off the charts. They value all of their transactions and go out of their way to find what works best for their customers.


Offers a variety of products and services
Excellent customer service
Years of experience
No discount offers
Limited computer models
Customer Reviews
Consistent high-quality service
"I have shopped here for all of my computer needs for over 20 years, sometimes commuting a great distance. I appreciate the value and help in having my specific computer needs met. I told the owners they must never retire! Thanks PC Galore!." -Suzy T.
Helpful staff
"I highly recommend PC Galore. I bought a used computer here two months ago. After a few days, it started having some issues. I called the shop and they replaced it with a slightly better computer. This one's great- no issues- and I got it for a reasonable price. Larry was very helpful and professional. I believe you can trust him and the PC Galore team." -Jill B.
FAQs About Computer Stores in Vancouver
---
That's about all we have in the best computer stores in town. The information we've provided should help you make an informed decision about where to buy your next computer system.
If you're reading this and it just so happens that you are looking to have your computer checked, whether it's been lagging lately or you want to upgrade some parts, you might want to check out our review of the best computer repairs in Vancouver.