The 5 Best Cremation Services in Vancouver
Losing a loved one is never easy. During this challenging time, you'll need all the help you can get to find the proper resting place.
Cremation services are provided after the funeral, but you may also choose a direct cremation service with no ceremony.
To help you narrow down your options, we've compiled a list of the best cremation services in Vancouver.
How Much Do Cremation Services Cost in Vancouver
Cremation costs in Vancouver vary depending on the type of ceremony or funeral services you choose.
When determining the cost of cremation services, there are numerous factors to consider, as you want to get a package that includes additional services such as embalming, body transfer, death certificates, and more.
Some establishments offer cremations with ceremonies, while others provide direct cremations where there are no ceremonial services.
Before we begin, let's look at how much cremation services cost so you can plan accordingly.
| Services | Estimated Costs |
| --- | --- |
| Ceremony and Cremation | CAD $600 - $1,500 |
| Direct Cremations | CAD $395 - $500 |
| Cremation/Burial Services | CAD $1,000 - $2,000 |
| Death Certificate | CAD $27 - $40 |
| Urn and Caskets | CAD $200 - $1,000 |
| Embalming Services | CAD $100 - $400 |
The Best Cremation Services in Vancouver
Funerals are never easy, so finding a supportive, professional, and efficient funeral service and crematorium is critical to ensuring your loved ones are well-cared for.
We evaluated these establishments based on the following criteria:
1. Amherst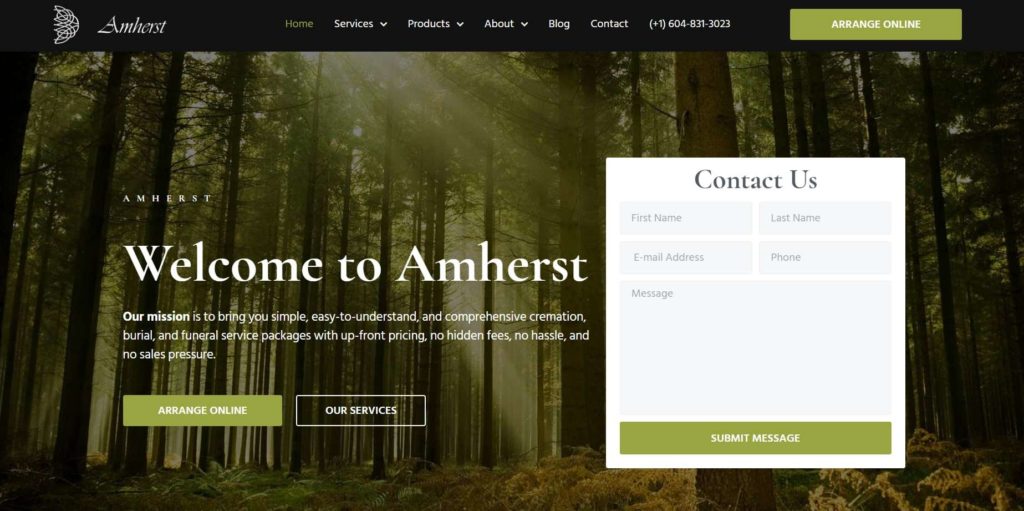 Test
Info
PRODUCTS
Essential Cremation Package

Amherst Cremation Package

Witness Cremation Package

Direct Burial Package

Graveside Service Package

WEBSITE
https://www.amherstcremation.com/
ADDRESS
207 W Hastings St #1209, Vancouver, BC V6B 1H7, Canada
CONTACT DETAILS
Phone: 604-831-3023

Email: [email protected]

OPERATING HOURS
Monday - Friday: 09:00 AM - 05:00 PM

Saturdays: 10:00 AM - 03:00 PM
| | |
| --- | --- |
| Reputation | ★★★★★ 5/5 |
| Range of Cremation Services | ★★★★★ 5/5 |
| Customer Service | ★★★★★ 5/5 |
| Availability | ★★★★☆ 4/5 |
Amherst Funeral Services provides traditional funeral services throughout the Lower Mainland, North and West Vancouver, and surrounding cities.
Amherst offers three cremation packages: Essential Cremation Package, Amherst Cremation Package, and Witness Cremation Package.
The Essential Cremation Package, which costs $845, is their most affordable option.
We like that this package allows customers to customize any additional services they require, and all arrangements can be made online.
It includes hospital transfer, shelter, registration, cremation fee, taxes, and one original death certificate, among other things.
Furthermore, all three cremation packages include in-person ash delivery within the BC Lower Mainland, which we find convenient.
Aside from that, Amherst offers a Direct Burial Package, which includes a simple burial without a formal viewing or ceremony.
This package includes basic professional services such as 24-hour staff support, on-site paperwork completion, body transfers, refrigeration, and shelter.
Furthermore, it also includes the delivery of two notarized death certificates to your home.
Another thing that drew our attention was their extensive collection of urns and caskets. They also provide environmentally friendly scattering tubes that can be recycled after use.
Furthermore, Amherst has been named one of the best funeral homes in Vancouver by the Consumer Choice Award 2020. This, in our opinion, is another reason why this company is a great choice.
Taxes included in rates
Delivery of death certificates included in packages
Delivery of ashes included in cremation packages
Offers environment-friendly scattering tubes
Consumer Choice Award 2020 Awardee
Relatively fewer options
Closed on Sundays
"Working with Amherst when our son died made the process so much easier. They went above and beyond to make a very awful situation just a little better. They had personalized service and even came and picked up our son's urn from our home. They navigated the paperwork which was so beyond us at the time and dealt directly with the authorities to get him home quickly. I cannot recommend Amherst enough." – Wendy C.
Customer Reviews
Top-notch customer service
Smooth process from beginning to end of services
"I have highly recommended Amherst Funeral Services to many friends and family. This company was professional, competent and sympathetic during the highly emotional times of the passing of both my father in 2016 and my mother in 2021. A simple phone call notifying Amherst of the deaths of my parents was all I had to do, other than giving a signed permission for them to be cremated. Because my parents had prepaid services, the process was flawless from beginning to end. I especiallly appreciated the full package of death certificates and ALL that I needed to proceed with finalizing my parents' estate. Thank you Amherst!." – Peter F.
2. Vancouver Memorial Services and Crematorium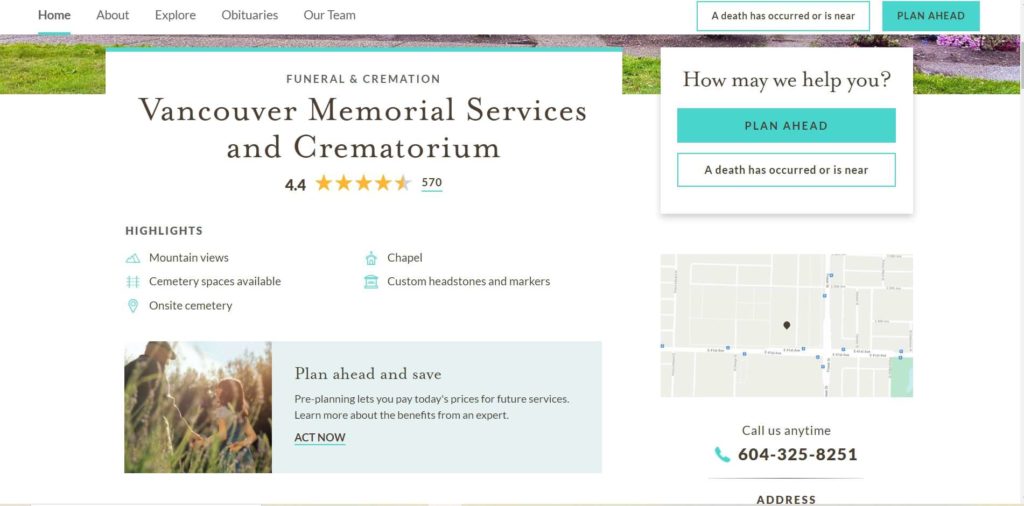 | | |
| --- | --- |
| Reputation | ★★★★★ 5/5 |
| Range of Cremation Services | ★★★★☆ 4/5 |
| Customer Service | ★★★★★ 5/5 |
| Availability | ★★★★★ 5/5 |
Established in 1912, the Vancouver Memorial Services and Crematorium provides funeral, cremation, and burial services in Vancouver and British Columbia.
We appreciate that this establishment provides breathtaking mountain views because we believe it makes the surroundings more peaceful.
We like that this company also offers catering and event planning, as these are useful extra services for families who want to hold a large funeral service.
We particularly liked that their event planning team incorporates the deceased's hobbies, favorite color, or poems into their planning. In our opinion, this makes the service unique and special.
Furthermore, Vancouver Memorial Services and Crematorium has a welcoming chapel and an on-site crematorium that can accommodate up to 50 guests.
They also have a funeral home team to help clients throughout the service.
Moreover, we like that Vancouver Memorial Services and Crematorium has an on-site cemetery complete with a Japanese niche wall, outdoor niche walls, and a rose garden scattering area.
Their indoor columbarium also features glass-front niches that can be personalized with photographs, flowers, and other keepsakes. They also offer custom headstones and markers.
Furthermore, many of the customers we've spoken with have mentioned how friendly and professional their staff is, which helped the funeral service run smoothly.
Overall, we felt that Vancouver Memorial Services and Crematorium deserved a spot on our list because of their exceptional service, facilities, and consideration for their clients.
Open 24 hours
Provides a funeral home team
Offers catering and event planning services
Offers on-site crematorium and cemetery 
Well-decorated cemetery and indoor columbarium
Offers custom headstones and markers
Pricing and packages not listed on website
Personalization options come with additional costs
Customer Reviews
Accommodating and professional
"Merv, Vince, Sandy and the entire team at Vancouver Memorial Services and Crematorium are class act! They went above and beyond to help us with the funeral services for my father. The were accommodating with their time and expertise all provided with compassion and empathy. I highly recommend them if you need professional, compassionate and expedited service for your love one." – Kourosh E.
Kind and understanding services
"I had a wonderful experience at Vancouver Memorial Services and Crematorium. The process met beyond my expectations. Kaz Montgomery, my father's funeral director, is an extremely kind gentleman and walked me and family through the process. He was very understanding of our situation and did the best he could to have everything go as planned. Thank you!." -Yannis N.
3. Raincoast Funeral and Cremation Services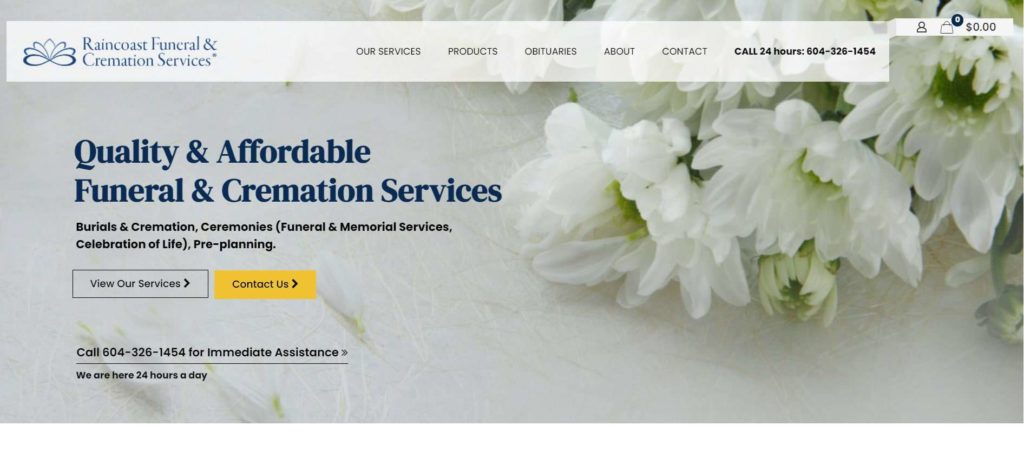 Test
Info
SERVICES
Burials and Cremation

Ceremonies

Funeral and Memorial Services

Funeral Pre-planning

WEBSITE
https://www.raincoastfuneral.com/
ADDRESS
618 East Kent Ave S #116, Vancouver, BC V5X 0B1, Canada
CONTACT DETAILS
Phone: 604-326-1454

Email: [email protected]

OPERATING HOURS
Open 24 hours
| | |
| --- | --- |
| Reputation | ★★★★☆ 4/5 |
| Range of Cremation Services | ★★★★☆ 4/5 |
| Customer Service | ★★★★★ 5/5 |
| Availability | ★★★★★ 5/5 |
Raincoast Funeral and Cremation Services was established in 2017, and they offer full funeral and cremation arrangements all across the Lower Mainland.
This business offers three cremation packages: Simple Cremation, Traditional Cremation, and Enhanced Cremation.
These packages offer clients the option of having a simple cremation with or without a ceremony or a more personalized service with extra features.
We appreciate that all of these services include body transfer, documentation, registration, shelter, equipment, and supplies.
Clients can also choose a simple green burial, in which the deceased is wrapped in a biodegradable organic cloth shroud or a 'green' casket.
They also offer eco-friendly caskets and urns, which are available on their website.
Raincoast Funeral and Cremation Services also provides funeral pre-planning services, allowing customers to make funeral arrangements ahead of time.
Moreover, you can add a Worldwide Travel Assistance Plan for an additional fee.
This service covers travel anywhere in the world if death occurs more than 100 kilometers from your home.
We also like how they offer bronze memorials, photo plaques, sculptured monuments, granite markers, and many other options.
Another thing we found impressive is that their team can provide services in English, Mandarin, Cantonese, Korean, and Tagalog.
Their staff's diversity, in our opinion, enables them to deal with different cultures and religious traditions.
Most of the customers we spoke with praised this establishment for their ability to accommodate specific requests and their professionalism and attention to detail.
All in all, Raincoast Funeral and Cremation Services is one of the best cremation services in Vancouver. They provide a wide selection of funeral and cremation packages and excellent, diverse staff.
Offers environment-friendly urns and caskets
Offers funeral pre-planning services
Provides Worldwide Travel Assistance Plan
Diverse staff
Wide selection of caskets and urns
Relatively pricier
Tax not included in rates
Customer Reviews
Able to accommodate specific requests
"A huge thank you to Kay and Michelle who helped my family with the passing of a loved one. They were professional, courteous, and detail-oriented. We had specific requests, and they were all carried out as per our request. They both attended the funeral and made sure everything ran smoothly. I highly recommend their services." -Ada Y.
Excellent services
"Service was excellent. We feel very blessed and appreciative of the care our family received. Forever grateful and thankful. Thank you Michelle." -Gnety V.
4. Koru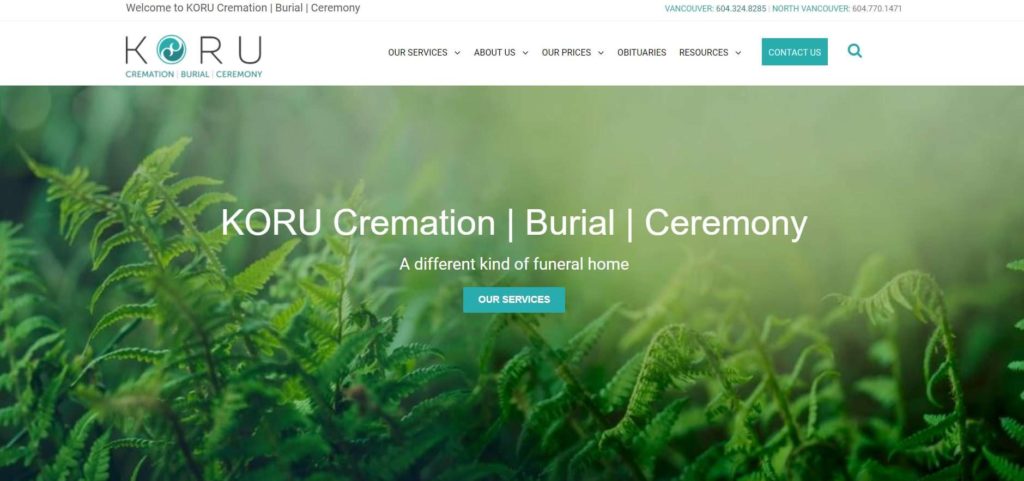 Test
Info
PRODUCTS
Cremation Burial

Ceremony

Plan Ahead Services

WEBSITE
https://www.korucremation.com/
ADDRESS
618 East Kent Ave S #131, Vancouver, BC V5X 0B1, Canada
CONTACT DETAILS
Phone: 604-324-8285

Email: [email protected]

OPERATING HOURS
Open 24 hours
| | |
| --- | --- |
| Reputation | ★★★★☆ 4/5 |
| Range of Cremation Services | ★★★★☆ 4/5 |
| Customer Service | ★★★★★ 5/5 |
| Availability | ★★★★☆ 4/5 |
KORU is a funeral home that specializes in green burial, natural-body practices, home death and vigils, and traditional funeral services.
We like how this establishment's name symbolizes the spirit and intentions of this locally owned and operated deathcare facility.
Although it has several definitions, KORU generally refers to returning to one's origins, harmony, and new beginnings.
They offer funerals, burials, cremation, and Plan Ahead services.
We appreciate that KORU offers green funeral services. They only sell eco-friendly and Canadian-made burial and cremation caskets and shrouds.
Another interesting feature is that they use green electricity to power their facilities.
KORU offers two cremation bundles: the Essential Cremation bundle and the Witness Cremation bundle. Death documentation, body transfer, sheltering, and natural body care are all part of these services.
Furthermore, their cremation services include an eco-pine cremation tray and complete personal care for the deceased.
The majority of customers we've spoken with have praised their services for their prompt response to inquiries and for finding clients the best venues and prices.
We particularly like their Green Burial Bundle, which includes a locally crafted natural burial shroud with handles.
In our opinion, what distinguishes the company from others is that it prioritizes environmentally friendly products in its operations.
In addition, KORU sells caskets, shrouds, urns, and jewelry. We recommend visiting their website's jewelry section, which features the finest pieces of jewelry created by Canadian artists.
Prioritizes environmentally friendly products and practices
Offers locally-made jewelry
Uses green electricity 
Prices available on website
Separate fee for original copies of death certificates
Only offers two cremation packages
Customer Reviews
Stress-free process and wonderful to work with
"I cannot recommend KORU highly enough. At a time of sadness, Emily from Koru made the entire process as stress-free and easy as possible, sending us any resources we asked for immediately, answering emails within minutes, and helping us coordinate every detail within the tight timeline we were working with. Emily showed compassion, professionalism, and expertise. She was so wonderful to work with, and I would choose Koru again without hesitation. Thank you Emily for everything." -Lindsay N.
Organized and efficient funeral services
"Emily was organized, efficient, knowledgeable. We connected with around 20 funeral service and she was hands-down the best! We are so glad to have her help throughout the process. we highly recommend her! She offered the best service, venues and price." – Sonia H.
5. Mckenzie Funeral Services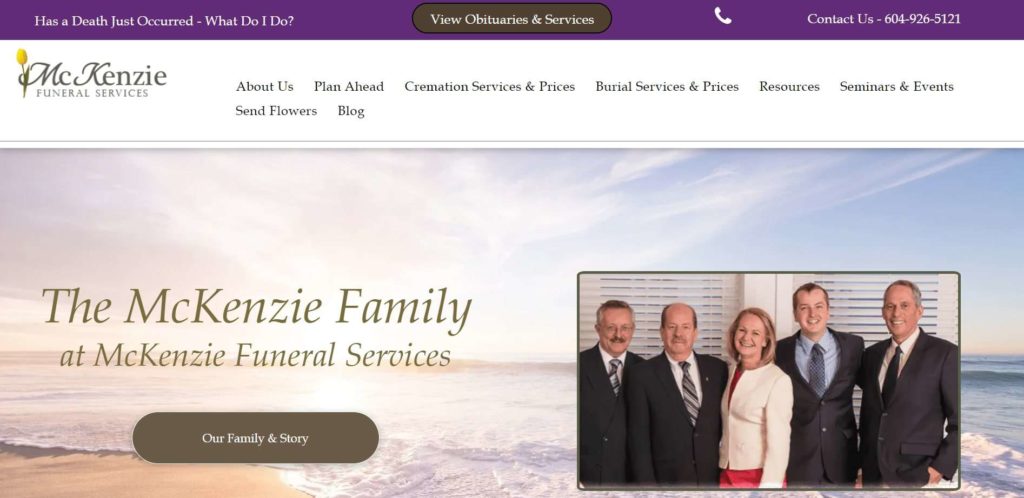 | | |
| --- | --- |
| Reputation | ★★★★★ 5/5 |
| Range of Cremation Services | ★★★★☆ 4/5 |
| Customer Service | ★★★★★ 5/5 |
| Availability | ★★★★★ 5/5 |
Mckenzie Funeral Service, founded in 1946, provides burial and cremation services in North and West Vancouver, Vancouver, Burnaby, Coquitlam, and the surrounding areas.
We especially like the fact that they own and operate their own crematorium. This distinguishes them from others because clients will not have to wait for long periods for the remains of their loved ones.
Another thing that drew our attention was that they provide online memorials and planning. They also offer a free personalized book of memories page to share the deceased's life and memories.
Mckenzie Funeral Services can also help book and organize venues, staffing, and equipment.
This establishment also has its own flower delivery service on its website. Customers can simply order flowers for their loved ones and have them delivered the same day.
They also provide catering, visitation, celebrant-led services, internment ceremonies, personalized memorials, memorial jewelry, and urns.
They also have Green Cremation Services. They have a large selection of biodegradable and tree urns, which we like because it gives customers a lot of options.
Most clients compliment them on how efficient and caring they were throughout the entire process.
Overall, we felt that Mckenzie Funeral Services deserved a spot on our list because of their years of experience and high-quality services, which have earned them many loyal clients.
Same week delivery of urn
Owns and operates crematorium
Offers online memorials and planning
Offers Green Cremation Services
Same day flower delivery
Only has one office location
Charges for transfers
Customer Reviews
Responsive to inquiries and sympathetic
"Responsive and sympathetic, McKenzie Funeral Services made a difficult time easier to bear. The community roots of the family business made them easy to relate to. Emails were answered promptly, in one case, within an hour on a Sunday. Special requests pertaining to the complimentary online posting of photos and information pertaining to my father were cheerfully accommodated. I recommend this business." – Kelly F.
Caring and respectful staff
"My family and I would like to extend our sincere thanks to Mark and family for the compassionate service we received when my mother-in-law passed away. They were efficient, caring, respectful and unobtrusive in helping us move through the process. Mark came to our home and communicated efficiently through email when necessary. We are grateful for your professional and caring manner in guiding our family through a difficult time and will recommend you at every opportunity. Thank you." – Correne C.
FAQs About Cremation Services in Vancouver
---