The 5 Best Dog Trainers in Vancouver
So you get a new dog, either a puppy or a rescue, and it's not exactly like those cute videos you see on the internet in terms of attitude and behavior. What are you to do about it?
Well, you can look at this list of the best dog training centers in Vancouver to find someone to help you get your pet in line!
The Cost of Dog Training in Vancouver
There are a lot of costs that go into how much dog training can cost. The breed of the dog, whether or not you're getting group, private, or online sessions, and the type of training needed can all factor in.
| Group classes | $30+ per class |
| --- | --- |
| Private lessons | $65+ per session |
Keep in mind that the table above doesn't necessarily reflect the full cost of dog training and the total costs can vary based on the trainer and your dog's specific needs.
The Best Dog Training in Vancouver
We based the best dog training centers in Vancouver based on the following criteria:
1. Canine Solutions Dog Training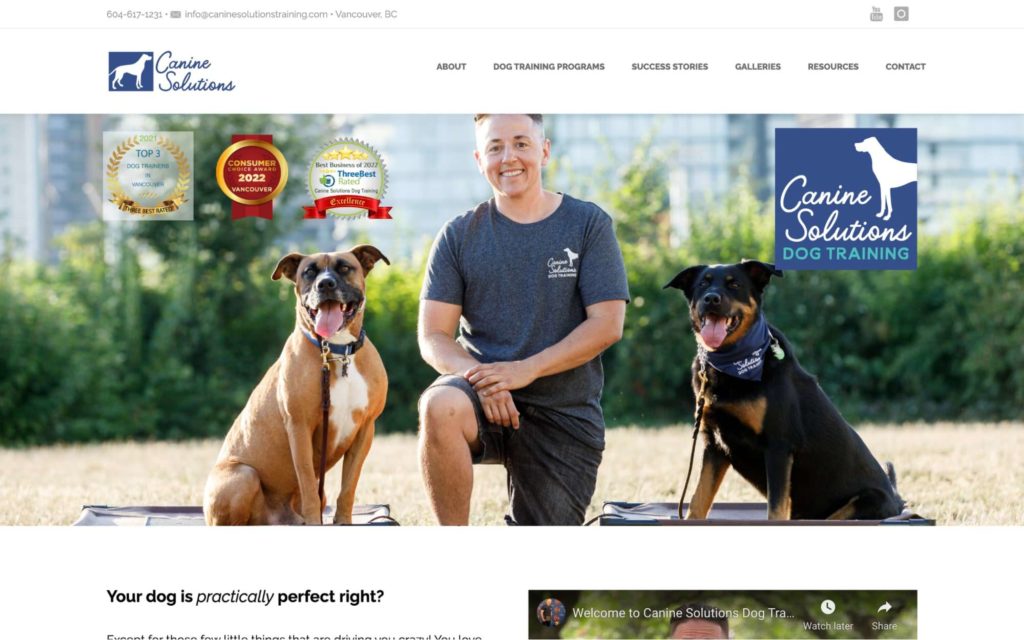 Test
Info
ADDRESS
Vancouver, BC V5T 2K4
WEBSITE
https://caninesolutionstraining.com/
CONTACT DETAILS
(604) 617-1231
STORE HOURS
Monday, Wednesday, Friday: 10am to 7pm

Saturday and Sunday: 10am to 5pm

Tuesday and Thursday: Closed
| | |
| --- | --- |
| Facilities | ★★★★☆ (4/5) |
| Diversity of lessons | ★★★★☆ (4/5) |
| Scheduling | ★★★★☆ (4/5) |
| Customer satisfaction | ★★★★☆ (4/5) |
So here's what stood out to us about Canine Solutions Dog Training – they recognize that busy people don't always have time to take their dogs to classes or sessions because real life isn't always so accommodating.
Because they recognize that, they make it a point to work around a pet owner's schedule. That's something that we really liked about them since pet owners can have the same issues if not the same amount of free time.
Another thing that they did that we really liked is that their help doesn't end with just the sessions. They provided tips and resources to continue helping a dog with their issues long after the sessions are done with.
We met a lot of customers who had rescue dogs and rescue dogs can sometimes be traumatized. Many of these customers raved about how the sessions were able to help their canines better acclimate to their new homes and their new lives.
The only drawback we've found is that sometimes training sessions can take an unexpected turn… like how one customer expected their session to be entirely indoors and was thus unprepared for when it turned into an outdoor session.
Other than that, we haven't anything about Canine Solutions Dog Training to dislike. Many of the customers we encountered are perfectly happy with the ways their dogs turned out.
Works around owner's schedules
Provides tips for continued training
Lesson plans can change on short notice
Customer reviews
Made it easy
"Drew helped us with some behavioural issues we were having with our very energetic rescue dog. Drew made it easy to fit training into our lives and taught us a lot of practical tips to continue working on. Drew is very accessible, and offers lots of helpful materials. Our dog is like a different dog after 4 sessions with Drew, and now a pleasure to be around (rather than an embarrassing and hard to control)." – Laura James
Cannot thank enough
"We cannot thank Drew at Canine Solutions Dog Training enough! He helped us structure and improve our relationship with our dog, Kipp. We rescued Kipp from the Meat Market in South Korea and understandably, that came with some trauma behaviors. Our main concern was Kipp's intense anxiety which sometimes came out as reactive towards people (particularly men) and food guarding/alpha behaviors with other dogs. It was really hard for us as we are social people with male friends and lots of other dogs in our lives. Our first pet trainer recommended Canine Solutions, but in all honesty, we were quite hesitant about e-collar training. We were afraid that using a balanced approach, rather than a strictly all positive reinforcement approach, would break the bond that we had built with Kipp. Well, we were so wrong. The structure and communication that e-collar training offered made our bond with Kipp stronger than we thought possible. Kipp now looks to us for everything. He trusts us when we tell him someone is safe, meaning that he now wags his tail at our male friends who come over and plays endlessly with dogs without reacting negatively when upset. Kipp's recall is phenomenal for being 1.5 years old. Of course, nothing is perfect, but rarely does he not instantly come back when called which has given him and us such freedom outdoors. He's a happy dog now which means we are happy pet parents!
Also, we wanted to mention that Drew is such a caring and responsive trainer. He was attentive and responsive to every concern, and he worked with us at our pace. We didn't realize how important excellent communication between trainer and trainees would be to our success! Thank you from the bottom of our hearts, Drew!" – Jourdan Jackson
2. Canine Connection Training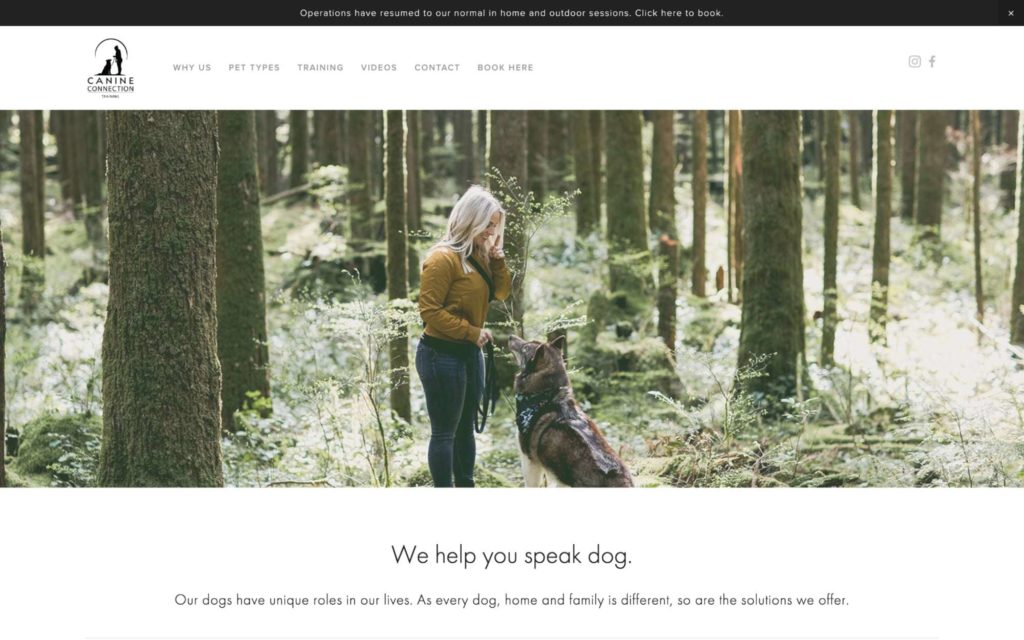 | | |
| --- | --- |
| Facilities | ★★★☆☆ (3/5) |
| Diversity of lessons | ★★★★★ (5/5) |
| Scheduling | ★★★★★ (5/5) |
| Customer satisfaction | ★★★★★ (5/5) |
There's a lot that we liked about Canine Correction Training and the very first thing to like about them is the variety of training styles they have.
This is great because not every dog is going to present the same problems and won't respond to the same techniques in a homogenous manner.
They do one–on–one classes, walk-and-train, group classes, and virtual classes. That kind of variety is great in our eyes because some dogs might need more socializing and others might be better off being trained by themselves.
What really stood out to us was their virtual classes. We were somewhat on the fence about how effective virtual classes could be for dogs, but we were blown away by the results.
Many of the clients who opted for virtual classes raved about how much better adjusted their dogs were after a few weeks of those online sessions.
But their services aren't limited to just the dogs themselves. The people at Canine Correction Training recognize that the pet owners may not be having the easiest time with their dog and we found that they make it a point to be friendly and personable to put them at ease.
The prices might give someone pause, but the results more than speak for themselves in our estimation.
Lots of different training styles
Puts pet owners at ease
Customer reviews
Can't thank enough
"I can't thank Annika enough for her zoom classes, training vids, time & dedication. I enjoy working through all the various exercises & her open, honest & humour filled delivery has made me more relaxed about training instead of being overly self conscious & focused on all my mistakes. This has been a sticking point for me mentally and has stopped me actually trying to put into practice all that I watch and read.
Annika gives much of her personal time to help her students and followers; she's approachable and people feel comfortable asking for help even when the questions seem stupid or the problem ridiculous. With her open hearted approach to dog training, she allows us all to learn from her and each other in a warm, friendly forum. The zoom classes, although not an obvious choice for training, were great value for money and much fun was had alongside learning.
Myself and my husband are first time vizsla owners and whilst its been a whirlwind of learning, trial and error, instagram brought me to Annika and although distance may have been in the way (we're in Texas!) her training online and over zoom has helped me personally, work with our dog Tanner more consistently than any of the in person trainers we had; she 'gets' dogs AND people ;)" – Dawn McGuire
Trust implicitly
"As the owner of a highly anxious, reactive dog, Annika has been invaluable to our family over the years.
Annika's recommendations are clear, well-explained and make sense.
Annika guides us on what is normal/expected behaviour, suggests easy changes that make a big positive difference with our dog and supports us through long-term management plans.
I trust Annika implicitly; my dogs are very lucky to have her in their lives!" – Cora Chok
3. Bow Wow Academy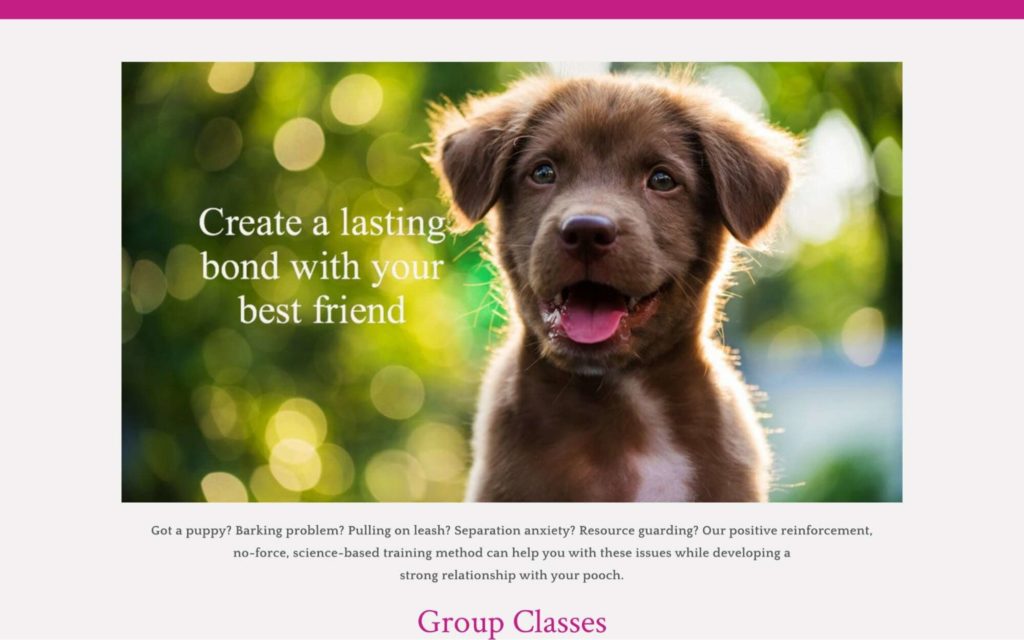 Test
Info
ADDRESS
259 1st St E, North Vancouver, BC V7M 1V4
WEBSITE
https://www.bowwowacademy.com/
CONTACT DETAILS
604) 765-7071
STORE HOURS
Monday to Friday, Sunday: 10am to 7pm

Saturday: 10am to 6pm
| | |
| --- | --- |
| Facilities | ★★★★★ (5/5) |
| Diversity of lessons | ★★★★☆ (4/5) |
| Scheduling | ★★★☆☆ (3/5) |
| Customer satisfaction | ★★★★★ (5/5) |
Amazing and incredible. Those are two words we noted one client using when describing Bow Wow Academy and based on what we've seen, we're hard-pressed to disagree with that customer.
When we went to check out the classes for ourselves, we found them to be energetic and engaging and those are two things you want a class, any class, to be if you want learning to happen.
So we liked that they were able to engage the students, the students in this case being dogs who may not have the firmest grasp of human language.
We also found that their schedule, mostly Saturdays and in the mornings for puppies and Wednesdays in the evening for older dogs, may work well for quite a lot of people with puppies but those with older dogs may have a harder go of it.
But if that training or schedule doesn't work, then they also do private training for more complex problems like aggression or separation anxiety.
Another thing that we liked was their homework. They have materials and resources for pet owners to continue with the training outside of the sessions, which we think is great not just for training the dog but also for bonding with it.
Overall, we found that Bow Wow Academy had a lot to offer and they're got a lot of happy clients who've taken them up on that offer so you'd have a hard time going wrong by going with them.
Trainers make an effort to engage dogs
Has homework for continued training outside of classes
Scheduling can be somewhat difficult for older dogs
Customer reviews
Loved our experience
"We loved our experience with Bow Wow Academy. The space is large so you don't feel cramped. Yoko is a dog training master. We learned so many helpful techniques in Manners 1. Yoko sends a summary after class so you can practice at home and go back to what you learned repeatedly. Our pup loved the classes and it was a fun family bonding experience. We've signed up for the next set of classes." – Joanna Maltby
Great at helping
"Yoko was great at helping to train me in how to correct some very bad behavioural issues in my six year old doodle. Was able to see it working immediately
And it feels way less stressful now that I have the tools to work with. Highly recommend Yoko!" – Melissa Chang
4. Raintown Dog Training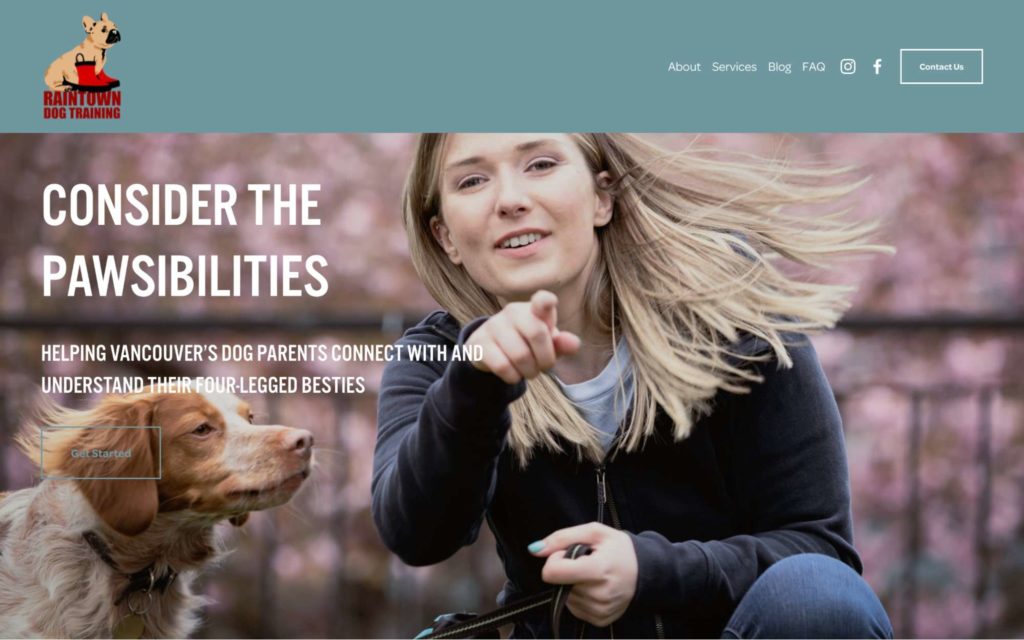 | | |
| --- | --- |
| Facilities | ★★★★☆ (4/5) |
| Diversity of lesson | ★★★★☆ (4/5) |
| Scheduling | ★★★★☆ (4/5) |
| Customer satisfaction | ★★★★★ (5/5) |
So, there's a lot about Raintown Dog Training to like. The primary thing in our opinion is that they set goals.
They don't just have blanket methods and training because they recognize that a one-size-fits-all approach doesn't always fit all, so they work with their clients on what goals they want to achieve in regards to their dogs.
That personalized approach is something that we can appreciate about them because we recognize that, while dogs share some inborn instincts and traits, they're also individuals who may need specialized attention.
But that specialized attention isn't all they do and it isn't all that we like about them. We also liked their group classes since an issue that many dogs may have is socializing with other dogs and we found that the group classes were a great way to acclimate such dogs with others.
We also encountered a number of clients and those clients couldn't stop raving about how great they found the services to be, with many of them gushing about how much better behaved or how much more social their dogs were after training with Raintown.
Basically, we found Raintown Dog Training to be as good a place as any to get your dog trained in the way that you want them to be trained.
Individualized training
Sets clear goals with the pet owners
Goal-oriented approach may not be for all pet owners
Customer reviews
Positive trainer
"When looking for a trainer to help with Ollie, it was important for me to find a positive, science-based trainer that keeps up with the latest dog training research. Extremely pleased with the work we did with Kris in 1 on 1 sessions. After going through our goals (Reactivity and recall) She helped me put together all the knowledge and come up with a concrete training plan, improved my training mechanics and make break throughs on some of the training plateaus" – Marco Firme
More confident
"My puppy was afraid of the smallest puppies week one and by week three she was running and playing with the wild ones. She became so much more confident meeting dogs on the street and I learned the basics of how to progress her training. Instructors are very professional and obviously really care about all the dogs and owners." – Rosey Hudson
5. Evolve Dog Training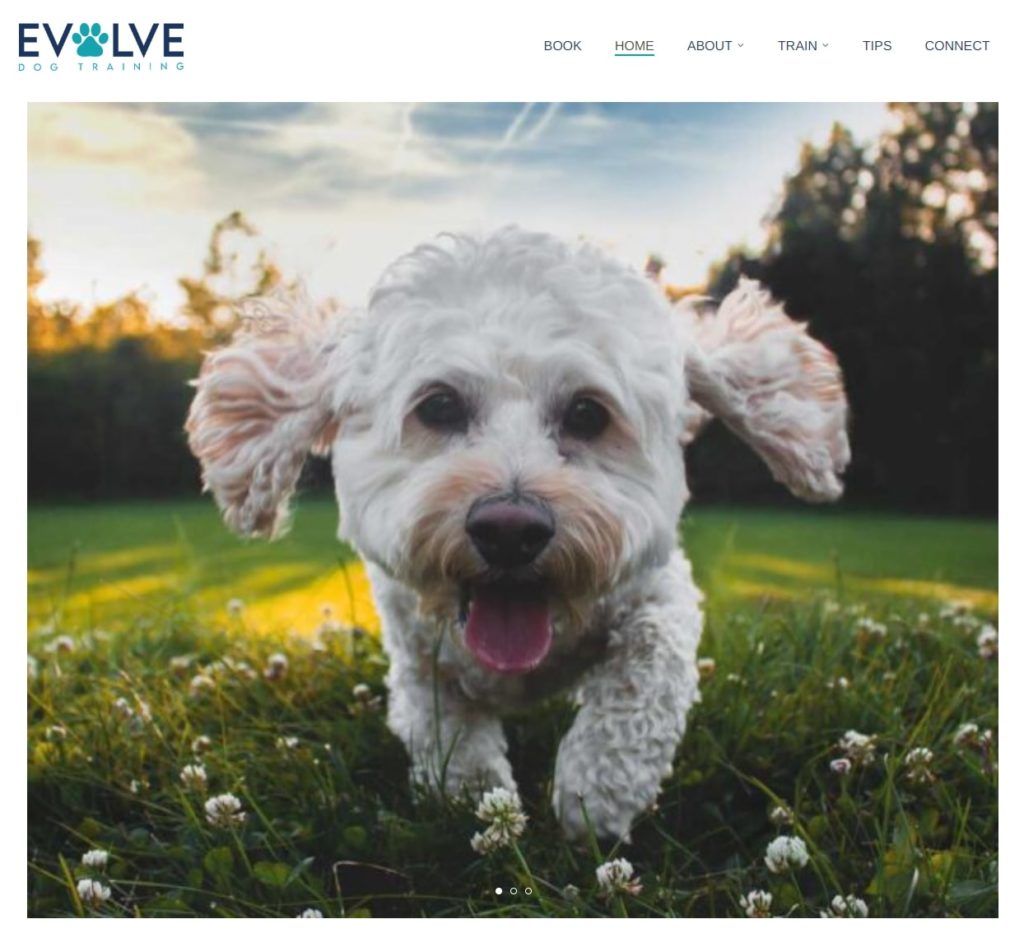 | Test | Info |
| --- | --- |
| ADDRESS | 1825 W 13th Ave, Vancouver, BC V6J 2H1 |
| WEBSITE | https://evolvedog.com/ |
| CONTACT DETAILS | (778) 833-3335 |
| STORE HOURS | Monday to Friday: 9am to 5pm |
| | |
| --- | --- |
| Facilities | ★★★★☆ (4/5) |
| Diversity of lesson | ★★★★☆ (4/5) |
| Scheduling | ★★★★☆ (4/5) |
| Customer satisfaction | ★★★★☆ (4/5) |
There's a lot that can be said about Evolve Dog Training and most if not all of it is pretty great, at least based on what we've been able to observe.
For starters, look at their training options. They've got group classes, one-on-one classes, and virtual classes – all of which are pretty bog-standard for dog training.
But just because something may seem pretty basic on the outside doesn't mean that it is. A class might seem rudimentary, but the results will often speak louder than initial impressions.
Another thing that we really liked about them is that on their website, they have some online resources for you, or the pet owner in your life, to peruse at your own convenience.
We like that about them because it gives pet owners additional resources that they can use to keep training their dog.
The trainer also gave pet owners clear directions and some helpful tips. We like it when trainers engage dog owners as well since, in our minds, dog owners are a huge part of the training process.
To sum it all up, we found that Evolve Dog Training provided dogs and their humans with knowledgeable, engaging training that got the results that the owners desired, whether it was a more agile dog or a better behaved one.
Additional resources online
Gives owners clear directions and helpful tips
Customer reviews
Fantastic
"Vanessa was fantastic and I would recommend Evoke dog training to anyone looking for a trainer. She was professional, friendly, supportive and knowledgeable. I attended her introduction to agility 4 week course with my morkie, Dakota. Dakota was shy and worried but Vanessa knew just what to do, how to read her signals and taught me how to make training fun for both of us. I loved the course and found it so helpful I repeated it! Even then Vanessa met me and Dakota where we were at and Dakota continued to make lots of progress. She now walks beautifully on leash, has great recall, is more confident interacting with other dogs. But most importantly for me, Vanessa helped me to read Dakota's body language so I can better understand what she is trying to communicate. Thank you Vanessa!" – Sally Carr
Wealth of knowledge
"I have been to many puppy classes over the years and Vanessa's ranks as one of the best I have attended. Vanessa puts a lot of effort and thought into creating a safe and engaging learning experience for both the puppies and the owners. She covers all of the basic training information and also provides a wealth of knowledge and training tips for any behaviour challenges the owners may be having with for their specific puppy. I definitely would recommend her classes!" – Mary Fed
FAQs about Dog Training in Vancouver
---
If you're looking to find a dog to start training them, then check out this list of the best animal shelters in Vancouver.