The Top 5 Eye Care Clinics in Vancouver
When it comes to having someone treat our eyes for us, we only want the best and most credible doctors to do it for us.
Fortunately for your vision, we've only reviewed the top eye care clinics right here in Vancouver. Read on to know all about them!
How much do eye care services cost in Vancouver?
Before we proceed to our list, we think it's probably best to familiarise yourself with the common services eye care clinics provide, along with their average pricings.
Please note rates do vary between clinics and professionals so it's best to check the pricing before agreeing to any contract.
| Eye Care Services | Average Rates |
| --- | --- |
| Eye Exams | ~$75 to ~$200 |
| Dry Eye Therapy | ~$50 to ~$250 |
| Contact Lens Fitting | ~$25 to ~$250 |
| LASIK Eye Surgery | ~$2000 to ~$3000 per eye |
| Orthokeratology | ~$1000 to ~$4000 |
| Myopia Control | ~$1500 (for the first year) |
The Top Eye Care Clinics in Vancouver
We picked out eye care clinics based on the following criteria:
1. Mount Pleasant Optometry Centre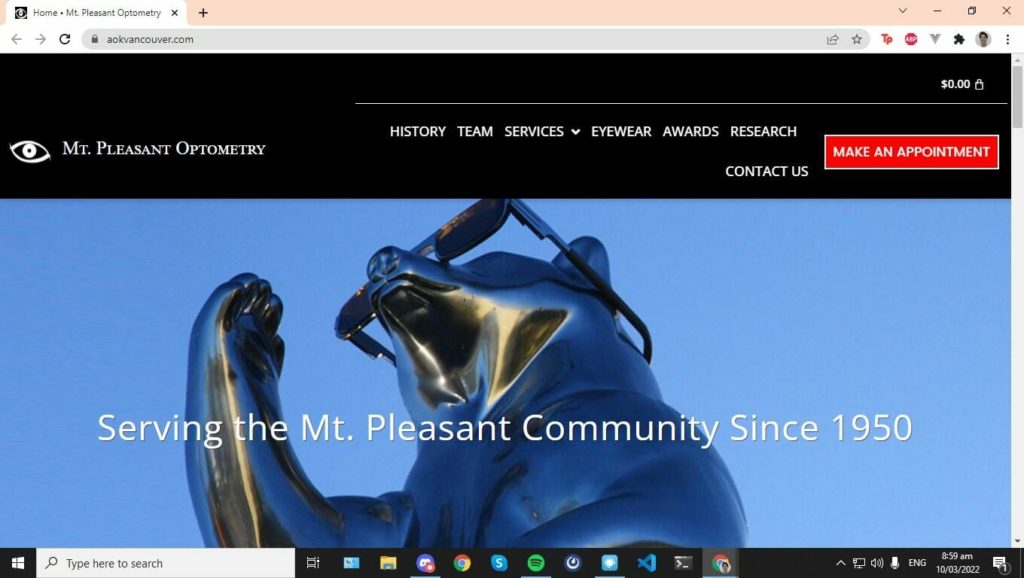 Test
Info
PRODUCTS
Eye Exams

Dry Eye Therapy

Vision Training

Specialty Contact Lenses

Surgical Co-Management

Urgent Eye-Care

WEBSITE
https://aokvancouver.com/
ADDRESS
104 E Broadway Vancouver, BC V5T 1V9
CONTACT DETAILS
(604) 874-7302

Email: [email protected]

OPERATING HOURS
Monday to Friday 8:00 am – 7:00 pm

Saturday 8:00 am – 6:00 pm

Sunday 10:00 am – 6:00 pm
| | |
| --- | --- |
| Criteria | Ratings |
| Value | ★★★★★ (5/5) |
| Customer Service | ★★★★☆ (4/5) |
| Discounts & Incentives | ★★★★☆ (4/5) |
| Services Offered | ★★★★☆ (4/5) |
In the 70 years that Mount Pleasant Optometry has been operating, they've certainly made a name for themselves. They've been nominated for various awards including the Reader's Choice Awards by the Stars of Vancouver throughout the years 2014 and 2021 and it's not too hard to see why.
They offer a number of incentives to cater to the average customer. Some of these incentives include a 1-year warranty on most, if not all, eyeglasses.
In addition, if within 90 days of your eye exam, they would fine-tune, redo, or re-adjust the glasses they made for you free of charge.
Not to mention their frames are usually always top-of-the-line, with award-winning frames including LA Eyeworks, Face a Face, and Evatik arriving regularly. We find it especially nice that they allow you to make a special order of a brand of your choice, when possible, of course.
For customers looking to set an appointment with them, there is a cancellation policy that they should duly take note of. To avoid no-show appointments or same-day cancellations, they've set a fee of $50.00.
Also, since June of 2020, they require at least 24 hours notice for any rescheduling or cancellation of appointments with their optometrists.
This can largely be accredited to the Covid-19 pandemic, for which the shop has set a number of policies in line with it. Some of these include requiring face masks at all times and attending the appointment by yourself when possible.
For new appointments, don't be too surprised if the front door is locked too as it's also part of their new policies. Many clients we've spoken to advised us to just give them a knock and staff should answer momentarily depending on availability.
1 Year warranty
Free redo and fine-tuning for first 90 days
New frames arriving regularly
Special frame order
Cancellation fee $50 with 24 hour notice
Customer Reviews
Eager to help employees
"Had my eye exam and tried on some glasses with Amandeep. Found a pair I really liked so she put it on my file if I decided to buy them in the future. My partner had her appointment with Laura to get some glasses and I tagged along so she could see me in the pair I liked and also for me to give feedback on what she liked. Laura and Amandeep were both a riot. We couldn't stop laughing and having a blast trying out glasses.
The thing about covid is that it's a totally different experience. I'm used to trying out what I liked off the wall. Now with covid they curate based on what you tell them you are looking for and they bring you options. The two pairs my partner picked were both not what she would have usually gone for or even dared to try but they fit her perfectly. They have a discount on your second pair of frames so the financial damage wasn't as bad.
Random factoid: Amandeep and my partner both have awful (in a good way) perfectly shaped faces. I don't think there's a pair of glasses that don't look good on them. I'd say 1 out of 15 pairs look good on me. I think it's honest and fair to say 14 out of 15 would look good on them. Lucky bastards. My partner tried on the pair I was eyeing and (no) surprise it looked better on her. I'm still mulling over a pair but she ended up buying two with Laura's help.
I usually find buying glasses to be a little stressful or awkward but not with these two ladies. Felt like old friends being completely honest about what did and didn't work on our faces. Thank you Laura and Amandeep for your help and expertise! Can't wait to see my partner in her new glasses come January." —Arleen C.
Experienced and professional staff
"We have tried a few Optometries in the past and could not find one that provided a decent experience.
Until we tried Mount Pleasant Optometry, which was referred to us by our family doctor.
The staff are very experienced and professional, they really took their time helping us, answered any questions or concerns we had.
I was personally helped by Timor, an amazing guy! great attitude and very knowledgeable.
I was so pleased with the glasses I got so I ended up going back and getting the second set of lenses as well." —Mory M.
2. Olympic Village Eye Care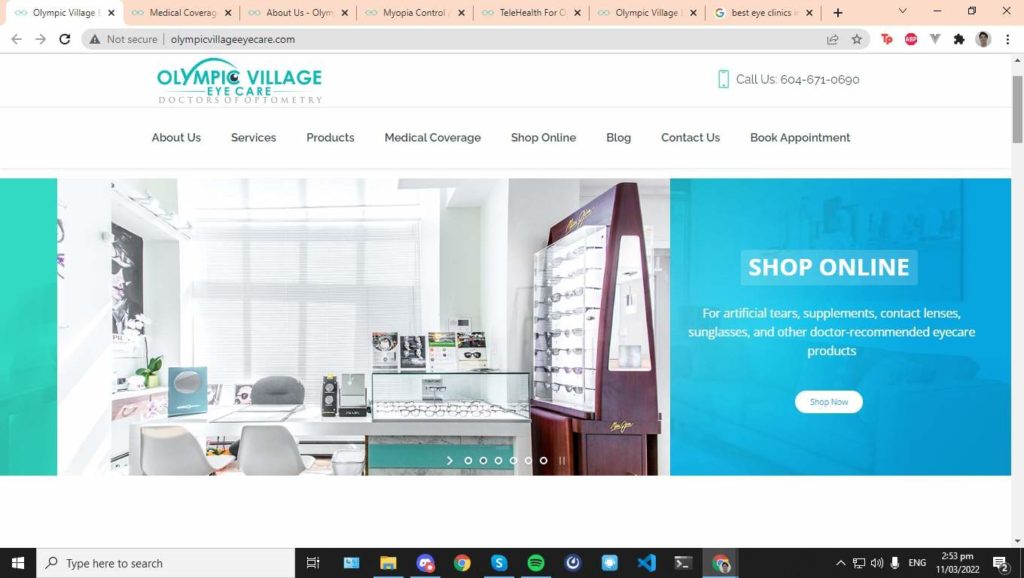 Test
Info
PRODUCTS
Eye Exams

Children's Eye Exam

Contact Lens Exam

Treatment of Eye

Treatment of Eye Disease and Ocular Emergency

Technology

Advanced Eye Care

Laser Eye Surgeries Co-Management (Lasik/PRK)

Ortho-K

WEBSITE
http://olympicvillageeyecare.com/
ADDRESS
309 W 2nd Ave, Vancouver, BC, V5Y 1C9
CONTACT DETAILS
604-671-0690

Email: [email protected]

OPERATING HOURS
Monday 12:00 pm – 6:00 pm

Tuesday to Friday 10:00 am – 6:00 pm

Saturday 9:00 am – 4:00 pm

Sunday & Stat Holidays Closed
| | |
| --- | --- |
| Criteria | Ratings |
| Value | ★★★★☆ (4/5) |
| Customer Service | ★★★☆☆ (3/5) |
| Discounts & Incentives | ★★★☆☆ (3/5) |
| Services Offered | ★★★★★ (5/5) |
Olympic Village Eye Care is a relatively new company compared to the other clinics on this list, having only started in 2009. Regardless, in the short span of time they've been operating, they've garnered a substantial amount of positive feedback.
Before we get into their services, we'd like to talk about their main ophthalmologist, namely Dr. Cheryl Chen, OD, who has played a considerable part in the clinic's success.
We think her achievements are quite impressive. She's even graduated with honours from the University of Waterloo in Ontario for her degree in Optometry.
With this level of credibility, we found it completely reasonable that the clients we interviewed held her in high regard. Most mention how thorough and knowledgeable Dr. Chen is with their diagnosis.
However, a couple of patients do mention bad experiences with the renowned doctor, with most pointing out her short-temper.
Regardless, the clinic does offer a wide selection of services. We found it great that they also offer eye exams for children, though not many discounts or incentives are prevalent here unlike in other medical centres.
We found that it is fairly easy to set up an appointment, with clients only having to wait a day or two to get a meeting. Although there were cases where the reception was fairly disorganised and slow with service, many clients expressed how welcomed they felt by the clinic staff.
Quick appointment
Children's eye exam
Credible doctor
Friendly and welcoming staff
Not many discounts or incentives
Sometimes ill-tempered doctor
Sometimes has disorganised reception
Customer Reviews
Easy to schedule an appointment
"My daughter had her first diagnosis and first pair of glasses from Olympic Village Eye Care. Staff were helpful and friendly, and Dr. Chen was caring and knowledgeable. Scheduling an appointment was a quick and easy process, and the location is convenient. They stock nice quality frames.
With one of Olympic Village Eye Care's specialties being listed as a children's optometrist, my daughter's experience would have been made more special if she was able to choose from fun colours or patterns for her glasses case and lens wipe cloth (and it wouldn't hurt to throw in the lens cleaner as well).
All in all, a great experience!" —Teena A.
Disorganised reception
"I hadn't had an eye exam in many years and I went there with my two young kids. Dr Chen was patient and thorough. She diagnosed several issues and prescribed my first pair of glasses. She recommended follow up appointments for a lazy eye for my child and retina test for me. I went back later to pick out frames which was a long process. The assistant was somewhat disorganised and slow with service, but very nice. In the end I love my glasses and I am astounded at the difference with them! No wonder my eyes were so tired, red and irritated at the end of the day." —Catherine C.
3. FYidoctors
Test
Info
PRODUCTS
Eye Exams

Eyeglass frames

Sunglasses

Contact lenses

Eyeglass Care & Maintenance

WEBSITE
https://fyidoctors.com/en/locations/vancouver/fyidoctors-vancouver-broadway
ADDRESS
Suite 104 - 1668 W Broadway, Vancouver (British Columbia), V6J 1X6
CONTACT DETAILS
604-733-1611

Email: [email protected]

OPERATING HOURS
Monday to Friday 8:00 am – 5:00 pm

Saturday 9:00 am – 4:00 pm

Sundays, Provincial & Federal holidays Closed

Calls will be answered from 9:00 AM - 4:00 PM Monday to Saturday.
| | |
| --- | --- |
| Criteria | Ratings |
| Value | ★★★★★ (5/5) |
| Customer Service | ★★★★★ (5/5) |
| Discounts & Incentives | ★★★★★ (5/5) |
| Services Offered | ★★★★★ (5/5) |
When we talk about humble beginnings, we think of FYidoctors. From being just a group of independent eye care professionals back in 2005 to being Canada's largest doctor-owned eyecare provider to date —they have come far.
In the time they've been operating, they've had the honour of joining Canada's list of Best Managed Companies twice in a row, specifically for the years 2019 and 2020.
Being a doctor-led company, they claim to put patient care first before their products. With the amount of positive feedback they get from their clients, this isn't too hard to believe.
Oh, by the way, they also support charity foundations all across Vancouver, having raised over $150,000 in 2020 through the Enhancing Life Foundation.
This is roughly 25 percent more than what they raised in 2019, which, in our opinion, is hugely impressive.
Aside from occasionally donating safety glasses to health-care workers, they've also started a small charity for their clients in the form of multiple types of warranties. These vary with the type of frames or lenses you're getting.
They offer a 2-year warranty for regular lenses and a 1-year warranty for their "valued" or budget ones. Typically, this depends on the brand.
What we liked best was their 1-year valid child warranty, where they offer a one-time unconditional replacement for the frames and lenses of children.
Honestly, it was really difficult for us to find any downside to this company. The closest drawback we found would probably be one of their appointment policies.
If you're ever 15 minutes late to your appointment, it would have to be rescheduled. But even this is already understandable as it is to maintain timeliness for their own schedules.
Overall, we think it's a great doctor-run clinic with lots of services and staff professionalism offered. We highly recommend this clinic for clients with children especially so you can avail their exceptional incentives.
Charitable 
Warranty (2-year for regular lenses; 1-year for value lenses)
Child warranty (one-time unconditional replacement)
Friendly and helpful staff
Reschedule your appointment automatically if you're 15 minutes late
Customer Reviews
Accommodating doctors
"Though I'm primarily a patient of the excellent Dr. Rea, I've seen several optometrists here over the past 6 years. The service at every level is exceptional – thorough, factual, and very helpful.
The doctors answer questions (I've had some problems and concerns over the years) with facts and in detail. Though Dr. Rea said that I didn't really require new glasses, my old ones were a bit worn after 10 years so I bought new frames and lenses. Dr. Rea's new and slightly modified prescription is a subtle but noticeable improvement and the lens size customization that the staff worked out for my 'frameless' frames is very helpful.
When the new frames were delivered, I noticed that one of the hinge screws looked oddly seated. I questioned it and they took the frames apart, decided that it could be done better and ordered new frames from the supplier.
Offhand, I can't think of a more completely professional service provider for any kind of product that I've used. Impressive." —John S.
Extremely friendly staff
"I've been going to Dr. Bissonnette for years now and have referred many of my friends (who have also been happy with him). He is thorough, careful, and willing to answer all questions.
Also, the rest of the staff have always been excellent. The last time we went in, they did a tremendous job of helping us out (ordering in different frames for us) and were extremely friendly. Also, I asked a question about contact lenses and received a follow up email the next day. Excellent customer service.
The only thing preventing me from giving 5 stars is that their office hours are a bit tough to get to. But if you are looking for a fantastic optometrist, go here." —Andrea B.
4. Avenue Eyecare
Test
Info
PRODUCTS
Frames

Lenses

Eye Glasses

Dry Eye Management Program

Orthokeratology & Myopia Management

Comprehensive Eye Exam for Adults and Seniors

Children's Eye Exam

Contact Lens Fitting

Emergency Eye Care

Ocular Disease Management

Laser Refractive Surgery Co-Management

WEBSITE
https://www.avenueeyecare.com/
ADDRESS
2041 West 41st Avenue, Vancouver, BC V6M 1Y7
CONTACT DETAILS
(604) 558-1133

Email: [email protected]

OPERATING HOURS
Monday, Thursday, & Friday 9:30 am – 5:30 pm

Tuesday & Wednesday 9:30 am – 6:30 pm

Saturday 9:30 am – 4:30 pm

Sunday Closed
| | |
| --- | --- |
| Criteria | Ratings |
| Value | ★★★★☆ (4/5) |
| Customer Service | ★★★★☆ (4/5) |
| Discounts & Incentives | ★★☆☆☆ (2/5) |
| Services Offered | ★★★★★ (5/5) |
Avenue Eyecare is among the newer eye care clinics in Vancouver, starting only around 2011 at its Kerrisdale location. Since then, they've gained multiple awards, including "Best Eyewear" in the Westender and "Best Optometrist" in the Vancouver Courier.
We find it unique that they're actually a multi-lingual clinic, with most staff and practitioners being able to speak English, Cantonese, Mandarin, and French. We think this can better serve minorities within the community who aren't too confident with their English.
For new clients and first-timers, we found it's best to bring your BC CareCard as it does cover your eye exam fee if you're under 19 years of age. For patients 65 years and older, there's only coverage for a portion of your eye exam fee.
For the ages between 19 and 64, though, you'd have to pay the fee in full —with exception for those who have specific eye diseases or health problems. However, the BC CareCard does cover all ocular health emergencies.
Also, if you happen to be going by car, there's free parking right outside the clinic along West 41st Avenue east of Maple Street and 1-2 hour parking on East Boulevard near the Kerrisdale Arena.
Why mention this? Honestly, we think having a lot of options for parking space generally adds to the convenience of a service.
BC CareCard coverage
Multi-lingual clinic
Friendly and helpful staff
Free parking
Not many discounts or incentives
Customer Reviews
Friendly and helpful staff
"Great overall experience – the staff was helpful and friendly! I would have continued to use them as my go-to for all things eye care if I hadn't moved. The team also worked with me to find a new specialist in Ontario, which I appreciated." —Hannah Herrington.
Great customer experience
"Hi, I am still having blurred vision from eye dilation but I am excited to write a review about Avenue Eye care staff and clinic whose service made me satisfied. ( My daughter is typing this for me )
First, I would like to start by the great welcome of staff.
Clinic itself is very clean and tidy.
The tech who tested my eyes before the doctor was very professional and explained each step.
Doctor Ying Zhao was super great, she took her time and she was very patient with me. Vanessa Li also assisted me and showed hospitality, which is a good thing about the staff in the clinic. If you are looking to have an examination, I really recommend this place." —Mustapha Elzarif.
5. Perspective Optometry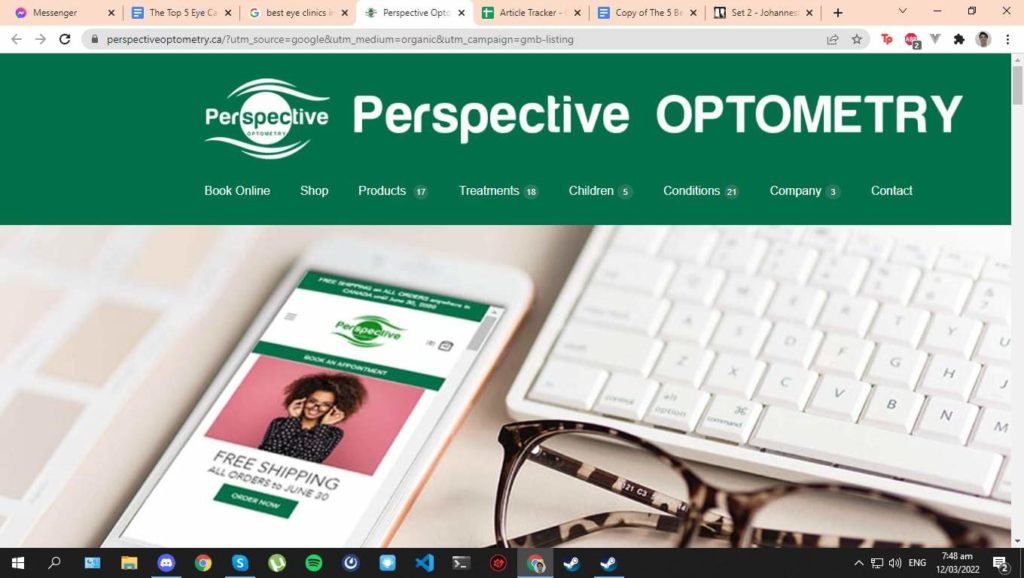 Test
Info
PRODUCTS
Adult & Children Eye Exams

Frames

Sunglasses

Lenses

Lens Treatments

Myopia Control

Dry Eye

Orthokeratology

Vision Rehabilitation Therapy

Laser Eye Surgery

Computer Vision Syndrome

WEBSITE
https://www.perspectiveoptometry.ca/
ADDRESS
7633 Nanaimo Street, Vancouver, BC, V5P 4M6
CONTACT DETAILS
(604) 435-3931
OPERATING HOURS
Monday to Saturday 9:00 am – 6:00 pm

Sunday Closed
| | |
| --- | --- |
| Criteria | Ratings |
| Value | ★★★★☆ (4/5) |
| Customer Service | ★★★★☆ (4/5) |
| Discounts & Incentives | ★★★★★ (5/5) |
| Services Offered | ★★★★★ (5/5) |
Perspective Optometry is among the many eye care clinics in Vancouver run mainly by a single optometrist.
Born and raised in the city, Dr. M.K. Randhawa has been serving Canadians for a while— even being recognized as the Optometrist of the Year 2014 by the BC Association of Optometrists.
After doing some info gathering, we found that she has both a degree in human nutrition and a doctorate in optometry. This makes her among the few uniquely qualified to advise patients on the impact of health to their overall vision.
However, we think this credibility does come at a cost. After interviewing numerous former clients, we've gotten a lot of feedback on their services being "extremely pricey".
A lot of patients also have issues with their long wait times, which is somewhat odd considering they operate on a by-appointment basis.
Anyway, the clinic does have an array of products available on their online shop but the best part is actually their free shipping. This particular incentive only applies to orders based in Canada, though, so if you're ordering from outside the country, you'd have to pay the shipping fee yourself.
We think it's also great that the clinic offers various incentives to their patients. For instance, they happen to offer a 2-year warranty for lenses, coatings, and frames, though the length of such is dependent on brand and manufacturer.
This warranty applies on regular priced lenses and covers any defects in material and workmanship on anti-reflection and scratch coatings. For value packages, a shorter 1-year warranty applies.
And it doesn't stop there! They also offer a one-time unconditional replacement on value packages for children 12 years of age and under. While this incentive does last a full year, it must be the same prescription.
To make things convenient for you, they also support direct insurance billing to insurance providers including Great West Life, Green Shield, Manulife, and among others. If you'd like to avail this, we'd recommend bringing your insurance card and a photo ID before coming for your appointment.
Free shipping on their online shop
One-time unconditional replacement for 
1-2 year warranty 
Direct insurance billing
Free shipping incentive only within Canada
Quite pricey
Long wait times and often packed with people 
Customer Reviews
Friendly and helpful staff
"I was really impressed with how friendly and knowledgeable Dr. Randhawa was, and the staff were all super helpful and so welcoming. I was also grateful for the technology they had that allowed Dr. Randhawa to show me the state and condition of my eyes, overall eye health and things I need to take care of or keep an eye on. Overall, I am really happy with my visit here and would certainly recommend this clinic for your eye checks and needs!" —Nadia Varallo.
Long wait times and often packed with people
"There is an over-abundance of eye doctors, but this one stands out from the crowd. Dr. Randhawa is well trained, listens, and takes a careful approach, therefore this place can be packed with people at peak times. The new larger store has a modern feel and offers the basic selection of entry level value to designer frames. This is a family friendly practice with tea, coffee, water (sometimes some refreshments offered at various times). Parking is much improved over their former 'Killarney Market' mall location. (June 2018)
Update: With a store expansion and added vision services, efficiency and customer service has been affected, so wait times are very long. #LetsGuide" —Google Guide.
FAQs about Eye Care Clinics
---
Since eyes are acclaimed to be the windows of our souls, it'd be a real shame to not take care of them. Hopefully, through the clinics we've mentioned, you'd be able to find the right treatment.
If you happen to be looking to address a more specific and apparent eye problem, perhaps our list of the most sought-out LASIK clinics in Vancouver would help.