The 5 Best Nursing Homes in Vancouver
Choosing a nursing home for your loved ones can be difficult. When your family member is elderly or has special needs, you must ensure their safety and enforce a healthy lifestyle.
Therefore, it is essential to choose nursing homes that offer high-quality services and care to their patients.
We've compiled a list of the best nursing homes in Vancouver to help you search for the right home.
The Cost of Nursing Homes in Vancouver
Nursing home costs vary depending on the type of room you get, whether it's private or semi-private, and the length of stay. The majority of nursing homes offer weekly, monthly, and yearly stay options.
You won't be spending more than CAD 20,000 in total. However, you can take advantage of additional services to make your loved ones' stay more comfortable.
In the table below, we've listed down the different services these nursing homes offer and how much they may cost you.
| Services | Estimated Costs |
| --- | --- |
| Private Room | CAD $12,000 - $20,000 |
| Semi-Private Room | CAD $10,000 - $13,000 |
| Independent Living | CAD $4,000 - $5,000 |
| Assisted Living | CAD $5,750 - $7,000 |
| Counselling and Support | CAD $200 - $300 |
| Housekeeping and Laundry Services | CAD $70 - $150 |
| 9 kW | CAD $22,800 - $23,000 |
| 10 kW | CAD $25,200 - $25,000 |
The Best Nursing Homes in Vancouver
When it comes to choosing a place for your loved ones, you want to make sure that they're going to get the best possible care. You want them to be in a facility that prioritizes their well-being in every way.
In addition to the nursing staff caring for your loved one around the clock, you want them to be surrounded by living areas that help maintain their quality of life and comfort.
1. Granville Gardens Retirement Residence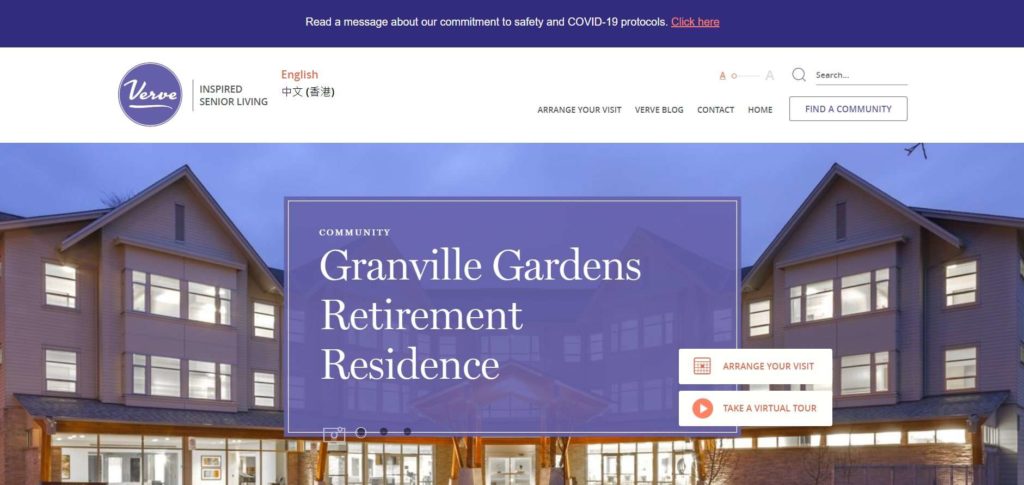 | | |
| --- | --- |
| Range of Services | ★★★★★ 5/5 |
| Availability | ★★★★★ 5/5 |
| Customer Support | ★★★★★ 5/5 |
| Pricing | ★★★★☆ 4/5 |
Granville Gardens Retirement Service is a senior living community that provides a variety of wellness services and warm and inviting environments for the elderly.
These personalized service plans include wellness counseling and support, monthly blood pressure and weight tracking, and other services.
We like that Granville Gardens has a variety of amenities where customers can unwind and stay in shape.
We particularly enjoy the Garden Lounge, which is located directly across from their Red Maple Restaurant and is surrounded by lush gardens and mature maple trees.
This organization also has a Club and a Fireside Lounge where residents can relax and socialize.
Another feature that drew our attention was their Great Room. Residents can do group exercises, meetings, and movie nights in this facility's ample open space!
Granville Gardens also encourages residents to begin their day with a morning mental workout that includes games, events, and brain exercises.
They also have weekly group gatherings where they play Wii bowling and other games. This is a fun way for seniors to stay active and engaged, in our opinion.
Granville Gardens Retirement Services offers four different suite types. The Cypress suite is the most affordable, with a monthly fee of CAD 4,550.
They also have the Dogwood, which costs CAD 4,750 per month. The Willow and the One Bedroom Suite, on the other hand, cost CAD 6,750 per month.
We were impressed that all of these suites include cable, TV utilities, WiFi, and an emergency response system. In addition, all of their suites also have radiant in-floor heating, which is very convenient for seniors who are often cold.
Unfortunately, we're not big fans of the fact that they charge an extra fee for housekeeping services. However, we appreciate that this establishment cleans common areas such as lounges and libraries on a daily basis.
Furthermore, they have in-house professional chef and waiters, and we like that they have curated meal menus.
In fact, many of the customers we've spoken to comment on how tasty the food is at Granville Gardens Retirement Service.

We were also impressed by the establishment's proximity to the urban community, shopping malls, parks, and libraries.
Overall, we believe Granville Gardens Retirement Service is one of the best nursing homes in Vancouver because it offers a wide range of wellness services and provides its residents with a welcoming and energetic community.
Offers personalized wellness plans
Numerous amenities
Near urban communities
Has weekly group gatherings
Promotes an active lifestyle
Has in-house chef and waiters
Suites have in-floor heating
Charges extra fees for housekeeping
Relatively higher rates
Customer Reviews
Wonderful services
"My mom has been living at Granville Gardens for just over a year. It is a perfect new home for her. The staff are wonderful and they have done a fantastic job over the course of the pandemic. We wondered if she would cope here with her dementia, but my mom has thrived here. She has made new friends and has embraced the activities here. She has been more active in the last year than she was in previous few years prior to moving in. In her words: "I love it here!"." -Denise F.
Loving and caring staff
"Granville Gardens welcomed my sister into this home like she was royalty. She was treated with the most loving and caring treatment by all staff. My sister was very sick, and everyone went above and beyond to ensure she was comfortable. I cannot rave enough about how much this Home accommodated our family and the kindness that they showed to all of us. My sister's memories of Granville Gardens and our family are , that the people that work at this Home are very special, and they truly care for the Residents. I met many of the residents, and they are all friendly and happy with this Home. My biggest concern was that my sister is only 42 years old but, she fit in so great and was welcomed by all with so much caring and kindness. Thank you Granville Gardens for making the last few months of my sisters life special." -Cindy R.
2. Chartwell Carlton Care Residence
| Test | Info |
| --- | --- |
| SERVICES | Senior Living Suites Dining Health & Wellness Assisted Living Counselling and Support 24-hour emergency support |
| WEBSITE | https://www.verveseniorliving.com/granville-gardens/ |
| ADDRESS | 1550 W 49th Ave #100, Vancouver, BC V6M 0B3, Canada |
| CONTACT DETAILS | Phone: 604-563-3540 |
| OPERATING HOURS | Monday - Sunday: 08:00 AM - 08:00 PM |
| | |
| --- | --- |
| Range of Services | ★★★★★ 5/5 |
| Availability | ★★★★★ 5/5 |
| Customer Support | ★★★★★ 5/5 |
| Pricing | ★★★★☆ 4/5 |
Chartwell Carlton Care Residence provides residents and families with numerous amenities, including peaceful gathering areas, activity rooms, and relaxing indoor lounges.
We like that they have a spacious and beautiful outdoor space where residents can walk and get fresh air.
It's worth noting that in 2021, Chartwell Carlton Care Residence underwent a major redevelopment project that included the construction of a four-story building to accommodate more clients.
However, we believe it is important to note that this nursing home has a limited number of semi-private rooms. As a result, clients may have to choose private rooms, which are more costly than semi-private rooms.
Now, we particularly like their Long Term Care service, which is designed for seniors with complex medical needs like dementia. This, in our opinion, is essential so that families can be assured that their loved ones' special needs are being met.
Their Long Term Care service also includes 24/7 nursing care, daily and meal assistance, medication management, and specialized activities. However, they also provide independent living for residents who prefer a laidback lifestyle.
Another notable feature is that they offer nutritious and delicious daily menus, and we also appreciate that each floor has dedicated dining rooms for the comfort and ease of residents.
To further enhance the health of its residents, Chartwell Carlton Care Residence provides social events and personalized activities to match everyone's interests and abilities.
Chartwell Carlton Care Residence provides comfortable and accessible facilities for its residents to relax and socialize, which we think places them as one of the best nursing homes in Vancouver.
Offers Long Term care services
24/7 nursing and staff care
Offers Independent Living
Has dedicated dining rooms on each floor
Curates personalized activities
Accessible facilities
Open 24 hours
Longer waiting time
Limited semi-private rooms
Customer Reviews
Knowledgeable and kind-hearted staff
"My mom has been here since 2017. As her health deteriorates we have seen nothing but empathy and kindness from the staff. Communication between the care home and our family (siblings included) on our mom's health is extremely important. The staff has done an excellent job. My sisters and I cannot thank the staff enough with their efforts to keep everyone safe during these difficult times. It is reassuring to know that our mom is being taken care with knowledgeable and kind-hearted staff. Stay safe and keep up the excellent work." – Alex C.
Excellent facility
"The facility is excellent, only best by the staff. It warms my heart knowing many people will benefit from your service and care." -David T.
3. St. Jude's Anglican Home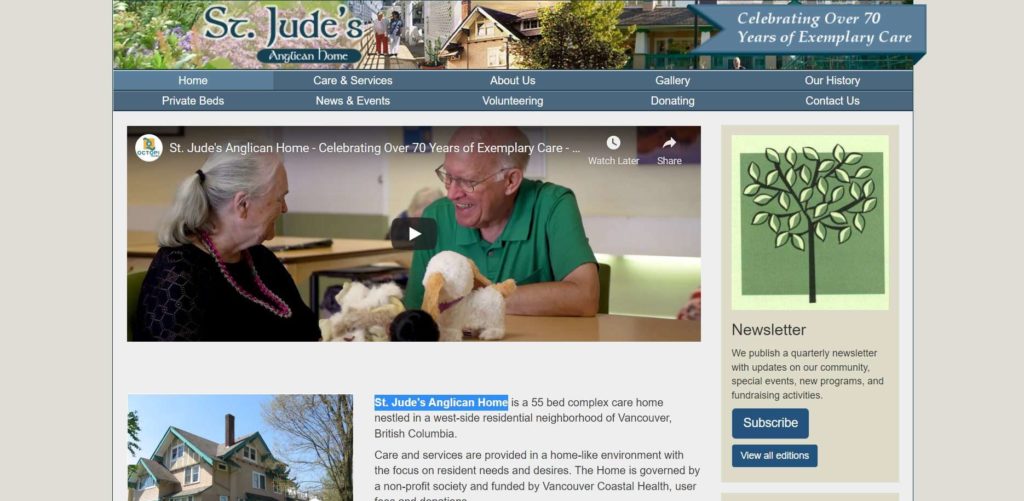 Test
Info
SERVICES
Senior Living Nutritional Services Special Care Unit (Elizabeth Eccott Haven) Medical Services Social Services Pharmacy Services Physiotherapy / Occupational Therapy Dental Care Spiritual Care Dental Care Foot Care Palliative Care Recreation Housekeeping and Laundry Services
WEBSITE
http://stjudes.bc.ca/
ADDRESS
810 West 27th Avenue Vancouver, B.C., Canada, V5Z 2G7
CONTACT DETAILS
Phone: 604-874-3200

Email: [email protected]

OPERATING HOURS
Open 24 hours
| | |
| --- | --- |
| Range of Services | ★★★★★ 5/5 |
| Availability | ★★★★☆ 4/5 |
| Customer Support | ★★★★★ 5/5 |
| Pricing | ★★★★☆ 4/5 |
St. Jude's Anglican Home is a senior care home with over 55 beds in Vancouver's west side residential neighborhood.
The majority of clients we've spoken to praise their outstanding care services that keep their residents happy and healthy.
This establishment encourages each resident to create their recreational activities.
However, St. Jude's Anglican Home also provides various outings, music therapy, and many other activities.
Another thing that caught our attention is that they also provide weekly housekeeping. If one of your chief concerns is a neat and odor-free room, then they are a great choice.
We also appreciate the fact that they have an in-house laundry facility where clothing and linens are cleaned on a daily basis.
For those that are looking for healthy meals, this facility also has a registered dietitian who plans a four-week seasonal menu cycle to meet the nutritional needs of each resident.
We're big fans of these weekly reviewed care plans, and we like that they communicate with their families to adapt to any special requests they may have.
St. Jude's Anglican Home also provides nursing care, medical services, social services, physiotherapy, and other services. They also offer dental care and foot care, with regular visits from a podiatrist, which we find convenient.
Another nice feature of this organization is that the cost of each resident's medications is reimbursed. Unfortunately, St. Jude's Anglican Home charges courier fees for residents who want their lab tests delivered.
Nevertheless, we think St. Jude's Anglican Home is one of the best nursing homes in Vancouver due to its wide range of care services that meets almost all of its residents' special needs.
Personalized recreational activities
Offers weekly housekeeping services
Has an in-house laundry facility
Has a registered dietitian
Provides weekly reviewed care plans
Reimburses medications
Volunteering opportunities
Limited room availability
Charges courier fees for lab test deliveries
Customer Reviews
Wonderful care services
"The most wonderful care was given to our Dad. I am just sorry we were not able to get a spot for him there earlier than we did." -Dianne T.
Hardworking staff
"St. Jude Anglican Care home in Vancouver coordinated by Michelle Horne and her mom Heidi! Heidi's staff are working hard at keeping our seniors healthy! Thank you to everyone." -Lolita G.
4. Hopehill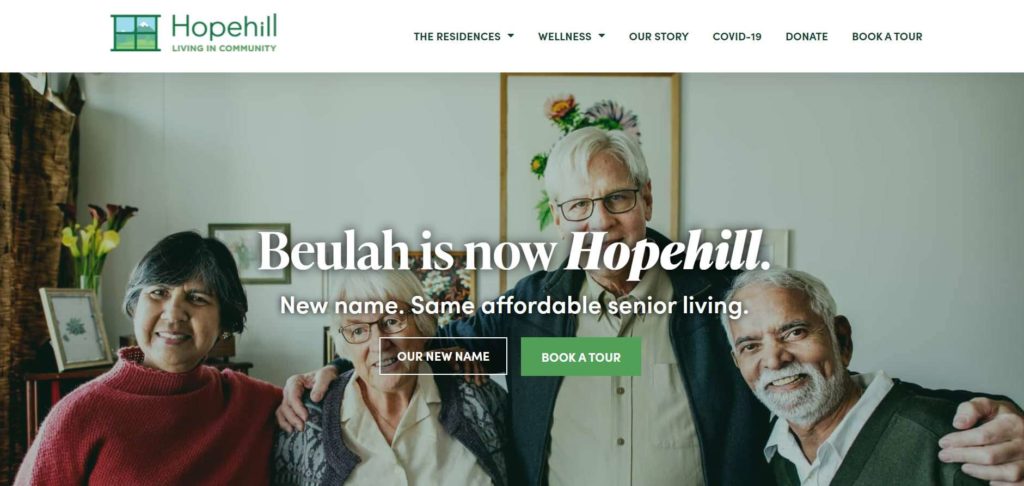 Test
Info
SERVICES
Independent Living Assisted Living Wellness Activities Garden Clubs Weekly Events Seasonal Events Weekly Tea Weekly Chapel Services
WEBSITE
https://hopehill.ca/
ADDRESS
3355 E 5th Ave, Vancouver, BC V5M 0A1, Canada
CONTACT DETAILS
Phone: 604-255-7707

Email: [email protected]

OPERATING HOURS
Monday - Friday: 08:30 AM - 03:30 PM
| | |
| --- | --- |
| Range of Services | ★★★★☆ 4/5 |
| Availability | ★★★★★ 5/5 |
| Customer Support | ★★★★★ 5/5 |
| Pricing | ★★★★☆ 4/5 |
Hopehill has provided senior support and care since 1964, and they plan to expand their services to include accessible community spaces.
We were especially impressed that this establishment hosts various weekly and monthly events for its residents. Knitting, games, Bible studies, and other activities are among them.
Another thing that piqued our interest was their Garden Clubs which have several garden areas where residents can plant seeds and grow vegetables and fruits.
We believe this is an excellent activity for seniors because gardening is relaxing.
Now, Hopehill offers three types of residences, including independent living, assisted living, and life leases.
The organization's independent living services provide one-bedroom suites, each with a full kitchen. Residents can also enjoy amenities like a private dining room, library, bistro, and even a hair salon!
They also have walk-in showers, ample storage, and accessible transportation services for residents who want to go out and shop.
Hopehill also provides Life Leases at their Aspen Green apartments. Customers can use this service to pay the entire lease upfront, eliminating the need to worry about fluctuating market prices.
Unfortunately, their location is a little far from shopping centers, which is why they provide residents with transportation services. However, they have announced plans to build accessible shopping centers in their community.
We think this is a great idea given the fact that Hopehill is a fairly large community.
This organization has five buildings with accessible pathways and trees, which we believe are convenient for seniors who want to take relaxing walks.
Overall, we believe Hopehill is a prosperous community that offers residents comfortable living options, making it one of the best nursing homes in Vancouver.
Hosts weekly and monthly events
Offers several garden areas
Several amenities
Accessible pathways
Offers Life Leases
Has five residences
Location a bit far from shopping centers
Closed on weekends
Customer Reviews
Caring neighbors
"It's like a big family. The neighbors are great and always take care of each other." -Stephen F.
Enjoyable holiday and special events
"I always appreciate the special effort you put into the holiday season and special events." Evelene E.
5. Shannon Oaks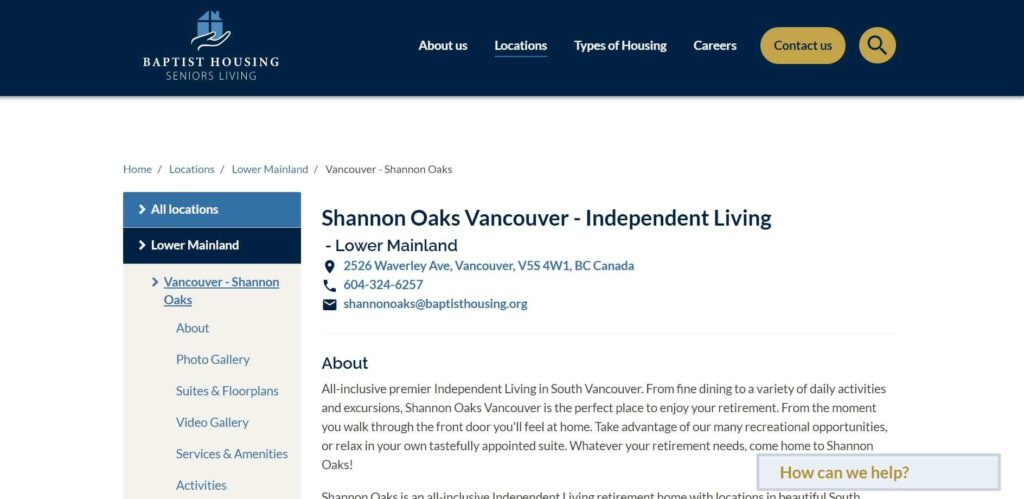 Test
Info
SERVICES
Independent Living Full-service dining room Library Games room Craft room Exercise and wellness room Hair salon Courtyard patios Computer lounge Movie nights Picnics Crafting Putting Carpet bowling Gardening and flower arranging Off-site excursions Fitness classes Entertainers Shannon Oaks Choir
WEBSITE
https://www.baptisthousing.org/communities/lower-mainland/shannon-oaks
ADDRESS
2526 Waverley Ave, Vancouver, BC V5S 4W1, Canada
CONTACT DETAILS
Phone: 604-324-6257

Email: [email protected]

OPERATING HOURS
Monday - Sunday: 09:00 AM - 05:00 PM
| | |
| --- | --- |
| Range of Services | ★★★★☆ 4/5 |
| Availability | ★★★★★ 5/5 |
| Customer Support | ★★★★★ 5/5 |
| Pricing | ★★★★☆ 4/5 |
Shannon Oaks Vancouver specializes in independent living services and has locations in South Vancouver and Oak Bay.
This nursing home provides private suites with big windows, a full bathroom and kitchen, cable service, and a 24-hour emergency call system.
Unfortunately, all of their suites are unfurnished, so this is something to take note of.
However, Shannon Oaks encourages residents to bring their own furniture and decorations and we believe this will make them feel more at home.
Moreover, we were impressed with their delicious, home-cooked meals.
Their professional chefs prepare these daily and we like that they have fresh-baked snacks available all day.
Another thing we noticed is how clean their facilities are, thanks to a weekly housekeeping service that includes changing bedsheets and bathroom linens.
They also have a laundry room for residents to use at their leisure.
Furthermore, many of the customers we've spoken with have commented on how kind and considerate the staff and administration are, with daily check-ins with each resident to ensure they feel safe and cared for.
Shannon Oaks also offers a variety of enjoyable activities such as movie nights, picnics, crafting, gardening, fitness classes, and many others.
In our opinion, these are essential to residents maintaining a healthy and balanced lifestyle.
If that's not enough, this organization offers a variety of amenities.
They have a full-service restaurant, spacious lounges, a library, courtyard patios, a hair salon, and lovely gardens and greenhouses.
Even though Shannon Oaks only provides independent living services, they offer numerous activities and support, making them one of the best nursing homes in Vancouver.
Offers private suites
Rents are all-inclusive
Has in-house chefs
Weekly housekeeping services
Numerous amenities
Only offers independent living services
Unfurnished suites
Customer Reviews
Friendly staff and amazing food
"My father has happily lived at Shannon Oaks for the past 12 years.He is always commenting on how friendly and caring all staff are, how good the food is and how lucky he feels to be living at Shannon Oaks. My father's experience at Shannon Oaks has been very positive." -Susan S.
Beautiful facilities and considerate staff
"My sister has lived at Shannon Oaks since September of 2014. She has been very happy there and I have found the staff and administration very kind, considerate and competent in all of their interactions with her and me, I am her main support system and I do not live in Vancouver so it is a huge relief to know that she is safe and cared for. It is a beautiful facility and the residents are friendly, helpful and from my observation live their life adhering to their Christian values in terms of how they care & show concern for one another." -Donna M.
FAQS about Nursing Homes in Vancouver
---
That brings us to the end of our list of the best nursing homes in Vancouver.
If you want to take your loved ones out for a special occasion, why not look into the best movie theaters in Vancouver.