The 5 Best Headshot Photographers in Vancouver
Having a professional photographer take your headshot is like an investment for your career. It's the first impression that people will have of you, so it's important to nail it.
Just as we always want you to receive the best treatment and services, we rated and listed the places where you can get the best headshots in Vancouver.
If you're ready, let's go through our list and find out our top picks!
How Much Do Headshots Cost in Vancouver?
At this point, perhaps you're wondering how much you should budget for your headshot and whether it will be worth every cent. Don't worry, we got you covered.
First, you should know that there are different factors to consider, like the location, length of shoot, and number of outfit changes.
Photo studios and photographers offer different rates and packages. While some have hourly rates, others prefer to bill per number of shots.
Here's how much headshots usually cost:
| Type | Estimated Costs |
| --- | --- |
| Basic or standard headshot package | $200 to $250 |
| Business headshot package | $300 to $350 |
| Branding package | $350 to $550 |
| Portrait or portfolio package | $450 to $700 |
The Best Headshots in Vancouver
Now that you know how much headshots will possibly cost you, we'll walk you through the criteria we used to ensure we deliver only the top headshot photographers.
1. Vancouver Headshots Inc.

Test
Info
SERVICES
Actor Headshot, Acting Student Headshot, Premier Actor Headshot, Business Headshot, Two Look Mini Headshot, Kids & Teens Headshot, Professional Hair & Makeup
WEBSITE
https://www.vancouverheadshotphotographer.ca/
ADDRESS
2050 Scotia St #507, Vancouver, BC V5T 4T1
CONTACT DETAILS
Phone: 778-919-4622

Email: [email protected]

OPERATING HOURS
Tuesday – Saturday: 10AM – 6PM

Friday: 9AM – 6PM
| | |
| --- | --- |
| Criteria | Ratings |
| Headshot portfolio | ★★★★★ (5/5) |
| Services provided | ★★★★☆ (4/5) |
| Cost of services | ★★★★☆ (4/5) |
| ⮕Affordability of the fees | ★★★★☆ (4/5) |
| ⮕Inclusion in packages | ★★★★★ (5/5) |
| Client satisfaction | ★★★★★ (5/5) |
| ⮕Satisfaction with result of photos | ★★★★★ (5/5) |
| ⮕Satisfaction with the services | ★★★★★ (5/5) |
Led by Ian Redd, Vancouver Headshots offers extensive packages for headshots. Just as the name suggests, this photo studio specializes in headshot photography.
Their sessions are booked by the hour, ranging from 45 minutes, to an average of 1.5 to 4.5 hours. Hundreds of photos could be taken within 1 session, so do note that you might have a hard time choosing 2 or 4 photos for final edits.
Furthermore, they offer in-house additional makeup and hairstyle services which you can avail of. Clients who took up on these services loved the turnout and they liked how friendly and approachable the makeup artists are.
A major plus for us is their experience with working with a prestigious line of professional actors who've appeared in various TV shows and movies. This is why we suggest you book your headshot photography here if you're in the industry.
Besides being closed on Mondays, the other thing we see as a disadvantage is that their rates are quite pricey. So if you want to stay on budget, you might want to reconsider a more affordable option.
After speaking to some of their clients, we've discovered that Vancouver Headshots creates a comfortable, easygoing, and professional environment during the photoshoots. We also heard they play the best music during in-studio.
According to the raving reviews from their clients, the Vancouver Headshots team was very engaging. Ian was also highly praised for giving easy-to-follow directions, and for suggesting the best angles, lighting, and positioning.
Precision with details and direction
Creates great atmosphere during photoshoots
Offers great in-house makeup services
Rates are prices
Closed on Mondays
Customer Reviews
Precise with details
"Ian Redd & team at Vancouver Headshots Photography impressed me with their precision to detail in order to capture images with the best angles, lighting, positioning, looks and styles. Ian was concerned the wind would be an issue and let me know the risk of doing the photos, he offered me a few options and communicated effectively. In the end we were able to get some spectacular shots. I recommend Ian to anyone who needs high quality headshots." —Stef Dolan, Google Reviews
Great quality photos
"Amazing headshots, friendly service, many great quality photos to choose from. That is the hardest part if narrowing down which ones to keep!" —Dr. Aggie Matusik, ND, Google Reviews
Comfortable and accommodating experience
"These were my first ever headshots and I have to say, the experience was a lot more comfortable than I thought it would be. They had the best playlist, and they were so friendly and accommodating, I didn't have a chance to be nervous. Ian's directions were easy to follow and I felt that I was in the hands of true professionals. I would definitely recommend them to anyone." —Nikko Harris, Google Reviews
2. Art of Headshots – Vancouver Studio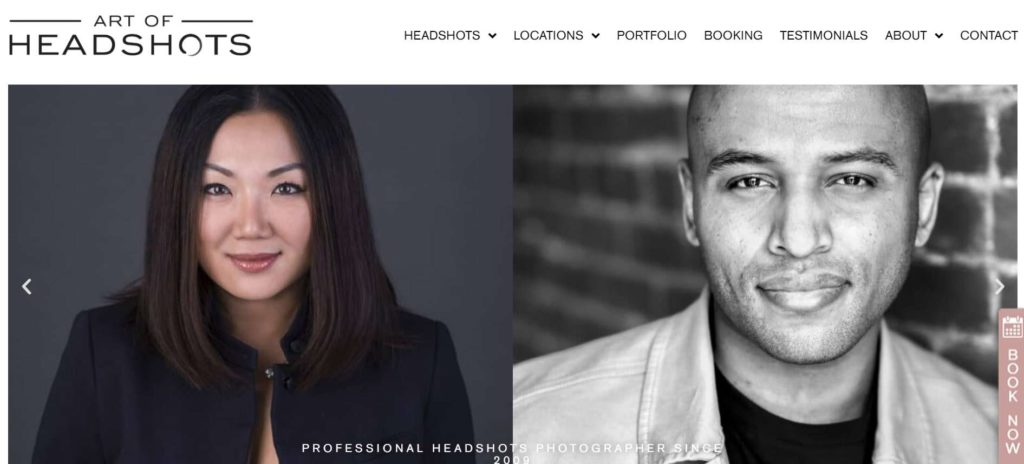 Test
Info
SERVICES
Actor Headshot, Branding Headshot, Corporate & Business Headshot, Social Media Headshots, Team Photos
WEBSITE
https://artofheadshots.com/
ADDRESS
970 Burrard Street, Unit 234 Vancouver, BC V6Z 2R4
CONTACT DETAILS
Phone: 604-506-1766

Email: [email protected]

OPERATING HOURS
Monday – Friday: 6AM – 9PM

Saturday – Sunday: 9AM – 5PM
| | |
| --- | --- |
| Criteria | Ratings |
| Headshot portfolio | ★★★★★ (5/5) |
| Services provided | ★★★★☆ (4/5) |
| Cost of services | ★★★★☆ (4/5) |
| ⮕Affordability of the fees | ★★★★☆ (4/5) |
| ⮕Inclusion in packages | ★★★★☆ (4/5) |
| Client satisfaction | ★★★★★ (5/5) |
| ⮕Satisfaction with result of photos | ★★★★★ (5/5) |
| ⮕Satisfaction with the services | ★★★★★ (5/5) |
Firstly, what we love about Art of Headshots is that they live by their name: they create headshots like art.
Moreover, they also have lower prices compared to other photography companies. However, they offer less inclusions in their packages and a shorter photoshoot session.
Now, headshots go beyond portfolios, which is why we like how Art of Headshots also offers headshot services for social media, websites, and online resumes.
Art of Headshots is the one to book if you're still wondering who you should book for your company or business portraits. They've proven their headshot photography services within the wide range of clientele in different business industries.
But, maybe this isn't for you if you need photographers for creative types of headshots as it's more specialized on corporate headshot photography. Art of Headshots offers a different set of packages for corporate headshots, even including free corporate consultation.
Their portfolio also reflects their specialty in corporate headshots. If this isn't the type of headshots you need, we suggest you think twice before booking Art of Headshots.
Finally, what we heard that their clients like about Art of Headshots is that the photographers they work with take time to know the client and learn about the client's goals.
Easy online booking
Professional and friendly photographers
Specializes in corporate headshots
Less inclusions offered per package
Customer Reviews
Makes you feel at ease
"As a picky person, there have been very few occasions where I've had a picture of myself that I've liked; however, I'm extremely satisfied with the headshots that I received from Art of Headshots. Carlos is a fantastic photographer who makes you feel at ease and gets great natural looking (i.e. not stiff) shots, and then Becky works her magic to further improve upon the great shots with quality editing and touch-ups. It was like having the support of a glam-squad! I would highly recommend Art of Headshots." —Sanam Bakhtiar, Google Reviews
Warm and welcoming experience
"I found Art of Headshot when I was looking for a professional LinkedIn photo for my job search. We had two shoots together: one indoors and another outdoors. From the moment of arrival, Carlos was warm and welcoming. We had a great conversation about what I was looking for and how they related to my goals, which helped me fully embody confidence and feel at ease in front of the camera. Throughout the whole experience we were sharing laughs and stories, and the photos turned out amazing at the end. I would highly recommend working with Carlos for your next shoot, and I will be returning there when I need professional headshots done next." —Rod Moshtaghi, Google Reviews
3. Vancouver Headshots by Arjun Malik

| Test | Info |
| --- | --- |
| SERVICES | Corporate Headshot, Beauty Headshot, Fashion Headshot |
| WEBSITE | https://www.vancouverheadshots.com/ |
| ADDRESS | 1661 Quebec St, Vancouver, BC V6A 0H2 |
| CONTACT DETAILS | Phone: 778-847-8756 |
| OPERATING HOURS | Sunday – Saturday: 1PM – 6PM |
| | |
| --- | --- |
| Criteria | Ratings |
| Headshot portfolio | ★★★★★ (5/5) |
| Services provided | ★★★★☆ (4/5) |
| Cost of services | ★★★☆☆ (3/5) |
| ⮕Affordability of the fees | ★★★☆☆ (3/5) |
| ⮕Inclusion in packages | ★★★★☆ (4/5) |
| Client satisfaction | ★★★★★ (5/5) |
| ⮕Satisfaction with result of photos | ★★★★★ (5/5) |
| ⮕Satisfaction with the services | ★★★★★ (5/5) |
Vancouver Headshots by Arjun Malik is a one-man team who specializes in corporate, beauty, and fashion headshots.
What we see as a disadvantage here is that you might have a hard time booking a session with him. When booking, you'll be given potential session dates, which may not exactly coincide with your schedule.
Further, the session dates will depend if you will need a skin care & makeup artist. They don't have an in-house makeup service and the suggested session dates will also depend on the availability of the skin care & makeup artist they'll hook you up with.
Also, the rates per package are quite expensive – they're billed per wardrobe change and with shorter sessions than other photo studios. This essentially means that there's a limited number of changes per package.
However, we like that they have a quick turn around in giving the shots, compared to other services. If you're in quite a hurry, you can avail of their expedited processing and receive the copies you need within 24 hours.
From what we gathered, Arjun is easy to work with. He can easily make the clients feel comfortable during the photoshoots and he's good and patient in directing the shoot.
Offers group discounts
Professional and friendly photographer
Booking a session might be difficult
Limited number of wardrobe changes per package
Customer Reviews
Incredibly professional photographer
"Working with Arjun was awesome. He is incredibly professional and takes every moment seriously. This was my first time getting headshots so I was incredibly nervous but he was so patient and easy going the whole time. Even after the shoot was done he was always quick to respond and follow up with how I felt about the finished shots. Giving great pointers, and advice for the future. I highly recommend working with Arjun" —Chad Hodgins, Google Reviews
Highly recommended photographer
"Working with Arjun was such a pleasure! He helped me take digitals for my professional portfolio in addition to some headshots I now use. Arjun made sure I felt welcomed and safe which made taking photos with him very enjoyable and effortless. I'm not someone who knows a lot about how to pose and such, so I was surprised with how amazing the photos turned out! Not to mention, meeting his wonderful dog was also a bonus! I highly recommend Vancouver Headshots!" —Francheska Juliano, Google Reviews
4. Simon Rochfort Photography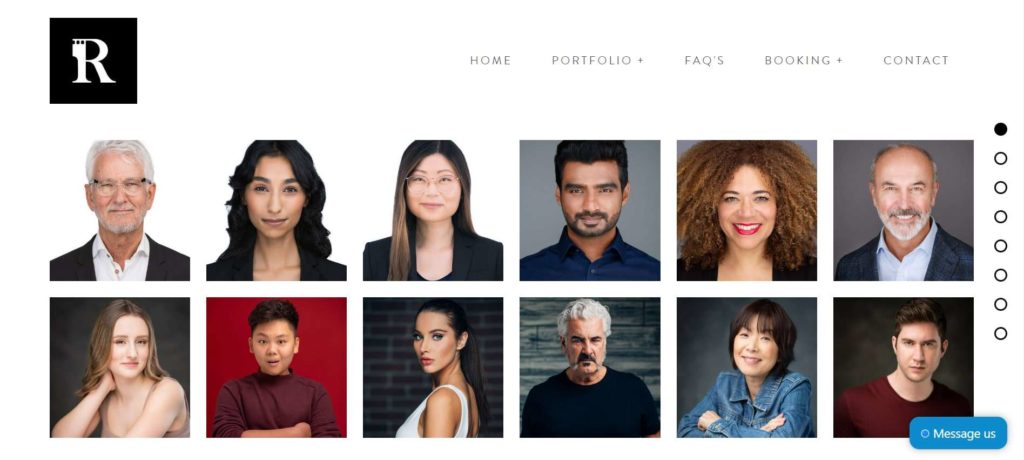 Test
Info
SERVICES
Corporate Headshot, Actor Headshot, Portrait and Branding Photography, Event Photography
WEBSITE
https://www.simonrochfortphoto.com/
ADDRESS
The Seymour Building 205-525 Seymour Street, Vancouver, BC V6B 3H6
CONTACT DETAILS
Phone: 778-893-7178

Email: [email protected]

OPERATING HOURS
Sunday, Tuesday, Saturday: 2PM – 6PM

Monday, Thursday, Friday: 10AM – 6PM

Wednesday: 2PM – 5PM
| | |
| --- | --- |
| Criteria | Ratings |
| Headshot portfolio | ★★★★★ (5/5) |
| Services provided | ★★★★★ (5/5) |
| Cost of services | ★★★★☆ (4/5) |
| ⮕Affordability of the fees | ★★★★☆ (4/5) |
| ⮕Inclusion in packages | ★★★★☆ (4/5) |
| Client satisfaction | ★★★★★ (5/5) |
| ⮕Satisfaction with result of photos | ★★★★★ (5/5) |
| ⮕Satisfaction with the services | ★★★★★ (5/5) |
Simon Rochfort Photography's studio location is perfect for those who want to avail of corporate headshots. They've worked with various companies and businesses around Vancounver, so you can trust them with your company's headshots.
One of the things we like about Simon Rochfort Photography is that they offer a 30% discount on sessions for returning individual clients. So if you're satisfied with the turnout of your photos, you'll have to take note of this discount in the future.
This studio's rates are billed depending on individual headshot sessions and portrait or branding sessions. There's a standard fee depending on the session you avail of and the price of the photos depend on the number of images you select.
While this may sound relatively higher than other studios, the length of photoshoot sessions in Simon Rochfort Photography is longer. You won't have to rush yourself during the shoot to get the perfect image you want.
They also have no limit on outfit changes, unlike in other studios that usually have a limited number of outfit changes. This is an advantage if you have many outfits and looks that you want to try during the session.
While we like Vancouver Headshots by Arjun Malik for their quick turn around, Simon Rochfort Photography takes longer. They take up to 10 working days to send the edited images to the clients, but you would have to pay an extra $50 if you want to have it rushed.
Offers returning client discounts
With in-house makeup artists
Unlimited number of outfit changes
Shorter operation hours
Relatively higher rates
Customer Reviews
Quickly puts you at ease
"I had a great experience with Simon. I've never felt comfortable in front of a camera. Simon put me at ease pretty quickly and really simplified what he needed me to do throughout the process. The results were the best headshots I have ever had done. I highly recommend Simon!" —Josh Jones, Google Reviews
Fun and relaxing experience
"I have nothing but fabulous things to say about Simon! Taking photos is not mine (or many people's) favourite thing to do, but my experience in Simon's studio was fun & relaxing with rewarding results! He is talented, highly knowledgeable and a great coach from start to finish. I was worried about not liking any of the photos, but instead it was so very hard to choose (another thing Simon was a great help with). Highly recommend Simon to anyone needing photos/headshots!" —Shay Jost, Google Reviews
5. Laura Sosner Photography

| Test | Info |
| --- | --- |
| SERVICE | Actor Headshot, Modern Men Headshot, Boudoir & Fine Art Photography, Maternity Portrait, Grad Photos & Portrait, Musician Headshot, On Location Business Branding Headshot, Family Portrait, Modern Women Headshot, Women's Glamour Portrait, Corporate Headshot, Business & Branding Headshot, Dancer Portrait, Women's Portrait |
| WEBSITE | https://laurasosnerphoto.com/ |
| ADDRESS | 4395 Fraser St, Vancouver, BC V5V 4G4 |
| CONTACT DETAILS | Contact form here |
| OPERATING HOURS | Monday – Saturday: 9AM - 5PM |
| | |
| --- | --- |
| Criteria | Ratings |
| Headshot portfolio | ★★★★★ (5/5) |
| Services provided | ★★★★★ (5/5) |
| Cost of services | ★★★★☆ (4/5) |
| ⮕Affordability of the fees | ★★★★☆ (4/5) |
| ⮕Inclusion in packages | ★★★★★ (5/5) |
| Client satisfaction | ★★★★★ (5/5) |
| ⮕Satisfaction with result of photos | ★★★★★ (5/5) |
| ⮕Satisfaction with the services | ★★★★★ (5/5) |
Firstly, we like that Laura Sosner Photography is a full-service portrait and headshot photography studio. This gives the clients different options for the services they want to avail.
Another thing we like about them is that they'll let you choose and finalize the photos you want to avail of. They will set a "photo reveal" appointment which is set about 10 days after your photo shoot.
Now, you might be thinking that's quite a long time to wait for the results of the shoot. Especially since most studios will let you immediately pick 1 or 2 final photos from the hundreds of photos taken during the shoot session.

During Laura Sosner Photography's "photo reveal" appointment, you'll be able to carefully select from the 25 to 30 portraits they'll show you. These photos are already edited in-house and ready for you to choose from.
Although their rates are a bit higher than average, the length of the sessions are longer than other photo studios. They also have a one client per day policy, so it won't be a problem if your shoot runs over time, especially if you want to take the perfect headshot.
And regarding the wardrobe, there's no limit on the number of outfits you can bring for the shoot. Plus, you can also try the dresses in the studio's wardrobe collection if you're interested in availing of their glamour session service.
It's also best to take note that they require a $250 photo shoot session deposit which will be credited to the purchase of any headshot or portrait. They also charge an additional travel fee for an on-location photoshoot session.
Variation of portrait and headshot photography services
Plenty of edited portraits from the shoot to choose from
Requires deposit
Additional travel fee for on-location session
Customer Reviews
Absolutely best results
"Laura is an amazing and very talented photographer. I'm usually quite critical of photos of myself, however the ones that resulted from my photo shoot with Laura are absolutely the best I've ever seen, and I'm thrilled with them. She was also very good at putting me at ease through the shoot, and the whole process was relaxing, fun, and very professional. Thankyou Laura!" —Verian Farnsworth, Google Reviews
Amazing and outstanding photographer
"I'm so happy I have found Laura. She is such an amazing person and an outstanding photographer. I always know she will deliver the best quality of photos. She truly cares about her clients photos and making sure it's top-notch. She is a hard worker with integrity. I highly recommend Laura, very kind, respectful, professional and the best photographer there is." —Elhadj Sylla, Google Reviews
FAQs about headshots in Vancouver
---
Make sure to update your headshots, whether you're an actor looking for your next gig or you're a business owner who wants to introduce your company and staff. And in case you don't have one yet, this is the sign you're looking for to book a photographer who'll take your headshot.
In case you're also in need of portrait or other photography shoots, you can also look into other professional photographers in Vancouver and book a session with them!