The 5 Best Opticians in Vancouver
Good opticians will aid you in getting the best glasses and contact lenses that you need to get clear vision. With their specialty in designing, fitting, and dispensing lenses, you're sure to get the fashionable and fancy eyewear you need.
We know how important your eyesight is, so we compiled the places where you can find the best opticians in Vancouver!
The Best Opticians in Vancouver
We want to make sure that you find an optician who will assist you well as you order your prescription lenses or glasses. That's why we used the following criteria in coming up with a list of places and clinics with opticians who are ready to serve you:
1. Durant Sessions (Gastown)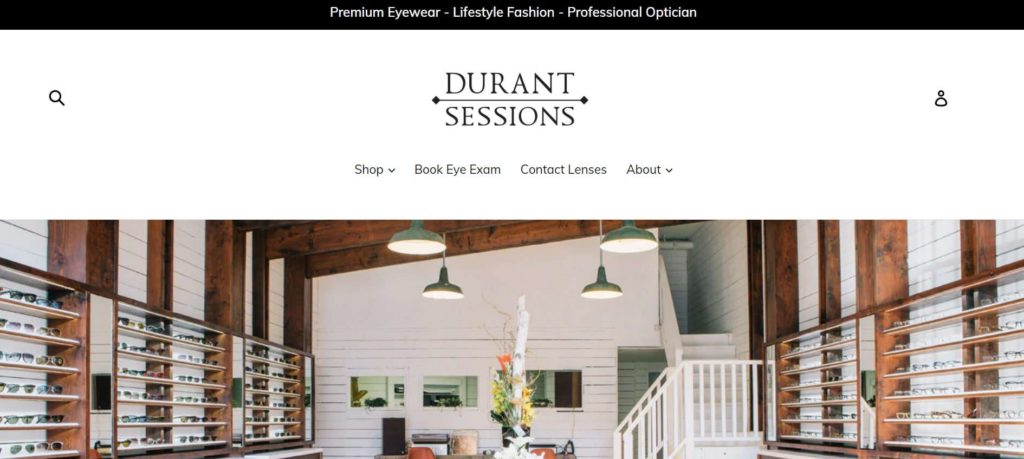 Test
Info
SERVICES
Eye Exam, In-store Shopping, Online Shopping
WEBSITE
https://www.durantsessions.com/
ADDRESS
315 W Cordova St, Vancouver, BC V6B 1E5
CONTACT DETAILS
Phone: 604-974-8008

Email: [email protected]

OPERATING HOURS
Tuesday – Saturday: 11AM – 5PM
| | |
| --- | --- |
| Criteria | Ratings |
| Availability of services | ★★★★☆ (4/5) |
| Expertise of the opticians | ★★★★★ (5/5) |
| Eyewear products | ★★★★☆ (4/5) |
| ⮕Availability | ★★★★★ (5/5) |
| ⮕Affordability | ★★★★☆ (4/5) |
| Customer satisfaction | ★★★★★ (5/5) |
| ⮕Satisfaction with services | ★★★★★ (5/5) |
| ⮕Satisfaction with products | ★★★★★ (5/5) |
The professional opticians of Durant Sessions are ready to help you look through the handcrafted eyewear in their selection.
First, we love the stylish premium optical frames that they offer from the world's best eyewear brands. Their products are unique, hip, and they even have frames that are hard to find.
Their products tend to be quite costly so they may not be the best choice to go with if you're on a budget. However, we think the quality meets the expectation that comes with the price.
In addition, we love how Durant Sessions is located in a beautiful heritage building. The vibe and aesthetic of the store matches well with their glasses selection!
However, we also like how customers can order the prescription lenses or contact lenses they need online. You can pick them up in-store or even have them shipped to your home address.
Plus, they have optometrists who can help you if you're also unsure of the contact lenses you need.
Moreover, we talked to their customers and they shared how satisfied they were with the services and products of Durant Sessions. The staff were friendly and patient when assisting the customers even when trying on different frames.
Lastly, those who availed of their eye checkup were also very happy about the services with the doctors in Durant Sessions.

It's the best optical boutique to visit for those who are looking for stylish frames for a fashionable lifestyle.
Great and diverse selection available
Provides high-quality products
Products are a bit pricey
Other in-store service is eye exam only
Customer Reviews
Stylish optical shop
"Ultra stylish optical shop in Gastown with excellent personalized service. My go-to for quality, exciting eyewear worth the investment. Will be back for more." —Martina Voss, Google Reviews
Great selection and staff
"I have bought my last several pairs of glasses from Durant Sessions Gastown. I really like their selection and the staff are very friendly and helpful. Overall great selection, great service, A+!" —Jason Wasiak, Google Reviews
Quick fix available
"I was working just down the street and my left lens fell out of its frame. I walked in to this shop to see if they could help get it back in. Within a few minutes they had my glasses fixed. If you have a glasses emergency in the middle of Gastown, drop by here." —Jordan Jakobczyk, Google Reviews
2. Mount Pleasant Optometry Centre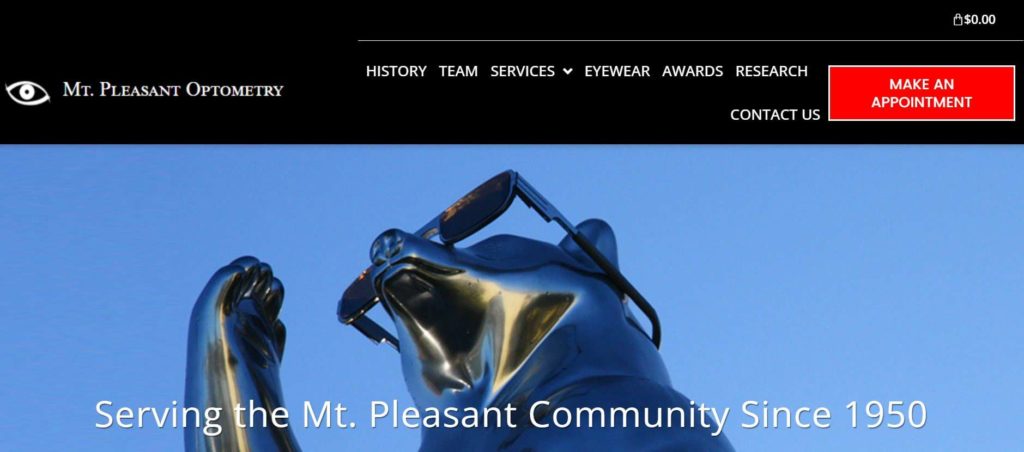 Test
Info
SERVICES
Comprehensive Eye Exam, Myopia Management, Dry Eye Therapy, Vision Training, Specialty Contact Lenses, Surgical Co-anagement, Urgent Eye Case, In-store Shopping
WEBSITE
https://mountpleasantoptometry.com/
ADDRESS
104 E Broadway, Vancouver, BC V5T 1V9
CONTACT DETAILS
Phone: 604-874-7302

Email: [email protected]

OPERATING HOURS
Monday – Friday: 8AM – 7PM

Saturday: 8AM – 6PM

Sunday: 10AM – 5PM
| | |
| --- | --- |
| Criteria | Ratings |
| Availability of services | ★★★★★ (5/5) |
| Expertise of the opticians | ★★★★★ (5/5) |
| Eyewear products | ★★★★☆ (4/5) |
| ⮕Availability | ★★★★★ (5/5) |
| ⮕Affordability | ★★★★☆ (4/5) |
| Customer satisfaction | ★★★★★ (5/5) |
| ⮕Satisfaction with services | ★★★★★ (5/5) |
| ⮕Satisfaction with products | ★★★★★ (5/5) |
If there's one optical shop that you shouldn't miss out on, it's Mount Pleasant Optometry Centre. It's a vision clinic that provides high-quality vision care services, therapies, and products.
What we love and value about Mount Pleasant Optometry is that it is independently owned. It has been providing dedicated eyecare services since 1950!
They have licensed and experienced opticians who can discuss the customer's optical needs. They will also collaborate with the doctor who performed the eye examination.
The opticians In Mount Pleasant Optometry were highly-praised by the customers we talked to. Most of them mentioned how their opticians were professional, knowledgeable, and able to perform perfect adjustment services.
They also offer a wide range of quality eyewear, including award-winning frames such as Lindberg, Orgeen, and Barton Perreira among others. They also regularly stock new frames and they can special order other brands.
And speaking of winning awards, Mount Pleasant Optometry itself is a multi-awarded clinic that has received voter-based awards from different local media like The Georgia Straight, The Vancouver Courier, and Vancouver is Awesome.
Another thing that we observed and liked about this optical shop is that they use advanced technology to cater to their leading-edge services. We find these noteworthy and just some of the reasons why we think that their services are superb!
One of the downsides, however, is that their optical services can now only be availed by setting an appointment with them. This includes consultation with their optician or optical staff members.
They also require at least a 24-hour notice for cancellations or rescheduling appointments. On top of that, they charge a $50 cancellation fee for no-show appointments or same-day cancellations.
Friendly and professional staff of all levels
High-quality eyewear
Has cancellation fees
Optical services by appointment only
Customer Reviews
Well-organized optometry clinic
"I went to Mount Pleasant Optometry for an eye exam and glasses. They were well-organized from scheduling the appointment to arriving on-site for service. They follow communicable disease practices, with good safety measures taken. I worked with Stephen, the dispensing technician to select and fit my glasses. He is experienced, knowledgeable, and a good listener. He applied his excellent fashion sense but worked within my taste profile and comfort (I am a bit more conservative, less daring, he is very hip). He offered post-sale support and service. I am so happy with my progressive glasses, they are comfortable, fit my face, and attractive. These glasses have improved my life by allowing me to see the world more clearly. I know without a doubt that I would not have been able to select these glasses on my own without Stephen's professional service. It is with great pleasure that I recommend Mount Pleasant Optometry Centre and Stephen to anyone looking for glasses or an eye exam." —Michael Lam, Google Reviews
Opticians that listen
"Thank you to the team here for listening to my concerns and taking the time to ensure I had perfect vision. I had gone elsewhere and asked for a reading glasses test and they said I was too young. So they did nothing. The opticians at Mt Pleasant listened to me and tested me and found there was a mild problem. They suggested anti fatigue glasses and now my vision is Adrienne Geecrystal clear and I no longer get headaches. These guys have won me over!" —Michael Lam, Google Reviews
3. IRIS Optometrists and Opticians

| Test | Info |
| --- | --- |
| SERVICES | Eye Exam, Eye Surgery, In-store Shopping, Online Shopping |
| WEBSITE | https://iris.ca/ |
| ADDRESS | Multiple locations in Vancouver, Canada Find them here |
| CONTACT DETAILS | Depends on location |
| OPERATING HOURS | Depends on location |
| | |
| --- | --- |
| Criteria | Ratings |
| Availability of services | ★★★★★ (5/5) |
| Expertise of the opticians | ★★★★★ (5/5) |
| Eyewear products | ★★★★☆ (4/5) |
| ⮕Availability | ★★★★★ (5/5) |
| ⮕Affordability | ★★★☆☆ (3/5) |
| Customer satisfaction | ★★★★☆ (4/5) |
| ⮕Satisfaction with services | ★★★★★ (5/5) |
| ⮕Satisfaction with products | ★★★★☆ (4/5) |
IRIS has a large network of optometrists and opticians who are committed to providing high-quality products and professional eyecare services, from eyewear to eye exam to surgical vision correction.
IRIS is the place to visit for those who want to experience friendly and professional services, especially from their opticians.
We talked with some of their customers and we found out that they frequently return back to the branches they went to. This is because of how satisfied they were with the services they were provided.
They often leave with a positive experience, especially with their encounter with the opticians in IRIS who listen to concerns of the customers and go beyond in explaining everything they are checking.
Opticians in IRIS are also very thorough and efficient when performing the pre-testing. They're also effective when helping the customers in choosing the perfect eyewear.
IRIS has a network of over 300 optometrists and ophthalmologists across Canada who are equipped with advanced eye care technology, including different types of eye surgery provided by the IRIS Ophthalmology Clinic.
One thing we don't like is that their products are quite expensive. It might be hard to find the contact lenses or pair of glasses you need if you want to find something reasonably priced.
However, the guarantee provided might just make up for this. IRIS will repair or replace the frame when broken, without any cost, within one year of purchase. And, IRIS provides complimentary alignment, adjustment and cleaning of eyeglasses as often as necessary.
Polite and accommodating opticians and optometrists
Offers online shopping
Costly products
Limited online platform
Customer Reviews
Attentive and professional service
"Friendly, attentive, professional service. I was treated with care and respect from the moment that I walked in the door. I first visited the team at Iris seeking assistance with a prescription that I had received from an alternate organization which just didn't seem right. Following their assessment they were able to provide me with a new prescription that perfectly suits my daily vision needs. And when I couldn't find any frames I was interested they ordered in the exact pair I was looking for. I honestly couldn't be happier with my experience. I can't recommend the team at Iris on Broadway highly enough!" —jeremiahjosephjames, Google Reviews
4. Prestige Optical and Optometry

Test
Info
SERVICES
Eye Exams, Sight Testing, Same Day Glasses, In-store Shopping, In-store Pickup, Delivery
WEBSITE
https://prestigeoptical.ca/
ADDRESS
2950 West Broadway, Vancouver, BC V6K 2G8
CONTACT DETAILS
Phone: 778-379-4591

Email: [email protected]

OPERATING HOURS
Monday – Friday: 10:30AM – 6:30PM

Saturday: 10:30AM – 5PM

Sunday: By appointment
| | |
| --- | --- |
| Criteria | Ratings |
| Availability of services | ★★★★★ (5/5) |
| Expertise of the opticians | ★★★★★ (5/5) |
| Eyewear products | ★★★★★ (5/5) |
| ⮕Availability | ★★★★★ (5/5) |
| ⮕Affordability | ★★★★★ (5/5) |
| Customer satisfaction | ★★★★★ (5/5) |
| ⮕Satisfaction with services | ★★★★★ (5/5) |
| ⮕Satisfaction with products | ★★★★★ (5/5) |
With the team of competent licensed opticians from Prestige Optical and Optometry, you'll experience services provided by licensed opticians of 4 generations from this eyewear store.
The opticians here go over and beyond in assisting their customers with finding the eyewear that is suitable to their needs and lifestyle. We like how easily they can come up with personalized lens options for their customers according to their individual optical needs.
The opticians here have a vast experience from dispensing glasses with high prescriptions and progressive lenses to managing optical labs, so we feel we're in good hands with them.
Moreover, if you're looking to get a great deal on a pair of glasses, consider visiting Prestige Optical. They're frames are unique and of high quality, despite being affordable.
So if you're the type who could easily lose their glasses, make sure to go and ask about their multi-pair promo to score discounts if you want to get more than 1 pair of glasses. They offer special prices on office lenses, Rx sun lenses, and other additional pairs of lenses.
In addition, they offer free home delivery in the lower mainland, which is something you might want to take advantage of if you need to order with them.
In case you need an emergency fix, or you need to have precision glasses made as soon as possible, the same day glasses service of Prestige Optical will cater to your immediate demands. We also noticed they have shorter operation hours than other eyewear clinics.
We're just not happy that they require a prior appointment before coming in on Sundays. You'll need to first book a private appointment by Friday before you can drop by on a Sunday.
Free home delivery
Fair prices
No online shopping available
Appointments needed on Sundays
Customer Reviews
Opticians with in-depth knowledge
"Best optician in Vancouver in my opinion! The selection of glasses is huge. I can be quite picky and I have a "bad" habit of always optimising to get the best, so I must have tried over 25 different glasses over 3 visits. The optician, Paul, is gifted with an in-depth knowledge of everything vision. We found the most comfortable, aesthetically fitting and enjoyable frame I have owned in 20 years. It turned out to be the frameless type. Despite my -3.75 prescription, Paul leveraged different lense technologies to make the thinnest and lightest lenses I have ever worn. I am impressed and I highly recommend." —Francois C, Google Reviews
Helpful and welcoming team
"Exceptional service. The whole team of prestige optical is unbelievably helpful and welcoming. Level of professionalism exceeding my expectations. I had my prescription sunglasses done by them. We were able to reuse my older frame. They followed up with me couple of weeks after purchase to make sure all is good. Thank you guys for an amazing experience." —Anton Kajan, Google Reviews
Highly recommended
"I have been going to Prestige Optical for over two years now and I am never disappointed by the level of customer service given. You are welcomed by name, treated with kindness and care, and they always ensure you are given the very best of what you need in your vision care. Prestige is the only place I will do my business with and highly recommend them! If you need glasses or a change in prescription then look no where else!" —Mike Zita, Google Reviews
5. Clearly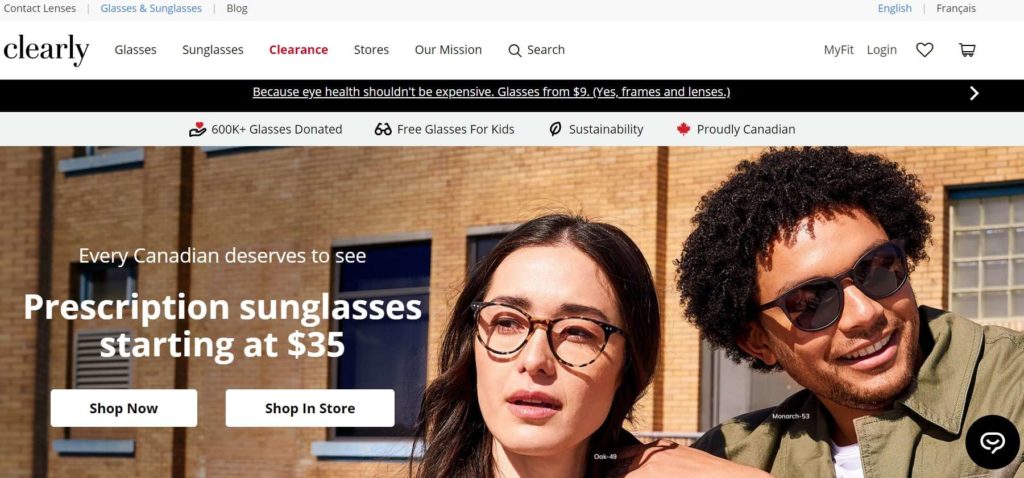 | Test | Info |
| --- | --- |
| SERVICES | Eye Exam, In-store Shopping, Online Shopping |
| WEBSITE | https://www.clearly.ca/ |
| ADDRESS | 961 Robson St, Vancouver, BC V6Z 2V7 2152 W 4th Ave, Vancouver, BC V6K 4S2 |
| CONTACT DETAILS | Phone: 778-652-3559 / 778-652-3358 |
| OPERATING HOURS | Sunday – Saturday: 10:00AM – 7:00PM |
| | |
| --- | --- |
| Criteria | Ratings |
| Availability of services | ★★★★★ (5/5) |
| Expertise of the opticians | ★★★★★ (5/5) |
| Eyewear products | ★★★★★ (5/5) |
| ⮕Availability | ★★★★★ (5/5) |
| ⮕Affordability | ★★★★★ (5/5) |
| Customer satisfaction | ★★★☆☆ (3/5) |
| ⮕Satisfaction with services | ★★★★☆ (4/5) |
| ⮕Satisfaction with products | ★★★☆☆ (3/5) |
The fully-licensed opticians in Clearly are always ready to answer any query from the customers about the latter's eyewear and to help in finding the perfect glasses or contact lenses.
Clearly has a huge selection of great frames which are also comfortable and aesthetically pleasing. Moreover, you might want to take note of the affordable prices of their frames, discounted frames, and clearance sales.
We talked to their customers about their experience with Clearly, and while many of them were great, there were some quite interesting anecdotes from them.
First, those who bought contact lenses recently had problems purchasing them because of the ordering process.
Some customers received the incorrect contact lenses, even when they were provided with the prescription. They were not happy about what they experienced, so maybe think twice if you plan to get contact lenses here.
Secondly, there were customers who ordered online and had issues with the products they received and with delivery. It's another thing to think twice about, especially if you're in great and immediate need for good eyewear.
However, as regards the service of their opticians, Clearly's customers are mostly happy about the assistance extended to them.
The opticians were praised for being highly professional, knowledgeable, and friendliness. On top of that, they provided excellent prescription glasses and were quick to answer all questions raised by the customers about eyecare and eyewear.
Very affordable frames
Great services by opticians
Issues with contact lenses purchase
Issues with ordering online
Customer Reviews
Knowledgeable and professional staff
"I've gone here for an eye exam, to buy glasses, and to get contacts. Great experience every time, the staff are friendly, knowledgeable, and professional. The eye exam was fast and accurate, the most accurate prescription I've ever had! They have the latest equipment and great doctors!" —Jonathan Waldie, Google Reviews
Nice and helpful opticians
"Outstanding customer service, super professional, efficient, and extremely helpful staff at Clearly Robston St, Vancouver. I bought a pair of glasses from Mo, the store optician, and he was a super nice guy, very helpful, friendly, and knew his stuff. Will go to Clearly again, would recommend to anyone. Also, their prices were the best in the area." —Peter McLaughlin, Google Reviews
FAQs about eyewear and opticians in Vancouver
---
Looking for the pair of glasses that fit your taste and prescription is easier when there's an optician who is ready to help you.
With great eye care and customer services, you'll come back to a shop that meets your eyewear needs, just like how you'll return to clinics with the best dentists in Vancouver.
Try visiting any of the eyewear shops in our list and you might find the optician you need to help you.