The 9 Best HVAC Companies in Vancouver
It's no secret that Vancouver is blessed with unusually mild weather compared to other parts of Canada. With that said, every now and then the city does see its fair share of snow.
For those colder days, you'll want to be sure that your HVAC systems are in proper working order. So, to give you some peace of mind, we've put together a list of the best HVAC companies in Vancouver.
On this list, we've provided each entry's background, pros & cons, services, and other useful bits of knowledge that will help you choose a service provider.
How Much Does HVAC Service Cost in Vancouver
The service fees and hourly rates will differ with each company, so to give you a general idea of what to look for, we've whipped up this basic cost guide:
| | |
| --- | --- |
| Service | Cost |
| HVAC installation | $3,500 – $7,500 |
| HVAC inspection | $200 – $450 |
| Service contract | $150 – $500 |
| Service rate | $50 – $150/hour |
Other costs may include material and parts, as well as emergency service fees.
The Best HVAC Companies in Vancouver
Since you've now got an idea of how much HVAC services can cost, it's time to meet the entries on our list.
We've taken the time to identify some pros and cons and areas of interest with each company. Overall, this should make choosing a fitting service provider much easier.
1. GreenTech HVAC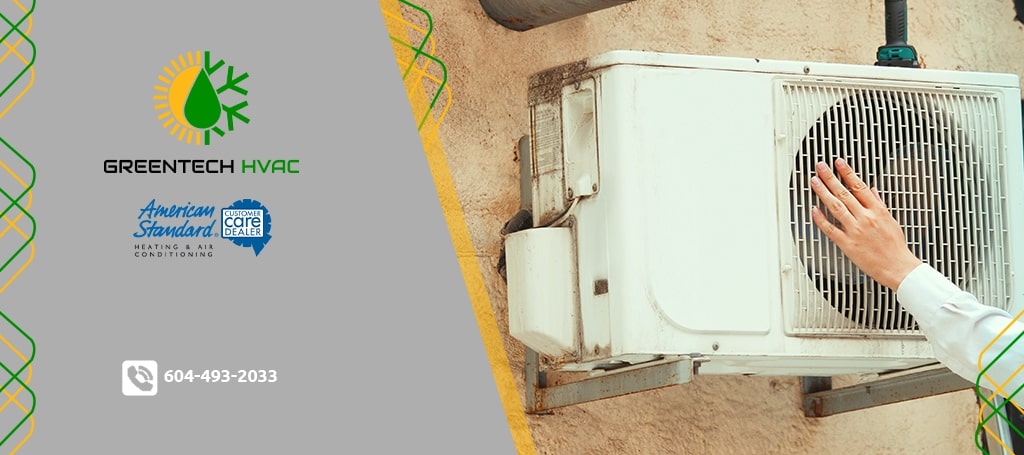 SERVICES
Furnace Repair
Furnace Installation
Ductless Heat Pump
Central Heat Pump
Air Conditioning Repair
Air Conditioner Installation
Ductless Air Conditioner
Central Air Conditioner
Heat Pump Rebates
Gas Furnace Rebates
Gas Water Heater Rebates
Gas Fireplace Rebates
WEBSITE
https://www.greentechhvacsystems.com/
ADDRESS
260 16th St E, North Vancouver, BC, Canada
CONTACT DETAILS
Phone: 778-718-5500
Email:

[email protected]

OPERATING HOURS
Mon-Fri: 08:00 AM to 10:00 PM
Sat-Sun: 10:00 AM to 10:00 PM
GreenTech HVAC has been serving the area since 2014. Similar to other companies, they are licensed and insured for all types of projects relating to HVAC.
What we love about them is whether they are providing an energy audit for a household that is looking to save a money on their bills or replacing a heating or cooling system, they make sure to always give the same level of service to people as if they are family.
Unlike others, with their years of experience, they have seen all types of furnaces. Meaning they can fix and maintain any brand!
Another reason why we prefer them over others is they are always willing to conduct and provide a comprehensive examination of the current furnace you have and give an evaluation about it.
This type of service is perfect for those who wants to often check up on the status of their furnace.
One more factor that made them stand out is their American Standard training. And because of this, they have become one of the few American Standard dealers in the area for air conditioners.
Upfront quotes and honest advice
Extensive range of HVAC services
Open the whole week
Base rates of services are unavailable on their website
Customer Reviews
Here is a review from their client:
"Awesome company. Super professional and punctual. Very thorough and accurate in the quote and was very pleasant to deal with. Highly recommend."
2. Pro Ace Heating & Air Conditioning Ltd.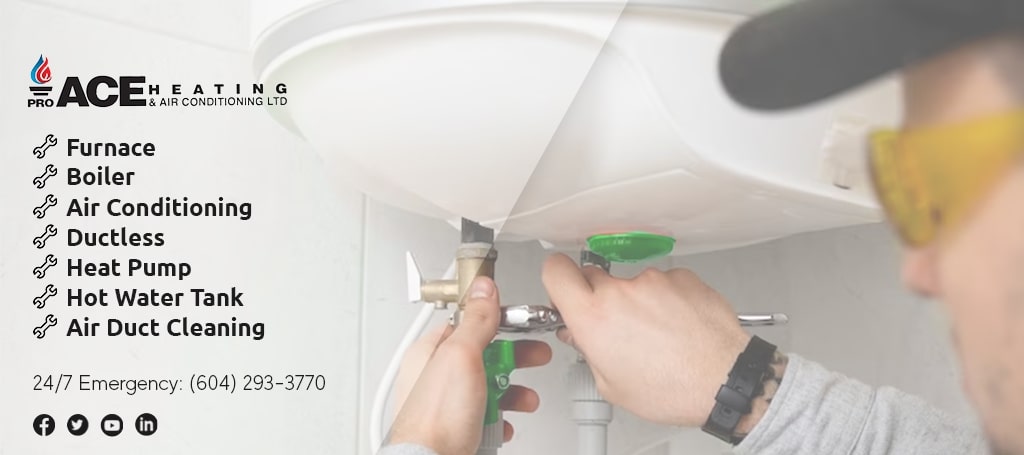 SERVICES
AC repair/installation
Heating repair/installation
Duct maintenance
Water heater repair/maintenance
WEBSITE
https://acecare.ca/
ADDRESS
3993 Henning Dr #101, Burnaby, BC V5C 6P7, Canada
CONTACT DETAILS
Phone number: (604) 638-2686
Email:

[email protected]

OPERATING HOURS
Open 24/7
Pro Ace is a reliable company that has been helping homeowners and businesses since 1995. They have maintained and repaired HVAC systems all over British Columbia in places such as Vancouver, Burnaby, Coquitlam, Abbotsford, and many more.
To provide further peace of mind, all of the work done by Pro Ace is backed by a 100% guarantee. With this promise, you can be certain that all of your repairs and installations are done with the utmost care and workmanship.
This company's service guarantee covers brands like Mitsubishi, Lennox, Carrier, LG, and even other lesser-known brands. So regardless of your HVAC system's make or model, Pro Ace has the tools and know-how to keep you warm or cool, all year round.
Services a wide array of HVAC makes and models
Technicians are fully insured and bonded
They use cameras for thorough duct maintenance and cleaning
The company backs all work with a solid guarantee
They do not offer service contracts
Pro Ace's upfront services can be expensive for those on a strict budget
Customer Reviews
Here are some testaments to Pro Ace's reliable services:
"Pro Ace did a lot of services for my home recently. All have been done excellent at a reasonable price and good quality. The team is very professional and polite and they left my house without a mess. Customer service and booking staff are friendly and very supportive. Overall, I highly recommend Pro Ace!" – Sthefane T.
"Great service! Simon was an absolute delight. Very professional and trustworthy. No BS! He found a very concerning fault with my furnace which was created when I had my water heater replaced by another outfit. He fixed it immediately and saved me hundreds of dollars. Thank you for the service and I will have Pro Ace back again." – Ian M.
3. Ashton Plumbing, Heating & Air Conditioning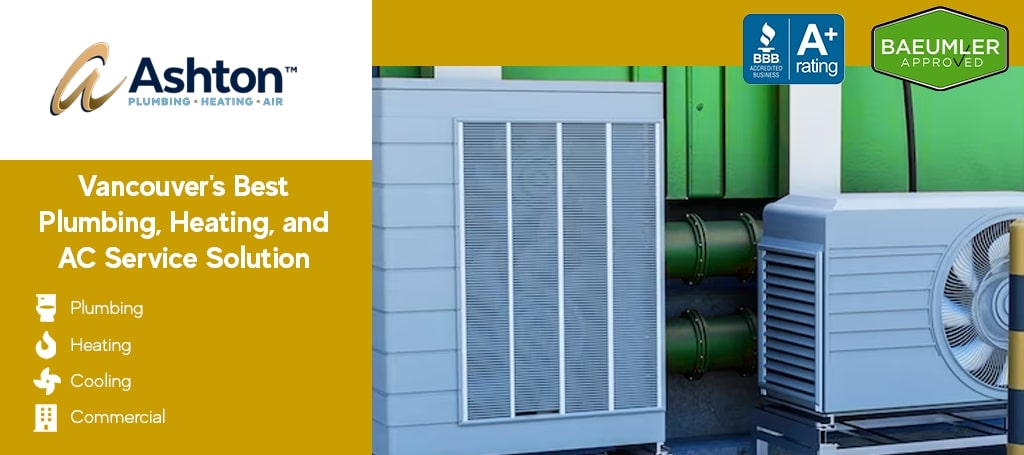 SERVICES
Plumbing repair/maintenance
AC repair/installation
Heating repair/installation
Duct maintenance
WEBSITE
https://www.callashton.com/
ADDRESS
4631 Shell Rd #140, Richmond, BC V6X 3M4, Canada
CONTACT DETAILS
Phone number: (604) 330-8717
OPERATING HOURS
Open 24/7
Ashton is devoted to providing clients with excellent service at an honest and flexible price. They accomplish this goal by being upfront with their pricing and also offering financing plans for more costly projects.
In cases where a financing plan is not available, these folks will still go the extra mile by helping clients file home renovation rebates. With all this effort, Ashton makes it clear that their business pursues clients, not their wallets.
Naturally, all of the company's technicians share this client-centered perspective. That's why all Ashton employees are handpicked for their work ethic and genuine desire to help.
For those in search of an HVAC service provider with flexible payment options, Ashton is the prime choice.
All technicians are Red Seal certified
They offer a wide array of financing plans
Ashton's dispatch center makes scheduling easy and quick
The company has received numerous service awards and recognitions
Though flexible, some clients may pay more from long-term payment plans
Customer Reviews
These clients were absolutely thrilled with their genuine service and friendly financing plans:
"Mo was very professional and pleasant while he examined our heating needs during the quoting process. He was very thorough, and answered our questions, and provided us with information that we didn't realize we should know about furnace installation. I never felt pressured to make a decision on the spot. We took a couple of days to decide on the company and furnace to go with and picked Ashton. The installation was well done. I had questions afterward for Mo, and again he provided a great explanation. Caryn at the office provided me with all the documentation I needed to easily apply for my home renovation rebates." – Brenda O.
"We are extremely happy about our experience with Ashton. Our heater didn't work so they installed a new heater system for us. Mo is the best. He is an expert at what he does, he is very nice. Meanwhile, he brought us a few small heaters so we stay warm. His team is really caring and professional. I would 100% recommend them!" – Mel N.
4. Milani Plumbing, Heating & Air Conditioning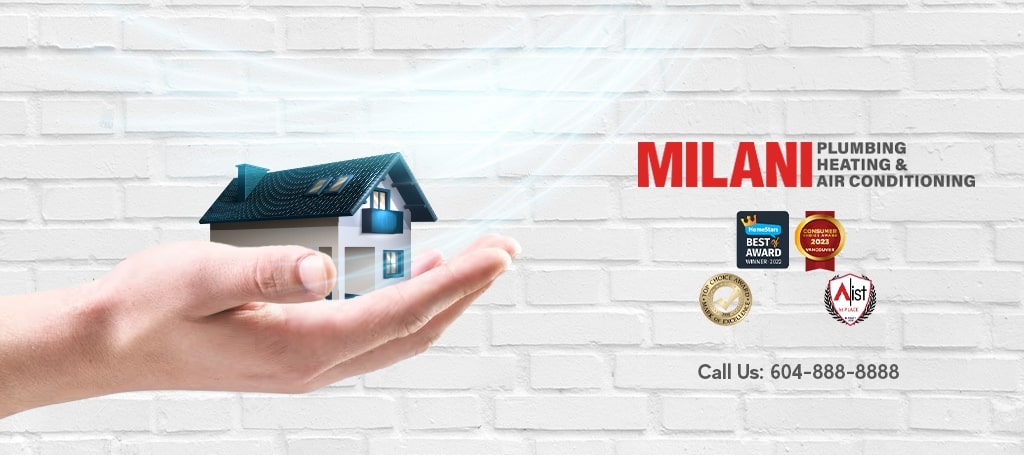 SERVICES
Plumbing repair/maintenance
AC repair/installation
Heating repair/installation
Duct maintenance
WEBSITE
https://www.milani.ca/
ADDRESS
3433 E 25th Ave, Vancouver, BC V5R 1J9, Canada
CONTACT DETAILS
Phone number: (604) 888-8888
Email:

[email protected]

OPERATING HOURS
Open 24/7
Milani offers a good range of services, but they are particularly gifted with HVAC maintenance and repair. Because of their skill, the company offers annual maintenance plans for all manner of heating and cooling appliances.
When it comes to HVAC systems, Milani's maintenance plans include a comprehensive 24-point inspection. This serves as a way to identify any ailing parts or immediate fixes that may be required.
In addition to this, the service also includes tweaks and adjustments to your furnace's settings. While this may seem pointless, it serves to keep your carbon monoxide levels low and your energy bill affordable in the long run.
Last but not least, if your furnace is in need of repairs, your Milani technician will provide you with advice and an honest upfront quote. From there you can make informed decisions on how you'd like to address any issues with your HVAC system.
Offers annual maintenance plans
Technicians are great with consultations
Furnace adjustments come included with annual maintenance
They offer a wide array of energy-efficient HVAC systems
Some inspections require Milani to send two technicians, which drives up cost
Customer Reviews
Milani's knowledgeable technicians left an excellent impression on these folks:
"The Professionalism was amazing and installation was a work of art. The advice and direction received not only resolved the problem I had within the home but the solution and install of a complete new boiler and heating system for the house were put together incredibly well. The prompt service and repair were done with direction and understanding throughout the whole process and I would especially like to compliment Mattia for an amazing Job. Internally I would also like to thank Raij for the honest direction of such a large Repair. I would highly recommend Milani for anyone who is looking for quality work at a very reasonable cost." – Lee T.
"Morgan and his helper did a wonderful job with the installation of our furnace system. It was a very clean and professional job. I would highly recommend them to do any heating work. Great job." – Patrick L.
5. Pioneer Plumbing & Heating Inc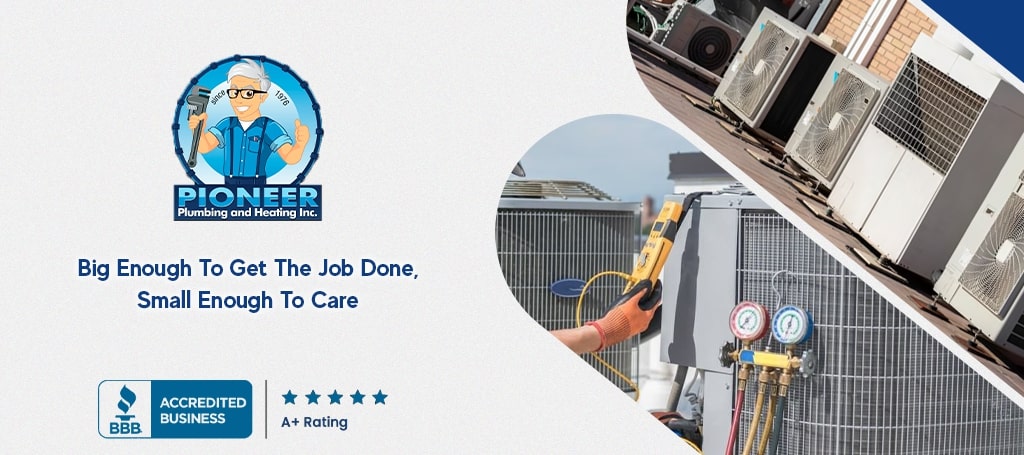 SERVICES
Plumbing repair/maintenance
AC repair/installation
Heating repair/installation
Duct maintenance
Water heater repair/maintenance
WEBSITE
https://www.pioneerplumbing.com/
ADDRESS
626 Kingsway, Vancouver BC, V5T 3K4
CONTACT DETAILS
Phone number: (604) 872-4946
OPERATING HOURS
Open 24/7
Though all the companies on this list offer commercial services, none are as well-versed as Pioneer Plumbing & Heating. This company quite literally knows the ins and outs of even the most complex industrial HVAC systems.
From high-rise buildings to three-story apartments, no HVAC system is too big for Pioneer to service. They manage to make short work of difficult jobs by using cameras, diagnostic equipment, and good old-fashioned elbow grease.
More than anything, it's important that your service provider understands the importance of your HVAC system. Pioneer displays this understanding with numerous informative posts on their website.
Each of these posts underlines the importance of HVAC systems as a way to heat your home/business and keep the air in your space clean, fresh, and free of carbon dioxide.
Well-suited to commercial HVAC systems
Capable of servicing large makes and models
Offer quick and efficient replacement services
Pioneer leans more towards businesses and large HVAC systems
Customer Reviews
Though Pioneer specializes in commercial systems, they have gotten plenty of rave reviews from individual clients:
"Matt arrived on time as scheduled; he was polite and professional in how he spoke to me. He has strong technical knowledge but still able to explain what needed to be done in a way that I understood. He also was also very good about cleaning up after the initial service call." – Dawn C.
"These guys are professional, efficient, friendly, and very responsive. Kale, Dylan, and Ion helped install a new furnace. They were very skilled and were very helpful and kind to answer all of our additional questions. Chris is also super responsive and accommodating. I would recommend this team!" – Mira K.
6. Eco Pro Heating & Cooling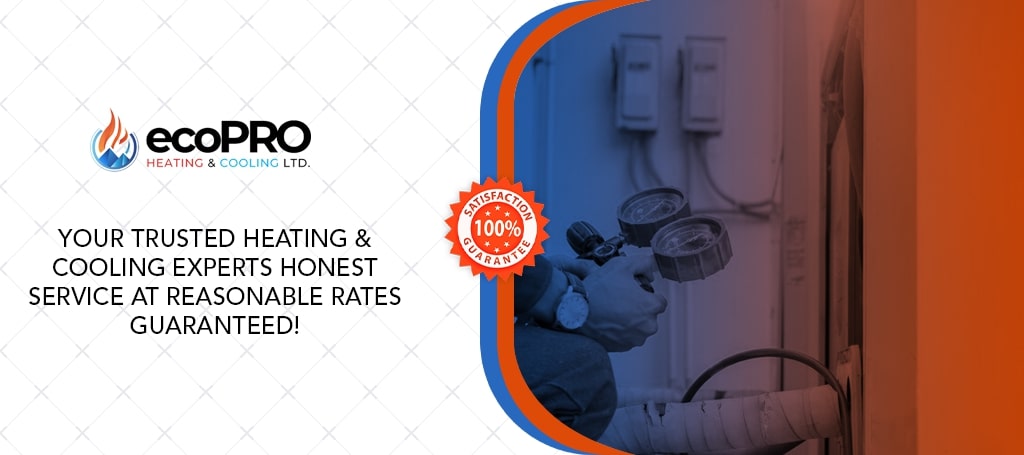 SERVICES
AC repair/installation
Heating repair/installation
Duct maintenance
Water heater repair/maintenance
WEBSITE
https://ecoproheating.ca/
ADDRESS
4 – 342 E Esplanade (Entrance in Front) North Vancouver, BC V7L1A4
CONTACT DETAILS
Phone number: (604) 725-4485
Email:

[email protected]

OPERATING HOURS
Open 24/7
Nothing is more disheartening than unfair service. That's why Eco Pro always aims for full satisfaction.
They achieve this goal by adhering to their solid 100% right or 100% free policy. In essence, this policy ensures that a job is not done until the client is satisfied with the work that has been done.
To further promote fair service, this company gives honest quotes with a guarantee that there will be no hidden charges. Lastly, if these folks are unable to fix your HVAC system, they will not charge you a dime for the visit.
After everything is said and done, these folks offer a 3-year service warranty. With this, it's safe to say that these folks will never leave a job hanging.
Offers a 3-year warranty on parts and service
They don't charge for unsuccessful repairs
They give coupons for other appliance tune-ups
Hourly repair rates are higher than the average due to the highly certified technicians
Customer Reviews
Here are some reviews from their customers:
"Excellent workmanship and addressed the problem and had the unit back to normal. Very prompt, diligent, had the required parts as well. I would recommend them 100% as they were straightforward to the point and did not take advantage of HVAC jargon. These are my go-to guys moving forward." – Babu K.
"These guys were awesome! I called a different company and they couldn't come to inspect my furnace and fireplaces for 2 months… that's ridiculous and also would be past the Fortis rebate period. I did some searching and found Eco Pro, filled out their online booking form, got an email the next day, and scheduled an inspection 2 days later! not to mention the technician showed up within the 2-hour window they gave me, called ahead to let me know when he was going to be arriving exactly, spent some extra time to explain to me what he was doing and the state of my equipment, and was done in just over 1 hour! Very professional, great value and I will definitely be calling them again." – Ryan Y.
7. WATT HVAC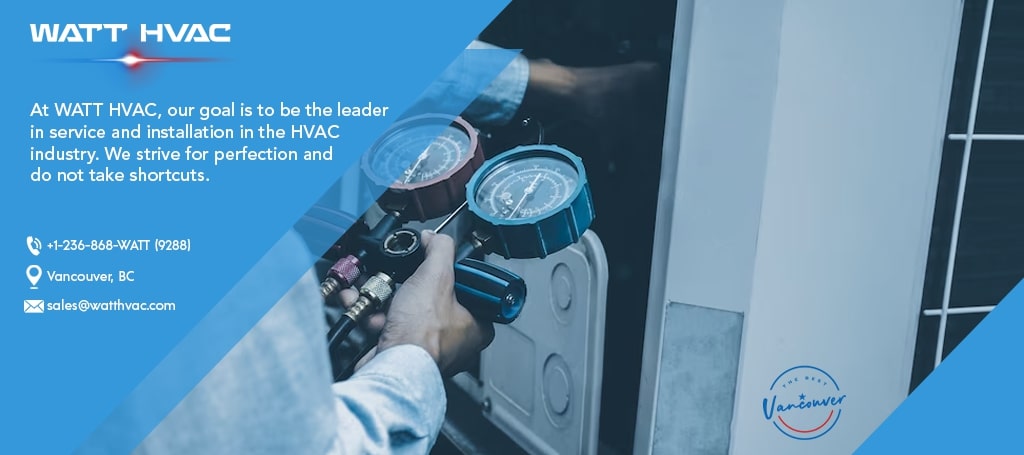 SERVICES
Consultation
Preventive maintenance
Service and repair
Installation
WEBSITE
https://watthvac.com/
ADDRESS
1302-1255 Main Street, Vancouver, Canada, V6A4G5
CONTACT DETAILS
+1-236-868-WATT (9288) |

[email protected]

OPERATING HOURS
Open 24/7
At WATT HVAC, their goal is to be the leader in service and installation in the HVAC industry. They strive for perfection and do not take short-cuts.
One of their most noteworthy traits is how they value their customers and look for long-lasting relationships. In fact, they keep an open line of communication with their customers to better understand their changing needs.
Furthermore, they continue to develop their skills in order to provide the best possible service. Since this industry is ever-changing, staying on top of new technology and training is on the forefront of their business model.
With experience in both old and new technology, there are very few areas that they do not excel in, and they look forward to having you join their list of valued customers.
Professional staff
Only uses high-quality materials in each project
Always has a technician on call after hours and on weekends
Rates are unavailable online
Customer Reviews
Here are some reviews from their customers:
"Bobby and his team outfitted my condo with a ductless split central air conditioning system. It required some ingenuity and imagination on his part to make it work in the space we had. We could not be happier with the result! The heat in a sun-exposed Vancouver condo in the spring and summer months can making living in it almost unbearable but now our condo is temperature controlled and more comfortable than ever. The best part is you don't even know it's there. This is helped by Bobby's design, the sleek diffuser vents that blend in effortlessly to the wall and of course the custom drywall and lighting work from his trade partner.
I would highly recommend to anyone thinking of upgrading their home with air conditioning to speak with Bobby Watt. He's knowledgeable, honest and hard working. Best of all he is passionate about what he is doing."
"Got the job done fast and as quoted. Id refer them to friends. thx bobby"
8. Knowledge HVAC & Refrigeration Ltd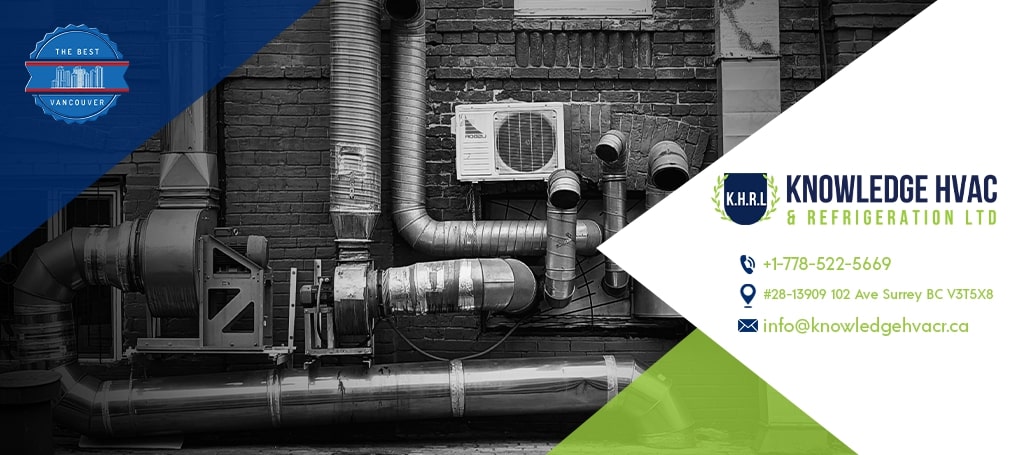 SERVICES
Residential heating repairs, Commercial heating and refrigeration repairs, Furnace installation, etc.
WEBSITE
https://www.knowledgehvacr.ca/
ADDRESS
#28-13909 102 Ave. Surrey BC V3T5X8
CONTACT DETAILS
1-778-522-5669


[email protected]

OPERATING HOURS
Monday-Friday: 8am-4pm
Saturday: 8am-2pm
Sunday: Closed
Knowledge HVAC & Refrigeration Ltd pride themselves in having to acquire The Red Seal, which takes years for an individual to accomplish. This badge makes them more credible and reliable for providing top notch HVAC services.
With them, you are guaranteed the highest level of service. It is their top priority to always communicate with their clients because they believe that it is through this that they can go above and beyond their needs and expectations.
What sets them apart from others is that they always give utmost importance whatever they are working on. They make certain to stick to their core principles in all ways; to be passionate, driven and authentic.
Top-notch HVAC Services
Safety Comes First
Fully licensed and factory trained team
Rates are unavailable online
Customer Reviews
Here's a review from one of Knowledge Hvac & Refrigeration Ltd clients:
"Excellent service awesome technicians. Aarun and Joel came to service our heat pump. They are very knowledgeable pleasant and easy interact. They actually figured out that we had wrong amp breaker switch and we changed it to the right breaker switch. They checked everything and ensured everything was working. The charges are very reasonable. They came through as honest and transparent explained everything made sure I understand and gave me options. i actually made an informed decision. I very strongly recommend and I will use them again. Awesome job Aaron and Joel."
Here's another one:
"Knowledge HVAC and Refrigeration repaired our commercial fridge and freezer at the church. Joel and Aaron were diligent, knowledgeable, and informative. Best of all they communicated with me every step of the way by carefully explaining their diagnosis and what action they were taking to repair. I also appreciated the detailed notes on the invoice that outlined the problem and the solution. I would absolutely recommend this company.
9. Western Pacific HVAC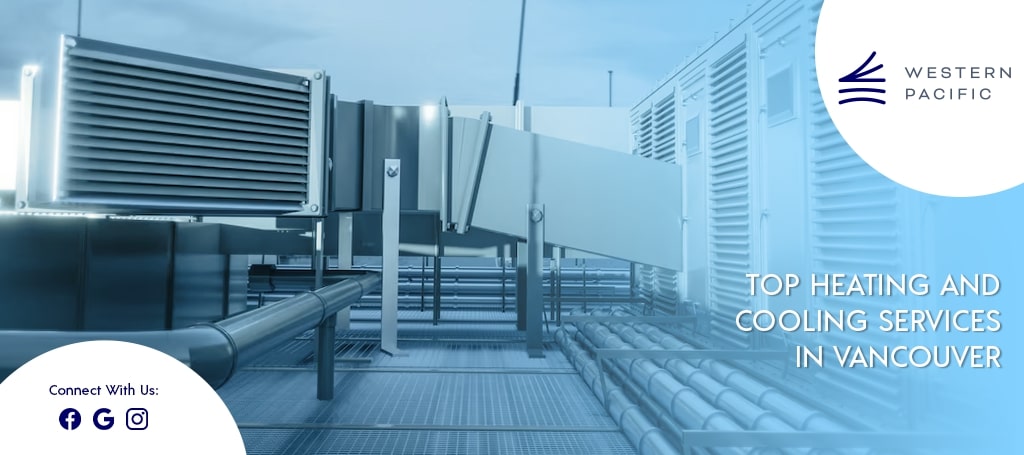 SERVICES
AC Repair
AC Installation
Heat Pumps
Furnace Repair
Water Heaters
Commercial HVAC
Air Balancing
Air Purification
WEBSITE
https://www.westernpacifichvac.com/
ADDRESS
1990 Pandora Street Vancouver, B.C. V5L 1R1
CONTACT DETAILS
Phone number: (604) 305-4910
Email:

[email protected]

OPERATING HOURS
Mon – Fri: 08:00 AM to 05:30 PM
Western Pacific HVAC is a company that provides full-service AC and heating services for all types of settings to maximize client comfort experience. They have extensive knowledge in the field and passion to balance it out to ensure clients enjoy a healthier and more energized environment contributed by their AC and heating units.
They employ only the latest and most innovative equipment for every job that they do since they ensure that they have 100% uptime for their HVAC tools. Furthermore, clients get to work with professionally trained individuals in the field to guarantee efficiency in all the steps that they do.
No price ranges are readily available at their website, but appointments can be readily booked online for the matter to better assess the client's situation. Upon giving the quotation though, no hidden fees will be imposed, and full transparency is always implemented.
They are also only available for a limited hours per week so there might be problems regarding securing slots during busy seasons. No emergency services are also in place, so it is not ideal for clients looking for a 24/7 service company for HVAC concerns.
Despite this, clients greatly commend them for their punctuality professionalism, and effectiveness when it comes to resolving HVAC issues and an accurate quote afterward.
Maintains TECA Membership Standards
Updated tools and methodologies
Wide array of services
Does not offer emergency services
Limited operating hours
Customer Reviews
Here is a review from their client:
"Awesome company. Super professional and punctual. Very thorough and accurate in the quote and was very pleasant to deal with. Highly recommend."
FAQs About HVAC in Vancouver
---
That concludes our list of the best HVAC companies in Vancouver. If we missed any that you think deserve to be on this list, send us a tip and we'll check them out!
By the way, we have a slew of other utility/handyman service lists you may want to take a look at too. For instance, if you need plumbing assistance too, consider checking out our article on the best plumbers in Vancouver as well!