5 Best Photo Printing Services in Vancouver
Photo printing services play a vital role in making memories last. These services provide you with beautiful and high-quality prints of your priceless photographs.
They also allow you to have them in many different mediums, such as posters, canvas prints, wall art, framed prints, and many more.
We've compiled some of the best photo printing services in Vancouver so you can narrow down your options.
How Much Do Photo Printing Services Cost in Vancouver
Clients are charged by printing services based on the number of prints required, the type of photo paper used, and the amount of retouching required.
Some businesses also provide custom framing, while others offer film processing, which is ideal for customers who want to print old photos.
Before we begin, let's look at how much these services will cost so you know how much to budget.
| Types of Services | Estimated Costs |
| --- | --- |
| Photo Printing | CAD $2.50 - $12.99 |
| Custom Framing | CAD $16 - $20 per foot |
| Poster Prints | CAD $50 - $120 |
| Plaque Mounting | CAD $35 - $100 |
| Retouching Services | CAD $40 - 60 per image |
| Film Processing | CAD $10 - $20 |
Best Photo Printing Services in Vancouver
Whether you're printing photos for professional purposes or just like giving photos as gifts, you need to know where to turn to get high-quality prints.
We've assessed these companies based on the criteria below:
1. Tricera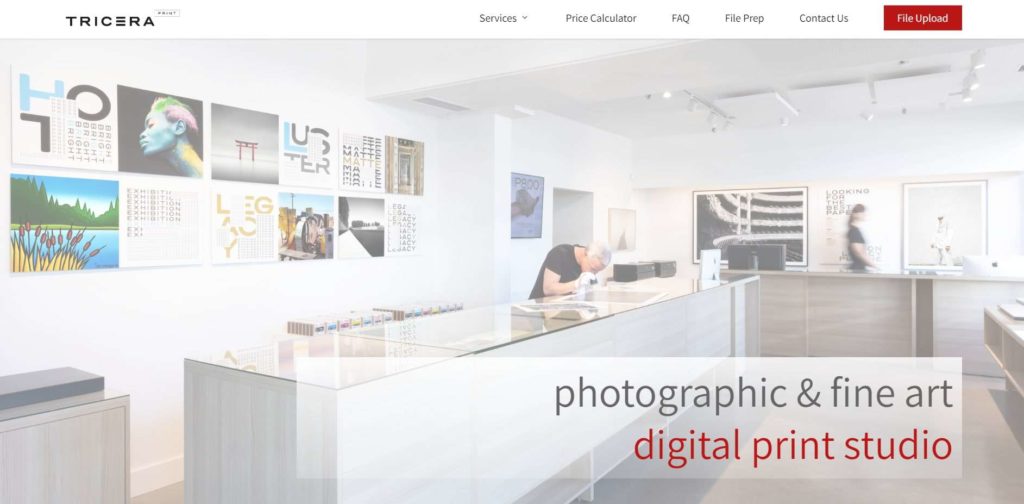 Test
Info
SERVICES
Printing Mounting Framing
ADDRESS
1830 West 5th Avenue, Vancouver, BC V6J 1P3
CONTACT DETAILS
Phone: 604-733-5702
WEBSITE
https://triceraprint.com/
OPERATING HOURS
Monday - Friday: 09:00 AM - 05:00 PM

Saturdays: 10:00 AM - 04:00 PM
| | |
| --- | --- |
| Turnaround Time | ★★★★★ 5/5 |
| Customer Service | ★★★★☆ 4/5 |
| Availability | ★★★★★ 5/5 |
| Quality of Prints | ★★★★★ 5/5 |
Tricera offers a wide selection of photo papers that we think are ideal for fine art photographs to accommodate all of their customers.
This company is open from Monday to Saturday and has an online ordering system that allows customers to place orders.
When it comes to turnaround time, Tricera recommends that clients expect their prints within 2 to 3 business days. However, shipping times vary by location.
Nevertheless, we like that they can accommodate fast printing upon request.
What distinguishes this company from others is its emphasis on providing archival stability and durability to its prints. Tricera uses the most recent Epson digital printing technology, and each canvas is hand varnished with a matte or gloss finish.
Looking at their wide range of photo papers, we were impressed by Tricera's Hahnemühle Agave photo paper. This white paper has a textured surface and is made of 70% agave fibers and 30% cotton. It's an environmentally friendly archival paper.
Aside from photo printing, Tricera also offers mounting services, with three different panels to choose from, such as Alupanel, Foam Core, and Ultra Mount.
Moreover, they also provide framing services, using a Gunnar professional matboard cutter to guarantee every corner is cut with accuracy.
Another thing that drew our attention was that they offer Photoshop and Lightroom guides on their website to assist clients in preparing their photos for printing.
These guides include instructions on resizing, colorizing, and retouching images. This, in our opinion, is especially beneficial for beginners learning how to prepare their photos.
Tricera also provides customized services such as light spotting, retouching, selective color correction, advanced image manipulation, exhibit consultation, and much more.
Wide selection of photo papers
Hand-varnished canvases
Offers eco-friendly photo papers
Offers framing and mounting services
Provides photo preparation guides
Offers photo customizing services
Only ships within Canada
Delivery fee not included in rates
Customer Reviews
Exceptional work
"I've been going to Tricera for large scale and intricate prints frequently since 2019. The quality of their work is exceptional and I always enjoy my visits with Micheal and team." -Alex A.
Friendly and knowledgeable staff
"We all know how challenging printing can be and how difficult it is to choose the perfect paper to present your work and which frame does fit as best to your images as well. I found the perfect printing partner in Vancouver with Tricera imaging. My experience was from the first step into the store with the warm welcome till the end when I could hold the prints in my hands just excellent. Everyone who was involved in my portfolio projects has been helpful, friendly, kind, and willing to share knowledge and Michael provided great advice for paper selection in order for me to get the best results for my 3 totally different portfolios. I can highly recommend Tricera including all employees and their knowledge and their awesome customer service. Thanks again for your great work. I'm still every time excited when I can open my portfolio books and present them to my clients." -Christian R.
2. Kingdom Photo Ltd.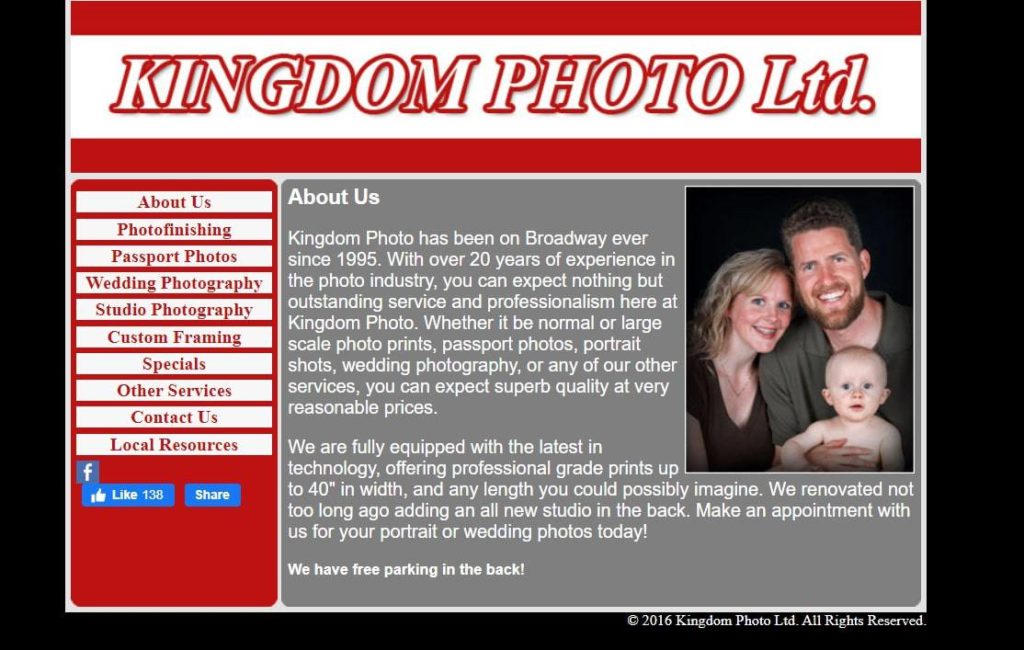 Test
Info
SERVICES
Photofinishing

Passport Photos

Wedding Photography

Studio Photography

Custom Framing

Photocopying and Fax Services

Document Printing

Canvas Printing and Stretching

Plaque Mounting

Restoration of old photos

Photoshop Services

ADDRESS
3263 W Broadway Vancouver, B.C.Canada V6K 2H5
CONTACT DETAILS
Phone: 604-737-6839

Email: [email protected]

WEBSITE
http://www.kingdomphoto.com/index.html
OPERATING HOURS
Tuesday, Wednesday

Saturday: 01:00 PM - 04:00 PM
| | |
| --- | --- |
| Turnaround Time | ★★★★★ 5/5 |
| Customer Service | ★★★★★ 5/5 |
| Availability | ★★★★☆ 4/5 |
| Quality of Prints | ★★★★★ 5/5 |
Established in 1995, Kingdom Photo Ltd. has provided professional printing services for both standard and large-scale photo prints. We like that this establishment has many loyal customers after more than 20 years in business.
This company provides professional-grade prints up to 40″ wide and has recently added a new studio to accommodate more clients.
Kingdom Photo provides photo finishing services in addition to photo printing, and we think it's fantastic that customers can pick up their photos within an hour.
They use Fuji Frontier Minilab to provide photo finishing, and they use crystal archive paper which is ideal for fine art and museum display.
Another thing that piqued our interest was their passport photo services. This service distinguishes itself from the competition because they provide passport and visa photos for Canadians, Americans, and Europeans.
Moreover, if you're looking to frame your photos, one of the primary services of this establishment is custom framing. We're big fans of the fact that they have over 100 styles of framing and a variety of mats.

Kingdom Photo likewise provides photocopying, faxing, document printing, plaque mounting, photo restoration, and Photoshop services.
Overall, we think Kingdom Photo is one of the best photo printing services in Vancouver for their years of consistent and exceptional photo printing services.
Quick turnaround time
Uses crystal archive paper 
Offers passport photo services
Offers custom framing
Has photo restoration services
Only has one type of photo paper
Wedding and Studio photography not available
Customer Reviews
Quick turnaround time
"Been coming here over the years since 2016 to take visa photos for Canada and the US, and the gentleman who has been taking my photos and running the store has been extremely polite, fast and very attentive to details. Really appreciate his work and happy to see that the store is in still in business. Thank you." -Nurlaila J.
Excellent photo quality
"Excellent. The photographer was fast, efficient, friendly, and talented. The photos came out really well for a very reasonable fee." -Jeff O.
3. Rocket Repro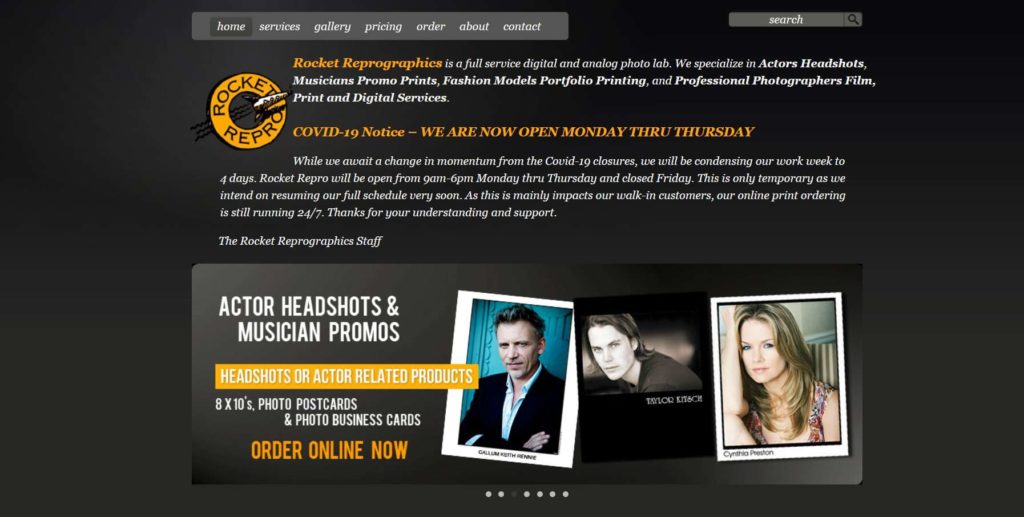 Test
Info
SERVICES
4x6 Photo Postcards

Photo Business Cards

Wide Format/Fine Art/Canvases

Film Processing

Retouching Services

Photo Enlargements

Films Model Prints Actor Headshots

ADDRESS
403 West Cordova Street Vancouver BC V6B 1E5
CONTACT DETAILS
Phone: 604-682-6000

Email: [email protected]

WEBSITE
https://rocketrepro.com/
OPERATING HOURS
Monday - Thursday: 09:00 AM - 06:00 PM
| | |
| --- | --- |
| Turnaround Time | ★★★★★ 5/5 |
| Customer Service | ★★★★☆ 4/5 |
| Availability | ★★★★☆ 4/5 |
| Quality of Prints | ★★★★★ 5/5 |
If you're looking for a photo printing service where you can order any time of the day, you might want to look at Rocket Repro.This business provides online print ordering 24 hours a day, seven days a week and can handle small to large format printing.
We recommend Rocket Repro to aspiring actors and musicians because one of their primary services is Actors Headshots. They provide custom photographic 8×10 prints on Fuji's Super PD premier photo paper for optimum hues and black density.
Aside from this, this organization also provides Musicians Promo Photos, Fashion Models' Portfolio Printing, and Professional Photographers' lab services.
We appreciate Rocket Repro's ability to develop and print color and black-and-white negative film. If that's not enough, they have a two-day turnaround time too!
Another noteworthy feature is that they can accommodate photo postcards and business cards printed on photographic paper.
Furthermore, Rocket Repro also offers Wide Format, Fine Art Canvases, retouching services, photo enlargements, and model prints.
It's also worth noting that the prices for all of these services are listed on their website. This is very convenient for clients because they can plan out which services to get without worrying about exceeding their budget.
24/7 online print ordering service
Specializes in Actors Headshots
Can develop and print color and black and white negative film
Sells assorted color and black and white films
Pricings available on website
Accessible website
Closed on Fridays and weekends
Charges $13 fee for image changes
Customer Reviews
Top-notch restoration services
"I had a bad picture of our grandmother from the sixties, it is the only photo of her in her twenties. They have restored it to perfect! Was fast too. Amazing memories for us of her being restored. We can now put her on the wall to bring us smiles." – Victoria B.
Professional services
"The best service and printing of my negs and digital every time. 10/10 professional service. It's a trek for me to get there and I am never disappointed." -Karin H.
4. Vanprint
Test
Info
SERVICES
Flyers

Brochures

Letterheads

Postcards

Rack Card

Greeting Cards

Bookmarks

Business Cards

Event Tickets

Pole Posters

Saddle Stitched Booklets

Other business stationery design

ADDRESS
438 E Broadway, Vancouver BC
CONTACT DETAILS
Phone: 604-678-8666

Email: [email protected]

WEBSITE
https://vanprint.com/
OPERATING HOURS
By appointment only
| | |
| --- | --- |
| Turnaround Time | ★★★★★ 5/5 |
| Customer Service | ★★★★☆ 4/5 |
| Availability | ★★★★☆ 4/5 |
| Quality of Prints | ★★★★★ 5/5 |
Vanprint offers full-service printing and they have two office locations located on Broadway and Davie Street, Vancouver.
The majority of customers we've spoken with have praised their services because they can make every interaction with their clients unique.
Most customers also praise their staff's attention to detail, as they made certain to deliver excellent photo resolution.
This company offers a wide range of photo printing services, including bookmarks, brochures, business cards, digital prints, event tickets, flyers, greeting cards, rack cards, and much more.
We especially like that they can create Saddle Stitched Booklets, ideal for students and businesses. Another thing that caught our attention is that they offer graphic design services.
These services include logo and icon design, WordPress themes, banners, newsletter material, electronic media promotions, email template designs, and other business stationery designs.
It's also worth noting that Vanprint sells hemp paper and 100% recycled paper. If you're conscious of your environmental impact, Vanprint ensures that all of their papers contain at least 30% recycled paper.
Overall, we thought Vanprint deserved a spot on our list because of their extensive photo printing and graphic design services.
Has two office locations
Offers Saddle Stitched Booklets
Uses recycled paper
Offers graphic design services
Provides special finishing options
Accepts rush jobs and same-day printing
By appointment only
No photo finishing services
Customer Reviews
Can accommodate big or small projects
"Whether my projects are custom, nearly last minute, big or small, Matt has provided me with exceptional service and products every time. Matt is approachable, professional and has gone the extra mile with every interaction. I come in from East Van just to enjoy a catch up while picking up my orders. Highly recommended!." -Karolina K.
High-quality prints
"Absolutely awesome experience. Matt not only produces the highest quality prints, he also is very proud of his work – as demonstrated by his attention to detail as he went through the file and brushed up areas that needed a little work. Needless to say I am very pleased with the result. The attached photo is 4'x4' – a huge print, with perfect, pinpoint resolution (may not be obvious from the picture here)." -Hugo L.
5. Print It Go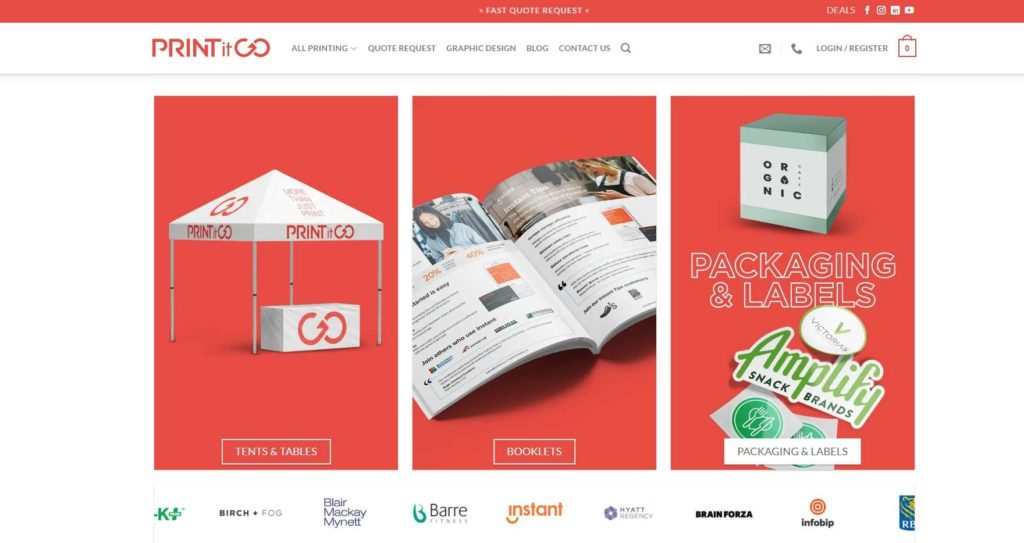 Test
Info
SERVICES
Custom Printing

Label Printing

Signs and Large Format

Business Cards

Small Format

Labels and Stickers

Pop-up Banners

ADDRESS
207 W Hastings St, Vancouver, BC V6B 1H7, Canada
CONTACT DETAILS
Phone: 604-726-9546

Email: [email protected]

WEBSITE
https://printitgo.com/
OPERATING HOURS
Monday - Friday: 08:30 AM - 05:00 PM
| | |
| --- | --- |
| Turnaround Time | ★★★★★ 5/5 |
| Customer Service | ★★★★☆ 4/5 |
| Availability | ★★★★★ 5/5 |
| Quality of Prints | ★★★★★ 5/5 |
Print It Go is definitely one of the best photo printing services you can find when it comes to variety.
Print It Go can accommodate signs and large format printing such as posters, canvas, flags, pull-up banners, tents, conferences, and media displays.
Print It Go, in our opinion, is ideal for businesses that need to print promotional materials. Standard, specialty, and premium business cards are also available from this company.
Moreover, many of the customers we've spoken with have remarked on Print It Go's ability to deliver excellent results at a reasonable price.
Print It Go can also help you with your company's branding, which we believe makes them unique. They provide ad layout services, logo tagline, ad campaign design, social media management, video editing, and other services.
Another thing we found impressive is they offer labels and stickers, and we highly recommend their specialty labels. These labels are customizable and available in many designs.
Overall, Print It Go is one of the best photo printing services in Vancouver because they offer comprehensive printing and branding solutions that are ideal for businesses.
Specializes in promotional material printing
Provides company branding assistance
Customizable labels and stickers
Offers Canada post direct mail printing services
Relatively slow turnaround time
Closed on weekends
Customer Reviews
Quick turnaround time
"Masoud printed my fashion catalogs in less than 2 days and the quality was incredible! He also personally delivered my look books which is unheard of! He has an amazing eye and his attention to detail is spot on! Thanks for the awesome service! Will definitely be using you for all my printing needs and more!." -Anne I.
Affordable prices without sacrificing quality
"I highly recommend Masoud & the team at PRINTitGO for any of your print & design needs. They did my branding & printing stuff for my logistics company and I'm sooooo happy with the results. I would give 10 stars if I could! Very friendly and helpful staff, great price and amazing quality! Compared to other shops out there this place is most reasonably priced with quality to back. Working with them was worry free and they could work with my budget and customize any print to the size I wanted! Best print shop in Canada – thanks for everything guys!!!!!!!!." -Sarah R.
FAQs about Printing Services in Vancouver
---