5 Best Printing Services in Vancouver
Whether you're a small or large-scale business, you'll need printing services at some point or another. With the overwhelming number of providers in the market, it can be tough to land the right one.
Especially if you don't know exactly what you're looking for in a printing company.
Luckily for you, we've scoured the city for the best printing services in Vancouver. So, all you need to do is sit back, relax, and read our review to find which option suits you.
How much do printing services cost in Vancouver?
Every printing project is unique — which is why prices may vary for printing jobs. Of course, there are some general price ranges you can more or less expect, though.
Below are estimates of how much a customer might spend on printing services in Vancouver:
| Product | Quantity | Total Cost |
| --- | --- | --- |
| Business Cards | 500 pcs | $79 to $90 |
| Postcards | 500 pcs | $150 to $170 |
| Flyers & Brochures | 1000 pcs | $300 to $350 |
| Posters | 500 pcs | $700 |
| Sandwich Board | 1 pc | $160 to $200 |
| Banners | 1 pc | $3 per foot |
| Custom Buttons | 100 to 1000 pcs | $710 |
| Wristbands | 100 pcs | $250 |
Note: These numbers will change depending on several factors e.g., material, colors, layout, and size.
The Best Printing Services in Vancouver
Here are the criteria we used to assess our top picks in the city. We only picked those that:
1. PrintPrint.ca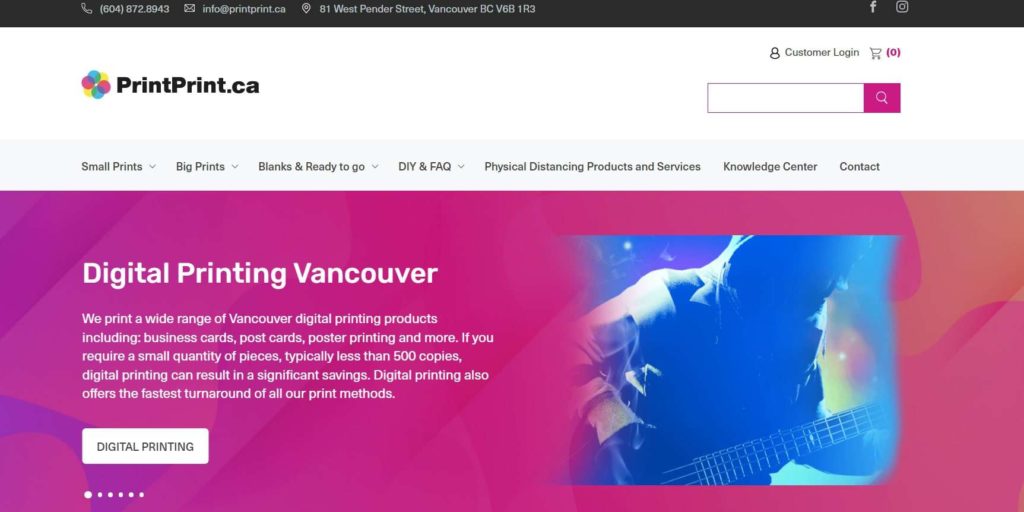 Test
Info
SERVICES
Small Prints:

Banners

Business cards

Buttons

Flyers

Posters

Wristbands

Lanyards

Stickers

Plastic VIP & event cards

Decals

Big Prints:

Banners

Tents

Sandwich boards

Signages

Window graphics

Wall graphics

Print cut vinyl

Cloth signs

Metal signs

Illuminated signs

Trade show displays

Acrylic signs

Banner stands

Grand printing

WEBSITE
https://printprint.ca/
ADDRESS
81 West Pender Street, Vancouver BC V6B 1R3
CONTACT DETAILS
(604) 872 - 8943 |

Email: [email protected]

OPERATING HOURS
9:00 am to 5:30 pm (Monday to Friday)

Closed (Saturday, Sunday, and Holidays)
| | |
| --- | --- |
| EXPERTISE | ★★★★★ (5/5) |
| QUALITY | ★★★★★ (5/5) |
| VARIETY | ★★★★★ (5/5) |
| FAST DELIVERY | ★★★★★ (5/5) |
| CUSTOMER SATISFACTION | ★★★☆☆ (3/5) |
Even at just a quick glance, PrintPrint.ca seems like a pretty capable printing company.
They have a respectable following on Facebook. And most of their customers leave satisfied reviews about their services.
You can find a variety of printing services on their website, from small print to large print orders. They also have designers on their team — great news for customers who don't have the eye for that sort of job.
Judging from the way they've designed their website, by the way, PrintPrint.ca's in-house designers seem to have the skill to make compelling marketing collateral.
So, if you're looking for help here, PrintPrint.ca could be an effective choice.
Expect printing rates to vary depending on the project requirements and size. But don't worry — based on our survey of previous clients, the company typically offers competitive rates to their customers.
After corresponding with PrintPrint.ca's customer support team, we found that they offer both delivery and curbside pick-up services. This type of flexible arrangement can benefit clients who work on very tight schedules.
The company also offers hard-proof printing, which lets you inspect a physical copy of your design. This ensures that the layout and color are exactly how you want them to look post-print.
All that said, there are a few things where satisfaction for PrintPrint.ca's services falls flat.
For one, their customer service isn't always great. We've seen complaints about service even leading to delays in some customers' projects.
There have also been a few complaints from employees about their compensation for their work. While that may not seem to affect what you get as a consumer on the surface, it actually could over time, as it may mean a higher risk of sloppy output from dissatisfied workers.
Wide variety of printing methods
Hard- and soft-proofing before print provided
Competitive service rates
Occasionally questionable customer service
Some reports of employees complaining about compensation
2. Jukebox Print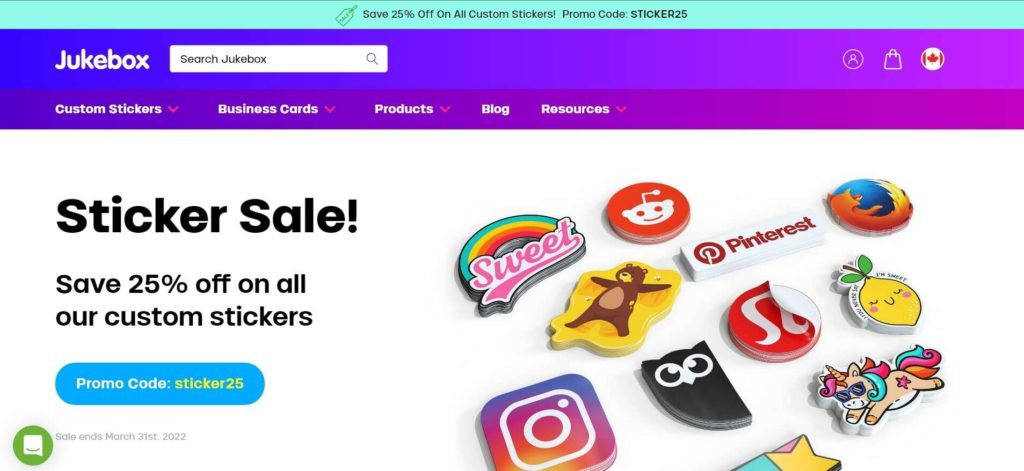 Test
Info
SERVICES
Banners

Booklets

Bookmarks

Brochures

Door hangers

Envelopes

Gift cards

Flyers

Greeting cards

Hangtags

Letterheads

Magnets

Notepads

Personalized coasters

Mini boxes

Postcards

Posters

Perfect bound booklets

Presentation folders

Table tents

Wedding invitations

Tissue paper

Wrapping paper

Rubber stamps

Stickers

Business cards

WEBSITE
https://www.jukeboxprint.com/
ADDRESS
165 West 4th Avenue, Vancouver, BC V5Y 1G4
CONTACT DETAILS
(604) 683-0097
OPERATING HOURS
9:00 am to 5:30 pm (Monday to Friday)

7:00 am to 5:30 pm (Monday to Friday - Chat)

9:00 am to 5:30 pm (Monday to Friday - Phone)
| | |
| --- | --- |
| EXPERTISE | ★★★★★ (5/5) |
| QUALITY | ★★★☆☆ (3/5) |
| VARIETY | ★★★★★ (5/5) |
| FAST DELIVERY | ★★★☆☆ (3/5) |
| CUSTOMER SATISFACTION | ★★★☆☆ (3/5) |
Jukebox Print is a popular printing company in both Canada and the USA. They claim to offer fast and easy design and printing services that go beyond the typical business card and sticker printing.
They're also said to make everything from customized wrapping paper and tissue paper to specialized postcards and greeting cards.
After talking to a couple of recent customers, we gathered that the most attractive thing about Jukebox is its one-day turnaround period. This feature ensures that customers never miss a deadline, no matter how close it is.
People also appreciate Jukebox's wide selection of design resources. This includes a nifty drag-and-drop design builder, design guides, sticker templates, business card templates, and many more.
We really like the drag-and-drop interface of Jukebox's design builder, because it allows users with even the most basic design skills to create spectacular layouts.
Additionally, the design guides are a great help for anyone having trouble deciding what colors to use, what formats to follow, and what sizes to make their collaterals into.
Color accuracy has always been an issue with many printing companies. And despite all the positive reviews, this color accuracy problem seems to be present in Jukebox as well.
Jukebox does warn its clients about this color accuracy issue upon initial inquiry. They claim that while color-matching might not be 100%, it shouldn't stray by more than 10% from the original color.
However, upon inspection of a previous project they did for a client, Jukebox doesn't seem to always deliver on this promise.
Although Jukebox promises a one-day turnaround period for orders, delivery is a completely different story. We heard from a number of clients saying their orders were late, despite the promise.
To solve delivery issues, Jukebox created an order tracking feature on their website for clients to use. But it's not a perfect solution.
You see, after testing it out, we discovered that the web application had a ton of bugs and would often kick us out of the page every time we tried to look up an order.
On the bright side of things, pricing tends to be hugely cheap for new users/clients. This is because of the discounts and vouchers they get upon sign-up.
Regular rates are more expensive, though. Thus, always get a quote before making any final decisions.
User-friendly design tools
State-of-the-art design builder
One-day turnaround period
Wide variety of printing methods
Expensive 
Occasional late deliveries
Defective order tracker
3. Kinetica Print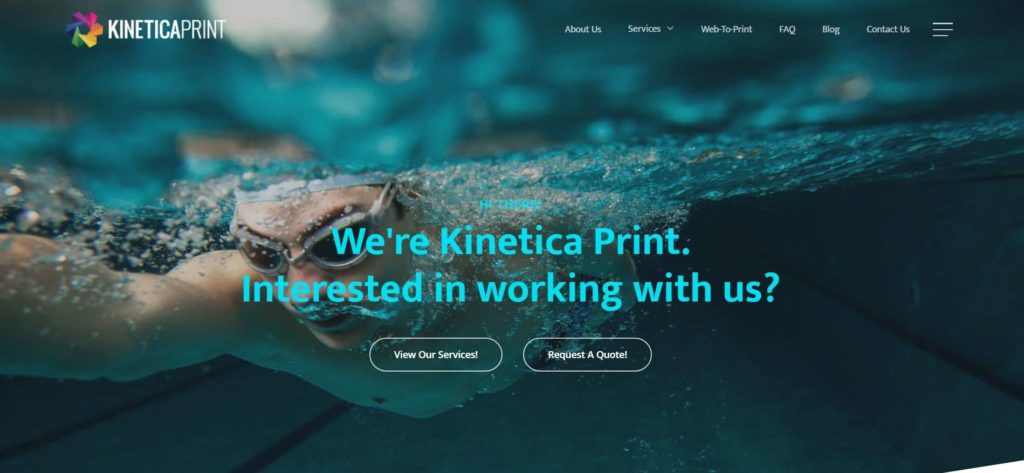 Test
Info
SERVICES
Banners

Booklets

Catalogs

Brochures

Business cards

Direct mail

Flyers

Postcards

Sandwich boards

Tradeshow materials

Signages

WEBSITE
https://kineticaprint.com/
ADDRESS
133 - 9 Burbidge Street, Coquitlam, BC V3K 7B2
CONTACT DETAILS
(604) 552-4500
OPERATING HOURS
8:00 am to 5:00 pm (Monday to Friday)

Closed (Saturday, Sunday, and Holidays)
| | |
| --- | --- |
| EXPERTISE | ★★★★☆ (4/5) |
| QUALITY | ★★★★★ (5/5) |
| VARIETY | ★★★★★ (5/5) |
| FAST DELIVERY | ★★★☆☆ (3/5) |
| CUSTOMER SATISFACTION | ★★★★★ (5/5) |
Kinetica Print is yet another printing company famous for their quick turnaround time. However, unlike Jukebox, they're careful not to offer clients overinflated expectations.
Instead, they clearly write out how much time is spent on different types of projects, so clients have an idea of what to expect. We like this because it allows clients to adjust their deadlines to fit the situation.
Hard-proofing is also available so clients can inspect what the final product would look like post-print. You can set this all up using Kinetica's Web-to-Print feature.
Web-to-Print lets you customize your order online, so you don't have to drop by their physical store. This is a great tool for customers who don't have the time to waste driving all the way to Kinetica.
Another thing that we like about this company is that they have highly skilled in-house designers.
In case your hard-proof samples aren't to your liking (e.g., the layout is off or the colors are too dull/bright) their designers can help you adjust different elements of your design down to the smallest dot.
While they have a large following on Facebook, not a lot of their clients leave a review on their page. That's because the company isn't as well-established yet as others on this list… though we think that shouldn't be held against them.
The very few reviews they do have are all from satisfied customers, praising Kinetica for its affordability and quality, as well as its respectful customer service. People we talked to in our survey echoed these sentiments.
We also didn't find any information about delivery services on their website, so we sent an inquiry to their customer support team about it. They later informed us that the company currently only offers curbside pick-up services.
This can be an inconvenient arrangement, especially if your project is time-sensitive.
Expert in-house designers
Quick turnaround time
Transparent production schedule
Web-to-Print feature
No delivery service
Not as well-established as other companies
4. Minuteman Press
Test
Info
SERVICES
Promotional Products

Bags

Banners

Blueprints

Booklets

Books

Brand collaterals

Brochures

Business cards

Caps and hats

Corporate gifts

Direct mail

Drinkware

Edibles

Envelopes

Feather and teardrop flags

Floor graphics

Flyers

Forms

Getting cards

Gift cards

Infographics

Journals

Invitations

Outerwear

Pens

Polos

Postcards

Posters

Plaques and awards

And more…

WEBSITE
https://minuteman.com/
ADDRESS
610 SE Marine Drive, Vancouver, BC V5X 2T4
CONTACT DETAILS
(604) 321-4150 | Email Us
OPERATING HOURS
9:00 am to 5:00 pm (Monday to Friday)

Closed (Saturday, Sunday, and Holidays)
| | |
| --- | --- |
| EXPERTISE | ★★★★★ (5/5) |
| QUALITY | ★★★★★ (5/5) |
| VARIETY | ★★★★★ (5/5) |
| FAST DELIVERY | ★★★★★ (5/5) |
| CUSTOMER SATISFACTION | ★★★★★ (5/5) |
Judging by the sheer number of printing services that Minuteman Press offers, one could easily say that they're the all-in-one solution for all things printing-related.
They make everything from business cards and brochures to promotional items like pens, caps, tumblers, and hangtags.
If you're someone who's trying to improve your business's brand awareness, we believe Minuteman Press would be a great printing company to work with.
They have stores in Canada, Australia, South Africa, the United Kingdom, and the USA. So it's safe to say that they have a worldwide knowledge of the different formats and marketing strategies that work best in different markets.
Customers really like the quality of service that Minuteman Press provides. Many compliment them for their professional customer support team, as well as their friendly staff.
Additionally, people appreciate the flexible rates that Minuteman Press offers.
Unlike most providers where products often come at a premium, this company helps clients find a solution that fits both their budget and project needs.
Delivery and pickup shouldn't be an issue as Minuteman offers both methods. So all you need to do is choose which method suits your situation best and wait.
Minuteman Press is a massive company, so there might be times when their order logs get too cramped. This may result in clients needing to adjust their schedules to Minuteman's.
Budget-friendly 
Expert staff
High-quality output
Quick delivery and pickup services
5. Royal Printers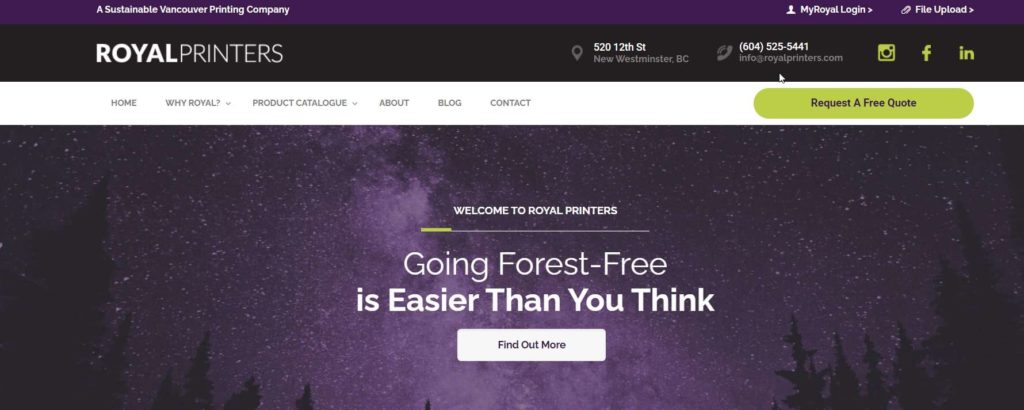 Test
Info
SERVICES
Stationery:

Envelopes

Cheques

Pads

Letterheads

Business Cards

And more…

Business Forms:

Shipping & Transport

Administrative

And more…

Marketing

Cards

Booklets

Handouts

Adhesives

Direct Mail

And more…

WEBSITE
https://royalprinters.com/
ADDRESS
520 12th Street, New Westminster BC, V3M 4H9
CONTACT DETAILS
(604) 525-5441 |

Email: [email protected]

OPERATING HOURS
8:00 am to 4:30 pm (Monday to Friday)

Closed (Saturday, Sunday, and Holidays)
| | |
| --- | --- |
| EXPERTISE | ★★★★★ (5/5) |
| QUALITY | ★★★★☆ (4/5) |
| VARIETY | ★★★★★ (5/5) |
| FAST DELIVERY | ★★★★★ (5/5) |
| CUSTOMER SATISFACTION | ★★★★☆ (4/5) |
This last company could arguably be the oldest printing company on this list. They first opened in 1932 and continue to provide sustainable and green printing solutions to clients to this day.
Royal Printers is famous for its Sugar Sheets, which are a lineup of paper products that are made entirely of sugar cane residue fibers.
They have been BBB-accredited and Climatesmart Certified since 2021. They've also been recognized as a Social Purpose Innovator by Socialpurpose.ca.
Clients told us that they admire the professionalism and expertise that Royal Printers employees possess. They were pretty consistent in their praise of the staff, actually.
Based on our evaluation of their services, Royal Printers can print everything from business cards to product packaging. They're a one-stop-shop for everything concerned with printing.
However, there is one thing that we noticed that they don't provide.
While most printing services also offer design assistance, Royal Printers has overlooked the feature entirely. In other words, those with no previous design experience will need to hire an external designer to do the job for them.
On the bright side, customers seem to be satisfied with the printing and shipping prices they get from Royal Printers. They're much more affordable compared to other printing services on this list too.
They're also incredibly punctual according to the majority of their customers. We certainly couldn't complain about our own order – it was delivered on time.
Punctual delivery time
Budget-friendly
Expert staff
Sustainable printing solutions
FAQs About the Best Printing Services in Vancouver
---
There you have it — our top picks for the best printing services in Vancouver! If you have other recommendations that you think we should hear about, feel free to message us and we'll make sure to check it out.
When you're trying to improve your company's brand awareness, apart from reliable printing services, you also need a reliable creative agency to help you with your marketing strategies.
Read our article on the best creative agencies in Vancouver to get started on your search!