Best Vancouver Neighborhoods to Visit
Vancouver is one of the most beautiful cities to visit in Canada. There are many neighborhoods in this city, so it can be confusing to know what area you should visit.
The best Vancouver neighborhoods are rich in culture and have diverse shops and restaurants. Some of these include Yaletown, Coal Harbour, Gastown, Mount Pleasant, and Kitsilano.
This is why we've compiled and researched some of the best neighborhoods in Vancouver to help you narrow your search.
Best Vancouver Neighborhoods to Visit
Yaletown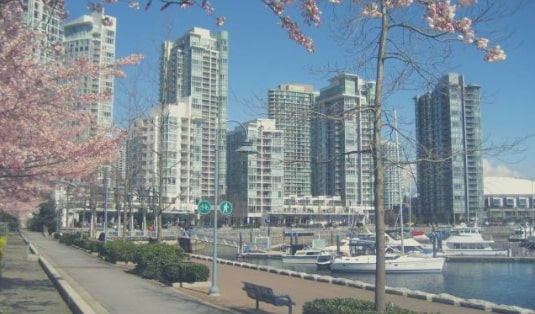 Image by GPSMYCITY via https://www.gpsmycity.com/
Yaletown is one of Vancouver's most trendy neighborhoods, with streets lined with residential lofts, cafes, quaint restaurants, one-of-a-kind shopping centers, and lush green parks.
This neighborhood is Vancouver's loft hotspot, with more lofts than cruise ships in Canada Place. Yaletown's waterfront parks are an enormous appeal, as the city's Seawall runs along the water, connecting David Lam Park and George Wainborn Park.
This neighborhood is also home to various red brick warehouses that load textiles onto trains bound for the east. Those platforms have now been renovated into brunch spots, pubs, restaurants, and cafes.
We also recommend you explore Yaletown's cocktail scene and nightlife, as this area is excellent for having fun in the evening.
Things to Do at Yaletown
While in Yaletown, we recommend you stop by the Mainland and Hamilton Street at the 1100 block. These streets are lined with diverse restaurants with on-street parking.
The Mainland and Hamilton Street come alive during summer evenings, and Blue Water Cafe is some of the restaurants we recommend you stop by.
This cafe offers ocean-friendly seafood, wine, and extensive spirit collections.
You should also go to David Lam Park, which has a large grassy area and cycling routes and is a great place to relax or ride your bike. It also has plenty of kids' activities, as the park has a playground, basketball courts, and soccer fields.
Coal Harbour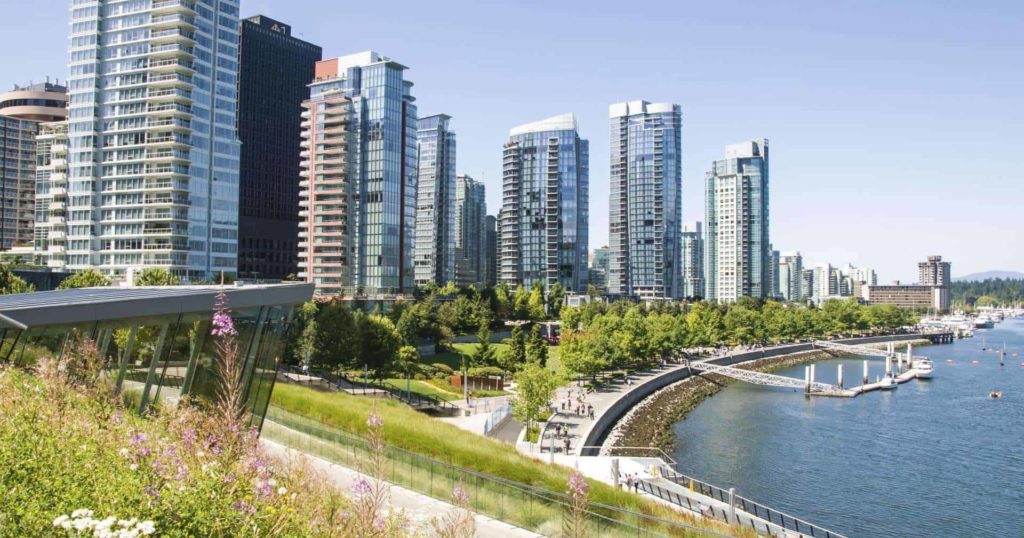 Image by PWL Partnership via https://www.pwlpartnership.com/projects/coal-harbour-neighbourhood
Coal Harbour is a lovely and peaceful little neighborhood on the water's edge. The area begins at Canada Place, where the Vancouver Cruise Terminal is located and extends west to Stanley Park.
Visitors can see ships coming in and out of the port and people cycling and walking while admiring the scenery. This neighborhood is a mix of residential and commercial properties, with glass skyscrapers overlooking the Burrard Inlet.
Coal Harbour has grown into one of the most thriving neighborhoods in Vancouver, with condominiums, parks, attractions, restaurants, and its own Seawall.
The Jack Poole Plaza is difficult to miss while visiting Canada Place. This plaza is outside the Vancouver Trade and Convention Centre and houses the Winter Olympics Cauldron from the 2010 Winter Olympic Games, where Canada won three ski medals.
Just in case that inspired you, Coal Harbour is also close to some of the best ski resorts in Vancouver.
Next up, we have Devonian Harbour Park, a tranquil grass field located next to the Stanley Park entrance. This 4.42-hectare park has multiple footpaths, bicycle routes, seating areas, ponds, and large lawns where visitors can lounge or picnic.
We also recommend you drop by the Port of Vancouver Discovery Centre, located at Canada Place, just below Fly Over Canada.
The Discovery Centre is a great place to learn about the early port development of Coal Harbour, and it's free for all visitors.
Things to Do at Coal Harbour
Coal Harbor is known to be a modern city lined with glass skyscrapers and scenic waters. Photographers usually capture the scenery from the Vancouver Cruise Terminal or Stanley Park.
However, we'll let you in on a little secret. The skyscrapers are usually in the shade in the middle of the day, so we recommend heading over to anywhere along the Seawall for impressive shots of the city, boats, and seaplanes in the Burrard Inlet.
Another great spot for photos is the deck of one of the Harbor Cruise boats, especially on a sunny day.
Gastown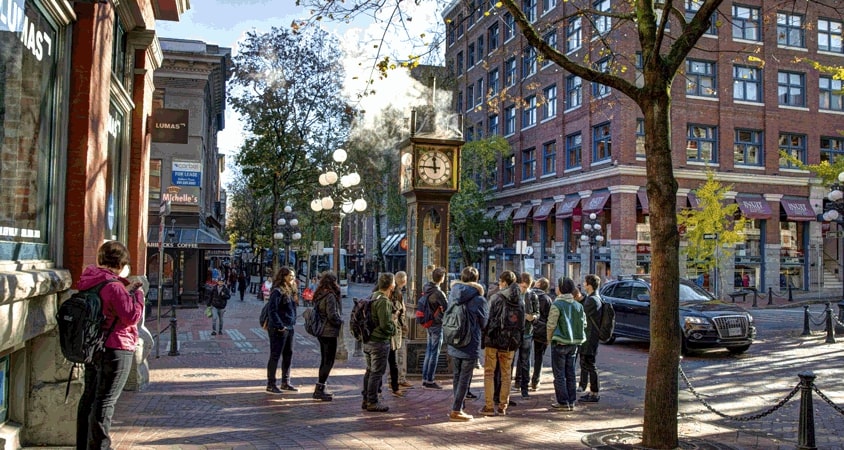 Image by Destination Vancouver via https://www.destinationvancouver.com
Gastown is a historic district known for its lovely cafes, souvenir shops, art galleries, and Victorian-style buildings. This neighborhood has a hip food and beverage scene, serving everything from Asian cuisine to organic chocolate and coffee.
The Water Street Cafe is a popular hangout in Gastown. This cafe, located at 300 Water Street, is ideal for those looking to sample Pacific Northwest cuisine with Italian influence.
Customers can also get an unobstructed view of Gastown's famous Steam Clock, built in 1977 and powered by steam and whistles.
The Water Street Cafe is also an excellent place for customers looking to dine in an Italian restaurant as they serve delicious traditional Italian dishes and seafood. You can also dine while listening to live music.
In addition, they also have an extensive wine and cocktail menu inspired by local ingredients.
If you're looking for a place to get your daily caffeine fix while in Gastown, we recommend Timbertrain Coffee Roasters.
This cozy coffee shop is located at 311 W Cordova Street. They serve house-roasted, artisanal coffee, pastries, and many other goods.
You might also notice their high-end coffee machines, which produce some of the best pour-overs in the area.
We highly recommend their espresso for its creamy, bold, but not overpowering flavor. It goes well with their almond croissant, which has a crunchy exterior.
Things to Do at Gastown
If you're visiting Gastown in the summer, get out of your hotel and walk the streets around 5 p.m. to 8 p.m. because this is when Gastown Unplugged takes place.
Musicians sit on the sidewalks and play in various locations, including Cambie and Richards at Water Street. Musicians can also be found on Abbot Street and in Maple Tree Square.
While there are many great restaurants in Gastown, we highly suggest you visit L'Abattoir as it's one of the best restaurants in the area.
We recommend Gaoler's tasting menu, which includes unique and delectable dishes with unexpected flavor combinations and pairs perfectly with their extensive wine and cocktail menu.
Mount Pleasant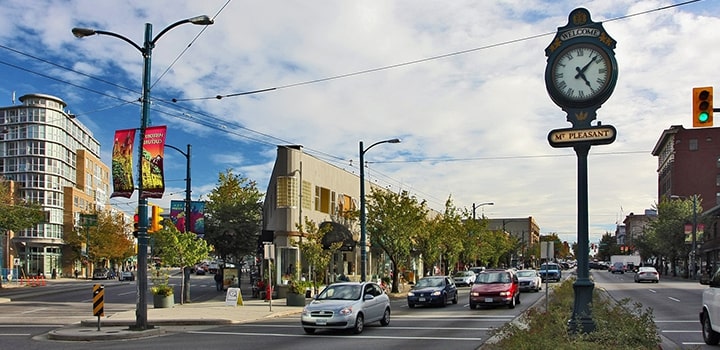 Image by City of Vancouver via https://vancouver.ca/news-calendar/mount-pleasant.aspx
Mount Pleasant is one of the hipster areas in Vancouver known for its quaint cafes, vintage clothing stores, vegetarian restaurants, and some of the city's best parks.
The first thing you'll notice about this neighborhood is that it's full of independent businesses, unlike the rest of the city, which is full of big chain stores and restaurants.
The heart of this neighborhood has to be Main Street, where you'll find Red Cat Records for great vinyl deals, vegetarian restaurants like MeeT on Main, cafes like Aperture Coffee Bar, and large and small groceries.
Mount Pleasant also has many historic buildings, art festivals, and a bustling shopping district where Broadway, Kingsway, and Main Street intersect.
Things to Do at Mount Pleasant
Mount Pleasant is unquestionably the place to go for affordable and diverse cuisine. However, we recommend trying some of the city's best Chinese cuisine, particularly at Kwong Chow Congee & Noodle House or Hot Delivery Chinese Food.
You should also go shopping on South Main because the streets are lined with vintage clothing and antique stores where you can find one-of-a-kind souvenirs and goodies.
Kitsilano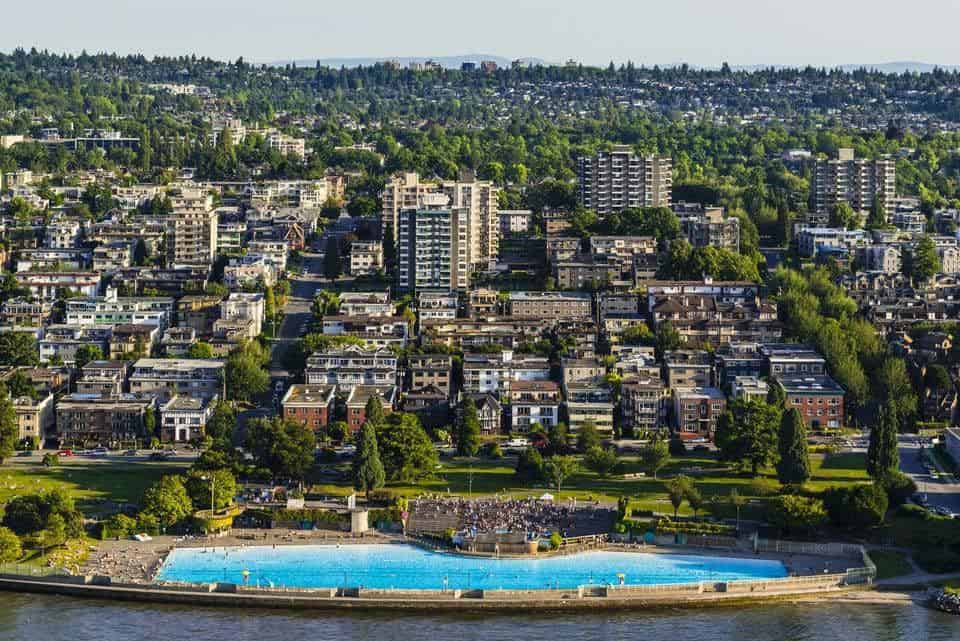 Image by Kitsila.ca via https://www.kitsilano.ca/bed-and-breakfasts/
Kitsilano is a relaxed neighborhood known best known for having one of the best city beaches in the world, Kitsilano Beach. This neighborhood thrives with organic restaurants, retail stores, water sports, and other attractions.
Cycling is a great way to explore this area because dedicated cycling routes take you past the Vancouver Convention Centre, Vanier Park, Jerico Beach, and the Pacific Spirit Regional Park, which has 875 acres of lush greenery.
If you're a fan of museums, you can visit the Museum of Vancouver and H.R. MacMillan Space Centre located at Vanier Park.
Before you leave Kitsilano, we recommend shopping at the Local Farmer's Markets, where you can find local organic produce, baked goods, seafood, arts and crafts, and live music to round out the shopping experience.
Things to Do at Kitsilano
Aside from the well-known 'Kits' beach,' we recommend paying a visit to the Kitsilano Farmers Market, which is held on Sundays from May to October.
It's located at 2690 Larch Street and sells almost everything, including local and fresh produce and handmade artisan products, and there's even live music in the market.
---
That's about it for the best Vancouver neighborhoods to visit. We hope this article gives you an idea of what's in store for you if you decide to explore the different areas of the city.
In case you're looking to visit some upscale districts, we recommend you check out our article on the richest neighborhoods in Vancouver.