The 9 Best Kitchen Renovation Services in Vancouver
The kitchen is the heart of your home. It's where you prepare meals, gather with friends and family, and store everyday items.
Renovating your kitchen can be one of the most significant improvements you can make to your home.
Whether you're building one from scratch or just want to spruce up your existing one, we've compiled a list of the best kitchen renovating services in Vancouver to help make your search easier.
How Much Does a Kitchen Renovation Cost in Vancouver
The cost of a kitchen remodel is determined by the services needed. Some kitchens may only need new tiles or upgraded countertops and cabinets, while others may require a complete redesign.
In general, the cost of a complete kitchen remodel may cost up to CAD 70,000, although this price varies on your renovation needs.
Before we get into our list, let us first take a look at how much these services may cost.
| Services | Estimated Costs |
| --- | --- |
| Complete Kitchen Remodel | CAD $50,000 -$70,000 |
| Tile Installation | CAD $1,000 - $5,000 (varies on the type of flooring) |
| Lightings | CAD $150 - $400 |
| Doors and Windows | CAD $300 - $1,800 |
| Customer Cabinetry | CAD $4,000 - $10,000 |
| Walls and Ceilings | CAD $2 - $4/square foot |
| Plumbing | CAD $860 - $3,000 |
| Design | CAD $50,000 - $70,000 |
| Appliances | CAD $200 - $10,000 |
The Best Kitchen Renovating Services in Vancouver
When it comes to kitchen renovating in Vancouver, you can't just hire any contractor and expect the best results.
We've assessed the following companies based on the criteria below.
1. Siema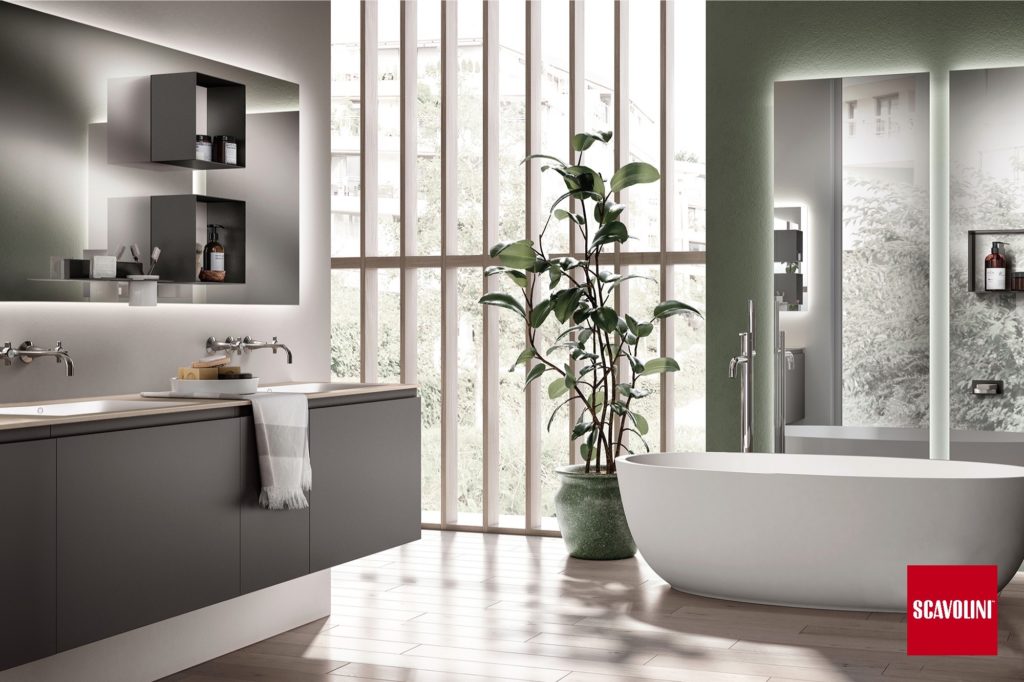 Test
Info
SERVICES
Home Remodels

Kitchen Remodels

Restaurant Remodels

Home Remodels and Kitchen Remodels

WEBSITE
https://siema.ca/
ADDRESS
1854 West 4th Avenue, Vancouver, BC, V6J 1M3
CONTACT DETAILS
Phone: +1 604-569-1530

Email: [email protected]

OPERATING HOURS
Open 24/7 via chat
| | |
| --- | --- |
| Workmanship | ★★★★★ 5/5 |
| Range of Service | ★★★★★ 5/5 |
| Availability | ★★★★★ 5/5 |
| Customer Service | ★★★★★ 5/5 |
Our experience with Siema Kitchen and Bath the kitchen renovation virtuosos, left us awestruck and delighted. Their services, marked by precision and finesse, are truly top-notch.
Siema's convenience factor is a game-changer. From the initial consultation to the final reveal, every step was executed with efficiency and grace.
Their commitment to timeliness is a breath of fresh air in the renovation industry.
Reputation matters, and Siema's reputation precedes them. We had heard glowing reviews from friends and colleagues, and our own experience only reinforced their stellar standing.
Their consistency in delivering exceptional results is truly commendable.
When it comes to cost, Siema proves that quality doesn't always come with a staggering price tag, even for their Scavolini Vancouver line.
Their transparent pricing structure and commitment to staying within budget left us pleasantly surprised. It's a rare find in the world of renovations.
Siema's attention to detail is nothing short of extraordinary.
Our kitchen transformation was a masterpiece of craftsmanship, from the exquisite cabinetry to the flawless tiling. It's evident they take immense pride in their work.
Communication was seamless throughout the project. Our questions and concerns were addressed promptly, and the project manager was always a phone call away.
Siema's dedication to customer satisfaction is truly remarkable.
The skilled artisans at Siema bring creativity and innovation to every project.
Our kitchen design exceeded our wildest dreams, blending modern aesthetics with functionality seamlessly. It's a testament to their design prowess.
Cleanliness matters during renovations, and Siema left no room for complaints. Our home was left spotless, and the attention to tidiness during the project was a testament to their professionalism.
However, they can get busy during peak days. We recommend booking them ahead of time.
Expertise
Timeliness
Reputation
Affordability
Customer Reviews
"Siema exceeded our expectations! Their attention to detail and professionalism made our kitchen renovation a breeze."
"Siema's cost-effective solutions and top-notch craftsmanship transformed our kitchen into a work of art. Highly recommend!"
2. JTR Artworks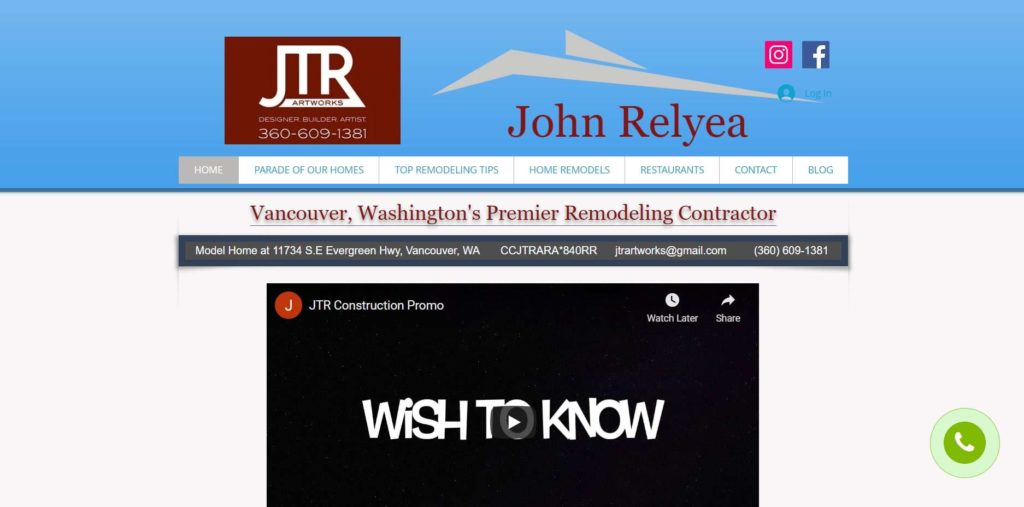 | | |
| --- | --- |
| Workmanship | ★★★★★ 5/5 |
| Range of Service | ★★★★☆ 4/5 |
| Availability | ★★★★★ 5/5 |
| Customer Service | ★★★★★ 5/5 |
John Relyea, the owner of JTR Artworks, has over two decades of residential construction experience and has built over 50 homes in Vancouver.
Their exhibition of homes impressed us as we explored the various home styles they have done over the years. We particularly liked their formal ranch-style homes for their spacious and simple design, which is ideal for families.
This business provides complete home, kitchen, and bathroom remodels. We appreciate how they go above and beyond to make each remodel project unique.
Now, one thing we immediately noticed is that John discusses the construction and design choices with his customers. He incorporates their suggestions to make their visions a reality, making it a more personalized experience.

Many of the customers we've spoken with have commented on how this establishment has excellent subcontractors who can complete projects on time.
We also share the same beliefs of this business that homes should reflect the personality of their owners. So suffice to say, we like that they combine style and function.
JTR also provides restaurant and bar remodeling! These services include construction and design, with clients given various design options to suit their business needs.
Overall, JTR Artworks is one of the best remodeling services in Vancouver, providing high-quality remodeling services that combine comfort and style.
Over two decades of experience
Offers complete home remodels
Provides restaurant and bar remodeling services
Has an online blog of remodeling tips and tricks
No custom cabinetry and countertop services available
No information about base prices 
Customer Reviews
Fair pricing and professional sub-contractors
"Johns got a great thing going on. Excellent sub contractors and very fair pricing. We just completed our kitchen and flooring after a grueling four months due to water damage. Once we got the water damage contractor out of the way John and his crews took over and made things happen. We thank John for putting us back I. The frame of mind where we can get excited about working on our home. Prior to this we were just fix it and move on. John also taught us a ton about details. Dealing with John and his sub contractors was a very fun experience." – Gene M.
Excellent workmanship
"John was responsive and professional throughout our kitchen remodel project. He was able to bring together a quality team that completed our remodel in a timely manner. We are pleased with the workmanship." -Asmah H.
3. Align Concepts Construction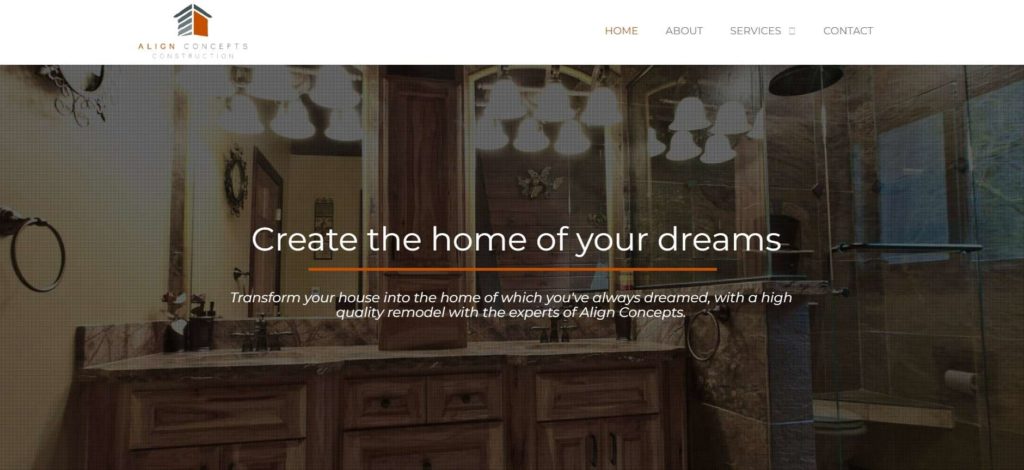 Test
Info
SERVICES
Kitchen Remodeling Bathroom Remodel Tile Installation
WEBSITE
https://dev.alignremodel.com/
ADDRESS
810 Main St, Vancouver, WA 98660
CONTACT DETAILS
Phone: 360-606-3292

Email: [email protected]

OPERATING HOURS
Monday - Friday: 08:00 AM - 05:00 PM
| | |
| --- | --- |
| Workmanship | ★★★★★ 5/5 |
| Range of Service | ★★★★☆ 4/5 |
| Availability | ★★★★★ 5/5 |
| Customer Service | ★★★★☆ 4/5 |
Align Concepts Construction provides kitchen and bathroom remodeling as well as tile installation.
We were especially impressed with how they increased the value of their customers' homes. They accomplish this by offering their clients appliance upgrades that increase their home's value and overall productivity.
We also like that clients can customize the look of their kitchen to suit their preferred aesthetic. Align Concepts' offers custom countertops ranging from granite to cherry wood.
Furthermore, Align Concepts' provide design advice as well. This company encourages their customers to be more energy-efficient and offers tips on saving money on maintenance.

If that's not enough, we also noticed that Align Concepts uses long-lasting and environmentally friendly materials. We appreciate that they consider the environmental impact of their materials.
Another thing that drew our attention was that they provide tile installation services, which we believe is an excellent addition to their kitchen and bathroom remodeling services.
In short, Align Concepts earned a spot on our list because of their cost-effective and environmentally friendly material and design options.
Offers appliance upgrades
Offers custom countertops
Provides tile installation services
Provides environmental-friendly materials
Relatively fewer remodeling services
Closed on weekends
Customer Reviews
Can accommodate urgent schedules
"Ben was a life saver in my entire home remodel project! He accommodated my urgent and tight schedule, provided cost saving recommendations on design and quality of material. He is a high level professional with lots of valuable contacts that respect him in the industry. My remodel turned out beautiful, timely and affordable; all thanks to Ben and his team!." -Dina K.
Professional and top-notch materials and finishes
"From the time Ben arrived at our home throughout the entire project he was very cordial and professional. He worked with us to provide a comprehensive estimate to submit to the insurance company and communicate with our agent to review his estimate. Ben was extremely helpful with selecting materials and finishes. His work is of superior quality and we would highly recommend his company. We plan to use Align Concepts again, for a future bathroom remodel." -Jeff B.
4. Design Doctors Contstruction LLC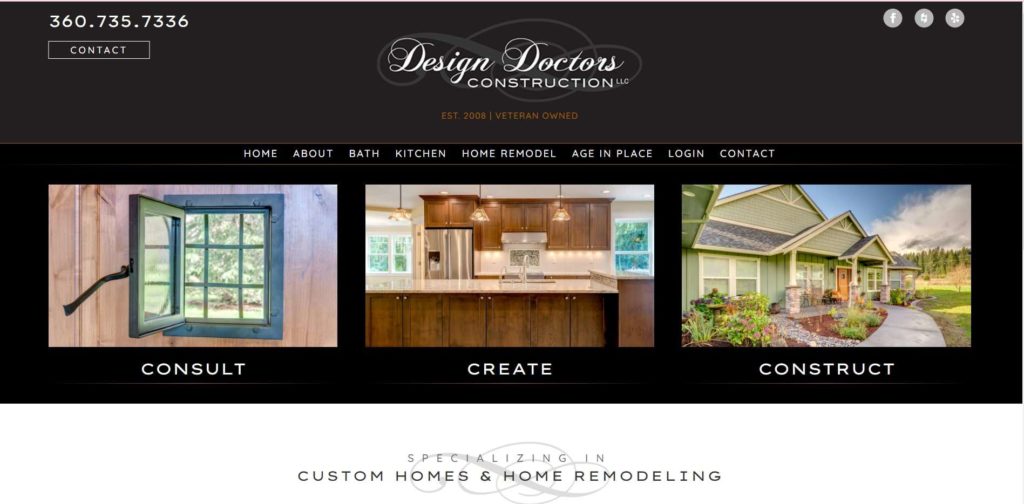 | Test | Info |
| --- | --- |
| WEBSITE | Bathroom Remodel Kitchen Remodel Home Remodel |
| WEBSITE | https://designdoctorsconstruction.com/ |
| ADDRESS | 3110 NE Minnehaha St. Suite G, Vancouver, WA 98663 |
| CONTACT DETAILS | Phone: 360-735-7336 |
| OPERATING HOURS | Monday - Friday: 08:00 AM - 05:00 PM |
| | |
| --- | --- |
| Workmanship | ★★★★★ 5/5 |
| Range of Service | ★★★★★ 5/5 |
| Availability | ★★★★★ 5/5 |
| Customer Service | ★★★★☆ 4/5 |
Design Doctors Construction has provided remodeling services and custom construction projects in Vancouver since 2008. We like that they can handle almost any renovation project, from a simple makeover to a major redesign.
Their selection of custom homes particularly impressed us because this company designs houses where natural light can enter freely. In our opinion, this design is ideal for making homes more spacious and roomy.

With all their years of experience, we're not surprised that they can build custom homes from the ground up.
We believe that Design Doctors Construction is ideal for customers who require a complete home renovation because they incorporate their clients' ideas into the remodeling process.
In fact, many of the customers we've spoken with have commented on how kind and polite the staff is, with a positive can-do attitude that always ensures clients' comfort.
Overall, we believe that Design Doctors Construction is one of the best remodeling services in Vancouver. They offer a personalized home, kitchen, and bathroom design that can cater to a large customer base.
Specializes in custom homes
Provides custom tile showers
Free online or over the phone consultation
Can accommodate major redesign projects
Limited range of services
Relatively higher rates
Customer Reviews
Very easy to work with
"Design Doctors helped us design and remodel our kitchen and add a wine/coffee bar. They took our ideas and helped create an amazing new kitchen for us. Everyone who comes over comments on how great our kitchen looks now!! It's so open and a lot more functional. All the workers were very professional, helpful and very easy to work with. We will definitely be using Design Doctors again!." -John H.
Knowledgeable and high-standards
"My husband and I have known and worked with Justin Ross for almost five years now. He remodeled our home and has been by our side with various needed repairs over time since the remodel. He is kind, knowledgeable and stands high on integrity. He has "talked me off the roof" many times and always has a sense of humor and positive "can do" attitude. Justin and his crew do not disappoint. They are "the best"!." -Betsy H.
5. iForest Design and Build
SERVICES
Interior Design
Custom Home Building
Home Renovations
Short-Term Rental Management
Furnishings
WEBSITE
iforestdesignbuild.ca/
ADDRESS
1375 Maple St, Vancouver, BC V6J 3S1
CONTACT DETAILS
604.351.1140
[email protected]
OPERATING HOURS
Monday – Sunday, 9:00 AM – 5 PM
| | |
| --- | --- |
| Workmanship | ★★★★☆ 4/5 |
| Range of Service | ★★★★★ 5/5 |
| Availability | ★★★★★ 5/5 |
| Customer Service | ★★★★★ 5/5 |
iForest Design and Build is a company that offers exceptional interior design and kitchen remodeling services. With their team of dedicated professionals, they aim to create a space that reflects the vision and style of their clients. Their interior design services focus on collaboration and attention to detail, ensuring that every aspect of the project is carefully planned and executed.
One of the standout features of iForest Design and Build is their integrated design-build model. This approach allows them to seamlessly integrate the design and construction processes, resulting in a smooth and efficient project experience for their clients. By having one company responsible for the entire project, clients can benefit from a design that fits their budget, improved communication, and the assurance that their project will be handled from start to finish.
In addition to their interior design and remodeling expertise, iForest Design and Build also offers property management services, including a profitable short-term rental program. This additional service can help clients maximize their investment returns.
The company takes pride in its team of skilled tradespeople, who maintain the highest standards of craftsmanship. All specialty trade partners are licensed and insured, ensuring a professional and reliable service.
Client satisfaction is a top priority for iForest Design and Build. They are dedicated to building and maintaining long-standing relationships, not only with clients but also with vendors. Their commitment to quality extends beyond project completion, as they provide ongoing support and assistance even after the project is finished.
Exceptional interior design and kitchen remodeling services.
Integrated design-build model for a seamless project experience.
Property management services and profitable short-term rental program.
Customer Reviews
Working with them was the best experience. 10/10 recommend
"LOVE! Angela and Gillian are absolutely amazing, they have the best energy. Working with them was the best experience. 10/10 recommend." – Vanessa Mayberry
The contractor was very skilled and respectful. We are so impressed with the workmanship.
"Just had our kitchen and bathroom renovated! They were so professional and the quality was incredible. The design is perfect and now every time I walk in there it makes me so happy! Highly highly recommend to all, such a great company and wonderful to work with to create the best space. The contractor was very skilled and respectful. We are so impressed with the workmanship." – Claire Lingley
6. JDI Construction NW LLC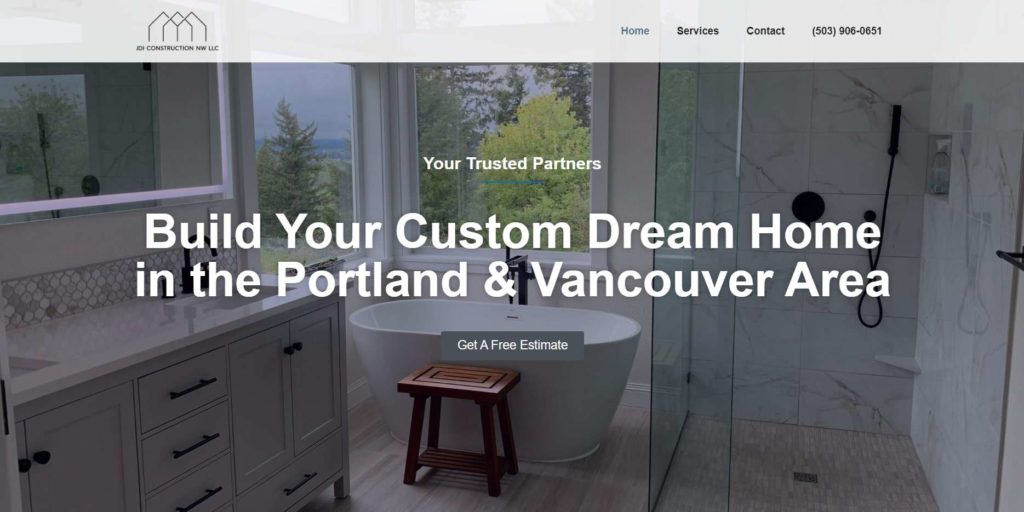 | Test | Info |
| --- | --- |
| SERVICES | Bathroom Remodel Kitchen Remodel House Additions Whole House Remodel |
| WEBSITE | https://jdiconstructionnw.com/ |
| ADDRESS | 2917 Washington St, Vancouver, WA 98660, United States |
| CONTACT DETAILS | Phone: 503-906-0651 |
| OPERATING HOURS | Monday - Sunday: 07:00 AM - 05:00 PM |
| | |
| --- | --- |
| Workmanship | ★★★★★ 5/5 |
| Range of Service | ★★★★★ 5/5 |
| Availability | ★★★★★ 5/5 |
| Customer Service | ★★★★☆ 4/5 |
JDI Construction is a complete remodeling service company that offers many services. They cover almost anything – from bathroom remodels and custom kitchens to new home builds and whole house remodels.
That said, we're big fans of their custom kitchen remodeling services. They provide a one-of-a-kind and functional designs for your kitchen, whether it's a minor renovation or a full-service design.
Another thing that caught our attention is that JDI Construction also offers house additions. They can help with home improvements by upgrading furniture and appliances, repainting, tile installation, and much more.
Now, if you're hesitant to renovate because of cost, JDI Construction provides a free consultation. During this time, they will discuss your needs, budget, schedule, and other factors.
JDI Construction can accommodate complex projects such as electrical, painting, fixtures, and many others. They also do bathroom remodels and can help with everything from floor plans to material selection to finishing touches.
All in all, we particularly like their tendency to produce minimalist designs. In our opinion, this makes homes appear more appealing and organized.
Free estimate and consultation
Can accommodate full-service design projects
Specializes in space-saving design
Offers home additions
Limited availability
No professional cleaning service included
Customer Reviews
Attentive to requests and excellent sub-contractors
"I started with remodeling my master bathroom and closet but I kept adding new projects. Art was extremely attentive to my needs and requests. As the project included so much more than electrical, plumbing, painting, fixtures, bathroom vanities, laundry room remodel, counter tops, tiling and even went into having the driveway resurfaced, each portion was coordinated with excellent subcontractors. Things look great. Thanks." -Taffy S.
Responsive and reasonable prices
"JDI did a fantastic job refurbishing my kitchen. Extremely responsive, hard working and reasonably priced. I will use them again when I remodel my bathrooms. Thank you Art, Eric and team!." -Jonathan R.
7. Kitchen Remodel Vancouver
| Test | Info |
| --- | --- |
| SERVICES | Kitchen Remodel Kitchen Renovation Kitchen Design Bathroom Remodel Bathroom Renovation Bathroom Design |
| WEBSITE | https://www.kitchenremodelvancouver.com/ |
| ADDRESS | 8601 NE 86th St Vancouver, WA 98662​ |
| CONTACT DETAILS | Phone: 360-810-5821 |
| OPERATING HOURS | Monday - Sunday: 09:00 AM - 07:00 PM |
| | |
| --- | --- |
| Workmanship | ★★★★☆ 4/5 |
| Range of Service | ★★★★★ 5/5 |
| Availability | ★★★★★ 5/5 |
| Customer Service | ★★★★☆ 4/5 |
Kitchen Remodel Vancouver is a full-service remodeling and renovation firm specializing in kitchen and bathroom remodeling.
We recommend their services because they provide a variety of packages that we believe are best suited for clients with specific remodeling requirements.
This business is quite known for their prompt service. In fact, most customers we've spoken with have remarked on how they were able to remodel an entire kitchen in less than a week, which we find impressive.
Kitchen Remodel Vancouver also creates custom kitchen cabinets and countertops, and we especially appreciate that they help with the floor installation and appliance installation.
Furthermore, this company provides kitchen design services, including assisting with proper storage and space for all of your kitchen supplies.
We highly recommend this service because Kitchen Remodel Vancouver offers energy-efficient lighting, modern sinks, and faucets in addition to custom furniture.
In our opinion, this makes them a one-stop-shop for clients because they offer a wide range of services. Did we fail to mention that they offer bathroom remodeling projects as well?

We were particularly impressed that they design your bathroom using computer software, which is a convenient way for clients to plan and visualize their ideas before implementation.
Another nice touch with Kitchen Remodel Vancouver is that they offer a wide range of bathroom designs such as Modern, Mediterranean, Victorian, and many more.
We also like how their staff can help you choose the best shower, sink, and tub combination to complete the overall aesthetic look of your bathroom.
Wide range of services
Open seven days a week
Creates custom kitchen cabinets and countertops
Provides kitchen design services
Uses design software
Offers numerous bathroom designs
Relatively higher prices
Requires initial deposit before starting
Customer Reviews
Polite, respectful, and punctual
"My wife and I decided to remodel our whole entire kitchen! we order new cabinets and Artom was the first to respond, he came over to take measurements, he was very polite, respectful, on time! He walked us through ever step, made us feel very confident! The Professionalism that these gentlemen have is amazing! I had my kitchen up and running in just under a week! Keep it up boys! Job well done!." -James S.
Overall pleasure to work with
"A wonderful experience with this company. Responsive, professional, and an overall pleasure to work with. I recommend them to anyone looking/planning for a kitchen remodel!." Bogdan S.
8. Heilman Renovations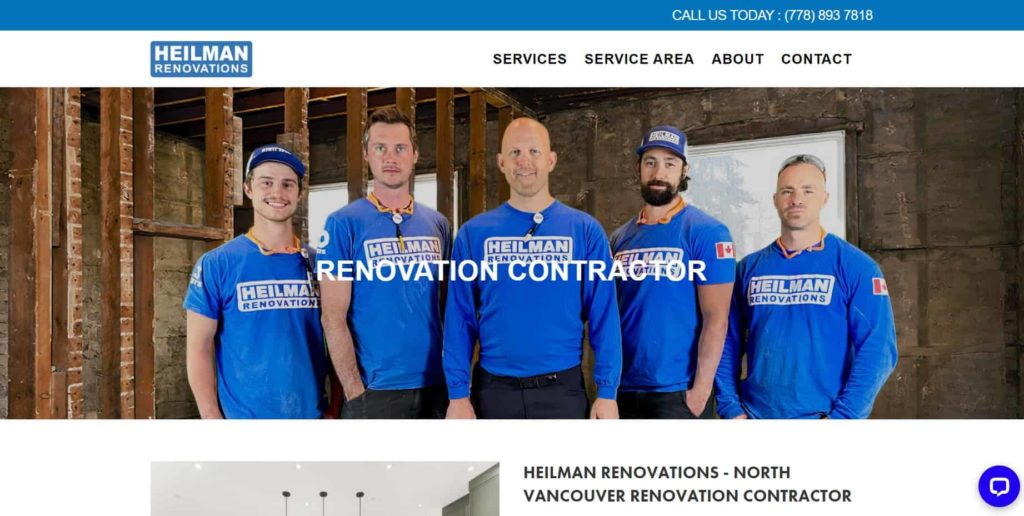 | | |
| --- | --- |
| Workmanship | ★★★★★ 5/5 |
| Range of Service | ★★★★★ 5/5 |
| Availability | ★★★★☆ 4/5 |
| Customer Service | ★★★★★ 5/5 |
Heilman Renovations is a company operated and founded by Joe Heilman that provides its clients with a versatile and comprehensive array of renovation services that especially focuses on kitchen and bathroom renovation.
May it be in a home or commercial setup, they have been in the industry for over 25 years already which says a lot about their expertise and credibility in the field to ensure that clients get excellent results from design down to its implementation.
Past clients that have worked with them in the past have commended them for their efficient services and great attention to detail that enabled each project to be implemented in a smooth and hassle-free manner.
Note though that rates of their services aren't readily available on their website which interested clients may need to inquire further for this.
Overall, with communicative customer service, a versatile array of designs and styles to be implemented, and a wide coverage area accommodated, we highly recommend interested clients to check them out.
Versatile and comprehensive renovation services
High quality materials utilized
Prompt and responsive customer service
Rates of their services aren't readily available
9. Kaizen Renovations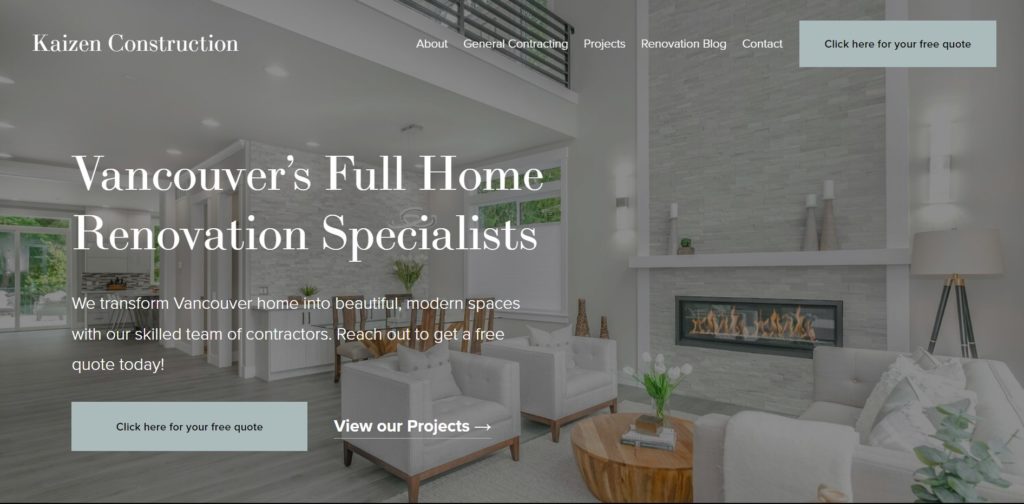 Test
Info
SERVICES
Bathroom Renovations

Kitchen Renovations

Floor Renovations

Bathroom Upgrade

Full-Home Renovation

Deck Post Replacement

Loft to Bedroom Conversion

WEBSITE
https://www.kaizenrenovations.com/
ADDRESS
1266 W 7th Ave, Vancouver, BC V6H 1B6, Canada
CONTACT DETAILS
(604) 916-4175
OPERATING HOURS
Monday to Saturday: 7:00 - 21:00

Sunday: 7:00 - 9:00
| | |
| --- | --- |
| Workmanship | ★★★★★ 5/5 |
| Range of Service | ★★★★★ 5/5 |
| Availability | ★★★★★ 5/5 |
| Customer Service | ★★★★★ 5/5 |
Kaizen Renovations is a reputable general contracting company in Vancouver, specializing in providing value-added renovation and dream build services.
With over 20 years of Project Management, Renovation, and Construction experience, the owner Stan Lorenzo brings extensive expertise to every project. His hands-on approach and attention to detail ensure high-quality work and client satisfaction.
What's great about them is that they offer a wide range of general contracting services, including kitchen remodeling, new home additions, and entire house remodels. They cater to the specific needs and preferences of each individual client.
Aside from this, they also uphold strong ethics and prides itself on outstanding project management, exceptional work quality, passion, creativity, and respect.
We like that they always make sure to prioritize client satisfaction and deliver reliable and honest services.
While Kaizen Renovations offers a wide range of renovation services, they primarily focus on general contracting. Customers seeking specialized kitchen design services or custom cabinetry may need to look for dedicated specialists in these areas.
Expertise and Experience
Comprehensive Renovation Services
Transparent and Ethical Practices
FAQs On Kitchen Remodeling Services in Vancouver
---