Where to Get the Best Washing Machine Repair in Vancouver
So you go to do a load of laundry and you find that your machine doesn't work. But it's laundry day and your clothes aren't going to magically clean themselves.
To help you get out of that conundrum, we've taken a look at some of the best washing machine repair shops in Vancouver.
The Cost of Washing Machine Repair in Vancouver
There are a lot of factors that can go into how much it costs to get a washing machine repaired in Vancouver. Things like labor, time, and parts are all going to factor into the bottom line.
To help give you a sort of reference, we've put together this table below.
| | |
| --- | --- |
| Minor repairs | $85 |
| Major repairs | $575 |
| Average cost | $300 |
Keep in mind that the table above isn't meant to be indicative of what you may encounter in the real world. It's just a ballpark figure to help you get a clear idea of what to expect.
The Top Washing Machine Repair Services in Vancouver
We assessed the best places to get a washing machine repaired in Vancouver based on the following criteria:
1. Number One Appliance Service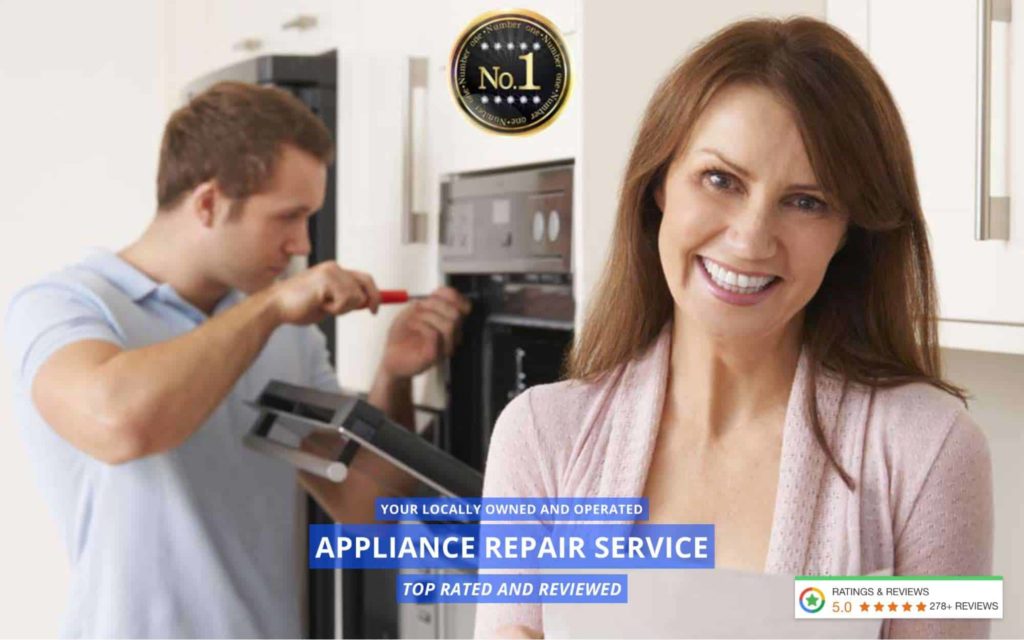 Test
Info
ADDRESS
Vancouver City, Vancouver, BC V6Z 2X6
WEBSITE
https://appliancerepairservice.ca/bc/
CONTACT DETAILS
(604) 710-4942
Monday to Friday, 8am to 7pm

Saturday and Sunday, 8am to 4pm

BUSINESS HOURS
Monday - Sunday: 10:00 AM - 06:00 PM
| | |
| --- | --- |
| Availability | ★★★☆☆ (3/5) |
| Promptness | ★★★★☆(4/5) |
| Customer Satisfaction | ★★★★☆ (4/5) |
So, getting a washing machine repaired can be expensive. Most people want to have an estimate so they can either set aside the money or find someone else a little more in their price range.
The thing about Number One Appliance Service is that they're pretty good at being upfront about their pricing. A service that they offer, which we like, is that they offer online estimates.
Sure, these estimates may not always end up being accurate, but it's still nice of them to give their customers a heads up so they can get a ballpark figure. That's some really great communication on their end.
Speaking of great communication, there's also the technicians. Based on our observations, the technicians who interacted with the customers were really great about communicating exactly what it was that went wrong and how to fix it.
And another thing we liked is their speed. Washers and dryers are pretty important appliances since almost no one's got the time to hand wash clothing anymore, and the people at Number One can get them fixed pretty quickly.
All in all, Number One Appliance Service finds itself ranking pretty highly in our books because of how well they communicate with their customers and solve their problems.
Repairs quickly
Upfront about pricing and estimates
Estimates not always accurate
Can be hard to reach
Customer reviews
Fantastic
"Sergiy is fantastic! He was great at communicating and exceeded my expectations of service. His pricing is reasonable and he was able to fix our dryer easily and quickly. This guy is a friendly, honest hard worker!!! I'd recommend him to everyone. He showed up exactly when he said he would – even texted to confirm the night before and when he was about 15-20mins away. Don't hesitate – this is the guy to hire." – Victoria Kuzma
Probably the best
"Probably the best appliance repair service I've ever experienced. Ivan was prompt in answering my online request and arrived on time. He diagnosed the problem quickly, ordered the part needed and installed it the next day. A very pleasant young man. I would highly recommend #1 Appliance Service." – Gwen Roland
2. Better Care Appliance Repair
| Test | Info |
| --- | --- |
| ADDRESS | 1360 Hornby St Unit 202, Vancouver, BC V6Z 2L8 |
| WEBSITE | https://bettercareappliances.ca/ |
| CONTACT DETAILS | (778) 986-8277 |
| BUSINESS HOURS | Monday to Sunday, 8am to 8pm |
| | |
| --- | --- |
| Availability | ★★★★☆ (4/5) |
| Promptness | ★★★★☆ (4/5) |
| Customer Satisfaction | ★★★★☆ (4/5) |
Sometimes, it's not enough to just get the job done. Sometimes, you need to make sure that job stays done.
Making sure that a job stays done is something that Better Care Appliance Repair cares about, at least based on our observation.
A lot of the customers we talked to mentioned that the company's technicians followed up with them a few days after service to make sure that they were satisfied and that nothing had gone wrong.
There's also something to be said about keeping the customer updated and, based on what we observed, that's another thing they do at Better Care. Customers were kept apprised of repairs and of how much longer it would be.
But there's also the repairs themselves. We observed that repairs were generally done quickly, within a day or two. They also cleaned the parts in order to maximize how well they functioned, so that's a great thing for the customers.
Not only did the technicians fix the problems, they also made sure to inspect the appliance for other issues in order to prevent them from arising.
Overall, we found Better Care Appliance Repair to be really great – as their names implies, we think that they're better than most.
Technicians follow up after service
Technicians keep customers updated
Can be relatively expensive
Customer service can be lacking
Customer reviews
Impeccable
"We have had the opportunity to use Alex' expertise on a number of occasions. Once when our furnace quit, he was quick to respond, providing safe and timely service that got us up and running in no time at all. His advice was invaluable, his approach impeccable, and the results always reliable. Same experience with our washer/dryer situation, as well as advice on electrical issues we were experiencing.
I highly recommend Alex and team for any of the major household appliance domain areas. We'll definitely call upon him again the future (it's an old house!)." – George Hofsink
3. Andy's Appliance & Refrigeration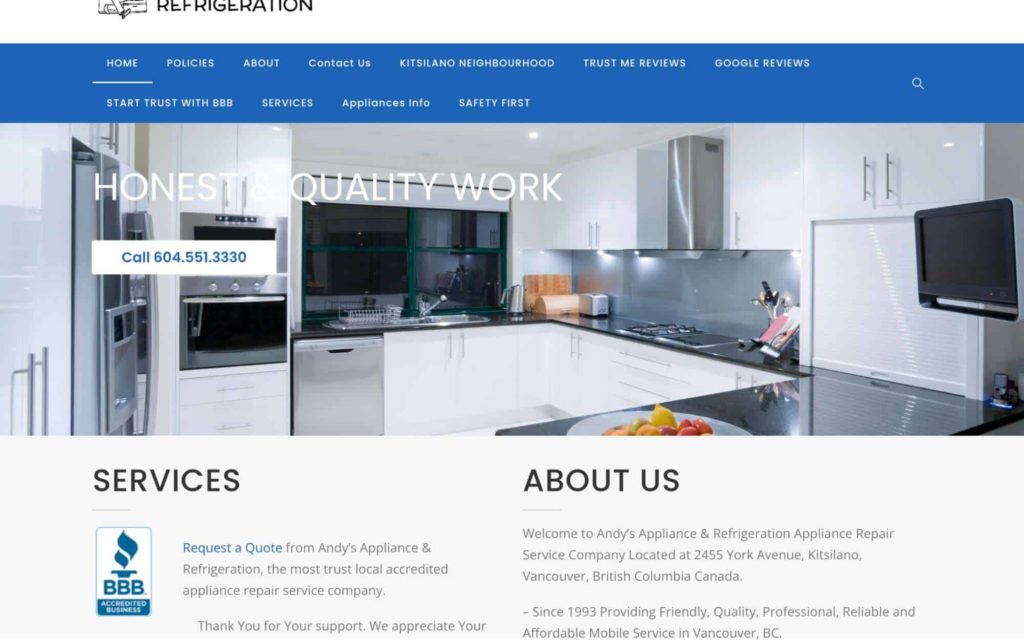 | | |
| --- | --- |
| Availability | ★★★★☆ (4/5) |
| Promptness | ★★★★☆ (4/5) |
| Customer Satisfaction | ★★★★☆ (4/5) |
Andy's Appliance & Refrigeration made our list because we think they tend to go the extra mile in their repairs.
We observed that they cleaned out dryer outlets on jobs, for example, removing quite a bit of lint in the process. This is something we like to see since it shows proactiveness on their part (since lint can cause damage to appliances even when it's not the main culprit).
But as for their actual repair process, we saw nothing that made us think that they wouldn't be a good fit for most people. Based on our observations, they were fast, they were thorough, they knew what they were doing, and they did it well.
We've also noticed more than a few clients getting their appliances fixed the very day that the repairman came to their homes. That's always a good sign.
Installation jobs also seem to be done well. A fair number of the people we talked to said that Andy's technicians were able to easily install big appliances like washers for them even in tight spaces.
Overall, we found that Andy's Appliance & Refrigeration was a good option not just for getting something fixed, but for getting that service while also getting the feel of a neighborhood handyman.
Proactive technicians
Workers leave a site clean and tidy
Customer service can be subpar
Customer reviews
Courteous and Prompt
"I've used Andy's Appliance & Refrigeration Services a number of time now at our various properties and must say they are the most professional knowledgeable technicians I've worked with. Andy & Anna are very courteous and prompt but also they'll give you advice and recommendations on yo r appliances and how to take care of them. I wouldn't think of using anyone else. I would sooner wait a few days rather then call another company. Highly recommended.
Thanks for all the great service Andy & Anna !!!!" – Rob Bubek
Punctual and Honest
"I have used Andy many times for servicing of a dishwasher, washing machine and a few fridges. Andy was always knowledgeable, punctual, courteous and honest. He leaves the place clean and tidy. I have since recommended Andy to several friends. Highly recommend him" – Judy Lau
4. Appliance Repair Expert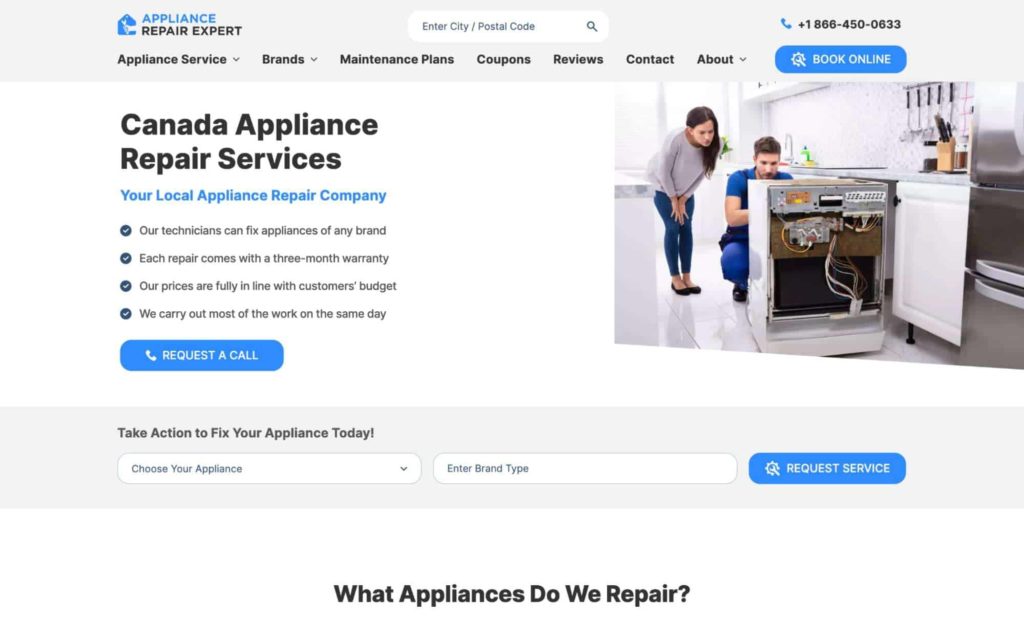 | Test | Info |
| --- | --- |
| ADDRESS | 422 Richards St Unit 170, Vancouver, BC V6B 2Z4 |
| WEBSITE | https://appliancerepairexpert.ca/ |
| CONTACT DETAILS | (604) 373-8239 |
| BUSINESS HOURS | Monday to Sunday, 7am to 11pm |
| | |
| --- | --- |
| Availability | ★★★★★ (5/5) |
| Promptness | ★★★★☆ (4/5) |
| Customer Satisfaction | ★★★★☆ (4/5) |
Prompt and responsive. Those are two words that customers have used to describe Appliance Repair Expert and we have to agree.
But we don't think that being prompt and responsive alone are always enough, of course. That's why we were happy to see that the people at Appliance Repair Expert shared our opinion.
When they respond to a call, they go in and fix the issue and they do so quickly so as to get the machine working again as soon as possible.
We noticed more than one customer getting their appliances repaired within a day, actually. The people at Appliance Repair Expert were also able to quickly source any parts that might be needed to get the job done.
But aside from that, they were effective. The consensus among their customers seems to be that their repairs last.
Moreover, they're flexible and accommodating.
Not only did they work with customers when it came to finding the right time to come out and fix the appliance, they also kept them appraised in special situations like having to order parts.
In short, we found that the people at Appliance Repair Expert do a great job in a short timeframe and they keep lines of communication open with their customers.
There were exceptions in the testimonies we collected, granted, but most of them were for unusual or more complicated jobs than average.
Technicians arrive quickly
Flexible scheduling
Can sometimes take a while to finish certain jobs
Customer reviews
Excessively grateful
"We are excessively grateful to the service and all recommend it. Appliance repair expert you are really the best. Thank you appliance repair expert for my Bosch refrigerator defrosts properly now. I don't know what I would do without you." – Elvin Cleary
Done in 2 hours
"My Frigidaire dryer stopped working today. Thank you to the expert at Appliance Repair Expert for coming so quickly at my request. The work was done in 2 hours after the call. Fantastic." – David Wright
5. One Click Appliance Repair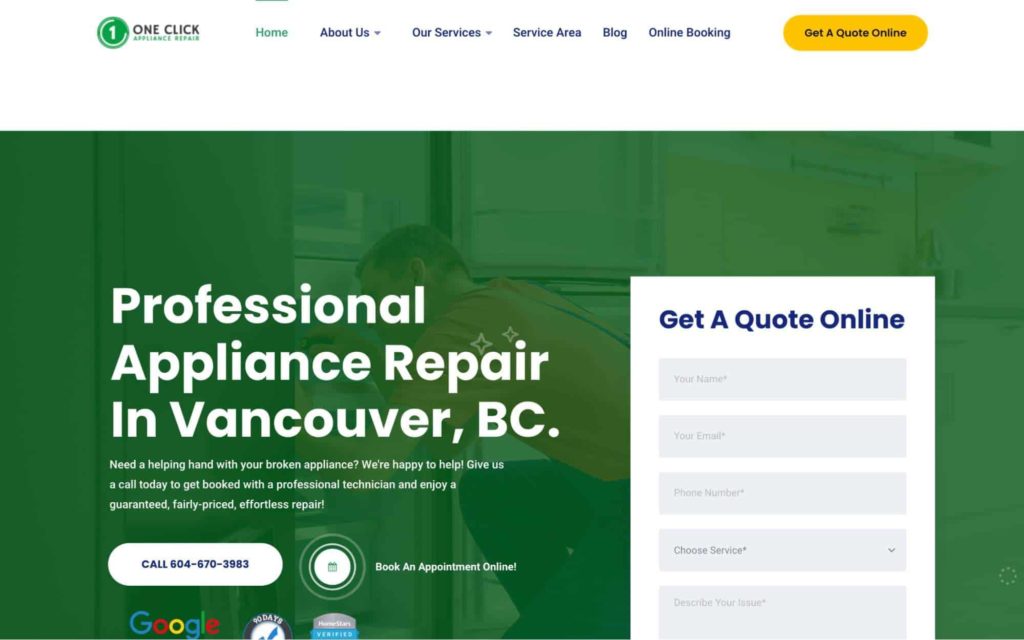 | | |
| --- | --- |
| Availability | ★★★★☆ (4/5) |
| Promptness | ★★★★☆ (4/5) |
| Customer Satisfaction | ★★★★★ (5/5) |
In life, there are those who are considered masters of their craft. When it comes to appliance repair, One Click Appliance Repair is a master of the craft.
At least, that's what a number of their customers said about them to us.
The first thing we observed about One Click is that they're prepared. We've observed them come out to a job, inspect what was wrong, and replace specialized parts all in the same visit so the customers had their appliance working again in short order.
Basically, we observed them get their jobs done without a hitch.
That's something that we like to see when it comes to appliance repair – no fuss, no muss. Just a job that's done and done properly.
Another thing they did was that they helped their customers with preventative maintenance. While they didn't give them a full syllabus, they did give customers a few tips and tricks to keep their appliances in as good a condition as possible.
Despite that, however, they're not miracle workers and they're honest about that. One customer had an appliance that was just beyond repair and rather than waste time and run up the bill, they told them so and advised them to get a replacement.
Technicians come prepared with specialized parts
Helps with preventative maintenance
Has technical expertise limitations (but will at least be upfront about it)
Customer reviews
Appreciate the effort
"Had an old washer dryer combo that broke down. Unfortunately it just wasn't worth getting it fixed. But I was very impresed with how thorough the repairpeople from this company were. The guys came here twice just to make sure they had everything covered and got the right info from the brand for us. Highly rated in our books and we appreciate the effort!" – Matthew Jackson
Very pleased
"Excellent service – appointment arranged within a day, Oleg arrived on time, quickly identified and resolved our problem. Competent, knowledgeable, professional, ethical, and reasonably priced. Very pleased. Thank you!" – Susanne Strothard Tingling
6. Pete's Appliance Repair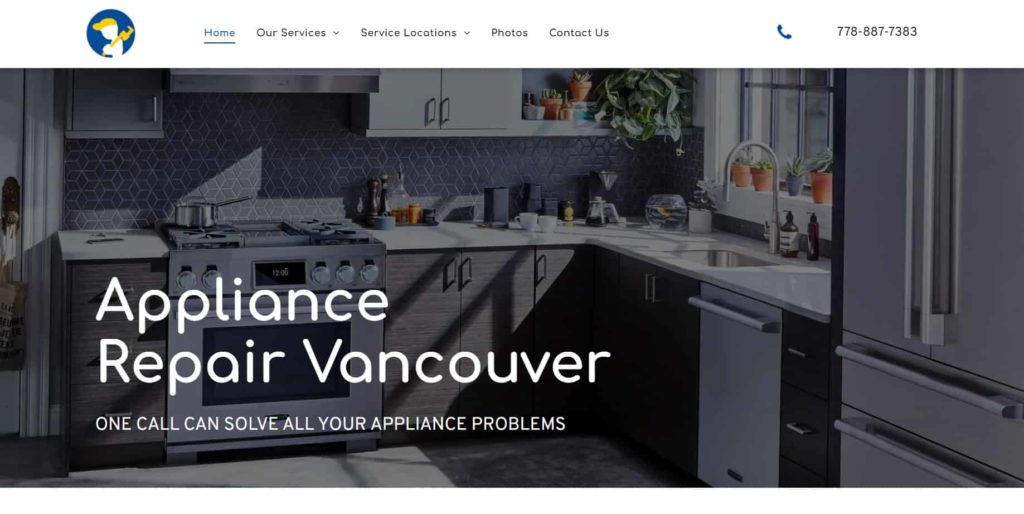 | | |
| --- | --- |
| Availability | ★★★★☆ (4/5) |
| Promptness | ★★★★★(5/5) |
| Customer Satisfaction | ★★★★☆ (4/5) |
Pete's Appliance Repair is a company that provides its clients with comprehensive and professional repair services for all sorts of household appliances such as dishwashers, refrigerators, and ovens among others.
Capitalizing on providing personalized services, we like that their personnel is well-equipped both in experience and tools needed for each repair job that they are to handle for clients.
Aside from this, they also have access to various genuine manufacturer parts from various appliance brands to ensure that any part replacements will be of excellent quality and can last for sustainable periods of time.
Note though that the repair services that they offer aren't readily available on their website to which interested clients may need to request an appointment with them for this.
Overall, with their excellent resources and knowledge on appliance repair, convenient and steadfast repair services, and professional team of personnel, we highly recommend interested clients to check them out.
Employs labor and part warranties
Assistive customer services
Wide scope of areas accommodated
Rates and packages of their services aren't readily available
Customer Reviews
Here are some reviews from their clients:
"I had a great experience with Pete. He arrived on time, diagnosed the problem quickly and fixed it efficiently. He was very professional, courteous and knowledgable. He charged me a very reasonable price and even gave me some tips on how to better maintain my washer. I highly recommend him to anyone who needs appliance repair services."
"I had a very good experience. Peter responded quickly and provided detailed explanation of the process and cost. The work was done within 1 hour (as quoted), and I appreciated Peter's experience and efficiency."
FAQs about Washing Machine Repair in Vancouver
---
If you need more general repairs around the house, then check out this list of the best handymen in Vancouver. You can browse our other reviews for home services too to find related companies.