The 5 Best Wedding Videographers in Vancouver
Wedding videography is a special kind of service that allows couples to share their special day with others. It helps keep these memories alive and can be replayed on your wedding anniversaries.
A wedding videographer is there to capture more than just good memories though. They ensure that your wedding video is clear and vivid, capturing the essence of this wonderful day along with all of your friends and family.
To figure out your best options, we've compiled a list of the best wedding videographers in Vancouver.
The Cost of Wedding Videography in Vancouver
A wedding videographer will help ensure that you get exactly what you want: the real, raw emotion that comes with an amazing memory captured on film.
You will probably not spend more than CAD 12,000 on photography and videography services. However, if you want to use additional services like live streaming or renting a photo booth, you'll have to pay an extra fee.
The most common types of services offered by these wedding videographers, as well as their average estimated cost, are listed in the table below.
| TYPES OF TIRE SERVICE | AVERAGE ESTIMATED COST |
| --- | --- |
| Wedding Photography and Videography Packages | CAD 3,800 - 12,000 |
| Adventure Elopements | CAD 5,000 - 9,000 |
| Proposal Shoot | CAD 295 - 500 |
| Engagement | CAD 400 - 3,000 |
| Family Portraits | CAD 295 - 1,200 |
| Behind the Scenes | CAD 50 - 75 |
| Livestreaming | CAD 500 - 800 |
| Photo Booth | CAD 150 - 300/per hour |
| Highlight Videos | CAD 1,000 - 1,500 |
The Best Wedding Videographers in Vancouver
Video is the best way to capture the story of your wedding day. It allows you to relive moments with friends and family, giving you a chance to reflect on how epic those days were.
Before settling on one company, it's critical to consider the experience, pricing, and quality of all options. The best wedding videographers have years of experience, an impressive portfolio, and high-quality equipment.
We've assessed the following establishments based on the criteria below:
1. Âme Collective Inc.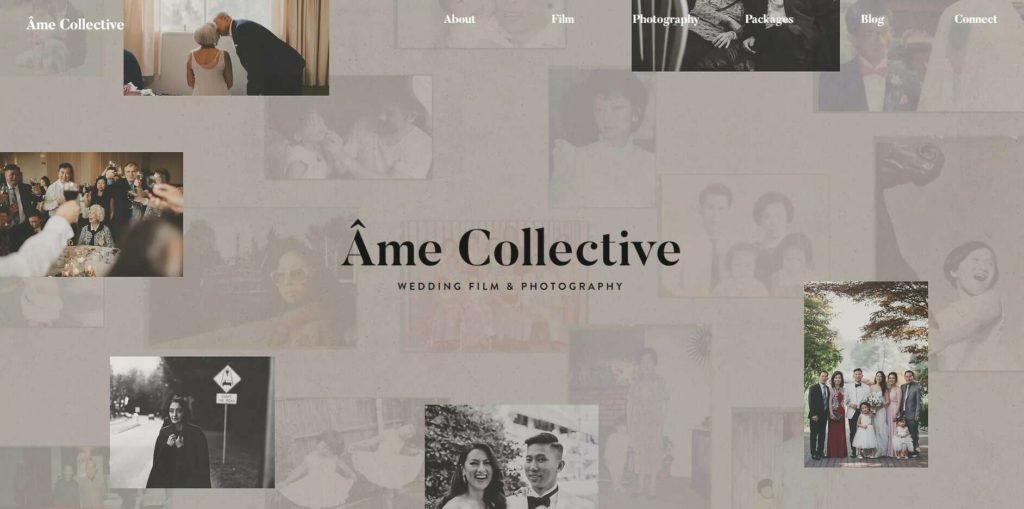 Test
Info
SERVICES
Wedding Film and Photography

Engagement Photography

Wedding Story Films

WEBSITE
https://www.amecollectiveinc.com/
ADDRESS
288 W 8th Ave #278, Vancouver, BC V5Y 1N5, Canada
CONTACT DETAILS
Phone: 778-798-8770

Email: [email protected]

OPERATING HOURS
Monday - Friday: 09:00 AM - 05:00 PM
| | |
| --- | --- |
| CRITERIA | RATING |
| Skill | ★★★★★ 5/5 |
| ⮕Filming Technique | ★★★★★ 5/5 |
| ⮕Portfolio | ★★★★★ 5/5 |
| Range of Services | ★★★★☆ 4/5 |
| Availability | ★★★★☆ 4/5 |
| ⮕Project Capacity | ★★★★★ 5/5 |
| ⮕Business Hours | ★★★★☆ 4/5 |
| Customer Service | ★★★★★ 5/5 |
Âme Collective is a full-service wedding photography and videography company specializing in capturing emotions through natural light and expression.
This company primarily provides wedding film, photography, and videography services. We were fascinated by their candid and natural photography and videography styles.
We were particularly impressed with their wedding story films service. This begins with a consultation in which they work collaboratively with clients to decide on a theme for their wedding story.
This service, in our opinion, is especially touching to create and watch because couples can see how their relationship has grown over the course of their relationship.
As for their packages, Âme Collective offers three different package options, including photography, film, and combined.
Unfortunately, the majority of these services only include two cinematographers, making them unsuitable for large events, in our opinion. Nonetheless, we believe this does not impact the quality of their services.
We also found it convenient that all of their packages include a USB copy of your photos and videos. We also appreciate that their base prices are available on their website.
Overall, we believe that Âme Collective deserved a spot on our list because their natural approach to capturing special moments distinguishes them as one of Vancouver's best wedding videographers.
Transparent pricing
Offers wedding story film services
Photography and videography packages available
All packages include a USB copy of your photos and videos
Relatively higher wedding videography rates
Limited cinematographers
Customer Reviews
Fun to work with and very professional
"If you are looking for a wedding and/or engagement photographer, stop looking because you found them. Will and Lauren were absolutely so much fun to work with and so professional! That's the gravy on top of the artistry that will come from their lenses. Will's concepts are so different but he manages to really capture the essence of the moment. Not only that, but we received our full gallery so quickly!! (Not bad considering we were the last ones standing between them and a vacation). I honestly don't think anyone would have captured our wedding day in print as well as Will and Lauren." -Rocio P.
Amazing filming technique
"To put it plainly – Lauren and Will are second to none when it comes to wedding photography. The way they manipulate light and shadows is like nothing I have ever seen. Were they on the pricier end? Yes! But I can't imagine having spent a penny less to get a much more mediocre product. They were absolutely amazing to work with. We felt comfortable and understood. And during the wedding it was like they weren't even there. I barely remember seeing them the whole time, but my photos were absolutely spectacular. You're crazy to hire someone else to save a few bucks. Find it in your budget because they are SO WORTH IT." -Morgan K.
2. Beautiful Life Studios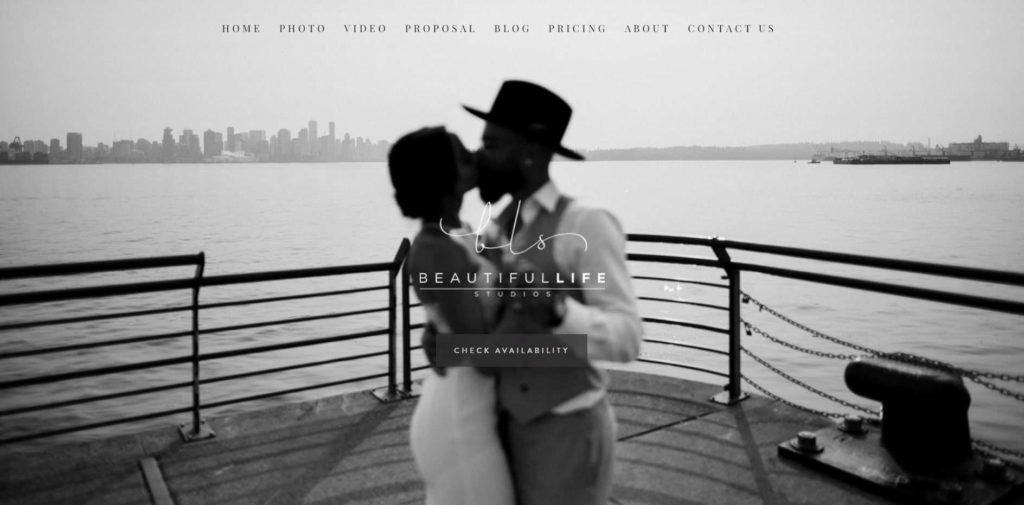 Test
Info
SERVICES
Wedding Videography

Wedding Photography

Engagement

Family Portraits

Proposal Shoots

WEBSITE
https://www.beautifullifebc.com/
ADDRESS
1228 Hamilton St Unit 503, Vancouver, BC V6B 6L2, Canada
CONTACT DETAILS
Phone: 778-383-6241

Email: : [email protected]

OPERATING HOURS
Monday - Sunday: 10:00 AM - 09:00 PM
| | |
| --- | --- |
| CRITERIA | RATING |
| Skill | ★★★★★ 5/5 |
| ⮕Filming Technique | ★★★★★ 5/5 |
| ⮕Portfolio | ★★★★★ 5/5 |
| Range of Services | ★★★★★ 5/5 |
| Availability | ★★★★☆ 4/5 |
| ⮕Project Capacity | ★★★★☆ 4/5 |
| ⮕Business Hours | ★★★★★ 5/5 |
| Customer Service | ★★★★☆ 4/5 |
Beautiful Life Studios is a full-service production studio in Vancouver specializing in cinematic and light videography.
This business employs a photojournalistic approach to its videography. In essence, it means taking candid shots to capture genuine emotions.
Beautiful Life Studios offers four video packages, each with a different number of coverage hours and inclusions.
Their most affordable wedding videography package starts at CAD 3,700. This package includes a raw wedding footage reel, a professionally edited ceremony, dances, speeches, and a 3-minute trailer.
If that coverage isn't enough for you, you might be interested in their full-day photo and video package, which includes 12 hours of coverage and is ideal for couples who want everything captured on their special day.
The rest of the inclusions are the same, but this package also includes two photographers and two videographers. You'll also get HD edited and colored corrected images, costing CAD 10,200 as of writing.
Unfortunately, we must point out that their service rates do not include tax. They also have a small team, which we believe limits their availability.
Nonetheless, we liked their team's diversity, which includes artists, photographers, videographers, and storytellers, which we believe strengthens their creativity and innovation.
Most of their staff also has extensive experience working with weddings from various cultures. These are Indian, Chinese, Greek, and others, which makes them more dependable and flexible.
We strongly recommend Beautiful Life Studios because they do an excellent job of capturing emotions in a minimalist and timeless manner.
Free quote 
Specializes in cinematic and light videography
Numerous service packages
Professional-grade equipment
Rates don't include tax
Small team
Customer Reviews
Lovely to work with
"We are so beyond thrilled with our engagement photos, wedding photos and wedding video! Evin (our photographer) is an absolute gem. So lovely to work with, hilarious and took GORGEOUS photos. Everyone we showed our albums too have been impressed. I highly recommend the Beautiful Life team. The cost for quality is unparalleled. We will hopefully be working with them for all of our future events/milestone moments!." -Dragana N.
Responsive and accommodating from start to finish
"It was a pleasure to have hired Beautiful Life Photography to take photos for our spring wedding. They were so responsive and accountable from day one, flexible with the last minute changes with our wedding and sooo personable! Not to mention they take AMAZING photographs!!! I am so grateful we had them be a part of our big day. Thank you so much Jake and Deanna!!." -Brooke M.
3. Here & Vow Studio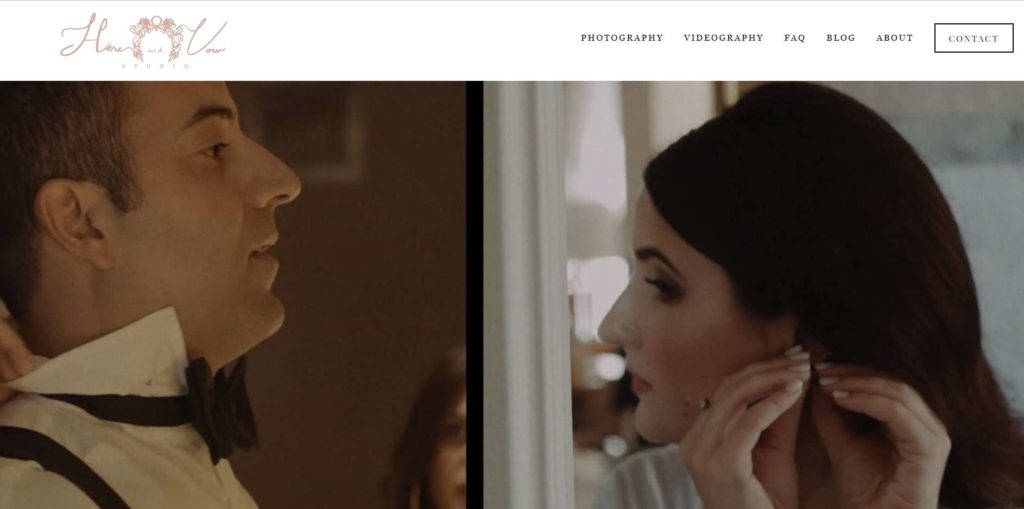 Test
Info
SERVICES
Wedding Photography and Videography

Engagements

Behind the Scenes

Family Portraits

Editorial

WEBSITE
https://www.hereandvowstudio.com/
ADDRESS
2050 Scotia St #510, Vancouver, BC V5T 4T1, Canad
CONTACT DETAILS
Phone: 778-873-4359
OPERATING HOURS
Monday - Friday: 08:00 AM - 06:00 PM

Saturday - Sunday: 10:00 AM - 06:00 PM
| | |
| --- | --- |
| CRITERIA | RATING |
| Skill | ★★★★★ 5/5 |
| ⮕Filming Technique | ★★★★★ 5/5 |
| ⮕Portfolio | ★★★★★ 5/5 |
| Range of Services | ★★★★☆ 4/5 |
| Availability | ★★★★★ 5/5 |
| ⮕Project Capacity | ★★★★★ 5/5 |
| ⮕Business Hours | ★★★★★ 5/5 |
| Customer Service | ★★★★☆ 4/5 |
Here and Vow Studio was founded in 2012 by Mehdi Nowroozi because he enjoyed watching his parents' wedding VHS tape. We have to admit, we're big fans of companies with good origin stories.
Now, this company's goal is to create timeless and narrative videos. Looking at their previous work, we noticed that Here and Vow Studio combines candid videos, wide shots, and a focus on couples' expressions.
The wedding videography services they offer include wedding highlights, engagement films, behind-the-scenes, and family portrait films.
We found it convenient that they can accommodate same-day edits. However, this service comes at an additional cost, which is to be expected.
Moreover, we liked that Here and Vow Studio has easily customizable packages and bundles where clients can shorten or lengthen coverage hours, number of photos, and many more.
Another noteworthy feature is that they provide customers with a questionnaire on which they can list the styles they want for their wedding video. They can also accommodate special requests, such as favorite highlights.
Now, because they are focused on providing customized service packages, Here and Vow Studio do not have their own packages. Even so, we believe this works in favor of customers because they can include only the services they require.
All in all, Here and Vow Studio's compelling storytelling style makes them one of the best videographers in Vancouver.
Storytelling style of videography
Offers custom videography services
Can accommodate destination weddings
In-house editors
Costs are only available upon request
No videography packages
Customer Reviews
Passionate and dedicated wedding videographers
"Mehdi and his team were amazing to work with. It felt very natural from our first meeting, almost like meeting with a friend to go over the details. He is super fun, passionate, and dedicated to what he does and it shows in the way he works. Our engagement shoot was full of laughter and it felt comfortable taking pictures with him, and they turned out amazing. He came prepped with equipment and tools we needed to capture the kind of images we were looking for and I couldn't be happier with the way they turned out! During the wedding day my husband and I got to meet the entire team (videographers, editor, and photographer assistant). They helped capture all the moments and even gave us a ride to the gates of the venue to get the shots we wanted, which further shows their dedication to providing you with the best experience! More importantly they were with us the whole day really feeling like my wedding guests more than anything, and at the end even partied with us! (Cause we wanted them too) They were so awesome and the video and photographs turned out better than I expected! I still look to these photos and videos and feel thankful I was able to work with such an amazing team who helped make my wedding day one of the most fun and memorable days of our lives!! Would absolutely recommend them to anyone!." -Kyu K.
Accommodating and very creative
"Mehdi is an incredible photographer. He was able to capture the interaction between us to perfection. He knows about the details, and he knows about the light. He and his assistant made us feel at ease during the shooting, they were creative, and we really had fun. The pictures are amazing, very elegant, but so personnal. Thank you Mehdi for taking your work to heart – we would definitely hire you again anytime!" -Aude M.
4. Vancouver Wedding Studios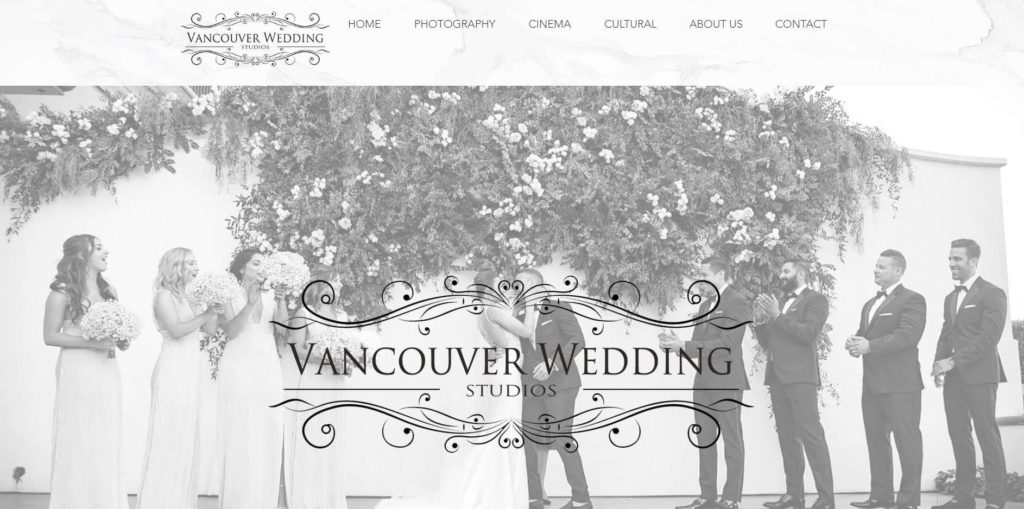 | | |
| --- | --- |
| CRITERIA | RATING |
| Skill | ★★★★☆ 4/5 |
| ⮕Filming Technique | ★★★★★ 5/5 |
| ⮕Portfolio | ★★★★☆ 4/5 |
| Range of Services | ★★★★★ 5/5 |
| Availability | ★★★★★ 5/5 |
| ⮕Project Capacity | ★★★★★ 5/5 |
| ⮕Business Hours | ★★★★★ 5/5 |
| Customer Service | ★★★★☆ 4/5 |
Since 2011, Vancouver Wedding Studios has provided personalized wedding photography and videography services in Vancouver.
This organization captures raw emotions in a candid cinematic style, and we discovered that they specialize in producing dramatic wedding videos shot from various angles.
Some of the packages they offer include wedding photography, wedding cinema, and combined, and we liked that clients can customize these packages to their liking.
Vancouver Wedding Studios' videography services begin at CAD 4,000, but if that isn't enough for you, you may want to look into their combined service, which starts at CAD 8,000.
This business' combined service includes a full wedding photography and cinema service. This includes multi-angle 4k captures, extended highlight videos, behind the scenes, and many more, which we found impressive.
In addition, they also offer multiple-day cultural wedding photography. This package is designed for Indian weddings and includes next-day edits and live stream services.
Another thing that caught our attention is that they have a large team of experienced employees with backgrounds in photography, documentary, music video, film and television, and animation.
We believe their team's diversity allows them to employ a variety of creative styles.
Now, we're not big fans of the fact that a 25% reservation fee is required to secure your slot. We would also like to point out that their coverage time includes travel time between locations.
Despite this, we appreciate that Vancouver Wedding Studios collaborates well with other businesses, allowing customers to hire them only for photography or video services and use another company for the other.
If we could only use one service from Vancouver Wedding Studios, it would be for destination weddings because they offer packages that include aerial drone coverage.
Free consultations
Cinematic candid style of videography
Offers a wide variety of packages and edits
Can accommodate cultural weddings
Same-day edits available 
Uses aerial drone coverage
Travel between locations is included in coverage time
Reservation fee required
Customer Reviews
Patient and flexible
"We highly recommend Vancouver Wedding Studios. Eric and Kin photographed our wedding and they were EVERYWHERE capturing every detail. We had a November wedding and it poured with rain, but it didn't phase them in the slightest. They adapted to everything that came their way. We were looking for someone who takes great candid photos and they delivered. They made everyone feel comfortable, were incredibly patient, and made us all look photogenic (which we are not lol.) The photos turned out beautifully and we could not be happier to have had Eric and Kin as part of our Wedding Dream Team!." -Trevor F.
Praiseworthy services
"We hired Vancouver Wedding Studios to do our Same Day Edit Wedding Video…Eric and his team were absolutely amazing. Our video was so perfect, and all of our guests were in awe and had nothing but wonderful things to say about it. Eric and his team were also a pleasure to work with, they were very professional and fun to have around on our wedding day! We would HIGHLY suggest booking them if you are wanting to have a wedding video. You will not be disappointed!!!!!." -Erika D.
5. Farawayland Weddings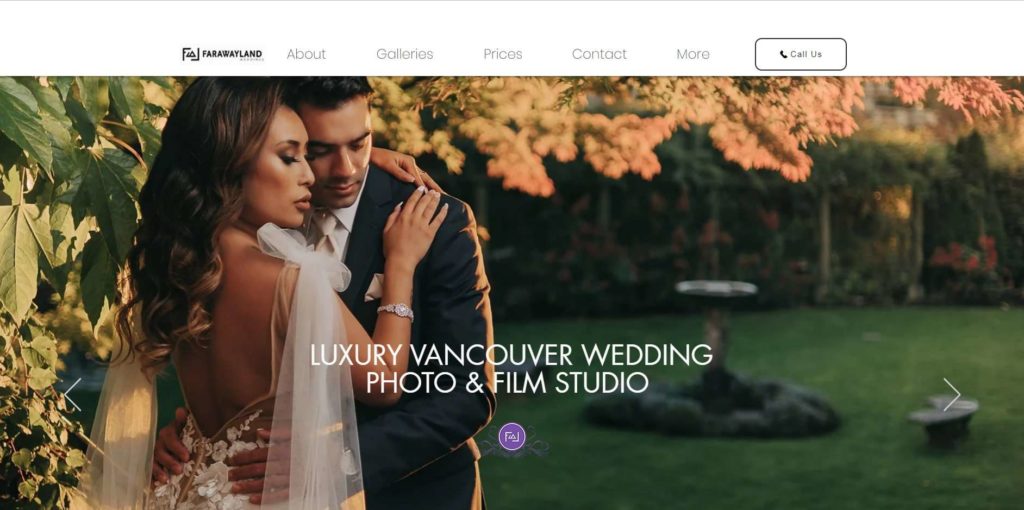 Test
Info
SERVICES
Engagements

Weddings

Film

Indian Weddings

Editing Styles

Elopement

Livestreaming

Photo Booth

WEBSITE
https://www.farawaylandwedding.ca/
ADDRESS
55 E Cordova St #416, Vancouver, BC V6A 0A5, Canada
CONTACT DETAILS
Phone: 604-600-7235
OPERATING HOURS
Monday - Sunday: 10:00 AM - 08:00 PM
| | |
| --- | --- |
| CRITERIA | RATING |
| Skill | ★★★★☆ 4/5 |
| ⮕Filming Technique | ★★★★☆ 4/5 |
| ⮕Portfolio | ★★★★★ 5/5 |
| Range of Services | ★★★★★ 5/5 |
| Availability | ★★★★★ 5/5 |
| ⮕Project Capacity | ★★★★★ 5/5 |
| ⮕Business Hours | ★★★★★ 5/5 |
| Customer Service | ★★★★☆ 4/5 |
Farawayland Weddings specializes in candid, artistic, and thoughtful wedding shoots, and they have almost ten years of combined experience.
They offer three editing techniques: light and airy, candid, and contemporary fashion, which is their signature style. This style employs off-camera flash, posing, dramatic lighting, and vibrant colors to create unique and high-end photographs.
Farawayland Weddings offers wedding shoots, engagement portraits, videography, and Indian weddings. They also provide live streaming and photo booth services, which we believe add a nice touch to their service packages.
Despite their focus on customized bundles, they also offer packages that include various inclusions ranging from sneak peek photos to HD RAW footage to an entire wedding documentary film.
Farawayland Weddings' most affordable videography package starts at CAD 1,588, while for much more extended service coverage, they offer 12-hour coverage for CAD 5,400.
That said, we were disappointed to learn that their standard turnaround time for print orders is six weeks. They also don't offer framing services if customers want their albums placed in frames or photo albums.
Even so, we were particularly impressed that they offer sustainable weddings where they recommend vendors that provide sustainable decorations, catering services, make-up artists, and wedding rentals.
If you're looking for full-service wedding coverage, Farawayland Weddings is an excellent option because they offer a variety of tailored packages that make them one of the best wedding videographers in Vancouver.
Multilingual staff
Contemporary signature style
Live streaming and photo booth services available
Offers sustainable weddings
Provides partial day coverages
Services only 25 weddings a year
Slower delivery times
Doesn't provide framing services
Customer Reviews
Responsive and very friendly
"My wife and I worked with Lucho and Jana for our engagement shoot and Terence and Nick for our wedding photo and video. They are all very professional and experienced at what they do, and made the process very smooth and easy for us. They are responsive, friendly, and work tirelessly to ensure 100% customer satisfaction. We are happy we found Farawayland Weddings and would definitely recommend them." -Mickey T.
High-quality and detailed videography services
"Lucho and Farawayland Productions was an absolute pleasure to photograph and film our wedding. The package we arranged with Lucho was first class in every detail, starting with our engagement photo shoot, where we selected Stanley Park. Following the engagement shots, we were given digital copies of all the photos, which we used for our invitations and guest book. Lucho called us several times to arrange the day of the wedding, making sure no detail was overlooked. His crew of photographers captured the day of the wedding in a natural, yet extremely professional manner. The wedding was both photographed and filmed, by a crew of four individuals. Following our wedding, Lucho edited all of the photos and put his personal touch on them ensuring that the quality of each picture was just as memorable as the day itself. Everything about Lucho and his team I would recommend, from the quality of the shots, the ability to get both staged and candid moments, as well as the post-wedding process in receiving the pictures, the photobook and the video. As someone who saw Lucho's work at a friend of ours wedding prior to our own, we were lucky that he had availability for our date. We could not have imagined our special day without him." -Brian B.
FAQs about Wedding Videographers in Vancouver
---
That concludes our selections for the best wedding videographers in Vancouver. All of these videographers have different styles, we hoped this list helped you choose what best suits your tastes.
Now, just in case you want to have a dedicated photographer on your wedding day, check out our list of the best photographers in Vancouver. We also believe our list of the best caterers in Vancouver will be useful if you are still looking for one.