The 5 Best Window Tinting Services in Vancouver
There's a lot of reasons to want to get your windows tinted. Maybe you're sensitive to light or maybe you want an extra layer of privacy.
Whatever the reason, you want to get your windows tinted but you don't know where to go to get that done. To help you out, we've put together a list of the best window tinting services in Vancouver.
The Cost of Window Tinting in Vancouver
A couple of factors that go into how much it costs to tint windows in Vancouver, like how dark the tint is going to be and the size of the vehicle because that's going to affect how much tinting film needs to be used.
The actual cost of the service can also vary from one location to another, but to help give you an idea of how much you might have to pay, we put together this table below:
| Service | Price |
| --- | --- |
| Tinting film | $5+ per square foot |
| Installation | $99+ |
The Best Window Tinting in Vancouver
We assessed the best window tinting in Vancouver based on the following criteria:
1. P H Solar Window Tinting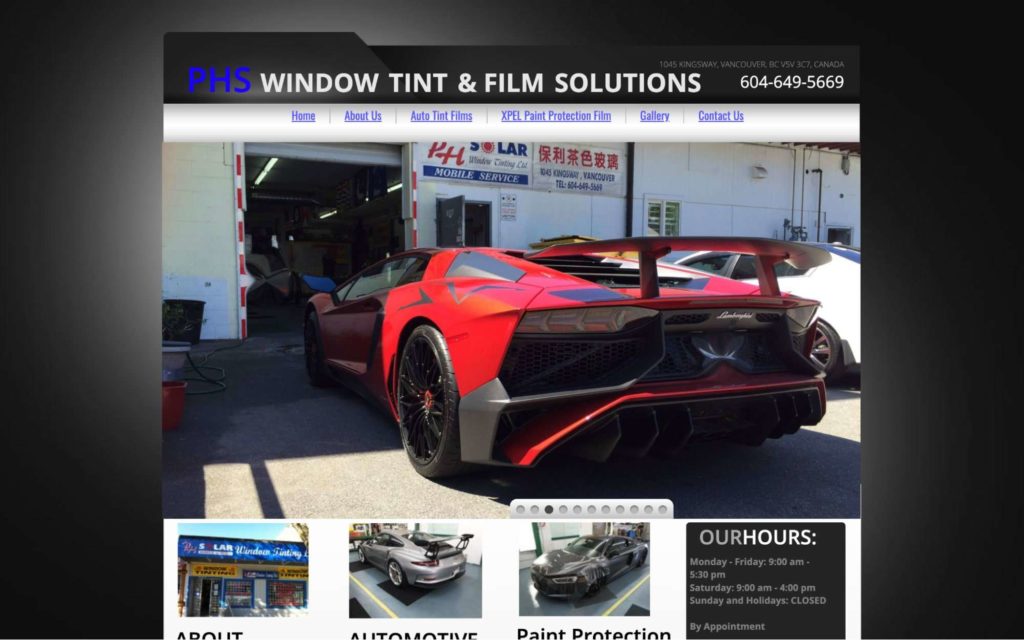 Test
Info
ADDRESS
1045 Kingsway, Vancouver, BC V5V 3C7, Canada
WEBSITE
http://phsolartint.com/
CONTACT DETAILS
+16046495669

Email: [email protected]

OPERATING HOURS
Monday to Friday: 9:00am to 5:00pm

Saturday: 9:00am to 4:00pm
| | |
| --- | --- |
| Fees | ★★★★☆ (4/5) |
| Expediency | ★★★★☆ (4/5) |
| Quality | ★★★★☆ (4/5) |
| Customer Satisfaction | ★★★★☆ (4/5) |
PH Solar Window Tinting has been around for a while and we noticed that experience in the quality of their work.
We looked at what they did and we liked what we saw. They do quick, efficient work on all types of cars, including imported exotics.
Another thing that they did that we really liked was that they washed the cars after they were done tinting the windows. That shows a dedication to customer service.
Their customer service, from what we've observed, is exemplary. The staff was friendly and welcoming towards customers.
Speaking of their customers, we noticed that a few of them were able to get service on the same day they enquired about getting service.
That's a pretty high level of convenience for a lot of people who may not be able to get time off to bring their vehicle in on any given day of the week.
While we found a lot to love about them, we did find that we didn't love everything that we found.
We found that a handful of customers were dissatisfied with the way their service was done, either they found it lacking or they found it sloppy. Some customers also found the customer service experience to be rather unpleasant.
This suggests some blips in their quality, which isn't ideal. Still, there seem to be more positive testimonials for them than negative ones.
Washes cars as part of service
Same-day service
Customer service reportedly unpleasant
Customer reviews:
Alway a great experience
"Always a great experience at PH Solar Tinting Ltd. Been going here for 20 years. Always a fantastic job, quick and professional work." – Mo Morrell
Highly recommend
"Ronnie & Paul were both really great to deal with. I did a factory tint on the rear 3 windows and then the clear UV film on the front windows and windshield. The quality of work was perfect.
It's been over 10yrs since I tinted a car, so I really appreciate how patient and thorough they were in explaining the choices to me before I made up my mind. Highly, highly recommend their shop!" – Dan Yueng
2. Infinite Window Tinting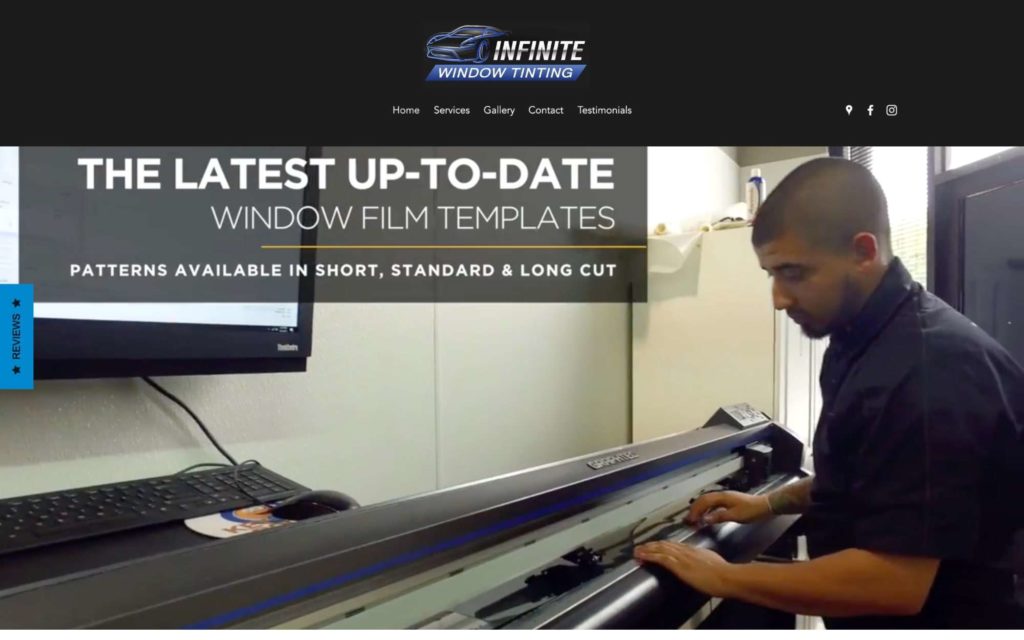 Test
Info
ADDRESS
636 Clark Dr, Vancouver, BC V5L 3H8,
WEBSITE
https://www.infinitetint.ca/
CONTACT DETAILS
+1 778-859-3515
OPERATING HOURS
Monday to Friday: 9:00am to 5:00pm

Saturday: 9:00am to 3:00pm

Sunday: Closed
| | |
| --- | --- |
| Fees | ★★★★☆ (4/5) |
| Expediency | ★★★★☆ (4/5) |
| Quality | ★★★★★ (5/5) |
| Customer Satisfaction | ★★★★★ (5/5) |
The thing that we really liked about Infinite Window Tinting was the quality of the work that they do.
We've taken note of customers who rave about their work, with some customers praising their attention to detail and the professionalism they exude when they're doing that work. That's something that we appreciated about them,
Another thing that we liked about them was their follow-up. We observed customers getting follow-ups two months after the job was done to make sure they're still happy with the service they've received.
We also liked that they walked their clients through the process, making sure to explain what was happening so they knew what was going on at any given time. We like that about them because it can help relax some clients who may be wary about getting their windows tinted.
We also noted that they can be pretty flexible with their appointments and will even call clients to remind them of said appointments so as to make sure those appointments don't get missed.
Which was pretty great in our book because it means clients don't have to go through the inconvenience of forgetting and subsequently rescheduling.
The only thing we're not totally in love with is that, flexible as they are, appointments are a requirement for them.
Follows up months after service
Flexible appointments
Customer reviews:
Could not have asked for better service
"I brought in my truck to get the windows tinted and I could not have asked for better service. The product was great quality, installation was impeccable, and the service was beyond my expectations. I have nothing but positive things to say about my experience that day. I would highly recommend if you are looking for tinting services.
I am definitely going to bring any other vehicles in the future!
10/5 stars if I could!!" – Ifat Hamid
Great job
"Roy did a great job on my Model 3! In and out in about 2 and half hours and one of the only places that does Xpel film. Stands by his work with lifetime warranty. Would recommend him for anyone looking to get their windows tinted!" – Jackie Luong
3 Street Legal Tint & Detail
Test
Info
ADDRESS
Unit 40 966 SW Marine Dr Vancouver, British Columbia,V6P 5Z2
WEBSITE
http://streetlegaltintanddetail.ca/
CONTACT DETAILS
Phone: (604)324-6483, (604)613-6483

Fax: (604)327-6483

Email: [email protected]

OPERATING HOURS
Monday to Saturday: 9:00am to 6:00pm
| | |
| --- | --- |
| Fees | ★★★★☆ (4/5) |
| Expediency | ★★★★☆ (4/5) |
| Quality | ★★★★★ (5/5) |
| Customer Satisfaction | ★★★★★ (5/5) |
There's a lot that we found to like about Street Legal Tint & Detail and it's how well they do what they do. We had a rather difficult time trying to find a customer that wasn't completely satisfied with the service they've received.
We see that lack of dissatisfaction on the customers' part as an indicator of how good they really are at what they do. We noticed their work as well and we really liked the attention to detail that they put into it.
While the work is of the highest quality, it's also pretty quick. We've noticed customers get their tinting done in around 2 hours.
That may be a little too quick for some people, but pretty much every customer we've noticed is more than happy with what they got in that short span of time.
There's also a couple of intangibles about them that we liked and those would be the passion for cars from the staff and the great conversation a customer can have while they're getting their vehicle serviced.
Another thing that we liked about them that's related to window tinting is their range of services. They don't just tint car windows, they can also detail the cars themselves so the rest of the vehicle looks as good as the windows do.
Quick turnaround for service
Wide range of services
Closed on Sundays & Holidays
Customer reviews
Extremely impressed
"I just got a new car and the first thing I wanted to get done was get tint for the rear. I had narrowed my search down to a couple shops but Street Legal Tint stood out the most to me.
I gave Nixon a call on a Monday and he booked me in for the Friday. He was extremely accommodating as he asked if any other days worked for me so he could get me in sooner. Not even a couple hours passed and he already called to see if Tuesday worked, but I was picking up my car at that time so I was unavailable. Tuesday came around and he called me again since his scheduled freed up on Wednesday so I took that spot.
Upon getting to his shop he welcomed me in and we quickly went outside to discuss what I wanted to get done and what percentage I wanted to get. He had a couple suggestions so I went with what he had suggested since it was similar to what I got with my last car. Once we worked it out we went back in and had a chat for a bit before I handed over my keys so he can get to the install. A couple hours later he gave me a call letting me know that he was almost done and I could come over to pick up my car. Well when I saw the work he had done I was absolutely blown away on how well he did the install! The cuts were perfectly hidden so you don't see where the window starts and where the tint ends. He was also very clean so it didn't even look like someone had been in installing anything. After doing a quick walk around the car and got the payment sorted out we talked some more before I head out.
I was extremely impressed by the professionalism as well as the friendly attitude that Nixon had. The second you walk into his shop he talks and treats you like you have known each other for years. His workmanship shows not only by the trophies from competitions he has gotten on display behind the counter, but also by how perfect he installs the tint in your car. If you want to get tint these guys are definitely the ones you have to go to!" – Daniel Grimmett
Awesome experience
"Had an awesome experience dealing with Nixon. Very competitive pricing and if you've done your research you know he has a wealth of experience when it comes to professional window tinting. The whole process was easy, and he answered any questions I had. The installation was excellent, with a focus on not disturbing any trim pieces that didn't need to be taken off. I'm still in shock that I got this quality of work done for such a competitive price. 11/10." – James Weng
4. Protex Vancouver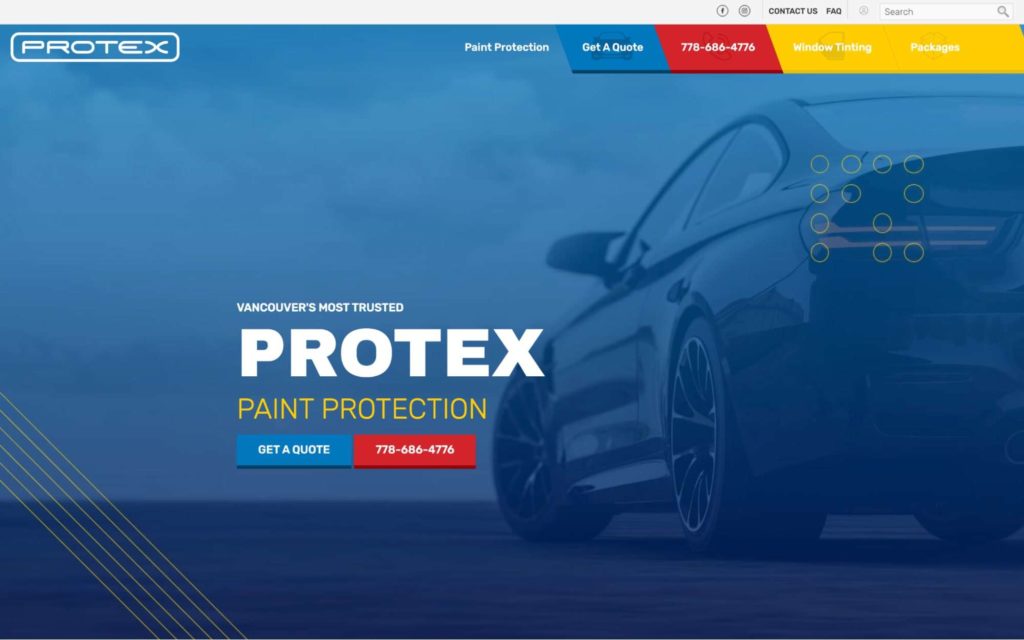 | | |
| --- | --- |
| Fees | ★★★★☆ (4/5) |
| Expediency | ★★★★☆ (4/5) |
| Quality | ★★★★☆ (4/5) |
| Customer Satisfaction | ★★★★☆ (4/5) |
We liked a lot of things about Protex Vancouver. We liked the way they did their service, we found their window tinting to be rather excellent.
But what we really liked about them was their open line of communication. There was transparency to the process that made it easy for the client to understand what was being done with their vehicle.
That transparency doesn't end at their process, however. It also extends to their work and how much they charge for said work.
We noticed that they did their work within the timeframe they gave their customers and within the quoted price. They didn't have any delays or any sudden increases.
They just did the job for which they were hired and they did it well and well within the timeframe they said it would get done. We really appreciate it when a company can do that.
Another thing that we liked about them is their scope. We noticed that they're able to handle cars that aren't the easiest to handle, like flashy exotics and rare, limited edition vehicles that might be tricky for other places.
They're also knowledgeable but they don't appear to rest on their laurels. We took note that they made an effort to keep up with current trends and technology in order to stay current in their field.
Work is done within a given timeframe
Open communication with clients
Keeps up with current trends in the industry
Customer reviews:
Fantastic job
"Fantastic job. On time, exactly as quoted. Excellent quality. Did some paint correction before a full wrap and the truck looks FANTASTIC! Could not ask for more. Thank you, Luke!" – Mike Wood
Amazing work
"Luke did an amazing work on my 2018 Porsche GT3 and 2019 Porsche GT3RS, He is very detailed oriented and did not hesitate to do extra work on my car when asked. I would recommend anyone looking for a place to wrap their cars to call Protex Vancouver" – Mohammed Khalik
5. Elements Lab Inc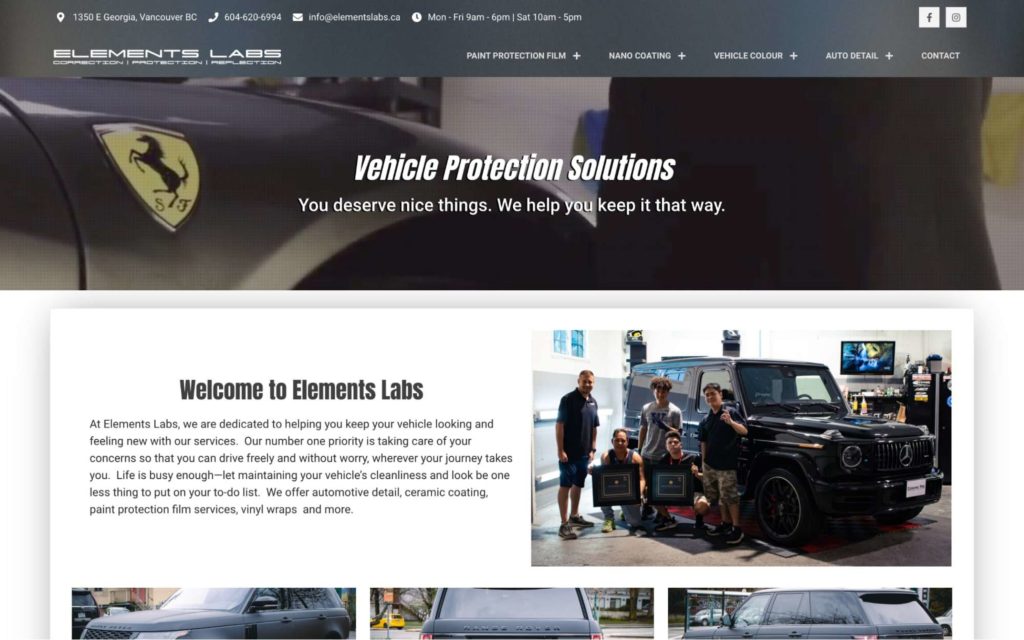 Test
Info
ADDRESS
1350 Georgia St, Vancouver, BC V5L 2A8
WEBSITE
https://elementslabs.ca/
CONTACT DETAILS
(604) 620-6994
OPERATING HOURS
Monday to Saturday: 9:00am to 6:00pm

Sunday: Closed
| | |
| --- | --- |
| Fees | ★★★★★ (5/5) |
| Expediency | ★★★★☆ (4/5) |
| Quality | ★★★★☆ (4/5) |
| Customer Satisfaction | ★★★★★ (5/5) |
We found a lot of things about Elements Lab Inc that we liked. The two main things that we found to like about them were the high level of detail they put into their work and the high level of detail they put into making sure their clients were happy with their overall experience.
Beyond window tinting, they also paint cars for clients who want to match the windows with the bodies or try out a different color scheme.
We also noticed the level of care they put when working on cars. They didn't just go about their work, they went into the work carefully to make sure the vehicle wasn't damaged or altered in ways for which the client did not ask.
Another thing that we noticed and liked was that they didn't take a blanket approach to their clients, instead taking a personalized approach in order to make sure that their clients got exactly what it was that they wanted.
Their customer service is also something to be appreciated as we noticed that they kept their clients up to date on exactly what was being done with their vehicles.
Overall, we found that they do great work and offer a fantastic value for aforementioned work.
Customer reviews
Outstanding service
"Outstanding service! Recently had PPF and Ceramic coating applied to my new Tesla. A very professional and genuinely nice group of people from the front line staff up to the owner himself. I highly recommend." – Bruce MacLeod
Exceeded expectations
"Element labs were a referral and exceeded our expectations. Great guys to work with, especially Curtis. We were putting on a ceramic coat on our new model Y along with some road rash. He went over in thorough detail as to the process and did the final walk through with our vehicle inspection. We are very happy customers." – Jamie Carballo
FAQs about Window Tinting in Vancouver
---
If you want to look at other ways to take care of your car, then check out this list of the top car washes in Vancouver.