20 Cool Places to Eat in Vancouver
Trying out a unique dining experience allows you to become acquainted with new cuisines and cultures. It also allows you to challenge your current preferences.
This is why we've put together a list of some of the cool places to eat in Vancouver. These places stand out because of their atmosphere, varied menus, unique ways of serving food, and unique exterior and interior design.
1. Dark Table
The Dark Table is a blind dining restaurant that provides diners with a one-of-a-kind opportunity to embark on a culinary journey in the dark. Your senses of touch, taste, hearing and smell are heightened due to the dark concept.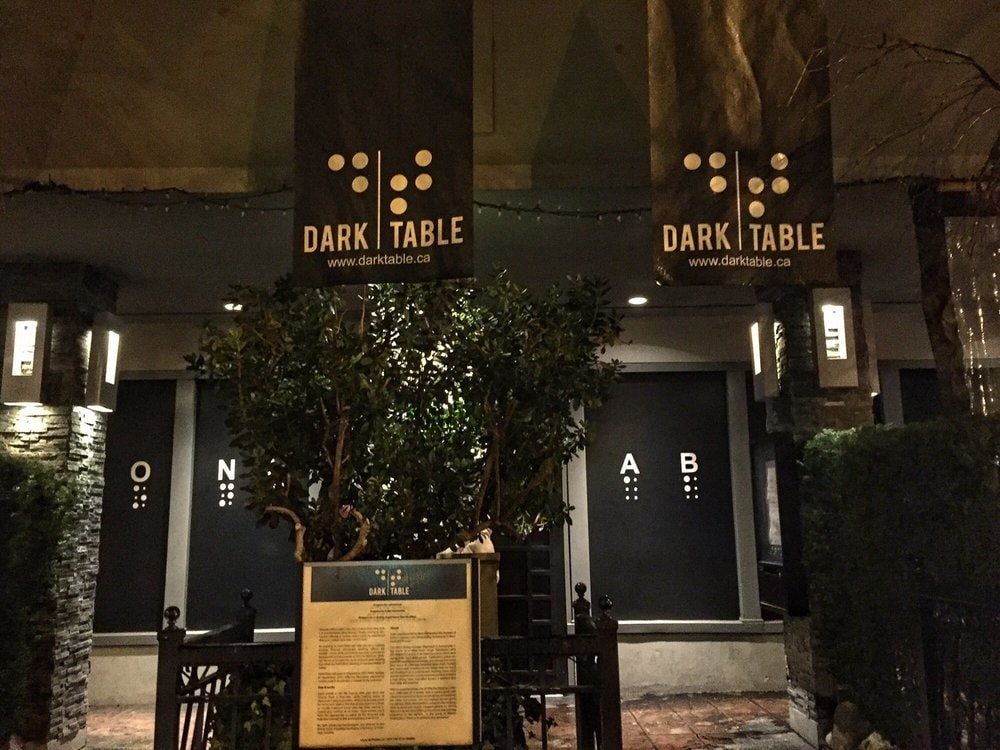 When you arrive at this establishment, you will be given a first-class menu with a variety of food options from which to choose. Once you're ready, a visually impaired server will lead you to your table.
It adds to the experience that cellphones, flashlights, and watches that glow in the dark are not allowed in the dining room.
This restaurant serves a wide variety of cuisine, from the classic Canadian steak, locally-sourced chicken with mushroom sauce and aubergine, and mediterranean style fish.
But perhaps our favorite on their menu is the AAA Canadian Steak that comes with salsa verde or blue cheese. The salsa verde adds a tangy freshness to the dish while the blue cheese provides a creamy and savory flavor.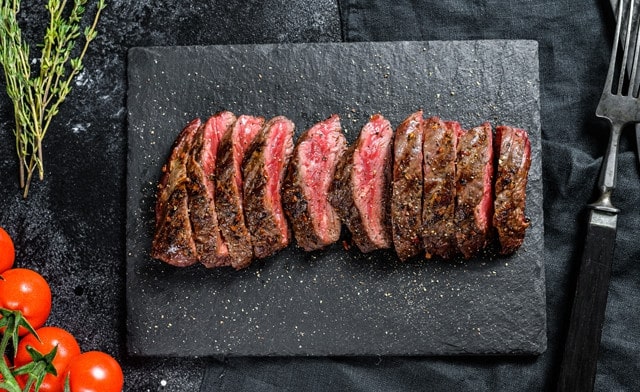 You can also add a daily surprise to your meal by ordering a non-menu item starting at CAD 5. A surprise dessert is also available for approximately CAD 41 to 49.

2. The Eatery
The Eatery, founded in 1983, is one of the hippest restaurants for those craving Japanese cuisine. This restaurant serves sushi and Japanese cuisine with a creative twist, creating an Asian fusion dining experience.
The Eatery offers a wide range of options, including ramen, teriyaki, and other Japanese comfort food.
What makes them cool is that they have a dedicated "funky menu" where they combine Japanese cuisine with other global flavors and name the dishes based on their appearance.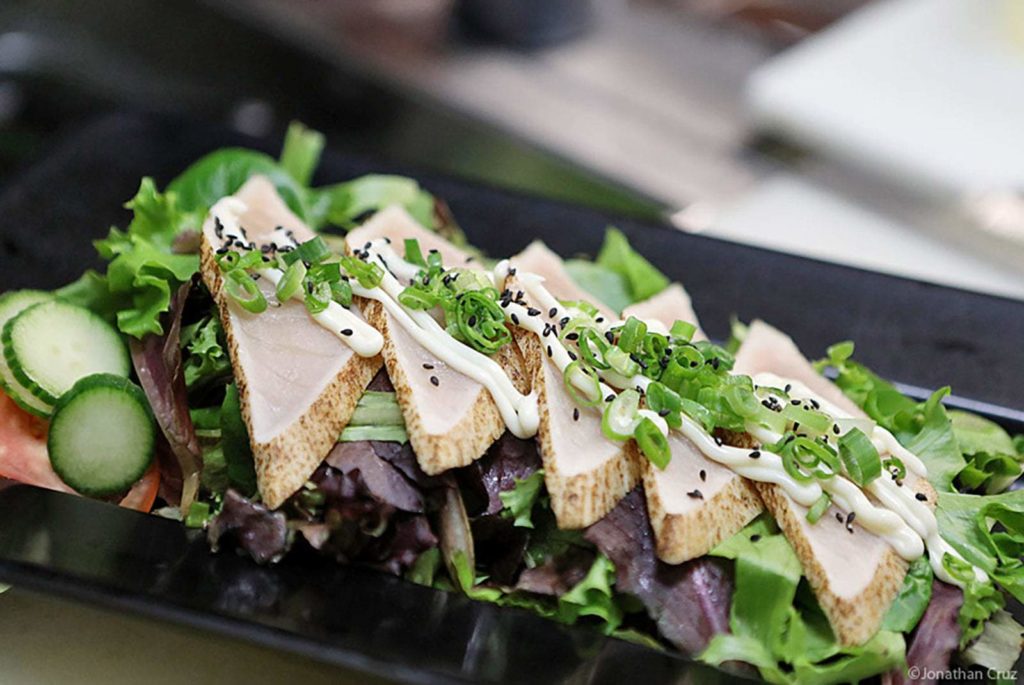 As an example, they offer traditional tempura shrimp with avocado and cream cheese, wrapped in soy paper with mango. This dish is called "Found Nemo!" and it's a must-order!
Another must try is kale avocado sushi, topped with tempura kale, with a side of cusabi sauce.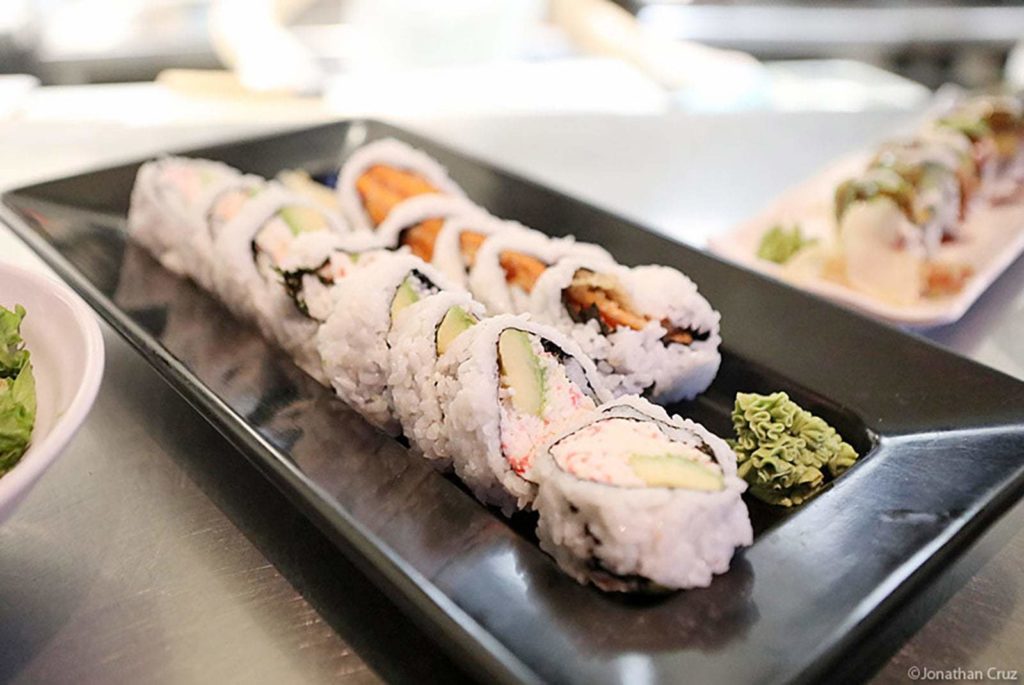 This sushi is a delicious and nutritious option for vegetarians and vegans and the avocado and tempura kale make for an interesting contrast in texture.
The Eatery's overall restaurant ambiance is designed with neon decorations and lighting, creating a fun and vibrant atmosphere. There's also ample seating for friends and families to come and enjoy a meal together.

3. The Shameful Tiki Room
The Shameful Tiki Room is an exotic restaurant and bar that pays homage to classic American tiki bars. It's a place to get away from the hustle and bustle of everyday life, where guests can enjoy Polynesian-inspired dishes.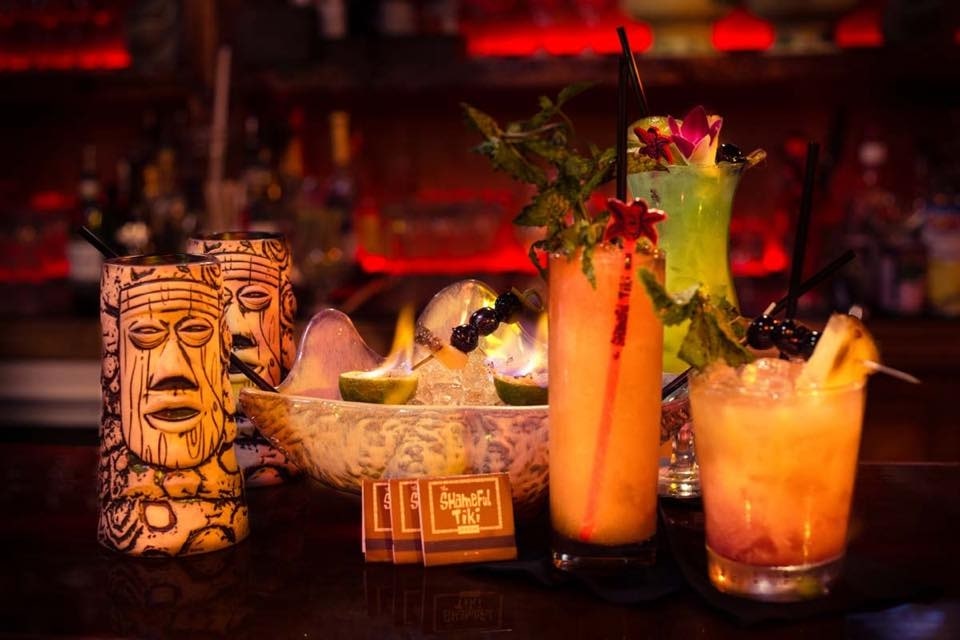 If you're dropping by the Shameful Tiki Room, we recommend you start the party with their drink, "Day of the Dead." This house original drink has multiple juices and rums, coconut, soda, and other secret spices.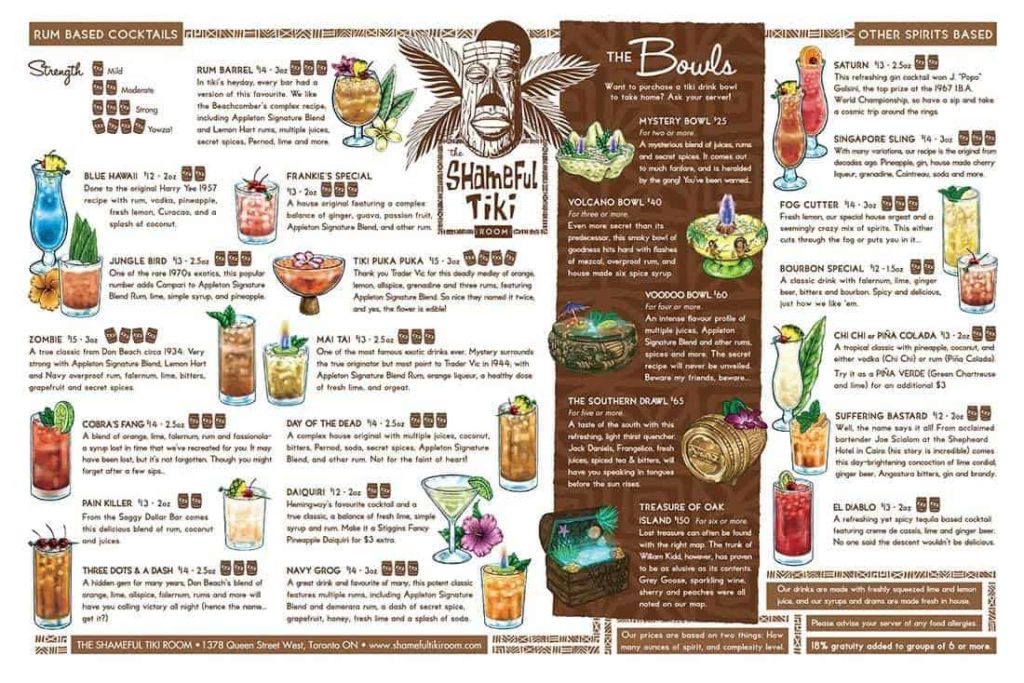 They also serve shareable plates and craft vintage exotic cocktails like Hawaiian sunset, mai tai, and a variety of other rum-based concoctions.
This place has a tropical feel because it has dim lighting, tiki carvings, and tables and chairs made out of driftwood.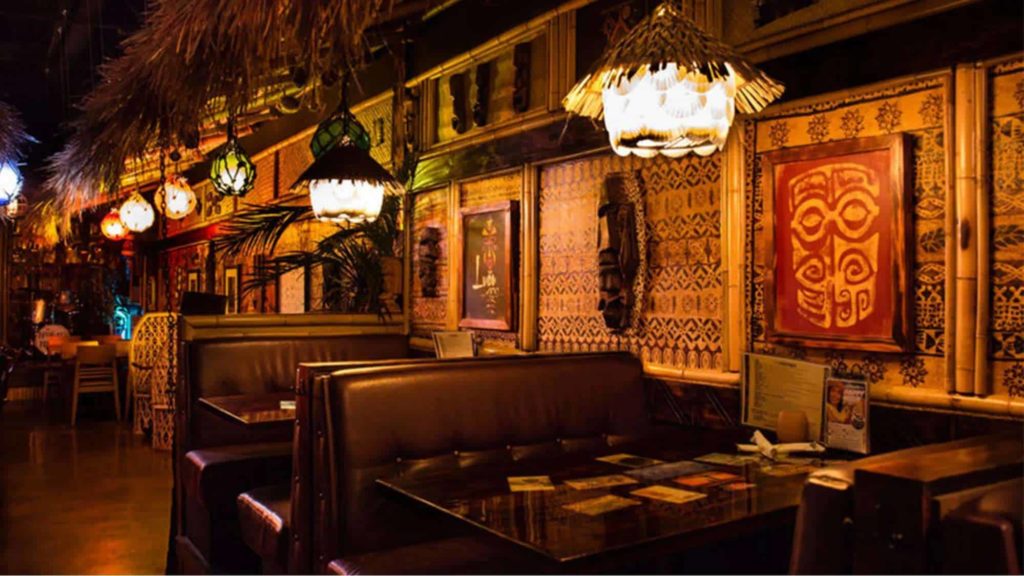 These decorations have been imported from all over the world in order to create the authentic tiki atmosphere that The Shameful Tiki Room is known for.
Their tiki carvings were from Californian carvers, their tapas cloth was from Tonga and Fiji, and they also have a recaptured piece of artwork from the historic Waldorf hotel!
Guests can also enjoy live music performers that bring an extra touch of Polynesian flavor.
This establishment is ideal for groups of friends who wish to enjoy drinks while conversing, as the music is played at a level where it won't interfere with your conversation.

4. Key Party
Key Party is a speakeasy restaurant and one of the best places in East Vancouver for cocktails. The interior design of the restaurant is sleek and modern, with a vibrant atmosphere.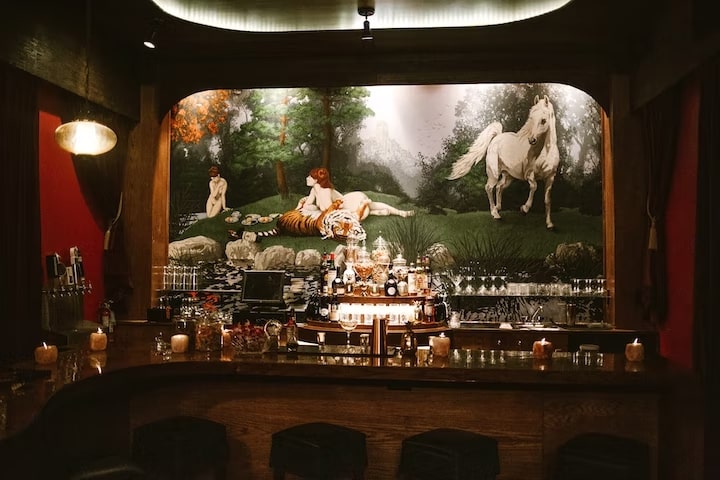 It's dimly lit, giving customers an intimate ambiance as it has interesting artwork on the walls, customizable drinks, and wooden tables and counters.
Key Party is also known for its signature cocktail menu, which has classic drinks, new twists on old drinks, and a range of beers and wines.
Their cocktails have fun names such as "Burning Shame" and "Birthday Suit," and are made with high-quality ingredients to ensure a delicious and unique drinking experience.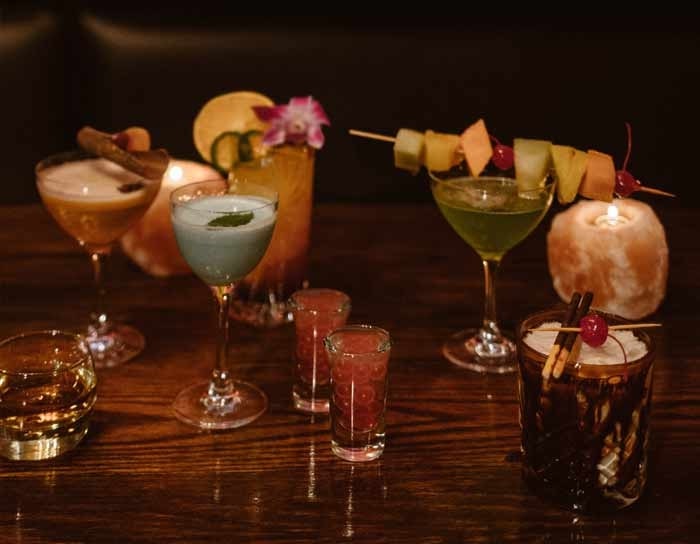 We recommend the "Bee On Your Knees," a cocktail made with Ungava gin, St. Germain, honey syrup, lemon, and egg white, though any of their drinks would be a worthy choice.
There's just the right amount of sweetness and sourness in this cocktail, and the frothy texture from the egg white makes it even more enjoyable. It's an absolute necessity that you try it when you stop by this bar.
Aside from that, they also have snacks that you can match with your drinks, such as chips and dip, prawn cocktails, and olive tapenade.

5. Glitch Retro Arcade Bar
Glitch Retro Arcade Bar is a retro arcade restaurant featuring everything from the 1980s and 1990s.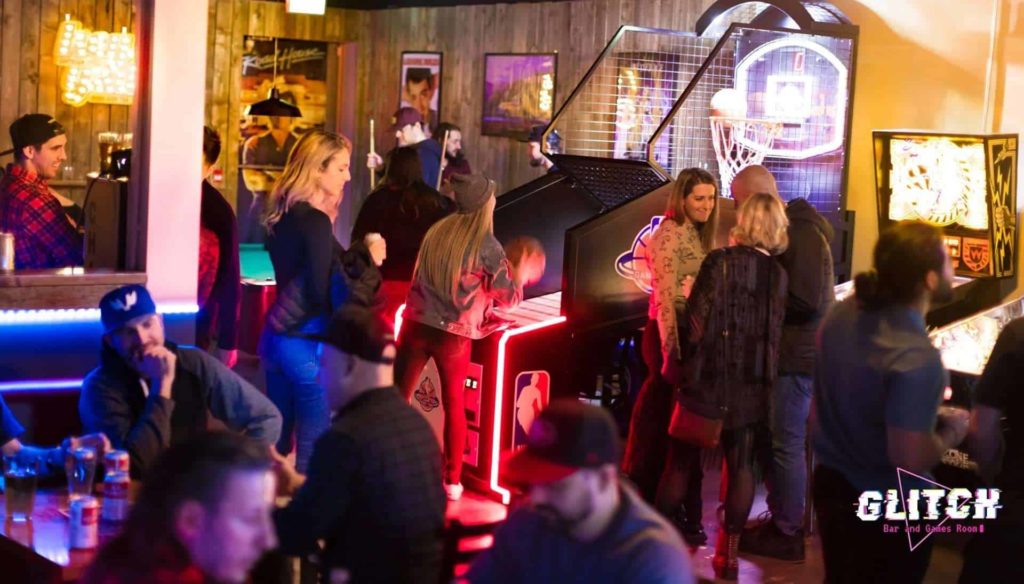 This place serves food and drinks and has a lot of old games like pinball, basketball, and billiards. It's a great place to go with friends to enjoy some nostalgia and friendly competition.
While we understand that you may get pretty busy gaming, we highly recommend you order their tacos, as they're considered some of the best in town. Additionally, ordering their tacos is a great way to keep you fueled for longer sessions.
They also have slushie machines with a wide selection of flavored drinks, such as margaritas, peach bellini, pineapple express, and many more.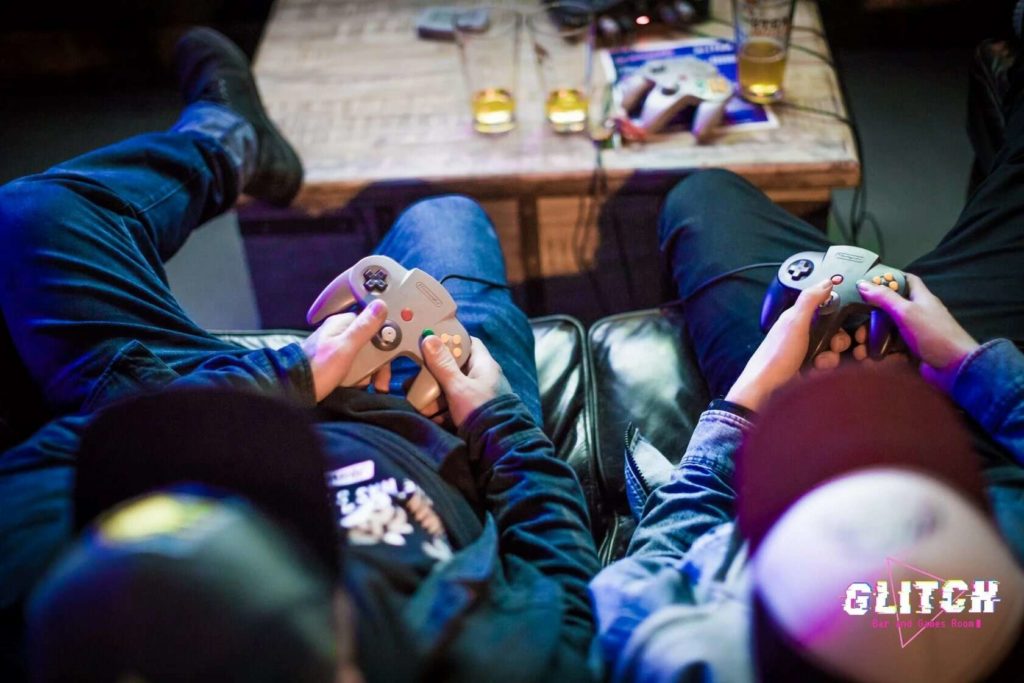 The Glitch Retro Arcade Bar also holds karaoke nights on Thursdays for those who feel like singing their hearts out. Happy hour is also celebrated daily from 3pm to 6pm, where you can score discounted drinks and special mixes.

6. Hello Nori
Hello Nori is a Japanese hand roll bar that serves hand rolls stuffed with rice, fresh, locally sourced seafood, and vegetables.
Upon entering their restaurant, the Japanese influence is immediately apparent. The wooden furnishings and low seating create a traditional atmosphere, while modern elements, such as minimalist artwork, add an elegant touch.
This Japanese restaurant uses the traditional Japanese cooking method of temaki, which is a cone-shaped type of hand-rolled sushi.
These hand rolls are served one at a time and can vary in filling, such as salmon, tuna, crab, and avocado. Although we do have a favorite, it's their spicy bluefin tuna stuffed with raw bluefin tuna, spicy mayo, rice, and seaweed.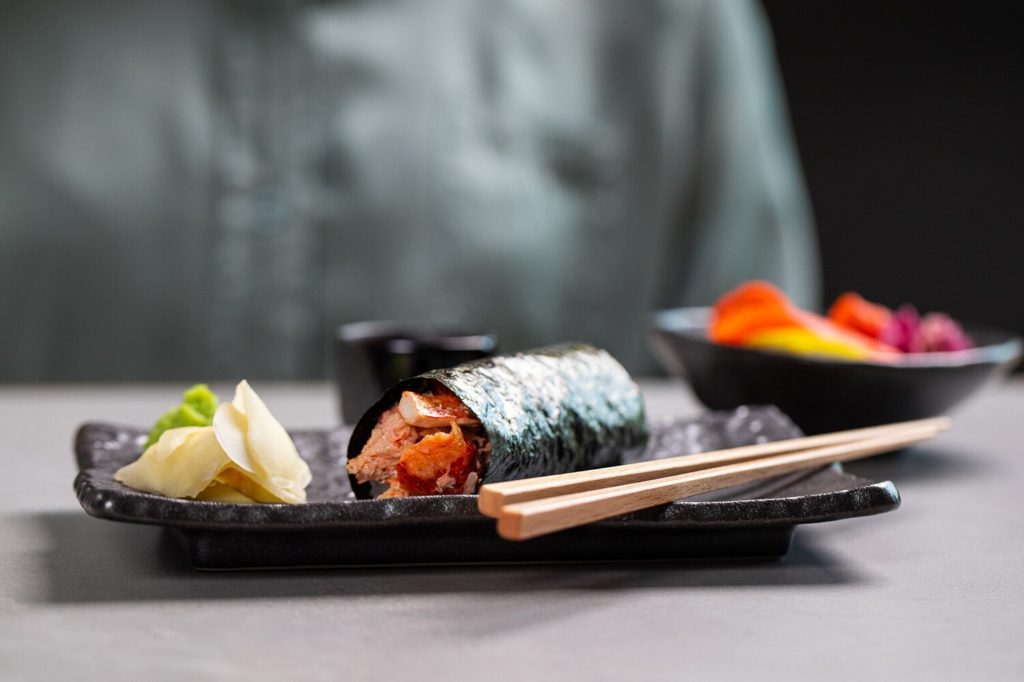 The combination of flavors and textures creates a delicious and satisfying bite that keeps us ordering more.
Besides that, they also have a wide range of custom drinks to go with their hand rolls. This includes iced matcha, an iced peach drink, and a local Junmai Nama-style sake.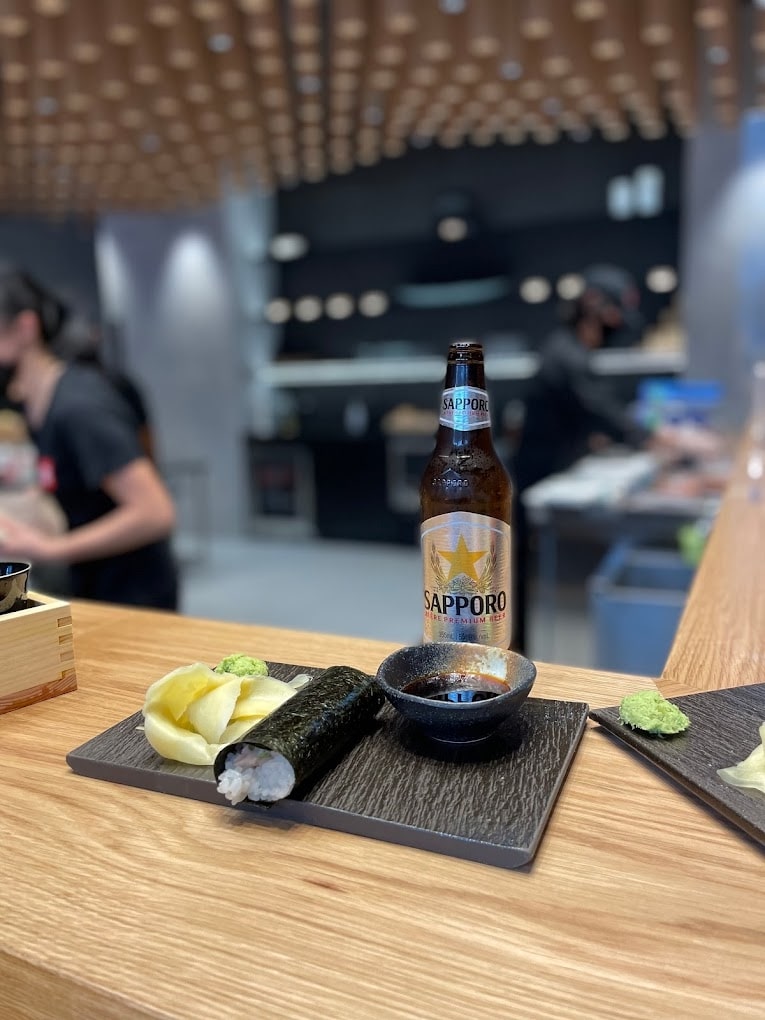 We believe that Sapporo, a Japanese lager beer that has a taste that's crisp and refreshing, is the beverage that goes best with their sushi out of all of the drinks that they offer.
The subtle flavors of the sushi are complemented by the lightness of the beer, which results in a meal that is both flavorful and well-balanced.
You can check out their Instagram for more succulent photos of their sushi and beer pairings and even get some recommendations on which combinations to try next time you visit their restaurant.
7. Bread x Butter Cafe
Bread x Butter Cafe is an ideal brunch spot in Vancouver as they offer a wide selection of traditional breakfast options.
Along with delicious egg dishes, omelets, and French toast, Bread x Butter Cafe also serves up an array of freshly prepared sandwiches and salads.
But what we liked the most on their menu is their egg toasts. It's very filling as it's packed with eggs, meat, cheese, and a variety of vegetables, making it a perfect breakfast option for those who want to start their day with a hearty meal.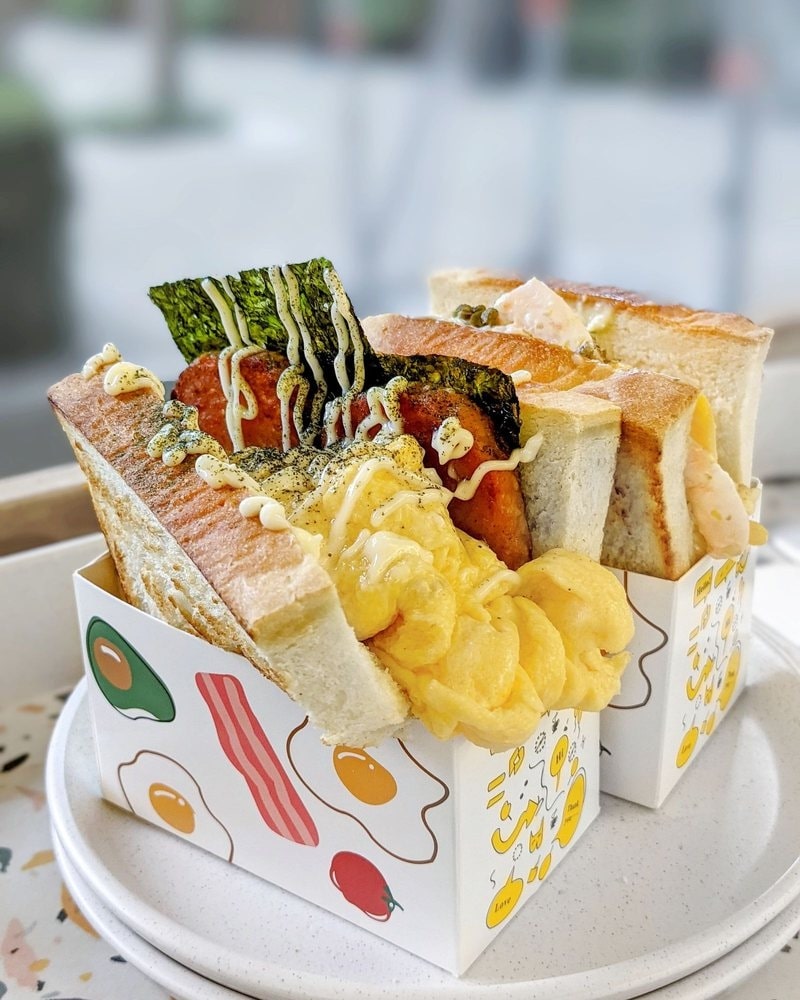 This cafe is also an upscale boutique venue for all kinds of events. It has a beautiful outdoor space where you can hang out with your loved ones as their space was designed as a place of gathering.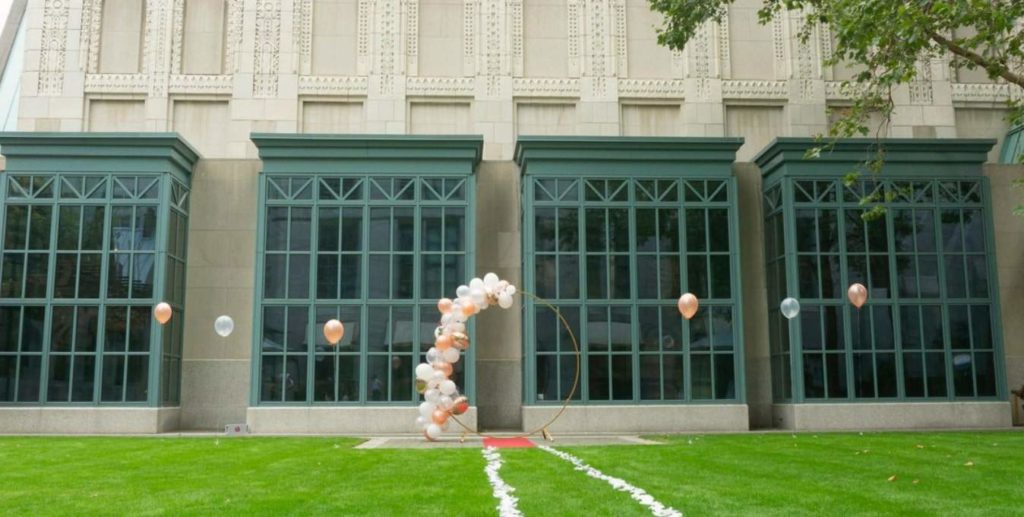 8. The Mackenzie Room
The Mackenzie Room is a contemporary farm-to-table restaurant that provides family-style dining. They have a chalkboard menu that revolves around West Coast cuisine, and this menu changes throughout the seasons.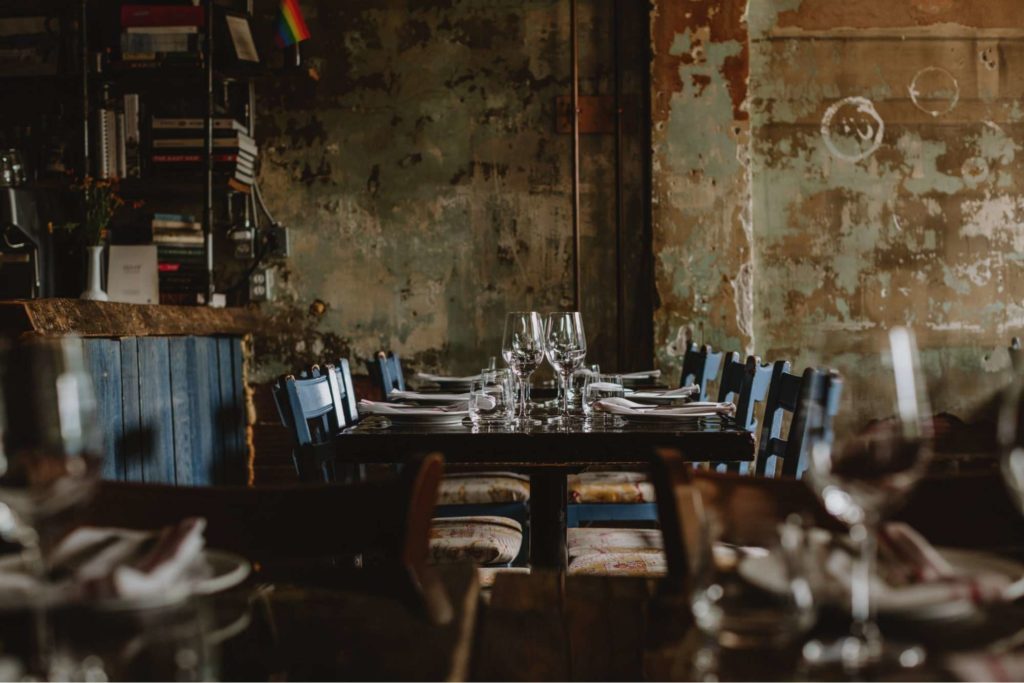 The ambiance of the restaurant gives off a rustic chic vibe, as it has dim lighting, wooden chairs, brick walls, and beautiful decor that creates a cozy atmosphere.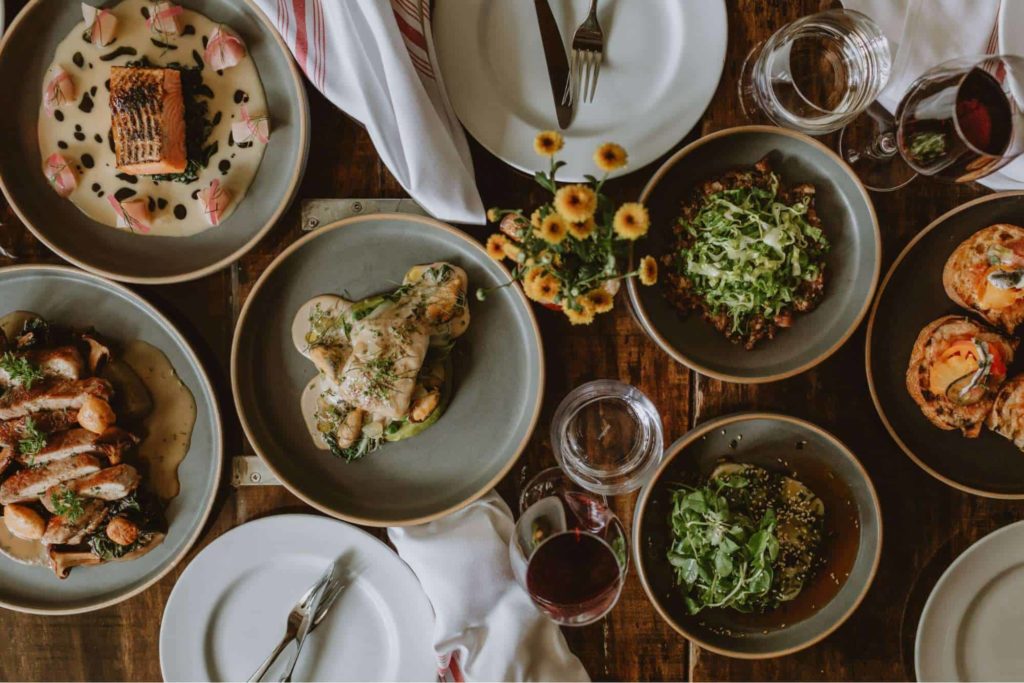 If you're visiting the Mackenzie Room with friends, it's best to order the "I Want It All," as this social tasting menu includes shared meals, served family-style over 5 courses.
However, for parties with 6 or more guests, we highly recommend the "Chef's Menu," as this package includes more courses that are hand-chosen by the chef.
The full menu is also always available à la carte, so solo diners have the option to order small portions. To see a more detailed menu of this restaurant, head over to their website or their social media pages like Facebook and Instagram.

9. Bao Bei
Bao Bei is a Chinese restaurant that serves small plates that are meant to be shared with a group of friends or family.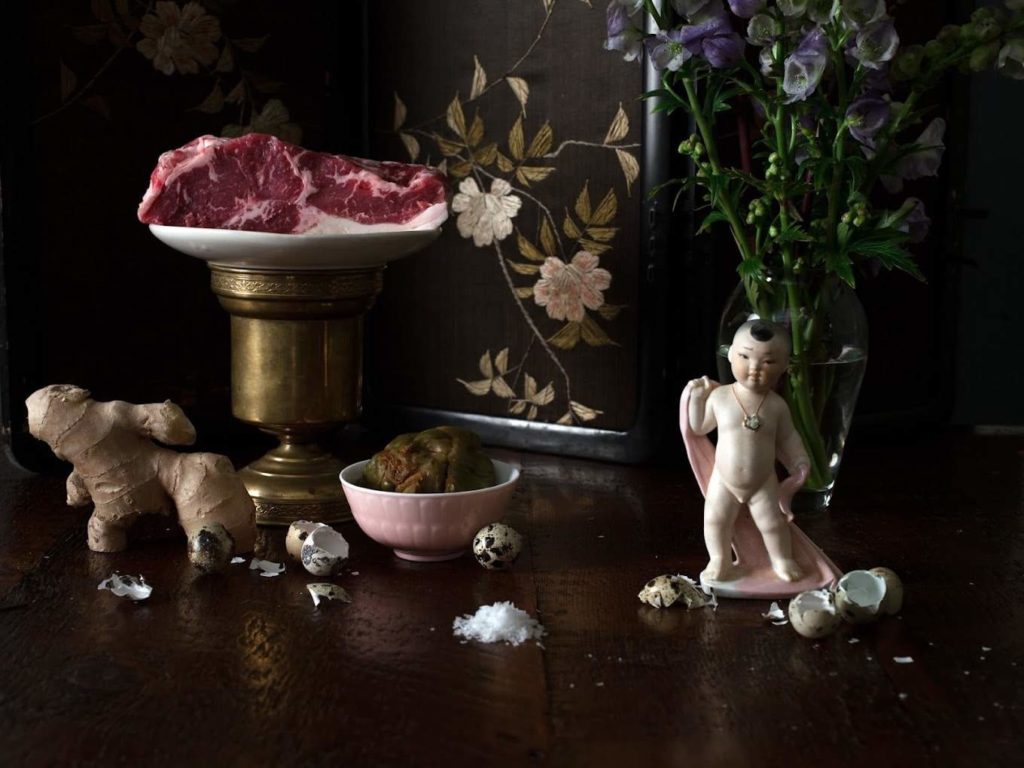 This method was influenced by Taiwan and Shanghai, but their menu is also influenced by flavors from around the world, which lets them offer a more modern take on Chinese food.
But our top pick is their dumplings! This classic dish is a must-try for anyone visiting the restaurant. The dumplings are handmade and filled with a savory mixture of pork and vegetables, making them a delicious appetizer or main course option.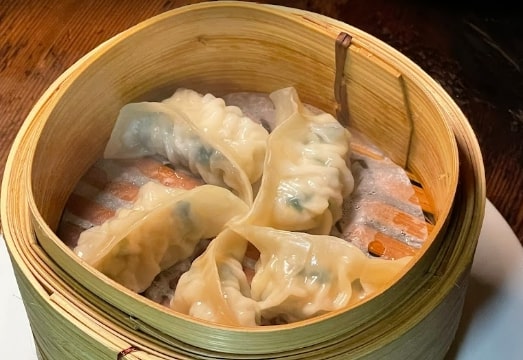 Now, this restaurant has a hipster vibe, as it has plain-colored walls, dim lighting, and wooden furnishings.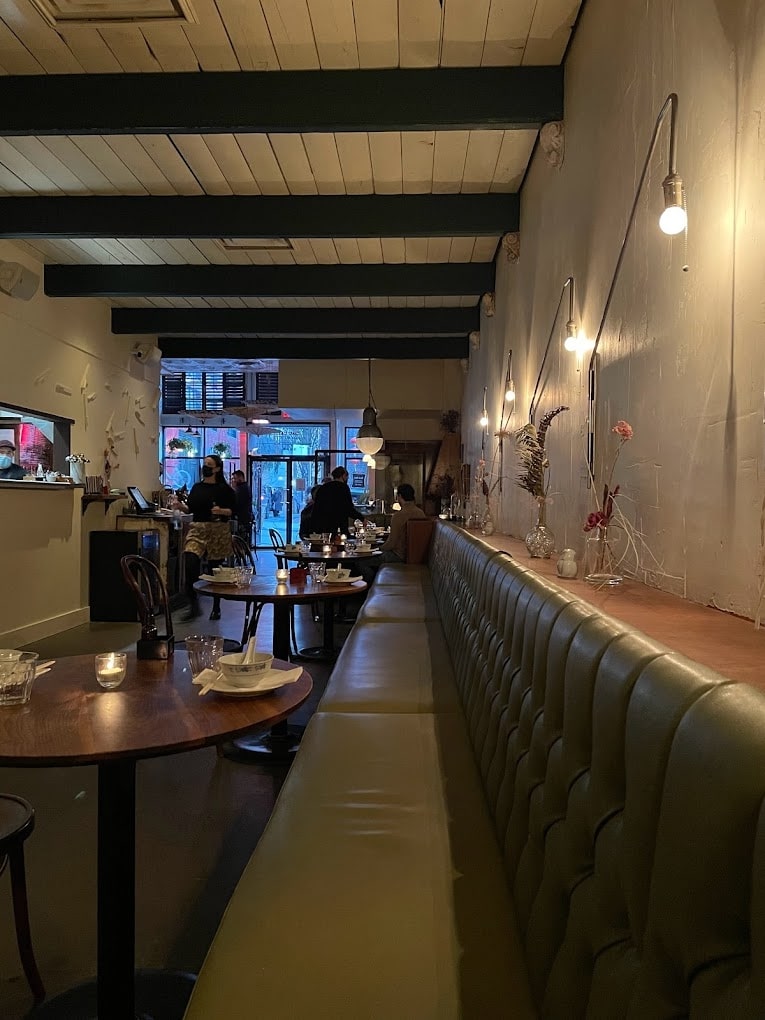 But despite the retro vibe, Bao Bai is also the epitome of modern as it serves artisanal cocktails such as nai nai punch, chungking express, and hot buttered rum.
With its diverse menu, modern take on Chinese food, and hipster-style atmosphere, Bao Bei is the perfect place for anyone who wants to experience a unique culinary adventure.

10. Harvest Community Foods
Chinatown's Harvest Community Foods is a neighborhood restaurant and grocery store. It's a one-of-a-kind business that combines a restaurant and a grocery store, offering customers locally-grown and organic produce.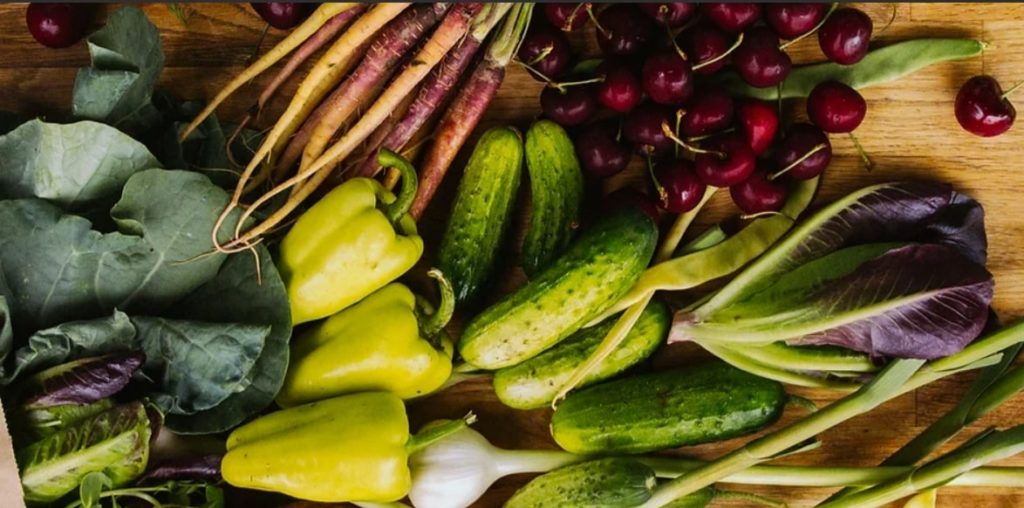 This restaurant exudes a cozy atmosphere as you're surrounded by freshly stocked shelves of bread and produce, as well as quaint décor.
There's also a seating area in the store where guests can enjoy a meal or a snack while taking in the lively atmosphere.
They have an extensive noodle menu that includes ramen, udon, rice noodles, and many more. You may also add kale gomae or a cabbage salad as your side dishes. But we must admit that we do have our favorite: #19 Ramen.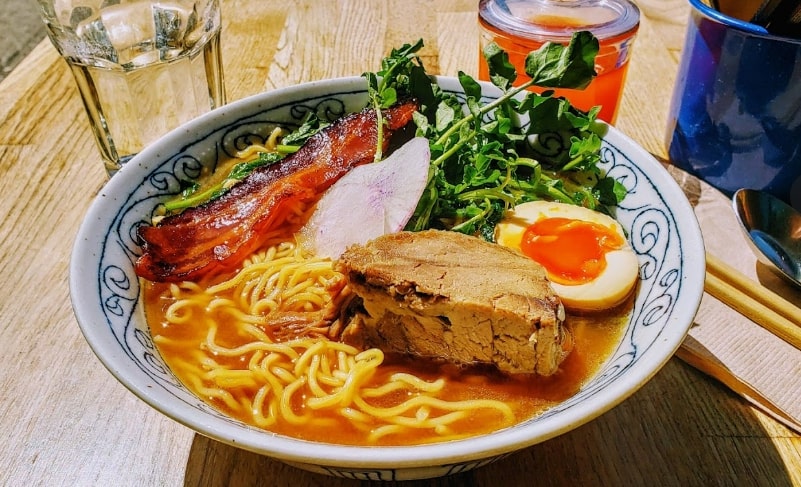 This ramen is made with rich chicken broth, sake chicken, and soy eggs. It's also garnished with scallions and sesame seeds to add a crunch.

11. Top Of Vancouver
The Top of Vancouver is an award-winning fine dining restaurant where diners can take in breathtaking views of the city, the surrounding mountains, and the Pacific Ocean.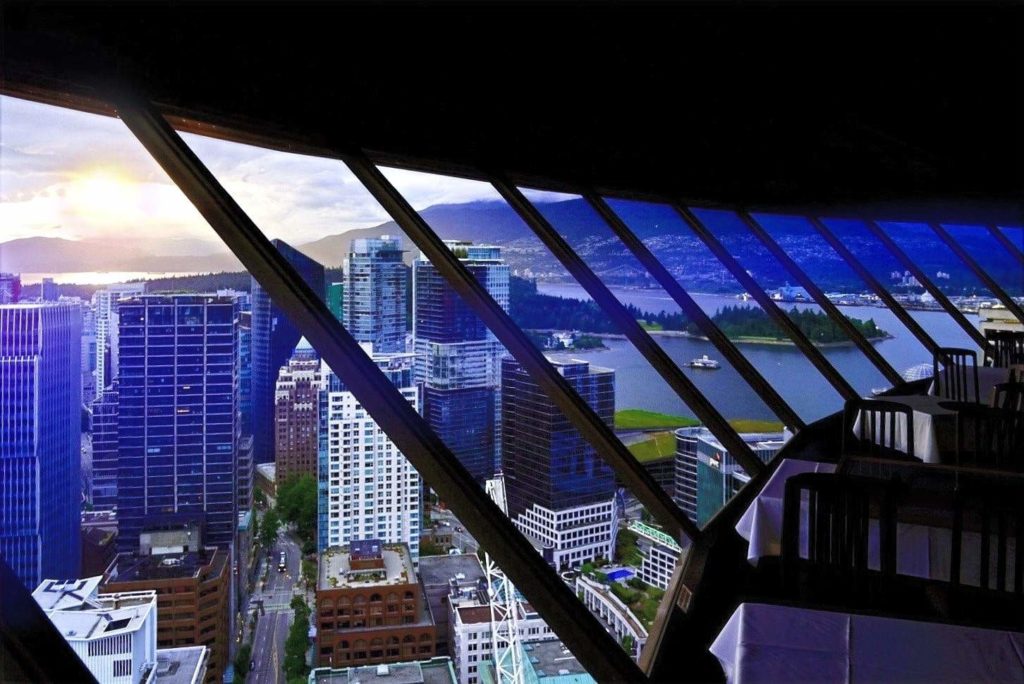 At 553 feet above the ground, diners can enjoy Continental food while taking in breathtaking views of the city below through windows that have been cut at an angle.
This restaurant offers an extensive brunch, lunch, and dinner menu that ranges from classic dishes such as steaks and seafood to modern dishes created with locally sourced ingredients.
Speaking of steak, their sirloin steak is a must try, as it's juicy and seasoned with various spices such as black pepper and garlic, giving it a bold and savory flavor.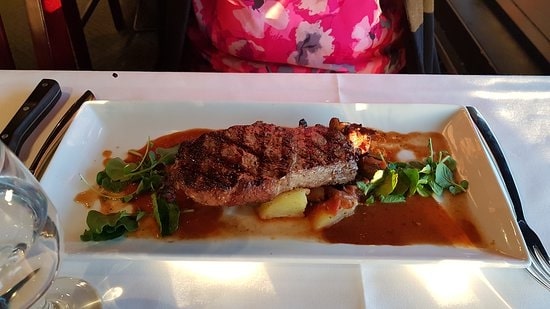 It pairs perfectly with their creamy mashed potatoes and grilled vegetables for a satisfying meal.

12. PiDGiN
PiDGiN is an Asian French fusion restaurant that offers French-influenced takes on Asian cuisine plus craft cocktails. This restaurant pays homage to different cultures as they use Asian and Pacific Northwest ingredients to produce creative dishes.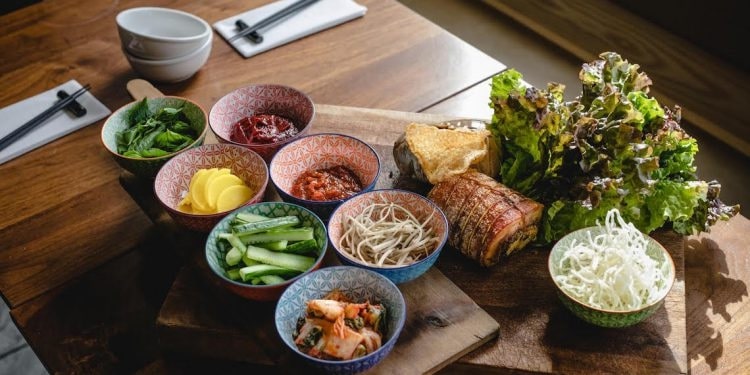 Their food and store design reflects their chefs' extensive experience traveling and working on different continents.
You can tell right away that the interior of the restaurant is minimalist because of the contrasts between the modern lighting and the Japanese furniture, the simple panel molding, and the balanced, functional layout.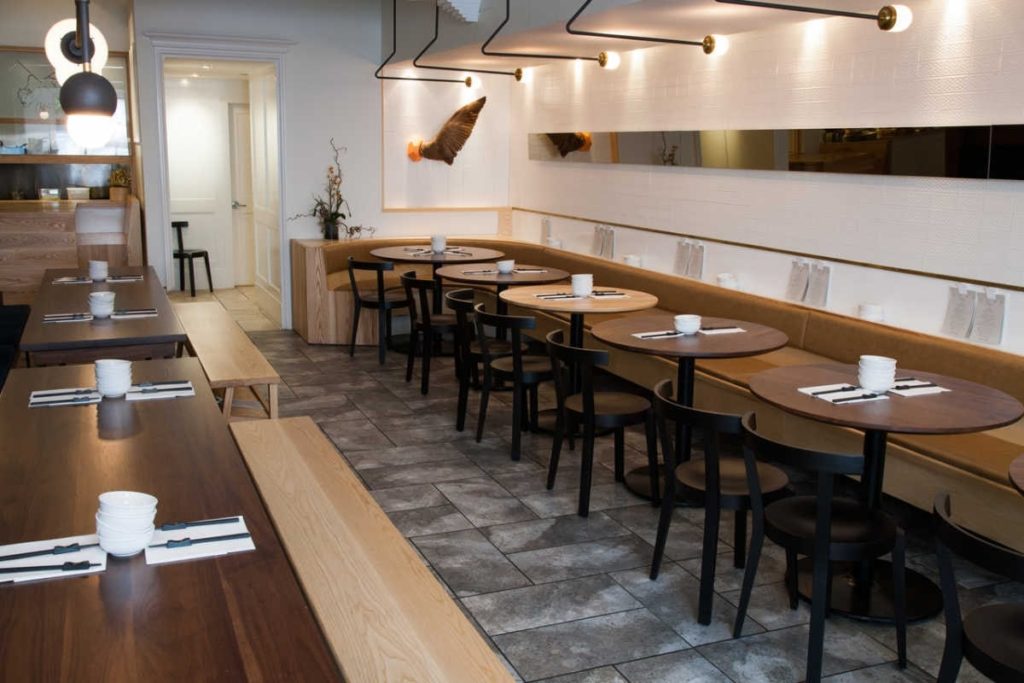 Their menu consists of a wide variety of Asian food options such as ramen, sushi, dumplings, and teriyaki dishes. While their menu is full of great options, we have a few recommendations ourselves.
First, is their chicken wings, served with tosazu pickle daikon. However, this isn't your average chicken wings, as it's extra spicy, coated in gochujang sauce, and topped with crunchy garlic chips and scallions.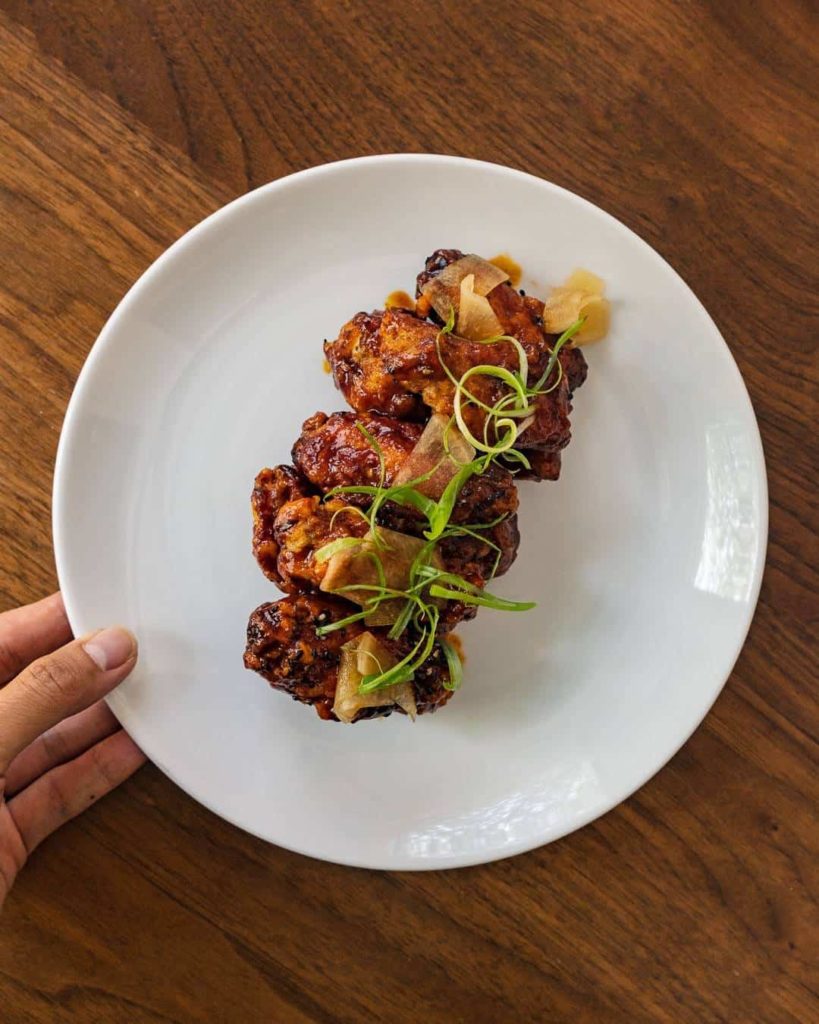 To wash it down, PiDGiN also has a good selection of Japanese whiskey with a wide selection of mixes from malt, coffee grain, and many more.

13. Gringo
Established in 2013, Gringo has provided a nostalgic throwback to the 1980s and 1990s by offering a restaurant with neon lights and roaring music from those decades.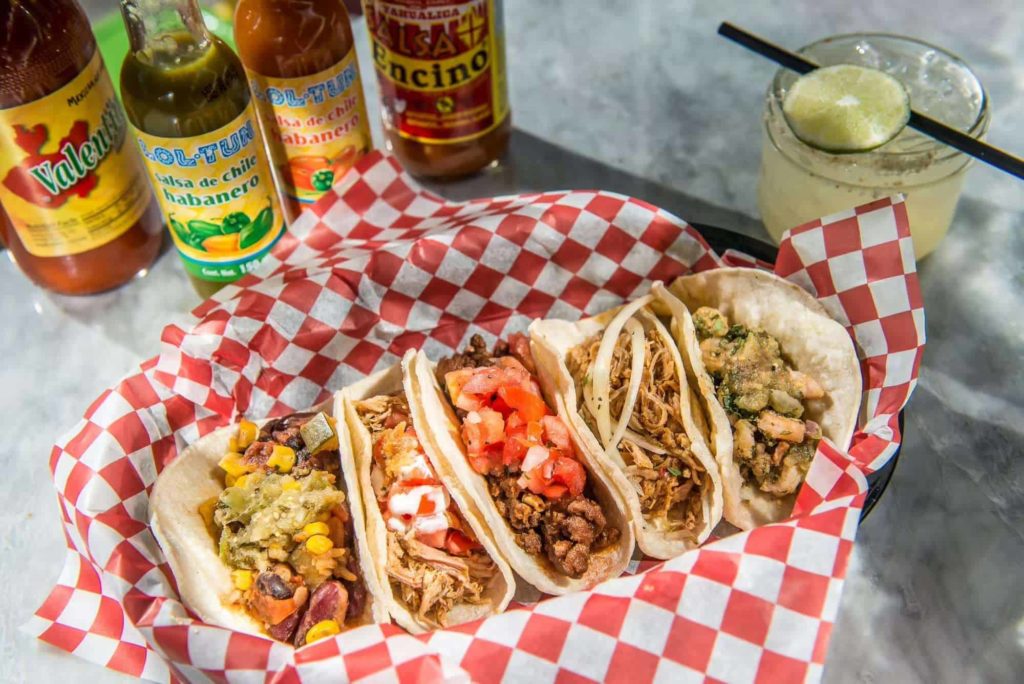 This restaurant provides Mexi-Cali food options, cold beers, and cocktails in a unique way as these dishes and beverages are served in vibrantly colored sand buckets, utensils are replaced with plastic shovels, and alcohol comes with little candies.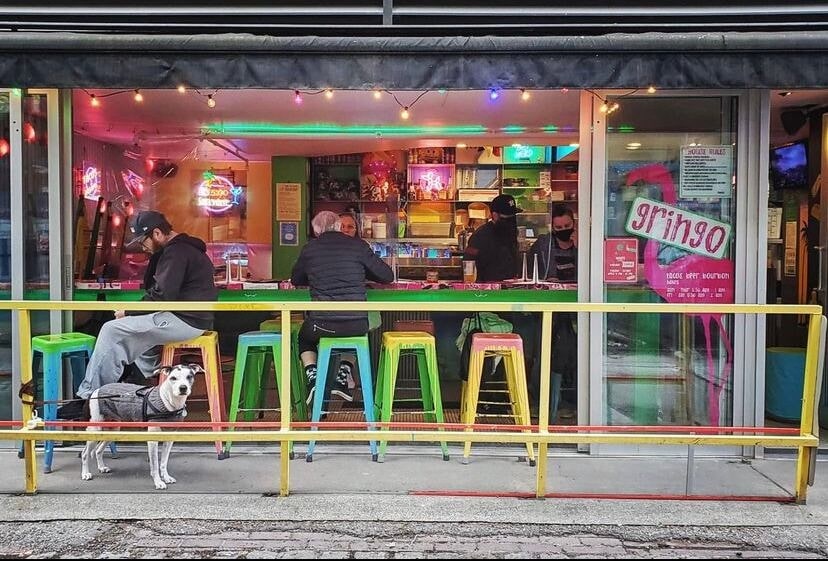 All these features are the perfect combination to create a vibrant and energizing atmosphere. Gringo is popular among all ages and is an ideal place for events like birthday parties, group gatherings, and even family reunions.

14. Afghan Horsemen
Afghan Horsemen is the first Afghan restaurant in Canada that was established in 1974 and serves gourmet Afghan cuisine in Vancouver and the surrounding cities in the Lower Mainland.
Their cuisine is influenced by a wide variety of ethnicities, such as Persian, Indian, Greek, and Mongolian. This allows them to offer a wide variety of food options with diverse tastes.
Afghan Horsemen is known as one of the best Afghan restaurants in Canada because it serves gourmet dishes that are good for many different tastes.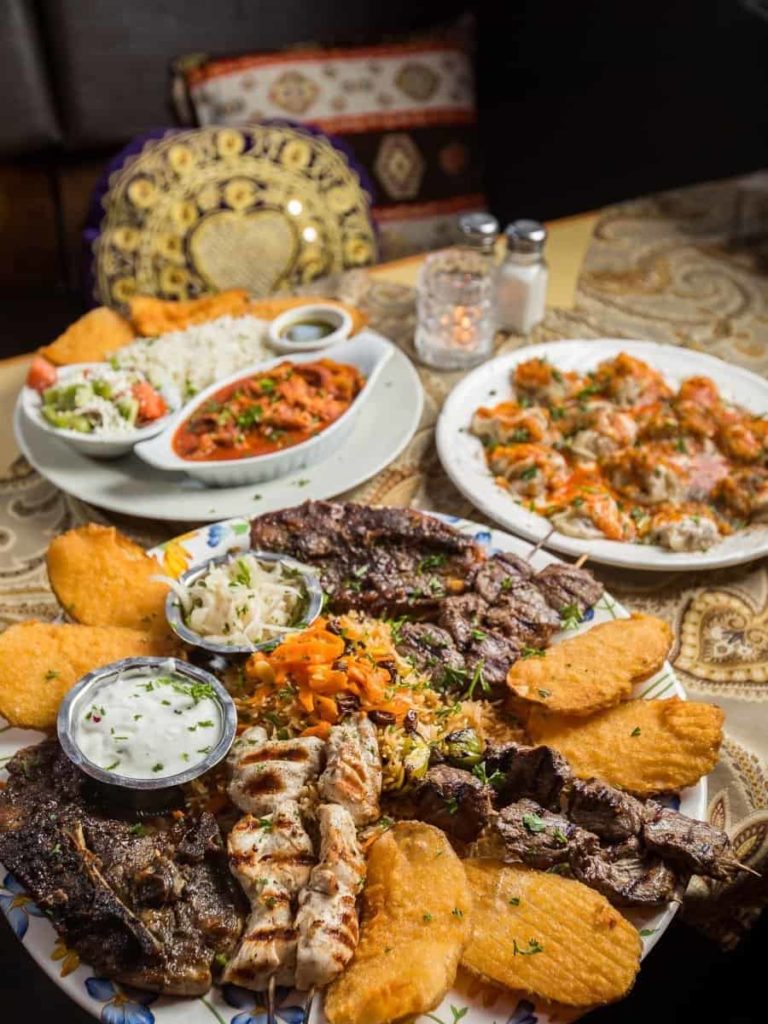 Their specialty is their succulent kebabs, in addition to their variety of lentil and vegetarian dishes. There are also traditional dishes like basmati rice with your choice of meat on top.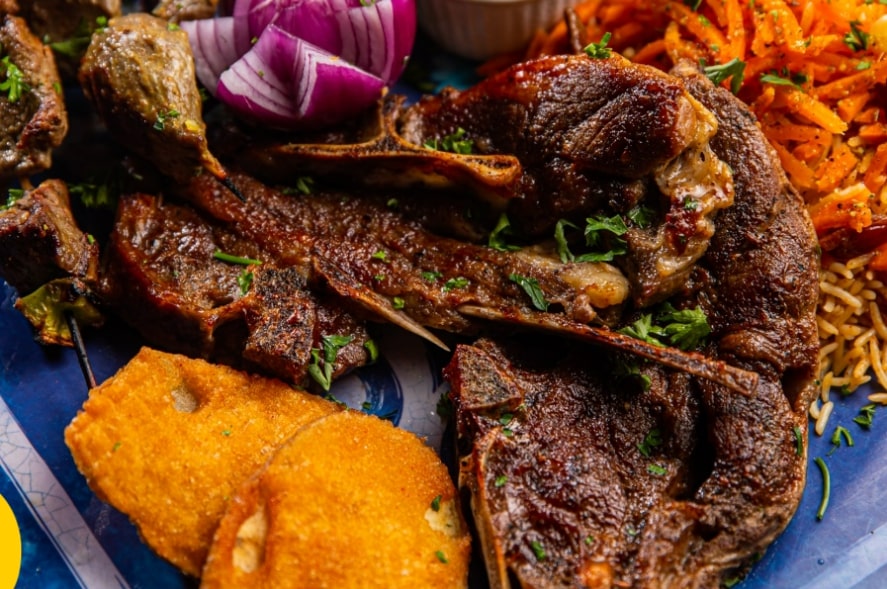 Now, our favorite item on their menu is the lamb shoulder chop, as the taste is simply divine. The lamb is marinated with their special sauce and grilled just right. This dish is served with basmati rice, salad, pakawra, and chaka.

15. The Flying Pig
The Flying Pig's mission is to provide farm- and sea-to-table dishes from local and fresh ingredients. This establishment has a rustic theme, as they have bricked walls, deer-head wall decorations, and tables made of dark-brown wood.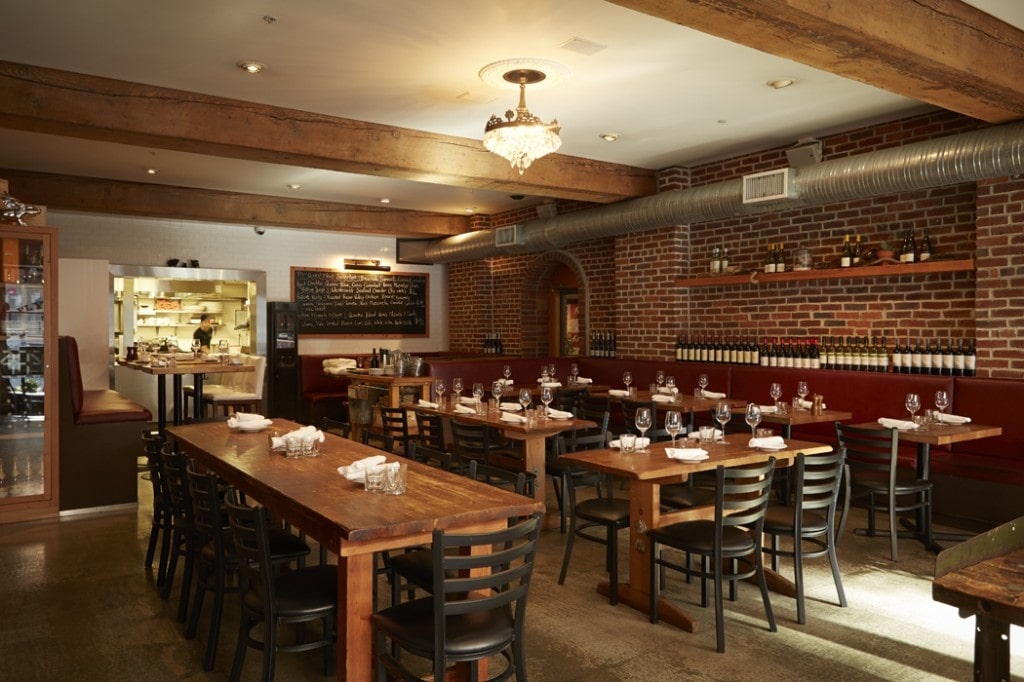 They keep the family tradition alive as they serve large portions of shared meals in bowls that are placed in the middle of the table.
The Flying Pig has dedicated menus for brunch, lunch, and dinner. They also have a wide selection of wine, beer, and cocktails that you can pair with your food.
But our favorite has got to be the red wine braised beef short rib. This dish features succulent roasted bone marrow served with aged white cheddar mashed potatoes and cabernet veal jus.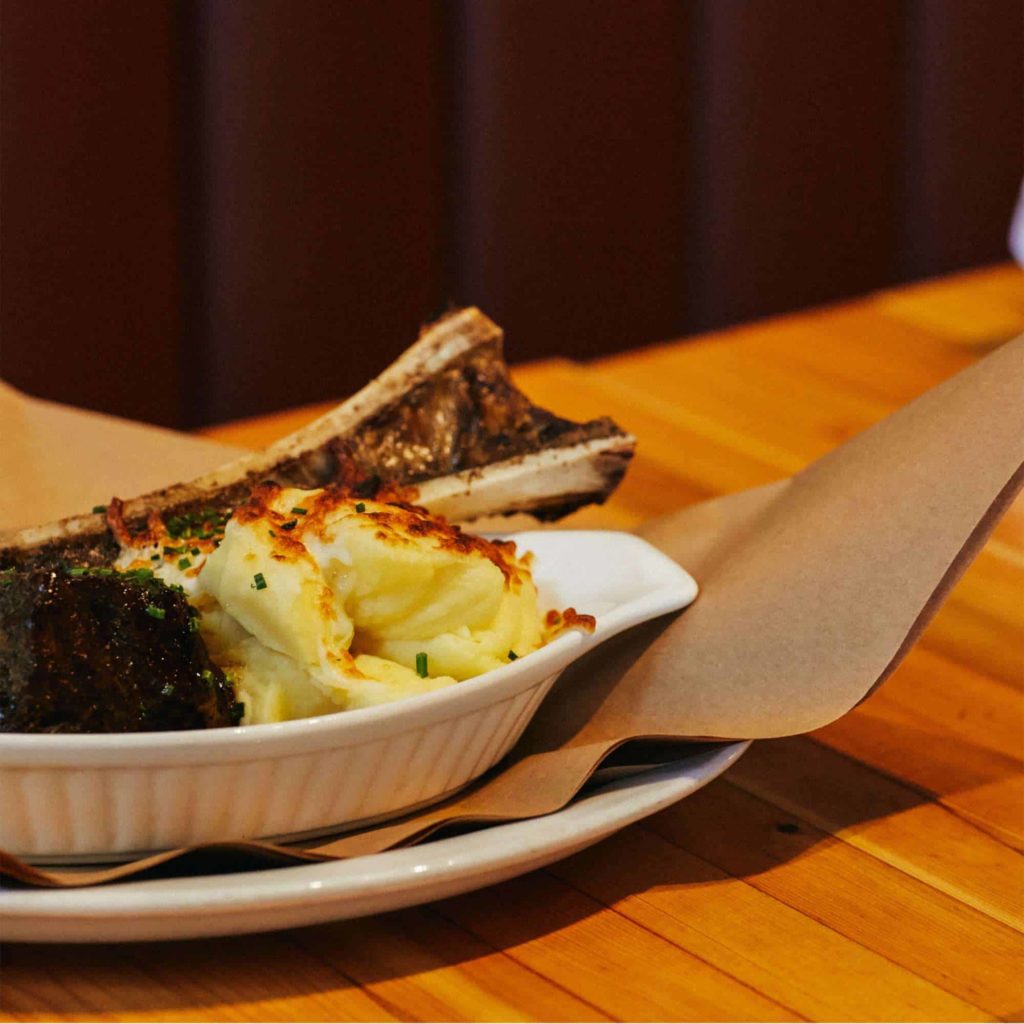 The tender, falling-off-the-bone meat and the rich, flavorful red wine sauce make this a truly decadent dish. It pairs beautifully with a full-bodied red wine.
For those who have a sweet tooth, you can also order traditional desserts such as maple sugar pie, vanilla cake with chocolate icing, and crème brûlée.

16. Guu with Garlic
Guu with Garlic offers inventive Japanese small plates, and they're known as the first Izakaya restaurant in Vancouver.
They use fresh local ingredients with Japanese traditional cooking techniques, creating a unique fusion of traditional and modern cuisine.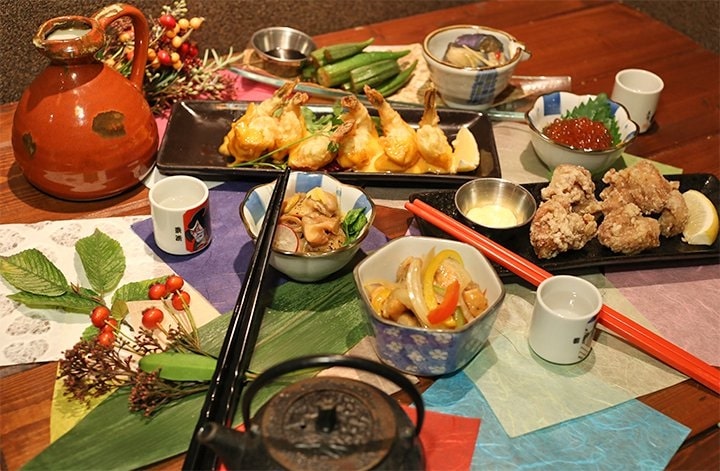 This Japanese restaurant serves a wide variety of food, from sushi to ramen to unique dishes like vegetable tempura and traditional Japanese appetizers like edamame, salmon tataki, and many more.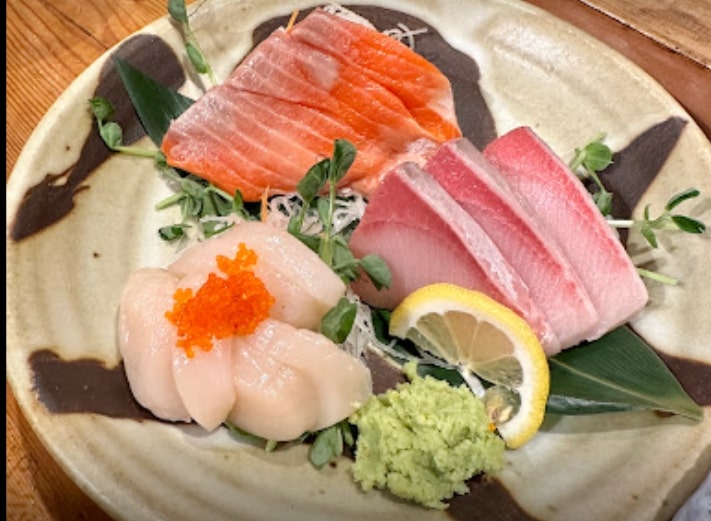 What satisfied our taste buds the most is their Assorted Sashimi Salad. This salad is topped with plum dressing and wasabi mayo, giving it a perfect balance of sweet and spicy flavors that complement the fresh sashimi slices.
Guu with Garlic also has daily drink specials where you can score discounted rates on selected beers, cocktails, and wines.

17. Bacaro
Bacaro specializes in a wine-and-cicchetti bar experience influenced by Northern Italian cuisine that brings the food culture of Venice to Vancouver.
The natural setting of the restaurant goes well with the modern Italian food, which is inspired by traditional Venetian bacaro.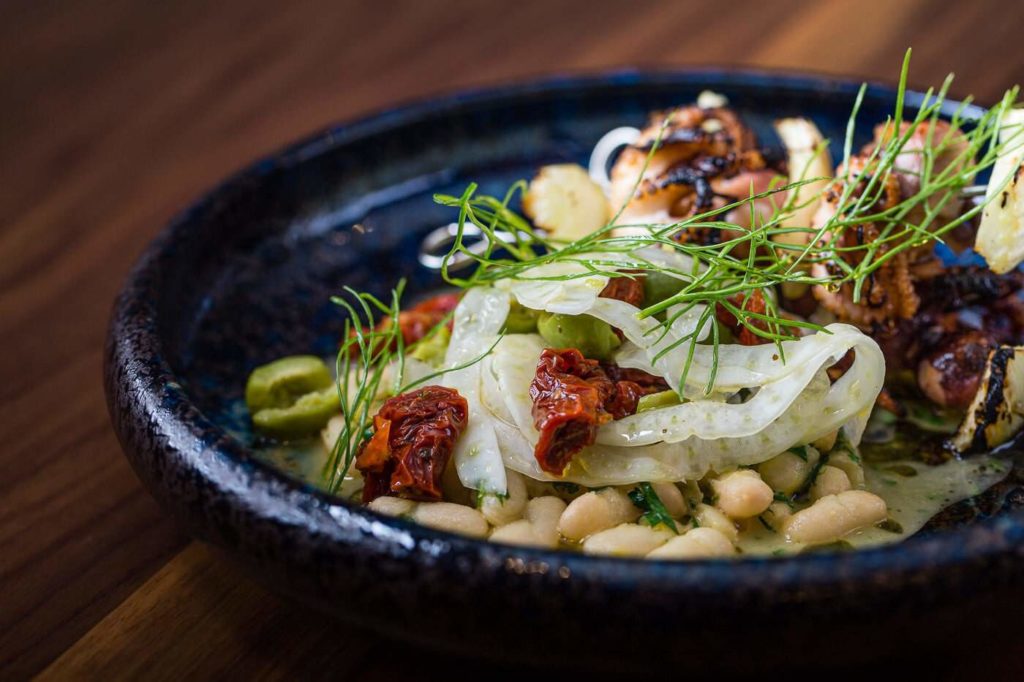 This restaurant honors the culture, cuisine, and style of the bacari, which is a bar where you can drink wine and eat typical Venetian snacks.
Their "Fritto Misto" is definitely a must try. This dish is filled with squid and shrimps that are covered with herbs, lemon, and aioli. It's crispy, and the creamy herbs and sauces create a tangy taste.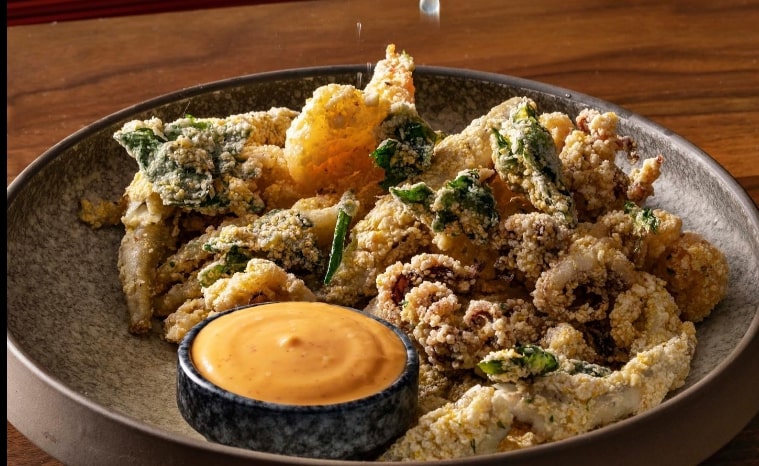 Bacaro also offers an authentic and contemporary twist on Venetian food with all-day snacks, small plates, shared platters, and handcrafted cocktails, and we highly recommend you order them alongside your main dishes.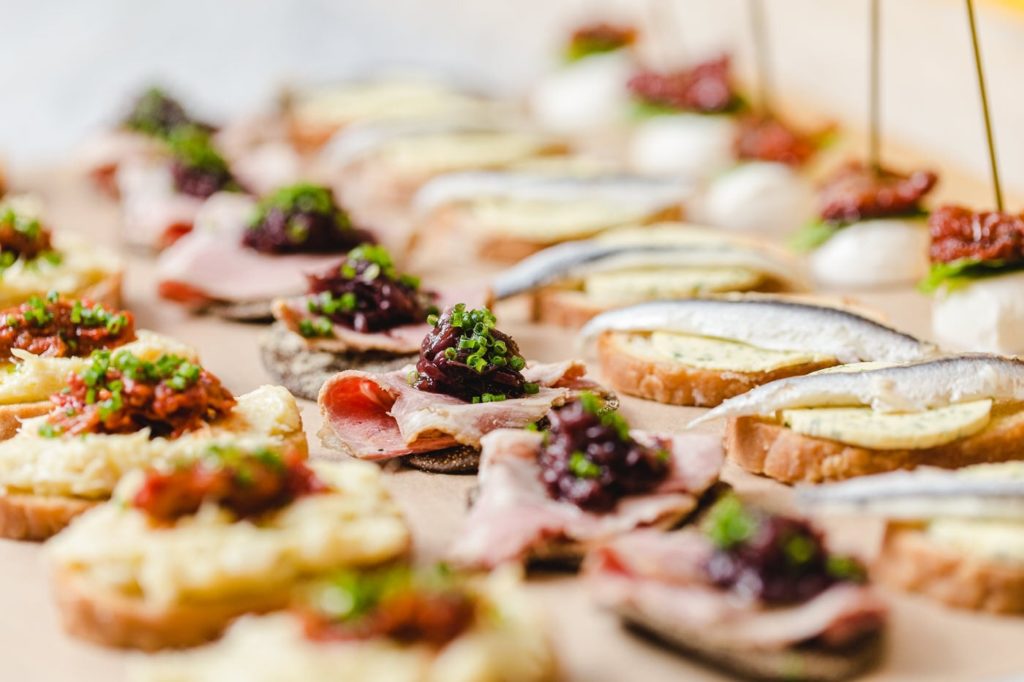 In addition to the classic Venetian cicchetti, Bacaro's menu features a range of unique Italian dishes and desserts such as panini sandwiches, fresh salads, seafood risottos and polentas, fresh pasta, and many more.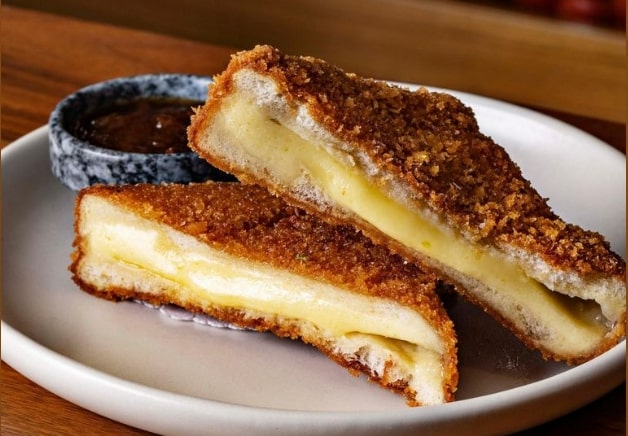 18. Forage
Forage is a farm-to-table restaurant that specializes in sustainable, locally sourced cuisine.
They serve inventive dishes with the freshest ingredients and the greatest variety of cuisine, and they strive to support local farmers and fishermen while minimizing their carbon footprint.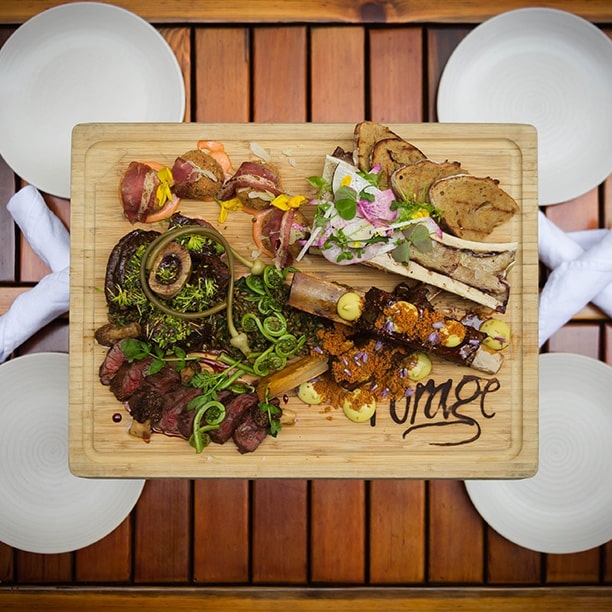 This restaurant is home to the highly regarded Bison Board, a selection of Canadian bison that can be shared by two to four individuals, which we think is a must-try when you dine with them.
This bison board is filled with a variety of cuts, from tenderloin to ribeye, and is served with bone marrow and a delicious array of sides such as roasted vegetables and mashed potatoes.
If you're expecting a large party, Forage also has a family-style feast that includes a three-course meal that's ideal for up to 15 guests. This meal includes starters, a main course board, and a selection of hand-crafted desserts.

19. Caffé La Tana
Caffé La Tana offers an intimate dining experience with a variety of small plates and pasta meant for sharing, as well as an Italian wine list and cocktail menu.
Out of all their menu items, we think you should order the "Orecchiette Pomodoro", this pasta dish is a delicious combination of homemade pasta, fresh herbs, and savory sauce.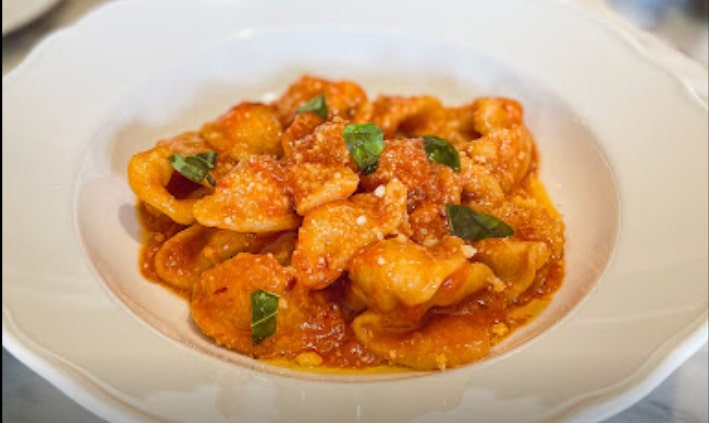 Plus, it's a customer favorite and highly recommended by the chef. This dish is best paired with their cocktails.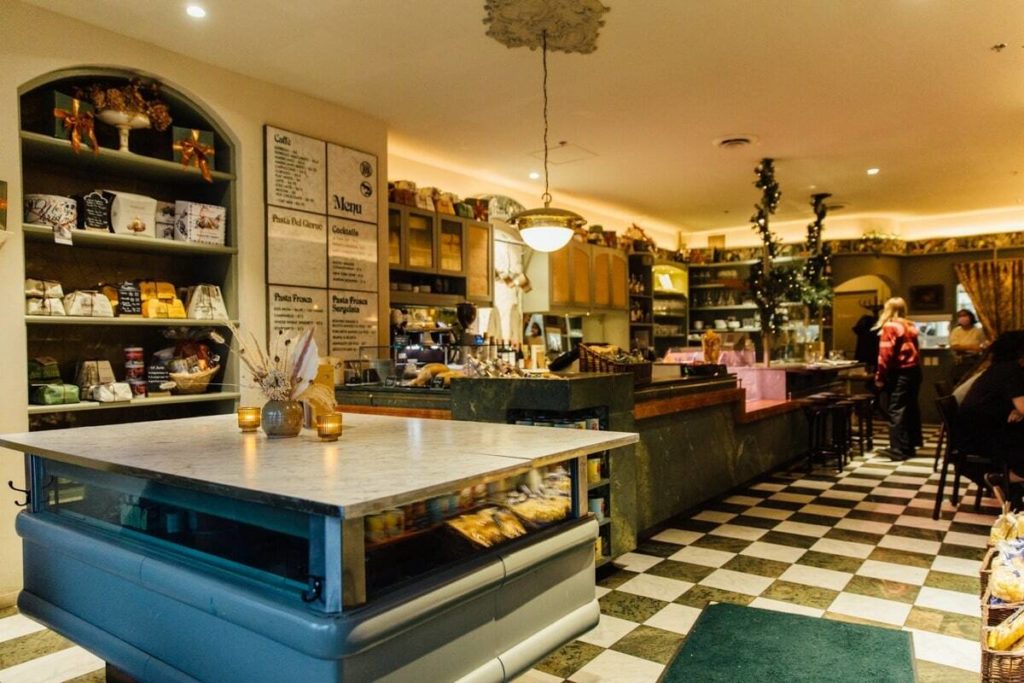 These dishes are meant to be savored and shared with friends and family, making the restaurant a unique place to meet new people.
Their restaurant feels like a classic Italian cafe because it has black-and-white checkered tiles, plain beige walls, and a marble bar top.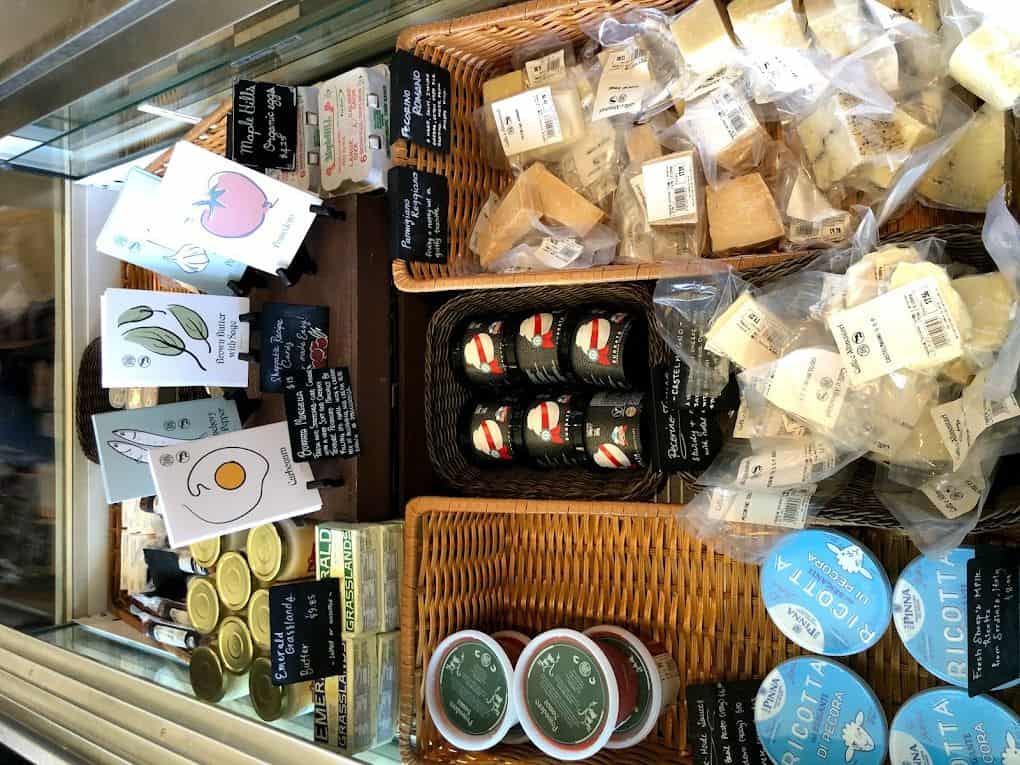 Aside from that, they also have a wide selection of food products such as bread, pasta, beverages, and even pasta-making tools. You may also purchase their merchandise, such as pins and hats.

20. Chancho Tortilleria
Chancho Tortilleria is home to authentic and home-made tortillas and taquerias. These dishes are made from organic, heirloom corn varieties.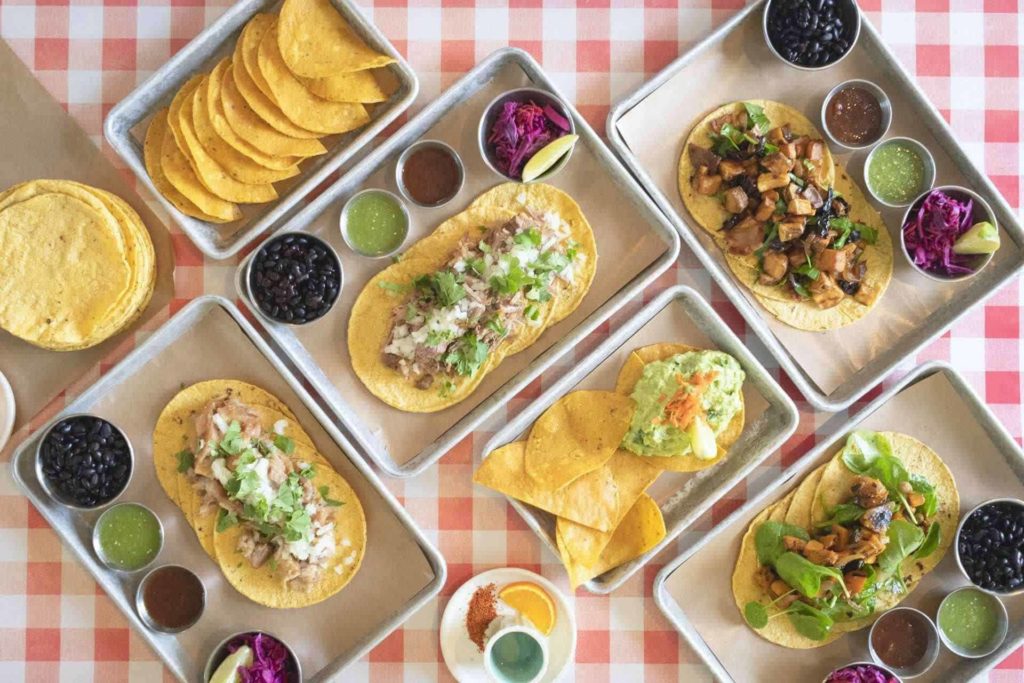 They utilize the process of nixtamalization, where they soak and cook in an alkaline solution. This traditional preparation method, which has been used in Mexico for centuries, is important to the taste and texture of the food.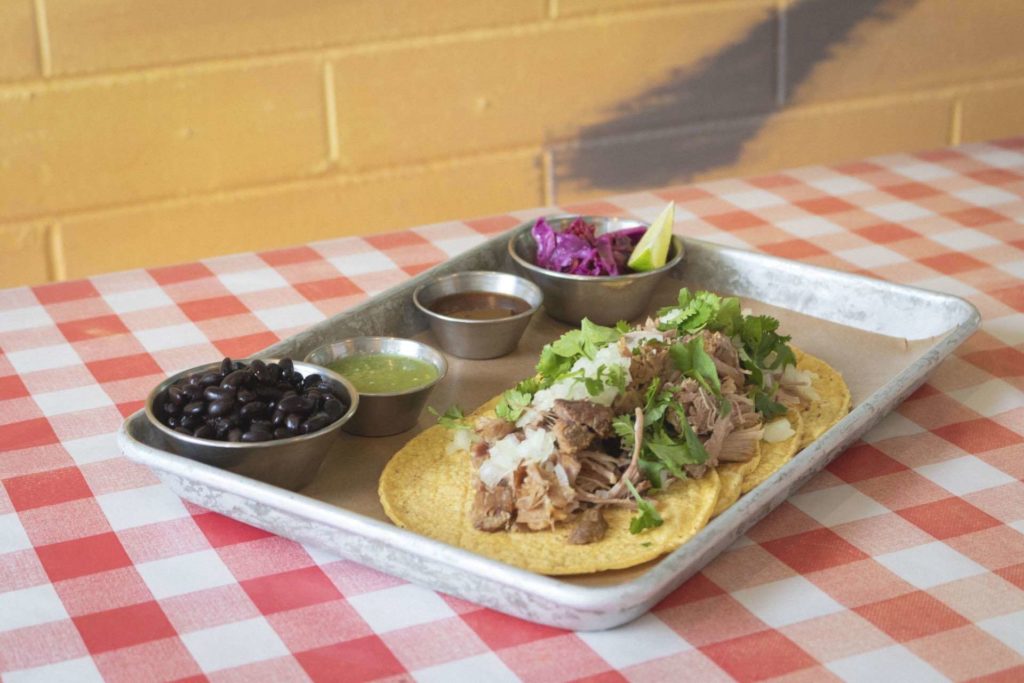 This restaurant serves a wide variety of tortillas and taqueria that has a diverse set of ingredients such as avocados, tomatoes, peppers, onions, limes, and various herbs and spices. They also have vegan options that have potatoes and veggies.
---
That concludes our list of cool places to eat in Vancouver. Whether you're looking for something new or something familiar, there's something for everyone in this great city.
Now, check out these related articles that you may find helpful: