Gastown, Vancouver: Our Ultimate Guide to the City's Oldest Neighborhood
We've lost count of how many times we've spotted Gastown on the silver screen. Those cobblestone streets give it quite the personality, don't they?
Now that you're about to see it up close, it's time to prepare for an unforgettable Gastown experience. Well, whether you're in search of adventure or the perfect place to call home, we've got you covered.
While exploring other neighborhoods in Vancouver is fantastic, let us tell you why a visit to Gastown is an absolute must and what you need to prepare before you go.
What is Gastown?
As Vancouver's first neighborhood, Gastown is the birthplace of modern-day Vancouver. Sitting on unceded Coast Salish territory, along the north of the Downtown Vancouver peninsula, Gastown is now recognized as a national historic site.
The neighborhood's history dates back to 1867 when its first saloon was opened by a settler named John 'Gassy Jack' Deighton.
A statue in Maple Tree Square once honored him, but its toppling in 2022 has sparked discussions about his true legacy. This incident only shows that Gastown has always played a role in important dialogues about history and culture. 
Through these and other challenges like the Great Vancouver Fire and the impact of the recent pandemic, Gastown has persevered as a distinct destination with a historic vibe, top-notch dining options, and a world-renowned fashion scene. 
With major upgrades in the works, the neighborhood's charm is set to level up.
Time Zone
Pacific Standard Time (PST) (UTC-8)
Best Time to Go
The best time to visit Gastown is from June to August, when the weather is ideal for exploring the cobblestone streets and enjoying outdoor activities.
Gastown tends to be bustling during weekends and popular events. If you prefer a quieter visit, the shoulder seasons of spring (March to May) and fall (September to November) offer favorable weather with fewer tourists.
Things to Know
Currency: Canadian Dollar
Language: English
Calling Code: +1
How to Get Around
Trains: At the Waterfront Station near Cordova Street, passengers can take the Expo Line or Canada Line of the SkyTrain, the SeaBus, or the West Coast Express.
Buses: A single bus journey typically costs around 3 CAD and can be a useful way to reach destinations not directly served by the SkyTrain.
Taxis: Taxis are readily available in Gastown, and companies like Yellow Cab and Vancouver Taxi provide reliable services. Uber and Lyft also operate in Vancouver.
Car service: Evo and Modo are popular in Vancouver. They allow car rentals for short periods as needed, while companies like Vancouver Black Cars offer transportation services for private tours and other specific travel needs.
Where to Stay in Gastown
Skwachàys Lodge
Address: 31 West Pender, V6B 1R3 Vancouver
Phone: (604) 687 3589 
Pricing: $$
Book Now
It's a win-win to stay at Skwachàys Lodge. Each room is individually decked out by talented Pacific Coast artists, and is absolutely comfortable. Plus, your money helps support their amazing artist-in-residence program!
Just be aware that like in any big city, the neighborhood can pose a few challenges. But that shouldn't stop you from enjoying nearby attractions like Rogers Arena and BC Place.
Cambie Hostel Gastown
Address: 310 Cambie Street Vancouver – British Columbia
Phone: (604) 684-6466 
Pricing: $ 
Book Now
The Cambie Hostel is a popular choice because first, its location is hard to beat. Second, with the guests' discount at the Cambie bar, it's a fantastic spot to meet fellow travelers and make new friends.
As a "party" hostel, though, it can get a bit noisy late at night. If that doesn't bother you, you'll have a blast staying at this place.
The Sutton Place Hotel Vancouver
Address: 845 Burrard Street, Vancouver, British Columbia
Phone: (604) 682-5511 
Pricing: $$
Book Now
If you want to stay at an elegant hotel, check out The Sutton Place Hotel. It's near everything in Downtown Vancouver, and despite some signs of wear and tear, the overall experience is excellent (think indoor lap pool and gym).
Victorian Hotel
Address: 514 Homer St, Vancouver, British Columbia V6B 2V6
Phone: (866) 266-3306 
Pricing: $$ 
Book Now
The Victorian Hotel is housed in a cool old building with brick walls and Victorian charm. But while it's one of the oldest buildings in Vancouver, you can expect the rooms inside to embrace a truly modern aesthetic.
If you're planning to visit other neighborhoods like Yaletown and Coal Harbour, the location of this boutique hotel is a big win.
Where to Eat in Gastown
Twisted Fork
Address: 213 Carrall Street Vancouver, British Columbia V6B 2J2,
Pricing: $$
Website
Twisted Fork serves their food "as it comes," so you'll get something like a family-style dining experience. Their French press coffee is a real treat, as well as their shakshuka, baked eggs, and banana stuffed brioche French toast (among others, really).
They have limited seating, so make sure to tap on their live waiting list and get a table in one of Vancouver's best brunch spots!
Nuba
Address: 207 West Hastings St., Vancouver, BC V6B 1H7
Pricing: $$ 
Website
Nuba may be a bit tricky to find because it's below street level, but trust us, it's totally worth the search.
Their Lebanese menu is a stunner, from their hummus to chicken shish tawook and crispy garden falafel. And if you're looking for drinks to pair with your meal, check out their Lebanese wine section for the best options.
St. Lawrence
Address: 207 West Hastings St., Vancouver, BC V6B 1H7
Pricing: $$$
Website
St. Lawrence is a cozy restaurant that offers wonderful Quebecois food. With a menu that changes regularly to match the seasons and Quebecois celebrations, you'll always find something new and exciting during your visit.
Our tip? Get there early to avoid any wait. The lines can be pretty long.
Tacofino
Address: 15 W Cordova Street Vancouver, BC V6B 1C8
Pricing: $
Website
If you're craving Mexican-inspired food, Tacofino is an absolute must-visit. Their fresh and hearty burritos and tacos are great for any time of the day.
Indulge in their crispy oyster mushroom taco, fish taco, or pork al pastor, and treat yourself to a refreshing Horchata Margarita. You can also enjoy fantastic discounts during their Happy Hour for even more tasty eats.
Meat & Bread
Address: 370 Cambie St, Vancouver, BC V6B 1H7
Pricing: $
Website
Meat and Bread is a top-notch lunch and sandwich spot, and their Gastown location has garnered serious interest and praise.
Their bread is famous for being incredibly fresh, and their porchetta sandwich (with crackling and salsa verde) is always a crowd-pleaser. If you're ordering more, try other delicious options like their meatball and buffalo chicken sandwiches!
What to Do in Gastown
Explore Gastown on Foot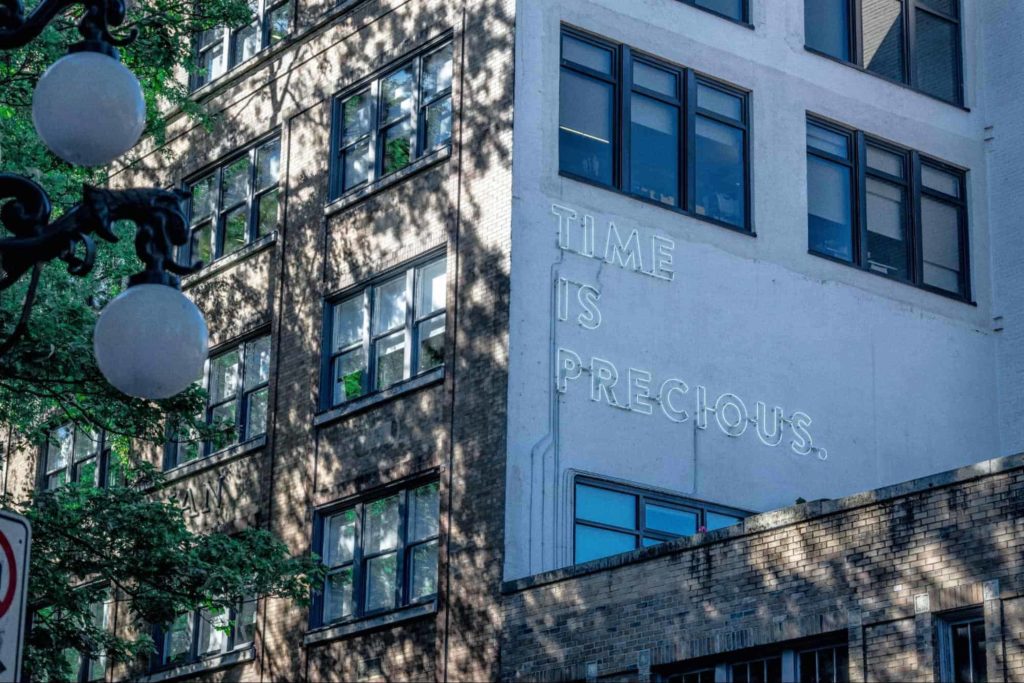 Gastown's cobbled streets make it a picture-perfect neighborhood, so get those steps in and take some pictures while you're at it.
You can also head over to CRAB Park for some great views of Vancouver Harbor and a small playground for children.
Check out the Steam Clock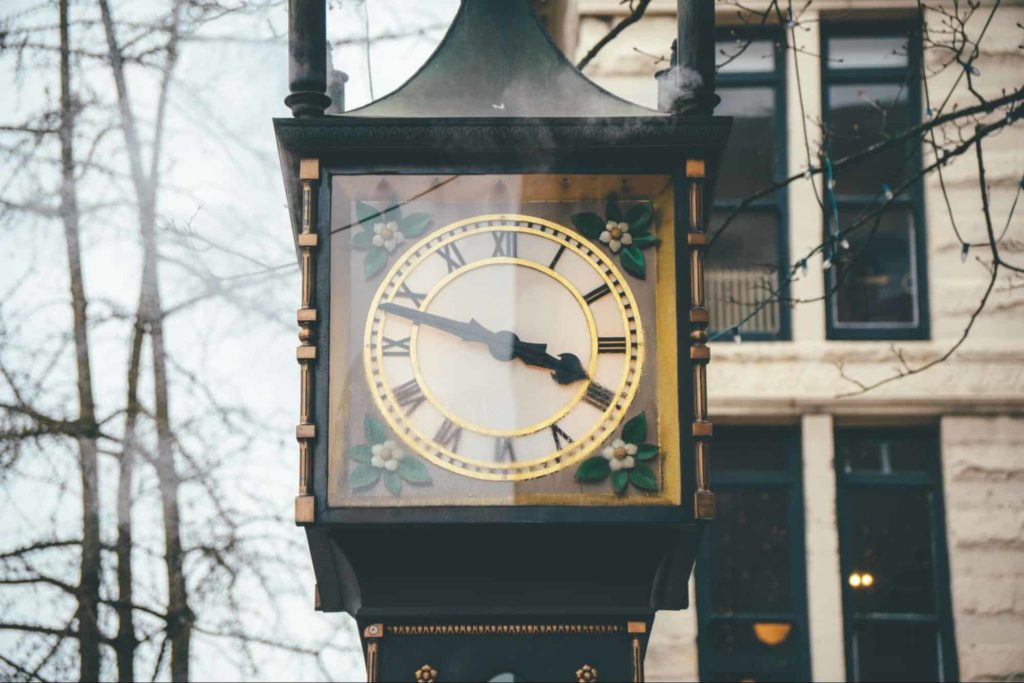 While somewhat overhyped, the Gastown Steam Clock is an iconic landmark, so it's still a great introduction to the neighborhood. Every 15 minutes, the clock whistles and releases steam, but it's best to visit at 12 P.M. for the best experience.
See Vancouver's Flat Iron Building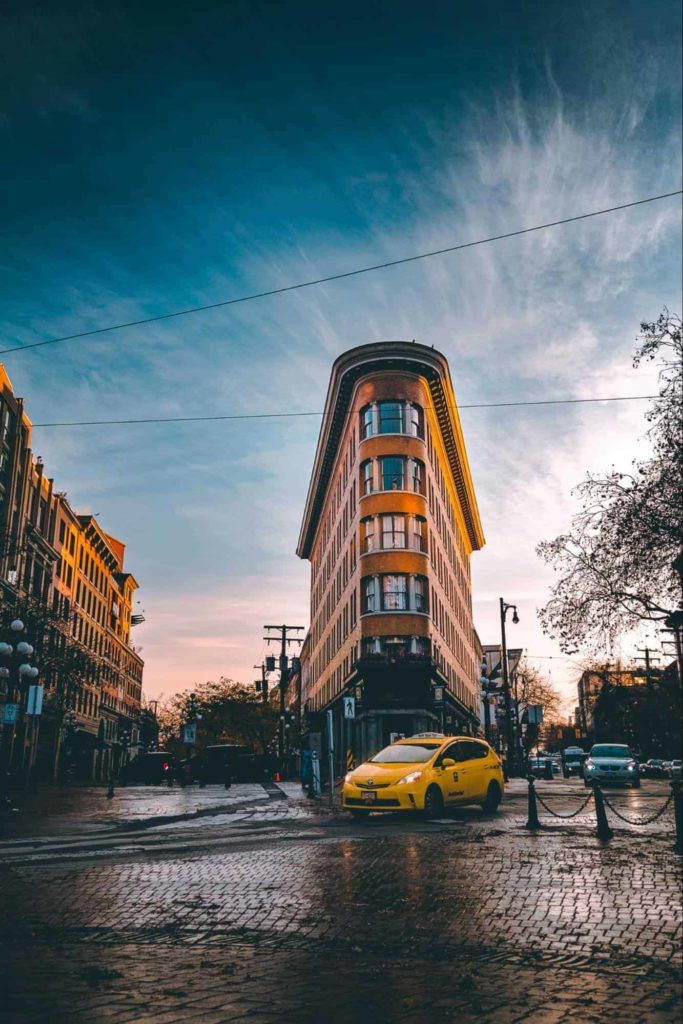 If you've seen the film The Changeling, you may recognize Gastown's Flat Iron building. But then again, just its triangular structure sitting at the corner of Alexander and Powell Streets is enough to turn heads.
It used to be the famous Hotel Europe, Vancouver's first reinforced concrete and fireproof hotel. It was once considered one of the city's finest, so don't miss the chance to snap a picture of (or with) this landmark.
Get a 360 View of the City from the Vancouver Lookout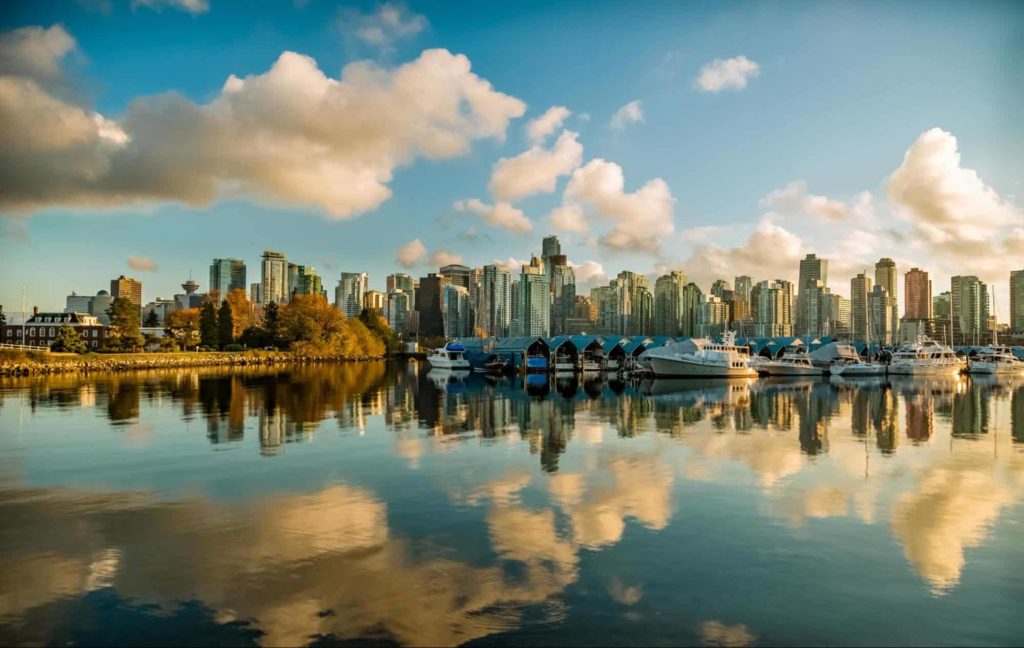 For a bird's eye view of Gastown and the entire city, make your way to the Vancouver Lookout. Once you reach the observation deck, you'll agree that it's the perfect spot to take in the city's landscape, with its skyline, mountains, greenery, and beaches.
Our advice? Get there at night for a truly memorable experience.
Experience Gastown through Immersive Tours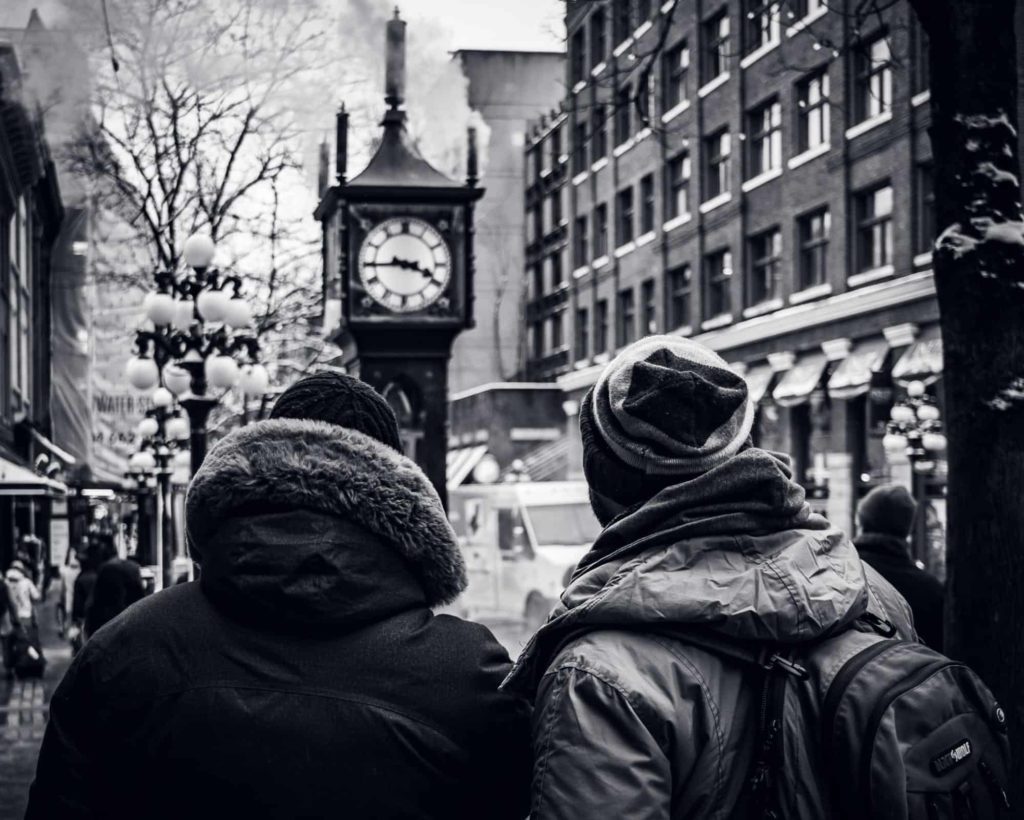 The Lost Souls of Gastown Tour is a big hit among visitors in Vancouver. If you're interested, expect to wander through the back streets while theatrical guides bring the neighborhood's past to life, including a captivating unsolved murder.
Feeling like a detective? Give the Murder Mystery Adventure a try. Gather clues from iconic landmarks to unravel a thrilling case—an exciting alternative to the typical photo opportunities.
Just remember to bring your umbrella, as these activities take place outdoors.
Drink Coffee or Beer, or Both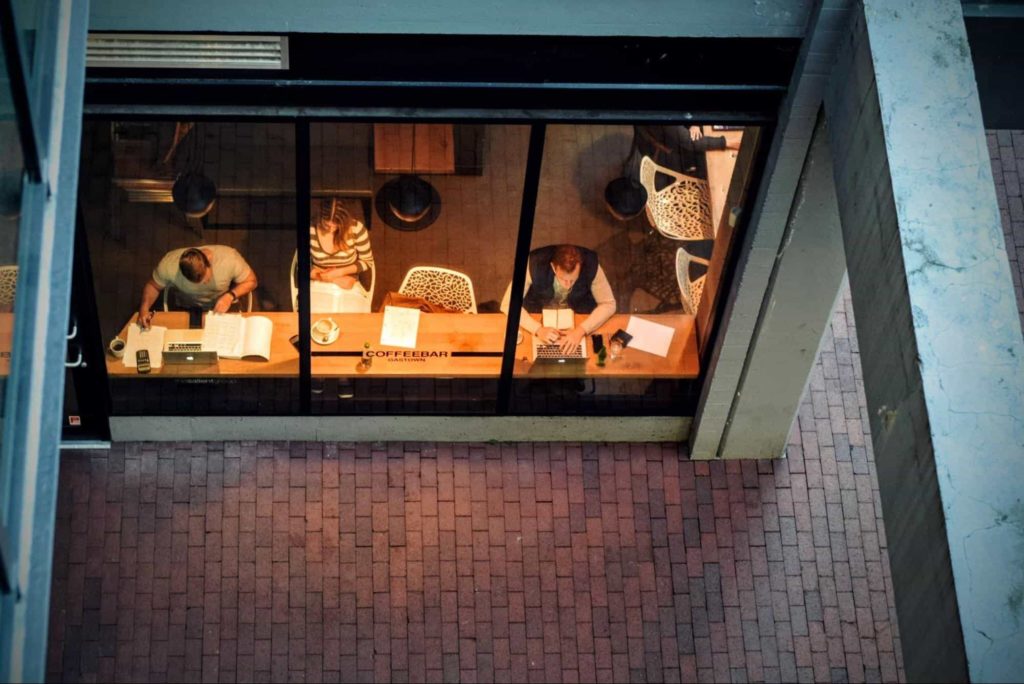 Start your day right with a visit to Kafka's, Revolver, or Nemesis Coffee. Their coffee, best paired with fresh bread, will give you a taste of the neighborhood's serious(ly great) coffee scene.
If you're more into beers, know that Gastown also won't disappoint. Visit local breweries like Steamworks, where you can savor amazing food and drinks while taking in the harbor views from a window-side table.
To discover more of Vancouver's local beers, pop in some bars like Alibi Room and take advantage of the happy hours which start around 3 or 4 P.M.  
Visit Art Galleries
If you're an art enthusiast, don't miss out on Gastown's lively art scene. Add these four distinct galleries to your places to visit!
Visit Artspeak for a dose of contemporary art, and Choboter Fine Art for figurative abstract paintings. You may also see artworks by First Nations and Inuit artists at the Coastal Peoples Gallery, and by international artists at CICA Vancouver. 
Where to Shop in Gastown
Hudson House Trading Company
Address: 321 Water St Suite 101, Vancouver, BC V6B 1B8
Phone: (604) 687-4781
Website
From maple leaf magnets to ice wine candies, Hudson House Trading Company offers a range of unique items that make for perfect Vancouver keepsakes. With reasonable prices and excellent quality, you'll be proud to wear or gift your finds from this shop.
One of a Few
Address: 38 Water St Vancouver, BC V6B 0B7, Canada
Phone: (604) 605-0685
Website
Once you're inside this lovely women's boutique, you'll feel that every bag and item of clothing and footwear has been chosen with care.
They have great pieces in monochromatic style, which allows you to dress nicely without drawing excessive attention. If you're into vintage pieces, go upstairs to take a peek at their selection.
Siista
Address: 207 West Hastings Street Unit 1201 Vancouver, BC, V6B 1H7
Website
SIISTA is the hidden gem of Vancouver's fashion scene. Located on the 12th floor of the Dominion Building in Gastown, this Latinx and woman-owned boutique offers affordable luxury at its finest with sought-after brands like The Line By K.
If you can't visit them in-store yet, you can check out their curated collection online!
Community Thrift & Vantage
Address: 11 W Hastings St, Vancouver, BC V6B 1G4, Canada
Phone: (604) 629-8396
Website
Community Thrift & Vintage caters to all sizes and offers affordable vintage treasures. They're all about giving local women employment opportunities, so you can shop while supporting a meaningful cause.
John Fluevog
Address: 65 Water Street Vancouver, BC V6B 1A1
Phone: (604) 688-6228
Website
From the trendy shoe selection to the friendly sales associates, this store offers an experience that will make you a John Fluevog fan. The captivating glass cube location adds to the charm, making it a must-visit shopping destination.
Old Faithful Shop
Address: 320 W Cordova St, Vancouver, BC V6B 1E8, Canada
Phone: (778) 327-9376
Website
The Old Faithful Shop is this awesome home goods store that totally fits with the neighborhood's historic vibes. They also sell timeless and even handcrafted items, which all the more makes the shop special.
Here's a tip: They have a knack for curating unique items, so don't rush your decision. Ask questions if needed, and make sure you're in love with what you're getting.
Shop Makers Gastown
Address: 38 Water St, Vancouver, BC V6B 0B7
Website
Formerly called The Nooks Gastown, Shop Makers Gastown is a fantastic place for those who are looking for last minute but impressive gift items or those who just adore artisanal creations.
If you've ever been to a craft market before, then you'll be transported back to that memory, only this time, the store is here to stay. Just look around and support local businesses!
What to Expect from Gastown Weather
Spring: Paris comes to life in the spring, but the weather can still be a little cool — high 50s to high 60s — and you might catch some light rain.
Summer: The summer is definitely Paris' high season, with June and July ideal (yet busy) months to visit. In August, many Parisians take their own vacation, so the city will be a little less lively.
Fall: Fall in Paris can be beautiful, with temperatures that range from the low 40s to mid 50s and a handful of rainy days a month.
Winter: The winter months can be grey and chilly in Paris (sometimes with a dusting of snow!), but it's the perfect time to visit if you want to avoid the crowds and dress in layers, which always has a super-chic effect.
Apps to Download for a Trip to Gastown
Vancouver Maps and Walks: Discover self-guided routes and track your steps
iOs | Android
Vancouver Transit Live: Get live updates on bus schedules
iOs | Android
OpenTable: Avoid long wait times by reserving tables at restaurants
iOs | Android
Too Good to Go: Get discounted surplus food from supermarkets and restaurants 
iOs | Android
Is Gastown a good place to live?
Cost of Living in Gastown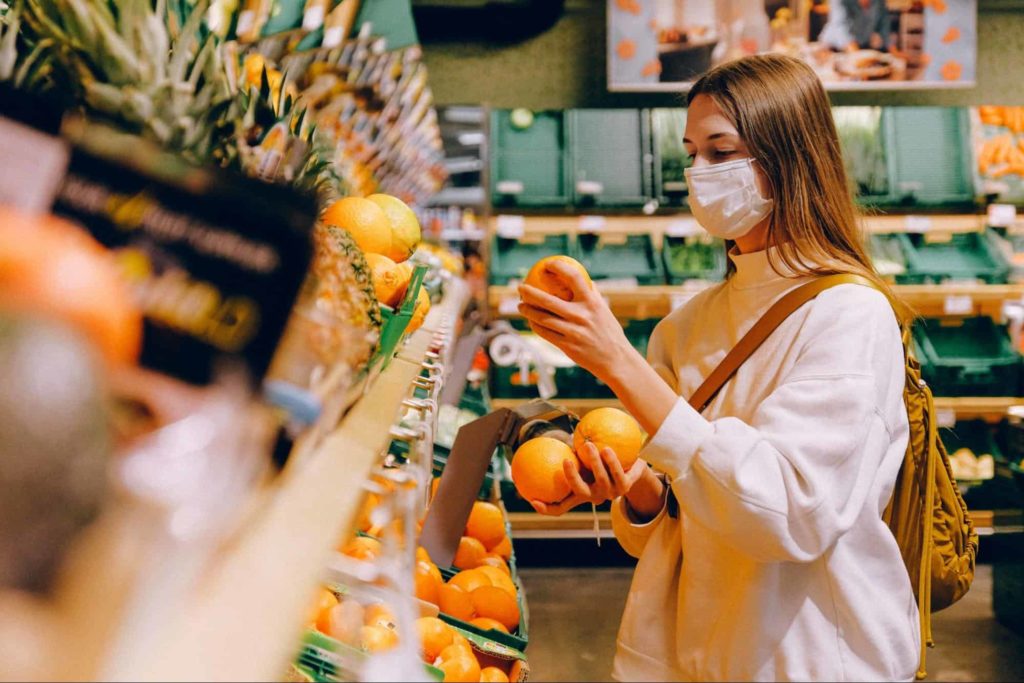 Living in Gastown, just like in Yaletown (Yaletown), can be pretty steep. Based on Vancouver Economic Commission's affordability guide, monthly groceries for 2.6 people can cost around CAD 834, and water, fuel, and electricity alone can add an extra CAD 173. 
It's not that surprising, though. Vancouver is an expensive city to live in and if you want to live comfortably, you'll need to have around CAD 70,000-103,000 per year. 
Security in Gastown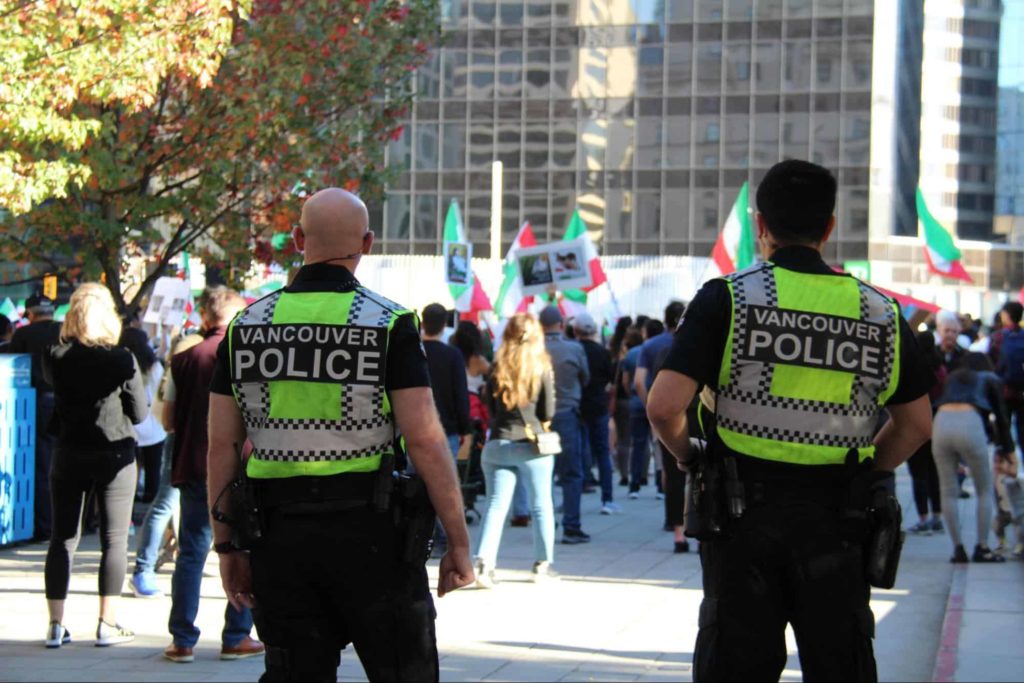 Gastown is generally safe during the day, but it's still important to exercise caution, especially at night.
As it's next to the Downtown Eastside, an area facing social challenges, it's advisable to stay within well-lit and busy areas and avoid exploring unfamiliar areas, particularly after dark.
Since these two neighborhoods are next to each other, it's almost inevitable to see the challenges of DTES spill over to Gastown. In fact, during the pandemic, the neighborhood safety concerns in Gastown magnified as the problems in DTES worsened.
To make sense of these concerns, we need to put things into perspective.
In May 2023, the Central Business District neighborhood, to which Gastown belongs, had the highest number of every kind of reported crime incident in all of Vancouver.
Take theft from autos: CBD had 198 out of 570 citywide incidents. That's a huge chunk that CBD is responsible for.
But then again, we have to be careful in interpreting the monthly fluctuations in data coming from VPD. The City of Vancouver has already recognized the issue in Gastown and has made some big plans to revitalize the area.
It also helps to know that Vancouver as a whole has moderate crime levels, with a 40.90 crime index according to Numbeo.
So, if you're moving to Gastown, know that taking sensible precautions will go a long way in ensuring your safety in the neighborhood. But don't let the present concerns deter you from enjoying the historic Gastown.
Health and Wellness in Gastown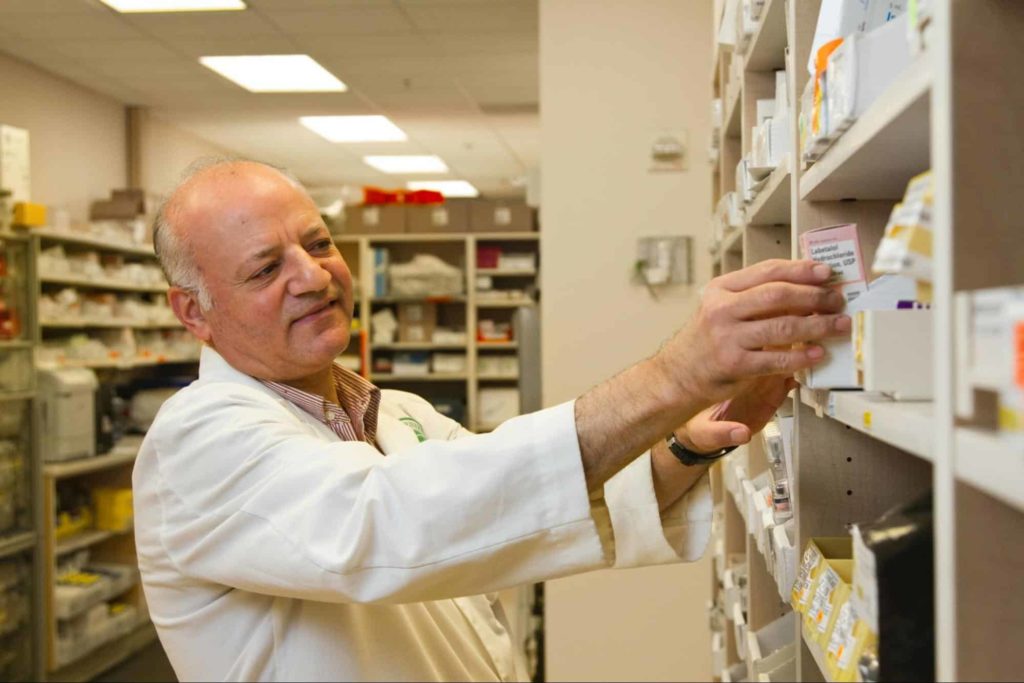 Gastown is close to a number of medical clinics, wellness centers, and pharmacies. You can reach most of these establishments by car within five minutes:
St. Paul's Hospital
1081 Burrard St, Vancouver, BC V6Z 1Y6
(604) 682-8206
Keefer Walk-in & Medical Clinic
Address: 118 Keefer Street Vancouver, BC V6A 1X4
Phone: (604) 674-7403
Vancouver Women's Health Collective
Address: 29 W Hastings Street Vancouver, BC V6B 1G4
Phone: (604) 736-5262
Spa Revive
Address: 878 Homer Street, Vancouver, BC V6B 2W5
Phone: (604) 559-9019
The Pharmacy
Address: 1251 Pacific Blvd, Vancouver, BC V6Z 2R6
Phone: (604) 684-8488
Education in Gastown
If you're planning to go back to school or raise children in Gastown, there are trusted schools and universities that are easily accessible. After all, the transport system in Vancouver is awesome!
Although The University of British Columbia is a short 15-minute drive away,  Simon Fraser University is just around eight minutes away on foot. There's also the Gastown Business College along Water Street, if you're interested in taking a specialized international business curriculum.
There are also lower-level schools reachable within 5-15 minutes by car such as Saint Patrick Regional Secondary School, Vancouver Technical Secondary School and Alexander Academy to name a few.