How much does a tattoo cost in Vancouver?
Hey there, brave friend. So, you're planning to get a tattoo, eh? We've been there. After many hours of research, you've finally decided on what to get and now you want to know how much this will cost.
No worries; we got you. We've scoured the city and wrote down everything you need to know about tattoo costs (and we may or may have gotten one ourselves).
What is the cost of a tattoo in Vancouver?
The cost of a tattoo in Vancouver is around CAD 100 to CAD 190 per hour. This amount varies depending on a variety of factors, such as location on your body, size, design, complexity, and your tattoo artist's level of experience.
Tipping is also an additional factor that can greatly impact the final cost of your tattoo. It's important to discuss all of these factors with your tattoo artist before getting inked.
Factors that Affect the Cost of a Tattoo in Vancouver
1. Location on Your Body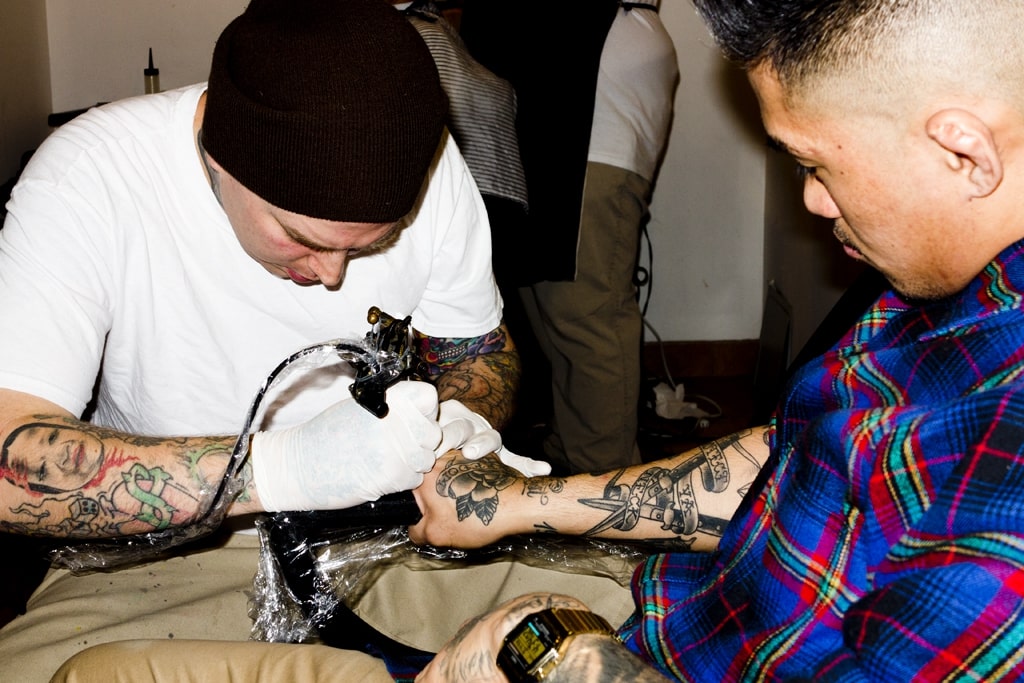 Where you choose to place your tattoo can affect the price tag. Let's say you want it on the usual spots, like your arms, legs, and back. These areas are typically easy to work with, so you don't need to worry about the price that much.
Truth be told, these areas can be completed quickly, so artists charge less for their time. But if you're one of those people who's up for a challenge, you may want to get a tattoo on complex places. This includes hands, feet, and the face.
| LOCATION | PRICE RANGE |
| --- | --- |
| Wrist | CAD 50 - 150 |
| Forearm | CAD 200 - 1,200 |
| Tricep | CAD 350 - 500 |
| Shoulder | CAD 700 - 900 |
| Chest | CAD 250 - 1,200 |
| Full-Back | CAD 1,000 - 5,000 |
| Rib | CAD 600 - 700 |
| Ankle | CAD 60 - 200 |
| Leg | CAD 500 - 1,800 |
Data from Cost Niche via https://costniche.com/tattoo-prices-canada/
But mind you, these areas will cost more as they're sensitive and require more time, skill, and care, so you may get charged extra for that.
But don't be scared of the price! Ultimately, getting a tattoo is based on your personal preference but if you're looking for a way to save some cash, opting for a more common location can be a good strategy.
2. Size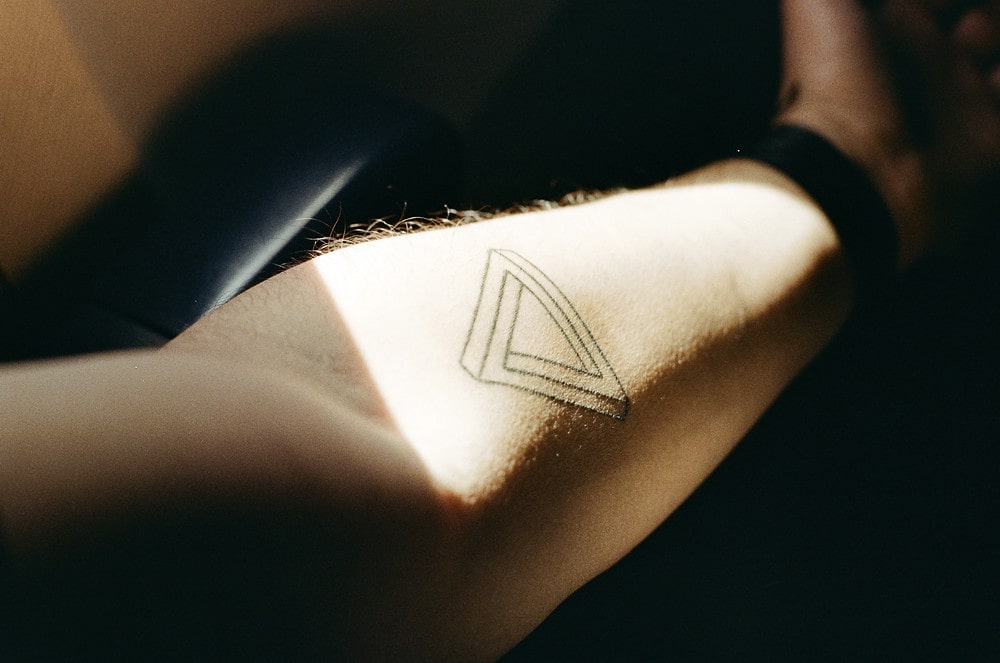 We're sorry to say that when it comes to tattoos, size definitely matters. Sure it's blatantly obvious that a larger tattoo needs more ink but it's so much more than that.
But don't be fooled, not all small tattoos are cheap. Sometimes they can even cost more as it depends on the complexity of the design (which we will discuss a little later).
| SIZE | PRICE RANGE |
| --- | --- |
| Tiny (2 inches below) | CAD 30 - 100 |
| Small ( 2 - 4 inches) | CAD 50 - 250 |
| Medium (4 - 6 inches) | CAD 150 - 450 |
| Large (6 inches and above) | CAD 500 - 4,000 |
Data from Cost Niche via https://costniche.com/tattoo-prices-canada/
So remember, even a tiny tattoo can come with a big price tag. After all, good things come in small packages, and that includes tattoos.
3. Tattoo Design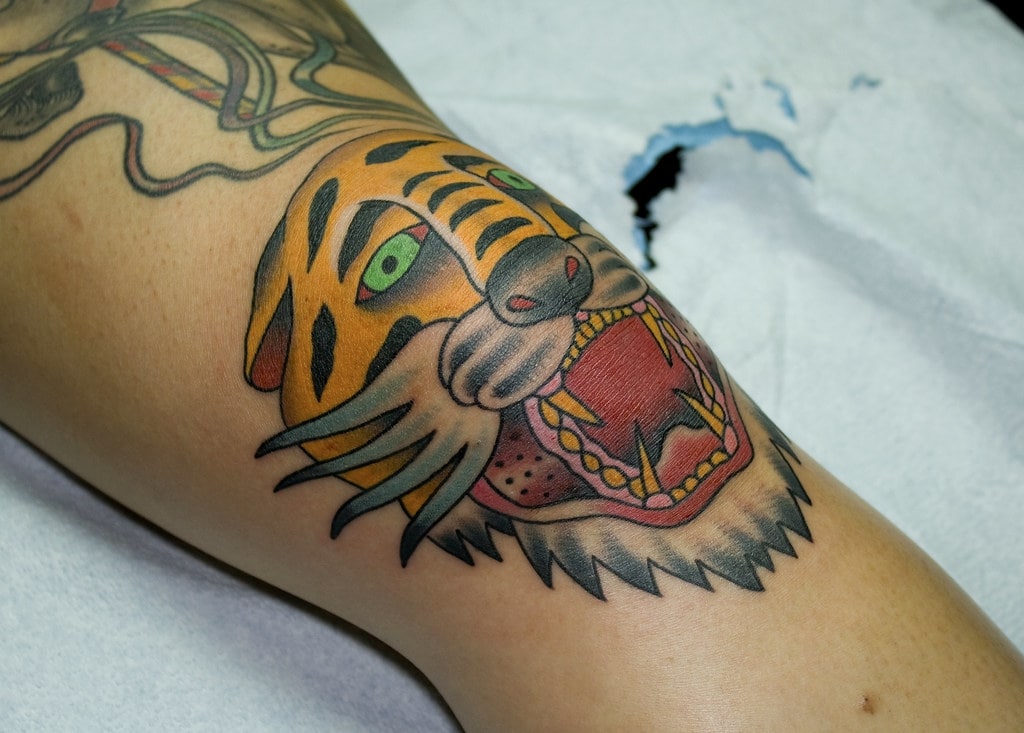 Designs! If you're like us, maybe you also share our love for complex designs? Well, too bad because you and I both need to be prepared to pay a premium.
You know those massive and eye-catching tattoos you see on celebrities or rappers? They cost a lot because they have intricate patterns, fine lines, and shading. See this one? This takes a lot of time and probably a few more sessions to complete.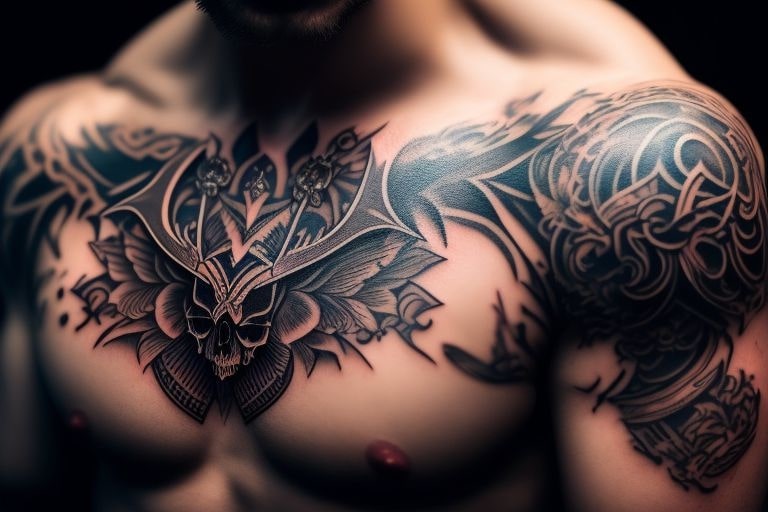 It requires a hell lot of skill and precision so artists may need to spend extra time planning and executing the tattoo to make sure it looks just right.
| TATTOO DESIGN | PRICE RANGE |
| --- | --- |
| Portrait | CAD 200 per hour |
| Rose | CAD 100 - 300 |
| Lion | CAD 150 - 400 |
| 3D | CAD 200 per hour |
| Quote | CAD 90 - 200 |
| Name | CAD 75 - 100 |
Data from Cost Niche via https://costniche.com/tattoo-prices-canada/
But if you're a minimalist, we got good news! Simple tattoo designs save you a lot of cash because these are typically less time-consuming to create.
So, if you're on a tight budget but still want a killer tattoo, consider opting for a simpler design. Or, if you have your heart set on a more complex design, be prepared to pay a bit more for it.
4. Complexity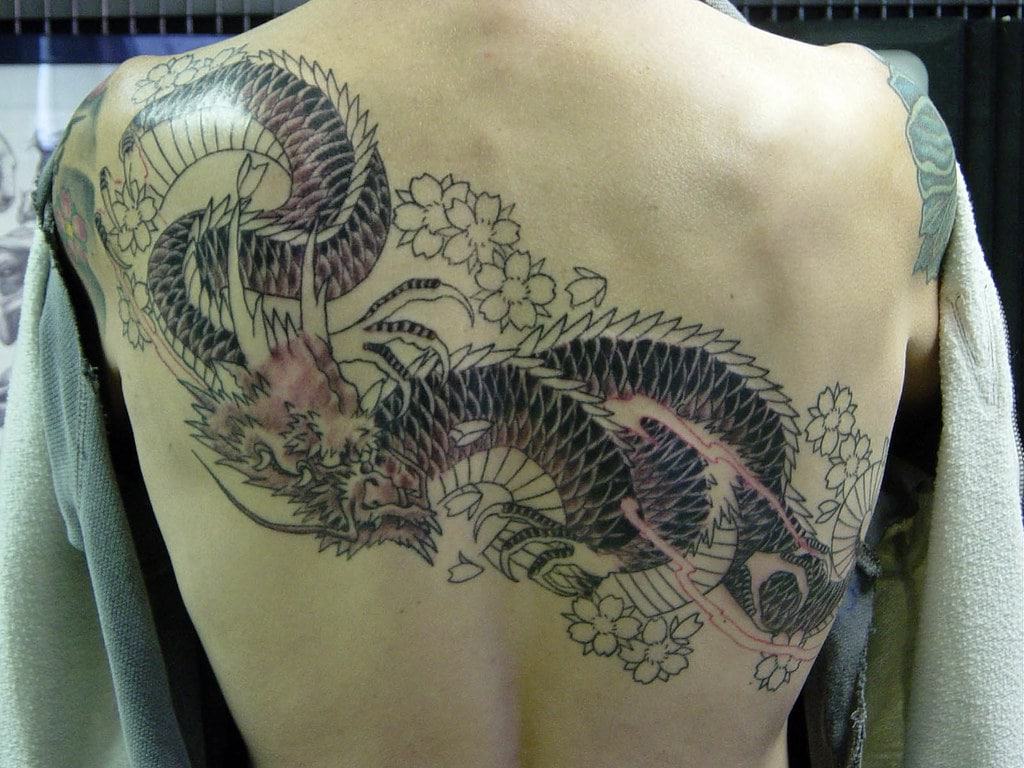 When it comes to tattoos, the more complex and detailed the design, the more time and skill it will take to bring it to life, which means a higher price tag. So, just what makes a tattoo complex? Well, it all depends on the details.
If you take a look at the photo below, you'll notice that the person has a full back and full sleeves.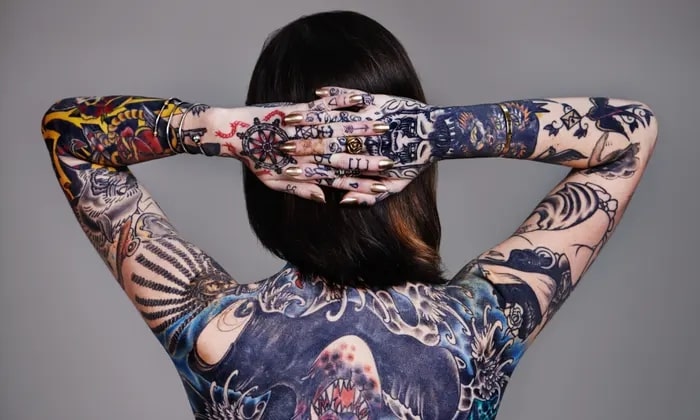 But if you look closer, this is where you start to see the different symbols and objects each area has, such as the tiger on her left arm or the galver on her left hand. Pretty cool, right?
Well, this is exactly what a complex tattoo looks like. It's determined by a combination of factors, including the level of detail, color, placement, and the skill level of the artist.
5. Tattoo Artist and Experience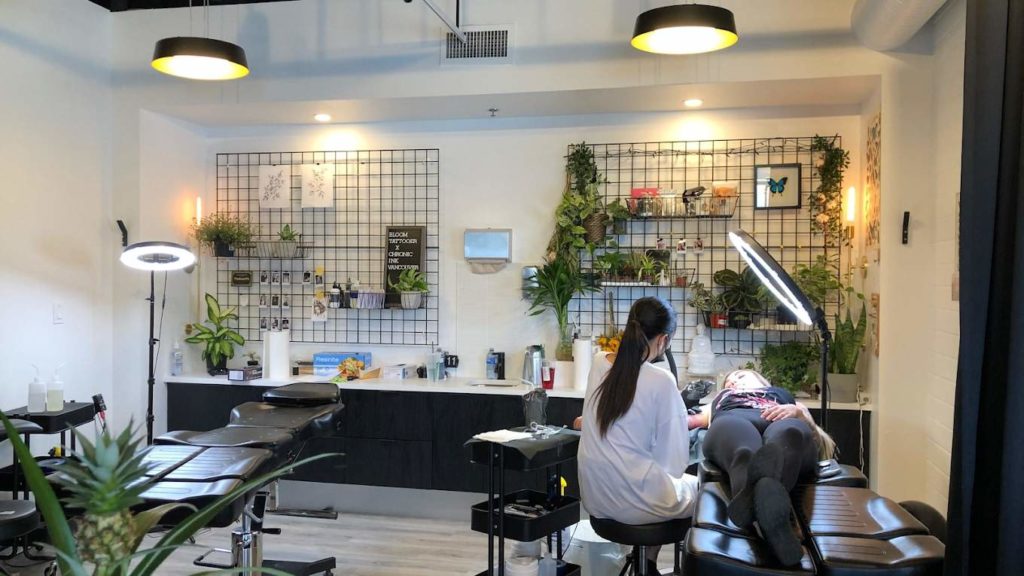 Ah, the age-old question: why do other artists charge more than others? Well, the answer to that is simple: they have more experience.
Let's break it down. A newbie artist may not have the same level of skill or expertise as a seasoned pro. This is because experienced artists have spent years honing their craft, perfecting their technique, and building a reputation.
| EXPERIENCE | AVERAGE COST PER HOUR |
| --- | --- |
| 1 - 3 years | CAD 100 |
| 5 - 10 years | CAD 150 |
| 10 years above | CAD 200 |
| Famous | CAD 350 |
Data from Fash via https://fash.com/
But we're not saying that beginner artists cannot produce great work, as everyone has to start somewhere, and there are plenty of talented individuals who are just starting out in their artistic journey.
Every tattoo artist is different, and experience isn't the only factor to consider. You'll also want to look for an artist whose style matches your vision, someone who you feel comfortable with, and someone who has a portfolio of work that you admire.
Check out these local tattoo shops in Vancouver that offer different skills and specializations on the table:
How much should you tip your tattoo artist?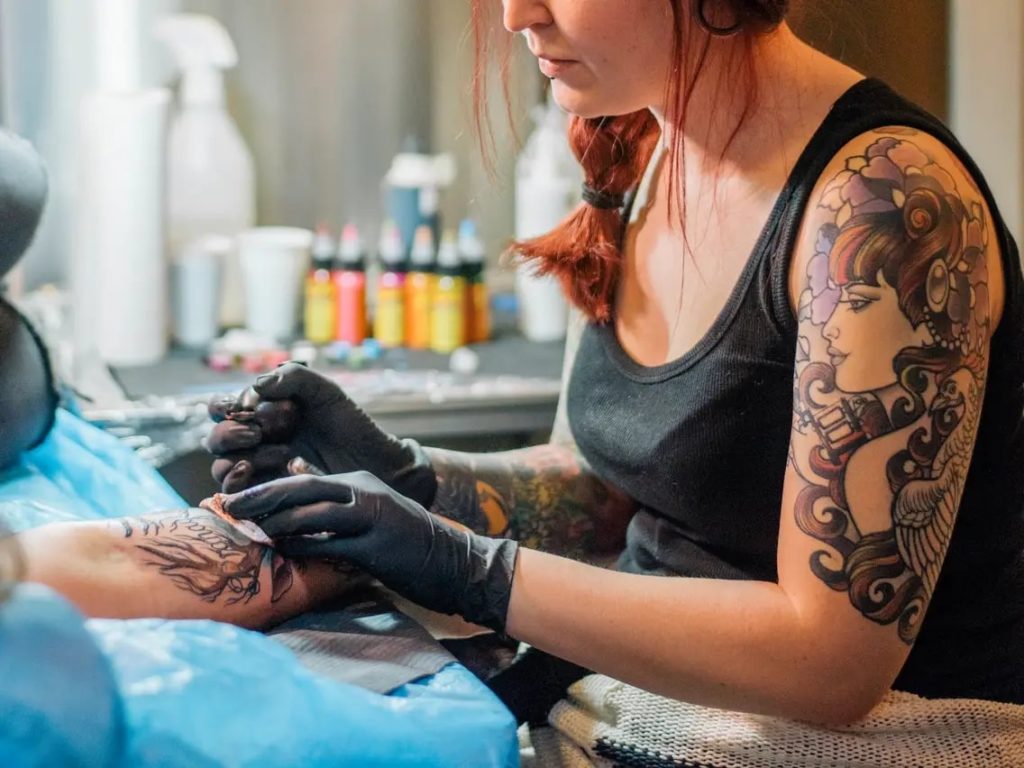 Tipping is a pretty common thing in the tattoo industry. In Vancouver, it's a golden rule to tip 20% of the total cost of your tattoo.
If you're a little short, 15% is also a good amount. But hey, if your artist knocked it out of the park and you're feeling extra impressed, why not throw in a little extra cash? After all, a good tattoo is for life, so make sure you treat your artist right.
FAQS about tattoos in Vancouver
---
Getting a tattoo is one of the things you can do once you turn 18 in Vancouver. No matter how much you spend, the most important thing is to make sure you're getting a quality tattoo that you'll be happy with.
Now, just in case you're not loving your new tatts, check out our article of the best places for tattoo removal in Vancouver.