5 Best Custom Closet Makers in Vancouver
Are you renovating your home and in need of a new storage place? You should only get the services of the best makers of custom closets in Vancouver!
To make your search easier, we sifted through all the makers of custom closets in the area and picked the ones with services that can benefit you the most. Continue reading to discover which ones made it into the list and how they can help you.
How much is a custom closet in Vancouver?
The price of a custom closet in Vancouver varies based on how big the closet is, the features included, and the material used. Please use the table below to see the estimated costs included in building a custom closet.
| Type of Service | Estimated Price |
| --- | --- |
| Simple closet building and installation | $175 - $350 per linear foot |
| Larger closets with accessories and lighting | $500 - $1,500 per linear foot |
| Luxury custom closets | $10,000 and above per linear foot |
Top Crafters of Custom Closets in Vancouver
To make this list, we reviewed the custom closet makers based on the following criteria:
1. California Closets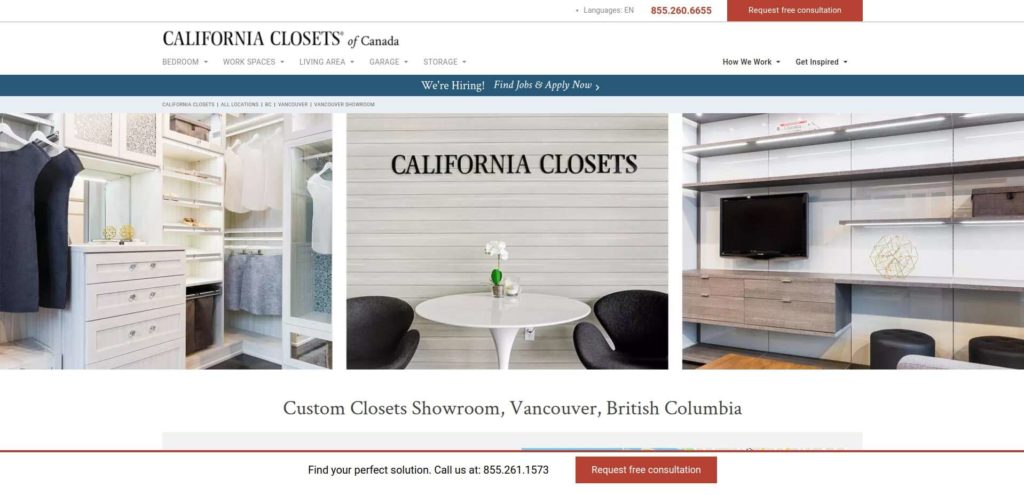 | | |
| --- | --- |
| Criteria | Ratings |
| Customizability | ★★★★★ (5/5) |
| Additional Services | ★★★★★ (5/5) |
| Customer Satisfaction | ★★★★★ (5/5) |
California Closets is a company that makes custom closets in Vancouver and other parts of Canada and North America.
One of California Closets' strengths is the range of services it gives customers. The company can make a cabinet, closet, or storage for every place in your home.
California Closets makes everything from walk-in and reach-in closets, children's closets, living room shelves, workbenches, and more.
You can book a free consultation with one of their designers, which will help you build a closet according to your budget and needs. Soon after a consultation, they will give you a 3D rendering of your storage area so you can see how the finished product will look.
We believe this is a huge help for customers who want to see what the company can offer even before they commit to getting California Closets' services.
The company also uses recycled and reclaimed wood and follows rigorous standards of sustainability, which is a huge plus for those looking for eco-friendly custom closets.
Another of the company's strengths is its transparency with its estimated costs. On their website, they list down the closets they can make with its inclusions, plus the starting cost per foot.
However, we took note of a huge price jump between the simple practical custom closet and one they offer with expanded features. Even though the latter is just a step above in complexity, you can expect a $2,000 difference between the two.
If you have no issues with your budget, then California Closets is a wonderful option for you. We believe that the customizability, transparency, and lifetime warranties they offer justify the high price of their product.
Makes a wide range of closets
Transparent with price estimates
Offers simple and luxurious customs
Uses recycled and reclaimed wood for sustainability
Large price jump to add more features
Customer Reviews
Quick installation
I'm not too fond of wire racks. When I moved into my apartment, the closets were full of wire racks. I called California Closets asking for help to design and build a better, more efficient storage system for my master bedroom closet, pantry/Landry room and entryway closet. Kendra's knowledge (the California Closet designer) was valuable during the design phase. She visited my apartment to ensure the closet systems met my storage needs, and she made a second visit to reconfirm the exactness of the measurements. The builders were fantastic. I find it hard to believe they assembled the closets in two days. I am delighted with my closet solutions. In addition, I spend less time searching for things. Yes, I will recommend Kendra and California Closets. – MK
Designers make useful suggestions
Fifteen years ago, in our previous home, California Closets customized several closet spaces for us.This was such a pleasant experience we decided to go with them again.Our consultant, Sue, was a pleasure to work with. At our home consultation Sue listened to what our requirements were and she made suggestions that we didn't think of.We met again in the showroom to go over drawings and materials. The whole process was seamless and the communication excellent. The installers were skilled and good to work with as well. – Terry
2. Expresscloset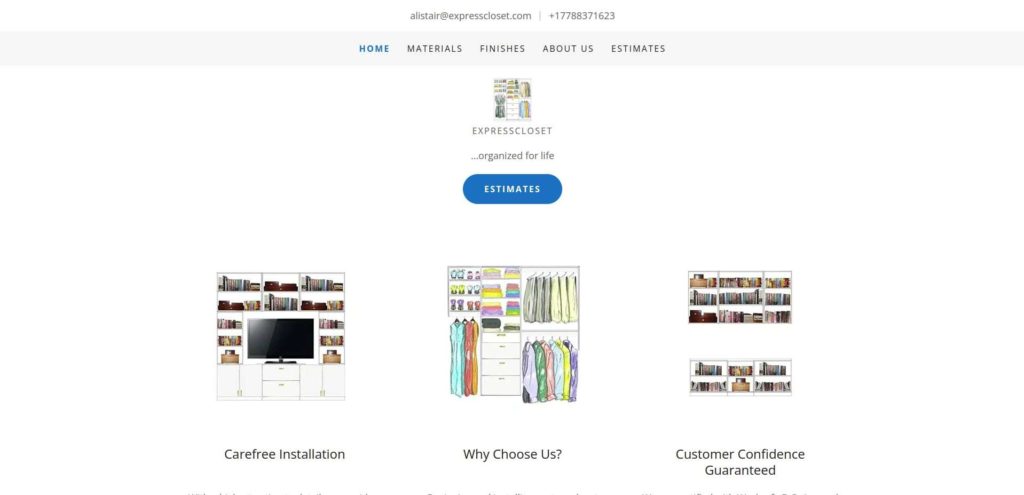 Test
Info
PRODUCTS
Eco-friendly Custom Closets
WEBSITE
https://expresscloset.com/
ADDRESS
1661 Quebec Street, Vancouver, BC V6A 0H6
CONTACT DETAILS
778-837-1623

Email: [email protected]

STORE HOURS
Monday to Friday: 9:00 AM to 5:00 PM
| | |
| --- | --- |
| Criteria | Ratings |
| Customizability | ★★★★☆ (4/5) |
| Additional Services | ★★★★☆ (4/5) |
| Customer Satisfaction | ★★★★★ (5/5) |
Expresscloset is a maker of custom closets in Vancouver, Burnaby, and surrounding areas. Based on our analysis, they do their best to live up to their name.
Expresscloset promises a turnaround time of 10 business days for most of the projects they receive. According to the customers we interviewed, they will send a staff member to measure the area and provide a price estimate within 24 hours.
Other customers also praised Expresscloset's designers for designing according to their needs and thanked the workers for quickly and carefully installing the custom closets.
Another quality we like about Expressclosets is that they source eco-friendly materials locally whenever they can. The particleboards they use are 100% recycled or reclaimed fibre that follows strict environmental standards.
The closets they make also come in different finishes from solid colours to different wood textures in order to match your home's specific aesthetic and suit your tastes.
Their quick work, sustainable materials, and numerous finishes combined with a lifetime warranty on all their products make the company a great option for those looking for simple custom closets as soon as possible.
You can view a gallery of their previous works on their website's online showroom. However, since their website offers minimal information, we would suggest giving them a call and booking a free consultation with them to know about their services in greater detail.
10-day turnaround time
Offers a lifetime warranty
Customer Reviews
Quick service
Highly recommend, Alistair came to measure within 24 hours, provided a price same day, provided an install date that was sooner than any competitor, showed up on time, brought floor protection and cleaned up! The closet work was very solid, and it looks great! I am so impressed! – Adam
Professional and thorough workers
We have used Expresscloset for 10 years starting with "dad" Richard. They did our Yaletown condo – every closet and a significant build-in. We moved to a new duplex in lower Lonsdale in the fall. Alistair- who took over the company up from his dad did all the work. Three closets and two significant built-ins. We could not be more pleased. Alistair is so thorough and professional. His design and assembly work is excellent. We would not hesitate for a moment to recommend Express Closets and Alistair. Great guy. Great work. A job well done!! – Dean
3. Stor-X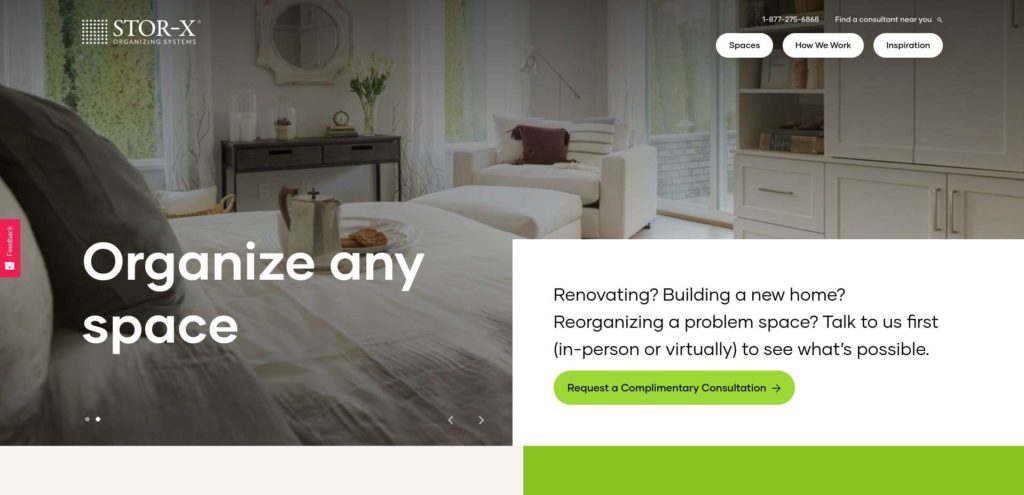 Test
Info
PRODUCTS
Custom Closets, Numerous Designs And Accessories
WEBSITE
https://www.stor-x.com/
ADDRESS
1682 W 7th Avenue, Vancouver, BC V6J 4S6
CONTACT DETAILS
1-877-275-6868

604-999-3479

Email: [email protected]

STORE HOURS
Monday to Friday: 9:00 AM to 5:00 PM
| | |
| --- | --- |
| Criteria | Ratings |
| Customizability | ★★★★★ (5/5) |
| Additional Services | ★★★★☆ (4/5) |
| Customer Satisfaction | ★★★★★ (5/5) |
Stor-X is a company that makes custom closets in Vancouver and other areas in North America for over 3 decades. We believe that Stor-X is a great option for people looking for the most customizability for their closets.
The first step of the process of getting a custom closet starts with a free consultation. We like how the Stor-X gives you 3 different options for correspondence: visiting their showroom, getting a home visit, or via video call.
After the initial consultation, they will conduct a return visit to show you a 3D rendering of your space with the design of your custom closet. We think this is an excellent way to see what the company can offer you, especially since they will design the storage area within your budget range.
One of the things we like about Stor-X is that they give you a lot of options when it comes to the design and features of your closet.
Stor-X allows for the installation of glass doors, see-through drawer tops, file drawers, dividers, floating shelves, and a variety of hooks, pull-outs, and organizers to add to your custom closet.
They also offer to make your custom closet in 26 different finishes, with 20 different drawer profiles and 80 different closet handles to choose from. All of this makes Stor-X an amazing choice if you want to make a truly unique closet that represents you.
The waiting time for your closet's creation varies depending on its complexity, but Stor-X assures that the installation process lasts only for half a day to a whole day at most. If you have an already existing storage area, they can remove it for you prior to installation, albeit for an extra fee.
Limited lifetime warranty
Numerous designs and accessories to choose from
3 different ways of getting a free consultation
Prices and estimates not included
Customer Reviews
Involves customers in the process
From the moment I connected with Alex and his team to the final install I have felt valued, listened to and unlike other closet design studios…I felt like the team authentically wanted to find the perfect solution for me rather than just drive up the cost of the project for commission's sake.
I love how interactive the design process is so you can really strategize the space and all within budget in real time.
Our challenge is that we needed storage for a spare bedroom as well as space for a wall bed and a desk. A custom build was really our only option. We are thrilled with the quality and the design. – Taryn
High quality builds
I had a really good experience with Alex and the installer team at Stor X. The first visit of consultation Alex had already giving me lots great ideas and suggestions. He also ensured the closet bar was suitable for my height and was easy for me to reach. In addition, the installer did an excellent job on my closet and desktop. The quality is exceeding and I will for sure come back to Stor X in the future. – Sharon
4. Coastal Closets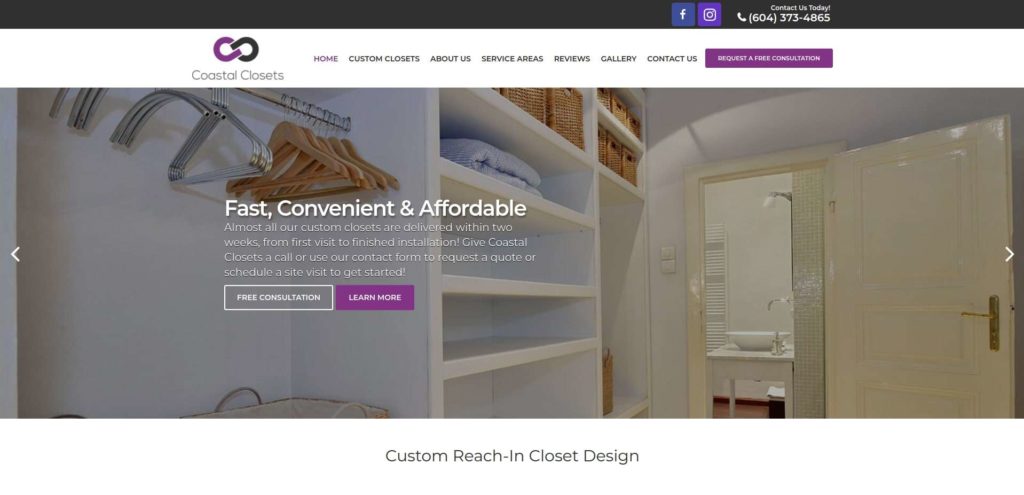 Test
Info
PRODUCTS
Custom Reach-In Closets, Pantry And Laundry Room Closets, Closet Doors
WEBSITE
https://www.coastalclosets.ca/
ADDRESS
1853 Welch Street, North Vancouver, BC V7P 1B7
CONTACT DETAILS
604-373-4865

Email: [email protected]

STORE HOURS
Monday to Friday: 9:00 AM to 3:00 PM
| | |
| --- | --- |
| Criteria | Ratings |
| Customizability | ★★★★☆ (4/5) |
| Additional Services | ★★★★☆ (4/5) |
| Customer Satisfaction | ★★★★☆ (4/5) |
Coastal Closets is a company that makes custom reach-in closets in Vancouver. Although the company only makes reach-in closets, we believe that they are still worth considering.
Coastal Closets' biggest strength is its commitment to affordability and speed.
The company promises to have your product ready and installed within two weeks or less. They also say that their rates are 35% lower than their competitors.
Coastal Closets does not list any price estimate on their website, so it will be hard to confirm a price range coming from the company. However, we checked in with their previous customers to see if there is any truth to the company's claims,
In our interviews, the company's previous customers praised how quick and on-schedule Coastal Closets was when it came to correspondence and installation. Their previous clients also said that the company also gives excellent advice and makes high-quality products at a very affordable price.
Although Coastal Closets only makes reach-in closets, we believe that they do their service well. We say this because the company offers customers multiple options when it comes to their closets' features and elements.
Coastal Closets makes closets for your bedroom, children's room, hallway, pantry, laundry room, and basement. These custom closets can include built-in shoe racks, hanging bars, adjustable shelves, mirrored doors, and more to cater to your specific needs.
Promises more affordable rates
Finishes work on schedule
Creates only reach-in closets
Customer Reviews
Quick and on-time installation
I highly recommend getting your custom closets from Costal Closets, especially if you live in the North Shore! I recently had 4 closets installed by them and I am satisfied with their work as well as the extra storage space in my home. Their closet designer is responsive to my requests and inquiries plus the installation was quick, clean and on schedule. Thanks, Costal Closets! – Kat
Staff gives excellent input
Great experiences with the Coastal Closets teams from beginning to end. Consultants provided excellent advice and the installation teams were very professional. The finished product looks great! – Russ
5. Cosycloset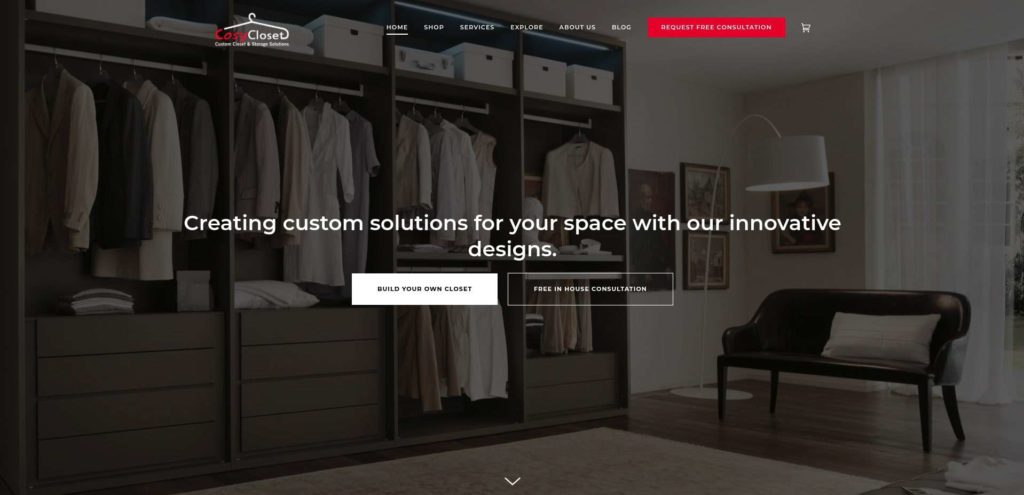 Test
Info
PRODUCTS
Custom Closets, Pre-Built Closets, Closet Accessories
WEBSITE
https://cosycloset.ca/
ADDRESS
Official address: 2080 Hartley Ave #101, Coquitlam, BC V3K 6W5 Mailing address: 1641 Lonsdale Ave Unit 918, North Vancouver, BC V7M 2J5
CONTACT DETAILS
778-990-3739

Email: [email protected]

STORE HOURS
Monday to Friday: 9:00 AM to 6:00 PM

Saturday: 11:00 AM to 5:00 PM
| | |
| --- | --- |
| Criteria | Ratings |
| Customizability | ★★★★★ (5/5) |
| Additional Services | ★★★★☆ (4/5) |
| Customer Satisfaction | ★★★★☆ (4/5) |
Cosycloset is a family-owned business that sells pre-built closets and makes custom closets in Vancouver.
Much like its competitors, Cosycloset offers a free consultation and estimate for its customers. However, what sets them apart is their online build-your-own-closet platform.
On their website, you can access the platform and make your own closet digitally by picking the frame and adding the features you desire. As you design your own closet, the website gives you an estimated price in real-time at every mouse click.
We think this feature is great because it gives customers the ability to make a custom closet that will fit their needs while also getting on-the-spot quotes so they know what to expect.
You can also choose how your closet will look by picking one out of its 30+ different wood finishes and over a dozen different door options.
Cosycloset's pricing transparency is definitely a huge plus for us. Once you get your consultation or finish designing your own closet, you will get a quote that includes all the hardware and installation fees.
Despite all of these strengths, the company has a pretty long waiting time before you get your finished product. Cosycloset admits that its turnaround time is 20-25 business days, which is longer than most of its competitors.
Regardless, if you are looking to make a unique custom closet and would like to get a price estimate immediately, then Cosycloset may be the best option for you.
Has a custom closet visualizer on the website
Allows for real-time estimates
Eco-friendly materials sourced from Canada
20 – 25 business days to finish a project
Customer Reviews
Careful, professional staff
Cozy closets is absolutely amazing! I'd recommend them to strangers, friends…even my mom. Amazing work on a one-of-kind custom cabinet on casters. All our closets were done by Cozy as well. Everything was professional and carefully installed. The attention to detail was especially impressive. Highly recommended. – Seth
Staff listens and gives useful suggestions
Excellent service from Abtin at Cosy Closets. He listened to what I needed, gave me ideas, and installed exactly what I wanted. I would definitely recommend Cosy Closets to anyone looking to organize their closet space. – Judy
FAQs about Custom Closets in Vancouver
---