Top 5 Beauty Schools in Vancouver
If you're looking to pursue a career in the beauty industry, then choosing the right training school is crucial to your success. This is especially true if you plan to be a professional cosmetologist or esthetician someday.
To help you out, we've compiled the top beauty schools in Vancouver to narrow down your options on where to take beauty courses.
How Much Do Beauty Schools in Vancouver Cost
The fee of beauty schools depends on the courses you're looking to take. Some schools offer all-in packages that include numerous training courses, while some offer specific courses.
In general though, you'll likely not spend more than CAD 15,800, regardless of what course you decide to take.
We've compiled the table below where we listed some of the most common beauty courses and their average estimated costs.
| Type | Estimated Costs |
| --- | --- |
| Esthetics | CAD 3,000 - 15,800 |
| Hair and Make-Up | CAD 2,150 - 3,000 |
| Nails | CAD 5,000 - 5,500 |
| Microblading and Powdering | CAD 2,500 - 4,000 |
| Eyeliner and Lip Course | CAD 1,800 - 2,600 |
| Brow Courses | CAD 2,300 - 4,000 |
Top Beauty Schools in Vancouver
Beauty training comes in different forms and there are a few important things to look for when deciding which beauty school to attend.
It is important to choose a school that's best for your needs and can also offer a wide variety of beauty courses. Another thing to look at is the feedback from former students to ensure that you get the best education and training.
We've assessed the following companies based on the criteria below:
1. Blanche Macdonald Centre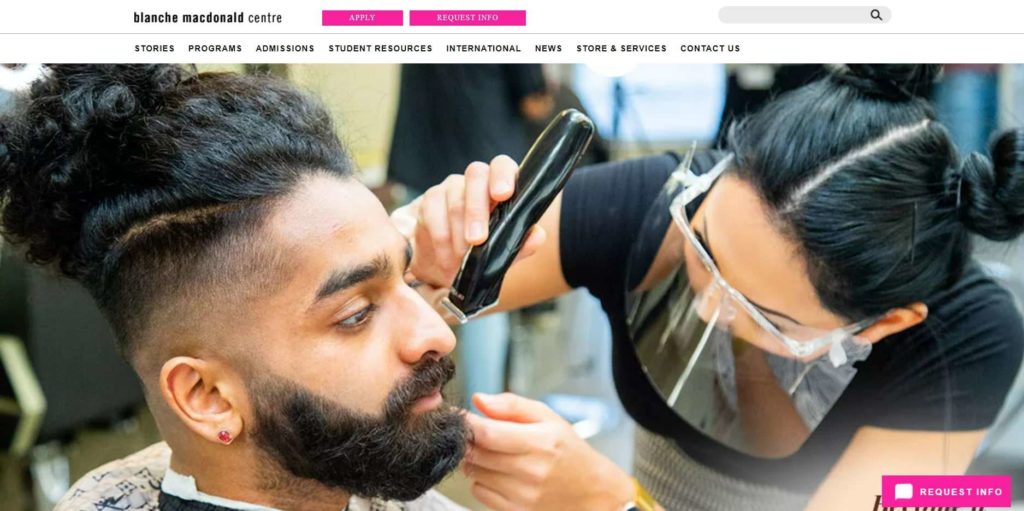 Test
Info
SERVICES
Barbering, Esthetics, Fashion, Hair, Makeup, Nails
WEBSITE
https://www.blanchemacdonald.com/
ADDRESS
460 Robson St, Vancouver, BC V6B 2B5, Canada
CONTACT DETAILS
Phone: 604-685-0337

Email: [email protected]

OPERATING HOURS
Monday - Friday: 08:30 AM - 05:30 PM Saturday and Sunday: 09:00 AM - 06:00 PM
| | |
| --- | --- |
| Variety of Courses | ★★★★★ 5/5 |
| Availability | ★★★★★ 5/5 |
| Reputation | ★★★★★ 5/5 |
| Pricing | ★★★★☆ 4/5 |
The Blanche Macdonald Centre, founded in 1960, specializes in applied and creative arts. We especially like their variety of beauty programs here which include barbering and professional hair styling.
They even have their own hair salon, The Curlique Beauty Boutique. It also serves as an extended classroom where students can experiment, learn, and practice.
Now, most of Blanche Macdonald Centre's beauty courses provide part-time and full-time training. We find this convenient because it can accommodate any learner's schedule.
Another distinguishing feature of these courses is the Q&A student salon. This is where learners engage with real clients while receiving support and mentoring.
We like that their Pro Hair Program includes extensions, perming, fashion, editorial, runway, and many more. We think this program prepares stylists for professional environments such as TV, film, E-marketing, and many more.
In addition, Blanche Macdonald Centre also offers courses in esthetics, fashion marketing, make-up, and nails.
We especially like their global marketing program because we believe it is ideal for stylists who want to become entrepreneurs, social media influencers, bloggers, and many other things.
Unfortunately, Blanche Macdonald Centre charges a CAD 250 registration fee for domestic students, and a CAD 900 fee for international students. That said, they may not be the best option for non-Canadians.
However, we do like that they provide financial aid and scholarships to students to help them reach and complete their higher education.
Overall, we think the Blanche Macdonald Centre is one of the top beauty schools in Vancouver as they provide a variety of comprehensive beauty courses.
Specializes in Applied and Creative Arts
Has their own hair and beauty salon
Offers part-time and full-time courses
Offers a global marketing program
Offers financial aid and scholarships
Charges CAD 250 registration fee for domestic students
Charges CAD 900 registration fee for international students
Relatively pricey tuition fees
Customer Reviews
Professional and passionate instructors
"I graduated from Blanche Macdonald Centre from their Aesthetics program.
I was very fortunate and blessed to have Angie B as one of my instructors. She is by far the best instructor I have ever come across. She is beyond dedicated to each and every student. Her level of professionalism and passion is truly inspiring. I felt motivated and received endless support from Angie. She truly cares for everyone's success and is able to use her resources and countless years of experience to guide her students. I am confident that anyone who attends Blanche and is lucky to have Angie as a instructor is not only blessed but are in great hands! I am so happy and grateful to have had Angie through out my journey. Thank you Angie for all that you do each and everyday." -Kadija A.
Unique methodologies and mentorship
"I'm truly grateful to have attended Blanche Macdonald Centre. I completed their Professional Esthetics program and my time and experience there was nothing but positive. It was the perfect gateway that provided me with not only just the technical skills and knowledge but also the many great professional job opportunities available for me to take full advantage of, as I really wanted to gain that hands-on experience. As a result, I've experienced great successes. I'm very thankful to each and every one of their instructors and career team for sharing their valuable and extensive knowledge. I highly recommend to anyone considering enrolling in their programs. They are all so truly wonderful – each of them offering their own care and unique methodologies, mentorship, coaching, and guidances. I recently had a visit there and it was the best feeling to see Jen, Heather, and Simona again! Made me realize just how much I missed them…felt like home and family. I so appreciate and respect each of your genuine care for all your students of Blanche Macdonald! Thank you from the bottom of my heart!." -Jane C.
2. Senniyo Beauty School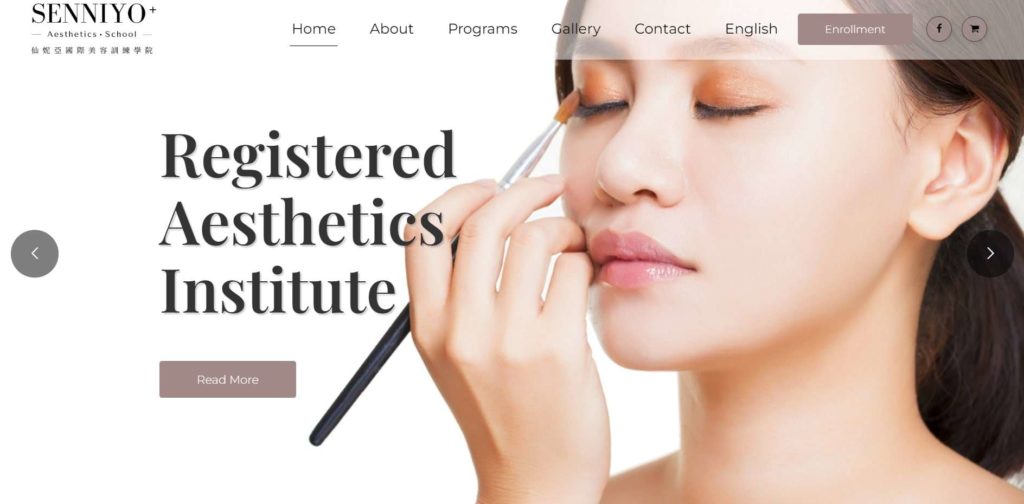 Test
Info
SERVICES
Aesthetics, Makeup, Nail Art, Aesthetics and Nail with ESL Program
WEBSITE
https://www.senniyobeautyschool.com/
ADDRESS
7300 Westminster Hwy, Richmond, BC V6X 1A1, Canada
CONTACT DETAILS
Phone: 604-244-7633

Email: [email protected]

OPERATING HOURS
Monday - Friday: 09:00 AM - 02:00 PM
| | |
| --- | --- |
| Variety of Courses | ★★★★★ 5/5 |
| Availability | ★★★★☆ 4/5 |
| Reputation | ★★★★★ 5/5 |
| Pricing | ★★★★☆ 4/5 |
Senniyo Beauty School is a private institution founded in 1995 to train students in the esthetic industry. We believe the programs they provide are complex and necessary for students to master their craft.
We immediately noticed that they offer full-time diploma courses and short-term courses that include theory applications, demonstrations, and practices.
They also offer aesthetics, make-up, nail art with ESL programs, and many more. We like how their aesthetics program covers various aspects of the face, eye, hand, and foot skin care.
In addition, these programs include day and night make-up and hair removal waxing technique. This program, in our opinion, provides students with all of the necessary training and skills to become professional beauticians.
We're also big fans of their professional aesthetic and nail with the ESL program. We believe this is ideal for students learning English as a second language.
However, we're not big fans of the fact that they charge a fee for student materials.
Nevertheless, many of the customers we've spoken with have commented on how enthusiastic the instructors are. The educators were able to provide insightful, easy-to-understand explanations.
On a whole, we felt Senniyo Beauty School deserved a spot on our list because they offer complex beauty courses that we believe are a good choice for aspiring beauticians.
Clean and spacious facilities
Offers full-time and short-term courses
Offers ESL programs alongside beauty courses
Offers gift certificates
Charges CAD 250 application fee for domestic students
Charges student material fee
Customer Reviews
Patient instructors
"Carol is one of the most amazing, patient, and dutiful instructors I've encountered thus far. She's always willing to go through any problems and questions you might have regarding the curriculum and explains in an insightful and easy to understand manner! Very lucky to have her as an instructor!." -Fiona Y.
Professional and enthusiastic mentor
"The staff were friendly. The Instructor Carol is enthusiastic about teaching." -Evon Z.
3. Bellagi Beauty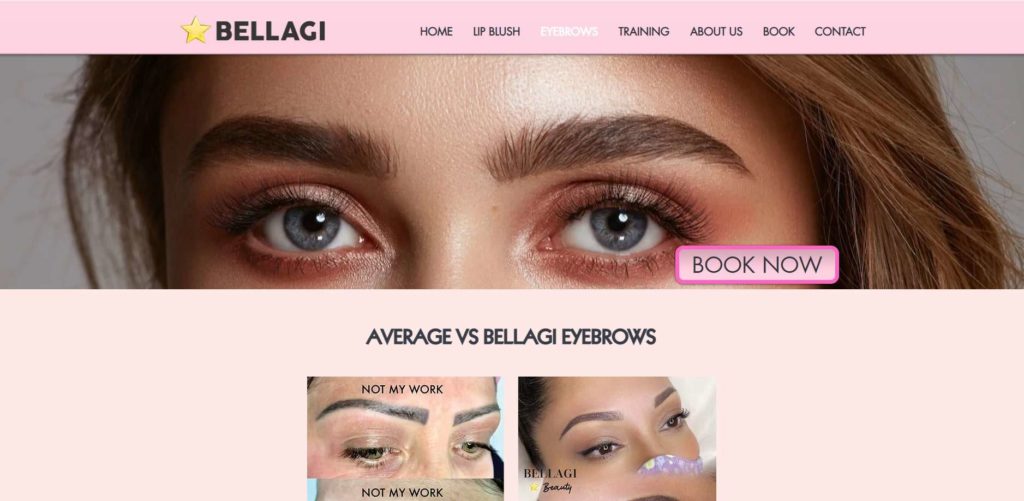 Test
Info
SERVICES
Lip Blush, Microblading, Powder Brows, Eyebrows
WEBSITE
https://www.bellagibeauty.com/
ADDRESS
550 W Broadway Suite 527, Vancouver, BC V5Z 0E9, Canada
CONTACT DETAILS
Phone: 604-512-8960

Email: [email protected]

OPERATING HOURS
Monday - Saturday: 09:00 AM - 06:00 PM
| | |
| --- | --- |
| Variety of Courses | ★★★★☆ 4/5 |
| Availability | ★★★★★ 5/5 |
| Reputation | ★★★★☆ 4/5 |
| Pricing | ★★★★★ 5/5 |
Christina Nguyen, the founder of Bellagi, specializes in permanent makeup, and we were particularly impressed with her beauty portfolio.
Bellagi has worked with beauty pageant contestants, Instagram models, and Miss Hong Kong, which we believe adds to her dependability.
We especially like that this establishment only uses FDA-approved products, as we believe this assures customers that all of their merchandise is safe to use.
Despite having only one beauty training course, we believe Bellagi deserves to be on our list because of their iconic lip blush workshop that includes a comprehensive training course.
This course includes business set-up, lip fundamentals, lip tattoo, dark lip correction, demo on live models, and many more.
Aside from this, Bellagi also offers eyebrow services such as microblading, powder ombre brows, and diva lip blush tattoos.
Another thing we found impressive is that Bellagi teaches students how to photograph their work so that they can show it to potential clients.
In our opinion, we think this course encourages and prepares students to start their own beauty business.
Unfortunately, we dislike that this establishment charges CAD 100 to secure appointment slots.
Nevertheless, the majority of consumers we've spoken with praise their services because Christina teaches students the most up-to-date microblading techniques.
Overall, Bellagi deserved a spot on our list because they offer a lip blush workshop with a thorough curriculum that inspires students to start their own business.
Specializes in permanent make-up
Uses FDA-approved products
Offers iconic lip blush workshop
Offers microblading services
Limited range of beauty courses
Charges CAD 100 to secure appointments
Customer Reviews
Up-to-date techniques
"I came back for my 3-year microblading renewal and can say that I will be a customer of Christina's for life. She has updated to the newest inks and techniques to be even better than she did for me 3 years ago. My brows look amazing." -Ana M.
Exceptional expertise and attention to detail
"I highly recommend Christina if you are thinking about microblading. Her consult and suggestions put at me ease right from the start. Her expertise, attention to detail and kind, gentle demeanor was truly exceptional. " -Maria R.
4. Biotouch Canada Inc.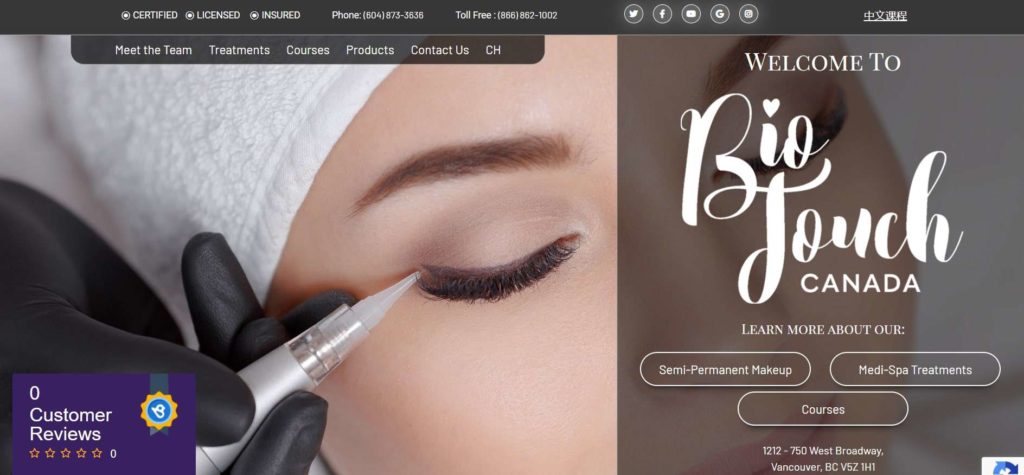 Test
Info
SERVICES
Comprehensive Eyeliner and Lip, Course, Comprehensive Eyebrow Course, Microblading and Powdering, Comprehensive Permanent Make-up Course, Paramedical Course
WEBSITE
https://www.biotouchcanada.com/
ADDRESS
750 W Broadway #1212, Vancouver, BC V5Z 1H1, Canada
CONTACT DETAILS
Phone: 604-873-3636

Email: [email protected]

OPERATING HOURS
Monday - Friday: 09:30 AM - 05:00 PM
| | |
| --- | --- |
| Variety of Courses | ★★★★★ 5/5 |
| Availability | ★★★★☆ 4/5 |
| Reputation | ★★★★☆ 4/5 |
| Pricing | ★★★★★ 5/5 |
Biotouch Canada, which was founded in the mid-1980s, has been providing a full range of beauty-enhancing services. They also have certified training programs for those interested in becoming beauticians.
They provide a comprehensive eyeliner and lip course, microblading and powdering workshops, and permanent make-up courses.
We were especially impressed by their permanent make-up course, which covers almost every aspect of permanent make-up application and techniques. Moreover, this course includes a free refresher course redeemable within a year.
Now, we believe it is important to point out that all of Biotouch Canada's beauty courses include live demonstrations and hands-on workshops. We think these are ideal for students to apply what they have learned and practice their craft.
Aside from beauty courses, Biotouch Canada also hires demonstration and student models. These volunteers are given up to 50% to 92% discounts on regular-priced services.
Another thing that caught our attention is that they offer a two-day paramedical course. We find this fascinating because students learn how to apply permanent make-up to scars, burns, birthmarks, and other imperfections.
We believe that this distinguishes their establishment because they can serve customers who require paramedical micro-pigmentation services.
Just when you think Biotouch Canada's services are over, they also offer medi-spa services like acne treatment, hydro facials, hair removal, and re-pigmentation.
Unfortunately, we believe it is necessary to point out that their rates do not include taxes. Biotouch Canada is also closed on weekends, so their availability may be limited.
Nevertheless, we think that Biotouch Canada is one of the top beauty schools in Vancouver as they offer comprehensive beauty courses and treatments.
Specializes in permanent make-up application
Includes a free refresher course
Provides discounts for models
Offers paramedical courses
Offer medi-spa treatments
Closed on weekends
Fees do not include GST
Customer Reviews
Knowledgeable instructors
"I took the 6 day Comprehensive PMU Course at BioTouch after researching for over a year. I am very happy with the this choice as its a great way for a new beginner to learn as much as possible with all the help from the instructor. We learned theory as well as practiced on clients. The instructor, Julia, is knowledgeable and able to answer all the students questions. i felt comfortable and walked out confident to start my own studio and take on clients. I would highly recommend anyone to go to BioTouch!." -H.D K.
Clean facilities and friendly mentors
"I just finished my Comprehensive Permanent Makeup class and I have to say that I am totally happy. I chose to go to biotouch based on the reviews and then when I called the school, Julia was super friendly and helpful and answered all my questions. When I went in to give my deposit the space was super clean and felt like a dentist office (a good thing in my opinion) Once I started, Danielle and Lisa were amazing. Very knowledgeable and caring. Their attention to me felt calm and not overwhelming. I didnt feel like I was left on my own at any point. My models (I was lucky to have many friends that trusted me) Said they loved the environment and felt at ease. I would highly recommend Biotouch to anyone looking to take this class." -Tiffany M.
5. Snob Academy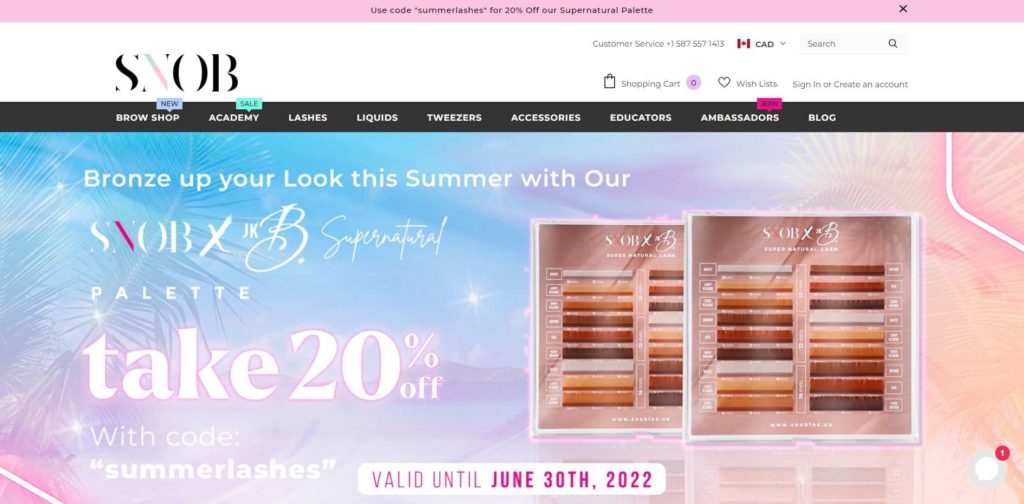 Test
Info
SERVICES
Lash Courses, Brow Courses, In-Person Training, Online Training
WEBSITE
https://snobinc.ca/
ADDRESS
73 E Cordova St, Vancouver, BC V6A 1K3, Canada
CONTACT DETAILS
Phone: 587-557-1413
OPERATING HOURS
Monday - Friday: 09:00 AM - 05:00 PM

Saturday: 10:00 AM - 02:00 PM
| | |
| --- | --- |
| Variety of Courses | ★★★★★ 5/5 |
| Availability | ★★★★★ 5/5 |
| Reputation | ★★★★☆ 4/5 |
| Pricing | ★★★★☆ 4/5 |
Snob Academy specializes in brow and lash training, and we love that they have their own brow shop. Some of the courses they offer include classic, volume, mega, master and master lash, and brow courses.
They also offer color theory workshops where students learn about color terminology, skin types, undertones, pigment types, and much more. We believe this course is especially useful for learners who need to choose the right color for their customers.
One thing we noticed right away is that this company provides in-person training not only in Vancouver but also in Edmonton and Kelowna. They also accommodate online training which is convenient for students who prefer learning from home.
Unfortunately, this organization only has a limited number of slots for online training, so learners may have to consider other companies if slots run out.
Regardless, we were impressed with their extensive brow collection as they offer a wide selection of pigment products, blades, and brow accessories.
They also offer tweezers and liquids such as primers and cream removers. They even have a practice mannequin kit which is an excellent way for students to practice lashing techniques.
Nevertheless, the majority of the customers we spoke with mentioned how hands-on their instructors were without being overbearing. Snob Academy also advises on proper etiquette and how to be a successful business owner.
We recommend Snob Academy for aspiring beauticians looking to learn brow and lash techniques firsthand, as they offer hands-on courses.
Offers extensive brow and lash courses
Offers color theory workshops
Sells practice mannequin kits
Has an online brow shop
Ships internationally
Limited availability of online training
Only offers brow and lash courses
Customer Reviews
Good training techniques
"I just graduated from snob Academy for Eyelashes extensions. I recommend Snob Lash academy. They ask you for many models so you will be comfortable with lashes." -Gufran Q.
Full-service beauty school
"Joanna Keller first taught me how to do eyelash extensions back in 2014. She was always such a fun teacher to work with. When you first start out doing eyelash extensions it can be extremely frustrating but Joanna always had the answers to my questions or frustrations because she had years of experience and knowledge. She's very hands on but not overbearing, always patient and is very knowledgable. She teaches in a way so it's easy for you to understand and grow as a student. Not only was she an awesome instructor for the eyelashes themselves but also taught proper etiquette and bedside manner as well as how to be successful via social media and how to be a successful business owner all around. She now has over 10 years of experience and has grown her business exponentially! I've been doing eyelashes for over 6 years now and run my own business, I would not know half of what I know or be anywhere near as successful if I hadn't studied and apprenticed under her. Anybody who has the pleasure of being taught by her is one lucky person! I highly, highly recommend her as an eyelash extensions instructor!!." -Leah C.
FAQs on Beauty Schools in Vancouver
---
That's about everything we know about the top beauty schools in Vancouver.
If you want to learn more about the best leading institutions, we have compiled a list of the best colleges in Vancouver.
Of course, after working so hard to acquire that diploma, you deserve to be pampered, so why not check out our list of the best hair salons in Vancouver.