The 5 Best Auctions in Vancouver
Auctions provide sellers with an incredible opportunity to control the entire selling process. They establish a deadline to motivate the market to make genuine offers to purchase.
Various types of products can be sold in an auction; this includes properties, jewelry, artwork, automobile, household items, antiques, and many more!
Whether you're looking for a place to sell or are interested in scoring some cool collectibles, we've got you covered. We've come up with the best auction places you can find in Vancouver!
The Best Auctions in Vancouver
The businesses on this list specialize in facilitating bidding on various items. Some focus in real estate, while others solely in the sale of artwork or automobiles.
We've examined these companies based on the following criteria below:
1. Federal Auction Service
Test
Info
PRODUCTS
Jewelry Watches
WEBSITE
http://www.federalauction.ca/
ADDRESS
1400-885 W. Georgia Street, Vancouver, BC V6C 3E8
CONTACT DETAILS
Phone: ( 604) 276-0878

Email: [email protected]

OPERATING HOURS
Monday - Friday (10:00 AM - 05:00 PM)
| | |
| --- | --- |
| Criteria | Ratings |
| Customer Service | ★★★★☆ (4/5) |
| Variation | ★★★★★ (5/5) |
| Price | ★★★★☆ (4/5) |
| Payment Options | ★★★★☆ (4/5) |
For over 20 years, the Federal Auction Service has handled massive fine jewelry and Swiss watches inventories. A haven for unique and shiny gems and timepieces, the company provides an extensive international auction experience.
They continue to be the world's first auction to receive an International Standards Organization (ISO) designation.
As a result, they are committed to excellence in providing the best auction inventory handling to their distributors and exceptional customer service.
We love their variety of fancy colored diamonds and colored gems, and luxurious Swiss watches.
Potential customers will surely appreciate the contrasting lengths, shapes, textures, and colors of their collections.
Although the preview section is open to the public and is free of charge, the Federal Auction Service requires prospective buyers to provide government-issued photo identification for security purposes.
Your valuable assets are protected against loss under their Jeweller's Block policy and handled quickly and professionally.
What we like most about this company is that all of its watches have a one-year warranty for workmanship. At the same time, all their jewelry comes with a one-year service warranty that covers sizing and simple repairs.
The company accepts credit and debit cards, as well as bank transfers.
Unfortunately, we'd like to point out that a 17.5% handling charge is added to each purchase for credit card settlements, bank wire, direct deposit, cash settlements, and applicable sales taxes.
Plus, a partial payment of a 25% cash deposit is required to deliver the purchased goods. However, this amount is refundable after the buyer has settled their final payment.
Customer Reviews
Great customer service
"Great services! A reputable company with amazing products and good prices. A top-class company." Nina C.
Professional and ethical
"My experience with Federal Auction Service has been amazing in every way.. right from the beautiful authentic jewelry which they bring to the market, to the professional and ethical way of doing business." Salman K.
2. Heffel Fine Art Auction House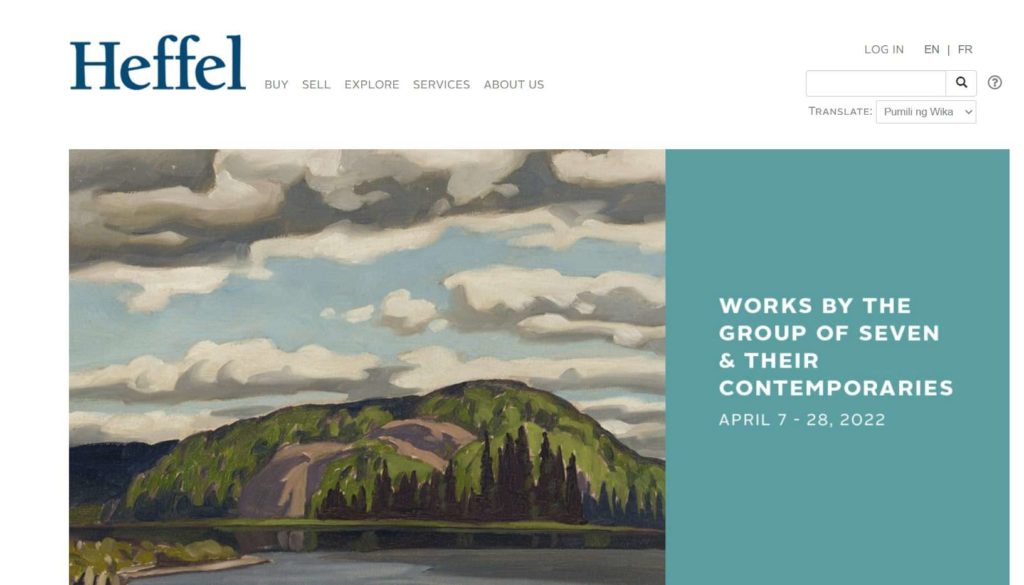 Test
Info
PRODUCTS
Paintings and other artworks
WEBSITE
https://www.heffel.com/
ADDRESS
2247 Granville St, Vancouver, BC V6H 3G1, Canada
CONTACT DETAILS
Phone: ( 604) 732-6505

Email: [email protected]

OPERATING HOURS
Monday - Saturday (By appointment only)
| | |
| --- | --- |
| Criteria | Ratings |
| Customer Service | ★★★★☆ (4/5) |
| Variation | ★★★★★ (5/5) |
| Price | ★★★★☆ (4/5) |
| Payment Options | ★★★★★ (5/5) |
Established in 1995, Heffel Fine Art Auction House was set to fill a gap in the marketplace by being the first online auction platform in Canada dedicated to selling fine art.
During the same year, they held their first live auction and grossed a whopping one million dollars. This landmark set the company on the path to bringing the world's finest masterpieces to the auction house.
Heffel caters to many cultures by presenting various local and international artworks such as Pop Art, Asian, Post-War and Contemporary, and many more when it comes to variety.
What we like best about Heffel is that their website allows you to track their ongoing online auctions. It is quite convenient because they provide you with information on all artworks up for auction, from the title to the estimated value and current/starting bid.
As for customer service, we got mixed reviews coming from clients when it comes to the quality of the artworks. Some were satisfied, while some argue that prices could be fairer.
When it comes to payment options, the company offers numerous payment methods, including debit and credit card, bank wire, Interac e-Transfer (up to $20,000 per Lot), certified, personal or corporate cheques.
Overall, we believe that Heffel provides excellent services and a great online platform for auctioning off timeless art pieces. Their emphasis on both local and international artists opens up new avenues for people to appreciate the region's artworks.
Customer Reviews
Excellent service and precision
"Outstanding service and attention to detail that inspires trust and reassurance. I am a happy customer." Craig W.
Artwork of exceptional quality
"The Heffel brothers have done an amazing job with the Gallery over the years, turning it into the preeminent Canadian auction house for fine art. Highest quality art at commensurate prices." Stephanie P.
3. Ritchie Bros. Auctioneers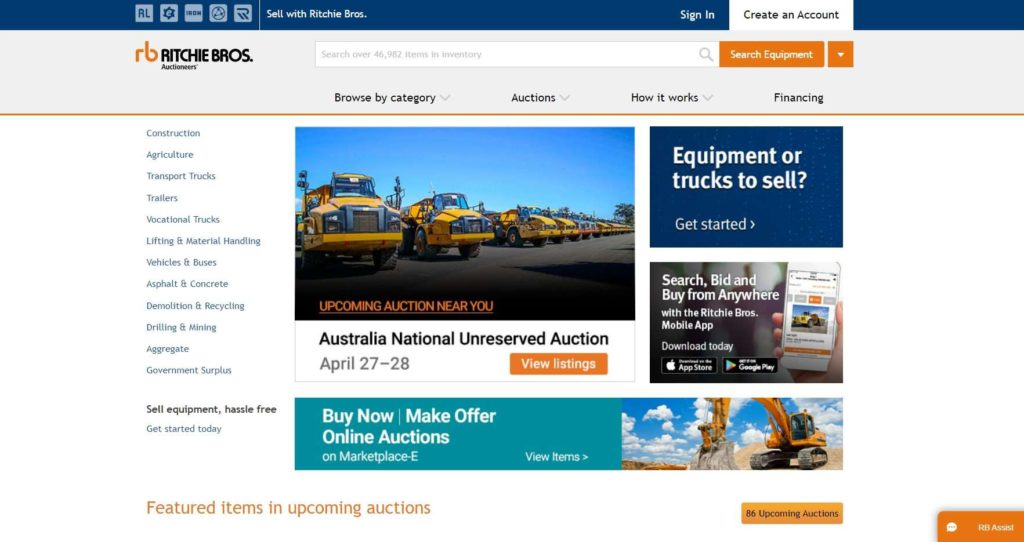 Test
Info
PRODUCTS
Heavy Equipment

Trucks

Construction Equipment

WEBSITE
https://www.rbauction.com/
ADDRESS
9500 Glenlyon Pkwy, Burnaby, BC V5J 0C6, Canada
CONTACT DETAILS
Tel: +1.778.331.5500

Fax: +1.778.331.5501

Canada Toll-Free: +1.800.663.1739

USA Toll-Free: +1.800.663.8457

OPERATING HOURS
Monday - Friday (8:00 AM - 5:00 PM)
| | |
| --- | --- |
| Criteria | Ratings |
| Customer Service | ★★★★★ (5/5) |
| Variation | ★★★★★ (5/5) |
| Price | ★★★★☆ (4/5) |
| Payment Options | ★★★★★ (5/5) |
Every year, Ritchie Bros. assists thousands of people in buying and selling used and unused heavy equipment and trucks at hundreds of their worldwide unreserved public auctions.
Established in 1958, the company now has over 110 locations worldwide, including more than 40 auction sites in North America, Europe, the Middle East, and Australia.
It is simple to purchase equipment and trucks at Ritchie Bros. unreserved auctions. They provide both on-site and online auctions, making buying and selling easy for their customers!
The variety of this company is what we like best about it. We've established that Ritchie Bros. is an auction pioneer for heavy machinery and equipment. It is no surprise that their large inventory houses a variety of heavy equipment and types of machinery.
Aside from that, Ritchie Bros. also provides real estate auctions ranging from agricultural lands to recreational, commercial, and residential properties.
Unfortunately, we have heard conflicting reports about the company's customer service. Clients were dissatisfied with the on-site staff and expressed their displeasure.
However, some customers report that staff made their transactions easier. This is important to remember when engaging with them.
As for pricing and payments, we are happy that the company does not require additional fees such as reservation payments, and they have no minimum amount set for bidding.
On the other hand, customers who have successfully bid on items can pay for them with a wire transfer or a debit or credit card.
Customer Reviews
Fair prices
"Love this place really good to get machines cheap just got to know your stuff." Luigi C.
4. Rally Auto Auctions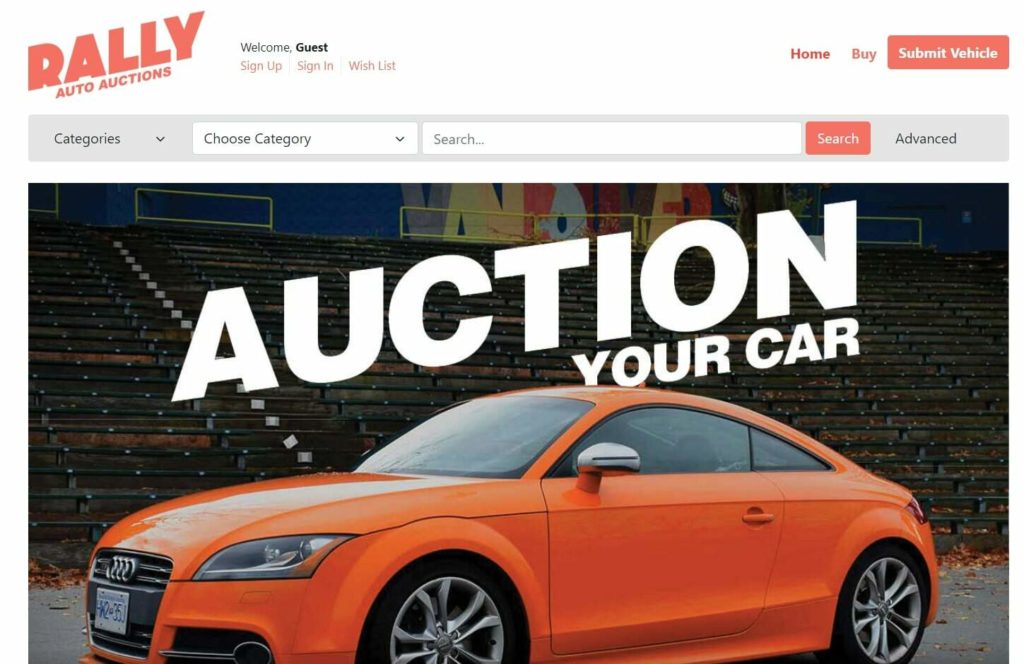 | | |
| --- | --- |
| Criteria | Ratings |
| Customer Service | ★★★★☆ (4/5) |
| Variation | ★★★★★ (5/5) |
| Price | ★★★★☆ (4/5) |
| Payment Options | ★★★★☆ (4/5) |
Are you ready to make some room in your garage? If you're looking to sell your vehicle or have some spare parts lying around, Rally Auto Auctions is ready to help!
This auction service connects sellers with an online community of car enthusiasts. Rally offers many options if you're looking for a diverse collection of cars for sale.
We love this business because their auctions are entirely free of charge. Yes, you read that right. It's free for sellers to have their items listed.
However, winning bidders must pay a small buyer's fee while the seller incurs no costs. This enables the business to hold more auctions and expand its community and services.
Because the company only conducts online auctions, its security protocols ensure that legitimate information is provided. This guarantees that customers do not fall into the hands of malicious individuals.
Rally requires sellers to submit at least 25 photos of the vehicle, including exterior angles, interior and dash photos, engine bay photos, and undercarriage photos.
In addition, they also require your VIN (vehicle identification number), odometer reading, trunk, and any user manuals, records, toolkits, or extra parts that are included in the sale.
Unfortunately, we couldn't dig up a lot of reviews for this establishment. The company doesn't have a lot of remarks from clients on its website and social media platforms.
When it comes to pricing and payment options, Rally gives the buyer and seller each other's contact information – phone number and email address.
The two parties can complete the transaction whenever it is convenient for them.
Overall, we believe Rally provides a good platform for sellers to engage with potential buyers in a secure and transparent manner.
Customer Reviews
Good variety of automobiles
"Great little auto auction start-up run by a local team out of Vancouver. Just starting out so the inventory is limited but seems to be really picking up steam since it was launched. Nice current selection of niche and collector models.Great site for collectors and enthusiasts. I will definitely use this site again." -Daniel H.
5. Kwik Auctions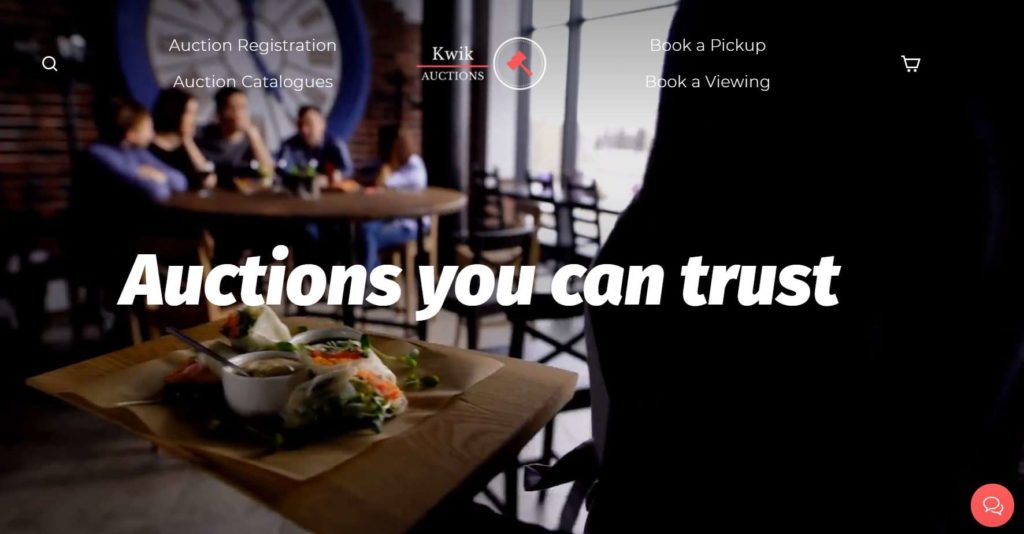 Test
Info
PRODUCTS
Restaurant Equipments
WEBSITE
https://kwik.ca/
ADDRESS
7305 Meadow Ave, Burnaby, BC
CONTACT DETAILS
Phone:(604) 299-4517

Email: [email protected]

OPERATING HOURS
Mondays - Fridays (09:00 AM - 03:00 PM)
| | |
| --- | --- |
| Criteria | Ratings |
| Customer Service | ★★★★☆ (4/5) |
| Variation | ★★★★★ (5/5) |
| Price | ★★★★☆ (4/5) |
| Payment Options | ★★★☆☆ (3/5) |
Jerry, the founder of Kwik Auctions, introduced Kwik Auctions in 2004. He was so disturbed by the shady business practices and deceptive tactics of the industry that he vowed to restore transparency and trust to the auction world.
When it comes to customer service, Kwik relies on repeat customers. We love that they go far above and beyond any other restaurant equipment auction house we've ever seen.
They understand that buying items at an auction may appear risky to others. This is why they always go the extra mile to represent the condition of each piece of equipment accurately.
As for variety, Kwik has got you covered from baking equipment, refrigeration, and storage, restaurant supplies, etc.
We like their transparency when it comes to their auction products. Their website gives you all the information you need on current items on sale.
According to the customers we interviewed for this review, there are a lot of conflicting opinions about the company's customer service. While their online support is excellent, customers had concerns with the quality of the products purchased in the auction.
This means that your experience with the company may differ, which isn't a pleasant thought.
Unfortunately, when it comes to payments and prices, the company accepts Visa or Mastercard only.
To give you a heads up, all sales at Kwik include a 20% buyer's premium. This is in addition to the hammer price, and it is taxed as well.
Overall, Kwik stands out due to its dedication to providing high-quality equipment, as well as its excellent customer service, which has resulted in repeat customers over the years.
Customer Reviews
Top-notch customer service
"Such a pleasure to deal with Kwik Auctions. After 15 years, still consistently quality purchases with complete satisfaction. The team is honest, credible and commited in what they advertise, and back it up with great service. Always trust their fine reputation!." Judy R.
Professional services and helpful staff
"We participate in many auctions and wanted to leave a quick note for the people at Kwik to let them know that the auction was conduced very professionally and it was a very positive experience picking up our items. In fact, the person at the warehouse was exceptionally helpful. We will be back for future auctions for sure!." Mike M.
FAQs about Auctions in Vancouver
---
That's about everything we can share with the best auctions in Vancouver. Remember to always do thorough research before bidding at an auction.
Have you had your eye on an item at an auction but don't have the funds yet?
If so, check out our list of best payday loans in Vancouver.