The 7 Best Immigration Lawyers in Vancouver
Immigration is a long and complex process that can be very stressful. That's why it's often best to seek professional advice when you or someone important to you goes through it.
That's where an immigration lawyer can be a huge help. To help you find one who fits your needs, we've put together a list of the best immigration lawyers in Vancouver for today's article.
With this list, you'll learn about each lawyer and the services they perform. You'll also have their contact info, addresses, and any other information you may need to pick your legal representative.
How Much Does an Immigration Lawyer Cost in Vancouver?
The costs for each lawyer will often vary depending on the service you opt for. There are also additional fees from time to time that may raise the overall cost.
To give you an idea of how much you may need to invest, we've drawn up this table:
| | |
| --- | --- |
| Service | Average cost |
| 30-minute consultation | $75 – 300$ |
| Lawyer's hourly fee | $150 – $350 |
| Form filing assistance | $250 – $2000 |
| Permanent residency assistance | $1000 – $7500 |
| IRCC fees | $400 – $800 |
The Best Immigration Lawyers in Vancouver
Since we've already covered the average costs for immigration lawyers, it's time to meet the men and women on our list.
1. Mandeep Dhillon of My Visa Source Law MDP
BEST FOR
Family Unification
SERVICES
Family unification
Canadian visa application
Spousal sponsorship
Visitor visa application
Inadmissibility
Study permit application
Business Immigration
WEBSITE
https://www.myvisasource.com/
ADDRESS
1112 West Pender Street, Suite 401, Vancouver, British Columbia V6E 2S1
CONTACT DETAILS
Phone number: (604) 265-6064
Toll-free number: 1 (888) 278-0944
OPERATING HOURS
Monday: 6 am – 9 pm
Tuesday: 6 am – 9 pm
Wednesday: 6 am – 9 pm
Thursday: 6 am – 9 pm
Friday: 6 am – 9 pm
Saturday: 6 am – 9 pm
Sunday: 6 am – 9 pm
This firm has made a name for itself as a reliable source of legal representation for immigration applications. These folks offer a wide array of immigration services, and they truly shine in family immigration cases.
If you are hoping to bring your loved ones to Canada, then look no further than Mandeep Dhillon. Mr. Dhillon is the chief compliance officer and an immigration lawyer of My Visa Source Law MDP.
He has extensive experience with family reunification and has helped unify families from all over the globe. Mr. Dhillon also has an insightful understanding of family immigration processes, which allows him to give sound advice on any issues you may face.
Hence, when it comes to family immigration matters, Mandeep Dhillon is clearly one of the best immigration lawyers in Vancouver.
Extensive experience in immigration law
Very efficient legal solutions
Open on weekends
Affordable services
Other firms carry more experience in other immigration law fields
Customer Reviews
If you've any doubt about this firm, these reviews should help put them to rest:
"After a few disappointing experiences with other immigration consultants helping with out family class application I am happy we found My Visa Source. The team was easy to work with and very helpful. They took the time to make sure all of our questions were answered and we were comfortable with each step. Even post paid engagement, a few small items came up they were very helpful in pointing us in the right direction to make sure our entire process went as smooth as possible. Trevor from the office really went the extra mile to make sure we were taken care of. Thank You" – Grant D.
"I was impressed with the level of technical expertise. The representative was courteous and thoughtful. I also had the sense that he was able to grasp my particular situation and offer me viable options. I consider myself very fortunate for being able to spend time with this representative who was able to answer all of my questions and provide me with very specific things to consider. When I first considered moving forward with the immigration question, I was afraid that I would wallow in bureaucratic quicksand. Thanks to the representative, I found that this was not the case. Everything was spot-on. Thank you!" Kenneth R.
2. Gordon H. Maynard of MKS Immigration Lawyers
BEST FOR
Complex immigration cases
SERVICES
Business immigration
Permanent residency
Family immigration
Canadian citizenship
Immigration litigation
Temporary residency
WEBSITE
https://vancouverlaw.ca/
ADDRESS
688 W Hastings St Suite 900, Vancouver, BC V6B 1P1, Canada
CONTACT DETAILS
Phone number: (604) 632-0188
Email:

[email protected]

OPERATING HOURS
Monday: 9 am – 5 pm
Tuesday: 9 am – 5 pm
Wednesday: 9 am – 5 pm
Thursday: 9 am – 5 pm
Friday: 9 am – 5 pm
Saturday: closed
Sunday: closed
MKS Immigration Lawyers is a trustworthy firm that has helped many people make Canada their home. Their team consists of seven capable legal representatives, all of whom have extensive experience in immigration law.
Among this team, Gordon H. Maynard has been a senior partner for almost 20 years. With 30 years of practice in immigration law, he is an excellent lawyer for complex immigration cases that require more thorough examination.
If your immigration case is one that leaves other firms scratching their heads, then MKS Immigration Lawyers should be your go-to business. Without a doubt, Gordon H. Maynard is a veteran of immigration law whom you can rely on for complex immigration cases.
High level of experience in immigration law
A large team of capable lawyers
Recipient of multiple awards for excellence in their field
Customer Reviews
Here's what this firm's clients had to say about their excellent service:
"My fiend had a removal order due to misrepresentation felony from the immigration process. We were very lucky to find Mr. Maynard as our defending lawyer, who is knowledgeable, full of experience, very reasonable price (I did ask around a few lawyers in Vancouver, Toronto and Ottawa) and detail oriented (he is the veteran of the immigration law , please google his name and YouTube) which make us fully ready for the appealing process. And all his hard works are paid off, we won the case!!! Thank you, Mr. Maynard!" – Alex L.
"Alex is exceptionally professional and knowledgeable lawyer. He helped me to successfully immigrate to Canada. At the beginning I had some concerns hearing different stories about other immigration lawyers who missed deadlines or emails, bringing their clients to difficult situations. That's not the case with Alex. He's very responsible and no matter how difficult situation, he knows what is the best step. He's very thorough, and his work doesn't leave any space for mistake. I would highly recommend him for anyone who has difficult immigration case." – Zoran J.
3. Ian Goldman of Goldman Associates of Canadian Immigration Law Firm
BEST FOR
Residency applications
SERVICES
Express entry
Sponsorships
Humanitarian applications
Refugee protection
Temporary residency
Permanent residency
Canadian citizenship
Business immigration
WEBSITE
https://immigrationtocanada.org/
ADDRESS
1275 W 6th Ave #300, Vancouver, BC V6H 1A6, Canada
CONTACT DETAILS
Phone Number: (604) 900-3259
Email:

[email protected]

OPERATING HOURS
Monday: 8 am – 5 pm
Tuesday: 8 am – 5 pm
Wednesday: 8 am – 5 pm
Thursday: 8 am – 5 pm
Friday: 8 am – 5 pm
Saturday: closed
Sunday: closed
Goldman Associates is a realistic law firm that prides itself on understanding modern immigration law. This comes in handy as they will not hesitate to present the options you have and inform you which are likely to succeed.
As the firm's founder, Ian Goldman is yet another expert in immigration law with almost 30 years of practice under his belt. Throughout his long career, he has helped with numerous residency applications which makes him something of an expert on the subject.
This firm's website allows you to schedule both virtual and or private consultations with Mr. Goldman. Whether you simply need sound legal advice or a more personal approach to your immigration case, you can expect knowledgeable guidance from Ian Goldman.
If you're looking to make Canada your home, this firm is well equipped to help you succeed.
Available for virtual consultations
Conveniently located near downtown Vancouver
Well-aware of the best legal channel for clients
The firm consists of only one lawyer so scheduling may be difficult
Customer Reviews
Ian's personable approach is very evident from the feedback left by his clients:
"I had a virtual consultation on short term and long terms visa application process with Ian today. He was very knowledgeable and helpful and provided great context on how to proceed. He also provided multiple options and outlined the risks. He was very patient and honest in answering all my questions." – Anush Z.
"Great Service to help in a professional way. Ian studies my case beforehand and communicated well, and walks me through with the options that I needed in processing my PR even though I've been having a hard time decision in declaring my common-law Ian gave me an advice. Also, a great value in putting time and effort in working my requirements and explaining in details by using zoom meeting, and he is also a very responsive with my inquiries in emails. Thank you Ian!" Leslie R.
4. Ryan N. Rosenberg of Larlee Rosenberg, Barristers & Solicitors
BEST FOR
Corporate personnel immigration
SERVICES
Temporary residency
Permanent residency
Sponsorships
Humanitarian applications
Immigration litigation
Corporate employee immigration
WEBSITE
https://larlee.com/
ADDRESS
555 W Georgia St #600, Vancouver, BC V6B 2A3, Canada
CONTACT DETAILS
Phone number: 604-681-9887
Toll-free number:1-866-282-8399
Fax: 1-604-681-8087
Email:

[email protected]

OPERATING HOURS
Monday: 8:30 am – 5 pm
Tuesday: 8:30 am – 5 pm
Wednesday: 8:30 am – 5 pm
Thursday: 8:30 am – 5 pm
Friday: 8:30 am – 5 pm
Saturday: closed
Sunday: closed
Larlee Rosenberg is a large firm that advises both individuals and corporations in immigration law matters. Despite this wide range of clients, this firm has shown great skill in helping companies move skilled personnel into Canada.
Overall, this firm is a great option for business owners or corporations that are having difficulty transitioning workers into the Canadian market. This is no doubt thanks to the serious effort put forth by the firm's team, including Mr. Ryan N. Rosenberg.
Ryan N. Rosenberg is a senior partner at Larlee Rosenberg and a capable immigration lawyer. Where other legal reps would feel intimidated at having to represent large organizations, Mr. Rosenberg delights at the chance to help yet another business.
In the past, Mr. Rosenberg has represented multinational companies and massive corporations. All of these experiences make him an excellent option for businesses looking to sponsor skilled workers and corporate personnel.
A great option for business immigration
Highly active in various law conferences
Member of the Law Society of British Columbia
Member of the Canadian Bar Association
Fees may be higher for businesses sponsoring employees
Customer Reviews
This firm's capabilities are well supported by a mob of rave reviews:
"I work for an immigration consulting firm, whenever we run into issues we turn to Joshua Slayen, he's hands down the best lawyer I've ever had the pleasure of working with!!! He takes his time to answer our questions in the most easy to understand and professional way, he's down to earth, very nice, gives his clients the feeling their his top priority and most importantly, he's very honest! If anyone that is reading this review needs an immigration lawyer, DON'T THINK TWICE AND HIRE JOSHUA SLAYEN, he's worth every penny!!!" – Dvir E.
"If you need to get a new visa/work permit, this is the place. Go with Joshua Slayen: He knows everything there is to know, from the main lines to the small details! He is very professional and will not hesitate to go the extra mile for you" – Martin R.
5.   Kahlon Immigration Law
Kahlon Law is a firm that specializes in Canadian immigration.
What we like about this firm is that they're a multilingual firm. Other than English, members of their team can speak Punjabi, Hindi, Spanish, and French.
We also like that they cover many practice areas when it comes to immigration. They deal with work permits, study permits, visitor permits, family sponsorships, and a lot more.
Since their clients can come from all over the world, we think that it's great of them to offer virtual legal services. Clients no longer need to book an appointment and come to their office.
Clients have only left 5 stars on their Google Reviews for Kahlon Law and this makes us confident to recommend them to you.
Woman-led team
Multilingual firm
Specializes in immigration
Rates are unavailable online
Closed on weekends
Customer Reviews
Here are some feedback from clients:
"I had the opportunity to work with Kahlon Immigration Law on a complex student visa case. Due to Covid and other factors, the process was more challenging than at other times in the past. Kahlon Immigration Law walked us through every step with great care, professionalism, and attention to detail. I was very impressed with their responsiveness to our ongoing questions. They fought very hard for us and and we were very pleased that our case had a successful resolution. We felt very fortunate to have had the opportunity to work with them and recommend them wholeheartedly."
"Ms. Kahlon and her team have assisted us twice. Initially, it was during our work visa application. Naseeb guided us through a very complex process, helped to gather all necessary documents and clarified various ambiguities. She constantly communicated with us during the entire process until, finally, our application has been approved. Later, Ms. Kahlon and her team helped us with our PR application. They recommended the best immigration pathways, made sure all documents were in order and promptly replied to our inquiries. During the process, they demonstrated great professionalism and knowledge of the subject. Overall, It was a great pleasure working with Ms. Kahlon and her team. We are extremely satisfied with the process and the outcome!"
6. Laura Best & Fadi Yachoua of Embarkation Law Corporation
BEST FOR
Refugee claims and appeals
SERVICES
Visas
Permits
Work immigration
Immigration litigation
Canadian citizenship
Family immigration
Humanitarian applications
Business immigration
WEBSITE
https://embarkation.ca/
ADDRESS
1055 W Georgia St 24th Floor, Vancouver, BC V6E 3P3, Canada
CONTACT DETAILS
Phone number: (604) 662-7404
Toll-free number: 604) 662-7466
Email:

[email protected]

OPERATING HOURS
Monday: 9 am – 5 pm
Tuesday: 9 am – 5 pm
Wednesday: 9 am – 5 pm
Thursday: 9 am – 5 pm
Friday: 9 am – 5 pm
Saturday: closed
Sunday: closed
Embarkation is an accommodating firm that places the value of clients above all other things. They have helped countless people seek asylum and make their way in Canada.
Their team is composed of men and women from different cultural backgrounds. This makes them especially suited to helping foreign clients due to their multilingual capabilities.
Embarkation is headed by Laura Best and Fadi Yachoua, two immigration lawyers who excel in humanitarian applications. Both Laura and Fadi have resolved countless cases, many of which have led to clients avoiding unjust deportation and finding safety in Canada.
All of these experiences have helped Laura and Fadi establish Embarkation as a caring firm. One that carries the linguistic tools, compassion, and know-how needed to approach both refugee and humanitarian cases.
Excellent multilingual firm
Multiple successful cases
Highly personal approach to delicate cases
Some refugee and humanitarian cases may take longer to resolve
Customer Reviews
These clients offer excellent testimonies to this firm's services:
"I am client of Fadi since 2013 and he has help me a lot of times with my immigration. He was with me from being student all the way until i get my PR. I am still client of him. I have been to other consulting firms and Lawyer before find this firm and they were waste of time and not providing important information so they keep you coming back for more information and charge you for more money. I did not find this with Mr. Fadi in this law firm. Mr. Fadi is an honest person and he will tell you all the fact right away without wasting your time. Mr. Fadi will go above and beyond to help you and he will look everywhere for solution to your problems even if its required a lot of time. I went for this firm to help me with my PR and i gave up before getting it but Mr. Fadi is the one who pushed me and gave me the hope until i get my PR. I will always appreciate what this firm did for me and how they helped me. Thanks" – Ryan K.
"Laura Best provided excellent legal advice for my navigating Canada's process of getting both a student visa and how to apply for a work visa related to an internship, that will be part of my school program.
I had many questions. Laura patiently walked me through how the application system works, providing detailed answers to all my questions.
Thanks to Laura, I left our meeting confident on how to move forward. She is a kind and very well-informed professional." – Neil P.
7. Elgin, Cannon & Associates

BEST FOR
Canadian immigration lawyers
SERVICES
Permanent Resident Applications
Immigration Appeals
Immigration and Refugee Hearings
Temporary Resident and other Applications
Citizenship Applications
Federal Court Judicial Review
WEBSITE
https://www.elgincannon.com/
ADDRESS
409 Granville Street, Suite 1402
Vancouver, British Columbia
Canada V6C 1T2
CONTACT DETAILS
Phone: 604-683-5959
Fax: 604-683-6664
OPERATING HOURS
Contact for more details
Elgin, Cannon & Associates was established in 1995.
Their immigration lawyers practice in the areas of Canadian refugee, immigration and citizenship law and cumulatively have many decades of experience in this field. They are dedicated to providing clients with excellent advice and quality service in all immigration matters.
Furthermore, their lawyers deal with you directly. You will not be passed on to a legal assistant or paralegal.
They will readily answer your phone calls and e-mails in a timely manner and give your file the professional attention it needs.
Strong team of lawyers
Quick and thorough in all their works
Rates are unavailable online
Customer Reviews
These clients offer excellent testimonies to this firm's services:
"Chris Elgin is a true professional with a good reputation in the immigration services. Not only he did a great job on my applications that were previously poorly handled by a so called immigration consultant, he also helped few of my friends. Great thing about the way he is doing business is he does not make you lose time by giving you a false hope, he will tell you if your case is doable or not. I highly recommend him if you are looking for a solid advise."
"Peggy Lee was my lawyer and I highly recommend her, for sure you'll be happy with her awesome work."
8. PCLC Law Corporation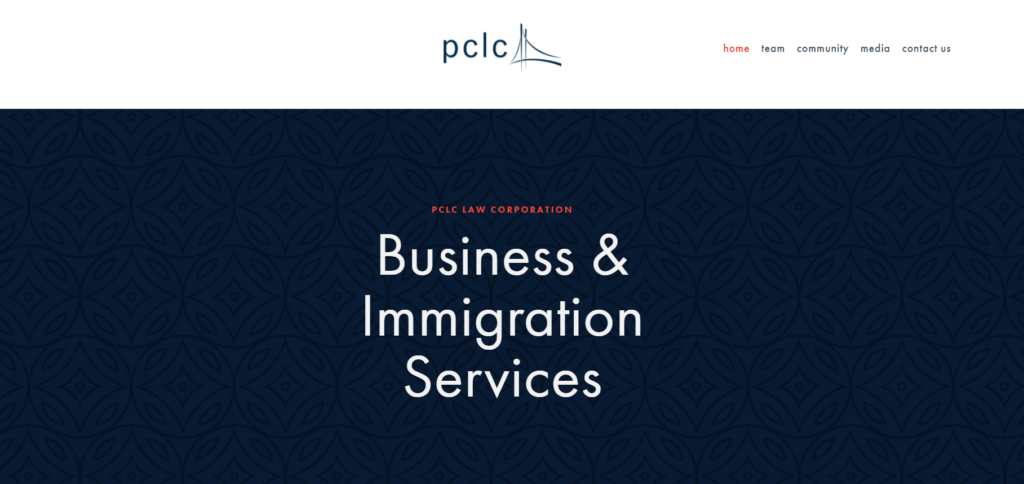 BEST FOR
Canadian immigration lawyers
SERVICES
Business and Immigration Services
WEBSITE
https://www.pclclaw.com/
ADDRESS
838 West Hastings St., Suite 700
Vancouver British Columbia V6C 0A6
Canada
CONTACT DETAILS
(778) 819-8316 | [email protected]
OPERATING HOURS
9am to 5pm; Weekdays
PCLC Law Corporation works closely with various businesses partners, professionals, and lawyers (both locally and internationally) to meet your needs in any language and in any time zone.
PCLC team members are bilingual, and aside from English, they are fluent in Mandarin, French, Russian, Cantonese, Spanish, and Ukranian. This makes them perfect for immigrant from countries where these are the pre-dominantly spoken languages.
Phebe Chan has been a lawyer since 2005. Since then, she has worked closely with global mobility specialists, HR teams, business entrepreneurs and international executives with migration, workforce growth, and transfer plans.
Furthermore, they are also very easy to work with as they put their clients' comforts and needs first.
A large team of legal experts
Led with expertise
Woman-led team
Rates are unavailable online
Customer Reviews
These clients offer excellent testimonies to this firm's services:
Phebe Chan is a smart and exceptional lawyer with high service standards. She provides well thought out and practical legal advice that helps to achieve goals in an efficient manner. – Bryan Y.
Phebe is the epitome of "strategic partner". Her expertise proved to be invaluable when we were in need of guidance and information when hiring. She not only helped dozens of employees, but also was instrumental in educating our clients and business leaders about the Canadian immigration process and what they needed to be sensitive to. But what makes Phebe really stand about above the rest is how she values her relationships; not just with her clients, but also her industry colleagues. – Shamean R.
Phebe is a great attorney and has helped me stay in control of international expansion into Canada and work permit applications for Canada and the United Kingdom out and into the Americas. Her background experience in immigration has proven to be completely competent and invaluable to our business needs. – Amber E.
FAQs About the Best Immigration Lawyers in Vancouver
---
That concludes our list of the top immigration lawyers in Vancouver. With this knowledge, you'll have everything you need to choose a lawyer that suits you.
All that's left now is to visit your chosen firm's website and enlist their services. If you do decide to go with one of the lawyers we've listed, let us know how it goes!