The 6 Best Employment Agencies in Vancouver
Whether you're looking for a new role to leave your current one or to grow in your field, finding a new job can be pretty hard.
But we've put together a list of the best employment agencies in Vancouver in order to help you out with finding your next job.
The Cost of Employment Agencies in Vancouver
If you're a job seeker, then there shouldn't be any cost to you. Employment agencies are typically paid by the employers based on the candidate's first-year salary.
So, asking candidates for money should be seen as a red flag if you're the talent. If you're the company seeking talent, on the other hand, expect to pay fees.
The Best Employment Agencies in Vancouver
We based the best employment agencies in Vancouver based on the following criteria:
1. Recruiting in Motion – Vancouver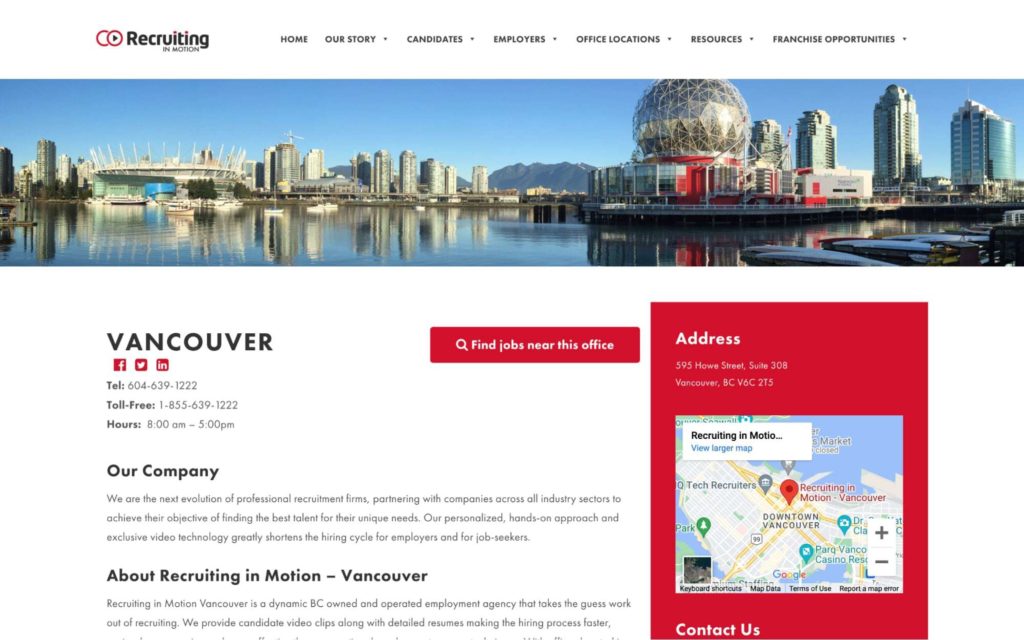 | | |
| --- | --- |
| Opportunities | ★★★★☆ (4/5) |
| Promptness | ★★★★☆ (4/5) |
| Overall satisfaction | ★★★★★ (5/5) |
So, there's a few things that we liked about Recruiting in Motion – Vancouver and first among them was the responsiveness.
We saw more than one prospective worker come to them needing flexible work on short notice and they were able to find employment for these people.
That kind of responsiveness is something that we really like to see from employment agencies considering how crucial finding work can be for quite a lot of people.
Another thing that we liked was their communication. We found the way they communicated to be clear, concise, responsive, and highly professional – basically, everything you'd want an employment agency to be.
One other thing we saw that won them a lot of points in our book was how dedicated they were. We encountered more than one worker praising them for working around the clock to find them work.
Beyond that, there's also the quickness. Looking for a new job can be something that takes quite a while to accomplish, but more than one worker has found a job within a few days of coming to Recruiting in Motion.
That's not the kind of speed or responsiveness that escapes our notice. But that quickness didn't mean they just placed workers in random jobs – they found jobs that the workers were suited to.
Quick placement
Open communication
May not have opportunities in all fields
Customer reviews
Seamless and efficient
"Recruiting in Motion – Vancouver have an excellent ability to make good matches in a seamless and efficient way. Their service is of great value. Sandy especially has been very responsive, clear, professional and with a great attitude. I would highly recommend them to other Corporations & Companies needing assistance with recruiting quality candidates." – Pedro Cordova
Excellent experience
"I had an excellent experience with Lana in finding my current position. She worked around the clock coordinating everything between all the parties involved. I am very appreciative of her diligence and hard work. Thank-you to Recruiting in Motion for hiring such a great employee!" – Hope Helen
2. Express Employment Professionals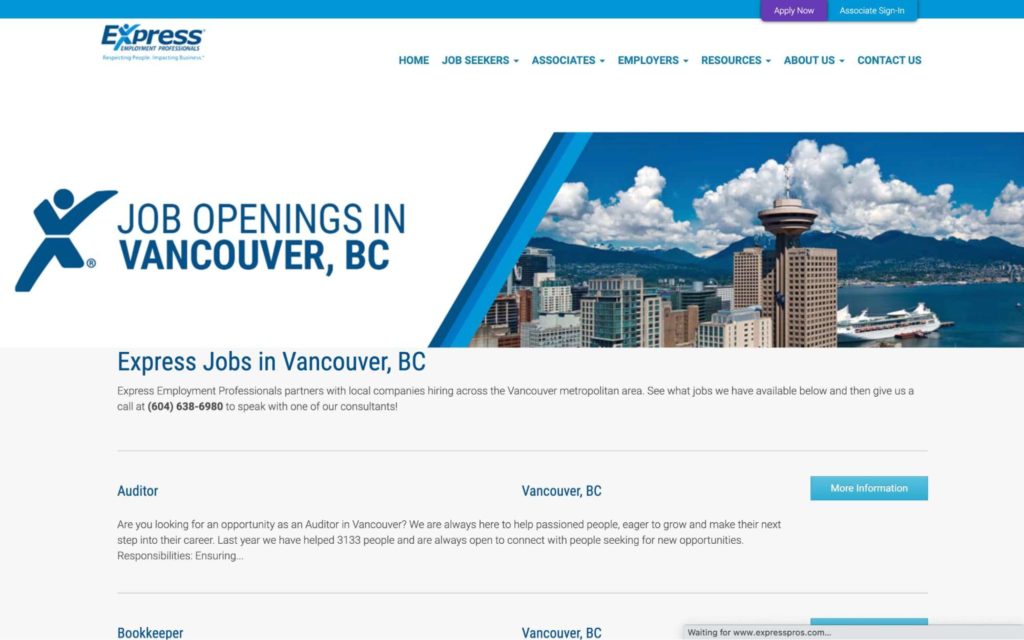 | | |
| --- | --- |
| Opportunities | ★★★★☆ (4/5) |
| Promptness | ★★★★☆ (4/5) |
| Overall satisfaction | ★★★★★ (5/5) |
There's a lot that we liked about Express Employment Professionals and chief among them was their follow-up. They don't just get people jobs, they also follow up with them to make sure that those people are doing well in those jobs.
That's the kind of people-centric approach that we like to see from an employment agency, or any business that works with people who may or may not be stressed out about their employment or lack thereof.
But they're not just helping prospective workers: they also help companies that need someone to fill in for them. We found one company that they helped out by finding someone to temp for them while an employee recovered from an injury.
Another thing that we liked was their personal touch. They don't just take a candidate's work history, they get to know them and their needs and use those as variables when finding them placements.
They also make sure that candidates have everything they need to thrive in their new positions in order to make transitions as easy and as seamless as possible.
Overall, we found Express Employment Professionals to be responsive and dedicated to helping people find the work that they need.
Responsive
Personalized approach
Not all job placements will work out
Customer reviews
Recommend working with them
"I have been fortunate to connect with the Team at Express Vancouver and whether you are a client looking for a recruitment partner to help you find the right talent, or a Candidate looking for your next great opportunity, I recommend working the team at Vancouver Express!" – Jay Edwards
Work right away
"I would like to personally thank Sheena for helping me find work after having no results for 6 months. After applying to hundreds of jobs online, Sheena was able to get me in contact directly with employers and find work right away. I would highly recommend anyone looking for work to go through Express but specifically Sheena as she's always been proactive and successful in find me a job." – Gage Selmes
3. STRIVE Recruitment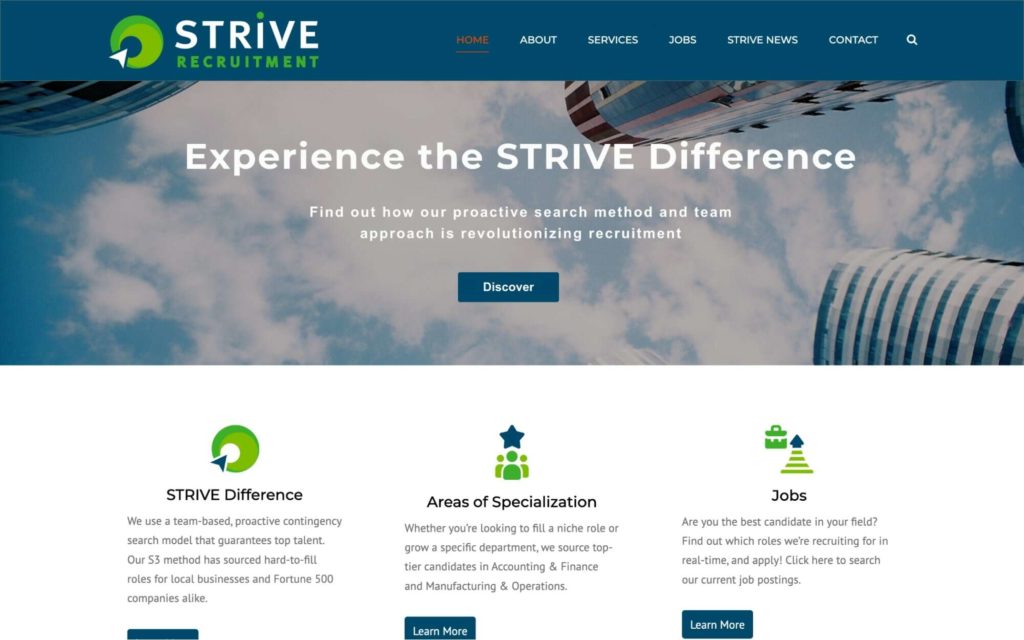 | Test | Info |
| --- | --- |
| ADDRESS | 1050 W Pender St #1740, Vancouver, BC V6E 3S7 |
| WEBSITE | https://striverecruitment.ca/ |
| CONTACT DETAILS | (604) 336-8844 |
| OPERATING HOURS | Monday to Friday, 8am to 5pm |
| | |
| --- | --- |
| Opportunities | ★★★★★ (5/5) |
| Promptness | ★★★★☆ (4/5) |
| Overall satisfaction | ★★★★★ (5/5) |
There are a few things about STRIVE Recruitment that really stood out to us in our observation, but the thing that really stood out most to us was their ability to take the initiative.
What we saw was an agency that didn't wait around for the best candidates, they reached out to those candidates themselves and made sure they had everything they needed in order to thrive in their new roles.
Being able to make the first move shows us no lack of guts and that's something we want to see in more places. A little audacity goes a long way, especially for recruits.
Another thing we saw that we liked was in the way they dealt with recruits. They answered inquiries promptly and they were straightforward with the potential candidates, making them feel like their needs were being looked out for.
The communication was open and candidates raved about the high level of professionalism that they were shown.
Overall, we found that STRIVE Recruitment went a long way towards easing the job search for a lot of people. Candidates didn't have to send out their CV's since STRIVE either contacted them directly or they helped them filter through potential matches.
Reaches out to candidates
Guides candidates in their new jobs
Some candidates might be put off by their audacity
Customer reviews
Professional and trustworthy
"I recently was approached by Jessica Volpe at Strike Recruitment via email regarding a position that she felt I would be well suited for. Initially I declined as I was not willing to commute further than I was currently doing. She respected my decision and asked if I would be willing to speak with her about potential future opportunities.
We spoke and she asked lots of questions to really get a clear understanding as to what I was looking for in an employer. At the end of our conversation she felt strongly that I should reconsider meeting the owners of the company she had initially approached me with. I can honestly say that within five minutes of meeting the owners I knew that Jessica was 100% correct.
From the first email to signing the contract Jessica was very responsive, professional and trustworthy and only had my best interests.
I highly recommend Jessica and I can't thank her enough for finding the perfect job for me!
Sincerely,
Tracey" – Tracey A May
Amazing experience
"I had an amazing experience with Strive and would recommend them to anyone on the job market! From start to finish, I felt like they really cared about finding the right fit for me and what I was looking for. And I loved that I didn't have to filter through thousands of job postings and sending my resume, this really took stress out from job searching. Thank you Jess and Frederick!" – Amanda Look
4. Impact Recruitment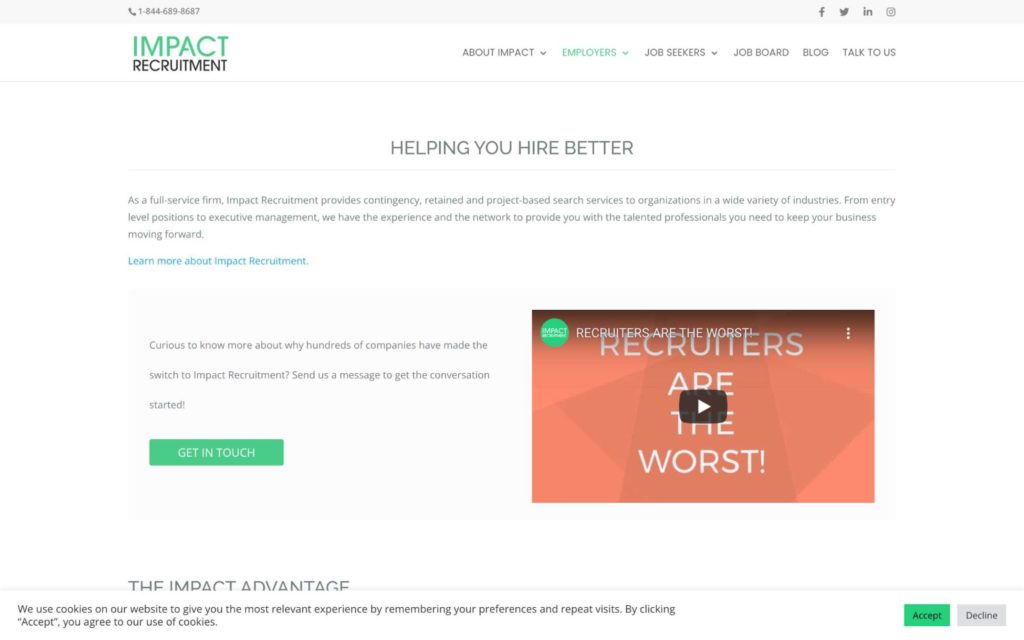 | Test | Info |
| --- | --- |
| ADDRESS | 688 W Hastings St #800, Vancouver, BC V6B 1P1 |
| WEBSITE | https://impactrecruitment.ca/ |
| CONTACT DETAILS | (604) 689-8687 |
| OPERATING HOURS | Monday to Friday, 830am to 5pm |
| | |
| --- | --- |
| Opportunities | ★★★★☆ (4/5) |
| Promptness | ★★★★☆ (4/5) |
| Overall satisfaction | ★★★★☆ (4/5) |
There's a lot that can be said about Impact Recruitment. Here's the most imporant point: that they recognize and reach out to talent quickly.
Instead of that talent going through job posting after job posting, Impact tends to find them easily and connect them with the right opportunities, even when the talent doesn't know about the opportunity in the first place.
We encountered several persons whom Impact found a job for who said they hadn't even realized that the job was available at all.
That's the kind of dedication and commitment to placing people in the right roles that we like seeing from employment agencies.
Those two things tell us that they've got a candidate's best interests in mind when it comes to placing them in a new job. That's something that we feel is of utmost importance so for them to feel the same way is worth a lot in our book.
Another thing about their process that we liked was how straight-forward it was. Candidates were matched with appropriate roles and then given resources such as info about the company, prep for interviews, and updates on the application status.
Those are all things that we feel make it easier not just for people to find jobs, but for employers to find people.
Actively seeks out candidates
Preps candidates for interviews
Some of their opportunities might change with little notice
Customer reviews
Pleasure to work with
"Impact is professional and always have the candidate's best interest in mind.
They worked tirelessly to find the right fit for me. I could not be happier with my new opportunity!
They also found many great hires for me when I was hiring for my team.
They are a pleasure to work with and I trust them on future opportunities and hiring!" – Lawrence Chan
Highly recommend
"Such a straight-forward process working with Impact Recruitment. After months of endlessly applying and getting nowhere in my job search I reached out to Bridget O'Connor to see if there was any suitable openings and we got chatting about a potential role. Just over 3 weeks later and I got offered the position. She was so helpful every step of the way, be it pre-interview preparations, intel on the company and role, and frequent updates on the job status, keeping me in the loop throughout the process. Highly recommend anyone in a rut job searching to reach out to Impact!" – Connor Farrell
5. Randstad Canada
| Test | Info |
| --- | --- |
| ADDRESS | 700 W Pender St Suite 1601, Vancouver, BC V6C 1G8, Canada |
| WEBSITE | https://www.randstad.ca/ |
| CONTACT DETAILS | +1 604-408-2772 |
| OPERATING HOURS | Monday to Friday, 830am to 5pm |
| | |
| --- | --- |
| Address | 700 W Pender St Suite 1601, Vancouver, BC V6C 1G8, Canada |
| Website | https://www.randstad.ca/ |
| Contact Info | +1 604-408-2772 |
| Operating Hours | Monday to Friday, 830am to 5pm |
| | |
| --- | --- |
| Opportunities | ★★★★☆ (4/5) |
| Promptness | ★★★★★ (5/5) |
| Overall satisfaction | ★★★★☆ (4/5) |
There's something to be said about delayed gratification, about waiting and waiting so the anticipation builds up until the thing finally happens. But delayed gratification doesn't work when seeking employment because of the urgency of the situation.
We encountered more than one candidate who was hired at a new job almost immediately after contacting Randstad. That kind of quickness when it comes to getting people to work isn't something that evades our notice or our appreciation.
Another thing we liked about them was how they made it a point to help get candidates in the right state of mind in order to get jobs. Whether it was helping them prep for interviews or to stay calm during the application process, we noticed they were there for candidates.
More than one candidate raved about how seamless and easy they made the job hunt too. That's something that we like since it shows us that they put people first.
Another thing we observed and appreciated about them was the way they took what candidates wanted out of their jobs and careers into consideration when finding placements for them.
One more thing that we liked is how responsive they were to potential employees. Being responsive can go a long way towards putting candidates at ease so they flourish in their new roles.
Finds jobs quickly
Responsive to candidates
May not have openings for everyone
Customer reviews
Simply amazing
"Zack Tahir has been simply amazing to me. The very first job he recommended me for, I got hired on the spot. He was very caring and even called me just before my interview to let me know everything is going to be fine, and that even if I didn't get hired for that particular job, he's got my back and would find something else. It's because of him that I am employed and I can't thank him enough. His professionalism and compassion is outstanding. Highly recommended!" – Joe Karlton
Absolute pleasure
"I have been working with Joanne at Randstad since December and she has been an absolute pleasure to work with! From the first interview, she had with me, I could tell she understood my personality and what I was looking for in work. I took on contract assignments while awaiting permanent positions, and they've all been great placements thanks to her; and finally, I received a great job offer. She truly has my best interests at heart in terms of my career goals and I have/would happily recommend her to anyone looking for work." – Rachel Emily
6. TPD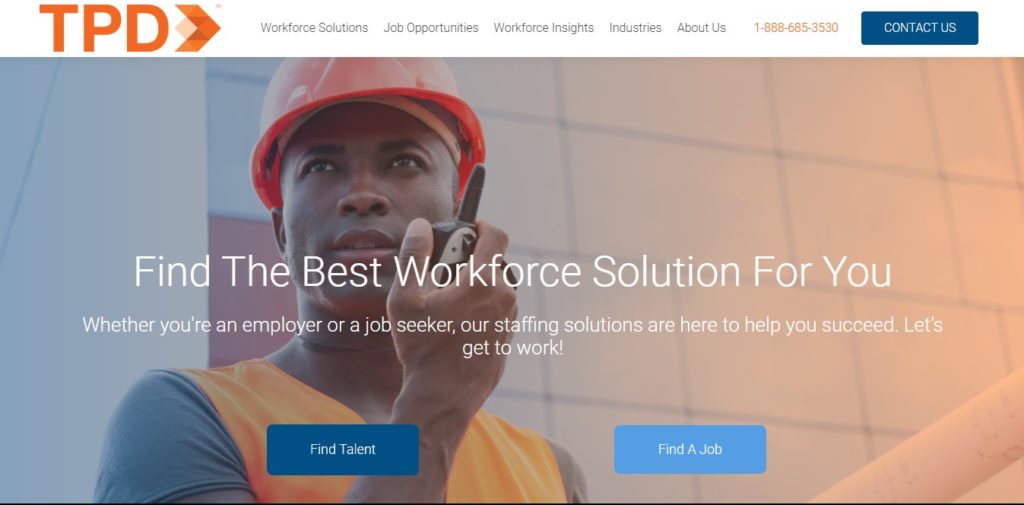 | Test | Info |
| --- | --- |
| ADDRESS | 595 Burrard St, Vancouver, BC V7X 1L4, Canada |
| WEBSITE | https://tpd.com/ |
| CONTACT DETAILS | 1-888-685-3530 |
| OPERATING HOURS | Monday - Friday: 8:00 - 17:00 |
| | |
| --- | --- |
| Opportunities | ★★★★☆ (4/5) |
| Promptness | ★★★★☆ (4/5) |
| Overall satisfaction | ★★★★☆ (4/5) |
TPD is an employment agency with, unlike other, over 40 years of experience in the staffing and recruiting industry. What's great about this is that their long-standing presence in the industry demonstrates their ability to navigate the talent landscape effectively and provide quality services to clients and candidates.
Another pro in working with them is that they offer an extra wide range of services, including temporary staffing, recruiting, executive search, payrolling, and more. This comprehensive approach allows them to cater to diverse workforce needs, a one-stop solution for your staffing requirements.
Aside from these, TPD stands out by prioritizing employee retention.
By offering competitive pay, active performance management, and 100 percent employer-paid benefits to their field staff, they demonstrate a commitment to attracting and retaining top talent. This focus on retention benefits both clients and job seekers as there will be a higher quality workforce and longer-lasting placements.
While TPD specializes in the Aerospace, Business Professional, Light Industrial, and Mining sectors, their expertise may be less applicable to other industries.
If you are seeking staffing services outside of these sectors, TPD's level of industry-specific knowledge and connections may not be as extensive.
More than 40 years of experience
Comprehensive Services
Focus on Retention
Industry and Sector Focus
Customer reviews
"Dylan was fantastic to deal with. He is very professional and also a really nice guy that's very easy to get along with. Straight to the point and always fighting your corner, he had me working in a great environment within days. He also went out of his way to help a friend of mine after I had told the friend how good Dylan's service was! Thanks again Dylan"
"I am so thankful I had the opportunity to work with Bob Gotengco throughout this stressful job search process. He is knowledgeable, kind, and professional. He provided me guidance and support through my entire journey and has been actively responding to all my questions. I am so grateful to TPD for having such wonderful staff and I would happily encourage anyone in search of a new job to work with this company! It's been an absolute pleasure working with Bob and I would absolutely choose to work with him again in the future. Thank you so much!!"
FAQs about Employment Agencies in Vancouver
---
If you're looking at more creative fields of work, then check out this list of the best talent agencies in Vancouver to help you get started on that.