The 5 Best Bookkeeping Services in Vancouver
For new entrepreneurs, bookkeeping is an added burden in managing a newly-established business. Keeping track of transactions, checking if everything is correct — it can be a waste of time and a bore.
So you won't need to bother with this chore, we asked different business owners and researched their top choices to see which are the best bookkeeping services in Vancouver.
How much does bookkeeping services in Vancouver cost?
We know that the cost of bookkeeping services is an important factor. Fortunately, many services are still affordable, so getting a good bookkeeper shouldn't have to put a huge dent in your budget.
In the table, we included the base bookkeeping price for each company listed here.
Company
Base Fee
Homeroom Small Business Solutions Inc
$100/month for sole proprietors
$200/month for corporations
Always Bookkeeping Ltd
$200/month
Enkel Backoffice Solutions Inc
Starter: $350/month
Growth: $600/month
Premium: $1000/month
It's Your Time Business Services
Contact them for more information
Valley Business Centre
Contact them for more information
The Best Bookkeeping Services in Vancouver
Since we already established the minimum budget you need for bookkeeping services in Vancouver, here are the ones that topped our list of services. We also answered some of the most common questions about bookkeeping services at the end of the article.
1. Homeroom Small Business Solutions Inc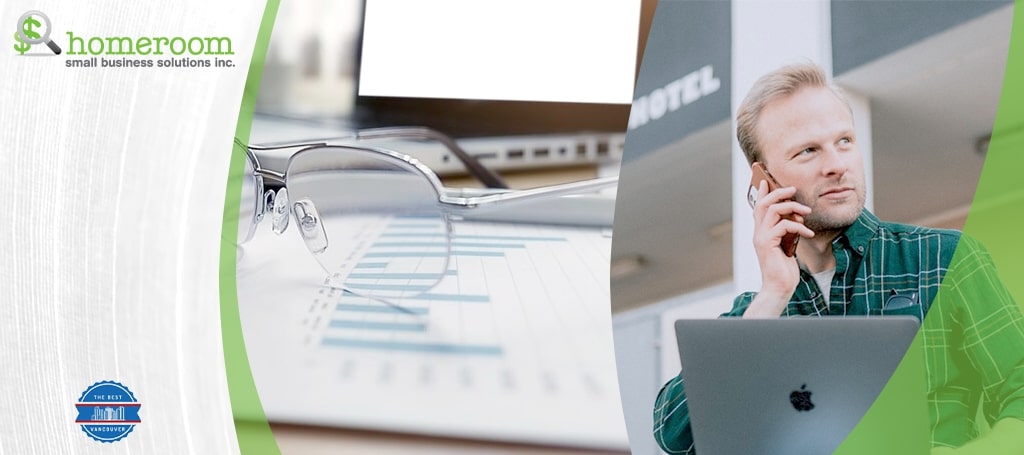 OTHER SERVICES
Income Tax Preparation
E-commerce Accounting & Bookkeeping
ADDRESS
1093 W Broadway #105, Vancouver, BC V6H 1E2, Canada
CONTACT NUMBER
604-739-9536
WEBSITE
https://www.hrsbs.ca/
OPERATING HOURS
Monday- Friday exc. Thursday: 8:30am–4pm
Thursday: 10am–1:30pm
When you're the sole owner of a business, it can be hard to focus on bookkeeping on top of things like payroll and managing your business. That's where Homeroom Small Business Solutions come in.
They mostly service small businesses, which is understandable as the starting rate for their service is also pretty cheap. In fact, they have a monthly rate for their service instead of an hourly rate.
Due to being a smaller business, Homeroom Small Business is closed during the weekends. However, they still guarantee a response to your queries on the next business day.
And you won't need to worry about forgetting to send your transactions too as they will set-up an automatic reminder for you.
But we don't think you'll forget to send your transactions with them anyway. Other companies we've interviewed have said that they regularly communicate with Homeroom and they give pretty early reminders.
It's also worth mentioning that Homeroom is very pandemic-ready. There's no need to visit their office as they are a digital-based company with most of their work and communication done on the computer.
With all of that said, it's no surprise Homeroom Small Business Solution is deemed one of Vancouver's best bookkeeping services.
Monthly rate 
Responds to messages within the next business day
Has an automatic reminder for needed documents
Digital-based
Closed during the weekend 
Only serves small business
Customer Reviews
These reviewers talk about what they love about working with Homeroom:
"I've been working with homeroom for years. They do my bookkeeping as well as my annual taxes. As a small business person I feel supported and the system they have in place to keep me organized makes year – end a dream. I recommend them !" – Deb Chaney
"the guys/gals at Homeroom have helped me with all my book keeping needs. With recently starting my own small business, they have helped take so much of the weight off of my shoulders! Highly recommend" – Nate Henare
2. Always Bookkeeping Ltd.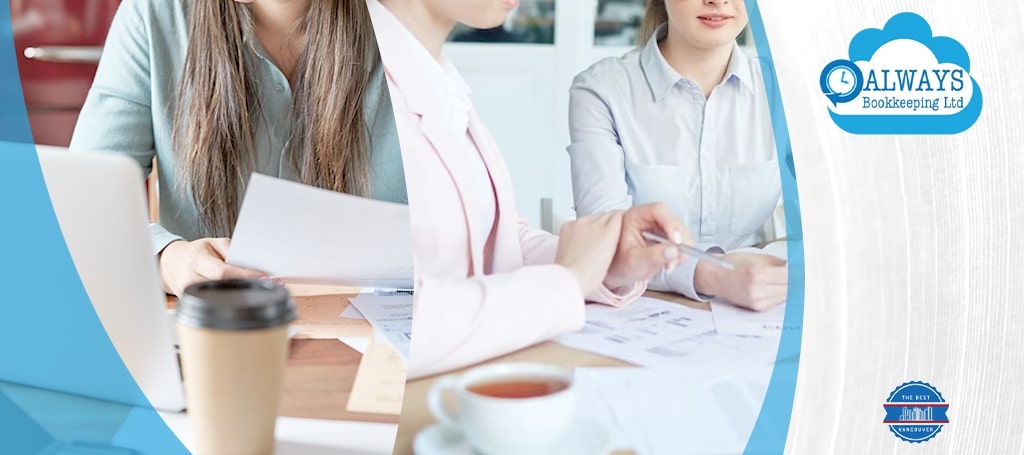 SERVICES
Incorporation
Bi-Weekly Payroll & Annual T4s
Basic Proprietorship or Corporate Tax Filings
ADDRESS
1055 W Georgia St Suite 2400, Vancouver, BC V6E 3P3, Canada
CONTACT NUMBER
780-554-8356
WEBSITE
https://alwaysbookkeeping.ca/
OPERATING HOURS
Monday-Friday: 8am–7pm
Saturday: 8am–5pm
Always Bookkeeping is a bi-weekly bookkeeping service that reviews cheques and deposits with you. We find this very helpful as it helps us remember our recent transactions.
They also provide the bookkeeping software with its fee included in the flat rate they gave you. However, for some businesses that use their own bookkeeping software, this might be a bit inconvenient.
Other than that, they also have a tool that makes it easy to store important receipts. With their software, you can just take pictures of receipts or store digital copies for security.
The Always Bookkeeping staff will be able to access the data through the software if you grant them permission. This already saves you time, as it means you won't have to send over every single document when needed.
However, they don't give assurance of at least a next-day response for inquiries so there's a chance that they might reply late to questions. This is a pity, as we always prefer faster replies.
But with their services and software support, communication still shouldn't really be that much of a problem with this bookkeeping service in Vancouver. At least, most of their clients seem to be satisfied with them in spite of the issue we just noted.
Bi-weekly check-up
Financial reviews 
Digital storage 
Using their own digital software might be a bit of a jump from old software
No reassurance for fast response 
Customer Reviews
Here are some people talking about their experiences with Always Bookkeeping:
"Extremely professional and responsive. Roberto has been a huge help with our company and I couldn't recommend him enough! He has helped us grow from the beginning stages of our company and especially during the pandemic. You can tell he truly cares about his clients!" – WC Jungle
"Professional services that never disappoint! The team here is able to take care of all your bookkeeping and is super friendly on top of it all!" – Liz Watts
3. Enkel Backoffice Solutions Inc.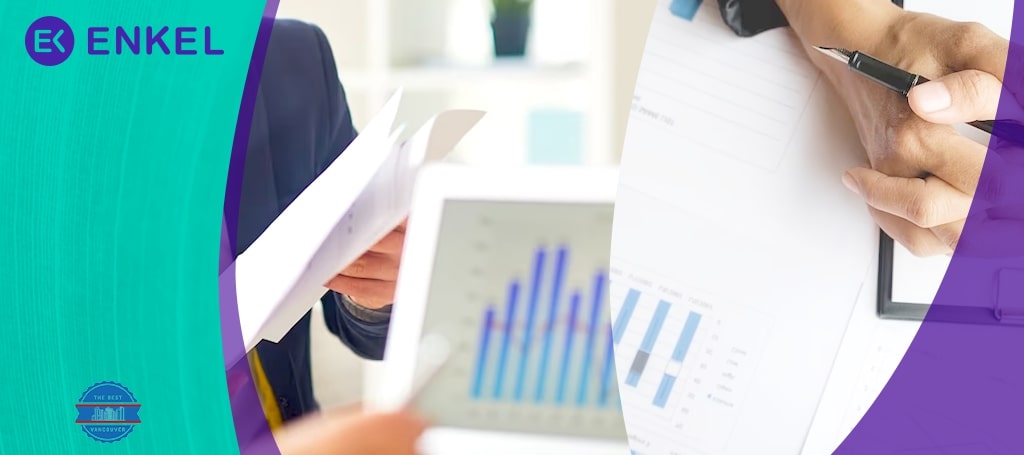 OTHER SERVICES
Payroll
Accounts Payable
Accounts Receivables
Fractional Controllership
Catch-Up Bookkeeping
ADDRESS
900 Howe St #510, Vancouver, BC V6Z 2M4, Canada
CONTACT NUMBER
604-259-6234
WEBSITE
https://www.enkel.ca/
OPERATING HOURS
Monday-Friday: 8:30am–5pm
Enkel Backoffice Solutions might be a bit more expensive than others but they have a lot of things that make their fees worthwhile.
For example, they offer two different bookkeeping software options but they can also integrate your existing bookkeeping software into their process. Hence, if you don't want to adapt to other software, they can use the software you already have.
They use cloud accounting services too to make sure that you won't even do any manual accounting anymore. If there's an unsupported transaction, their staff can immediately code that transaction in so you won't have to do that by yourself.
However, don't expect them to respond to your inquiries during the weekends. Like other companies in this list, their business hours are just from Monday to Friday.
On the bright side, the software they use is pretty collaborative already. That can help minimize the odds of problems appearing that require instant attention.
Aside from those things, if you also have overdue books, this company will be able to handle those with their catch-up bookkeeping services.
Overall, for their services this is a great choice for a bookkeeping service in Vancouver. The fees aren't too unreasonable considering what you get with them.
Can use your existing bookkeeping software already
Uses cloud accounting services for easy uploads of documentations
Uses a collaborative digital software
Can do catch-up bookkeeping
Higher base fee than other companies
Closed during the weekends
Customer Reviews
These reviews show what their clients think of them:
"The team at Enkel has been amazing to work with! With their payroll and bookkeeping support, I have been able to scale my business without worrying about spending days on spreadsheets and numbers. I know I can trust them to be thorough and professional." – Caroline Somos
"Fire your Bookkeeper and Hire Enkel! We began working with Enkel in Dec 2017 and with in the first week we fired our current bookkeeper and moved everything over to Enkel. The value that they added to our business, and the systems they created in the 1st week far exceeded my expectations. They have been able to create a robust system that provides us with everything we need (and some), at a very reasonable price (less then our past bookkeeper). With Enkel I am confident that the work is being done correctly and I actually look forward to our monthly reports. Thanks to Chris for all the hard work and fast clear communication. I could not be happier. GREAT JOB!" – Shawn Miller
4. It's Your Time Business Services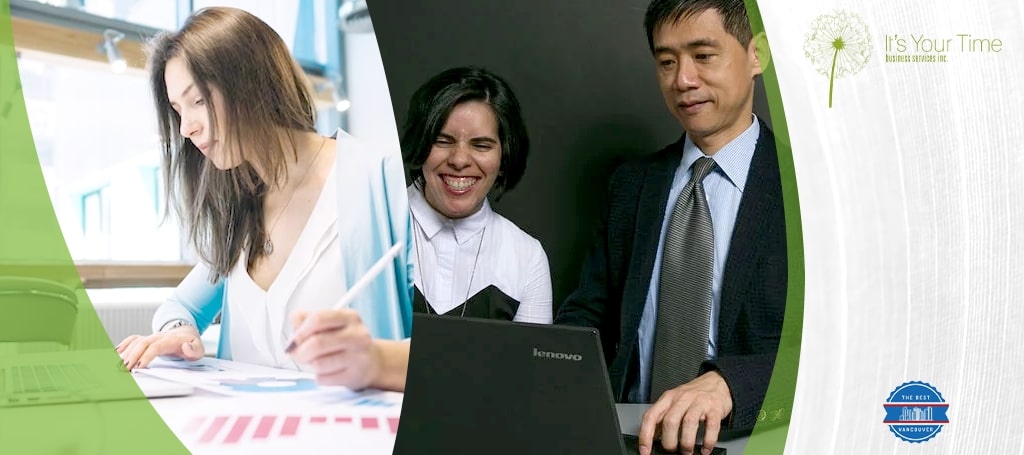 OTHER SERVICES
Tax Preparation
Virtual Assistant
Telephone Services
HR Support
ADDRESS
119 W Pender St #404, Vancouver, BC V6B 1S5, Canada
CONTACT NUMBER
604-648-8799
WEBSITE
https://www.itsyourtime.ca/
OPERATING HOURS
Monday-Friday: 8:30am–5pm
It's Your Time Business Services is one of Vancouver's best bookkeeping services. Their package already contains different services to help your business succeed.
Their staff here are also certified Quickbooks advisers and they can help you interpret different financial reports. But if you don't use Quickbooks, their staff can already use your existing bookkeeping software files using programs such as Xero or Excel.
They do focus more on smaller businesses though — but if you're in their target audience, this one is a pretty solid choice. Clients of It's Your Time Business also get a lot of perks for doing their bookkeeping with them.
For example, their clients get discounts from different establishments and they also have a lot of events to help different businesses grow.
Compared to other companies, however, they are a bit less transparent about their pricing. They don't talk about the pricing of their bookkeeping service alone without their other services.
But if you also have a need for their other services, they offer some pretty good deals for different businesses.
Certified Quickbooks advisers 
Offers establishment discounts for their clients 
Has different events for businesses 
Can use other bookkeeping software
Price for bookkeeping alone isn't public
Doesn't have that much experience with mid-sized businesses
Customer Reviews
Here's what their clients are saying about them:
"Working with Amanda and her team at It's Your Time has been great. I really appreciate Amanda's professionalism, dedication and commitment to her clients; she goes above and beyond and it is evident that she really cares about the people with whom she works. I would highly recommend It's Your Time for your bookkeeping needs." – Dan Kirchner
"Lifesavers!!! I had to learn Quickbooks Online and being a "non-numbers" person with little to no bookkeeping experience, I needed help and in a hurry. In comes It's Your Time and Marisa to the rescue. I've had a handful of sessions with Marisa and feel confident to use QBO now. She is very patient, understanding, and a great teacher. She's always been available to answer my questions. I highly recommend It's Your Time and Marisa for any bookkeeping and/or QBO training. Thank you Marisa, thank you It's Your Time!" – Roamer
5. Valley Business Centre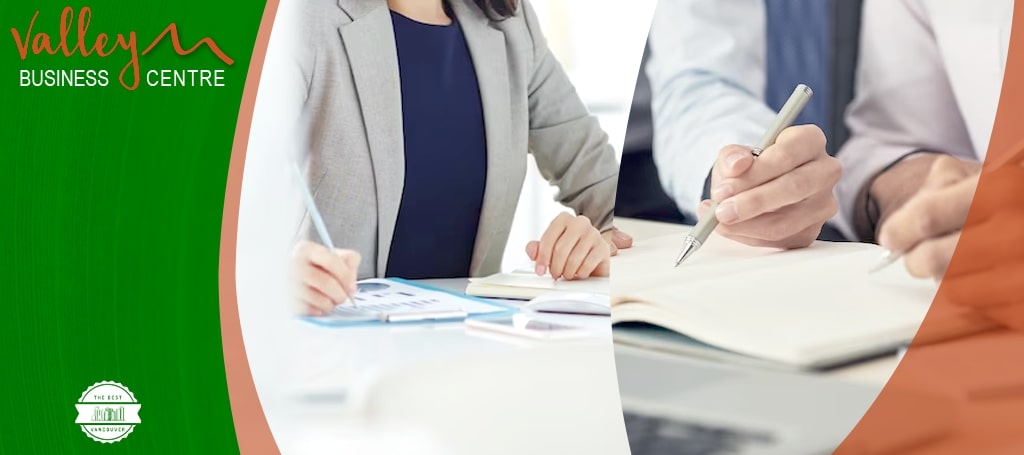 OTHER SERVICES
Payroll
Government Requirement
ADDRESS
997 Seymour St #250, Vancouver, BC V6B 3M1, Canada
CONTACT NUMBER
888-822-3177
WEBSITE
https://whistlervalleybusiness.com/
OPERATING HOURS
Monday-Friday: 9:30am–5pm
With over 30 years in the business, this company has provided great service to many clients. They're one of the top choices for bookkeeping by many business owners in Vancouver for their great quality of service.
They can adjust easily to different financial cycles and can work with daily, monthly, quarterly, or annually ones. Weekly reports are also given to their clients along with a monthly report.
If your existing bookkeeping needs clean-up, Valley Business Centre can also handle it with their service.
Even if they don't have the prices of their services available to the public, it's pretty easy to get a quote here and consultation is free. We also understand why their price isn't available as they customize their service based on each business's needs.
After the year ends, they provide a financial report to be used for tax purposes. This is a great thing to add as aside from the regular monthly reports, a yearly report is often a more in-depth look at how a business is doing.
Due to their comprehensive bookkeeping services, they got the loyalty of many different business owners. On the whole, they're easy to recommend, even if they do suffer from the same issue many others do: unavailability during the weekends.
More than 30 years in business
Can work with different cycles
Provides weekly and monthly reports
Free initial consultation
Price for their service isn't publicly available
Closed during the weekends
Customer Reviews
These reviews detail the experience of their previous clients
"Best service ever! I am so happy I found this company to bring my books up to date. I was behind 3 years and the staff helped me clean my books. They are very knowledgeable, use the latest technology and take their time to answer all the questions you may have. Highly recommend, you will not be disappointed! Thank you Valley Business Centre!!!" – Andy Doodson
"I have a small firm. I've been doing my own bookkeeping. Recently my business has gotten into some issues that were a little bit more complicated. I needed another pair of eyes to make sure I was doing things correctly. Valley Business team did a thorough review of my books, gave me a detailed report, and mostly, they gave me peace of mind." – Robinhood Approvals
FAQs About Bookkeeping Services in Vancouver
---
With a bookkeeping service to keep your business's finances records, it will be easier to check the profit and losses.
Although if you really want to maximize your profit, you can check out some of our other lists for business owners. For example, we have a list of the best digital marketing agencies in Vancouver that can help your business generate leads and turn them into customers.