The 7 Best Construction Companies in Vancouver
Whether you're working on a home construction project or looking to have a commercial space renovated, a professional company can be of great help. So, to give you some options, we've gathered a list of the best construction companies in Vancouver.
Our list consists of specialized home builders and commercial construction giants. To give you an idea of what each company can offer, we've also included customer reviews, company backgrounds, and other helpful info.
How Much Do Construction Services Cost in Vancouver?
Given the wide variety of services included in general construction… we thought it best to provide you with a general idea of typical construction costs.
Below is a cost guide with various construction projects and their inherent cost ranges specified in CAD per sq ft:
| | |
| --- | --- |
| Mid-rise apartments | $200 – $245/sq-ft |
| High-rise condos/homes | $315 – $390/sq-ft |
| Townhouses | $150 – $235/sq-ft |
| Suburban homes | $235 – $485/sq-ft |
| Shopping malls | $190 – $295/sq-ft |
| Universities | $330 – $455/sq-ft |
| High schools | $280 – $230/sq-ft |
| Hotels | $240 – $355/sq-ft |
As you can see, the costs for certain projects like suburban homes can vary widely. This is due to the different sizes that homes can come in as well as the various furnishings needed.
Naturally, this rule also applies to commercial spaces and other construction projects with large size differences.
To avoid breaking the bank with your construction project, always remember that the size of the project and the company's specializations can directly affect costs.
The Best Construction Companies in Vancouver
Now that you're familiar with basic construction costs, it's time to meet our top picks for the best construction companies in Vancouver.
1. Vancouver General Contractors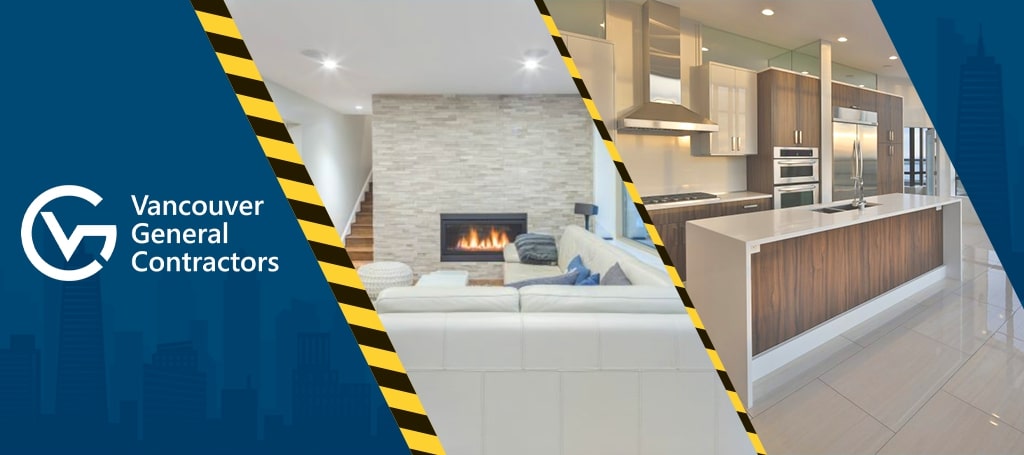 SERVICES
Kitchen Renovations
Bathroom Renovations
Interior Design
WEBSITE
https://vancouvergeneralcontractors.com/
ADDRESS
3689 E 1st Ave #220, Vancouver, BC V5M 1C2, Canada
CONTACT DETAILS
Phone number: (604) 430-3004
Email:

[email protected]

OPERATING HOURS
Monday: 8 am – 5 pm
Tuesday: 8 am – 5 pm
Wednesday: 8 am – 5 pm
Thursday: 8 am – 5 pm
Friday: 8 am – 5 pm
Saturday: Closed
Sunday: Closed
Vancouver General Contractors is a recognized company with over 10 years of experience in commercial and residential projects. Their past builds include custom luxury homes, public spaces, and various reconstructions.
Despite this wide array of jobs, this company has shown that it truly shines in residential projects. As proof of this, these folks have been recognized by the National Kitchen and Bath Association, as well as the BBB.
With multiple awards to its name, this company is a prime choice for clients looking to bring their dream home to life. Alternatively, they are a great option for property managers who want to breathe new life into old properties.
From simple select renovations to full-on construction, Vancouver General can deliver excellent quality thanks to its experienced personnel and client-centered approach. Because of this, your creative inputs will always be at the heart of every project.
Well-suited to custom luxury home construction
Recipient of various home construction awards
Capable of renovating old deteriorating properties
Lacks experience in commercial construction projects
Customer Reviews
These clients were very pleased with the services provided by Vancouver General Contractors:
"After interviewing a few companies, we decided to engage with Vancouver General Contractor based on the designs they presented to us and the professionalism of the team. We had a major kitchen renovation, creation of a powder room, and updates to various parts of the house. Under going a renovation can be daunting, but the Vancouver General Contractor team kept our confidence up as they walked us through the entire way through. If working with a professional team and getting high quality work done is important to you, you should strongly consider Vancouver General Contractors." – Hector W.
"Great; absolute service they've provided. follow up on time schedule as they promised on work order and duration time hour. Everything turned out happy as I expected" – Howard C.
2. Level One Construction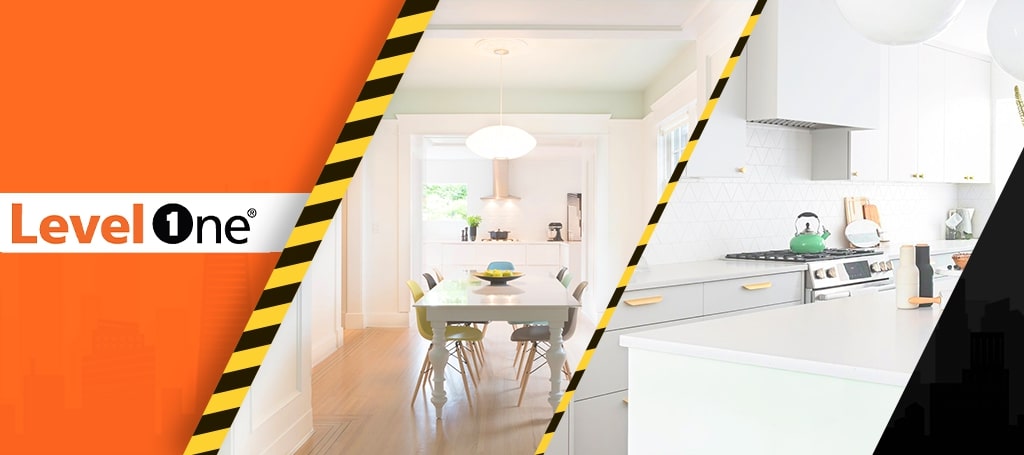 SERVICES
Kitchen renovations
Bathroom renovations
Full Condo renovations
Full House renovations
WEBSITE
https://www.levelone.ca/
ADDRESS
1314 Graveley St, Vancouver, BC V5L 4Y2, Canada
CONTACT DETAILS
Phone number: (604) 647 – 1718
Email:

[email protected]

OPERATING HOURS
Monday: 8 am – 4:30 pm
Tuesday: 8 am – 4:30 pm
Wednesday:8 am – 4:30 pm
Thursday: 8 am – 4:30 pm
Friday: 8 am – 4:30 pm
Saturday: Closed
Sunday: Closed
Level One Construction began its life in the year 2000 as a maintenance company providing repair services to coffee shops and businesses around Vancouver. Fast forward to today and the company has gone from small-time maintenance to residential and commercial renovations.
Since then, these folks have received multiple awards and nominations for their efforts from the Homebuilders Association of Vancouver.
To add to this, these folks are certified members of the National Kitchen & Bath Association, as well as the Candian Home Builders' Association, and the Greater Vancouver Home Builders' Association.
By being a member of such organizations, this company has proven that it can deliver services and work that meets the standards set by large governing bodies.
If all this is still not enough to put clients at ease, the company offers extended warranties on labour, maintenance, and constructed structures.
This means that after work has been completed, clients can rest easy knowing that they are covered for damage and accidents.
Recognized by the Homebuilders Association of Vancouver
Offers warranties on all work & renovations done
Well-suited to luxury renovations
They are more expensive than other home renovation companies
Customer Reviews
Here's what clients had to say about the work done by Level One Construction:
"I have been and am so impressed with Level One Construction. To sum it up best, they were on time and on budget for our 5 month home renovation. There were never any big surprises or cost overruns. Alex D at head office and Alex R project manager were so good at getting back to messages. It was so evident that they cared about their work and about the project and us as homeowners. I would not hesitate to recommend them to any family or friends and will even miss having them around. Thanks again Level One!" – Shane P.
"We are completely thrilled with our recently finished renovation with Level One. From beginning to end, our project has been handled with an exceptional level of professionalism. The quality of their work is fantastic, and their attention to detail is second-to-none. The project finished on time, despite the extremely difficult circumstances of having to work through a global pandemic. I am so thankful for the dedication of this team, and for their thoroughness and expertise. We are so proud of our home, and we look forward to working with Level One again in our next project. I would recommend them wholeheartedly. Thanks Level One!" – Holly C.
3. Euro Canadian Construction Corp.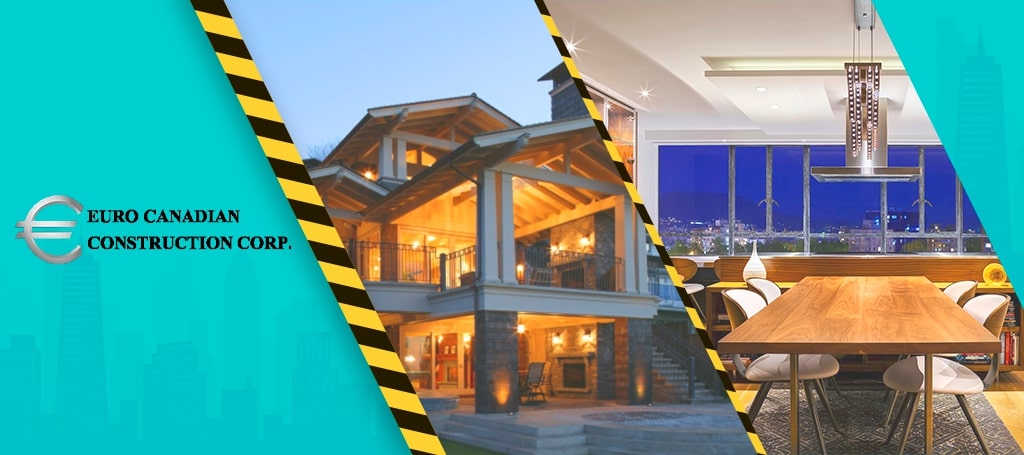 SERVICES
Custom home construction
WEBSITE
http://eurocanadianconstruction.com/
ADDRESS
1445 Marpole Ave Suite 801, Vancouver, BC V6H 1S5, Canada
CONTACT DETAILS
Phone number: (604) 526-7558
Fax: (604) 526-9930
Email:

[email protected]

OPERATING HOURS
Monday: 9 am – 6 pm
Tuesday: 9 am – 6 pm
Wednesday: 9 am – 6 pm
Thursday: 9 am – 6 pm
Friday: 9 am – 6 pm
Saturday: 9 am – 6 pm
Sunday: 9 am – 6 pm
Among our entries for the best construction companies in Vancouver, the Euro Canadian Construction Corp. is one of the few that specializes in luxury home construction.
While this decision limits the company to residential projects, it hasn't stopped it from making waves in the construction industry. These folks work closely with clients and design teams to create customized home constructs and renovations.
By working with design teams and clients, this company is able to identify problem areas and seek out solutions that still adhere to a client's tastes. This approach has helped the company through 13 fruitful years of construction and renovations.
At the head of every project is Jeffrey Gunson, the company's project manager and a licensed construction professional.
Jeffrey has loads of experience in construction and certifications in site supervision and project management. His presence in each project ensures a level of quality and accountability that you just don't get with some other companies.
Additionally, he is available for on-site consultations for any concerns clients may have. This means that clients will always be able to voice any issues they may have with a project.
Specializes in large residential constructions
The company has over 13 years of experience
Member of the Reno Mark Program for licensed and capable renovators
The company does not handle any commercial construction
Customer Reviews
13 years is a long time in any industry, and over this time the company has also gained a ton of rave reviews:
"Finding reliability and quality work was hard to find in this city when it comes to renovations. I thought it was an impossible combination to find until we worked with Euro Canadian. I would recommend them without hesitation. In addition to being reliable and doing high-quality work, you will find they have great work ethic to bring your vision to reality with the highest of business practice and standards.." – Kuljeet K.
"Euro Canadian Construction builds beautiful custom homes and condos. They have been around since 1997 and build one of kind houses that wow any guest that walks in the door. If you are looking for a house with fine detail and high-end products then you want Euro Canadian Construction to build or renovate your next home. The staff is so friendly and will help you achieve your dream home." – Jennifer G.
4. FairTradeWorks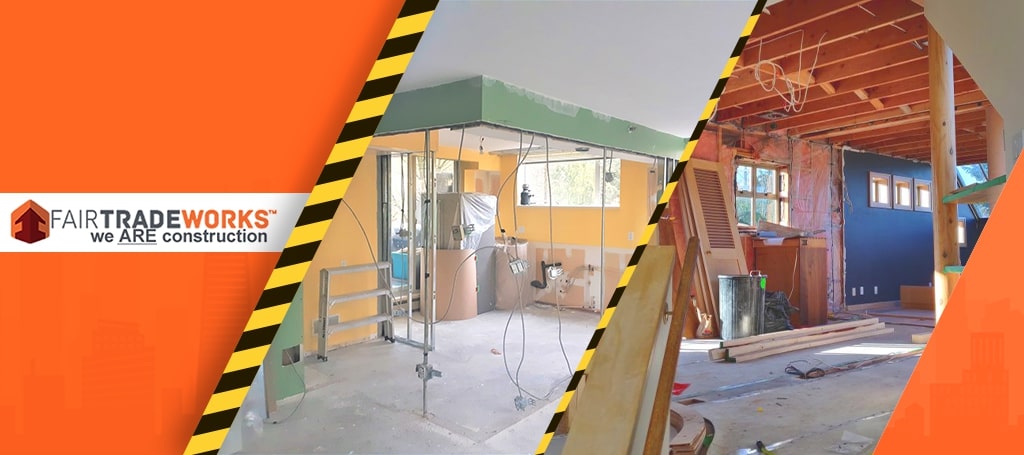 SERVICES
Residential construction
Commercial construction
Landscaping
WEBSITE
https://www.fairtradeworks.biz/
ADDRESS
101-1520 Rand Ave, Vancouver, BC V6P 3G2, Canada
CONTACT DETAILS
Phone number: (604) 264-7366
Toll-free number: (855) 860-7366
Email:

[email protected]

OPERATING HOURS
Monday: 9 am – 5 pm
Tuesday: 9 am – 5 pm
Wednesday: 9 am – 5 pm
Thursday: 9 am – 5 pm
Friday: 9 am – 5 pm
Saturday: closed
Sunday: closed
FairTradeWorks is one of the newest companies on our list. Despite this, the collective experience of its personnel allows it to compete with even the oldest construction firms.
With advisors and managers from all facets of construction, this company has the ability and knowledge to cater to a wide variety of construction needs. To make the entire construction process as easy as possible, FairTradeWorks has adopted a concierge-style approach.
This approach pairs clients with one of the company's professional construction advisors. As a representative of the client, these advisors handle everything from concerns to scheduling and even consultations.
By eliminating the need to handle small aspects of construction, this concierge approach leaves more room for clients to focus on the creative part of their project.
The concierge-style construction takes the hassle out of projects
Well versed in a wide variety of projects
Clients are always kept up-to-date by their construction advisors
Not ideal for clients who wish to take an active role in their construction project
Customer Reviews
This company's concierge approach to construction has led to a whole heap of satisfied clients and five-star reviews:
"Coming from a Design Professional working in the residential design and construction industry for the past 10+ years, the construction competency, knowledge base and professional manner of team at FairTradeWorks equally meets and surpasses those I have come across in various projects and job sites." – Stephen L.
"Jim and his team are very professional, efficient, and understanding. They listened to my needs throughout the project. Our designer, Ivonny is very creative. She came up with a perfect design for us. Our project manager, Sean, was very helpful. He answered our questions in a very timely manner. The estimation was very transparent. All works were listed clearly in the estimation. Jim is an amazing business owner. He checked in with us regularly to make sure our project was on schedule. I highly recommend FairTradeWorks. They are leaders in the industry." – Joseph I.
5. Sitka Coast Construction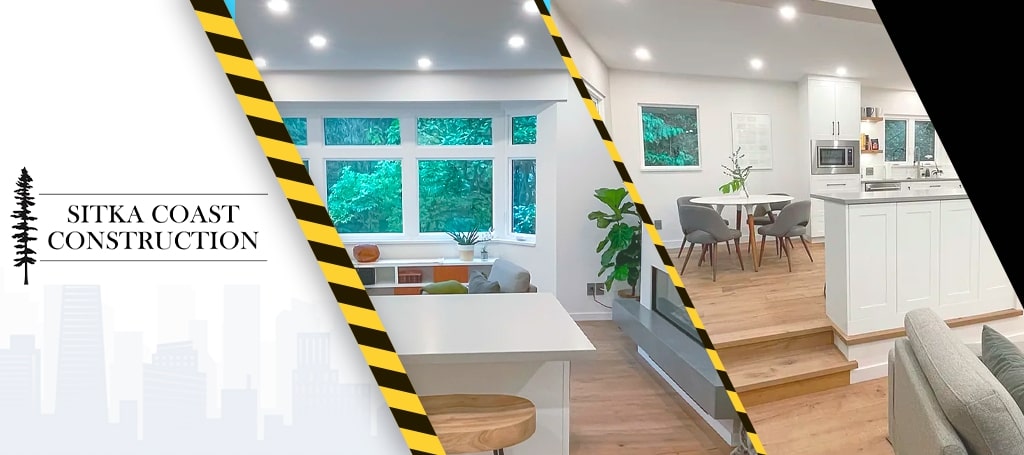 SERVICES
Full Home Renovation
Kitchen Renovation
Home Additions
Commercial Tenant Improvements
WEBSITE
https://www.sitkacoastconstruction.com/
ADDRESS
626 W 29th St, North Vancouver, BC V7N 2K2
CONTACT DETAILS

[email protected]

OPERATING HOURS
Monday to Saturday: 7:00 AM to 5:00 PM; Sunday: Closed
When it comes to construction, we've surfed the wave of disappointment one too many times. But fear not, because Sitka Coast Construction has arrived to rescue us from the treacherous tides of subpar service.
From the moment we made the call, Sitka Coast Construction had us riding high on a wave of convenience.
Their responsive team swiftly dove into action, leaving us with a feeling of being as light as a buoy on a calm sea. No more waiting in the doldrums of unanswered calls or lost emails—we were back in the captain's seat.
Sitka Coast Construction isn't just some dinghy floating aimlessly in a sea of mediocrity. Oh no, they're more like a majestic flagship, sailing with a reputation that precedes them.
Their crew of skilled craftsmen and professionals worked tirelessly, leaving no room for doubt that they are the captains of their craft.
Ah, the dreaded cost—the lurking sea monster that can sink our dreams faster than you can say "ahoy!" But Sitka Coast Construction won't send you sailing off the edge of your budgetary limits.
Their pricing is like a friendly lighthouse, guiding us safely towards affordable and transparent estimates, ensuring that our treasure chests remain intact.
We love that they handled our project with finesse and precision that it felt like we were riding a luxurious yacht on a sea of expertise.
From start to finish, their attention to detail and commitment to quality were like refreshing sea breezes, leaving us with a finished product that exceeded our wildest dreams.
However, they're closed on Sundays. We recommend booking an appointment with them ahead of time.
Responsive and convenient customer service
Excellent reputation in the construction industry
Competitive and transparent pricing
Impeccable attention to detail and quality of work
Customer Reviews
"Tui and his team at Sitka Coast Construction are a joy to work with – very professional and responsive. Tui took the time to come up with detailed costs for our project so we knew what to expect. The quality of the work was great and they finished on time. He has amassed a good team of subcontractors and the project ran like clockwork. Highly recommend." — Denise Mosawi
"Working with Sitka Coast Construction is consistently a positive experience. Their jobs are well organized and their commitment to professionalism and quality is second to none. I would recommend them for any renovation!" — Tom Wasyluk
6. QualiFast Contracting Ltd.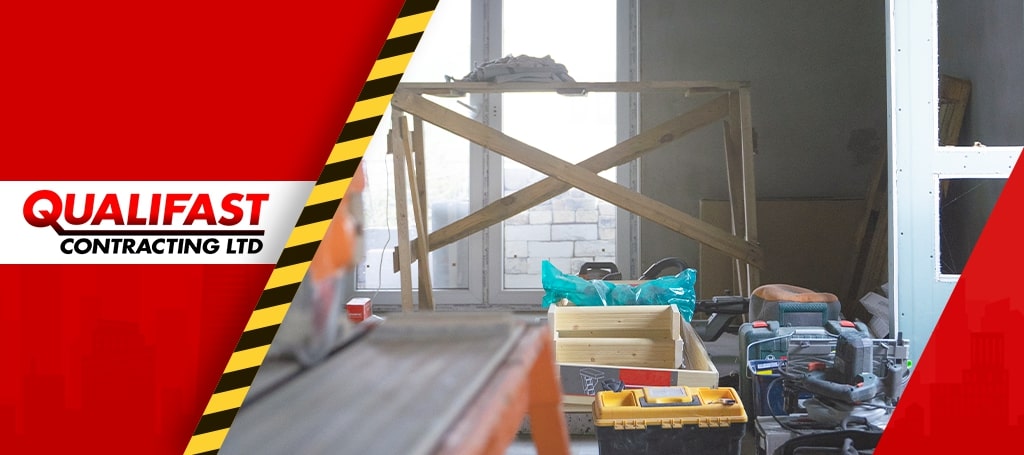 SERVICES
Commercial construction
Renovations
WEBSITE
https://qualifast.ca/
ADDRESS
488 Helmcken St #413, Vancouver, BC V6B 6E4, Canada
CONTACT DETAILS
Phone number: (604) 600-1274
Email:

[email protected]

OPERATING HOURS
Monday: 8 am – 6 pm
Tuesday: 8 am – 6 pm
Wednesday: 8 am – 6 pm
Thursday: 8 am – 6 pm
Friday: 8 am – 6 pm
Saturday: 8 am – 12 pm
Sunday: closed
In an industry filled with serious competition, QualiFast manages to retain its edge by being an all-in-one design and construction service. These folks cater to landlords, Business Owners, Retailers, Architects, and even other builders.
Regardless of how large a project may be, QualiFast is more than up to the challenge whether they handle the entire job or a select portion. The company's services include tenant build-outs, renovations, remodels, and full-on design & construction.
As a larger company, these folks put a focus on catering to commercial clients. This allows them to make the best use of their massive manpower and ample resources.
Aside from a wide area of capability, this company is able to work around client's schedules. In turn, this creates the least impact on a business's operations, ensuring an unhindered workday all throughout construction.
All in all, QualiFast is an excellent company for commercial business owners who are looking to reinvent their business or make a new one altogether. The company's flexible scheduling and wide capabilities make it a definite top choice.
Conveniently located in downtown Vancouver
Caters to a lot of commercial clients
Offers flexible construction schedules
The company does not cater to residential clients
Customer Reviews
Despite only catering to commercial clients, this company has still made a great impression with businesses all around Vancouver:
"It's always a pleasure to work with Mario and his team. We have worked alongside them on many office projects. He and his team have a great attitude and you can tell that they genuinely enjoy what they are creating. We highly recommend QualiFast. They will get your project done right and to your liking." – Matthew R.
"The QualiFast team did a full renovation for our Vancouver office. Excellent quality and a very clean modern look, plus good follow-up on additional small items we needed doing after the main renovation. Highly recommend as a general contractor." – Alex P.
7. Lyle Construction
Lyle Construction offers first-class construction and renovation services with great attention to detail and expertise in their field. Their craftsmanship is unbelievable and creates pleasing results.
From budgeting, forming timelines, creating designs, and buying supplies they will be there to complete the work with their clients. They communicate well and are very transparent with their work making sure that everything is in the right place.
Renovation is a tedious process but the quality of their services will make it lighter. Overall, Lyle Construction is worth the trust and money.
Great craftsmanship
Clean and safe services
Great communication skills
Customer Reviews
Here's a review from one of Lyle Construction Ltd's clients:
"We've had the pleasure of working with Lyle Construction for the past year, on 5 different projects. Each project has been professional with high quality construction. Jason and the team are always available for questions and they efficiently communicate the process of how the project will and is coming along. I've personally referred Lyle Construction to family members and friends and continue to do so. Keep it up!" -Devon Arnold
Here's another one:
"I am a Tile setter who does a lot of work with the guys at Lyle Construction. They do an exceptional job every time and deliver a 1st class customer experience. Its always a treat to work on any of their sites. I highly recommend them if you're thinking about hiring them!" -Aaron Howe
FAQs About Construction
---
That wraps up our list of the best construction companies in Vancouver. As you can see, the city has a ton of options for commercial and residential projects alike.
Now, all that's left is to pick your preferred company and put them to work.
If you're looking to spruce up your home or office, why not work on your lawn or garden space too? We've got you covered with another comprehensive list of the best landscapers in Vancouver.