The 6 Best Furnace Repair Services in Vancouver
Vancouver is known for its great climate and poor weather. Though temperatures are relatively mild all year round, the city does get its fair share of freezing days and rain now and then.
For such times, you'll want to make sure your furnace is in proper working order. So to help out, we've made a list of the best furnace repair services in Vancouver.
How Much Does Furnace Repair Cost in Vancouver
To give you a general idea of the costs associated with furnace repair, we've put together this handy cost table:
| | |
| --- | --- |
| Service | Price range |
| General furnace repair | $199 – $379 |
| Thermostat repair | $75 – $200 |
| Heat exchanger repair | $150 – $275 |
| Flame sensor repair | $80 – $250 |
| Blower motor repair | $140 – $440 |
| Pilot light repair | $250 – $375 |
As you can see, the variety in price can be rather wide. This is because the cost of a job can change based on factors such as complexity, labor rates, and part requirements.
The Best Furnace Repair Services in Vancouver
With basic costs covered, it's time to dive into our list. Without further ado, here are our picks for the best furnace repair services in Vancouver
1. Reliance Mechanical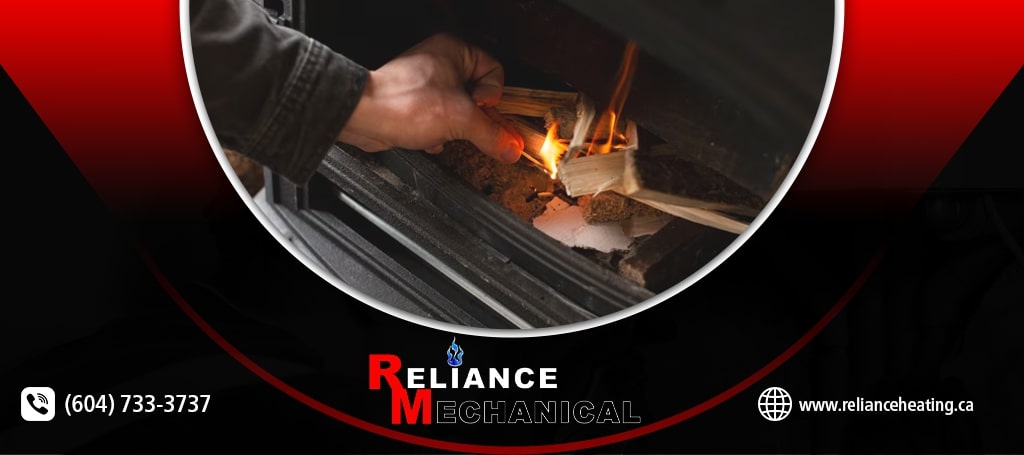 SERVICES
Furnace repair/maintenance
Boiler repair/maintenance
Floor heating
Water heaters
Fireplace repair/maintenance
WEBSITE
http://relianceheating.ca/
ADDRESS
1093 W Broadway #109, Vancouver, BC V6H 1E5, Canada
CONTACT DETAILS
Phone number: (604) 733-3737
OPERATING HOURS
Monday: 9 am – 11 pm
Tuesday: 9 am – 11 pm
Wednesday: 9 am – 11 pm
Thursday: 9 am – 11 pm
Friday: 9 am – 11 pm
Saturday: 9 am – 11 pm
Sunday: 9:30 am – 6 pm
Reliance Mechanical has been fixing furnaces for a little over 20 years. In that time, the company has tended to clients all over the lower mainland, including places like Richmond, North Vancouver, and West Vancouver.
Aside from a long client list, Reliance Mechanical has also amassed a wealth of experience in machine repairs. As a result, the company is able to offer maintenance and repairs for warm air furnaces, gas fireplaces, water heaters, and radiant floor heating systems.
The company's technicians have a great understanding of heating systems for most Vancouver homes. With this knowledge, problems can be diagnosed and repaired in a quick and efficient manner.
Of course, no matter how good a technician is, not all heating appliances can be repaired. This is why the company also offers factory-certified replacement parts.
Uses factory-certified replacement parts
Well-versed in a wide variety of heating systems
Works with both gas and electrical furnaces
Does not offer commercial services
Customer Reviews
This company's reliable service has earned it tons of praise from clients all over Vancouver:
"My fireplace was sporadically shutting off and Reliance Mechanical was able to fit me in the day I called. Very quick and efficient, explained what he was doing and gave some great advice! He even gave me a discount, which was much appreciated. I will definitely recommend my strata use them in the future for our annual inspections." – Janis C.
"Great Service. I called the company when our furnace stopped working. It was after business hours. Moe called me and spent with me on the phone 20 minutes to help troubleshoot the problem and eventually get it work again. There was no charge for the service. Highly recommended." – Tomasz K.
2. Milani Plumbing, Heating & Air Conditioning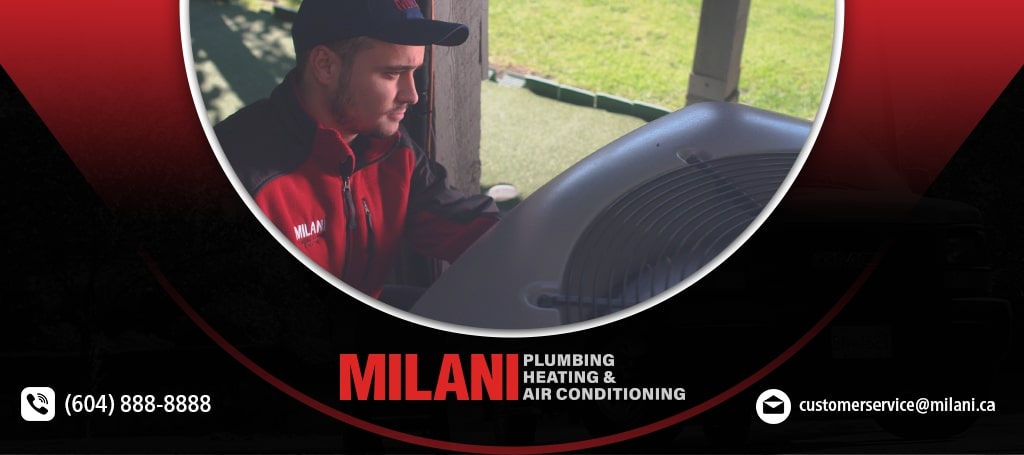 SERVICES
Plumbing repair/maintenance
AC repair/installation
Heating repair/installation
Duct maintenance
WEBSITE
https://www.milani.ca/
ADDRESS
3433 E 25th Ave, Vancouver, BC V5R 1J9, Canada
CONTACT DETAILS
Phone number: (604) 888-8888
Email:

[email protected]

OPERATING HOURS
Open 24/7
Milani is one of Vancouver's largest and longest-running furnace repair services. The company's top-notch work has earned it multiple awards from Homestars, the Consumer Choice, and many other bodies.
With so many recognitions over the years, Milani must constantly operate on the highest professional standards. To ensure this, the company's technicians are rigorously trained and licensed to handle any problems a client can have.
Having a large team allows Milani to offer service to both residential and commercial clients. No matter how big or how complex a system is, these folks have the manpower and the tools to find a reliable solution.
These folks also understand that a big part of reducing repairs is to avoid them altogether. This is why the company also offers a comprehensive annual furnace maintenance service as a means to nip any future issues in the bud.
Offers annual furnace maintenance services
Great option for commercial heating repairs
Recognized by many journals and organizations
Milani's experience comes with a more expensive repair cost
Customer Reviews
These reviews are great proof of Milani's excellent services:
"After living in our home for the last 10 years we had a problem with our furnace. Milani sent out their tech Kevin who quickly diagnosed an inductor fan failure. He returned the next day with the required parts and got our furnace up and running. However before he left he wanted to check the amount of gas our furnace was using. Doing this inspection revealed that the furnace had not been installed correctly and was only running in the first stage. A few quick adjustments on the motherboard and our furnace is now running at its full potential 80000btu. We have had our furnace serviced three times and no other technician had found this problem. Thank you Kevin for going the extra mile. Highly recommend Milani " – Tom R.
"Had a call from Milani early in the week reminding me that my less than 2 year old furnace was do for a check-up. I arranged to have them come on Saturday morning and Firoz arrived right on time. While he was there I mentioned that one of the vents has a rattle when the furnace is running. He took the time to examine the vent and found the problem (a large piece of old paint). Firoz worked in a friendly and professional manner while on site and did an excellent job." – Steve T.
3. Pioneer Plumbing & Heating Inc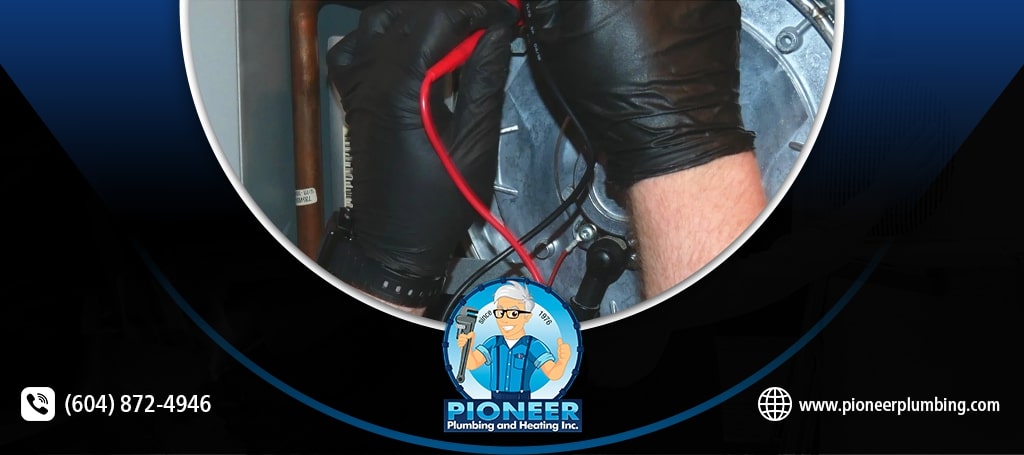 SERVICES
Plumbing repair/maintenance
AC repair/installation
Heating repair/installation
Duct maintenance
Water heater repair/maintenance
WEBSITE
https://www.pioneerplumbing.com/
ADDRESS
626 Kingsway, Vancouver BC, V5T 3K4
CONTACT DETAILS
Phone number: (604) 872-4946
OPERATING HOURS
Open 24/7
Pioneer Plumbing is a medium-sized repair service that offers maintenance and installations for residential and commercial clients. The company also dabbles in the construction industry, having worked as a sub-contractor for various projects all over Vancouver.
Thanks to a strong familiarity with industrial HVAC systems, the technicians at Pioneer Plumbing can provide cost-effective solutions for complex problems. And with over 25 service teams, system-wide repairs can also be completed in a timely manner.
In conjunction with standard repair services, Pioneer also cleans small home furnaces and industrial HVAC ducts. By keeping machines clean, the folks at Pioneer can help reduce the likelihood of system failures and breakdowns.
Last but not least, behind every repair and installation lies Pioneer's satisfaction guarantee. With this, clients can rest assured that the company will always provide reliable solutions to any problem.
Work is covered by a satisfaction guarantee
Offers furnace/HVAC cleaning services
Regularly installs HVAC systems as a sub-contractor
Main location is relatively far from downtown Vancouver
Customer Reviews
Here's what clients had to say about Pioneer Plumbing:
"Always professional and available with short notice. Gas furnace maintenance and hot water tank replacement great to deal with have paid less with other companies but Pioneers professionalism has been well worth it." – Crystal C.
"These guys are professional, efficient, friendly, and very responsive. Kale, Dylan, and Ion helped install a new furnace. They were very skilled and were very helpful and kind to answer all of our additional questions. Chris is also super responsive and accommodating. I would recommend this team!" – Mira K.
4. ROMA HEATING COOLING HVAC Ltd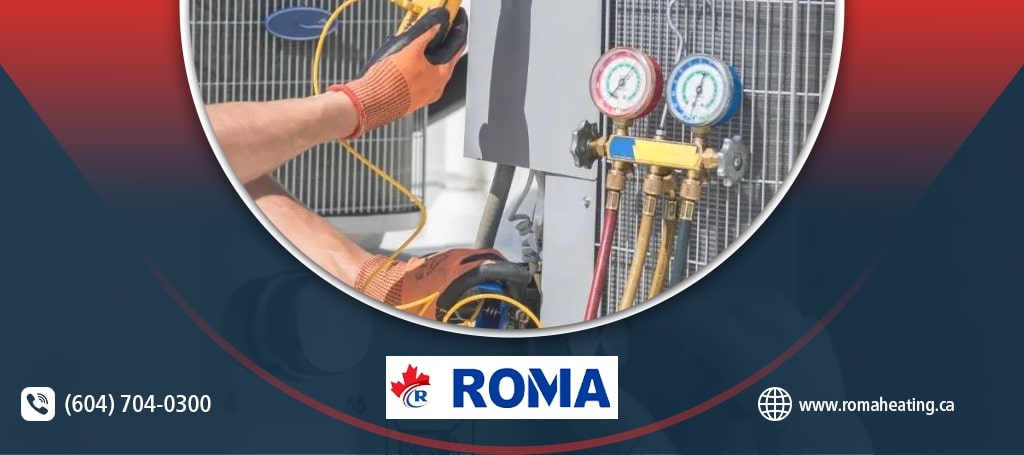 SERVICES
Air duct cleaning
Air conditioning service
Boiler maintenance/repair
Fireplace maintenance/repair
Safety inspections
WEBSITE
https://romaheating.ca/
ADDRESS
2800 Douglas Rd B, Burnaby, BC V5C 5B7, Canada
CONTACT DETAILS
Phone number: (604) 704-0300
OPERATING HOURS
Monday: 8 am – 8 pm
Tuesday: 8 am – 8 pm
Wednesday: 8 am – 8 pm
Thursday:8 am – 8 pm
Friday: 8 am – 8 pm
Saturday: 8 am – 8 pm
Sunday: closed
Roma Heating has tended to well over 8000 units in its 20 years of operation. To cover a wide area, the company works all over the lower mainland in places such as Vancouver, Burnaby, Abbotsford, and more.
Along with traditional furnace repairs and installations, Roma also offers a comprehensive furnace tune-up. While this may seem unnecessary, tuning a furnace can produce a ton of great results.
The benefits of furnace tuning include more efficient operation, lower gas consumption, quieter operation, and even cleaner-running systems. To achieve these results, technicians are trained to monitor and adjust various settings on a client's furnace.
These include watching for electrical charges, gas leaks, wiring connections, and temperature differences between inlets and outlets.
Ultimately when enough data is collected, technicians will adjust pressure and gas content to produce the optimal performance settings.
Offers furnace tune-ups
Wide area of service
Offers rebates with certain services
Customer Reviews
Though Roma isn't as old as other companies, it still manages to rank well among many Vancouverites:
"Nelson was very wise and helpful. He was able to maintain and repair my furnace. He was very professional and efficient. we had an emergency and despite the fact they were so busy helped us. Nelson you are a good man" – Frank S.
"I had my furnace and two fireplaces inspected by Roma Heating, and the service that Andy and his partner provided were professional and friendly. They were thorough in the inspection and cleaning process, and took care to do a good job. Overall, I am very pleased with the quality of their work." – Leo C.
5. Vanheat Services Ltd.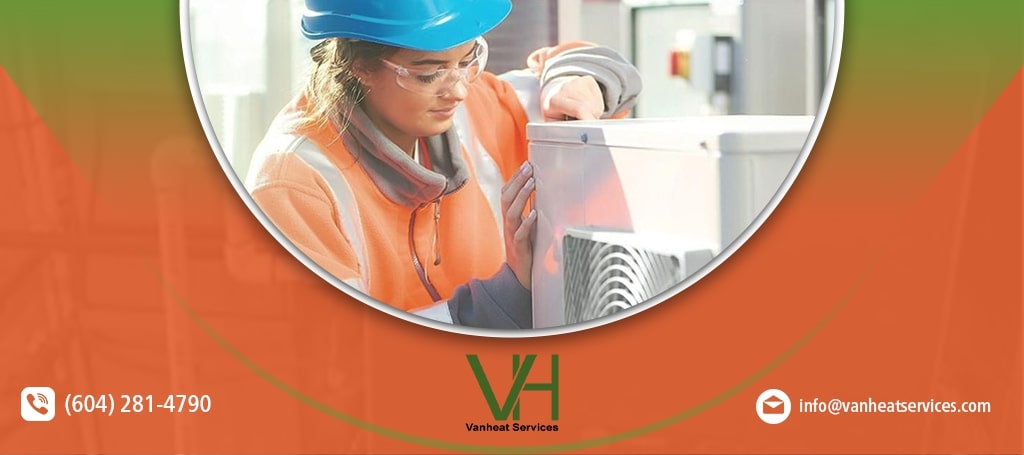 SERVICES
Heating repair/maintenance
Furnace repair/maintenance
Boiler repair/maintenance
Air conditioning
HVAC system maintenance/repair
Duct cleaning
Air purifiers
Heat pumps
WEBSITE
https://vanheatservices.com/
ADDRESS
145 Chadwick Ct #220, North Vancouver, BC V7M 3K1, Canada
CONTACT DETAILS
Phone number: (604) 281-4790
Email:

[email protected]

OPERATING HOURS
Monday: 10 am – 7 pm
Tuesday: 10 am – 7 pm
Wednesday: 10 am – 7 pm
Thursday: 10 am – 7 pm
Friday: 10 am – 7 pm
Saturday: 10 am – 7 pm
Sunday: 10 am – 7 pm
In an industry filled with tons of competition, it takes more than just word of mouth to get by. This is why Vanheat Services employs a combination of skilled technicians and high-tech equipment to have an edge over other companies.
To ensure the highest level of competence in all its technicians, this company only hires class A and class B gasfitters. Both of these qualifications require an extensive training course and a rigorous understanding of HVAC and furnace systems.
As an additional edge over other companies, Vanheat also offers the longest warranties on repairs and installations. This means clients can rest easy knowing that the work and services they receive are top-notch.
Finally, to protect its technicians and clients, Vanheat is fully covered by Worksafe BC. This allows the company to offer commercial services without having to worry about workplace accidents or similar problems.
Holds an A+ rating with the BBB
Covered by Worksafe BC
Offers promotions online for various services
Highly-skilled technicians result in higher labor costs
Customer Reviews
Vanheat's skilled technicians have left great impressions on tons of clients:
"Thank you Sean for the professional and efficient services you provided for us. Great value for the money. way above and beyond my expectation. keep up the good work" – Kia M.
"Vanheat was able to visit our home the same day, at no charge, to examine our furnace and provide a quote for a replacement. The quoted price was considerably less than competitors. The site visit for the quote was thorough; it was clear that they had a workable plan to replace the furnace promptly. The replacement was scheduled two days later. The crew was on time, professional, and prompt. The work was completed as scheduled. During the install, they found our water tank (which was well past its best-before date) was corroded and were able to offer a same-day replacement. The final price for both the furnace and water tank was as quoted (i.e., no surprises). We are very happy with our new furnace and hot water tank, and would not hesitate to recommend them for comparable work." – Marty Z.
6. Nation Furnace Heating & Air Conditioning HVAC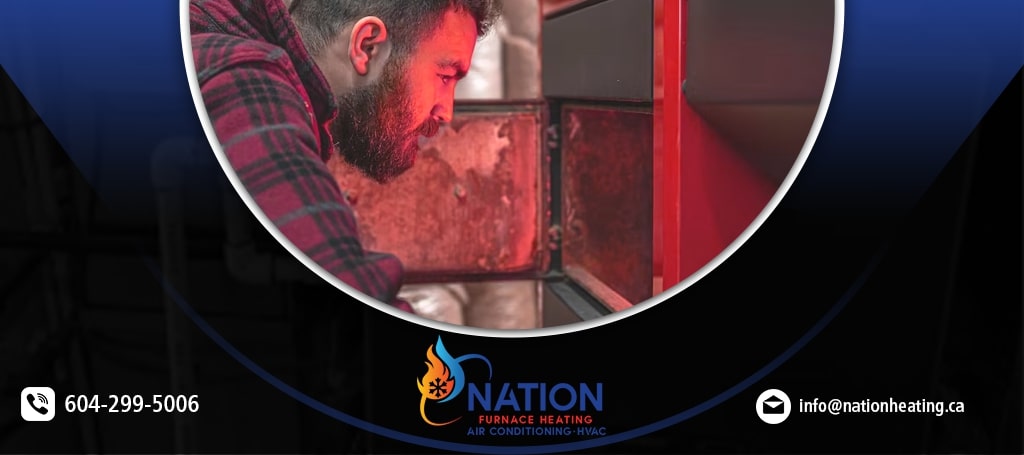 SERVICES
FURNACE
BOILER
GAS
FIREPLACE
HOT WATER TANK
TANKLESS WATER HEATER
HEAT PUMP
AIR CONDITIONING
AIR DUCT CLEANING
DRYER VENT CLEANING
WEBSITE
https://nationheating.ca
ADDRESS
4170 Still Creek Drive, Suite 200
Burnaby, BC V5C 6C6
CONTACT DETAILS
Phone number: 604-299-5006
Email:

[email protected]

OPERATING HOURS
8 AM-7 PM daily
Nation Furnace Heating & Air Conditioning HVAC is a company that provides comprehensive and well-rounded HVAC services in various regions of Vancouver. They are fully licensed and insured as well to ensure clients of the standard and inclusions of their services to be very well-rounded.
From furnace repairs to air condition installments, they are able to employ technicians who possess not only the tools to properly execute the said services they offer but a diverse set of experience as well.
Past clients have commended them for the smooth and convenient way that they handled the whole process along with a friendly and knowledgeable disposition the whole transaction.
Note though that rates of their services aren't readily available on their website so interested clients may need to request a quote for a more accurate breakdown of their services.
Overall, with their highly inclusive and comprehensive service packages, educational approach on their repairs, and amicable team of technicians, we highly recommend them to clients in the area looking for reliable HVAC services.
Many years of experience
Fully licensed and insured
24/7 emergency services available
May be fully booked and unavailable
Customer Reviews
Here are some reviews from their clients:
"We used Nation Furnace Heating & Air Conditioning HVAC Ltd to upgrade our over 20 year old boiler and install a Combi Boiler. They were terrific to work with throughout the entire process and especially responsive when I had questions. The installers were professional and very knowledgeable. They were also very helpful in helping me apply for the rebate afterwards. Thank you to the great team at Nation!"
"I received excellent service from Nation Furnace Heating & Air Conditioning HVAC Ltd which left me more than satisfied. I had gotten a combi boiler installed and everything went smoothly with no issues in the process. They arrived on time and most importantly, got the job done in a well timed manner. Huge thanks to these friendly and respectful guys. Definitely endorse their services."
FAQs About Furnace Repair
---
That concludes our list of the best furnace repair services in Vancouver. Now that you're familiar with what the city can offer, you can ready your home for the winter months.
In case your furnace isn't the only appliance acting up, we've also got a similar list of the best appliance repair companies in Vancouver.