A Locals Guide to Coal Harbour, Vancouver
Coal Harbour is a quiet, stylish residential area and business park located in downtown Vancouver. It's a relatively new addition, with development really kicking off in the 90s.

At one time, due to its location between the water's edge and the Canadian Pacific Railway terminus, Coal Harbour was an industrial hub consisting mostly of warehouses and then, later on, shipping piers.
History of Coal Harbour
Coal Harbour got its name back in 1859 after the discovery of low-grade coal by Colonel Moody, one of British Columbia's founding fathers.
When settlers first began arriving in Vancouver in 1862, Coal Harbour was where many chose to make their home, living alongside the Squamish and Musqueam people who inhabited the area now known as Stanley Park.

The most affluent residents built huge mansions along West Pender street, prompting locals to start referring to the area as Blueblood Alley.
Since then, Coal Harbour has changed drastically. Mansions no longer line the streets, being replaced instead with towering condos and apartments as well as some stylish townhouses, businesses, shops, restaurants and more.
This completed the transformation of Coal Harbour from a shipyard into one of Vancouver's most sought-after and posh neighbourhoods, attracting sophisticated locals and tourists alike to live, work and play.
Take in the Fresh Air and Wander around Coal Harbour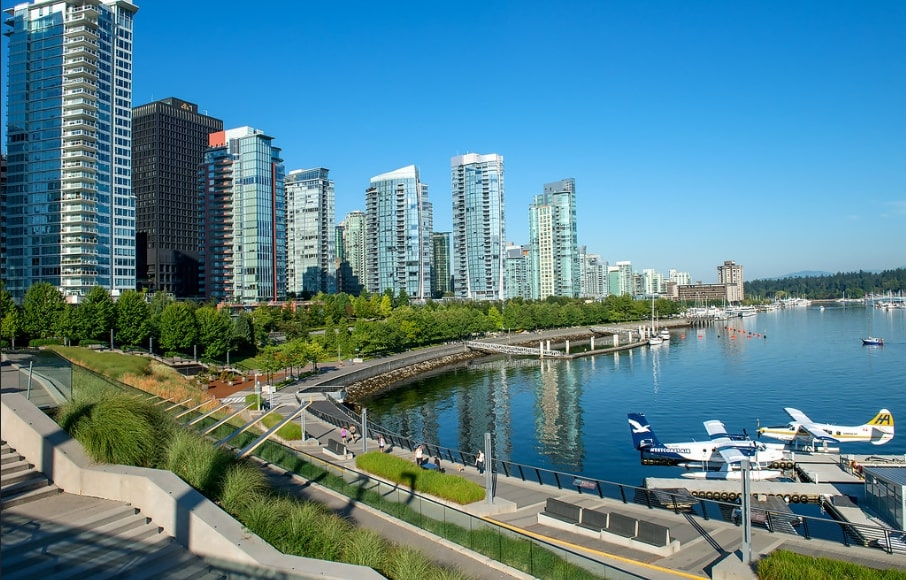 Coal Harbour is the perfect neighbourhood for wandering around and taking in all of what Vancouver has to offer.
Nestled between the Burrard Inlet and the iconic Stanley Park, residents and visitors to Coal Harbour can choose from various activities. This includes running, walking, biking or rollerblading along the 8.8-kilometre stretch of the sea wall bordering the park.

You can likewise watch rowers and yachts cruise in and out of the harbour while taking in the spectacular views of the mountain ranges rising up from the ocean.

Keep an eye out for harbour seals and blue herons, which are regular visitors to the harbour! Or, if you prefer a shaded stroll beneath towering trees, follow any of the quiet walking trails through the forest of Stanley Park instead.

Some of the park's trees are over 800 years old. For a more immersive experience, book a seat on a harbour cruise to see the harbour up close and personal, or take to the skies via seaplane and enjoy a birds-eye view of the city.
Coal Harbour is a Shopper's and Foodie's Haven
Retail enthusiasts can get their shopping fix in any of the boutiques or independently owned shops that line the streets of Coal Harbour!
Commonly referred to as 'Luxury Row', the streets that border Coal Harbour are a shopper's paradise. Alberni Street, Robson street and the famous Burrard Landing Mall have something for anyone looking to pick up a high-end designer label.
Foodies and coffee lovers will feel right at home in Coal Harbour as well! Cafes line the seawall, offering both locals and tourists a perfect way to begin their day by sipping lattes in the sun and taking in the sights and sounds of the harbour coming to life.
There are also many restaurants to choose from with casual fine dining as the theme for most of the eateries in Coal Harbour. If you're looking for Restaurants able to accommodate larger parties though, these can be found closer to the convention centre.
Fare comes at a slightly higher cost in this neighbourhood, but if you're treating yourself to a fine meal made with the freshest ingredients and put together with the utmost care, Coal Harbour is the place to be!
Likewise, you can take a break by enjoying a drink at any of the local pubs along the seawall or down any of Coal Harbour's trendy streets. British Columbia is home to countless microbreweries and wineries, so there is always something new to try.
What Accommodations Can Tourists Expect in Coal Harbour?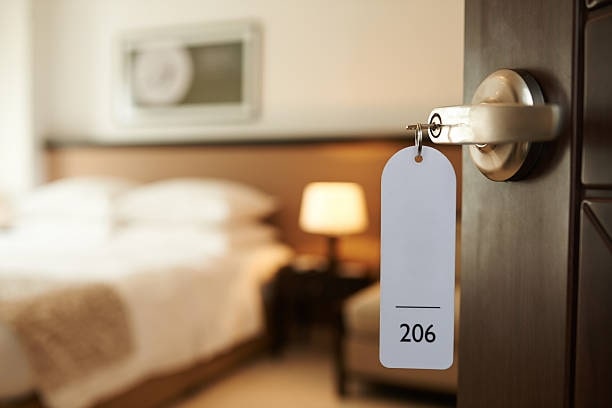 Coal Harbour is a perfect home base for tourists visiting Vancouver. Many real estate professionals mark the construction of the Westin Bayshore Hotel in 1961 as the turning point that made Coal Harbour what it is today.
Since then, the Fairmont Pacific Rim, the Fairmont Waterfront and the Pan Pacific Hotel have joined the neighbourhood, meaning that there is no shortage of accommodation for visitors to Vancouver.
Parking is quite expensive, but buses that service the entirety of the city run regularly up and down Pender and Georgia streets. This gives visitors an easy way to get around and explore everything Vancouver has to offer.
The Best Things to Do in Coal Harbour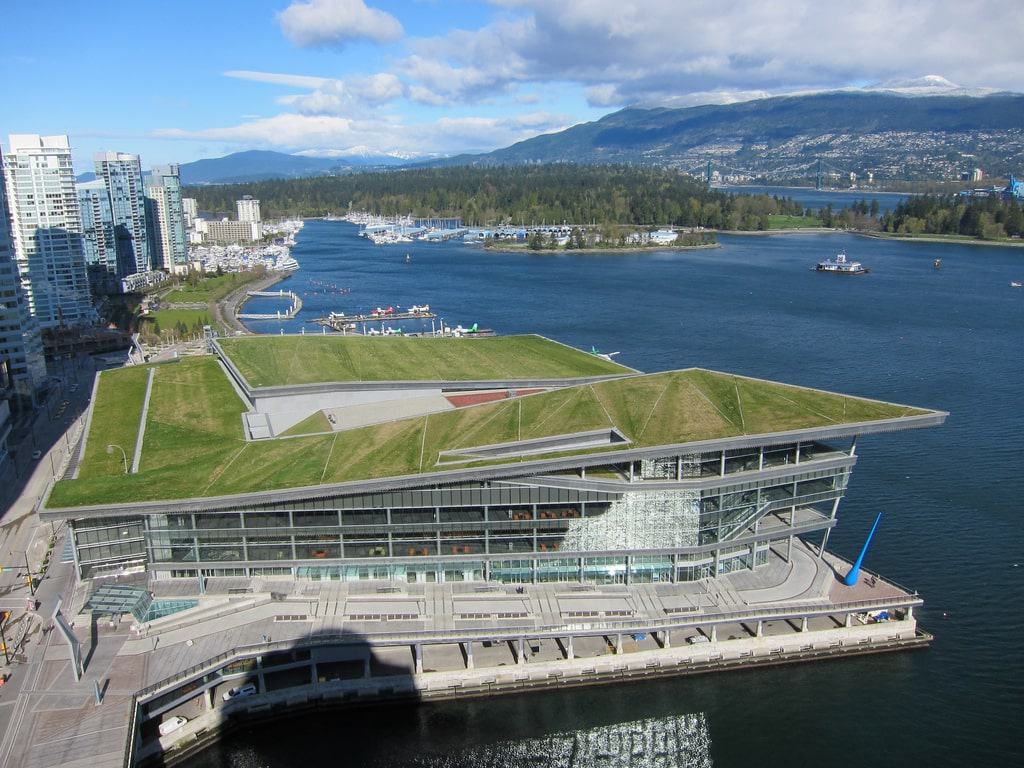 Finally, no visit to Vancouver's Coal Harbour is complete without checking out the Vancouver Convention Centre.
Walking around the seawall here gives tourists the chance to learn about the history of Vancouver by reading any of the interpretive plaques dotted along the way.
Step inside to see what's new in terms of public, and local artwork or take in the sight of the iconic white sails that beckon cruise ships towards Canada Place.
Originally built for the Expo in 1986, Canada Place is now a tourism hotspot and a venue for events that can sometimes be enjoyed by the public.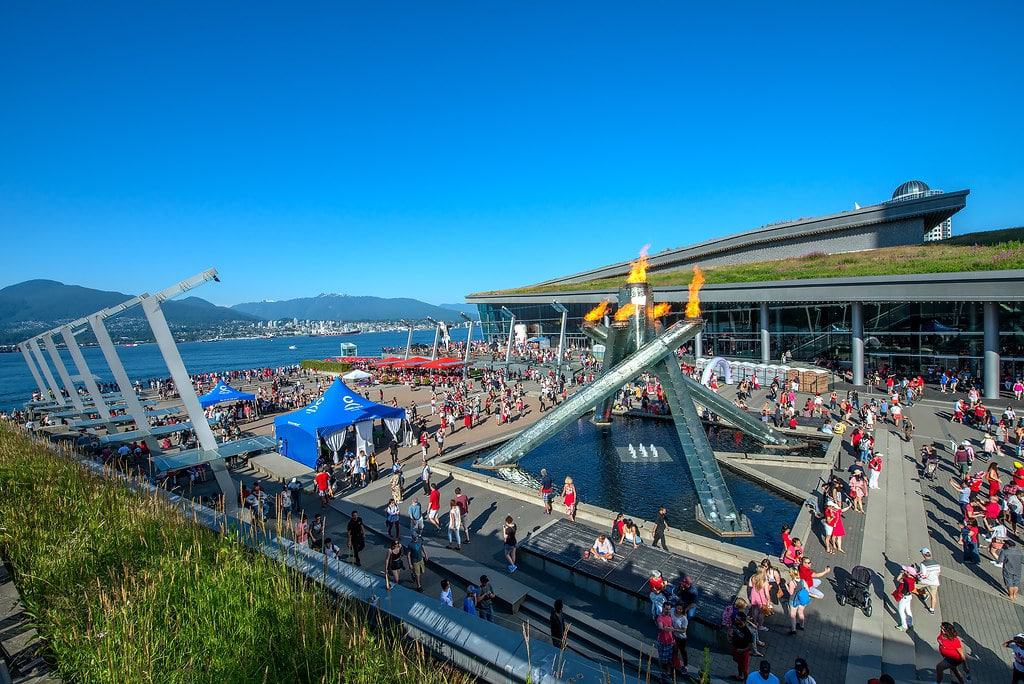 Just a little way down the road is Jack Poole Plaza, home of the 2010 Olympic and Paralympic Winter Games and the Olympic torch.

Visitors coming to Vancouver during the holiday season can also visit the booths and enjoy the delicious food and drinks on offer at the Vancouver Christmas Market. This popular German-themed Christmas market is where Vancouverites love to do their Christmas shopping.
Complete with live performances, scavenger hunts and the Holiday Life Carousel, the Vancouver Christmas Market is only a 20-minute walk from the edges of Coal Harbour.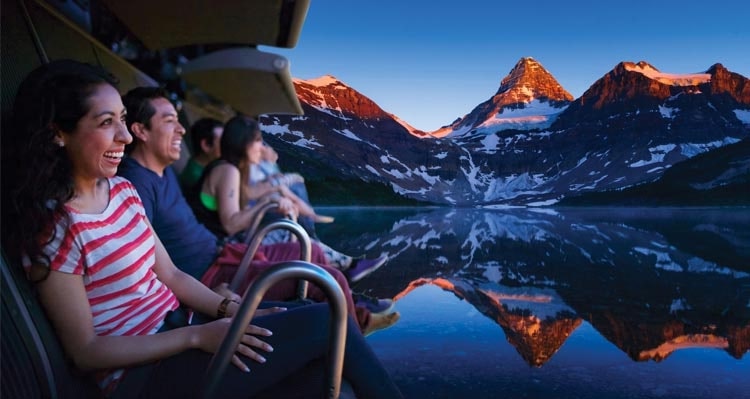 Now, before we forget, the 4-D Fly Over Canada attraction, located at the far end of the Canada Place port, offers customers virtual 'flightseeing' tours of iconic Canadian mountain ranges, prairies, waterfalls and forests.
You can even enjoy a spooky Halloween-themed ride during the month of October!
Locals who choose to make Coal Harbour their home will have no shortage of things to do as well! The Coal Harbour Community Centre offers a wide range of programs for both kids and adults such as karate, language and cooking classes.

The Vancouver Rowing Club, located just past the entrance to Stanley Park offers 3 seasons of their Learn to Row Program.
After your lesson, enjoy a drink at the Member bar, which overlooks Coal Harbour. University students who choose to live in Coal Harbour have easy access to SFU, BCIT and UBC.
---
There's something for everyone at Vancouver's Coal Harbour, whether you're here to work, play, or live. Take a stroll through Coal Harbour and discover why this popular tourist attraction is beloved by locals and tourists alike.
Check out these articles for your next Vancouver adventure: