The 5 Best Kids' Activities in Vancouver
Activities are a fun way to introduce your children to new and different things and can also serve as a great bonding experience for you and your children.
It is one of the greatest ways to have fun, learn new things and spend time together as a family. As a parent, you understand the difficulty of finding good places with kid-friendly activities.
Fortunately, we've got your back and compiled this list of places with some of the best kids' activities in Vancouver.
How Much Do Kids Activities Cost in Vancouver
The cost of kids' activities varies depending on the facility and the number of activities in which you intend to enroll your child.
In general, you will not spend more than CAD 170. However, some establishments provide a wide range of services that you may want to consider.
We've listed the most popular services these companies provide as well as their average estimated cost.
| COMPANY | TYPE OF SERVICE | AVERAGE ESTIMATED COST |
| --- | --- | --- |
| Code Ninjas | Coding Camp | CAD 50 - 80/day |
| Find and Seek | Escape Rooms | CAD 30 -33 |
| Yoga Buttons Studio | Movement Classes | CAD 20 - 170 |
| TumbleTown Movement Education Centre | Gymnastic Classes | CAD 120 -140/class |
| The Adventure Zone | Indoor Playground | CAD 13-15 |
The Best Kids' Activities in Vancouver
With so many things to do and places to visit, it can be overwhelming when choosing which place will be your first stop on your trip.
Whether you're looking for something fun to do with your child after school or are looking for vacation ideas, it's critical to consider a location that is both safe and enjoyable for all members of the family!
We've assessed the following establishments based on the criteria below:
1. Code Ninjas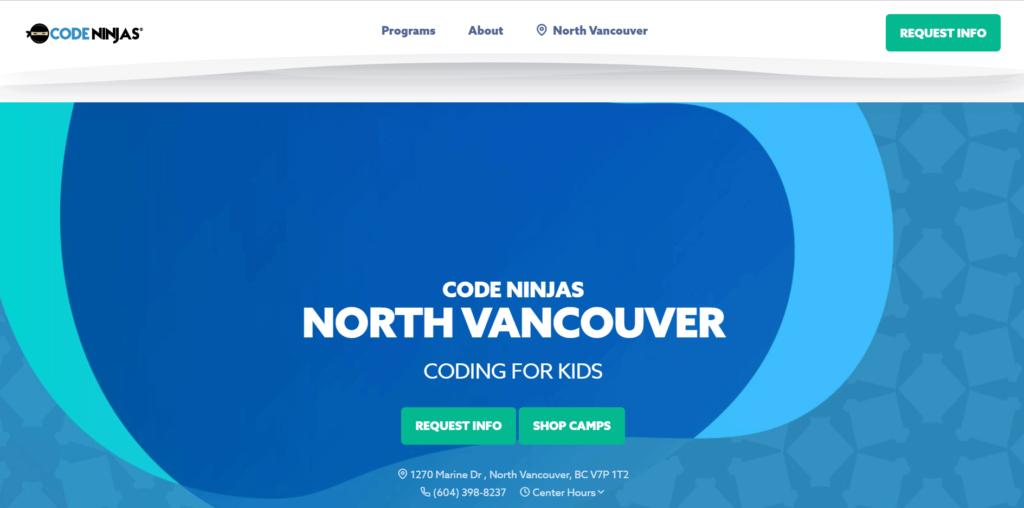 | | |
| --- | --- |
| CRITERIA | RATING |
| Reputation | ★★★★★ 5/5 |
| ⮕Years in Business | ★★★★★ 5/5 |
| ⮕Customer Reviews | ★★★★★ 5/5 |
| Activities | ★★★★★ 5/5 |
| Facilities | ★★★★☆ 4/5 |
| ⮕Cleanliness | ★★★★☆ 4/5 |
| ⮕Location | ★★★★☆ 4/5 |
| ⮕Parking Spaces | ★★★★★ 5/5 |
| Availability | ★★★★☆ 4/5 |
David Graham, a programmer and entrepreneur, founded Code Ninjas because he believes coding is an excellent life skill.
With locations in the United States, Canada, and the United Kingdom, Code Ninjas is one of the most well-known coding companies for children.
One of the classes they provide is Code Ninjas Jr., designed for children aged 5 to 7. We were impressed that this course uses a visual syllabus, integrating narration and games to teach coding.
Now, for older kids ages 7 to 14, Code Ninjas offers a more comprehensive coding curriculum, Code Ninjas Create. This class teaches kids to create their own video games, which we believe is a fun way to learn.
One of the things we liked about Code Ninjas is that they can work around your hectic schedule. This facility offers a wide range of programs available throughout the week, allowing you to drop your children off whenever possible.
In addition, we found it convenient that they have a comfortable waiting area for parents while their children are learning.
Unfortunately, we discovered that their online training has limited slots, requiring customers to book weeks in advance. It's also worth mentioning that not all of their branches are open on weekends, so call ahead before visiting their office.
Even so, we highly recommend Code Ninjas as a fun and productive way for kids to learn to code, making them one of the best kids' activities in Vancouver.
Numerous coding centers worldwide
Offers at-home coding
Game-based curriculums
Franchising available
Comfortable waiting area for parents 
Limited slots for online training
Not all branches are open on weekends
Customer Reviews
Beautiful space for children to learn code
"If you're looking for a great coding class look no further. Our daughter has been asking for a coding class for the longest time. We are beyond excited to have found Code Ninjas in North Vancouver. It's really a dream come true. Our daughter loves it and for the first time EVER she is actually excited to go to an after school program and learn. She's even asking for more classes already. The staff at Code Ninjas are super friendly and kind and I think it's because the owner has set the right tone. The owner is humble, genuine, and very kind and has created a beautiful space for our children to flourish. Thank you!." -Deana S.
Organized and encouraging
"Very effective and organized program as well as encouraging methods to keep my 5 years old interested and engaged from the get go. As parents we both are in the field of IT, our son seems to be following the track and being a ninja coder has been quite an adventure for him too." -Alireza Y.
2. Find and Seek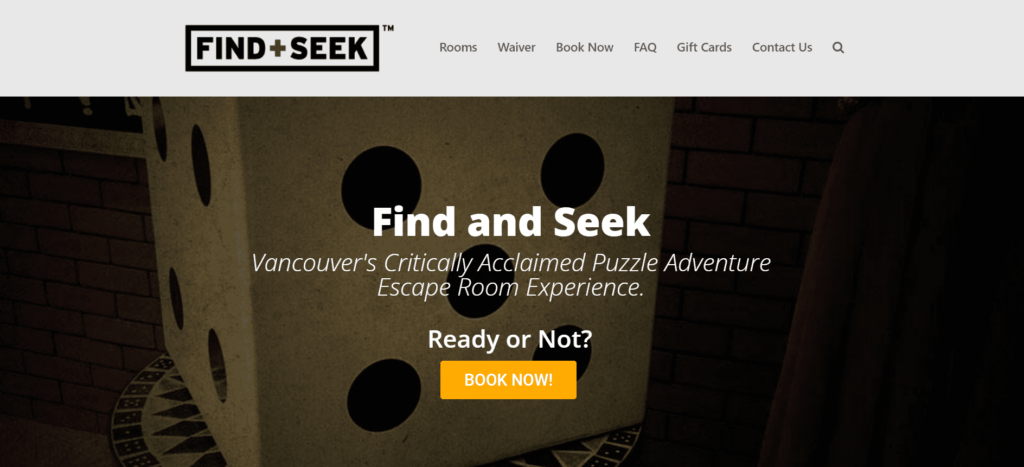 Test
Info
SERVICES
Escape Rooms Private Bookings
ADDRESS
https://www.gofindandseek.com/
WEBSITE
88 W Pender St #2075, Second Floor, Vancouver, BC V6B 6N9, Canada
CONTACT DETAILS
Phone: 778-379-7727

Email: [email protected]

OPERATING HOURS
Thursday - Sunday: 12:00 PM - 08:00 PM
| | |
| --- | --- |
| CRITERIA | RATING |
| Reputation | ★★★★☆ 4/5 |
| ⮕Years in Business | ★★★★★ 5/5 |
| ⮕Customer Reviews | ★★★★☆ 4/5 |
| Activities | ★★★★☆ 4/5 |
| Facilities | ★★★★★ 5/5 |
| ⮕Cleanliness | ★★★★★ 5/5 |
| ⮕Location | ★★★★★ 5/5 |
| ⮕Parking Spaces | ★★★★★ 5/5 |
| Availability | ★★★★★ 5/5 |
Find and Seek is a fully immersive adventure escape room in Vancouver that offers thrilling gameplay that we believe is suitable for people of all ages.
What we liked best about Find and Seek was how they enhanced their escape rooms with high-quality technology used in amusement parks to enhance the experience.
Despite having only two escape rooms, we believe their quality of service is unaffected. We immediately noticed how well-designed and detailed their themed escape rooms are.
Find and Seek has a maximum capacity of 10 people per room. Adults pay CAD 33, while children under 12 pay CAD 30. Unfortunately, these rates do not include taxes.
Nonetheless, we liked how each escape room had a unique backstory. One of the rooms is titled "The Curse of Madam Zita's Curiosities," and it contains a collection of Madam Zita's wicked artifacts.
Participants are tasked with discovering the secret behind the relics while also discovering that the items contain a dark secret.
This activity, in our opinion, is excellent for kids to improve their problem-solving skills while sparking creativity.
Another prominent feature of Find and Seek is that they have wheelchair-accessible facilities and accept walk-in customers as long as there are available rooms.
Overall, we believe this business offers one of the unique kids' activities in Vancouver, and we highly recommend them to families.
Themed escape rooms
Can accommodate 8-10 people
Wheelchair accessible facilities
Walk-in customers allowed
Only has two escape rooms
Rates do not include tax
Deposit required when booking
Customer Reviews
Family-friendly place
"Had so much fun at this place. i would really recommend this place to parents with kids. very family-friendly place and lots of fun." -Betty L.
Fun puzzles
"The puzzles here were very enjoyable! Ive been to at least a dozen other rooms, and found this one to be quite impressive. All of the puzzles were unique and different, rarely using lock and key. Most required a wide range of thinking to approach the problems, which engages our entire group! Some of us had never done escape rooms either, and they felt like they contributed a lot too!." -Paul R.
3. Yoga Buttons Studio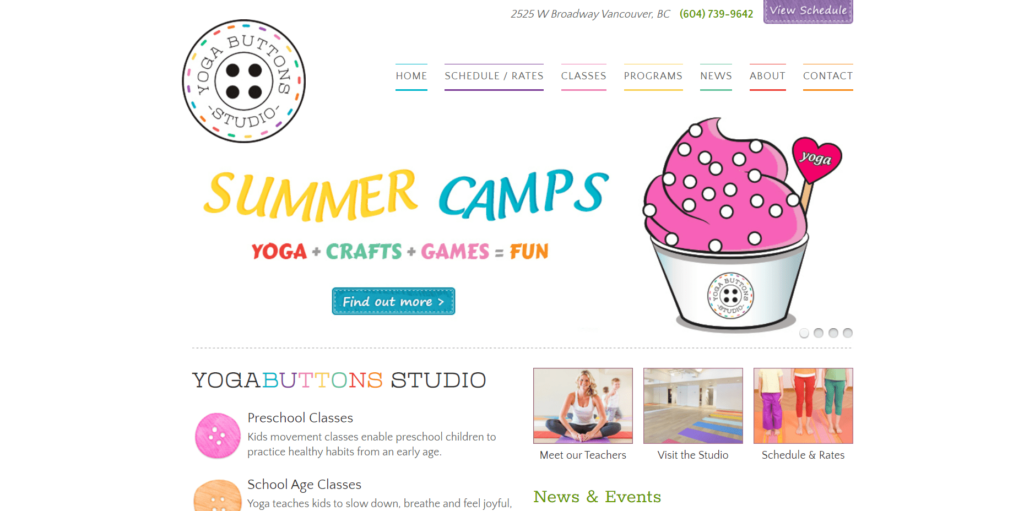 Test
Info
SERVICES
Kids Movement Classes School Age Classes Family Yoga Birthday Parties Yoga Camps
ADDRESS
https://www.yogabuttons.com/
WEBSITE
2525 W Broadway, Vancouver, BC V6K 2E9, Canada
CONTACT DETAILS
Phone: 604-739-9642

Email: [email protected]

OPERATING HOURS
Monday - Friday: 07:30 AM - 07:30 PM

Saturday - Sunday: 09:00 AM - 07:30 PM
| | |
| --- | --- |
| CRITERIA | RATING |
| Reputation | ★★★★★ 5/5 |
| ⮕Years in Business | ★★★★★ 5/5 |
| ⮕Customer Reviews | ★★★★★ 5/5 |
| Activities | ★★★★★ 5/5 |
| Facilities | ★★★★★ 4/5 |
| ⮕Cleanliness | ★★★★★ 5/5 |
| ⮕Location | ★★★★☆ 4/5 |
| ⮕Parking Spaces | ★★★★☆ 4/5 |
| Availability | ★★★★☆ 4/5 |
Yoga Buttons Studio has provided yoga and movement classes to kids and families in Kitsilano since 2012. They have a 1,200-square-foot studio with two restrooms and a water fountain.
Some of the classes they offer are preschool classes where children ages 1 to 5 are introduced to creative movements, traditional yoga poses, and singing and dancing to music.
As for older kids ages 5 to 18 years old, Yoga Buttons Studio offers school-age classes. Children develop coordination, strength, and flexibility through yoga classes.
We liked how this program incorporates a variety of yoga class styles that promote stretching and relaxation. We believe this helps a child's overall physical well-being.
Moreover, they use various yoga class styles, including Yin, Restorative, Hatha Flow, and Power Yoga.
We do want to point out, though, that they have limited camp spaces, so it's recommended that clients contact them first before booking.
Nevertheless, we liked that they provided sanitized mats to all of their clients. We found this very convenient so consumers won't have to bring their own.
Moreover, they also sell Yoga Buttons gift cards, yoga games, mats, toys, children's books and gifts at their stand.
On a whole, we believe that Yoga Buttons Studio offers one of the best kids' activities in Vancouver. This business, in our opinion, is a fun way to bond with your children while also keeping them physically active.
Yoga and movement classes for ages 1 to 18 years old
Offers family yoga
Full-day programs available
Clean and vibrant studios
Baby changing tables in washrooms
Limited camp spaces
Relatively higher rates
Customer Reviews
Numerous creative activities
"My daughter love coming to Yoga Buttons! She enjoys spending her afternoon doing crafts, singing, dancing, and of course fun yoga moves!! All the staff are very friendly, kind, and patient with the children. The studio is bright and welcoming!." -Le Rêve P.
Friendly staff and encourages participation
"We had our son's 2nd bday party here in December. The staff was great, the location was great and all went off without a hitch. We brought our own snacks and they scheduled a good variety of Yoga activities. They used creative 'games' to have the kids participate in different breathing and stretching activities. It was a bit chaotic (as most 2yr old's bdays are) but the staff were friendly helpful and we most appreciated their willingness to accommodate us. I would 100% recommend this studio for a bday or class(did i mention the great ambiance?). I think my wife @natassia_valli posted pictures on her IG for anyone interested. Huge thanks to the great people at Yoga Buttons." -Imran V.
4. TumbleTown Movement Education Centre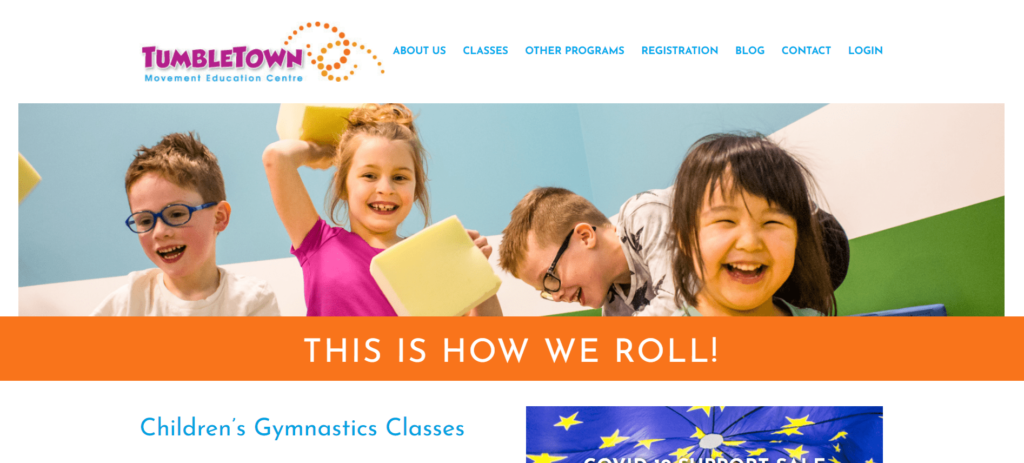 Test
Info
SERVICES
Children's Gymnastics Classes

Children's Birthday Parties

Children's Ninja Tumblers Classes

Parents' Night Out

Recreational Program

ADDRESS
https://tumbletown.ca/
WEBSITE
2070 W Broadway, Vancouver, BC V6J 1Z4, Canada
CONTACT DETAILS
Phone: 604-357-7355

Email: [email protected]

OPERATING HOURS
Monday: 09:00 AM - 05:30 PM

Tuesday - Wednesday: 09:00 AM - 05:45 PM

Thursday: 09:00 AM - 05:30 PM

Friday - Saturday: 09:00 AM - 05:00 PM
| | |
| --- | --- |
| CRITERIA | RATING |
| Reputation | ★★★★★ 5/5 |
| ⮕Years in Business | ★★★★★ 5/5 |
| ⮕Customer Reviews | ★★★★★ 5/5 |
| Activities | ★★★★★ 5/5 |
| Facilities | ★★★★☆ 4/5 |
| ⮕Cleanliness | ★★★★☆ 4/5 |
| ⮕Location | ★★★★☆ 4/5 |
| ⮕Parking Spaces | ★★★★★ 5/5 |
| Availability | ★★★★☆ 4/5 |
TumbleTown Movement Education Centre is a custom-built gymnastics facility that provides a wide range of movement programs for children aged four months to eighteen years.
Perhaps what distinguishes this establishment is that they offer customized classes and activities for each age group.
In our opinion, parents who want their children to participate in gymnastics and stay active should look into their services.
We particularly liked their interclub program, which requires children to pledge to a 10-month commitment to developing advanced gymnastic skills.
We also appreciate that they have a child-to-teacher ratio of eight. We believe this makes classes more effective, personalized and focused on each student.
Other classes include walking, running, jumping, and kicking classes, but what caught our attention is that they also offer martial arts classes!
These classes are for children 6 to 8 years old, and they will be taught hand-to-hand combat systems and many other disciplines. Now, we would like to note that if you're a new customer, you must pay a CAD 40 membership fee, which is non-refundable.
Despite that, we still think TumbleTown Movement Education Centre offers one of the best kids' activities in Vancouver as they encourage children to stay active and physically fit.
Gymnastics classes for children aged 4 months to 18 years
Offers martial arts classes
Clean, colorful, and safe facilities
Can accommodate children's parties
Multiple office locations
New members required to pay CAD 40 membership fee
Limited slot availability
Customer Reviews
Well-organized parties and effective classes
"Been here for a birthday party and now have our little guy taking lessons. The birthday party was well organized and the activities for the kids were well thought out and enjoyed by all. Even though some kids did their own thing from time to time, the staff were very patient and understanding with all of them. The lessons are well put together. The method used to get kids used to learning how their bodies move appears effective, engaging, and enjoyable. Three is also a water cooler to fill up your water bottle. We have several lessons left and would recommend this place. Hope all goes well!." -Robert M.
Clean and vibrant facilities
"TumbleTown is the best gymnastics recreation facility I have seen in Vancouver. The staff are super nice, and totally know what to do. The location is great. Everything is so clean, colorful, and bright. Great place for kids!." -Victor B.
5. The Adventure Zone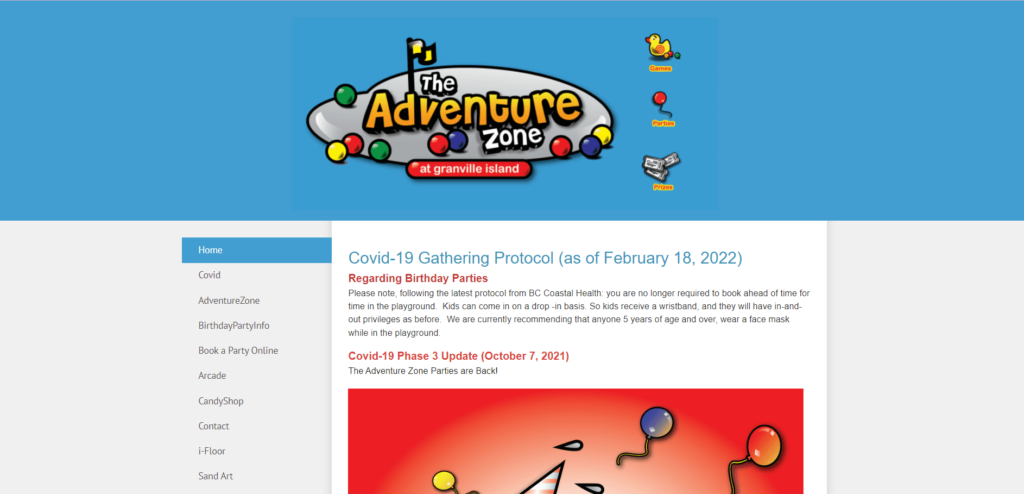 Test
Info
SERVICES
Indoor Playground

Birthday Parties

Arcade

Candy Shop

Interactive Play Area

Sand Art Activities

ADDRESS
https://theadventurezone.ca/index.html
WEBSITE
1496 Cartwright St #230, Vancouver, BC V6H 3Y5, Canada
CONTACT DETAILS
Phone: 604-608-6699

Email: [email protected]

OPERATING HOURS
Monday - Sunday: 10:00 AM - 06:00 PM
| | |
| --- | --- |
| CRITERIA | RATING |
| Reputation | ★★★★☆ 4/5 |
| ⮕Years in Business | ★★★★★ 5/5 |
| ⮕Customer Reviews | ★★★★☆ 4/5 |
| Activities | ★★★★★ 5/5 |
| Facilities | ★★★★☆ 4/5 |
| ⮕Cleanliness | ★★★★★ 5/5 |
| ⮕Location | ★★★★☆ 4/5 |
| ⮕Parking Spaces | ★★★★☆ 4/5 |
| Availability | ★★★★★ 5/5 |
The Adventure Zone is a multi-level indoor playground that offers numerous kids' activities inside its facilities.
This establishment provides an open, clear view of all activities because it has a see-through net enclosing its structures, allowing parents to monitor their children while they play.
We also liked their newly upgraded ball pit area, where they added more bouncy balls! Some other play areas include interactive walls and floors where kids can play hockey and soccer, fight virtual monsters, and many more.
Another nice touch is their fun corner, which sells frozen delights such as popsicles, ice cream sandwiches, and popcorn.
Before buying a ticket to The Adventure Zone, please be aware that their facilities can become quite crowded on weekends, with limited parking spaces.
They also don't have a dedicated waiting area for parents. Fret not for they have recently expanded their arcade collection to include classic games such as pinball!
This feature, in our opinion, is ideal for parents who want to take a trip down memory lane.
To sum it up, we believe The Adventure Zone provides one of Vancouver's best children's activities, with numerous exciting play areas for children of all ages.
Numerous kids' activities
Multi-level playgrounds
Safe and see-through facilities
Has multiple arcade machines
Discounts available for 10 or more kids
Crowded during weekends and holidays
No waiting area for parents and guardians
Customer Reviews
Ideal for kids and adults
"Awesome place for young kids and adults with young hearts. It has an indoor playground for young kids and arcade games for adults / teens. Great fun for the whole family!." -Catherine K.
Fun-filled facilities
"Great little play place for kids, decent size, theres a multi floor jungle gym, the kids enjoyed more from The arcade part of it, there were some 90's arcade games, thought it was cool. Got a groupon deal for 4 kids and got access to the play place and some coins, i have 3 kids of my own, and i was able to gift the extra ticket to another little boy. The adventure zone also has a little cafe and a sitting area, so we got to sit and have something to snack on while our kids were playing in front of us. Its a very colourful place and my kids liked it a lot." -Laura B.
FAQs about Kids' Activities in Vancouver
---
That's about everything we know about the best kids' activities in Vancouver. We hope this list helped you find the perfect place for your kids to have a fun and productive time.
Just in case you'd like to explore more places while you're in the city, check out our article on the best things to do in Vancouver.