The 7 Best Lawn Care Services in Vancouver
Lawns can do a lot for the looks of your property. To get you ready for next year's spring, our list today will talk about the best lawn care services in Vancouver.
We reviewed the top options in the city for lawn care at the moment, so check out our notes on them below. These services are tried and tested, not only by us but many other locals too!
How much does lawn care in Vancouver cost?
The cost of lawn care will vary with the size of the yard. This is why the prices listed here are just estimates for the cost of lawn maintenance services for detached houses.
| | |
| --- | --- |
| Services | Fees |
| Lawn Fertilizing | $225 |
| Lawn Mowing | $127/week |
| Lawn Deweeding | $75 |
| Lawn Aeration | $100 |
The prices listed here can go higher or lower, naturally.
The Best Lawn Care Services in Vancouver
You can read through our review to find out the different pros and cons of different lawn maintenance services you can find around Vancouver. We also answered some common questions about lawn care at the end of the article.
1. Mowology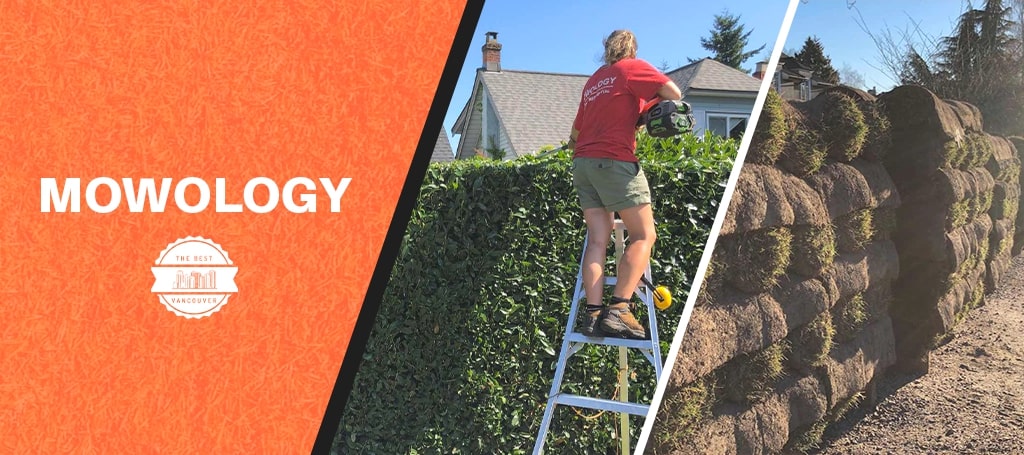 SERVICES
Lawn Mowing
Grub Treatment
ADDRESS
Vancouver
CONTACT NUMBER
778-846-9273
WEBSITE
https://www.mowology.ca/
OPERATING HOURS
Monday-Saturday: 8:30am–6pm
Mowology does full-service garden care. They have a green policy to ensure that they continuously review and change their technology to ensure that they can reduce their carbon footprint.
Although they're not BBB-accredited, they try to make their customers happy and follow instructions to a T. They're also very professional and efficient with their work, say their past customers.
They also offer two schedules for their lawn care services. One is for a 7-day schedule and another is for a 14-day schedule.
Along with their lawn care services, they include full-edge trimming and cleaning. You also won't need to worry about clean-up with this company as your lawn is blown clean as part of their services.
It's a bit disappointing that their line isn't open on Sundays. However, they also have an online form you can use for scheduling, which is great if you don't want to call someone every time you need the lawn trimmed.
So while they have a few downsides, their advantages far outweigh those. Overall, we think them a good choice for lawn and garden care.
Offers full-service garden care too
Two different scheduling options 
Online form for scheduling 
Green policy
Not BBB accredited 
Closed on Sunday 
Customer Reviews
These reviewers talk about what's it like to work with Mowology:
"Nigel and Tom did an amazing job prepping our yard and installing our new turf. They were very professional and organized and we would highly recommend this company for any Lawn care needs. Tim is a good communicator and we were always notified about upcoming work. Our lawn looks amazing already!!!!" – Ronda Ashcroft
"Mowology Lawns offers professional knowledge and excellent service for my garden. They are very nice. They did a very good maintenance job and making my garden looks beautiful again. I would like to recommend to all my friends." – Jian Hua Jiang
2. Tommy Le – Lawn Mowing, Lawn Care and Landscape Services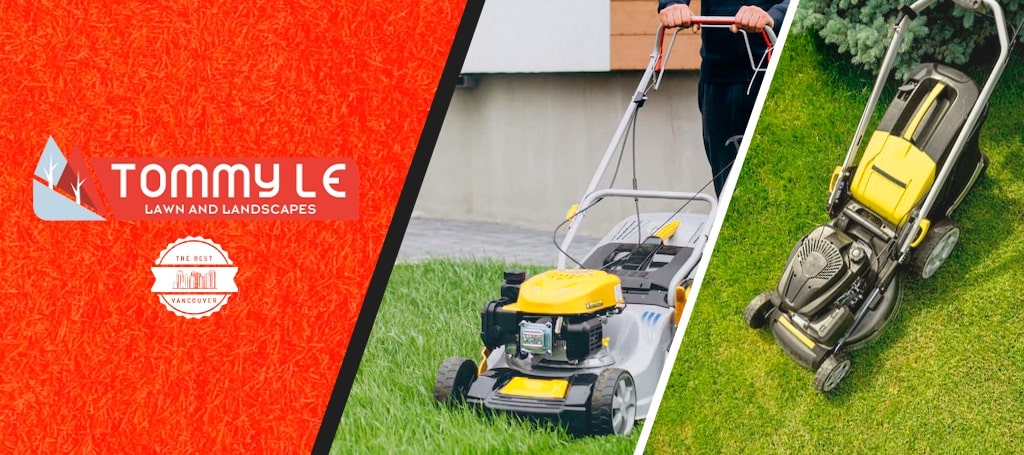 SERVICES
Lawn Mowing
Lawn Care
Sod Installation
Mulch Installation
ADDRESS
2763 E 45th Ave, Vancouver, British Columbia, V5R 3C3
CONTACT NUMBER
604-337-0433
WEBSITE
https://tlelawnlandscape.com/
OPERATING HOURS
Monday-Friday: 8:30am–4:30pm
From lawn mowing to sod installation, this company can simply do it all. They specialize in landscaping and this includes different types of lawn care services.
Other than mowing, they also have a lawn care service where they make the lawn healthier by using their own premium spray products and granules.
And while they're not open 24 hours a day, they still guarantee a reply to queries within 24 hours. This is pretty great for those who don't have the time to wait for a confirmation.
They also do not have an online scheduling form, but they can do online estimates. You can only schedule their service once you agree on their pricing.
Speaking of their service fees, if you don't like the results of their service, they guarantee that they'll re-do it again with no extra charge. As a landscaping service, this is actually pretty damned good as a guarantee, as you might not end up liking how they do their landscaping.
Nevertheless, we don't think they'll disappoint you. Their staff are all trained landscapers and they have a project manager who will inspect the work of their landscapers first to ensure consistent and high-quality work.
Wide range of services
Uses premium products
Replies within 24 hours
Offers a service warranty
Trained staff
Closed during the weekend
Short business hours
No online booking option
Customer Service
Previous customers talked about the results of their lawn maintenance there:
"We had to use Tommy Le for a few weeks because our mower broke. Excellent lawn service! Incredible and phenomenal mowing and landscaping. Would highly recommend their lawn service!" – Schofield Charles
"Kevan and his lawn mowing crew were wonderful to work with. Communicated easily, fair price and made our yard beautiful again. They took down a huge tree, trimmed fruit trees, put new mulch and wood chips." – Anthony Henderson
3. Basil Green Landscaping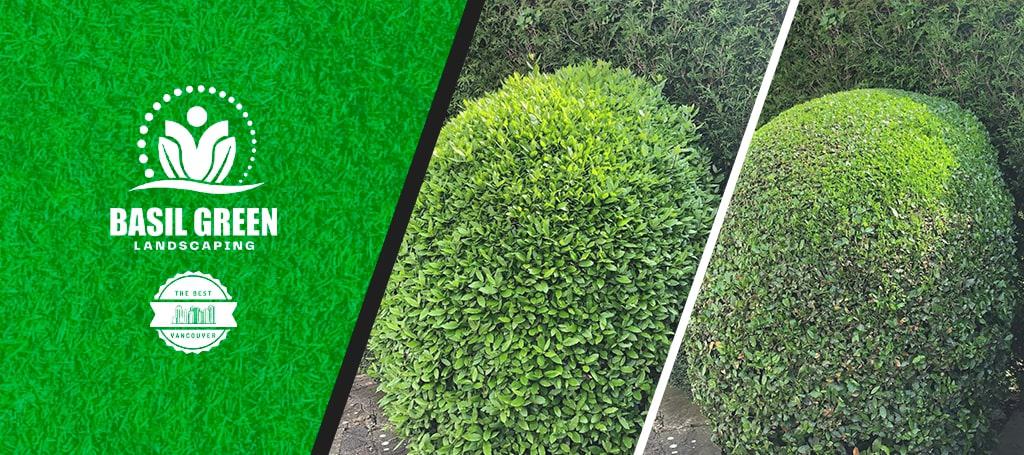 SERVICES
Lawn Care
Bush and Hedge Trimming
Sod Installation
Seasonal Cleanup
Mulch, Fresh Soil, & Decorative Rock Installation
ADDRESS
1661 Quebec St, Vancouver, BC V5T 1B4, Canada
CONTACT NUMBER
778-319-7381
WEBSITE
https://basilgreenlandscaping.com/
OPERATING HOURS
Monday-Sunday: 8am–6pm
The Basil Green Landscaping company in Vancouver is just one of the branches of the bigger company. Don't assume that just because they're a big company, they just do haphazard and impersonal service, though.
You see, being a big company with many branches actually works in Basil Green Landscaping's advantages.
Their resources mean they can afford to be open 7 days a week, for one thing. And while they're not open for the whole day, it's still something we appreciate.
Another thing is that they can also offer cheaper rates than most smaller companies. Their estimates are also non-obligatory, so if you think that it's outside your budget, then you can simply find another company.
They also offer their service to commercial establishments and strata.
We are disappointed that they don't have any service warranty, though. Most companies, even smaller ones, are offering one already, so this seems like a serious oversight.
Regardless, their long business hours and high quality of service ensure that they still are one of the best companies for lawn care in Vancouver.
Open every day of the week
Non-obligatory estimates 
Works with residential, commercial, and strata
No service warranty 
Line isn't open 24 hours a day 
Customer Reviews
These people are talking about the lawn care that Basil Green did for them:
"My yard looks better than ever. I'm so excited how everything turned out. But the work was just the "icing on the cake." Earl came out to my house, listened to what I wanted, designed, educated and walked me through the entire process. Even before his crews showed up to do the work, he was the first one on-site every morning to make sure things were prepped and ready. He kept me informed the entire time. Let's just be honest, cost is important, and my husband and I received a fair quote. But there are two things you can't put a price on: quality and customer service. And with that, I truly got more than I paid for" – Tammy Gatling
"The staff are very professional and committed to great customer service. Their team is attentive, punctual and dedicated to doing a great job. I've had numerous lawn care providers in the past and Basil Green is the Best of the Bunch! I highly recommend them." – Ben McKeever
4. Seymour Lawn Maintenance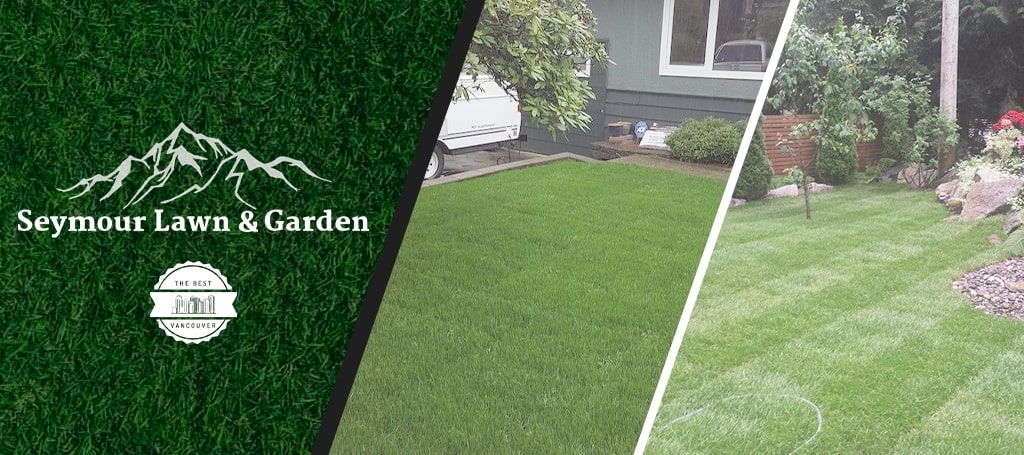 SERVICES
Lawn Assessment And Restorations
Power Raking And Dethatching
Top Dress Over Seeding (Re Seeding)
Grub Control (Chafer Beetle)
Customized Lawn Cutting Programs
Seasonal Lawn Care Packages Available (See Below)
Chafer Beetle Or Weed Problem Can Be A Thing Of The Past With Our Soil Restoration And Tall Fescue Beetle Resistant Turf
ADDRESS
718-333 Brooksbank Ave, North Vancouver, BC V7J 3V8, Canada
CONTACT NUMBER
604-990-1252
WEBSITE
https://seymourlawnmaint.com/
OPERATING HOURS
Monday-Saturday: 8am–6pm
Although closed on Sundays, this business is one of the most trusted lawn maintenance companies in Vancouver. Their more than 20 years of experience have clearly given them knowledge of how to treat customers right.
They're a local company that can do landscaping and hardscaping. For their landscaping services, they work with local landscape designers to ensure that the results of their work will be aesthetically pleasing.
Their lawn maintenance packages also include seasonal ones so you can prepare for spring already. We're always fans of package options like these.
Our survey of their past clients shows that they're considered quite meticulous, to the point that they make sure to clean lawn trimmings and even remove bugs in the lawn! It's disappointing that they don't have a warranty, though.
Nevertheless, their years of experience and examples of their previous work show why many people around the Metro Vancouver area trust them.
Works with landscape designers if needed 
Offers seasonal maintenance services 
Includes bug removal in their services 
Closed on Sundays
No online scheduling form
Doesn't offer a  service warranty 
Customer Reviews
Many people are talking about this company's services, here are some of them:
"Ryan and his team have just finished a major landscaping overhaul at our home. We ripped out both the front and back yards and literally started over again. Ryan's planning was exceptional. Every team member he brought to the project was a true professional and executed their job perfectly. The project included the building of a new front yard patio, complete replanting of both front and back yards, turf replacement, installation of a fountain, replacing 100 feet of fencing, superb pruning of mature trees, installation of in-ground irrigation and landscape lighting and so many more small details. The team turned up when planned and were wonderful to have around. Ryan was responsive each and every-time we reached out to him. In short – we couldn't possibly be more complementary of Seymour Lawn Maintenance. We highly recommend you speak with Ryan for your next project." – Dean Mailey
"We have had Ryan and his incredible team do a handful of jobs dating back to last year and we would enthusiastically recommend them. We have had tree trimming/removal, green waste removal, lawn cutting, and recently a small landscaping job at a spot that used to be lost space that turned out amazing so now the neighbours stop to have a look as they walk by. Special shout out to the young lady landscaping supervisor who led the job. Thank you!" – Neil Dixon
5. Great Lawns and Beyond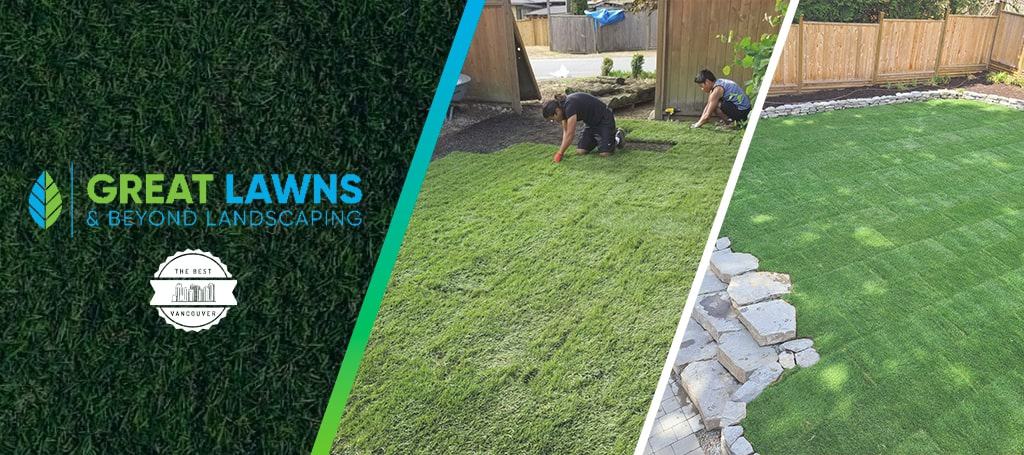 SERVICES
Lawn Mowing
Grub Treatment
ADDRESS
712 Copping St, North Vancouver, BC V7M 3G3, Canada
CONTACT NUMBER
778-991-3202
WEBSITE
https://lawnsbeyond.com/
OPERATING HOURS
Monday-Friday: 7:30am–8pm
Saturday-Sunday: 8am-5pm
This company isn't accredited by the BBB but has an A+ rating, which says a lot about their customer service from the get-go. Past customers certainly seemed to support the impression we got from this, based on their remarks about the company.
We looked into their team too and found that nearly every staff member has received training. That's always a good sign when working with a company.
Another thing to note is that they have some pretty good services offered for lawn care. These include a monthly maintenance service including lawn mowing and lawn edging.
We were a little astonished to find that they don't accept credit cards, however. It's disappointing to hear that as we often prefer to go cashless nowadays.
Despite that, they also accept e-transfer and credit cards, which is a pretty convenient alternative, fortunately.
Their customer service is also nothing to scoff at. With their call line open the whole week, you can easily schedule their services during your free time.
Experienced team members
Offers a monthly maintenance service
Accepts e-transfers
Open during the weekends
Primarily works only in North/West Vancouver
Does everything lawn related, including installation
No BBB accreditation 
Doesn't accept credit cards
Customer Reviews
These customers talk about their experience with this company:
"Cory and his team did a phenomenal job for us. We decided to list our house on very short notice, and needed our property completely landscaped including laying new sod and fixing several garden beds and trouble areas in the yard. He helped us make a plan for the property that would work within our timeline and budget. The crew showed up on time, were always friendly and professional, and did an absolutely fantastic job on our yard. We had some additional requests which they were quick to implement. The final product was finished on time and exceeded our expectations. Our real estate agent said every group that came through the house commented on how amazing the yard looked, and was a selling feature for the buyers. The only downside is that we only get to enjoy the beautiful yard they built for a couple of months before we move! Thank you to much to Great Lawns & Beyond for doing such an amazing job and helping us sell our house. I highly recommend their services." – Meghan George
"Cory and his employees are professional, accountable, and do a fantastic job of keeping my lawns and edges trimmed! Additionally, we had him do some basic outdoor maintenance of us in the past – it was done really well! Thanks for the ongoing awesome job!" – Patrick Graham
6. MyLawn.Care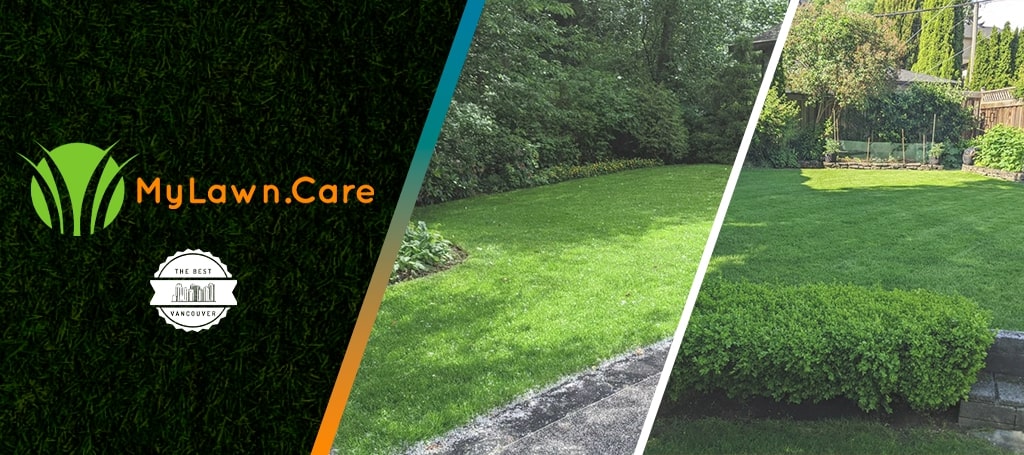 MyLawn.Care is a company that provides beautiful lawns for your household and yard at affordable prices. They offer a wide array of care packs that include all the things you need in curating your lawn such as BC-specific grass seed, season-specific fertilizer, as well as granulated lime among others.
They are extremely knowledgeable in their field of work and very much willing to accommodate and share their expertise with you should you have any queries with your ordered lawn. Each of their packages contains a simple step-by-step instruction manual so you are able to apply your ordered lawn in your own leisure time with no pressure.
They currently deliver and service a wide array of areas such as Vancouver, West Vancouver, North Vancouver, Burnaby, Surrey, Richmond, White Rock, Tsawwassen, and Langley among other surrounding areas as well. Rest assured that they will not only provide you with excellent and practical advice for your lawn but also the best quality lawn supplies that will help you maintain and care for your lawn.
We recommend this company for all of your lawn needs due to their excellent customer service but also equally superb lawns and supplies that will surely keep your lawn in tip-top shape at all times.
High-quality products
Contains simple instruction manuals
Can be installed anytime
Customer Reviews
Here are some reviews from their clients:
"Steve at MyLawn.Care, is a quality guy. He responds very quickly and gets the job done well and in a timely manner. Highly recommend him and his services. Side note: he was working at a neighboring yard and without being asked he went out of his way to come check how our yard was making out and actually did a little touch up for us, guy takes pride in his work!"
"Amazing service. They were very professional and on time. Would 100% recommend them."
7. West Coast Lawns & Gardens
West Coast Lawns & Gardens is an enterprise that offers a wide range of landscaping services to both residential and commercial properties in the area. Founded back in 2006, their reputation for giving consistent premium quality services has earned them several loyal customers over the years.
From lawn maintenance to chafer beetle control, the company offers a variety of services to ensure that lawns and gardens are in tiptop shape. However, it would have been better if there was a package readily available for each setting.
Price ranges are not readily available so clients will have to request a quote which is readily available to their website for that purpose.
Each client will have access to professional staff and advanced equipment that can produce optimal results with every lawn that they handle.
They are highly commended for their accommodating customer service who are polite all throughout the job and are even more than willing to educate clients to have a more holistic approach on their services.
Highly certified professionals
Booking and quotation available online
Accommodating customer service
Packages and prices are not readily available
Operating hours unavailable
Customer Reviews
Here are some reviews from their clients:
"West Coast Lawns & Gardens just did a fantastic spring clean up in my garden. They exceeded my expectations in the time spent onsite, quality, tidiness, and customer services regarding the work I requested. I am so glad I chose them to do the work after comparing four companies that have similar prices."
"They are reliable and friendly and you can be assured that they will make your lawn and garden look stunning! They have a very fast response time and are very hard working
FAQs About Lawn Care
---
If you really want a beautiful lawn for spring, why not call one of the best lawn care services in Vancouver so they can start laying the groundwork for an amazing lawn next year?
Since you're already thinking about lawn care, why not get some landscape design inspiration from the best gardens in Vancouver? Start planning your garden now so it will look great in the coming spring!