The 6 Best Payday Loan Services in Vancouver
Making ends meet isn't always as cut and dried as some people would have you believe. Whether you're over budget or just down on your luck, a short-term loan like a payday loan is sometimes needed.
So, to do our part, we've put together a list of the best payday loan services in Vancouver.
On this list, we'll help you get an idea of the current interest rates that come with payday loans. And we'll also go into each service's background, pros and cons, and other helpful information!
What Are the Interest Rates for Payday Loans?
It's no secret that payday loans can be pretty expensive. As a matter of fact, the annual interest rate on a two-week loan can be as high as 391%.
Thankfully, however, there are a few laws in place to help protect borrowers from exorbitant payments. In British Columbia, these laws restrict the maximum cost of a loan to $15 for every $100 borrowed.
Along with this restriction, borrowers are also prohibited from giving loans that exceed 50% of a borrower's paycheck.
This covers the guidelines governing interest rates and costs. There are a few other restrictions to know regarding payday loans overall, but we'll dive into those later on.
The Best Payday Loan Services in Vancouver
Now that you know how much payday loans can cost, it's time to see what Vancouver has to offer.
1. PAY2DAY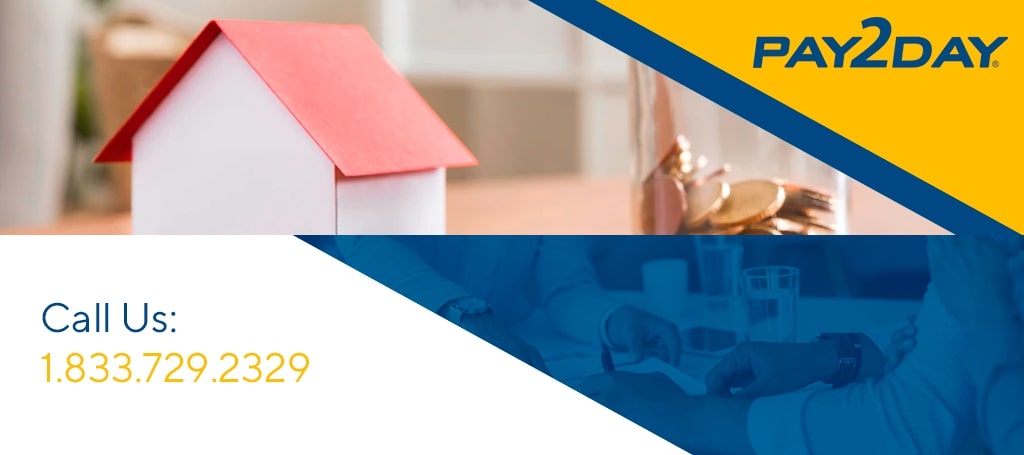 SERVICES
Payday loans Check cashing Prepaid cards
WEBSITE
https://pay2day.ca/
ADDRESS
2891 E Hastings St Unit 150, Vancouver, BC V5K 5J8, Canada
CONTACT DETAILS
Phone number: (833) 729-2329
Email:

[email protected]

OPERATING HOURS
Monday: 9 am – 9 pm
Tuesday: 9 am – 9 pm
Wednesday: 9 am – 9 pm
Thursday: 9 am – 9 pm
Friday: 9 am – 9 pm
Saturday: 9 am – 9 pm
Sunday: 10 am – 6 pm
PAY2DAY has over 30 locations all over British Columbia and they are one of Vancouver's most prominent payday loan services. To extend their reach, they also have a payday loan application on their website.
This wide network means clients can easily secure a loan online or in-person at any one of PAY2DAY's facilities. If you decide to visit one of their branches you'll be greeted by friendly accommodating staff and a clean customer environment.
On the other hand, if you're short on time, you can use their online service to secure a payday loan directly through wire transfer. Regardless of which option you choose, you'll enjoy a fast and convenient loan process that saves you time and hassle.
Multiple locations all over BC
Clients can choose to transact in person or online
Each branch has a convenient customer lounge to make waiting easier
Clients can return a loan within 48 hours free of charge
The online application requires a verified account for use
Customer Reviews
Here's what clients had to say about this company's excellent service:
"Easiest loan I've ever had. I was in a jam and they got me right out of it. Maria and Jim were super helpful and pleasant. They made sure to explain the process and my options.
Definitely recommend and would do again." – J.S.
"Arielle and Shikha are two of the most pleasant and understanding individuals I've had the pleasure of dealing with. Normally I would not suggest payday loans, these ladies worked fast and got me exactly what I needed in just a few hours. If you need to use payday loans, pay2day is 110% your best option." – David C.
2. Focus Cash Loans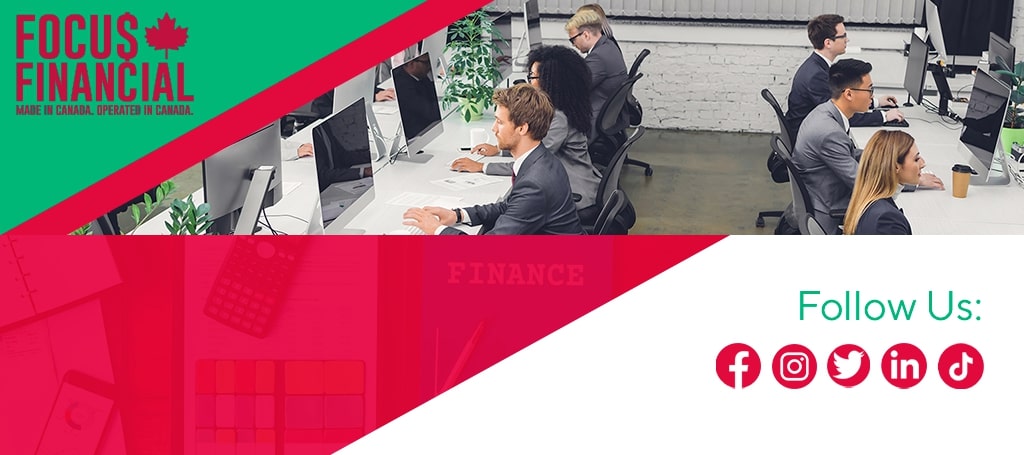 SERVICES
Payday loans
WEBSITE
https://www.focusfinancialcorp.com/
ADDRESS
3333 Kingsway, Vancouver, BC V5R 5K6, Canada
CONTACT DETAILS
Phone number: (866) 327-9597
Fax: (877) 605-6263
OPERATING HOURS
Monday: 10 am – 6 pm
Tuesday: 10 am – 6 pm
Wednesday: 10 am – 6 pm
Thursday: 10 am – 6 pm
Friday: 9 am – 7 pm
Saturday: 11 am – 5 pm
Sunday: closed
Focus Cash Loans has been lending to clients since 2008. Over the years, this company has streamlined its loaning process to provide funds to borrowers in as little as 30 minutes.
This speedy service time is all thanks to their simple 3-step process and their willingness to loan to borrowers in genuine need of additional cash.
Their process begins with a simple application that can be done in person at one of their branches, or online through their website.
Following this, consumers will go through an approval process, which in most cases only requires a bank statement. Once a client has been approved, they can choose to either have the funds directly transferred or turned over in cash.
Because their loaning process is so quick, this company is an ideal choice for borrowers in a time-sensitive bind.
Extremely quick processing time
Their loans have a very high approval rate
Required documents can be virtually scanned and sent from home
Their online portal is not as comprehensive as other services
Customer Reviews
This company's genuine helping attitude has left a great impression with many clients:
"Excellent Customer Service! I brag these guys up to everyone, they make the process smooth and seamless. Very professional, they never make me feel like a second-class citizen like other companies like this have in the past. They take the time to explain the process. Their fees are very reasonable in comparison. I would highly recommend this company to all. Thank you Focus!" – Linda H.
"I was in a bind and needed some quick cash. I went into Focus Financial's office on Kingsway and I couldn't have been more pleased with the service I received. I was in and out within 20 minutes, and the staff were great." – Durisa y.
3. Moneytree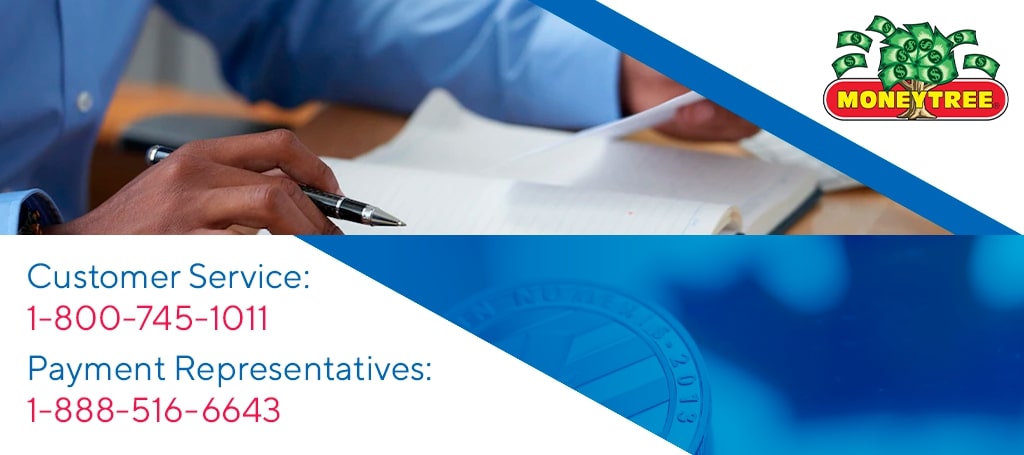 SERVICES
Payday loans
Check cashing
Money orders
Western
Union transfers
WEBSITE
https://www.moneytreeinc.ca/home
ADDRESS
1690 Commercial Dr, Vancouver, BC V5L 3Y4, Canada
CONTACT DETAILS
Phone number: 877-605-6262
OPERATING HOURS
Monday: 9 am – 7 pm
Tuesday: 9 am – 7 pm
Wednesday: 9 am – 7 pm
Thursday: 9 am – 7 pm
Friday: 9 am – 7 pm
Saturday: 10 am – 7 pm
Sunday: closed
In 1983, the Bassford family opened the first Moneytree branch located in Renton, Washington. Fast-forward to today and the business has grown considerably, reaching as far as Abbotsford, Burnaby, Surrey, and Vancouver.
The company owes this steady growth to their continuous pursuit of excellent customer service. They accomplish this by carefully screening their employees and instilling the values of respect, integrity and authenticity in them.
In the past, payday lenders were often viewed as greedy and unsavory establishments. But Moneytree has overturned the status quo by being client-motivated instead of profit-centered.
To back up this mentality, Moneytree partners with multiple charities in order to give back to the community that has helped it grow. In total, this company supports seven charities, including the Breast Cancer Society of Canada, the B.C. Children's Hospital Foundation, and the BC SPCA.
Supports multiple charities
Uses text messages to notify clients of payment dates
New clients will receive a discounted interest rate for their first loan
Loan payments must be made in person at a physical branch
Customer Reviews
Moneytree's wonderful client-centered service has produced a number of rave reviews:
"Fantastic, friendly and professional team at this branch!! But most of all understanding. My father passed away and I forgot to make my payment on my payday loan, but when I called and spoke with Melisa she was very helpful and most understanding. Thank you to Melisa and all the amazing staff at the Commercial Dr office!!" – Jamie C.
"Very nice staff, Jazz was the friendly woman who helped us she made sure she went over all our documents to take out a loan and that everything was good to go she approved us for a $400 loan which was fantastic considering we had all the right documents and income. Very pleased with the service at this location. It was fast and very friendly place! I will be recommending to friends and family" – Kate M.
4. iCash
SERVICES
Payday loans
Personal loans
WEBSITE
https://icash.ca/
CONTACT DETAILS
Email:

[email protected]

OPERATING HOURS
Monday: 24 hrs
Tuesday: 24 hrs
Wednesday: 24 hrs
Thursday: 24 hrs
Friday: 24 hrs
Saturday: 7 am – 12 am
Sunday: 7 am – 12 am
Among our entries, iCash is the only service that is solely online. This means that the only thing you need to secure an iCash loan is a device with an Internet connection.
Being an online lending service, these folks can also offer around-the-clock service, day and night. This is all made possible through their fully automated loaning process.
Much like other services, an iCash loan begins with an online application. Once this is completed, clients will need to submit certain supporting documents.
You may be wondering how this is accomplished seeing as iCash is an online lender. The answer is through the company's proprietary document scanning technology, which works with any smartphone camera.
Once the required documents have been received, iCash will use a secure wire transfer to send over a borrower's funds in a matter of minutes. Overall, this service's ease of use and 24/7 operating hours make it ideal for borrowers with an unconventional schedule.
Fully automated loaning process
Loans can be secured at any time, day or night
iCash offers flexible payment schedules
Technical issues can make their loaning process difficult
Customer Reviews
These clients were highly satisfied with iCash's online features:
"Super happy with the services these guys gave me! They really took the time to answer all my questions. I will definitely borrow from them again! Thanks a million." – Mandy C.
"Best service. Applied for a cash loan via the iCASH Mobile App and got instant approval. After signing my loan agreement, they e-transferred the funds to me in literally 2 minutes. Couldn't be happier. Thank you iCASH for helping me out. Love you guys." – James
5. Mr. Payday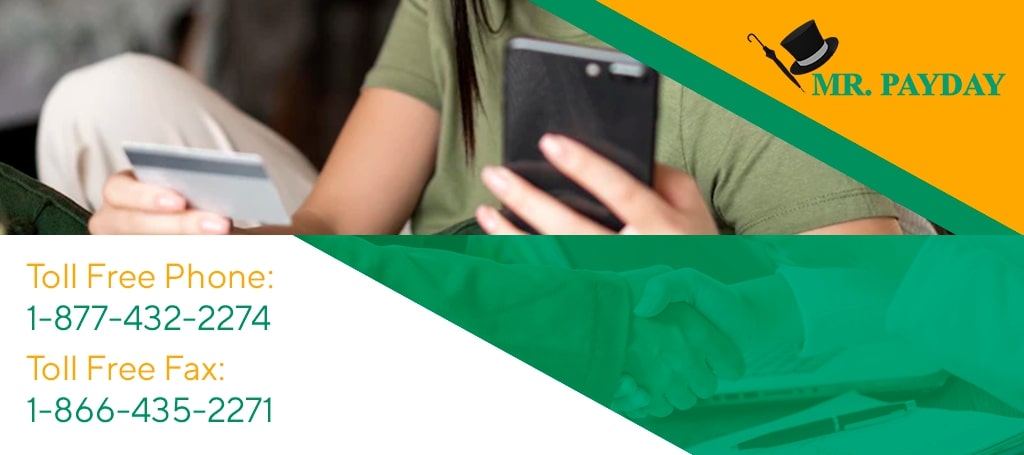 SERVICES
Payday loans
WEBSITE
https://www.mrpayday.ca/
ADDRESS
3421 Kingsway St. Vancouver, BC V5R 5L3
CONTACT DETAILS
Phone number: (604) 435-2274
Toll-free number: (877) 432-2274
OPERATING HOURS
Monday: 10 am – 6 pm
Tuesday: 10 am – 6 pm
Wednesday: 10 am – 6 pm
Thursday: 10 am – 6 pm
Friday: 9 am – 7 pm
Saturday: 11 am – 5 pm
Sunday: closed
Many loan services will require clients to set aside ample time to either secure a loan or repay one at a service branch. Mr. Payday remedies these issues by using online features.
Instead of heading to a physical branch, clients have the option to complete a full transaction online. Along with this, any loan payments are automatically deducted from a client's bank account.
These features, though simple, will reduce the hassle and time it takes to take out traditional payday loans. This is all a result of the company's objective to be a reliable lending alternative to banks.
Of course, for clients who still prefer to do things in person, Mr. Payday also maintains a branch in Vancouver. These physical transactions are also just as easy, with clients needing only a handful of documents to receive their loans.
Loan payments are automatically deducted from a client's account
As a direct lender, Mr. Payday does not share client info with third parties
Loan approval is not based on your credit history
Mr. Payday loans require an active chequing account
Customer Reviews
The synergy that Mr. Payday creates with online and physical resources has made it a hit with clients all over Vancouver:
"Super easy application process, very quick response. Considered my very unique circumstances and for that, I applaud them." – Jen F.
"It was a pleasure not having to go through the excessive amount of paperwork that most lenders want. Professional and fast service." – Terry B.
"All in all it was a smooth process and very fair repayment schedule. Very happy with my experience. Thank you Mr.Payday." – Dezray R.
6. Royal City Jewellers & Loans Ltd.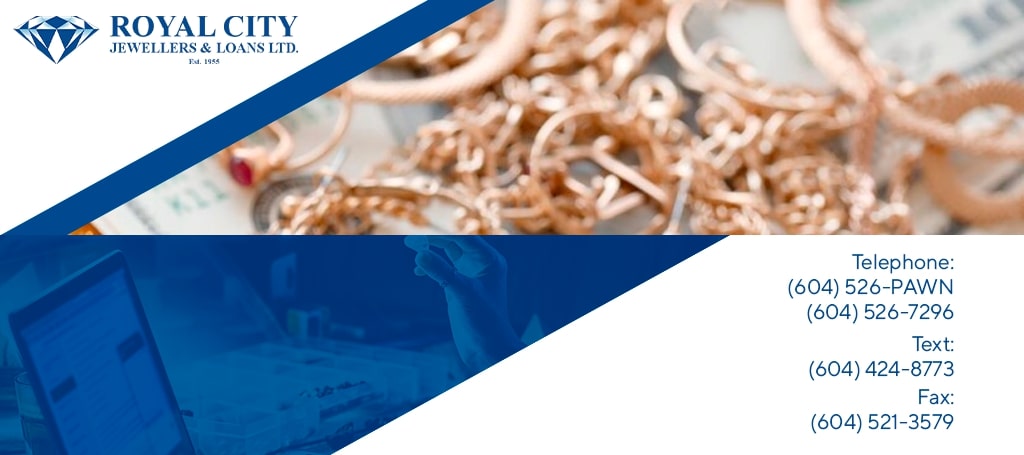 SERVICES
Pawnbroker, Customized Jewelry Design and Repairs
WEBSITE
https://www.rcj.ca/
ADDRESS
515 Columbia St New Westminster, BC V3L 1B2
1/2 block from the Columbia Skytrain Station
CONTACT DETAILS
Telephone
(604) 526-PAWN
(604) 526-7296

Fax
(604) 521-3579

Loans Manager (for all loan inquiries and selling your items)
Jamieson Johnson |

[email protected]



Sales Manager (for all sales related inquiries)
Suzan Basso |

[email protected]



Office Manager (for any web queries)
Mary-Anne Wise |

[email protected]



General Manager
Ken Basso |

[email protected]



President
Michael Isman |

[email protected]

OPERATING HOURS
Monday to Saturday: 9:00 AM – 5:00 PM
Sunday: CLOSED
Next on our list is Royal City Jewellers & Loans Ltd.
They have been servicing Canadians since 1955 not only as a pawnbroker but also providing jewelry design and repairs.
They wouldn't last this long if they are not a member of National Pawnbrokers Association, the New Westminster Chamber of Commerce, and are a founding member of the British Columbia Pawnbrokers Association. Association of Pawnbrokers.
We are impressed with their service for they are transparent with their customers. They have no hidden fees, charge the lowest interest rate in Canada at 5% per month or part of a month, and all the loans they offer are for a good term of three (3) months.
You will also be amazed that the majority of transactions are completed within 10 minutes so it is not necessary to schedule an appointment.
Aside from that, you will feel safe availing of their service as their alarm system is the most advanced on the market, and all of our jewelry is kept in a UL-rated fire-safe vault. Plus they're also right across the street from the New Westminster Police Department.
Renewable loans
Loan has a good term of 3 months
Fast efficient service
Years of service
Interest is charged at 5% per month or part of a month
Loans may be renewed or redeemed without the pawn ticket only after the loan has expired
Customer Reviews
"I have being dealing with them for approx. 5 or 6 years when ever I was in need of financial help. Each time they have been nothing but helpful, friendly and welcoming. When I have to visit them each month to make a payment, it was like visiting with family. I have found them to be fair, honest and helpful in my times of need." – Linda Nicola
Things to Consider Before Taking Out a Payday Loan
Though quick and useful, payday loans can lead to a vicious debt cycle if left unchecked. So before you decide to take out a short term loan, be sure to consider the following:
Do you absolutely need the loan?
Some expenses can always wait until your next payday. So unless you're in a time-sensitive emergency, it's best to hold off on the loan.
How much do you need?
There's nothing worse than borrowing money and still coming up short. Prior to applying you should have a rough idea of the expenses you need to cover with the loan.
How much can you pay back?
Some loans can be paid off over the span of weeks or months, but other loans require a single lump-sum payment. In either case, you should know how much you can set aside to pay for the loan.
Always be aware of the following lending laws:
A payday lender in British Columbia is NOT allowed to give you more than one loan, make you pay upfront for the loan, charge you extra to put the loan on a cash card, or rollover an existing loan with a new loan.
FAQs About Payday Loans
---
As you can see, when used properly, payday loans can be an easy and useful alternative to traditional loans. Now that we've got you up to speed, you can decide which lender best suits your financial circumstances.
If you've got a cracked iPhone and some extra cash you're willing to part with, check out our list of the best iPhone screen repair services in Vancouver.