The 7 Best Pilates Studios in Vancouver
Pilates is a great form of exercise that helps you get in shape by focusing on core strength and muscle control. It promotes balance as well as boosts the overall health of the practitioner.
Intensity levels can be adjusted to the individual meaning you can ease into it or go as hard as your body allows. We put together a list of the best Pilates studios in Vancouver to give you a feel for which might fit you best.
How much are Pilates studios' rates in Vancouver?
The rates of the classes usually depend on the intensity or level and the instructor. Most studios also provide private sessions; the rates for which we will include in this price list.
It's important to know that these rates are not only representative of the quality of the class being held but also of the facilities and amenities available. For full access to these facilities, some studios have memberships that may be worth looking into.
| Pilates Studio | Class Rates (CAD) | Private Rates (CAD) |
| --- | --- | --- |
| Form Body Lab | $41-45 | $93-110 |
| Boditree Pilates | $40-49 | $97-130 |
| Lagree West | $30-35 | $70-80 |
| Jaybird | $20-35 | N/A |
| Vancouver Pilates Centre | $45-60 | $105-110 |
The Best Pilates Studios in Vancouver
While the venue for your exercise routine isn't nearly as important as getting exercise in the first place, we also know that having a conducive environment goes a long way. We found the best Pilates studios and did our best to differentiate each one from the other.
To accurately quantify the merits of each studio, we came up with the following criteria:
1. Dynamic Pilates BC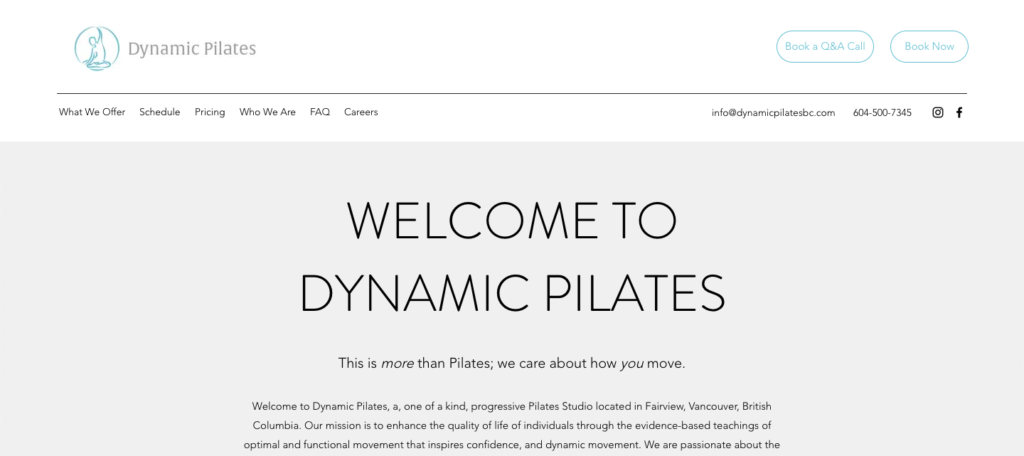 | | |
| --- | --- |
| Criteria | Rating |
| Studio & Equipment | ★★★★★ (5/5) |
| ⮕Studio Space | ★★★★★ (5/5) |
| ⮕Pilates Equipment | ★★★★★ (5/5) |
| Class Versatility | ★★★★★ (5/5) |
| ⮕Skill Level | ★★★★★ (5/5) |
| ⮕Physical Limitations | ★★★★★ (5/5) |
| Rates | ★★★★★ (5/5) |
| Customer Reviews | ★★★★★ (5/5) |
Dynamic Pilates BC distinguishes itself as a one of a kind, progressive Pilates Studio in the Fairview, Vancouver area.
What we like about this studio is their mission to enhance quality of life through evidence-based teachings of optimal and functional movement, as well as dynamic movement.
They focus on movement education, ensuring that clients learn how to move and engage muscles properly. What's great is that this is suitable for anyone—fitness enthusiasts to those seeking support and strength after physical rehabilitation.
Their offerings include Private Pilates, Semi-Private Pilates, and Drop In Classes. All their classes are based on the Contemporary style of Pilates, along with functional and therapeutic movement.
We think it's very convenient to schedule a class with them as you simply have to book through their website! You can find their price list there as well.
They have classes each day of the week so we think you'll likely find a schedule that's best for you.
We also think their instructors are amazing. They're knowledgeable and highly skilled, and we think they're the best!
They will patiently help you attain your pilates goals. We can't recommend them enough!
Progressive pilates studio
Evidence-based teaching of various movements
Variety of classes daily
Easy booking
Skilled instructors
Customer Reviews
"Faye is a great instructor. I have been training with Faye for a year and she provides me with fun and "very" challenging sessions each time. She is knowledgeable and pays a great amount of attention to how my body feels. Faye also comes up with home workout plan that suits my body conditions. As a trainer myself, I'd recommend Faye to my clients and whoever seeking a great pilates studio and instructor."
"Faye is an amazing instructor to work with! She is always attentive to details and knows what works best to improve your current condition. I found myself learning so much about optimizing body movement and I keep seeing slight changes after every week's session. Her cheerful personality is also a great plus to keep you engaged and motivated through out! I highly recommend Dynamic Pilates for those who are interested!"
2. Form Body Lab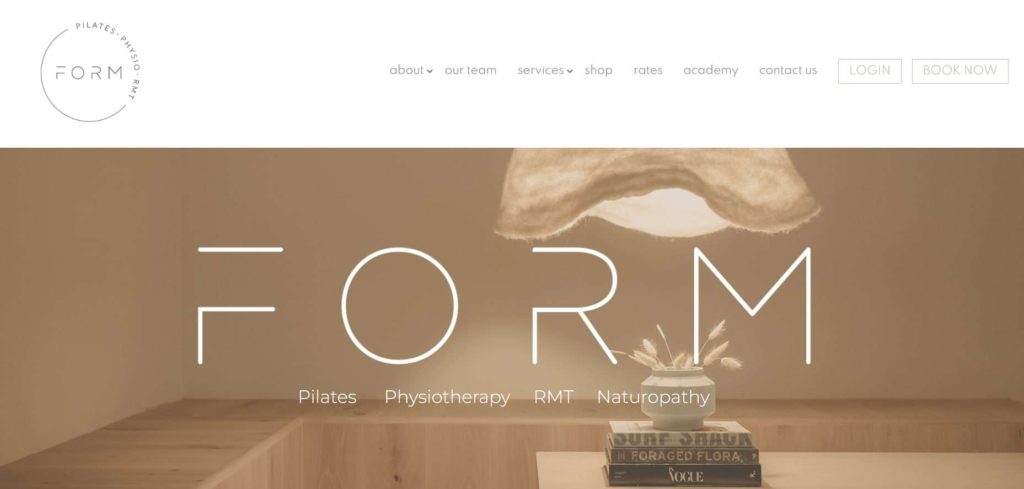 | | |
| --- | --- |
| Criteria | Rating |
| Studio & Equipment | ★★★★★ (5/5) |
| ⮕Studio Space | ★★★★★ (5/5) |
| ⮕Pilates Equipment | ★★★★★ (5/5) |
| Class Versatility | ★★★★★ (5/5) |
| ⮕Skill Level | ★★★★★ (5/5) |
| ⮕Physical Limitations | ★★★★★ (5/5) |
| Rates | ★★★★★ (5/5) |
| Customer Reviews | ★★★★☆ (4/5) |
Form Body Lab is a great studio to ease into working out, no matter what level you are or where you've previously trained. Their dedicated team of Pilates instructors, physiotherapists, RMTs, and yoga instructors are a great support system to have on your physical journey.
They take a holistic approach to physical fitness with Pilates at its center. We liked how their introductory individual class zeroes in on your body and what it needs.
It's also great that they offer pre and postnatal fitness programs that prepare pregnant women for the physical demands of giving birth and restore their fitness after.
Apart from that, they limit group class participants so you can get the most hands-on support from your instructor.
They're on the higher end of the pricing list, which may not be agreeable for everyone. Still, we absolutely loved this place and their programs, and we think their pricing is justified.
We highly recommend Form Body Lab for anyone on any level of experience seeking meaningful results. We think you'll find this place as accommodating to your unique needs as we have.
Beginner-friendly
Well-equipped studio
Holistic support staff
Large team of instructors
Offers solo and group classes
High rates
Mandatory initial 5 private sessions
Doesn't offer virtual classes
Customer Reviews
Highly recommend
"I first started going to Form Body Lab summer of 2014 and have loved it ever since. The instructors are very knowledgeable and attentive; they focus on the form of each student so you can really tell there's high quality of service! Highly recommend." -Carla Chiang
Thank you Form Body!
"The staff here are all super friendly, knowledgable and professional. They really are wonderful people that always made me feel that they genuinely cared about the patients. Really helped me in my journey towards recovery. Thank you Form Body!" -K G
3. Boditree Pilates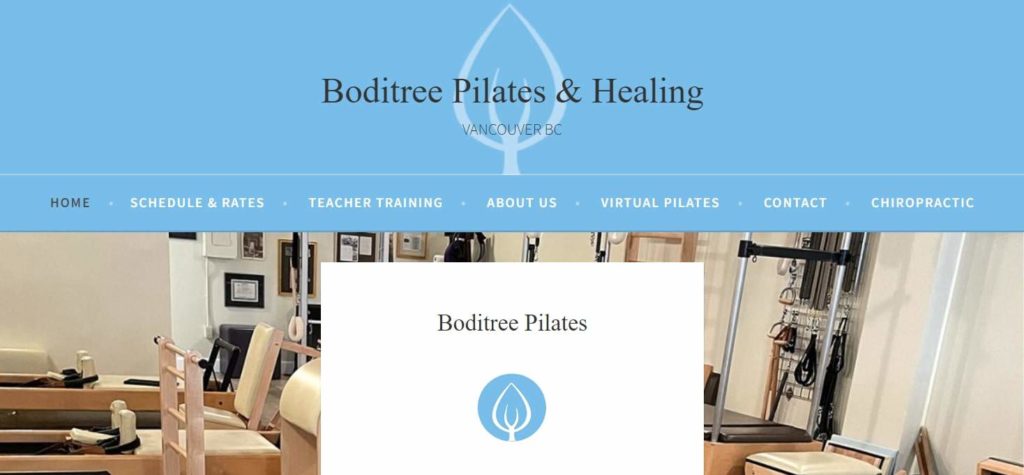 Boditree Pilates is another great studio for anyone, regardless of physical limitation or condition. New clients are initiated with four private sessions to determine your body's needs, which are then taken care of through a custom program.
Their instructors here are very friendly, and we love how they are mindful of old injuries or a limited range of movement while still challenging our bodies.
We also like that they offer virtual classes, which are great for those working from home. This is also suitable for those who travel a lot; this way, you can also keep a relationship with your instructor while you're away.
We loved how involved the owner, Risa, was in the studio, providing hands-on service and helping newcomers getting started. Her energy really turns the place into a safe space where physical expression meets healing.
Overall, we found Boditree to be a great studio with competent instructors that walk you through your journey to well-being. We also love the fact that they have cafes and pastry shops nearby to replace the calories we burn!
Custom programs
Offers virtual classes
Beginner-friendly
Offers chiropractic services
Offers solo and group classes
High rates
Mandatory initial 4 private sessions
Customer Reviews
Best way to fix or maintain your body's holistic health
"Best way to fix or maintain your body's holistic health. Risa & team changed my life with one on one focus tailored to my specific needs. The result – days without pain when I used to have daily pain." -Benjamin Sacks
Totally worth the investment!
"The staff here are so encouraging and knowledgeable. They are patient and really listen. They have helped me to reclaim mobility, balance and coordination and I feel amazing when I leave. Totally worth the investment!" -Farrell Eckman
4. Reform Pilates
| | |
| --- | --- |
| Criteria | Rating |
| Studio & Equipment | ★★★★★ (5/5) |
| ⮕Studio Space | ★★★★☆ (4/5) |
| ⮕Pilates Equipment | ★★★★★ (5/5) |
| Class Versatility | ★★★★★ (5/5) |
| ⮕Skill Level | ★★★★★ (5/5) |
| ⮕Physical Limitations | ★★★★★ (5/5) |
| Rates | ★★★★☆ (4/5) |
| Customer Reviews | ★★★★★ (5/5) |
Reform Pilates Vancouver is an exceptional Pilates studio that offers a wide range of programs designed to improve strength, flexibility, and overall well-being. The studio's emphasis on small classes ensures personalized attention and a focus on safety. With a maximum of only four clients per class, the instructors are able to provide individualized guidance and support.
The studio follows the Classical Pilates Method, which is a system of exercises specifically designed to restore and realign the body. The carefully crafted sequence of exercises helps improve posture, alleviate pain, and reduce stress. Additionally, Reform Pilates boasts a full range of official Pilates equipment that provides variable resistance in different positions, resulting in increased strength, stability, and endurance.
What sets Reform Pilates apart is the dedication and expertise of their instructors. Clients rave about the exceptional level of care and attention they receive during sessions. The instructors have a keen eye for identifying and addressing individual needs and weaknesses, ensuring proper form and technique. Clients have reported significant improvements in their posture, core strength, and overall body awareness.
The studio itself is described as beautiful and spotless, creating a welcoming and comfortable environment for clients. With convenient location in Gastown, Reform Pilates is easily accessible for everyone.
Personalized attention and small classes ensure safety.
Classical Pilates Method for improved posture and strength.
Exceptional instructors and welcoming studio environment.
Customer Reviews
Marlene is patient, encouraging, and informative
"I came to Reform Pilates looking to alleviate tension and develop better mind-body control, and I always feel lighter and looser after each session. Marlene is patient, encouraging, and informative, and I always appreciate her knowledge and feedback in making sure I execute the movements correctly. Plus – the studio is conveniently located and super aesthetic!" – Phoebe C
You will get plenty of personal attention ensuring proper form
"Lovely studio! Classical pilates. Small classes. You will get plenty of personal attention ensuring proper form (especially great if you're new as it will lay a strong foundation). The team is welcoming and friendly. Marlene, Elsa, and Olga love what they do and it's been a pleasure working with them." – Artur Kim
5. Lagree West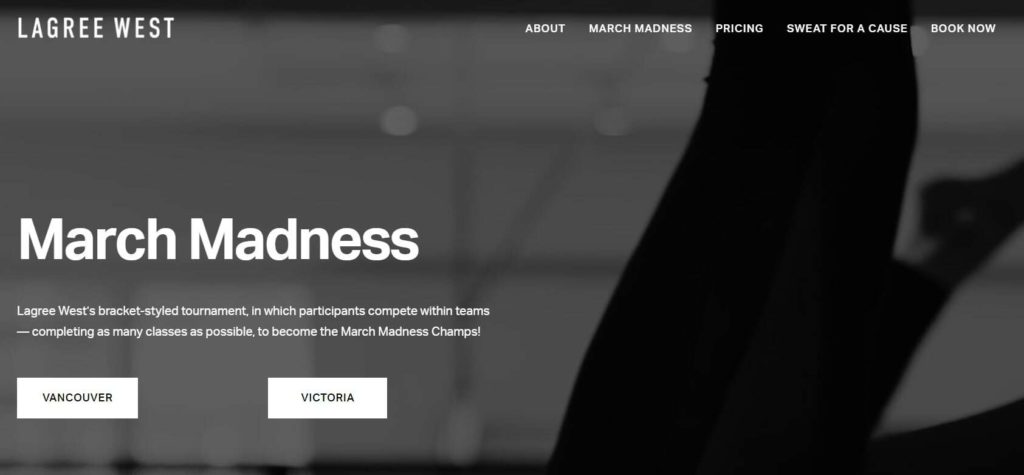 | | |
| --- | --- |
| Criteria | Rating |
| Studio & Equipment | ★★★★☆ (4/5) |
| ⮕Studio Space | ★★★★☆ (4/5) |
| ⮕Pilates Equipment | ★★★★☆ (4/5) |
| Class Versatility | ★★★★☆ (4/5) |
| ⮕Skill Level | ★★★★☆ (4/5) |
| ⮕Physical Limitations | ★★★★☆ (4/5) |
| Rates | ★★★★☆ (4/5) |
| Customer Reviews | ★★★★★ (5/5) |
With four different locations in the city, Lagree West is the biggest Pilates studio chain in Vancouver. We could feel that their success is thanks to the professionalism and enthusiasm that the staff express through their work.
Their studios are well-equipped and welcome everyone with any body type to sweat with them. Class sizes are kept small (max of 14 participants) to make sure everyone gets taken care of by the instructors.
We like how their classes are target-oriented, letting us know what objectives we're working for and the benefits we get along the way. Some classes require students to complete a number of classes prior to access, which is a great way to track your progress.
The classes are designed to meet the needs of a full-body workout, cardio conditioning, upper body sculpting, and even pre and postnatal support. We like how these help people have a clearer image in their heads of what they want and how to get there.
Meeting the conveniences of their students with different locations, Lagree also keeps their classes to 40 minute sessions to easily fit any lifestyle. While this is meant to be a convenience, this may deter people who prefer longer workouts.
One thing to note is while we think the workout is well worth it, they are a bit pricey for short classes.
Convenient class duration
Multiple locations
Small classes
Customer Reviews
Killer Workout!
"Killer Workout! Mendy is really good at explaining the different positions and makes sure everyone is doing it correctly. Highly recommend her classes =)" -Jessica Chow
Love Lagree Gastown
"Love Lagree Gastown. The studio team is always so welcoming + the instructors always lead a killer class. If you're looking for a challenging body-sculpting class, this is the place." -B Mackenzie
6. Jaybird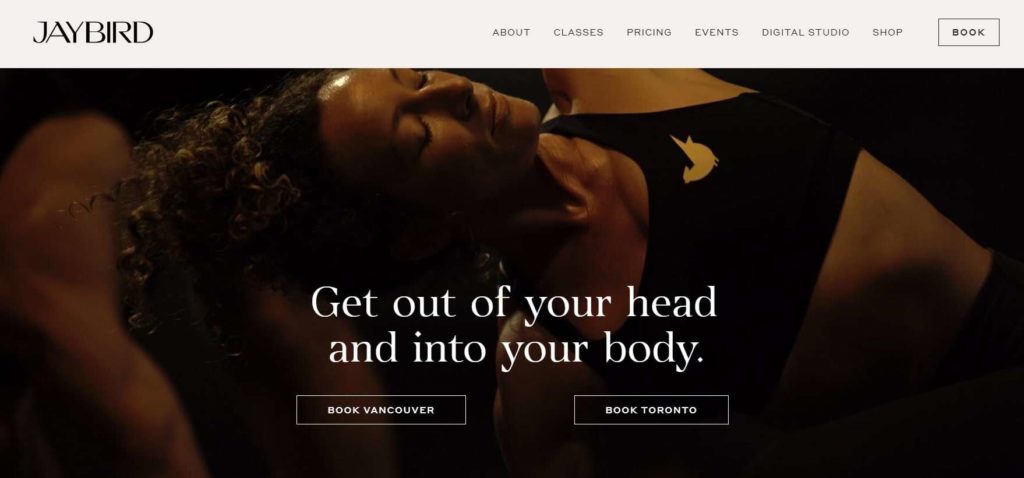 | | |
| --- | --- |
| Criteria | Rating |
| Studio & Equipment | ★★★★★ (5/5) |
| ⮕Studio Space | ★★★★★ (5/5) |
| ⮕Pilates Equipment | ★★★★★ (5/5) |
| Class Versatility | ★★★☆☆ (3/5) |
| ⮕Skill Level | ★★★☆☆ (3/5) |
| ⮕Physical Limitations | ★★★★☆ (4/5) |
| Rates | ★★★☆☆ (3/5) |
| Customer Reviews | ★★★★★ (5/5) |
A cross between yoga, Pilates, and infrared workout, Jaybird takes a non-traditional approach to physical fitness. All of their classes have loud music playing, which is something to consider if you're more into silent sweat sessions.
Their workouts take inspiration from different disciplines, centering mainly on Pilates for resistance and yoga for stability and alignment. With different goals and benefits, each workout allows you to really hone in to your practice.
We were intimidated at first at how all of their classes are taught in an infrared heated room lit by candlelight. Later on, though, we found that this is a great and easy way to increase the intensity of your workout, no matter what you're doing.
We also loved that they have a class solely dedicated to sculpting your backside. This class combines strength training and stretching to tone your glutes, leaving you with a feeling of sore release and an extra ounce of confidence.
Overall, the workout that Jaybird offers is a breakaway from convention but is rooted in traditional discipline. While not for everyone, this hot studio is a great venue for those who like to workout to a beat.
Infrared heated rooms
Unconventional fitness routine
Musical workouts
Music can be distracting for some
Dimly lit rooms
Customer Reviews
Thanks Jay Bird for a great experience.
"I have attended two classes and absolutely enjoyed them. Everything about this studio is awesome! Great vibe, amazing teachers and a really clean studio. Also the staff there are super friendly and accommodating! Thanks Jay Bird for a great experience. I will definitely recommend to friends and come back for more classes." -Tiffani Martinez
Highly recommend!
"Amazing studio! I am in love with India's Build class. Every class, her flows are different and creative. Such a great workout and also a freeing experience. Highly recommend!" -kelly vertes
7. Vancouver Pilates Centre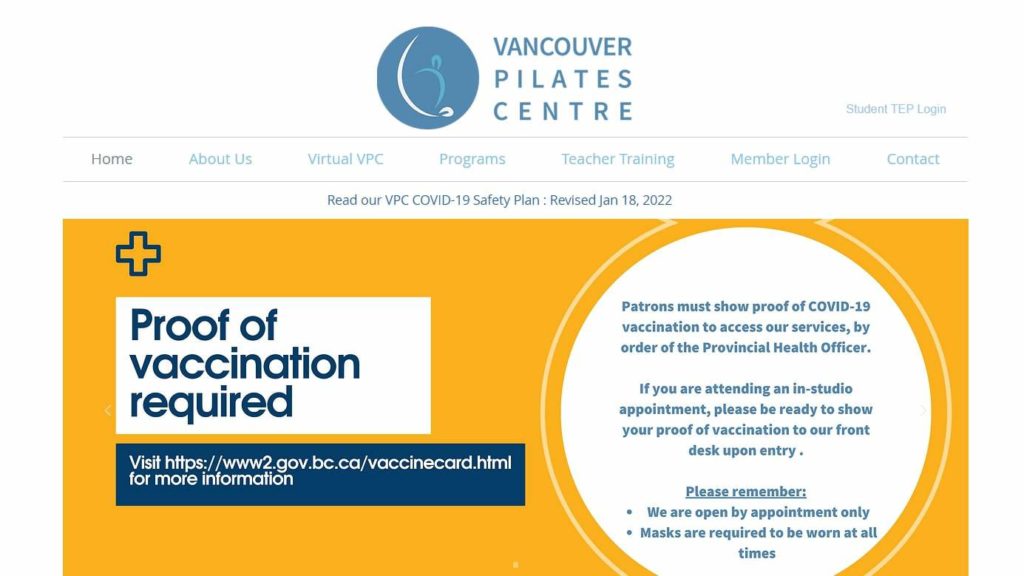 | | |
| --- | --- |
| Criteria | Rating |
| Studio & Equipment | ★★★★★ (5/5) |
| ⮕Studio Space | ★★★★★ (5/5) |
| ⮕Pilates Equipment | ★★★★★ (5/5) |
| Class Versatility | ★★★★★ (5/5) |
| ⮕Skill Level | ★★★★★ (5/5) |
| ⮕Physical Limitations | ★★★★★ (5/5) |
| Rates | ★★★★★ (5/5) |
| Customer Reviews | ★★★★★ (5/5) |
The Vancouver Pilates Centre is a well-established studio that focuses on quality guidance and direction from well-trained fitness instructors. Their staff members are lovely and help you with determining your limits to get you in the habit of exceeding them.
They believe in spreading awareness of the Pilates system with a teacher education program that has been running since 1995. All their instructors have gone through this program, which shows the professionalism of the business.
Their starter package is a bundle of 5 private sessions which cost CA$75 each to assess all newbies. This onboarding process allows instructors to give new students custom programs to meet the specific needs of their own body.
Their classes are also quite small, at 4 students per instructor, and they set the tone by requiring students to participate twice a week. This can also make it difficult for those with irregular schedules who may need to book or move classes on short notice.
That being said, we applaud their efforts to not only suit personal needs but also to encourage discipline and accountability. An effective physical regimen requires consistency more than intensity, something to always keep in mind.
In total, we found their straightforward no-nonsense approach to teaching PIlates and designing fitness programs to be quite effective. We love how they provide incredible support with an equal measure of direction to help everyone reach their goals.
Custom programs
Well-established
Small classes
Mandatory weekly routine
Expensive onboarding
Customer Reviews
Love it!
"VPC is the real thing. No flashy fake stuff. If you want to learn how to use your body and get stronger in every way, this is the place! VPC teachers are incredibly knowledgable and supportive and this studio is dedicated to the integrity of the work and philosophy of Pilates. Love it!" -Nicole Fisher
I feel taller, stronger and way more aware of my body.
"After decades of back pain and slouching that I assumed would always be a fact of life, I finally decided to do something about it. Within a few months of working out at the Vancouver Pilates Centre, I feel taller, stronger and way more aware of my body. The studio has a calm, friendly vibe and the entire staff is unbelievably kind, knowledgeable and attentive." -Sally White
FAQs About Pilates
---
This ends our list of the best Pilates studios in Vancouver. We hope you found this meaningful in helping you find the best studio to fit your body's needs and routine.
The keys to physical fitness are getting started and staying consistent. It's important to balance your goals and expectations with your capabilities and limitations to see the best results.
Want to learn about maximizing what you can get out of your body? Check out our list of the best personal trainers in Vancouver, and get in touch with the experts!