The Top Math Tutors in Vancouver
Are you or someone you know completely lost as soon as numbers and symbols start being grouped together in equations?
Well, don't worry any longer. We've compiled a list of the best math tutors in Vancouver to help you find ways to get a little less lost and even reviewed the top options here.
The Cost of Math Tutoring in Vancouver
There are a lot of factors that go into how much math tutoring can cost. The length of a tutoring session, the tutor themselves, the number of students being tutored at once, and the level of tutoring needed can all factor into the bottom line.
| Service | Price Range |
| --- | --- |
| Private Tutoring | $15 to $100 per hour |
| Homework Club | $20+ per session |
Of course, the above doesn't paint the whole picture of how much tutoring can cost. It's just a general range to help give you an idea of what to expect.
The Top Math Tutors in Vancouver
We assessed the tutoring centers based on the following criteria:
1. Mathnasium of Collingwood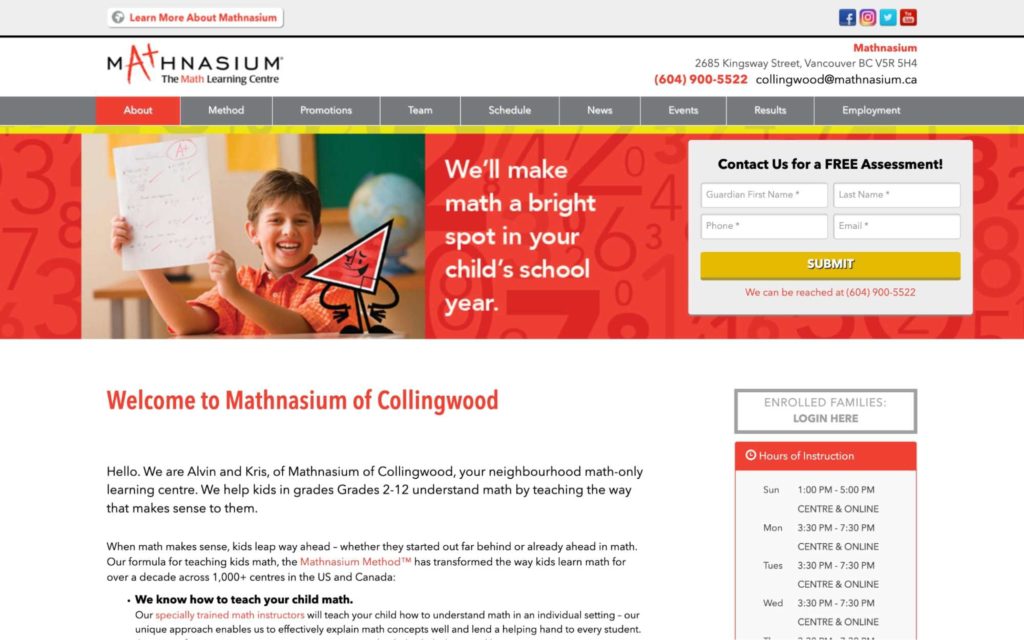 | | |
| --- | --- |
| Subject offered | ★★★☆☆ (3/5) |
| Price | ★★★★☆ (4/5) |
| Facilities | ★★★★☆ (4/5) |
| Customer Satisfaction | ★★★★★ (4/5) |
The first thing that we liked about Mathnasium of Collingwood was how attentive they are to the students. They make an effort to keep students engaged in the material being studied.
Students who are disengaged with the material may find it difficult to properly learn it, so it was a really good thing that the instructors made it a point to make sure that the students weren't just paying attention, but were engaged in the lessons.
The instructors are also on the younger side, so being able to relate to the kids is easy for them.
We also noticed that the instructors are approachable enough that students who don't understand the material feel confident enough to just ask. That's always a good sign for a tutor,
The facilities are clean and well-lit too, so any students who are attending in-person lessons aren't going to have a hard time seeing what's in front of them. For students who aren't able to attend in-person lessons for any reason, they also have online services.
We also like that they offer a free assessment for any prospective learners to see what works best for them.
Approachable instructors
Online classes available
Customer reviews:
Free assessment
"My kids have been attending since June 2020. Since March when the pandemic hit, I was struggling with teaching them concepts of math for my grade 4 and 6 children. One day I walked past this location and noticed a free assessment sign. I called them to schedule an assessment Initially just for my grade 4. I appreciated the time the director took to explain how the assessment went. I was also quite impressed with their Covid protocols and ease of sign up for future sessions. They had an offer for the summer so it worked well. So I decided to take my grade 6 here too! Fast forward 4 months now and my kids have never complained about having to go to math. Even after a long day as school (9-5) they are excited to attend at 6:30pm for their last session of the day. They have asked their classmates to come and I have shared our experience with other school parents and they seem to be enjoying it so far. I ask my kids after each session / day and they tell me how many pages they've done and it's great to see them talking about math like they do now compared to 4 months ago! Thank you staff of Mathnasium!" – Tim Cheng
Friendly, clean, bright
"Friendly, clean, bright facility. Staff and program help my kids to enjoy and learn math. We have tried different programs in the past and they never looked forward in attending sessions like they do here." – Gary Tung
2. CMC Tutoring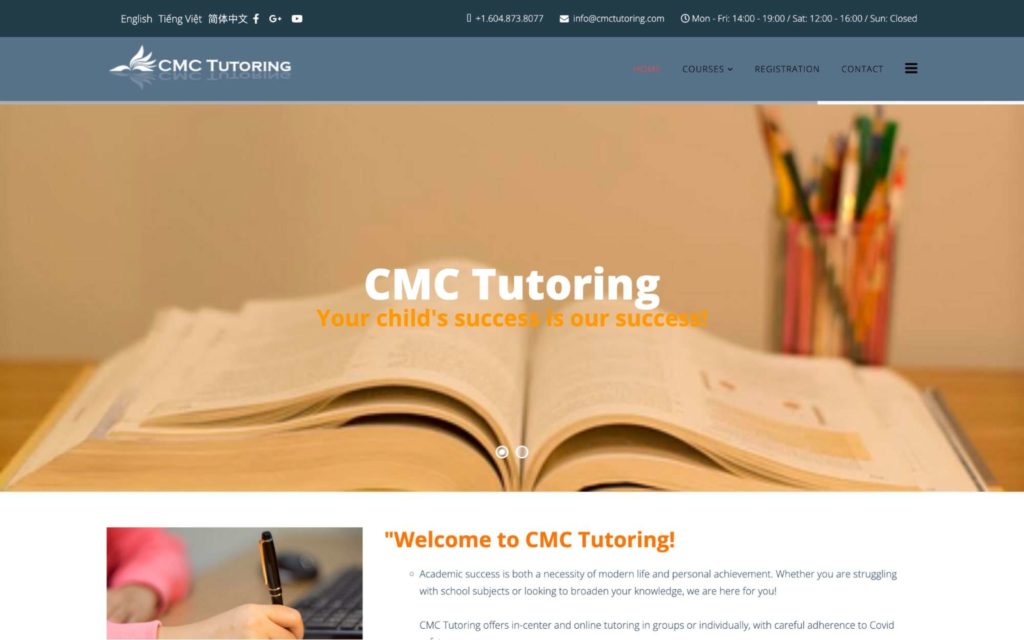 Test
Info
SUBJECT
English

Science

Physics

Biology

Chemistry

Math

Calculus

Pre-calculus

Language Art

Post-secondary Math

WEBSITE
https://cmctutoring.com/en/
ADDRESS
101- 470, Kingsway, Vancouver, BC V5T 3J9
CONTACT DETAILS
#ERROR!
OPERATING HOURS
Monday to Friday: 2:00PM to 7:00PM

Saturday: 12:00PM to 4:00PM

Sundays: Closed
| | |
| --- | --- |
| Subject offered | ★★★★★ (5/5) |
| Price | ★★★★☆ (4/5) |
| Facilities | ★★★★★ (5/5) |
| Customer Satisfaction | ★★★★★ (5/5) |
The main thing we like about CMC tutoring is how comprehensive their courses are. They don't just teach one subject; they teach multiple subjects.
That comprehensive list of courses offered means that a student can learn math and then learn how to implement it in other fields of study. Students mention their math and chemistry courses as being particularly helpful.
And we really like that they teach at multiple levels. It's not just grade- or high-school students who get tutoring: they're also able to help students at the university level, at least for the first year of university.
They also help with the regular school work that's assigned to students, and even provide extra worksheets in order to help that student get better with practice. The tutors can also answer questions via email after the end of sessions.
The facilities are also top-notch. Students are provided with laptops or desktops when studying in their classrooms (a very nice touch) and printing of homework is free.
Most of the tutors there are also there on a permanent basis, so they'll be able to track a student's academic progress for quite a while.
We also noticed that students seem quite happy with the results they've achieved as a result of the tutoring.
Comprehensive lists of subject taught
Computers provided
Customer reviews:
Provides material and support
"I've attended this tutoring center for many years in order to improve my mathematical abilities. Through my experience, I can confidently say that this center has played a major role in my academic accomplishments. The staff at CMC has provided me with the support and material needed to improve in my studies. The tutors are very patient and encouraging" – Crystal Nguyen
Improve grades and understanding
"The teachers here are very knowledgeable in calculus and physics, and they've helped me improve my grade and my understanding of both subjects over the course of the school year. I highly recommend anyone who needs help in these subjects to enroll here." – Elijah Tan
3. Sealy Tutoring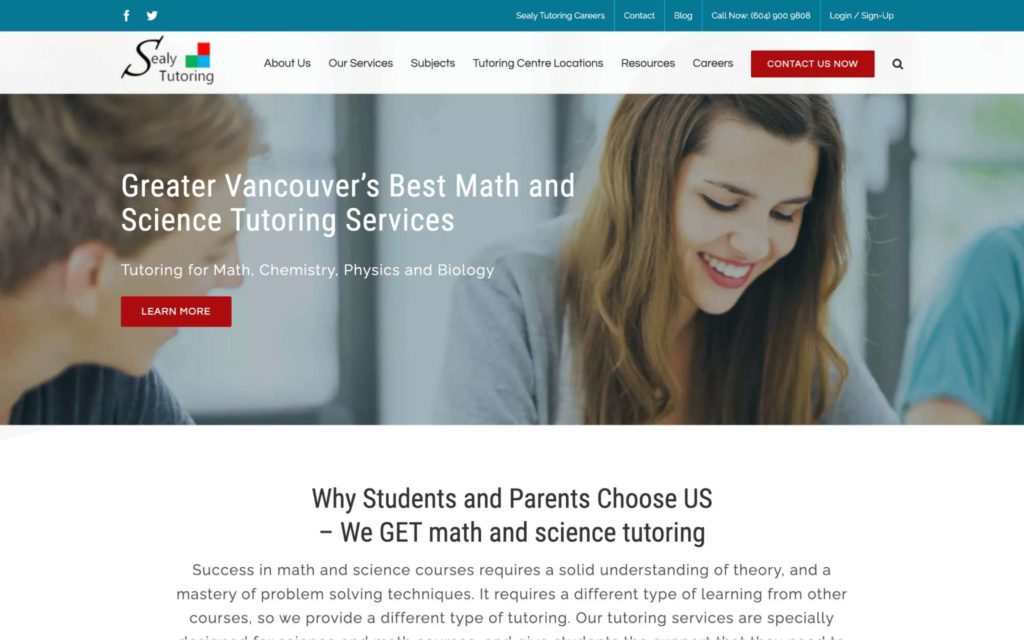 Test
Info
SUBJECT
Math

Pre-calculus

Calculus

Chemistry

Physics

Biology

Science

WEBSITE
https://www.sealytutoring.com/
ADDRESS
1836 W 5th Ave #203, Vancouver, BC V6J 1P3
CONTACT DETAILS
(604) 900-9808

Email: [email protected]

OPERATING HOURS
Variable, sessions scheduled monthly
| | |
| --- | --- |
| Subjects offered | ★★★★★ (5/5) |
| Price | ★★★★☆ (4/5) |
| Facilities | ★★★★☆ (4/5) |
| Customer Satisfaction | ★★★★★ (5/5) |
The first thing that caught our eye with Sealy Tutoring was the number of subjects they teach. It's not just math that they cover, but also subjects in which math is used quite a bit, such as Physics and Chemistry.
But beyond the amount of subjects taught is the number of ways those subjects are taught to the students.
Students can opt for 1-on-1 tutoring so they can get lessons that are catered to them. Students can opt for that tutoring either at home or in their Tutoring Centre.
We think the 1-on-1 sessions also allow students to become more comfortable with their tutors, thereby allowing tutors to teach in a way that allows the student to learn best.
They offer online tutoring for students who may not be able to make it down to their physical location. They also offer courses in the summer to help prepare for the coming school year.
They have courses specifically formulated to help students get ready for final exams. We believe that that particular service is going to come in very handy for a lot of students who may become stressed over final exams.
The team at Sealy is even able to help students with some university-level courses and we like that they're able to offer educational assistance beyond a school level. We see that as a testament to their ability.
Students are able to have longer tutoring sessions here as well. Their drop-in program allows students to have sessions that can go as long as three hours, actually.
We believe that longer sessions may be helpful to students who have a particularly difficult time with the material, so we like that this even an option.
Many subjects offered
Flexible teaching styles
Students can just walk in as needed
Their variable monthly schedule may not work for every student
Customer reviews:
Enhance knowledge
"My daughter is an excellent student in school but needed to bring her Science mark in line with her other grades. From the week Christian showed up to enhance her knowledge of Science her grades began to climb. We have had excellent immediate results! He is very personable, speaks her teenage language, and makes the topics fun and easy to learn. He has an excellent knowledge base of the material and is a skilled teacher. I would recommend Sealy Tutoring to anyone wanting a quality tutoring service for their child." – Marty Pospischil
Outstanding experience
"Dropping into the Math and Science Centre throughout my senior year of high school was an outstanding experience. I don't believe you can receive such high quality tutoring for the price of the Centre anywhere else in Vancouver. I would highly recommend Sealy Tutoring for any students in need of academic help!" – Jan Lim
4. MyGrade Booster Tutoring Vancouver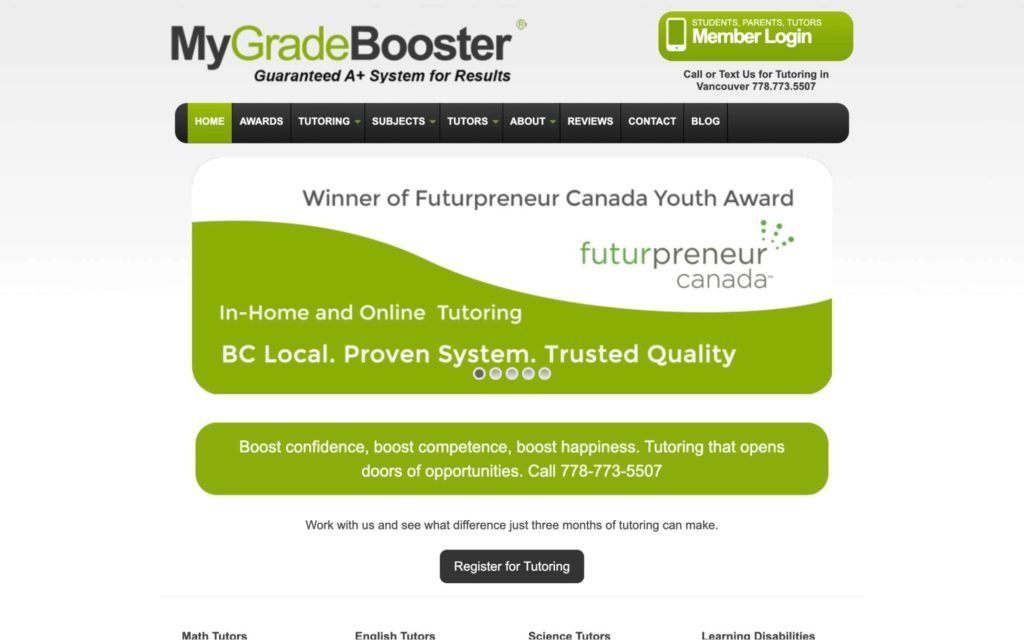 Test
Info
SUBJECT
Math Chemistry Physics Science English
WEBSITE
https://mygradebooster.com/
ADDRESS
999 W Broadway #720, Vancouver, BC V5Z 1K5
CONTACT DETAILS
778-773-5507

Email: [email protected]

OPERATING HOURS
Monday to Friday: 9:00AM to 9:00PM

Saturday and Sunday: 11:00AM to 6:00PM
| | |
| --- | --- |
| Subjects offered | ★★★★☆ (4/5) |
| Price | ★★★★☆ (4/5) |
| Facilities | ★★★☆☆ (3/5) |
| Customer Satisfaction | ★★★★★ (5/5) |
What really stood out to us about MyGrade Booster was the tutoring itself.
A lot of other places have teachers that understand that material and can explain it well.
MyGrade Booster has teachers who are just like that, of course, but they also have the ability to simplify what they know so that people who don't have the same years of study under their belt can comprehend the lessons.
They don't just match any student with any tutor, either. They make an effort to assess which of their tutors will match best with each student to maximize learning.
They also strive to work with students who have learning disabilities so that those disabilities do not limit their academic performance.
But they don't stop at just that. They also provide materials such as books, online tests, and reviews so students can keep learning after the session has ended or on their own time.
Detailed lesson reports are also kept so parents can keep themselves appraised on their child's progress. We're big fans of that, as we prefer tutors who see parents as partners in the learning process.
Beyond that, they offer a Skills Development course, which aims to help students develop skills like test-taking, studying, and transitioning from middle school to high school.
What's more, they offer in-home tutoring services so students learn in an environment in which they are at their most comfortable. We really like the variety of tutoring services here.
Tutors matched to students
Flexible tutoring styles
Doesn't offer anything beyond high school
Customer reviews:
Patience and skill
"As a prerequisite for a university course, I recently upgraded my high school sciences. I found Chemistry 11 to be extremely intimidating as it seemed like another language to me. Mehrnaz was able to break down the content into understandable pieces through teaching me simple techniques that I could use; the following week, I got 90% on my midterm! From this experience, I would highly recommend her tutoring services because of her patience and skill in knowing how to teach." – Nicole Parente
Quick progress
"This is the best tutoring service we have had in terms of results and service. I am very happy with the progress I saw so quickly and would highly recommend this as I received long term results. This company is so responsive and does a good job matching tutors with students in terms of learning styles." – Curtis House
5. Teachers on Wheels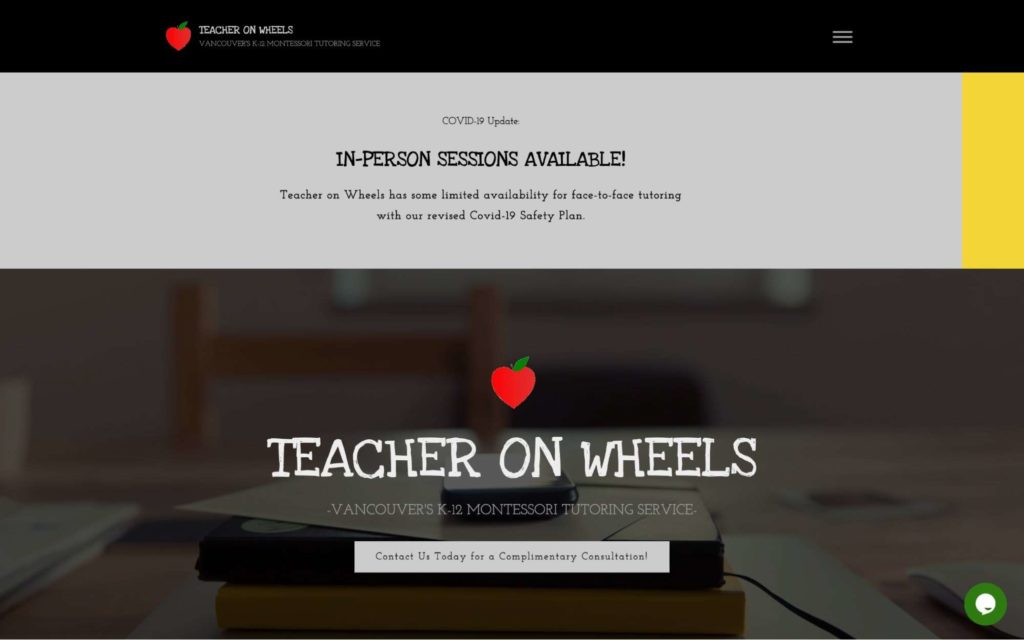 | | |
| --- | --- |
| Subjects offered | ★★★★☆ (4/5) |
| Price | ★★★★☆ (4/5) |
| Facilities | ★★★☆☆ (3/5) |
| Customer Satisfaction | ★★★★★ (5/5) |
Unlike a traditional tutoring service, Teachers on Wheels, as the name suggests, is largely mobile.
Their main services are in-home or online tutoring sessions, which must be booked ahead of time, and we like that about them because that makes for more flexible learning.
We also appreciated that the tutors don't just teach the subjects. They build connections with the students in order to encourage more positive educational outcomes.
Now, their lessons do not end at just academics. They also make it a point to help students develop emotionally as well.
We like that they go beyond just academics to help turn students into fully-realized people. Holistic teaching tends to have strong results, as it addresses the other aspects of learning that don't always get factored in by traditional teaching approaches.
Their schedule is pretty flexible, by the way. Parents and students aren't generally going to have to worry because if there's an open slot, then they can get tutoring services.
That said, availability of some of their services can be limited at times, so there may be instances where open slots can be hard to come by. That may become a problem down the line, but we haven't encountered any complaints about that.
The only other downside we've seen is that payment is collected monthly in advance. But again, we haven't encountered anyone complaining about that.
They also don't just focus on school-age children, either. They've had some adult-age learners in the past.
Flexible scheduling
Social and emotional development
Customer reviews:
Extremely helpful
"Hanh has been extremely helpful while I've been doing Pre-Calculus 11 and 12. She is great at explaining complex math concepts and the steps needed to solve problems. She is very patient and understanding and is flexible with scheduling whenever I need extra help. I highly recommend Hanh and Teacher on Wheels for tutoring." – Chloe Benson
Great experience
"Hanh was a great tutor who helped me understand math on a deeper level. She was very well organized and her lesson plans were very well thought out. I had a great experience and I wouldn't have gotten through Pre-Calculus without her!" – Nima Wadsworth
FAQs about Math Tutoring in Vancouver
If you want to pick a good tutor, here are a few tips:
Find someone who can engage with the student on their level.
Find someone who can explain the material as though they're teaching a five-year-old.
---
If you want to look at more general tutoring services in Vancouver, check out this list of the best tutoring centers in the city.