Our Guide to West End Vancouver
If we're being honest, almost everything we love about Vancouver can be found in the West End. Feeling a little hot? Hit Sunset Beach. Need a bite to eat? Head over to Davie Street. Looking for a relaxing place to walk? Look! There's Stanley Park.
The possibilities are limitless, that's why if you're thinking of dropping by the West End, you're gonna wanna keep reading as we created the ultimate guide to West End Vancouver.
What is West End Vancouver known for?

West End Vancouver is known for its diverse mix of people, restaurants, shops, and things to do, and it's one of the most popular spots in the city.
The West End neighborhood is bordered by Coal Harbour, Yaletown & Downtown Vancouver, and is home to some of the most popular districts in the city like Gastown, Robson, and Granville Street.
Fun fact! Did you know that the West End community is actually one of the oldest residential areas in Vancouver? It's true! During the 1980s and early 20th century, this was the most upscale neighborhood in the city.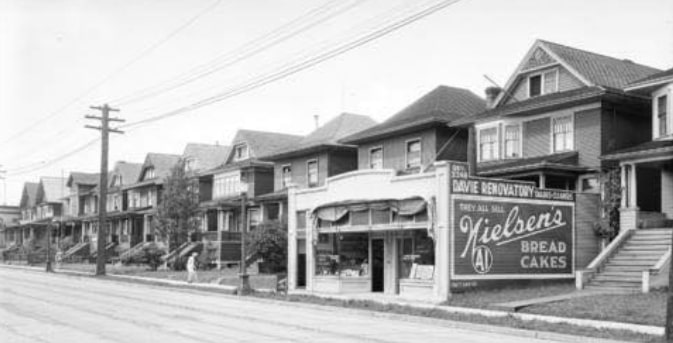 Today, the neighborhood is a mix of old mansions and heritage apartments, sitting next to mid century towers and luxury condos.
To the north of the West End is Stanley Park, the largest and best known park in Vancouver. Down south, you have False Creek, and when you head east, you'll find Yaletown, while on the west is Burrard Street.
With all this in mind, it's no wonder that the West End is highly sought after by both residents and tourists. You literally have everything you need within walking distance, from beautiful parks and waterfront views to endless dining and shopping choices.
Time Zone
Pacific Standard Time (PST) (UTC-8)
Best Time to Go
The best time to explore West End Vancouver is during spring and summer months (March to September). During this time, the temperature in the city is around 7˚C to 30°C, making it ideal for outdoor activities and sightseeing.
It's almost always crowded in the West End as it's a popular tourist destination so it's important to plan your visit in advance and be prepared for large crowds.
Things to Know
Currency: Canadian Dollar
Language: English
Calling Code: +1
How to Get Around
Trains: The efficient way to get around the West End is the Skytrain – Vancouver's rapid transit system. This train network connects various neighborhoods in the West End, as well as downtown Vancouver and other parts of the city.
Buses: Vancouver's bus system offers a great alternative to the Skytrain for getting around the West End. A single bus fare costs around $3.10 to $6.05 and allows passengers to travel to different parts of the West End and beyond.
Taxis: There are several taxi companies in Vancouver — Yellow Cab is the largest taxi company in the city with over 355 cabs, including eco-friendly and hybrid cars. Black Top & Checker Cabs is also another option that has 6-seater vans.
Car service: If you prefer a more personalized and convenient transportation option, you can consider using a car service like Excel Limousine or Bookalift.
Where to Stay in West End Vancouver
Times Square Suites
Address: 1821 Robson St, Vancouver, BC V6G 3E4, Canada
Phone: +1 604-684-2223
Pricing: $
Book Now
When you stay at the Times Square Suites Hotel, you'll feel like a local because you can walk right out their front door and be on the West End. Inside there's a rooftop patio where guests can lounge or bbq, a laundry area, and full kitchen.
The rooms are also quite homey, with cozy furnishings such as plush sofas and comfortable beds. Just make sure to call in advance if you're bringing pets so they can give you a pet-friendly room.
Fairmont Waterfront
Address: 900 Canada Pl, Vancouver, BC V6C 3L5, Canada
Phone: +1 604-691-1991
Pricing: $$$
Book Now
The Fairmont Waterfront is undoubtedly one of the most prominent hotels in the city. Who wouldn't want to stay at the same hotel that has welcomed Queen Elizabeth II and John Lennon?
Guest rooms and suites at this luxurious hotel overlook the city and the hotel's garden. They also have a spa, fitness center, and a 50ft rooftop pool for guests to enjoy.
Paradox Hotel Vancouver
Address: 1161 W Georgia St, Vancouver, BC V6E 0C6, Canada
Phone: +1 236-900-6001
Pricing: $$$
Book Now
The Paradox Hotel is conveniently (dangerously) located within walking distance of various shopping, dining, and entertainment options. This hotel has a distinct glam factor with its modern and stylish decor that exudes sophistication.
Rooms are pretty spacious here too, with standing baths and balconies. Just make sure to book your room in advance, as this popular hotel tends to fill up quickly.
O'Canada House Bed & Breakfast
Address: 1114 Barclay St, Vancouver, BC V6E 1H1, Canada
Phone: +1 604-688-0555
Pricing: $
Book Now
Want to take advantage of the heritage homes in the West End? Then book a stay with O'Canada House B&B. This modern, Victorian bed and breakfast is nestled on Barclay Street, just steps away from Stanley Park and Robson Street.
Want our advice? Take advantage of their 24-hour guest pantry. We grabbed one too many home baked goodies here, and there's also coffee, tea, and juice.
YWCA Hotel Vancouver
Address: 733 Beatty St, Vancouver, BC V6B 2M4, Canada
Phone: +1 604-895-5830
Pricing: $$
Book Now
Right across Rogers Arena is the YWCA Hotel. This hotel could not be more central, as it's minutes away from Robson Street, Coal Harbour, and the Stadium-Chinatown Skytrain station.
Just make sure to bring lotion with you, as the hotel doesn't provide this. But their bathrooms have built-in shampoo, conditioner, and body wash, as well as a complimentary hair dryer.
Where to Eat in West End Vancouver
Nook
Address: 781 Denman St, Vancouver, BC V6G 2L6, Canada
Phone: +1 604-568-4554
Pricing: $$
Website
You can never go wrong with Italian food, especially when you dine here at the Nook. The cozy Italian spot serves authentic pasta, pizza, fish, and fruits.
Their "Spaghetti Bolognese" is a must-try. As far as taste goes, the Nook's Italian dishes are simply unbeatable. Make sure to indulge in their Tiramisu for a sweet ending to your meal.
Kingyo
Address: 871 Denman St, Vancouver, BC V6G 2L9, Canada
Phone: +1 604-608-1677
Pricing: $$
Website
This upbeat restaurant is one of the top Izakayas in Vancouver. It's like walking right into a bar in Shinjuku as soon as you step inside. The lively atmosphere, warm lighting, and bamboo and bonsai trees create an authentic Japanese ambiance.
Pick up one of everything— their Kingyo's classic assorted bento box is sugoi (incredible). Enjoy the concept of cooking the meat on a hot stone at your table, and cool off with an Asahi beer.
Le Crocodile
Address: 871 Denman St, Vancouver, BC V6G 2L9, Canada
Phone: +1 604-608-1677
Pricing: $$$
Website
Le Crocodile is the quintessential foodie's French cuisine spot in Vancouver. For over 40 years, this fine-dining French restaurant has blended traditional French cooking with the West Coast.
You'll enjoy good meals where flavors blend well together — where servers are more than happy to explain the intricacies of each dish. However, their wine selections are a bit pricey, starting at $90 per bottle.
Ofra's Kitchen
Address: 1088 Denman St, Vancouver, BC V6G 2M8, Canada
Phone: +1 604-688-2444
Pricing: $
Website
The only vegetarian/vegan restaurant in Denman that serves Middle Eastern Cuisine, Ofra's Kitchen is definitely the spot to experience authentic Israeli staples. Along with the lovely attitude of the owner, the restaurant makes you feel like home.
Our advice? Grab their falafels and pair them with a nice, hot Turkish coffee. Their lentil soup is also a must-try if you're craving a warm dish.
Café Portrait
Address: 1120 Denman St, Vancouver, BC V6G 1T2, Canada
Phone: +1 604-915-6993
Pricing: $$
Website
Coffee and art? Café Portrait will make you feel like you have plenty of company, as their walls are covered with an eclectic collection of portraits.
They serve locally-made Aggro Roasters coffee that's best paired with their classic breakfast options. Expect a perfect replica of an early Paris here, heck even the bathroom is whimsically decorated.
Nine Dumplings Nine Dishes
Address: 204-1610 Robson St, Vancouver, BC V6G 1C7, Canada
Phone: +1 778-246-1199
Pricing: $
Website
Located at the Robson Public Market, Nine Dumplings Nine Dishes serves deliciously handmade dumplings. Honestly, the only thing that can possibly be better than nine dumplings is ten dumplings.
You can't go wrong with your order at this spot; whether you choose the classic pork and chive filling or more adventurous options like the Dan Dan Mian, everything's just scrumptious.
What to Do in West End Vancouver
Visit Stanley Park

Address: Vancouver, BC V6G 1Z4, Canada
Phone: +1 604-681-6728
Website
Stanley Park is synonymous with Vancouver — it's a beloved landmark that has a deep-rooted history and holds significant cultural and recreational value in the city. There's literally endless things to do here.
Ride a bike, visit the Totem Poles, grab some grub at Prospect Point Cafe, drop by the Vancouver Aquarium, or just walk along the seawall and take in the stunning views of the mountains and ocean.
Shop til you drop at Robson Street
Address: Robson St, Vancouver, BC, Canada
Phone: +1 604-669-8132
Website
Imagine this: three blocks with 150 shops and ample parking. That's Robson Street. Here you can find a wide variety of shops, ranging from high-end luxury brands to trendy boutiques and local artisans.
Parking is convenient and plentiful, but try to snag cheap parking at 1291 Robson ($2 per hour).
Walk the Lost Lagoon

Address: Lost Lagoon Path, Vancouver, BC, Canada
Phone: +1 604-873-7000
Website
This relatively short walk is just near the Stanley Park entrance. You can't miss it even if it's dark; just look for a clear lake with swans and ducks and a colorful fountain in the middle.
The Lost Lagoon is where the Golden Jubilee Fountain was built in the 1930s, and we'd say it's a pleasant 1.8 kilometer walk with occasional sightings of wildlife like raccoons, coyotes, and deers.
Take Pictures at the A-maze-ing Laughter
Address: Morton Park, 1800 Morton Ave, Vancouver, BC, Canada
Phone: +1 604-873-7000
Website
If you need a little pick-me-up, check out the bronze sculptures at Morton Park. The A-maze-ing Laughter features wide, open-mouthed smiling statues that will surely bring a smile to your face.
Everyone is all smiles and laughs while taking photos, plus the sunset in this area is beautiful. In this economy, this will surely brighten anyone's day.
Catch a Movie at the Stanley Park Summer Cinema

Address: Vancouver, BC V6G 1Z4, Canada
Phone: +1 604-681-6728
Website
If you're up for watching movies beside the beach, catch the Stanley Park Summer Cinema, where a series of free movie showings take place from early July until the end of August.
Just keep in mind that it's first-come, first-served, but if you want to guarantee your seats, premium VIP seating is available with advance reservations for about $20 per person.
Where to Shop in West End Vancouver
Quick Nickel Clothing
Address: 1736 Davie St, Vancouver, BC V6G 1W3, Canada
Phone: +1 604-689-8910
Website
Most shoppers here have been loyal customers for many years. Quick Nickel Clothing has been the go-to for many Vancouverites for over 30 years.
Nestled in the vibrant neighborhood of Davie Street, here you'll find trendy discounted clothing,accessories, and footwear. They also have a variety of beach essentials if you plan to go to English Bay, which is 3 minutes away by car.
Canadian Crafts
Address: 1023 Robson St, Vancouver, BC V6E 1A9, Canada
Phone: +1 604-684-6629
Website
Being the oldest souvenir gift shop on Robson Street, Canadian Crafts should be included in your last stop before leaving Vancity. They sell a wide variety of authentic Canadian handicrafts and souvenirs, including maple syrup and wild BC salmon.
We highly recommend you pick from their indigenous collection, which showcases beautifully handcrafted First Nations artwork and traditional items.
Tenth & Proper Boutique
Address: 4483 W 10th Ave, Vancouver, BC V6R 2H8, Canada
Phone: +1 604-222-1115
Website
A little on the pricey side, Tenth & Proper Boutique boasts a carefully curated collection of Canadian and European womenswear. It's the perfect shop for elegant ladies who enjoy luxurious and unique fashion pieces.
They also have gorgeous scarves made of Indian silk and soft wool. If you're looking to snag some discounts, they offer seasonal sales and promotions throughout the year. Ask their staff for recommendations, they're very friendly and approachable.
CF Pacific Centre
Address: 701 W Georgia St, Vancouver, BC V7Y 1G5, Canada
Phone: +1 604-688-7235
Website
This one-stop shopping mall has everything you may need, from luxury brands to restaurants and entertainment options. Right next to the Canada Line is the CF Pacific Center, and it's definitely a shopper's paradise.
Head over to the bay.for a wide selection of high-end fashion brands, or explore the lower levels for a variety of dining options. The parking here is also so huge but a little pricey ($4.75 for half an hour).
Apps to Download for a Trip to West End Vancouver
GPSmyCity: Self-guided walks over 1,000 cities in Vancouver, with built-in GPS navigation functions. Works both online and offline.
iOs | Android
Vancouver Travel Guide: Interactive city guide with tourist info on all must-see attractions in Vancouver.
iOs | Android
Vancouver Transit Live: Live bus schedules that use your GPS location to get the times of TransLink bus stops.
iOs | Android
Paybyphone: Pay for meter parking with the touch of a button, set text reminders, and have your receipts emailed to you.
iOs | Android