What is Commercial Drive known for?
We're sure you've heard about Vancity's abundant nature and landscapes, but there's more to this city than just its natural beauty. Ever heard about Commercial drive? Personally, this is where we think the true spirit of Vancouver comes alive.
So hop on the Skytrain and get off at Commercial–Broadway station, but before you do, read all about our ultimate guide to know where to stay, eat, shop, and what to do in the Drive.
What is Commercial Drive?
Commercial Drive, also known as "The Drive", is known as one of the best and most lively shopping, dining, and entertainment districts in Vancouver.
With 22 blocks and 300 merchants ranging from restaurants, boutiques, and cafes to art galleries, vintage shops, and live music venues, it's a culturally rich neighborhood with something for everyone.
How to Get to There
Skytrain: the city's Skytrain system is a convenient way to get to Commercial Drive. Ride the Skytrain from any station that connects to the Expo Line, and get off at Commercial-Broadway Station.
Buses: There are several bus routes that pass through the area, including the 20, 9, and 99. Check the TransLink website or use their mobile app, available for both iOS and Android.
Taxis: There are several taxi companies in the city like Yellow Cab and Black Top & Checker Cabs that provide reliable transportation services.
Car Services: There are also car services available in the city, such as Uber and Lyft, if you'd like to have a more private and convenient mode of transportation.
Where to Stay in Commercial Drive
Atrium Inn
Address: 2889 E Hastings St, Vancouver, BC V5K 2A1, Canada
Phone: +1 604-254-1000
Pricing: $
Book Now
5-minutes away from Commercial Drive, the Atrium Inn's open and airy layout, along with its resemblance to a Roman house, is nestled between downtown Vancouver and Burnaby.
Rooms here are spacious and while they don't have a lot of amenities aside from a fitness center, they provide complimentary breakfast and underground parking.
Hotel at the Waldorf
Address: 1489 E Hastings St, Vancouver, BC V5L 1S4, Canada
Phone: +1 604-253-7141
Pricing: $$
Book Now
The Hotel At The Waldorf is an ode to modern retro, combining contemporary design with mid-century furniture and minimalist accents. You get complimentary coffee, parking, toiletries, and a wake-up service here.
Inside is the hotel's infamous "Tiki Bar", which can get noisy at night so it's a good idea to buy good earplugs. Bus stop is right outside the door and you're a minute away from Commercial Drive.
The Ivy Guesthouse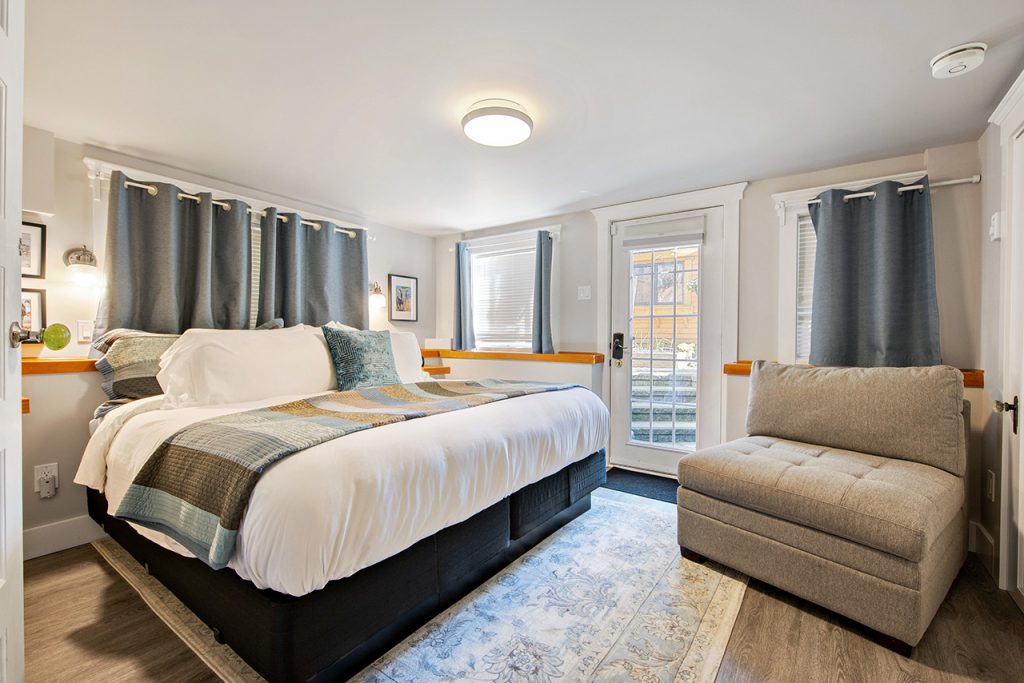 Address: 1842 Parker St, Vancouver, BC V5L 2K9, Canada
Phone: +1 604-961-4228
Pricing: $$
Book Now
If you're looking to experience the city's historical homes, there's no better place to stay than the Ivy Guesthouse on Parker Street. The tasteful mix of antique and modern decor in the five unique rooms really transports you back in time.
It's less than two blocks from the Drive, and you'll feel like you're literally coming home as the guesthouse has a homey living room, outdoor seating areas in the garden, and porches to relax in.
Skwachàys Lodge Indigenous Hotel and Gallery
Address: 31 W Pender St, Vancouver, BC V6B 1R3, Canada
Phone: +1 604-687-3589
Pricing: $$$
Book Now
The Skwachàys Lodge Indigenous Hotel is Canada's first Aboriginal arts hotel that showcases First Nations artists and art pieces in their decor—not only on the walls but in the architecture.
Rooms here are designed by local and indigenous artists – which features different themes of the First Nations, such as feathers, birds, sea kingdom, and traditional symbols.
Where to Eat in Commercial Drive
Belgian Fries
Address: 1885 Commercial Dr, Vancouver, BC V5N 4A6, Canada
Phone: +1 604-253-4220
Pricing: $
Website
Who doesn't like good 'ol fish and chips? Since 1998, Belgian Fries has been the go-to spot for Belgian-style fries and Canadian comfort food in the Drive. Poutines and burgers here are good and not greasy, and there's little to no wait time.
Fair warning, the portions are huge so it's a good idea to come here hungry and with friends. End your meal with their deep fried mars bar or pecan vanilla ice cream, and take a walk to burn off some calories along the Drive.
Fratelli Bakery
Address: 1795 Commercial Dr, Vancouver, BC V5N 4A3, Canada
Phone: +1 604-255-8926
Pricing: $
Website
Grab a cup of Joe and biscotti at Fratelli Bakery. But don't stop there, and try your best to grab a little bit of everything on their menu—they have fantastic eclairs, cakes, and puff pastries to enjoy.
Note that indoor and outdoor seating is limited, but we recommend you try to grab a seat outside if you can and enjoy your treats while basking in the warm sunshine.
Marcello Ristorante & Pizzeria
Address: 1404 Commercial Dr, Vancouver, BC V5L 3X9, Canada
Phone: +1 604-215-7760
Pricing: $$
Website
Three words: wood oven pizza. This utterly Italian restaurant is one of the oldest in Little Italy, and they have fantastic pizza, homemade pasta, and fried calamari.
Our top pick? Probably the Carciofi E Zucchine pizza, but you can never go wrong with your order here. Try to get a seat at the balcony so you really feel like you're dining in Italy as you're surrounded by red-brick walls and lanterns on the walls.
The Downlow Chicken Shack
Address: 905 Commercial Dr, Vancouver, BC V5L 2H2, Canada
Phone: +1 604-283-1385
Pricing: $
Website
There's almost always a line at Downlow Chicken Shack, and yes, you guessed it, this spot is popular for their juicy and crispy chicken, particularly the fried chicken sandwiches.
If you're willing to wait for 30 minutes to an hour, this chicken joint is definitely worth checking out. Maybe get the crinkle-cut fries as well, and oh, and the mac salad!
Absinthe Bistro
Address: 952 Commercial Dr, Vancouver, BC V5L 3W7, Canada
Phone: +1 604-566-9053
Pricing: $$$
Website
Absinthe Bistro is the way to go if you're looking for French food and a rotating menu – which consists of a starter, entree and dessert. The creme brulee is the star of the show here, with just the right amount of sweetness and good consistency.
Inside, is a simple dining space adorned with vintage French decor. If you're up for al fresco dining on a sunny day, try to reserve a table on the patio.
Bombay Kitchen + Bar
Address: 1018 Commercial Dr, Vancouver, BC V5L 3W9, Canada
Phone: +1 604-336-1111
Pricing: $$
Website
An all-you-can-eat Indian buffet? This high-rated Indian restaurant on the Drive is where you can score delicious vindaloo (Indian curry) in the city. Everything from lamb, chicken, and beef vindaloo is a must-try, with just the right amount of spice.
Make sure to let them know if it's your birthday. The staff will sing you a happy birthday and you get a cake on the house.
What to Do in Commercial Drive
Visit Little Italy
Address: Commercial Dr, Vancouver, BC V5N 4A3, Canada
Phone: +1 604-873-7000
Website
The Italian community has always been a huge part of Vancouver, and Little Italy is a testament to that. This vibrant street is synonymous with Commercial Drive, as the area is filled with ethnic Italian businesses.
Walk the Italian flag-colored crosswalks and adore the architectural structures of the eateries that will transport you to the streets of Italy.
Most of them are designed with traditional Italian aesthetics, such as rustic stone facades, colorful murals depicting Italian cities, and charming outdoor patios.
Participate in Car Free Day
Address: Metro Vancouver, Commercial Drive
Website
This festival is usually held in September and draws over 500,000 local and regional visitors. The city closes down a section of Commercial Drive so that people can engage in activities outside.
Food trucks, live music, and all sorts of other vendors line up the Drive, and participants often have a game of road hockey and other family-friendly activities here.
Watch Some Flicks at the Rio Theatre
Address: 1660 E Broadway, Vancouver, BC V5N 1W1, Canada
Phone: +1 604-879-3456
Website
Being the #1 independent theater in Vancouver, the Rio Theatre is a community treasure. There's always a variety of films and live shows, delicious popcorn, and you can enjoy a drink while watching your favorite movies or performances.
Bowl at Grandview Lanes
Address: 2195 Commercial Dr, Vancouver, BC V5N 4B3, Canada
Phone: +1 604-253-2747
Website
For families, friends, co-workers, and lovers who enjoy competitive games and simple bites, Grandview Lanes is a must-visit. Good food menu, delicious drinks, and disco and blacklight bowling – it feels like you're transported to the 80s.
Just make sure you book in advance, as they have limited lanes. It's an old facility so the space is a bit tighter than modern bowling alleys.
Drop by the Trout Lake Farmers Market
Address: Trout Lake John Hendry Park, Vancouver, BC V5N 4M4, Canada
Phone: +1 604-879-3276
Website
The Trout Lake Farmers Market is the go-to place for fresh farm produce and homemade products. It's nested in the beautiful John Hendry Park, and it's one of the biggest farmers markets in the city.
Lots of live music and beautiful nature scenery with lots of tall trees around Trout Lake. Grab a cold brew and some baked goods and enjoy a picnic by the lake.
Head to Havana Vancouver
Address: 1212 Commercial Dr, Vancouver, BC V5L 3X4, Canada
Phone: +1 604-253-9119
Website
The culture of Old Havana, Cuba, is very much present at Havana Vancouver. You've got colorful murals adorning the walls, traditional Cuban dishes on the menu, and live music playing throughout the night.
Inside, there's a theater where you can listen to live music or laugh your head off at stand-up comedians and improv performances.
Where to Shop in Commercial Drive
Pulp Fiction
Address: 1744 Commercial Dr, Vancouver, BC V5N 4A3, Canada
Phone: +1 604-251-4311
Website
Vancouver's largest independent bookstore, with smart, diverse, and current book collections, is Pulp Fiction. Staff here are very knowledgeable, so make sure to ask for recommendations if you're overwhelmed by their stocked shelves.
They have a lot of old fiction novels and very hard to find books so it's a must-visit if you're a book enthusiast or collector.
Mintage
Address: 1714 Commercial Dr, Vancouver, BC V5N 4A3, Canada
Phone: +1 604-646-8243
Website
Mintage is a well-curated vintage shop with rare clothing finds from the 50s, 60s, and 70s. You'll most likely find a very eclectic mix of reasonably-priced fashion pieces here that you won't find anywhere else.
Old school Levi's, leather jackets, cowboy boots, and a variety of retro dresses and funky shirts are just the beginning of what you'll discover here. Warning: shopping here can make you feel very nostalgic.
The Drive Skate Shop
Address: 1997 Commercial Dr, Vancouver, BC V5N 4A8, Canada
Phone: +1 604-568-5050
Website
This humble skate shop is easily one of the best skate shops in the city, with a large selection of decks, wheels, bearings, and skate equipment. The staff here are very helpful if you need to customize your own boards, and they never up-sell.
Kalena's Shoes
Address: 1526 Commercial Dr, Vancouver, BC V5L 3Y2, Canada
Phone: +1 604-255-3727
Website
Kalena's Shoes is one of the longest-standing shoe stores in Little Italy. You can take a quick look and not spend so much time compared to shopping in department stores, and there are almost always shoes on sale.
Bonerattle Music
Address: 2012 Commercial Dr, Vancouver, BC V5N 4A9, Canada
Phone: +1 604-251-2663
Website
Phil, the owner of Bonerattle Music, has that old-school customer approach that's hard to find these days. This gem of a store on the Drive is a must-visit for music enthusiasts, with endless selections of instruments and accessories.
Inside may seem intimidating, with all the selection of instruments and whatnot, but don't hesitate to ask the staff.
Second Nature Home Boutique
Address: 3565 Commercial St, Vancouver, BC V5N 4E8, Canada
Phone: +1 604-655-8872
Website
Enjoy the wide variety of organic, BC-made items here at Second Nature Home Boutique. It smells so good in here that you're practically in a fragrant oasis.
Here you'll find unique home items such as Turkish bath towels, organic shower gels, handmade chopping boards, and beeswax food wraps. If you're looking for a gift with a great story behind it, it's probably right here.
Apps to Download for a Trip to Commercial Drive
Street Food Vancouver App: locate the best food trucks in Vancouver near you.
iOs | Android
OpenTable: make reservations at thousands of restaurants in Vancouver.
iOs | Android
Uber: book a ride anywhere in Vancouver. Let's you track the driver's location in real-time on the app and provide an estimated time of arrival.
iOs | Android
Vancouver Transit Live: real time bus schedules and live updates on buses coming to the stops near you.
iOs | Android