The 12 Best Art Galleries in Vancouver
It is often said that a good piece of art is one that evokes emotion from the viewer. This seems like a fitting description since the aesthetics of art are purely subjective.
If you're up for an emotional trip or you just want to enjoy creative work, perhaps you can use our list of the best art galleries in Vancouver. To make sure you won't have to rely on our word alone, we've included public reviews, gallery backgrounds, and other info.
How Much Does It Cost to Visit an Art Gallery?
Art can be an expensive hobby if you're in the business of buying and selling it. But luckily, appreciating it can cost little to nothing depending on the galleries you visit.
For the entries on our list, we've created an admission cost table to keep you in the loop for general costs.
Gallery
Admission cost
The Vancouver Art Gallery
$6.50 – $24
The Museum of Anthropology
$15 – Adult
$13 – Senior (65+)
$13 – Student
$35 – Family (2 adults, 4 children)
FREE – Children 6 or under
FREE – UBC students, staff + faculty
FREE – Indigenous peoples
FREE – MOA Members
Seymour Art Gallery
FREE
Douglas Reynolds Gallery
FREE
Morris and Helen Belkin Art Gallery
FREE
Kurbatoff Gallery
FREE
Ukama Gallery
FREE
Vancouver Fine Art Gallery
FREE
Art Works
FREE
Canton – Sardine
FREE
Federation Gallery
FREE
Vancouver Visual Art Foundation
FREE
As you can see, some galleries allow free admission, while others will charge a small fee. This is usually due to the size of the exhibits as well as the source of the gallery's income.
Keep in mind, walking around various exhibits can leave you with a bit of an appetite, so it may be wise to include snacks or meals in your art gallery trip budget.
The Best Art Galleries in Vancouver
Now that you're familiar with the costs of admission to each of the galleries, it's time to see what "Rain City" has to offer. Here are our picks for the best art galleries in Vancouver.
1. The Vancouver Art Gallery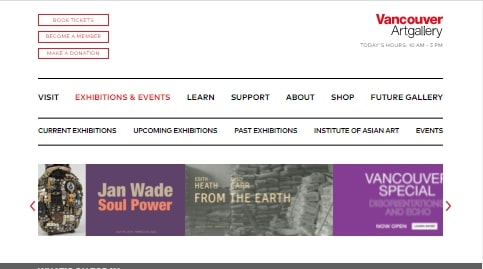 SERVICES
British Columbian art exhibit
Art film screenings
Art seminars
WEBSITE
https://www.vanartgallery.bc.ca/
ADDRESS
750 Hornby St, Vancouver, BC V6Z 2H7, Canada
CONTACT DETAILS
Phone number: (604) 662-4700
Email:

[email protected]

OPERATING HOURS
Monday: 9 am – 5 pm
Tuesday: 9 am – 5 pm
Wednesday: 9 am – 5 pm
Thursday: 9 am – 5 pm
Friday: closed
Saturday: closed
Sunday: closed
The Vancouver Art Gallery was founded in 1931, making it one of the oldest art institutions in British Columbia. With its 100 years of existence, this art gallery has also amassed over 11,600 artworks.
This makes the Vancouver art gallery the largest public art gallery in all of Western Canada. Viewers will be happy to know that the gallery contains contemporary works and historical art from all over the world as well as a few First Nations art pieces.
Aside from a massive collection of unique paintings and sculptures, this place is also known for its profound seminars. Many visitors often enjoy the various talks and presentations on art history in Vancouver.
Overall, this gallery is perfect for Vancouverites and tourists who want to see the city's artsy side. With its wide selection of artworks, both avid critics and everyday observers are sure to find something of interest.
Oldest art gallery in Vancouver
Contains over 11,600 artworks
Holds various seminars for art history
Is the largest art gallery in Western Canada
Only open 4 days a week
A full viewing may take several hours
Customer Reviews
The Vancouver Art Gallery has successfully given many people an in-depth look into the artistic side of Vancouver:
"Perfect to visit on a rainy day. Fairly large collection of contemporary art. Exhibitions change often so you can go back and check it out. Try to walk or take transit since finding parking is difficult and expensive." – Farod D.
"Not only is this an incredible Art Gallery always full of fascinating and historic art, but it has a gorgeous brand new area in the front of it off of Georgia. You can sit relaxe, even lay down on grassy patches, with the incredible lion statues! It's also a terrific place for groups to gather for their presentations and speeches!" – Light W.
2. The Museum of Anthropology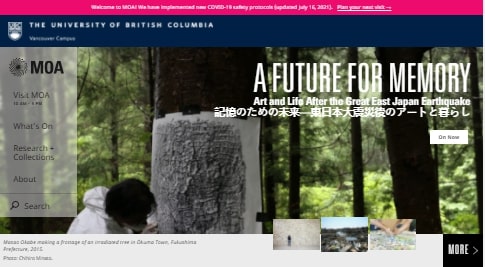 SERVICES
Cultural art exhibits
Historic art collections
Cultural history seminars
WEBSITE
https://moa.ubc.ca/
ADDRESS
6393 NW Marine Dr, Vancouver, BC V6T 1Z2, Canada
CONTACT DETAILS
Phone number: (604) 822-5087
Email:

[email protected]

OPERATING HOURS
Monday: closed
Tuesday: 10 am – 5 pm
Wednesday: 10 am – 5 pm
Thursday: 10 am – 5 pm
Friday: 10 am – 5 pm
Saturday: 10 am – 5 pm
Sunday: 10 am – 5 pm
Art and culture often go hand in hand to the point where they often influence one another. Because of this, it's no surprise that Vancouver's Museum of Anthropology is also home to a sizeable cultural art collection.
This gallery's collection contains various First Nations pieces, from your standard paintings and sculptures to more unique selections like tapestries and clothing. Along with this, these folks also circulate exhibits with artwork from other cultures all over the globe.
In this year's set of exhibits, the Museum of Anthropology offers artwork from Japan, Korea, and even Afghanistan. This provides visitors with a unique opportunity to see the global relationship with culture and art.
Last but not least, this gallery also screens unique art films relating to subjects like culture, race, and even sexuality. Viewers who enjoy thought-provoking subject matter would do well to consider visiting this art institution.
Focuses on First Nations artworks
Carries various cultural works from all over the globe
Open to viewers on weekends
Screens various art films
Less-suited to young children compared to other galleries
Customer Reviews
Many viewers are thrilled by the mature themes explored by the Museum of Anthropology:
"A pretty intense museum. The multiversity section has over 9000 items. There is a LOT to look at and to read. I recommend you come prepared to spend at least 3 hours here. I brought a sketchbook and took breaks from exploring by sitting down and sketching some of my favourite items." – Ambar B.
"A truly remarkable place and a must visit even if history and indigenous culture doesn't peek your interest. It was a very enriching experience learning and just absorbing the history being communicated through the exhibits and stories being told by the artists and curators. I'm not a museum person, but this was a 10 out of 10!" – Daniel V.
3. Seymour Art Gallery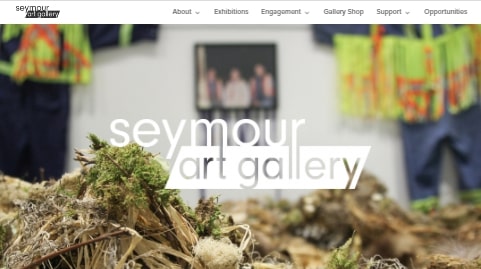 SERVICES
Local art exhibit Cultural history seminars Art workshops
WEBSITE
https://www.seymourartgallery.com/
ADDRESS
4360 Gallant Ave, North Vancouver, BC V7G 1L2, Canada
CONTACT DETAILS
Phone number: (604) 924-1378
Email:

[email protected]

OPERATING HOURS
Monday: closed
Tuesday: closed
Wednesday: 11 am – 5 pm
Thursday: 11 am – 5 pm
Friday: 11 am – 5 pm
Saturday: 11 am – 5 pm
Sunday: 11 am – 5 pm
The Seymour Art Gallery is a small art exhibit with cultural works and local art pieces. While their collection is not as large as other institutions, this gallery makes up for it with detailed exhibits.
Many pieces housed in the Seymour Art Gallery are inspired by nature and First Nations themes. So, to help set the mood for viewers, the designers equipped these exhibits with themed decorations and even sound ambiance.
This gallery also offers various art workshops for both adults and children. This year, the Seymour Art Gallery is holding a children's art camp, which is perfect for people who want to introduce their kids to art.
It is worth mentioning that in view of the COVID pandemic, these folks also offer various online workshops which viewers can enjoy at home. Overall, this gallery's small size and intricately designed exhibits make for a quick but substantial viewing experience.
All exhibits can be viewed in a short amount of time
Offers workshops for children and adults
Gallery uses highly detailed decorations and ambiance
Located relatively far from downtown Vancouver
Customer Reviews
The Seymour Art Gallery, though small, has left a big impression on many viewers:
"Wonderful small shop, with great gift items and local art. The gallery itself is relatively small, free to enter and features many different exhibits, changing every few weeks." – Janine J.
"Sun Jan 18th '15 attended the opening of the "Discovery Fire" on until Feb 7th '15 Seymour Art Gallery is a delightful small art gallery in Deep Cove, North Vancouver – wonderful show with such artists showing as Marion Maxwell, Faye Gordon Lewis and Dorothy Doherty, many others …if you are in the area do take a look and make your own discovery." – Reet V.
4. Douglas Reynolds Gallery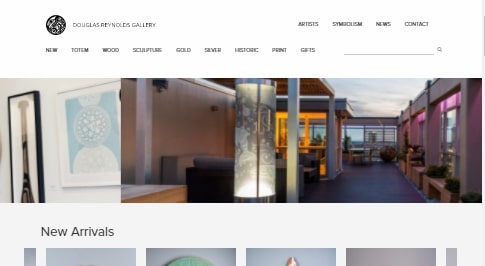 SERVICES
Native paintings
Cultural sculptures/carvings
Historic art pieces
Art sales
Appraisals
Art rentals
WEBSITE
https://douglasreynoldsgallery.com/
ADDRESS
2335 Granville St, Vancouver, BC V6H 3G4, Canada
CONTACT DETAILS
Phone number: (604) 731-9292
Email:

[email protected]

OPERATING HOURS
Monday: 10 am – 6 pm
Tuesday: 10 am – 6 pm
Wednesday: 10 am – 6 pm
Thursday: 10 am – 6 pm
Friday: 10 am – 6 pm
Saturday: 10 am – 6 pm
Sunday: 12 pm – 5 pm
The Douglas Reynolds Gallery is both a First Nations art gallery as well as a full-time art appraisal and selling shop. This combination comes in handy for viewers who wish to purchase art but have little experience in actually appraising it.
These folks have an impressive collection of native artwork. Many of their pieces include traditional clothing, wooden carvings, sculptures, and of course paintings.
This gallery also showcases various local talents all throughout its exhibits. Many of these artists even hail from native tribes such as the Gitxsan, Haida, Tsimshian, and Kwakwaka'wakw to name a few.
With such a wide collection of First Nations artworks in its possession, the Douglas Reynolds Gallery offers a unique look into Native tribal culture. To top things off, viewing is entirely free, and the exhibits are periodically circulated to showcase all the First Nations tribes.
Focuses on First Nations works
Buys, sells, and appraises artworks
Showcases many local artists
The gallery does not showcase other niches of art
Customer Reviews
This gallery's impressive selection of First Nations artworks has earned it a number of five-star reviews:
"Douglas Reynolds Gallery has an amazing selection of various types of First Nations artwork. Erica was quick to reply to my inquiry and made the purchasing process very easy. I was not able to get to the gallery and she arranged for a courier to deliver the piece to me locally the same day. Exceptional customer service!" – Steven W.
"Such a kind and professional team. I received answers within an hour. I had the pleasure of speaking with Ms Gibbons, who was patient and kind enough to answer all my questions, get in touch with the artist and see everything through. An absolute pleasure of an experience. Can not recommend enough!!! Thank you." – Helia B.
5. Morris and Helen Belkin Art Gallery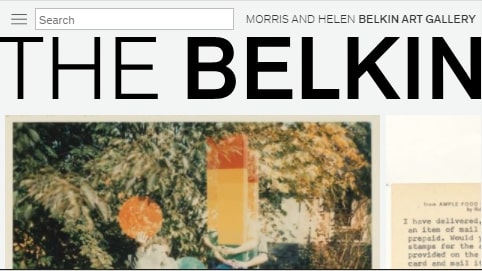 SERVICES
Contemporary art gallery
Sculpture exhibit
Art seminars
WEBSITE
https://belkin.ubc.ca/
ADDRESS
1825 Main Mall, Vancouver, BC V6T 1Z2, Canada
CONTACT DETAILS
Phone number: (604) 822-2759
Toll-free number: (604) 822-6689
Email:

[email protected]

OPERATING HOURS
Monday: closed
Tuesday: 10 am – 5 pm
Wednesday: 10 am – 5 pm
Thursday: 10 am – 5 pm
Friday: 10 am – 5 pm
Saturday: 12 pm – 5 pm
Sunday: 12 pm – 5 pm

Located in the University of British Columbia, the Belkin Art Gallery is home to over 70 years' worth of contemporary art pieces. Having been founded in 1948, this gallery was actually the first art institution to focus solely on contemporary art.
Since this time, the gallery has gained recognition on the national level thanks to its unique artwork showcases. Many of these pieces include large outdoor art installations as well as paintings and sculptures that challenge societal norms and criticisms.
Many visitors will be thrilled to know that the gallery keeps close ties with many of its exhibiting artists. As a result, it is very common for some artists to give special tours of their very own exhibits.
This presents a special opportunity for avid art enthusiasts to pose their questions directly to the men and women behind the canvas. Pair this option with the gallery's conversational pieces, and you get an experience that is both aesthetically pleasing and deeply educating.
The oldest contemporary art gallery in Vancouver
Focuses solely on contemporary art
Exhibiting artists often give tours of their pieces
Showcases a large outdoor art exhibit
The large gallery can take a long time to view
Not ideal for viewers who prefer other art niches
Customer Reviews
With over 70 years of experience in the artistic field, it's easy to see why the Belkin Gallery is so popular:
"I went to an Artist Tour of her own exhibit, really amazing. There is always a thought provoking installation on at the Belkin Art Gallery, they rotate the exhibit 3 times a year. And it's always free!" – Erin W.
"Definitely one of the more worthwhile places to visit at UBC. It's free and can have some excellent or interesting exhibitions, depending on the time of year. I also recommend doing the walking Art tour at UBC if you have a few hours to kill." – William C.
6. Kurbatoff Gallery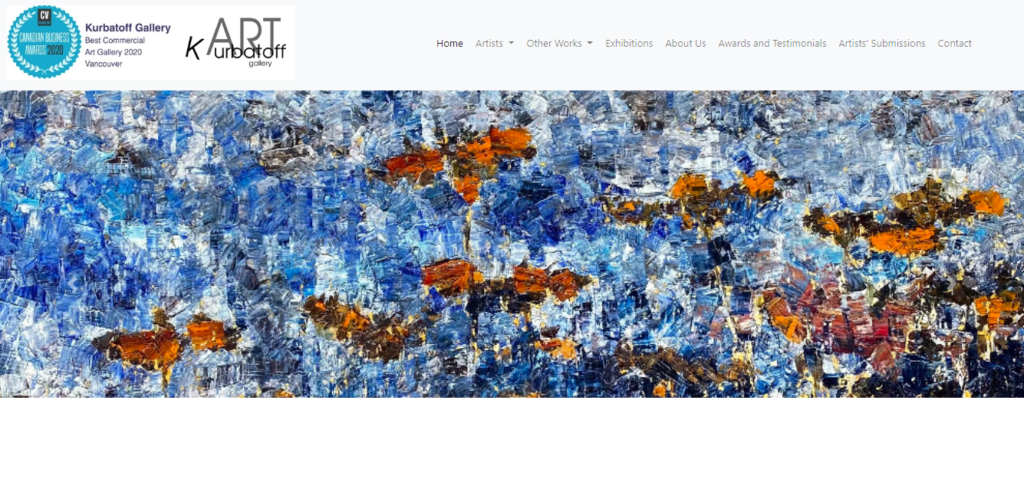 SERVICES
British Columbian inspired art exhibit
Delivery and special packaging
Consultations
WEBSITE
https://www.kurbatoffgallery.com/
ADDRESS
2435 Granville street Vancouver B.C.,V6H 3G5, Canada
CONTACT DETAILS
(604) 736-5444 /

[email protected]

OPERATING HOURS
Tuesday – Saturday: 11 am – 5 pm
Sunday: Noon – 4 pm
The Kurbatoff Gallery is a British Columbian-inspired art exhibit that helps promote contemporary Canadian artists and their works of all experience levels may they be emerging to be already well-established.
They have also received a few awards since their opening back in 2002 such as the Canadian Business Award of Best Commercial Art Gallery 2020 in Vancouver.
Recognized by Corporate Vision, the gallery showcases and offers a variety of art collections in various mediums such as paintings, sculptures, and photographs. Furthermore, they also offer consultation services to clients who have inquiries regarding the best place for each art piece. The gallery is also acclaimed to have introduced a variety of artists and artworks to interested clients as well as support the Arts Umbrella mission of art education for young people which helped the community gain high-quality art education.
Impressive visual artists and art selections
Innovative art showcase
Supportive and accommodating of local artists
Limited art gallery hours
Customer Reviews
Here are some reviews of their clients:
"The Owner & Director, Elena Kurbatoff, is knowledgeable, accommodating and professional. Kurbatoff Gallery is one of my favourite places to visit on South Granville's Gallery Row. Elena has personally introduced me to a number of her talented artists and their compelling art works and art practices. I am happy to support these great artists, and I am proud to hang their art pieces in my home and corporate offices.
Thank you Elena, for your wonderful customer service and for the pleasurable experience of visiting your exceptional gallery." – Gordon R. Diamond, O.C., O.B.C., Chairman of West Coast Reduction Ltd.
"Kurbatoff Gallery is an incredible gallery. The gallery owners, Elena and Constantine, have achieved that delicate balance between quality and price that makes art available to a broad audience. My office and home are enhanced by the numerous pieces purchased from Kurbatoff Gallery. If you have not been to the gallery I highly recommend a visit. You will not be disappointed." – Richard Bell | Partner BELL ALLIANCE LLP
7. Ukama Gallery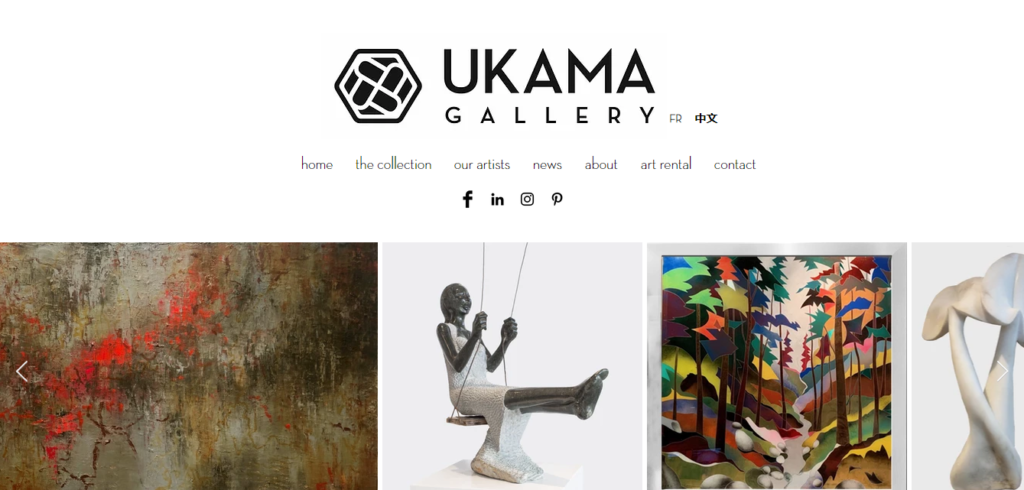 SERVICES
Art gallery tour
Art rental
Sculpture repairs
WEBSITE
https://www.ukama.ca/
ADDRESS
802 Maritime Mews Granville Island Vancouver, BC, V6H 3X2
CONTACT DETAILS
778-379-0666 /

[email protected]

OPERATING HOURS
Monday: 11am-3pm
Tuesday: Closed
Wed – Fri: 11am-5pm
Sat-Sun:11am-6pm
The Ukama Gallery is an art gallery specializing in showcasing original stone sculptures from over 200 equally skilled emerging and well-renowned artists in Zimbabwe.
They also showcase other forms of art in order to complement the sculptures in their gallery and add more colorful impressions on clients who visit their gallery.
Each piece of art is carefully curated and maintained in order to showcase and preserve a real sense of the significant contributions of Zimbabwean sculptors in the creation of modern contemporary art. The gallery makes sure to accommodate artists in all parts of the Zimbabwean community may these be urban or rural areas.
We recommend this art gallery for clients looking for authentic and carefully curated artworks and gallery experience that offers art rentals to small gifts that art enthusiasts may avail of as a present.
Authentic and curated artworks
Flexible gallery operating hours
Available for private appointments
Customer Services
Here are some reviews from their clients:
"It's always like going to a place of inspiration and beauty. Every time I go to Granville Island, I stop in to see what they have that's new and hope to see some old favourites. An incredible experience, each time." – Gilly Thomas
"Amazing! Beautiful artwork. Wonderful mix of African sculpture and contemporary local artists. Also a great place to check out for small, affordable gifts." – Angela Vertone
8. Vancouver Fine Art Gallery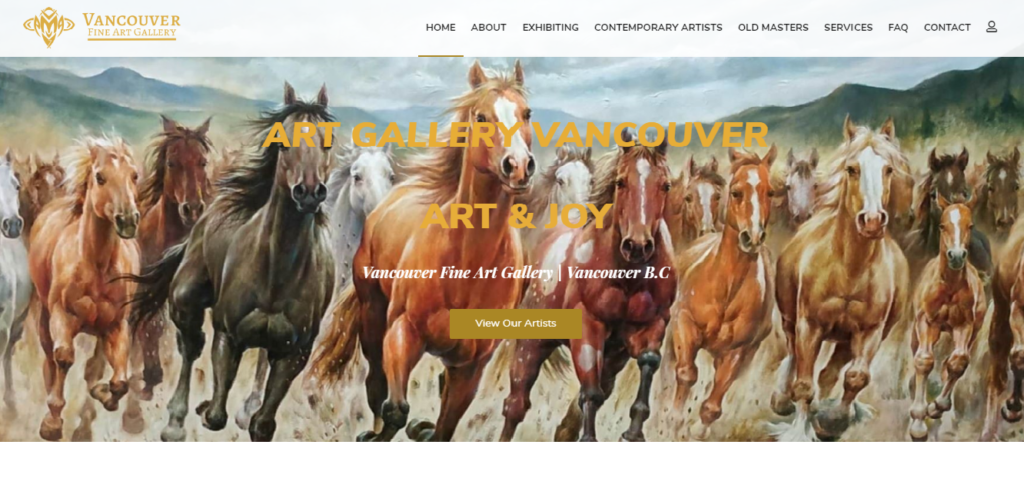 SERVICES
Art Consultation
Layaway Plans
Custom Commission Work
Art Research and Acquisition
Home Showings
Home Stagings
Appraisals
Framing
Art Rentals
WEBSITE
https://vancouverfineartgallery.com/
ADDRESS
2233 Granville Street, Vancouver, BC
CONTACT DETAILS
778-737-9888 /

[email protected]

OPERATING HOURS
Monday:
10:00 AM – 6:00 PM
Tuesday:
10:00 AM – 6:00 PM
Wednesday:
10:00 AM – 6:00 PM
Thursday:
10:00 AM – 6:00 PM
Friday:
10:00 AM – 6:00 PM
Saturday:
10:00 AM – 6:00 PM
Sunday:
12:00 PM – 5:00 PM
Vancouver Fine Art Gallery is an art gallery that features a lot of artworks and sculptures from established modern-day contemporary, French impressionist, and Old Masters.
They feature original works by a number of award-winning contemporary artists such as David Gerstein, Cecilia Aisin-Gioro, Alexander Sheversky, Janice McLean, Gao Feng, Olivia Zeng, Uncle Zeng, Kamiar Gajoum, Rudolf Sokolovski, G Kim Hinkson, and Holly Bromley among others.
They are open 7 days a week and have experts who are fluent in a variety of languages should inquiries require it such as English, Mandarin, Russian, Hebrew, and Polish. All works in the said gallery are all authorized and ready to be picked up in case of art rentals for the TV and Film Industry as well.
With over 50 years of experience in the art industry, the gallery mostly focuses on Canadian Art but still is open to showcase and accommodate other art themes and the vast array of fine art selection is open for Art Walks Evenings.
Open all week
Professionals and experts know a wide range of languages
Large selection of artworks
May not be able to accommodate some clients' taste for old art styles
Customer Reviews
Here are some reviews from their clients:
"Amazing to see art pieces from different cultures with different styles. Especially the original drawing piece of John Lennon and Yoko Ono. Definitely a must see. Thanks." – Sohan K.
"Really great art collection from all over the world. Liked the fact there are multiple brochures each comprising of a biography of the artist. Especially the work of Cecilia Aisin-Gioro. Thanks for this Gallery!" – Andre L.
9. Art Works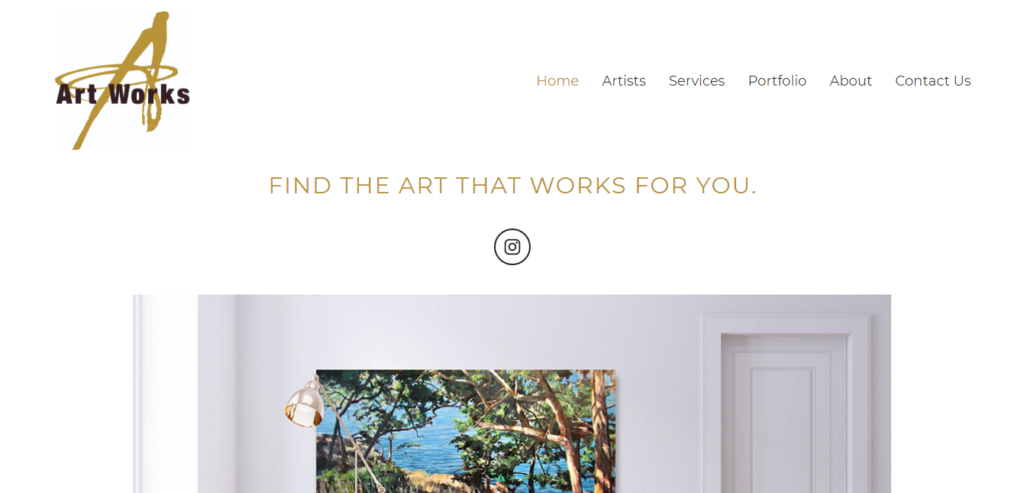 SERVICES
Photo Image Bank
Custom Framing
Custom Mirrors
WEBSITE
https://artworksbc.com/
ADDRESS
1536 Venables Street, Vancouver, British Columbia V5L 2G9
CONTACT DETAILS
Phone:(+1) 604-688-3301
Email: [email protected]
OPERATING HOURS
Monday – Friday: 9:30 am to 5:30 pm
Saturday: 10 am to 5:30 pm
Sunday: by appointment
Art Works is an art exhibit based in Vancouver that features modern and contemporary art expressed in a different and wide variety of mediums and art styles. It services mainly the design and architectural industry and was founded way back in 1986 under the directorship of Deanna Geisheimer.
The exhibit specializes in Canadian Art and has then become a form of representation for British Columbia's most dynamic artists along with other equally amazing artists across North America. The art exhibit has then developed a unique niche for their own aesthetic taste which shows as they consistently create wonderful value within both residential and commercial spaces in their area.
They have also worked with various corporations, movie studios along with different leading interior designers in Vancouver which they have also consistently been acclaimed and recognized for their wide variety of products along with outstanding customer service as well. The staff were also described as very accommodating and prompt with any queries and is enthusiastic with introducing and guiding clients who wish to find a specific piece that will complete their homes.
We recommend this art exhibit due to its both professional and long experience in the field which has earned them the trust and loyalty of many corporations that they have previously serviced. Furthermore, it is located in a convenient location in which clients have access to free parking, grab a bite yet still enjoy the specific relaxing atmosphere for looking at artworks.
Offers free parking
Close to the commercial drive
Professional and trustworthy customer service
Lacks admission information
Customer Reviews
Here are some reviews from their clients:
"Deanna and her team at Artworks are exceptional. They care about the details and the quality of their work. That care makes our projects successful." — Marilou Rudakewich BID RID @ M STUDIO Design Consultants Inc. /2021
"As an Interior Designer, I have worked with Art Works for several years. This company is a valuable resource due to their wide variety of products and their consistently top-notch service.
The staff are knowledgeable and provide thorough information for installation requirements as well as timely quotes and follow-up on all projects. In addition to being professional and personable, there is a clear passion and caring for art and the related services provided. I highly recommend Art Works!" — Tanya Schoenroth BA, BADID, Interior Designer /2020
10. Canton – Sardine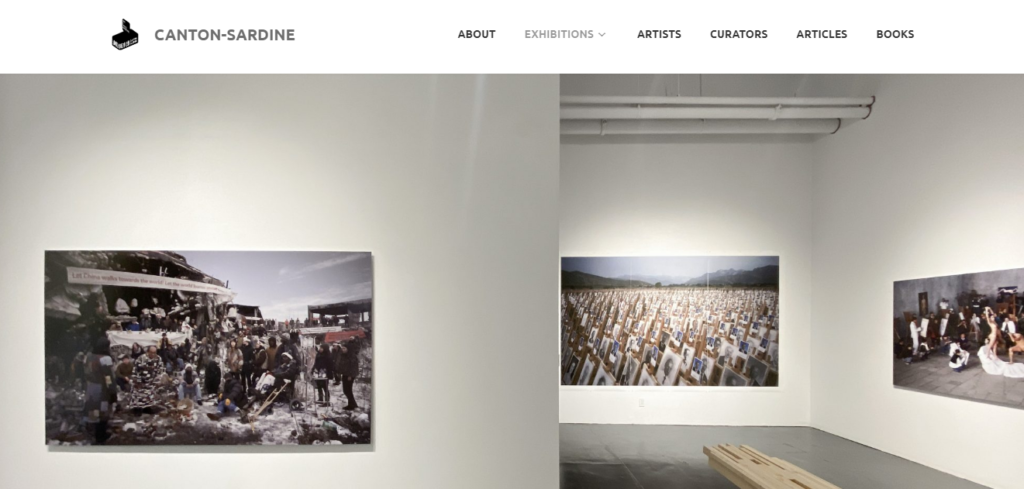 SERVICES
Canton Art Exhibits
WEBSITE
https://canton-sardine.com/
ADDRESS
268 Keefer Street, Unit-071, British Columbia, Vancouver V6A 1X5
CONTACT DETAILS
Phone: 1-778-954-8126
Email: [email protected]
OPERATING HOURS
Tuesday to Saturday: 12 – 6pm
Canton-Sardine is an art exhibition that is strongly entrenched in and inspired by the notion of the "White Cube," and has since evolved into other art movements that make artistic use of space. They've already sponsored a variety of art exhibitions, including He Lixio: Minor, Immortal of Play, and Lam Wong: Mind Transition, among many others.
True to their beginnings, their website caters to Chinese clientele seeking information and inquiries, despite the fact that the primary language used is English. Clients interested in seeing past works and getting a sense of the art gallery as a whole can use their comprehensive roster of curators, exhibits, and artists.
They are presently closed for private projects and the holidays while they prepare for a major exhibit that will be shown there, but they will reopen in January 2022.
Clients can effortlessly arrange online appointments on their website and hand-pick slots that suit their needs. However, due to COVID-19 constraints, each session has a maximum capacity of 6 people and lasts just an hour.
No-hassle online booking system
Thematic art exhibits
Wide range of resources
Limited admission information
Temporarily closed
11. Federation Gallery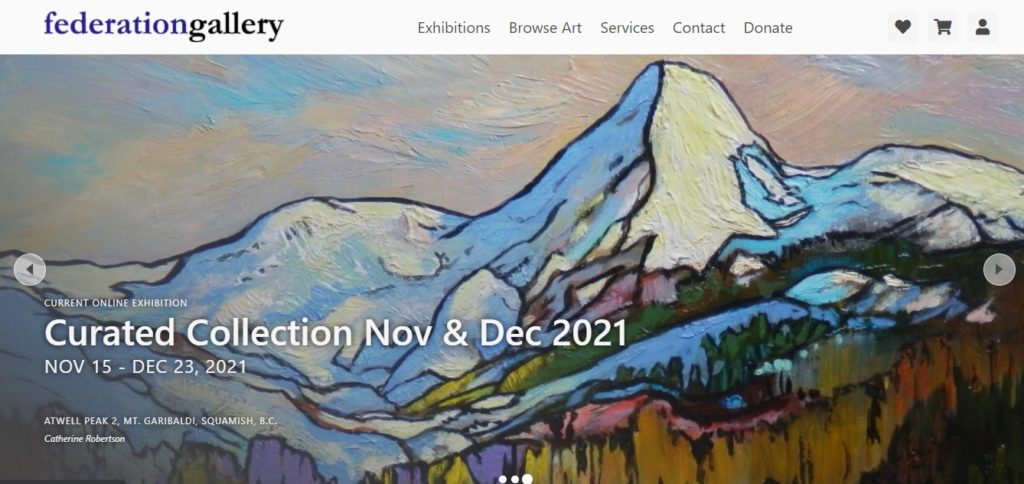 SERVICES
Virtual Gallery, Digital Rendering Services, Installation at home of orffce, Payment on Installments
WEBSITE
https://federationgallery.com/
ADDRESS
1241 Cartwright Street
Vancouver, BC, Canada
V6H 4B7
CONTACT DETAILS
604-681-8534


[email protected]




[email protected]

OPERATING HOURS
Monday – Saturday 10 AM – 4 PM
Sundays 10 AM – 4 PM

January 2022 – April 2022:
Tuesday – Saturday 10 AM – 4 PM
Sundays 10 AM – 3 PM

May – December 202
They return to being open seven days a week
Federation Gallery is a gallery that operates under the umbrella of our Non-Profit Organization – The Federation of Canadian Artists. They are Canada's oldest and largest member-driven Arts Service Organization that was founded in 1941,
What we love about them is how they give a chance for emerging artists to exhibit their work, learn about the industry, and network. The same goes for established artists.
In comparison to other galleries, they host 24-28 exhibits yearly. What's even better is that exhibitions rotate every two to three weeks, so there is always something new to see.
As a non-profit gallery, they collect one of the lowest commission rates of a gallery in Vancouver, 65% of sales returning to the artist, 35% used to keep their operations running, and the gallery free for the public to enjoy – year-round.
Opened the Federation Studio and Federation Classroom where people can see studio artists practicing their works
Offers educational programs
Can view previous exhibitions through their website
Exhibitions rotate frequently
Parking can be difficult
12. Vancouver Visual Art Foundation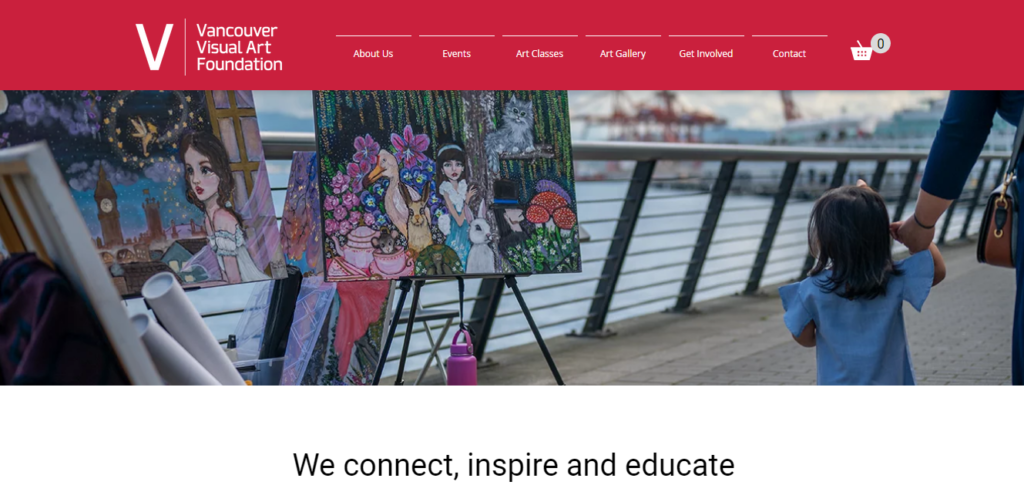 SERVICES
Art exhibits
Art classes
Art galleries
Online shop
WEBSITE
https://www.vanvaf.com/
ADDRESS
305 – 595 Burrard Street Vancouver, BC, Canada V7X1M3
CONTACT DETAILS

[email protected]


604.682.7301
OPERATING HOURS
Monday: 9 am – 5 pm
Tuesday: 9 am – 5 pm
Wednesday: 9 am – 5 pm
Thursday: 9 am – 5 pm
Friday: 9 am – 5 pm
Vancouver Visual Art Foundation is a non-profit organization that foremostly seeks to educate and inspire the public and other artists of fine arts. All the events that they host are geared toward the education of this art field by holding events such as art classes and art fairs that feature both local and international artists.
Their website is simple yet informative of the different events and art fairs the organization has held and is about to hold in weeks or months later. All of which is to inspire and promulgate a local art community and learn different techniques that aspiring individuals may apply and could even open them to artist fees and opportunities by simply applying online.
Their organization also follows a protocol stating that at least 50% of their activities are dedicated to, or include underserved populations including Indigenous, BIPOC+, those who do not speak either of Canada's official languages, immigrants, refugees, women, youth, ethnically or racially diverse populations, people with disabilities, and low-income households.
They also have an online shop that is sorted by artist and even offers a high-resolution image of the artwork. You can sort their online store by artist, medium, and price to make things easier for you.
Focuses on indigenous people
Artists can apply online
Inspiring online classes
Customer Reviews
Here are some reviews from their clients:
"This multifaceted organization is at its heart a delightful community of artists and art lovers, the brainchild of the talented Lisa Wolfin, which makes inclusive space for creativity and appreciation of the arts for the curious, the passionate, masters and explorers alike."
"I really enjoyed the Art Masters event put on by Art! Vancouver. I felt extremely engaged in everyone's artwork and it was very cool to see each artists process live. I enjoyed the aspect of audience participation. Such a great concept! Counting down the days until the fair!"
FAQs About Art Galleries
---
Vancouver has no shortage of art galleries to choose from, whether it's contemporary pieces, cultural works, or historical art, there's something for everyone. We certainly hope that our list has given you an idea of what you can expect if you visit any of these institutions.
Works of art are always around us from paintings and sculptures to design and architecture. If you fancy making your living space into a work of art, check out our list of the best interior designers in Vancouver.
As with all our lists, we've included reviews, backgrounds, and FAQs to help you make the best choice.