Is Yaletown Worth a Visit? Here's Our Ultimate Guide to This Vancouver Neighborhood
Old meets new in Yaletown, an exciting neighborhood located right at the heart of Vancouver. With marinas dotting the waterfront, iconic brick buildings, and bustling patios, Yaletown offers an experience you won't want to miss.
Just like our practical guide for Granville Island, we've put one together for Yaletown, filled with insider recommendations and a fascinating glimpse into its history.
Get ready to make the most of your time in this unique part of town!
Time Zone
Pacific Standard Time (PST) (UTC-8)
Best Time to Go
The best time to visit Yaletown is during the summer months of June to September when you can enjoy warm weather, outdoor activities, and waterfront attractions.
If you prefer a more relaxed atmosphere and lower prices, consider visiting Yaletown in the shoulder seasons of spring (April and May) or fall (September and October).
Yaletown comes alive with events throughout the year, with summer offering popular celebrations like the Downtown Farmers Market and Pride Parade, while winter brings festive lights and holiday markets.
Things to Know
Currency: Canadian Dollar
Language: English
Calling Code: +1 
How to Get Around
Trains: The Skytrain has three integrated routes that go around the Metro Vancouver area. They are the most convenient transportation option, with the Canada Line stopping at Yaletown-Roundhouse Station.
Buses: Yaletown also has a reliable bus network that provides an excellent above-ground transportation option. A pass costs around $3 for one zone and $6 for three zones.
Taxis: When it comes to taxis in Yaletown, there are several companies to choose from. Vancouver Taxi and Yellow Cab are popular options.
Car service: If you prefer to arrange your airport pick-up or need a private car service, consider companies like Vancouver Black Cars, which offers professional and reliable transportation services.
What is Yaletown?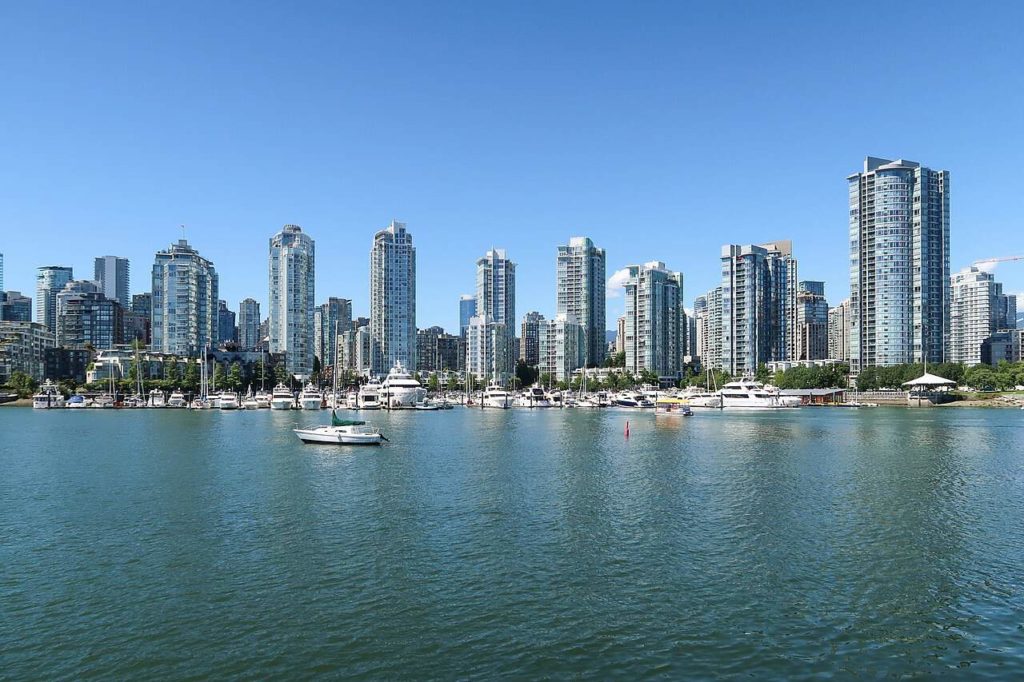 Yaletown is the area in Vancouver bordered by Robson and Homer Streets and False Creek. It has transformed significantly from its industrial roots and is now known as one of Vancouver's Heritage Districts.
In 1886, the City of Vancouver convinced the Canadian Pacific Railway to move its repair facilities from Yale in Fraser Canyon to this neighborhood. Filled with railyards and CPR employees, the neighborhood earned the moniker "Yaletown."
However, it didn't sustain its development as a warehouse district. As truck trailers arrived and warehouses gradually migrated closer to freeways, Yaletown somewhat turned into a massive parking lot.
It wasn't until 1986 when Vancouver hosted the World Fair, Expo 86, along the north False Creek that Yaletown's renaissance took place. This event turned warehouses into office spaces and boutiques – among other exciting changes!
Today, Yaletown is one of Vancouver's trendiest and liveliest neighborhoods. It combines history, energy, and outdoor experiences in a way that embodies the city's vibrant spirit.
The well-preserved industrial architecture is a sight to behold. The urban patios, once platforms of red brick warehouses, now provide a perfect setting for dining, while the heritage brick walkways serve as a picturesque backdrop for upscale boutique stores.
Amid the cityscape, Yaletown also offers a peaceful escape with its bike-friendly pathways and green spaces. Yep, it holds a lot of juxtapositions that attract visitors and potential residents alike.
What to Do in Yaletown
Walk around Yaletown
You'll see what we mean by the area's old-meets-modern vibe once you hit Central Yaletown. You can stroll casually, but if you want to hear locals talk about the heritage district and its art displays, you can sign up for Yaletown BIA's walking tours.
Don't forget to bring out your camera and take in the charming streetscapes. You'll be quick to understand the irresistible pull of the neighborhood as you join the ranks of those who made Yaletown their home.
And who knows, you might even catch a glimpse of a celebrity enjoying Yaletown like you!
Visit the Engine 374
The Engine 374 holds a significant place in Canadian history as the first locomotive to travel from the east coast to the west coast.
It's currently displayed in the Roundhouse Community Arts & Recreation Centre, so it's the one site that train enthusiasts and history buffs shouldn't miss to visit.
And for those with kids in tow, it's an absolute no-brainer. They'll be thrilled just by ringing the bell of this iconic Canadian Pacific Railway train – just like the kid in us were!
Bike around Yaletown
Yaletown is ideal to explore on two wheels. In case you couldn't take your bike with you, you can rent one from stores such as Spokes Bicycle Rentals and tour around the neighborhood as the locals do.
This way, you can explore the picturesque seawall that encircles the neighborhood. Stretching for 17 miles around Vancouver, it doesn't only serve to keep Stanley Park from large waves but also offers a delightful route for cycling.
If you're looking for expansive green space, you can also take a leisurely ride to David Lam Park. You'll be treated to captivating public artworks along the way so be sure to take your time in pedaling.
For those seeking a longer ride, continue on to Granville Island. It's another vibrant hub of arts, culture, and delicious food, so we know it's worth the extra pedaling.
Relax at the Park
Whether you're planning a relaxing picnic, attending an alfresco movie screening, or simply soaking in the charm of diverse birdlife, David Lam Park offers the perfect backdrop for memorable experiences.
But if you want a peaceful retreat, you can spend time at Coopers' Park. Take a seat on one of the benches and soak in the breathtaking views of False Creek and the city skyline.
For a more intimate escape, you can also visit Helmcken Park. This hidden gem, tucked away from the bustling streets, boasts a plaza-style design adorned with vibrant Mimosa tree blooms throughout the summer.
Bring Your Pets around
For fur parents, the main difference between David Lam Park and Coopers' Park is their leash restrictions: the first requires pets on leash; the second allows off-leash activities.
Despite that, both parks provide opportunities for quality time with your pets. Just remember to clean up after them and follow park regulations.
After a day of outdoor fun, you can visit nearby pet stores like Barking Babies, where your pets can enjoy a full "spaw" treatment and replenish their beloved essentials.
Check Out the Shops and Boutiques
If you're planning to take home a piece of the neighborhood's vibrant style, these stores should make it to your list:
Global Atomic Designs
Address: 1144 Mainland Street, Vancouver
Website
This haven for fashion enthusiasts is Yaletown's longest-running boutique. They have an impressive collection of street fashion brands, a charming coffee shop inside – and their customer service? Superb.
Fine Finds Boutique
Address: 1014 Mainland Street, Vancouver
Website
This boutique showcases an array of local designer brands, including renowned names like Matt & Nat and Sioa & Kyo. Visit the store if you want to get trendy outfits, exquisite bags, or stunning jewelry that are perfect for those with feminine tastes.
If you're looking for affordable gift items, there's a little nook in the back that offers 'fine finds' on sale.
Brooklyn Vancouver
Address: 1189 Hamilton St, Vancouver, BC V6B 5P6
Website
Brooklyn Vancouver offers a meticulously selected range of high-quality products that are predominantly crafted in North America. Their style is masculine – mostly denim and pieces that complement it.
If you're looking for a one-stop shop where you can get top-to-sneakers outfits, this is the right place to explore.
Mine & Yours
Address: 418 Davie St. Vancouver, BC V6B 2G3
Website
Mine & Yours is for fashion-forward individuals looking for pre-loved designer pieces to elevate their style. With coveted brands like Dior and Louis Vuitton, this boutique offers high-quality fashion finds that are sure to make a statement.
Where to Eat in Yaletown
Yaletown is buzzing with an incredible culinary scene. There are so many options to choose from, but if you want to dive straight into the best spots, these restaurants will not disappoint:
Robba da Matti
Address: 1127 Mainland Street, Vancouver, BC V6B 5P2
Pricing: $
Website
Robba da Matti promises an intimate dining experience. Their menu and service are both phenomenal, so it's no wonder reservations are a must, especially for couples out on a romantic getaway.
Their dishes, such as the Pappardelle "Roche Roche," have generous portion sizes and fresh ingredients. But if it's your first time dining here, their seafood pasta (Lobster and Crab Ravioli!) will surely make your night.
Minami
Address: 1118 Mainland St, Vancouver, BC V6B 2T9
Pricing: $$
Website
The Aburi technique that Minami has pioneered brings a transformative touch to dishes like the Salmon Oshi Sushi and Ebi Oshi Sushi. The precision and creativity of their chefs are hard to miss, just like the artistic murals on the restaurant's walls.
Our advice? Grab your dinner a little late and stay for their Happy Hour specials.
MeeT in Yaletown
Address: 1165 Mainland Street Vancouver, BC V6B 5P2
Pricing: $
Website
The restaurant's location in the heart of Yaletown couldn't be more ideal. Their plant-based menu is a stand-out, and while their brunch options can be hearty, the lighter entrees are perfect for those seeking a break from diner-style fare.
OEB Breakfast Co.
Address: 1269 Hamilton St, Vancouver, BC V6B 6K3
Pricing: $
Website
OEB Breakfast Co. is definitely a crowd-pleaser with dishes like the Smoked Salmon Scram-blettes and the Confit de Canard. Enjoy stunning waterfront views while you dine, but be prepared for potential wait times, especially on weekends.
How to secure a spot? Add your name to their waitlist or get there extra early. Good food is worth the hustle!
The Parlour
Address: 1269 Hamilton St, Vancouver, BC V6B 6K3
Pricing: $
Website
The Parlour knows how to make a perfectly light and chewy crust and partner it with irresistible toppings. Try the Goldmember pizza to see how Yukon gold potatoes, caramelized onions, cashew burrata, and roasted mushrooms go well together.
And if you're looking for a great spot for Happy Hour, their cocktails are fantastic!
Where to Stay in Yaletown
Georgian Court Hotel
Address: 773 Beatty Street Vancouver, British Columbia V6B 2M4
Phone: (604) 682-5555
Pricing: $$
Book Now
Georgian Court Hotel is a perfect pick for its full amenities, elegant contemporary style, and excellent location. You can walk without a sweat to the seawall, the restaurants in Yaletown, the shops along Robson Street, and the financial district.
Hilton Vancouver Downtown
Address: 433 Robson Street Vancouver, British Columbia V6B6L9
Phone: (604) 602 1999
Pricing: $$
Book Now
Hilton Vancouver Downtown is another great hotel to stay at. It's located right next to Yaletown and offers consistently attentive service.
If you prefer to stay in, you can take a dip in the pool and still enjoy the stunning views of Downtown.
Hotel BLU
Address: 177 Robson Street Vancouver, BC V6B 0N3 Canada
Phone: (604) 620-6200
Pricing: $
Book Now
Aside from being conveniently located, Hotel BLU goes above and beyond in anticipating their guests' needs. You can explore the city at your own pace with their free 4-hour bike rentals and umbrella, which will come as part of your supplies.
The best part about Hotel BLU? It's pet-friendly! That adds an extra layer of relief and convenience for pet owners.
Opus Hotel
Address:322 Davie St. Vancouver, BC V6B 5Z6 Canada
Phone: (866) 642-6787
Pricing: $$$
Book Now
What makes Opus Hotel unique is its bold lifestyle themes. If you're up for staying in a room with captivating pop art and colors like periwinkle or mango on the walls, you're in for an amazing time at this hotel.
You can also enjoy your downtime with the in-room iPads (or smartphones). Plus, with their free dog walking service, your furry friends will have a blast while you wait for them to come home.
Pan Pacific Vancouver
Address: 999 Canada Pl #300, Vancouver, BC V6C 3B5
Phone: (604) 662-8111
Pricing: $$$
Book Now
Located at the waterfront, Pan Pacific Vancouver offers you amazing panoramic views of the ships and float planes. It's the perfect spot if you're looking for convenient access to public transportation, whether you're heading to the airport or catching a train.
Check out Spa Utopia, British Columbia's largest spa located right in the hotel, for some well-deserved relaxation!
What to Expect from Yaletown Weather
Spring: In Spring, temperatures range from the mid-40s to mid-60s Fahrenheit (7-20˚ Celsius) while the nights see a slight drop of about 5 degrees Celsius (10 degrees Fahrenheit).
Summer: Summer is a popular time to visit Yaletown, with temperatures ranging from mid-60s to 70s Fahrenheit (19˚C – 23˚Celsius) during the day. August is the hottest month, while June and July offer ideal weather for outdoor activities.
Fall: Fall brings mild temperatures ranging from the low-40s to mid-60s Fahrenheit (5-18˚ Celsius) and occasional rain showers. Around September to November, it gets a bit cooler, but overall, it's a beautiful time to enjoy parks or long bike rides.
Winter: The winter months offer a quieter and cooler atmosphere, with temperatures ranging from the low-30s to low-40s Fahrenheit (0-5˚ Celsius). While snowfall is rare, you may experience an occasional dusting of snow.
Apps to Download for a Trip to Yaletown
Vancouver Maps and Walks: Discover self-guided routes and track your steps
iOs | Android
Vancouver Transit Live: Get live updates on bus schedules
iOs | Android
Uber: Secure a ride and get your food delivered to your doorstep
iOs | Android
OpenTable: Avoid long wait times by reserving tables at restaurants
iOs | Android
Too Good to Go: Get discounted surplus food from supermarkets and restaurants
iOs | Android