Staycation Ideas for Families in Vancouver
While some families plan luxurious getaways abroad, others would rather pamper themselves a bit closer to home.

Luckily, Vancouver is a great place for families year-round! There are plenty of places to visit and numerous ways for parents to bond with their children.
So, if you're looking to experience a stay-in vacation, read on!
Family Staycation Ideas in Vancouver
If you love to go on vacations but don't want to go far from home, a staycation is perfect for you! An accommodating hotel combined with family-friendly activities and amenities can offer a great experience for your loved ones.
Here's our list of some of the best accommodations for family staycations in Vancouver and a few activities to add to your itinerary.
1. Vancouver West Cozy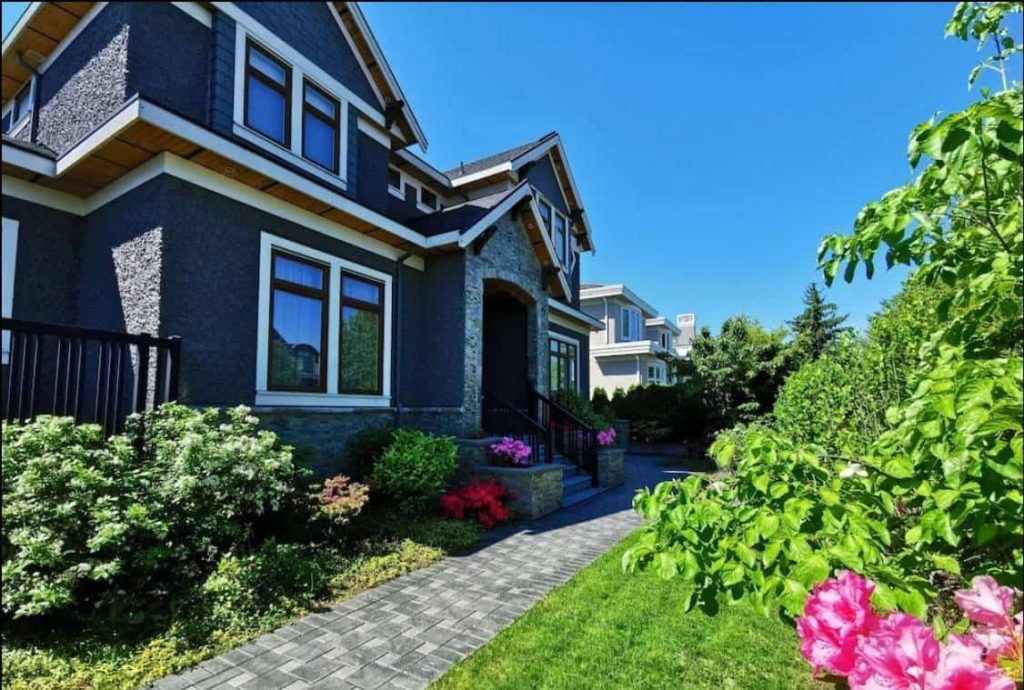 Image by Zen Hotels via https://www.zenhotels.com/
WHERE TO BOOK
Vancouver West Cozy
ADDRESS
1106 W 49th Ave, Vancouver, BC V6M 2P8, Canada
CONTACT DETAILS
Phone: 778-985-5067
OPERATING HOURS
24 hours
RATES
CAD 145 - 300
NEARBY ACTIVITIES
Vandusen Botanical Garden

Queen Elizabeth Park

Langara Golf Course
Vancouver West Cozy is conveniently situated at 1106 W 49th Avenue, which puts you close to plenty of family-friendly attractions and dining options.
This hotel has a fully equipped bathroom, flat-screen televisions, a seating area, and a large patio. All rooms at the Vancouver West Cozy also have free Wi-Fi and study desks.
We highly recommend their Deluxe Queen Suite, as it's spacious enough for a family of 4. This unit has one queen-size bed, two sofa beds, and spacious bathroom and kitchen facilities.
Their kitchen is also well-equipped with a coffee and tea maker, microwave, refrigerator, and wine glasses. This room can cost around CAD 230 – 300 per night.
Aside from that, Vancouver West Cozy also has double rooms, studio suites, and queen rooms for smaller families, which can cost CAD 145 – 200.
Some amenities they provide include express check-in and check-out, luggage storage, and complimentary self-parking available.
Things to Do near Vancouver West Cozy
Vandusen Botanical Garden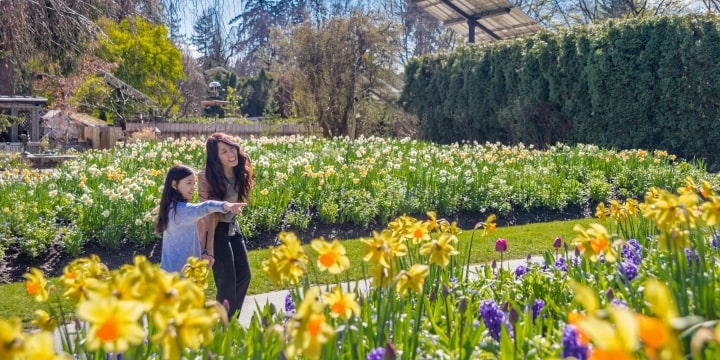 Image by City of Vancouver via https://vancouver.ca
If your family is into gardens, we recommend you drop by the Vandusen Botanical Garden, which is only a 10-minute drive away from Vancouver West Cozy.
The garden houses over 7,500 plant species and has 55 acres of lush greens, vibrant flowers, and beautiful forests where you can explore and take photos.

The Vandusen Botanical Garden is open to the public daily and costs CAD 8.60 to CAD 11.90 per day for adults and CAD 6 to CAD 8.35 for children.
We recommend exploring as much as possible here, particularly the Elizabethan Maze and the Heather Garden while you're here. You'll also want to visit the observation terrace for an unobstructed top view of the maze.
Queen Elizabeth Park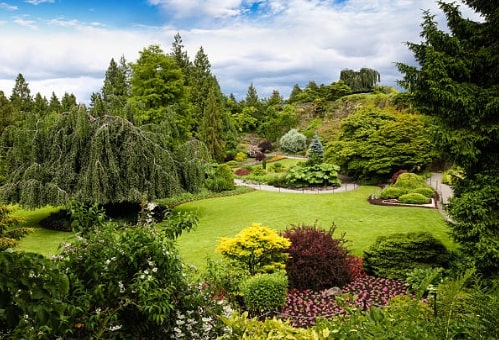 Image by iStock via https://www.istockphoto.com/
Next, Queen Elizabeth Park is Vancouver's horticultural jewel, only 3.7 kilometers from Vancouver West Cozy. This 130-acre municipal park provides a scenic view of the mountains and is perfect for a leisurely stroll.
You must visit the Rose Garden, which features different-colored roses and plenty of benches to sit on so you can relax surrounded by many roses.
The roses are in full bloom during the summer and we recommend packing a picnic basket! or taking a leisurely stroll with your family. as you take a breathtaking walk through an abundance of nature with a scenic view of the mountains.
Sushi Mura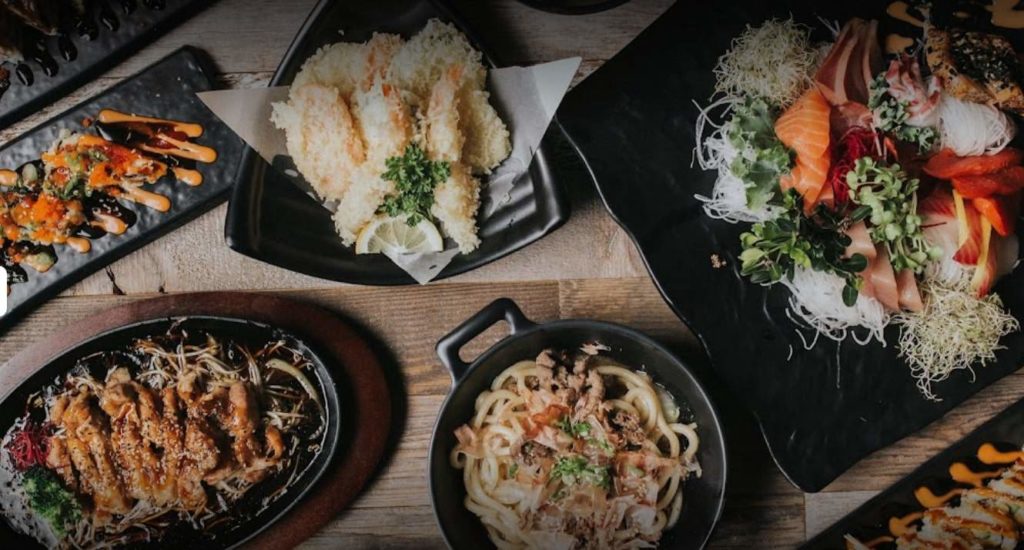 Image by Sushi Mura via https://sushimura-oak.com/
Finally, after a long day of exploring, we recommend eating at Sushi Mura, a Japanese restaurant that's a 10-minute walk from Vancouver West Cozy.
They specialize in specialty rolls and offer over 37 different types of sushi. Aside from that, they have a large selection of donburi rice bowls ranging in price from CAD 14 to 29.
We recommend getting the wild salmon roll with sushi rice because it's a fresh and delicious combination. They also serve generous portions of their dishes and have delicious sauces.
2. The West End Guest House

Image by West End Guesthouse via https://www.westendguesthouse.com/
WHERE TO BOOK
The West End Guest House
ADDRESS
1362 Haro St, Vancouver, BC V6E 1G2, Canada
CONTACT DETAILS
Phone: 604-681-2889

Email: [email protected]

OPERATING HOURS
24 hours
RATES
CAD 350 to 500
NEARBY ACTIVITIES
Roedde House Museum

Coal Harbour Park

Greenhorn Cafe
The West End Guest House was built in 1906 and has eight guest suites to accommodate patrons. Their rooms are decorated with a mix of classic modern furniture, giving it a unique look.
This traditional-style guest house also has plenty of amenities, such as a complimentary gourmet breakfast, Wi-Fi, parking, refreshments, and baked cookies.
They also have a variety of beds to choose from, including King, Twin, Queen, and full-sized beds. Families can also relax in plenty of common spaces, such as a spacious living room, fireplace, veranda, sundeck, and garden.
Things to Do Near the West End Guesthouse
Greenhorn Cafe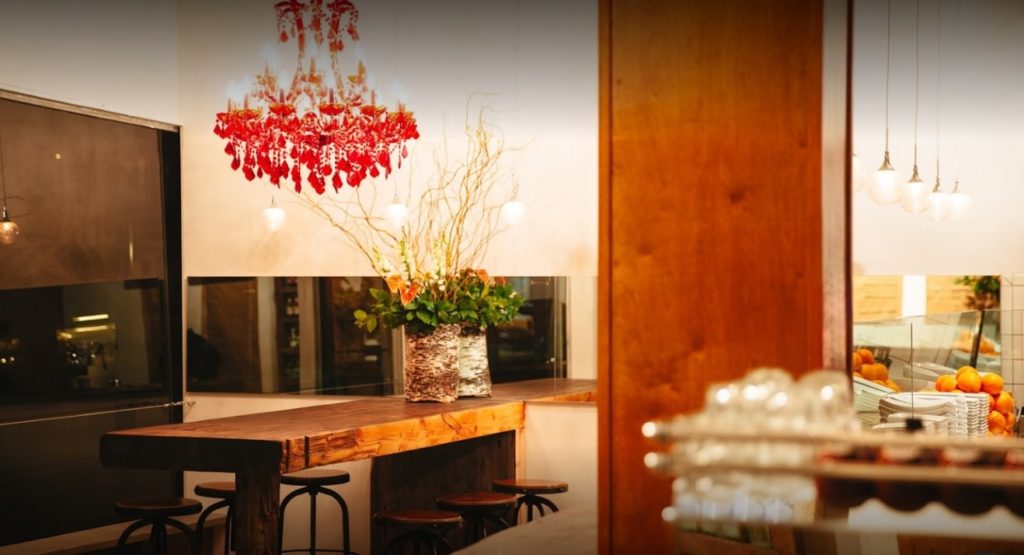 Image by Greenhorn Cafe via https://www.greenhorncafe.com/
Before you go off on your family adventure, we recommend the Greenhorn Cafe, which offers a relaxing ambiance and hearty meals. This breakfast place is just a 4-minute walk from the West End Guesthouse.
They have a gluten-free brunch menu with plenty of house-made condiments such as honey, salted caramel, maple syrup, and many more. This cafe also has an extensive beverage menu that includes hot chocolate for the kids.
Roedde House Museum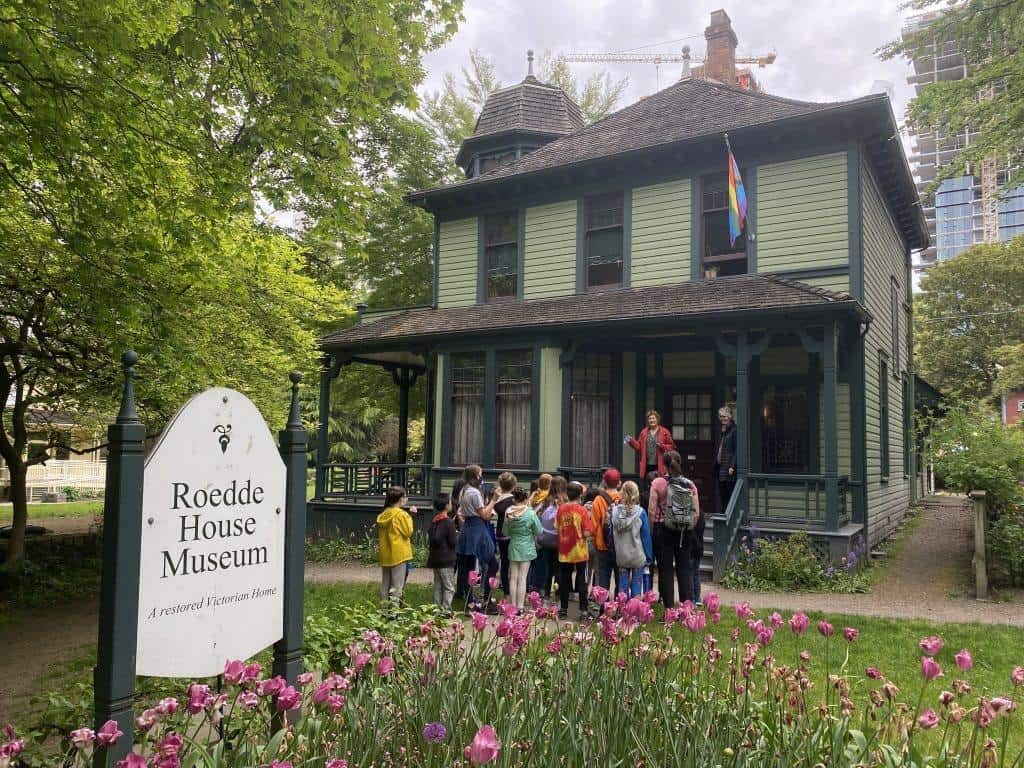 Image by Roedde House Museum via https://www.roeddehouse.org/
The Roedde House Museum is a great way to learn about late-Victorian history, and it's only a one-minute drive from the West End Guest House.
Since 1990, the Roedde House Preservation Society has been preserving this historic building, ensuring it's maintained and furnished to reflect its original classic atmosphere.
The Roedde House Museum is quite an experience. With so few heritage buildings left in Vancouver, this Victorian House full of period features and artifacts is a real treat.
The museum houses some fascinating early-twentieth-century photographs of the West End. Aside from that, there are porch jazz concerts, classical music concerts, and exhibitions.
Coal Harbour Park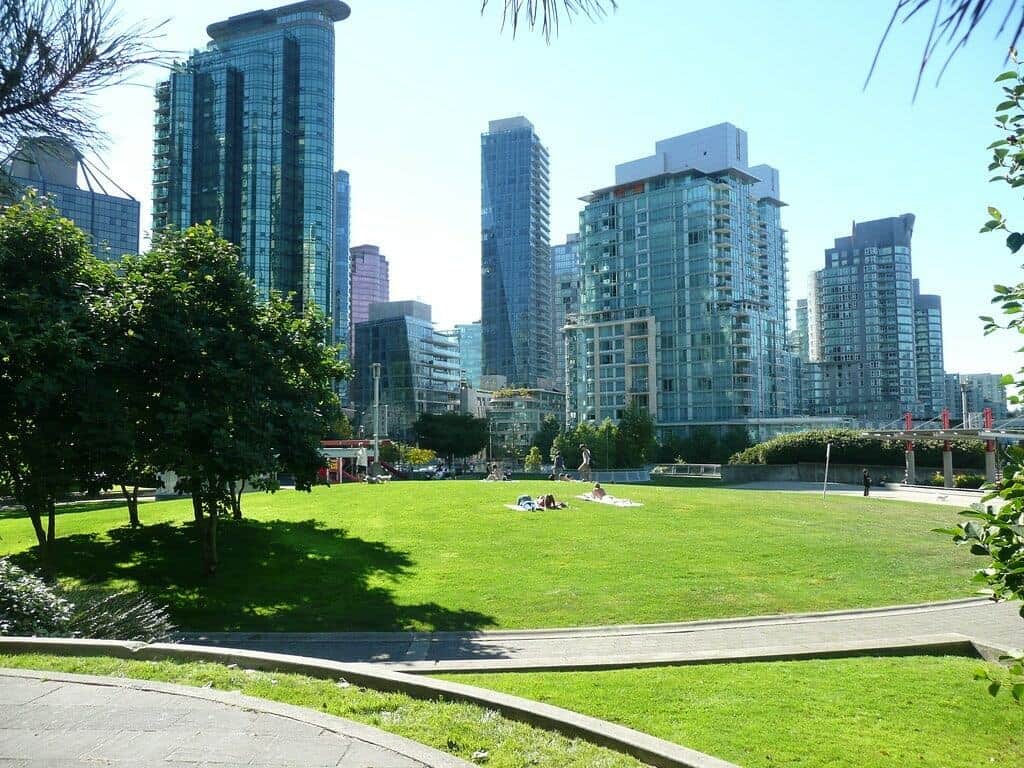 Image by Flickr via https://www.flickr.com/
Coal Harbour Park, just 3-minutes away from the West End Guesthouse.
This park is between the famous Stanley Park and Canada Place, where you can see ships going and leaving the cruise terminal, giving you plenty of opportunities to admire Vancouver's waterfront.
The Coal Harbour Seawall, which connects Stanley Park to the Vancouver Trade and Convention Centre, is also a great place to cycle. Along the way, you can also see a variety of restaurants, parks, statues, and artworks.
Don't worry if you didn't bring your bike, as there are plenty of bike rentals in the park where you can rent city bikes or tandem bicycles for all ages.
3. Windsor Guest House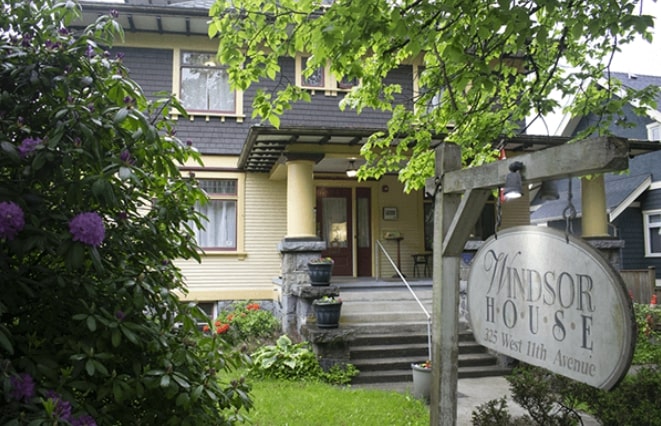 Image by Beautiful Guest House via https://www.beautifulguesthouse.ca/houses/windsor/
WHERE TO BOOK
Windsor Guest House
ADDRESS
325 W 11th Ave, Vancouver, BC V5Y 1T3, Canada
CONTACT DETAILS
Phone: 604-872-3060

Email: [email protected]

OPERATING HOURS
24 hours
RATES
CAD 275 to 300
NEARBY ACTIVITIES
Science World

Earnest Ice Cream

Thai Affair Rolled Gelato
The Windsor Guest House is one of the few heritage houses in Mount Pleasant's neighborhood. The home's interior was designed to maximize space and is divided into four main rooms.
The lighting and windows were also recently enhanced to bring more light into the home, making it an ideal accommodation for your family.
Furthermore, it has a big porch where you can sit and relax, and the house has built-in floor heating to keep guests warm.
This Victorian Manor has its unique charm as it's simply furnished and is situated on a quiet residential road, within walking distance to plenty of boutiques, stores, and restaurants.
They also have an extensive breakfast menu which includes light meals such as pancakes, fried eggs, omelets, and many more. You may also get baked croissants and seasonal fruits.
Things to Do Near the Windsor Guest House
Science World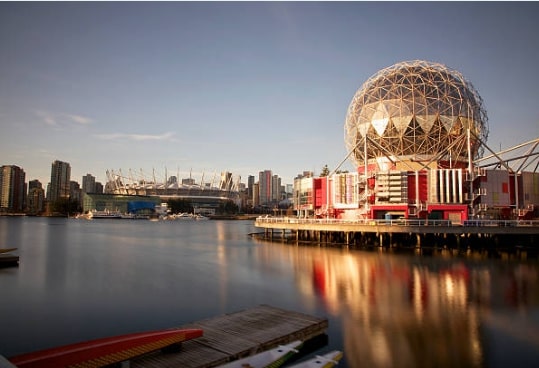 Image by iStock via https://www.istockphoto.com/
Science World is probably one of the most famous, family-friendly attractions in Vancouver, and luckily, it's only a 6-minute drive from the Windsor Guest House.
This attraction offers plenty of kids' activities focused on science and technology. It has exciting and interactive indoor and outdoor exhibits, live science demonstrations, and many areas of varying science topics.
If you have children under 10, we recommend stopping by the Wonder section, which is filled with interactive toys for them to play with. A special T-rex exhibition with life-sized models and displays is also available for dinosaur fans.
In addition, it also houses an OMNIMAX theatre where they screen science and history documentaries, making it fun and educational.
It takes about two to three hours to go through Science World. Tickets start at CAD 30.40 for adults and CAD 20 – 24.30 for children.
Earnest Ice Cream

Image by Earnest Ice Cream via https://earnesticecream.com/
There's no better way to cool down after exploring Science World than with a bowl of delicious and cold ice cream.
Established in 2021, Earnest Ice Cream serves various ice cream pints, scoops, and sandwiches. This ice cream parlor has a minimalist interior design with white walls, wooden countertops, and shelves.
Earnest Ice Cream has every flavor imaginable, from classic chocolate to bold flavors like espresso flake, mint chip, butter pecan, and matcha.
They also have vegan ice cream options, including vegan chocolate, cookies and cream, peanut butter chocolate ripple, and strawberry.
4. Skwachàys Lodge Indigenous Hotel and Gallery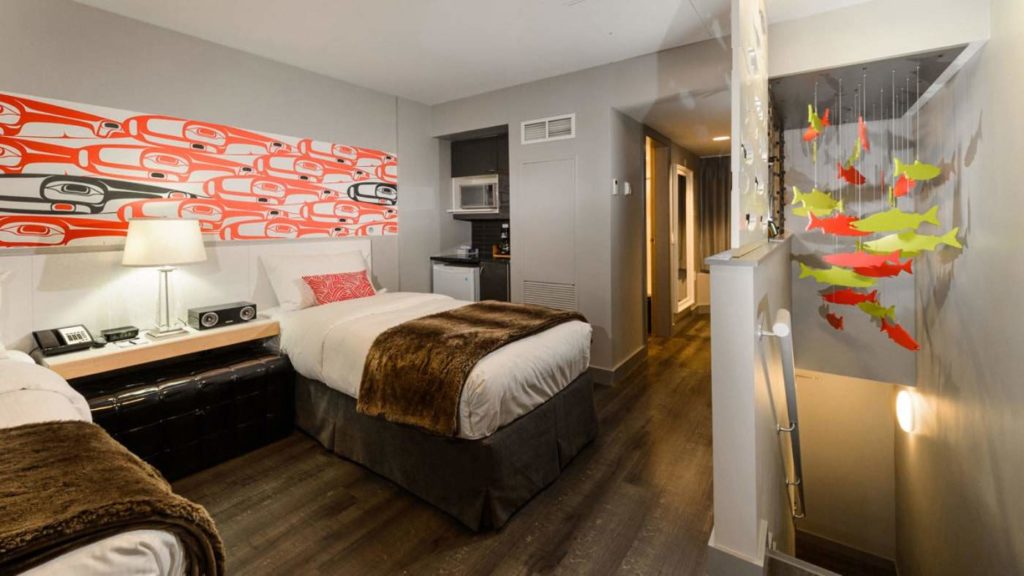 Image by Skwachays via https://skwachays.com/art-gallery/
The Skwachàys Lodge is one of the most unique stays you can find in Vancouver. This lodge is Canada's first indigenous arts hotel, providing a platform to showcase local Indigenous art and culture.
The hotel has eighteen rooms designed by Indigenous artists and Vancouver interior designers, and each room has several artworks, including a light-backed mural above the bed.
All of their rooms are also well-equipped with microwaves, coffee makers, refrigerators, and complimentary beverages.
They also have a gallery that features Indigenous artworks. You can score original paintings, jewelry, pottery, wood carvings, and many more giftable items made by local artists.
Don't forget to stop by the breakfast buffet that opens at 7 am in the reception room downstairs. Coffee and tea are also available here 24/7. If you're planning to stay here, an overnight stay can cost from CAD 250 – 274.
Things to Do Near Skwachàys Lodge Indigenous Hotel and Gallery
Gastown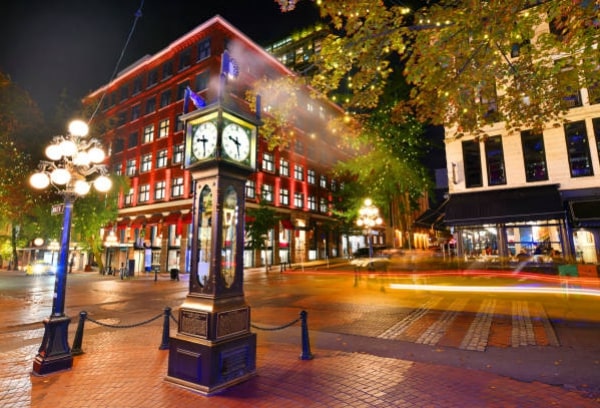 Image by iStock via https://www.istockphoto.com/
Skwachàys Lodge is a 4-minute walk from Gastown, one of Vancouver's most historic neighborhoods. This district is well-known for its world-famous steam clock, built in 1977, and one of its few steam clocks.
Families will undoubtedly enjoy the tree-lined streets, lined with Victorian-style buildings, souvenir shops, quaint cafes, art galleries, and various food options.
Dr. Sun Yat-Sen Classical Chinese Garden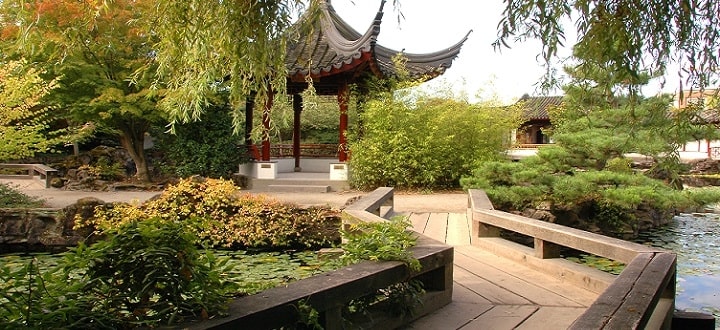 Image by City of Vancouver via https://vancouver.ca/
If you're looking for a place to relax and escape the hustle and bustle of the city, look no further than the Dr. Sun Yat-Sen Classical Chinese Garden.
Located just a short walk from Skwachàys Lodge Indigenous Hotel and Gallery, this oasis is perfect for a peaceful stroll or a moment of reflection. The garden is a true hidden gem with its tranquil ponds, serene walking paths, and lush vegetation.
The garden was designed in the Ming Dynasty style and featured a beautiful pond, pavilions, and bridges.
Families can also enjoy traditional Chinese tea ceremonies, calligraphy classes, and Tai Chi lessons.
---
Remember that a staycation should be a fun family event, not an overly stressful endeavor. Enjoy your time together, and remember to be present in the moment.
If you want to spend a vacation with your partner, check out our article on the hidden romantic getaways on Vancouver Island.