The 5 Best Dog Daycares in Vancouver
As pet owners, we want our dogs to be fed well, play and frolic with their own kind while we're away… and where's a better place for that than a dog daycare?
Luckily for you, we've got a list of some of the best dog daycare centers in Vancouver that offer various services for your four-legged friend. Check out what we thought of them below and why they made the cut for this roundup!
How much does dog daycare cost in Vancouver?
The table below will show you the estimated costs of some of the most popular dog daycare services in Vancouver.
However, please take note that the costs may vary depending on a number of factors. Some daycares offer packages as well, so that can help you get some services at a discounted rate.
| DAYCARE SERVICE | ESTIMATED COST |
| --- | --- |
| Daycare (with structured activities) | $32 up per visit |
| Boarding (customized exercise, grooming, and care services) | $50 up per day |
| Grooming (haircut, trim, baths, pedicure, styling) | $40 per hour |
| Private training (2-hour in-home sessions) | $160 up (excluding travel fees) |
The Best Dog Daycare in Vancouver
Below are the criteria we used to review each entry.
Now that you've got an idea of the expenses and criteria, let's move on to the list of dog daycares in Vancouver that we have carefully reviewed.
1. The Adventure Den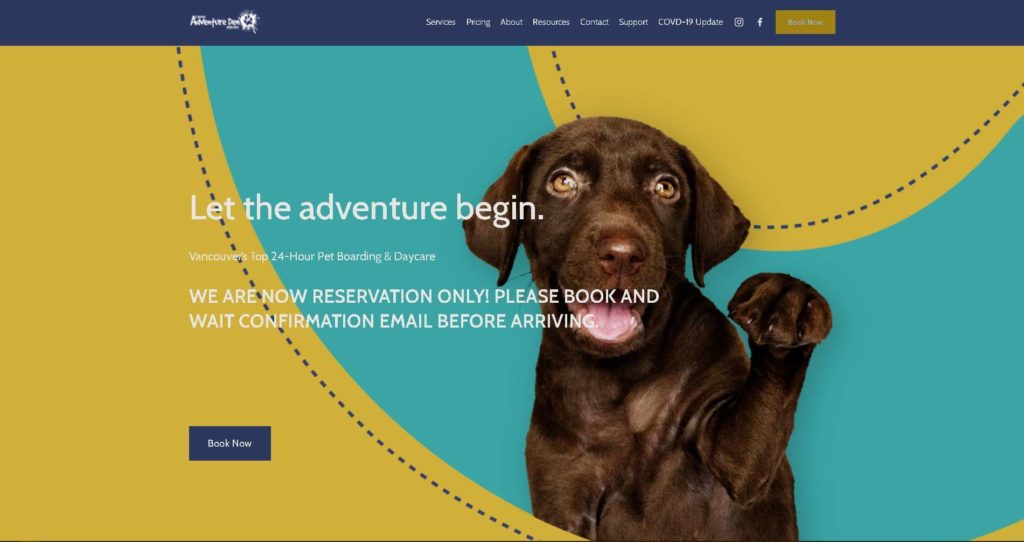 Test
Info
SERVICES
Dog Daycare

Advanced Daycare

Puppy Daycare

Boarding

Grooming

Dog Massage

Teeth Cleaning

ADDRESS
650 Industrial Ave, Vancouver, BC
CONTACT NUMBER
+1 604-876-3647
WEBSITE
https://www.adventureden.ca/
OPERATING HOURS
OPEN 24 HOURS
The story of The Canine Adventure Den began back in the year 2010. Their founder, an avid dog lover and owner, created Adventure Den to give dog owners an alternative to common daycares.
Aside from the norm where dogs can only board and nothing else, Adventure Den offers owners and their pets a unique environment.
Adventure Den was designed as a one-of-a-kind place where our four-legged friends can play and at the same time keep their minds and bodies stimulated to keep them happy.
For example, we found out that the company has a program called Advanced Daycare. Here, your dog can be provided with schooling and extra training to keep their bodies active and their minds stimulated.
We recommend signing up for this program if your dog gets anxious, snappy and a little destructive when it comes to socializing with their own kind.
Adventure Den covers a whopping 11,000 square ft indoor and outdoor play space for dogs of all sizes. They also offer a 24-hour daycare, puppy daycare, boarding, dog massage and teeth cleaning.
Meals will also be provided without any extra cost. Owners are not required to bring toys, beds, bowls, etc., as it will all be provided for their dogs.
New dogs will be assessed for $31.80 (plus tax) before they can be accepted. Proof of documents such as your dog's current DA2PPv and vaccine for rabies are all required.
As for male dogs, they must be neutered by the age of 6 months. Private suits and crates are also all available upon request.
Overall, this is an excellent daycare with a ton of solid services. The only trouble is that it's so popular that booking with them can be a trial!
Big facility
Good programs and amenities
24-hour service
Meals are given at no extra cost
No need to bring bowls, beds, toys, etc. (they will provide them)
Private suites and crates are available
Hard to get an appointment (always booked)
No facility tour
Relatively expensive
Customer Reviews
Staff is always making sure they are having a good time
"Blossom (my dog) is a rescue dog. We were trying to help her to socialize with other dogs and humans. We found this place and since day one she loves it!! Every time we park outside she is ready to go in. She loves everyone in there and forgets she has a mommy outside. I've tried another daycares and I love here because the extended schedule they have and also because all the staff is always making sure they are having a good time. I strongly recommend this place. Also they take group photos and that is the cutest." – M M
An outstanding daycare
"Adventure Den is an outstanding daycare. Perfect for my dog during the work day or an outing. They respond almost immediately and always accommodate my needs, it's also nice to see the frequent updates of the dogs on social media. I highly recommend this daycare for your pup." – Carla Wilson
2. Jet Pet Resort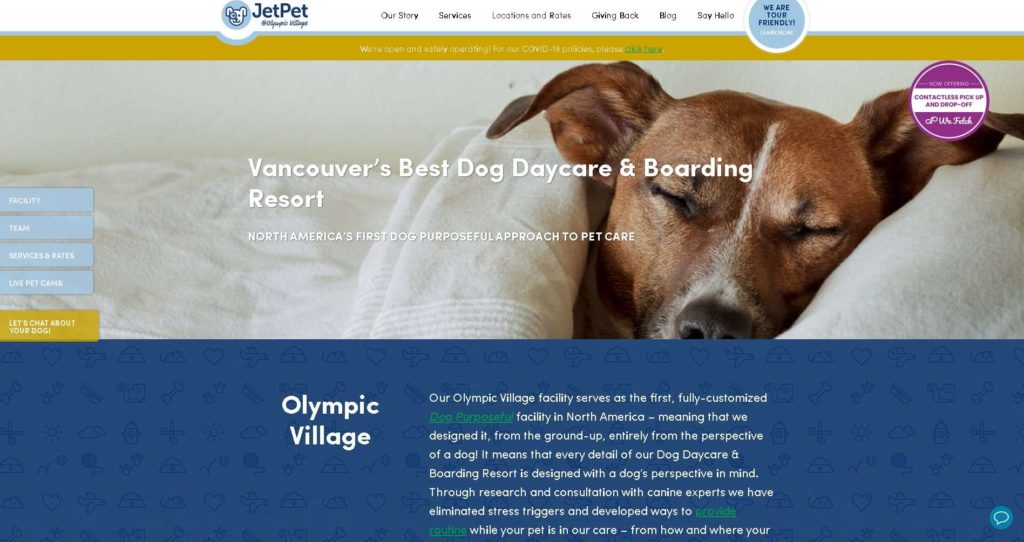 Test
Info
SERVICES
Dog Daycare

Dog Boarding

Dog Grooming

ADDRESS
100-124 W 3rd Ave, Vancouver
CONTACT NUMBER
+1 604-900-8009
WEBSITE
https://jetpetresort.com/
OPERATING HOURS
Daily: 6:20am-8pm
Jet Pet Resort was founded back in 2010. The company has a total of 3 locations, two in Vancouver, BC and one in Phoenix, AZ.
In this list, we will be reviewing the Olympic Village Vancouver location, obviously.
First, note that all pets must be in good health and be up-to-date on all their vaccinations. These are all required before checking into any Jet Pet Resort branch.
The company is very strict when it comes to your dog's papers and requirements, so be sure to get all of them ready prior to arrival or check-in. This is fairly standard, so we have no issues with it.
After carefully reviewing Jet Pet's amenities and facilities, we are happy to say that the company offers owners and their dogs a good balance of human interactions, play and problem-solving.
This will help stimulate and exercise your pup's mind, making them happy and active while allowing them to reset and relax.
Facility-wise, the Jet Pet Olympic Village covers 7,000 square feet. In this area, dogs of all shapes, sizes and energy levels will be catered. The entire village is fully-customized and designed for and inspired by dogs.
This means that the Jet Olympic Village was designed with a dog's outlook in mind to help dispose of stress triggers for your pup.
Jet Pet offers a variety of luxury dog suites, an indoor spa, play areas, and nest cameras. It is also worth noting that the Jet Olympic Village has a chemical-free ozone cleaning system.
First-time guest discounts are also offered as well as contactless pick-up and drop-off, and a tour of the facility.
Good facility and amenities
Offers contactless pick-up and drop off
Facility tour before committing 
First-time guest discounts
Customer Reviews
Staff is friendly, attentive and proactive
"The staff is friendly, attentive and proactive. My dog is quite shy with other people but after a day there she was happy and seemed to want more." – Alexandre Gomes
I know my fur baby is in good hands
"Really great people who take care of your fur baby like their own. Mine has been going since she was 8 months and is always excited as we approach the daycare and sleeps so well after a day with them. I know my fur baby is in good hands when I drop her off." – Bobby Garcia
3. DogPlay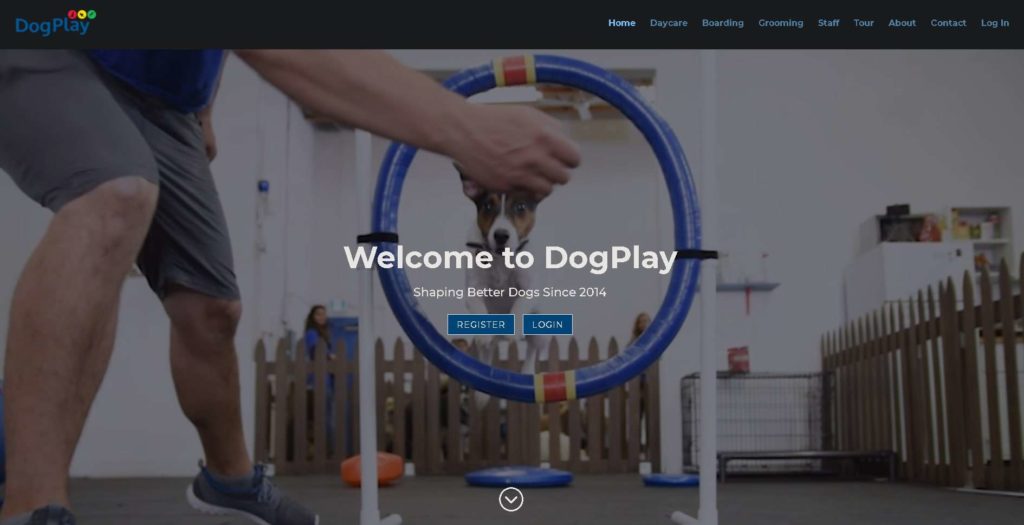 Test
Info
SERVICES
Daycare

Boarding

Grooming

ADDRESS
8826 Osler St, Vancouver, BC
CONTACT NUMBER
+1 604-360-2240
WEBSITE
https://dogplay.ca/
OPERATING HOURS
Monday-Friday: 7:30am-6:30pm

Saturday-Sunday: 9am-6pm
DogPlay is family-owned and is a FetchFind Approved Dog Daycare business.
For their staff training, we are happy to share that they had to undergo all their required preparation via a premier educational system for professionals in the pet industry, FetchFind Premium.
For Daycare pups, Dogplay only accepts one new dog per day so they can take their time to comprehend the dog's strengths, learn about what drives them, as well as classify where they can improve.
This can be a hindrance when it comes to checking in your pet for daycare, so we think it's best you do advance bookings for your doggie.
DogPlay facility-wise, it covers up to 4,500 square feet and consists of very well-structured activities for your pet.
When it comes to boarding your dog, DogPlay provides a handler that is present 24/7, proper feedings and medications are tracked as well as reinforcing potty training.
The dogs will spend their days in daycare and in the evenings, will safely come home to their boarding suite. DogPlay also offers a wide variety of beds, crates and beddings which we think can help your dog better sleep comfortably.
The daycare also offers full-service grooming, breed-specific cutes, walk-in nail trims, and hypoallergenic baths. The grooming salon is open to the reception, so we think it's good for owners who want to watch their pets.
Bed, beddings, and crates are all provided
Raw food can be brought
Handler present 24/7
FetchFind Approved Dog Daycare
Can only accept one new dog per day
Can rarely accommodate drop-ins 
Not 24 hours
No facility tour
Customer Reviews
Thank God for the secondary training!
"They were amazing with [Lucky] on his first visit months ago. We went on the wait list for daycare in hopes of helping with his socialization. Lucky has been going regularly for almost two months and loves it. We have seen subtle changes in the way he interacts with dogs on walks, along with a new awareness of expected behaviour. Thank God for the secondary training!! You are appreciated more than you know." – JoAnne Harris & Lucky
We couldn't be happier with the staff
"Thank you! We brought our rescued Husky, Boomer, to DogPlay after two other unsuccessful attempts at other daycares. Boomer was bored at the other daycares so he was jumping from pen to pen. At DogPlay he received all the attention that he deserves and socialized well with the other dogs. We couldn't be happier with the staff and the experience Boomer had.
Thank you. We will be back soon." – Blake & Karlee Chancey & Boomer
4. Rex Dog Hotel + Spa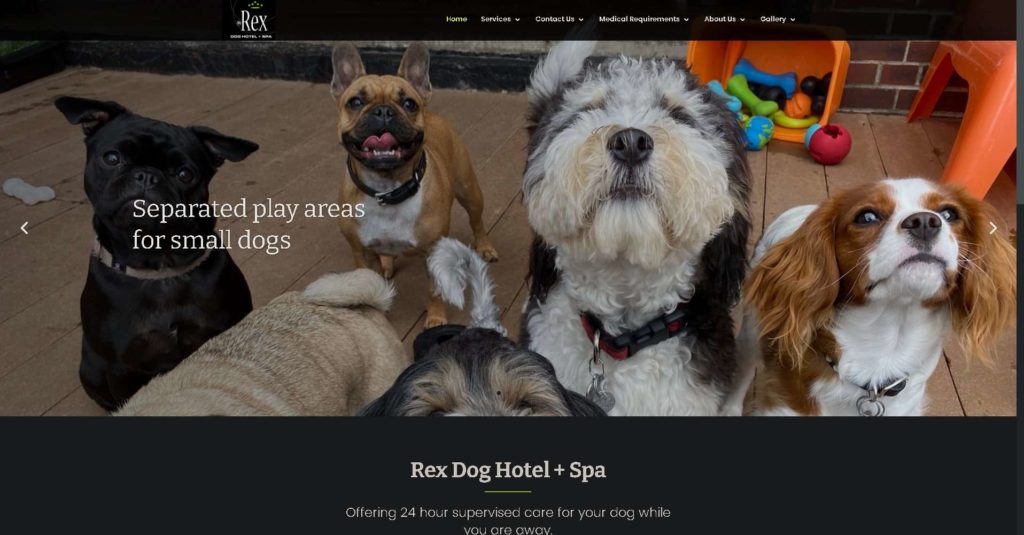 Test
Info
SERVICES
Dog Hotel

Daycare

Dog Spa

Dog Walking

Food Menu

ADDRESS
760 Terminal Ave, Vancouver
CONTACT NUMBER
+1 604-696-5166
WEBSITE
https://rexvancouver.com/
OPERATING HOURS
Daily: 7am-7pm
Rex Dog Hotel + Spa is owned by the Balshaw family, which has been in the business of dog care since way back in 1996. Their first facility, The Doghouse, is known to be one of Vancouver's first dog daycares.
The standard restrictions are in place here. Before owners can have their pets checked in, they are required to have complete vaccination papers such as distemper combination, Bordetella and rabies.
For the dog hotel and daycare, The Rex offers 24-hour supervised care in their boutique-style hotel and spa. They also offer both indoor and outdoor environments.
This includes tunnels, rings and ramps, lounging platforms and space beds, A state-of-the-art dog waterpark is also provided which consists of water ball launchers, geysers and pop-its.
We think this will give your pets a fun time during their stay, as well as a mode of exercise. The geysers are a particularly nice touch!
Sleeping lounges at The Rex are also very cozy and comfortable. Your dogs will be accompanied by a member of their team as well as some other pups as well. Private sleeping suites are also available.
As for the Dog Spa, it comes with a full bath with conditioner, shampoo, blowdry, towel dry and a complete brush out. It is worth noting that The Rex does not offer grooming services, but only a dog spa and nail trims.
Dog walking is also offered: a group walk having a maximum of 5 dogs, and a private walk which can accommodate up to 2 dogs from the same family only.
24-hour supervised care
Cozy and comfortable facility
Virtual tour
No grooming
Does not offer pick-up or drop-off
Customer Reviews
They take extra time to ensure dogs have a positive first experience
"We absolutely LOVE Rex Dog Hotel & Spa!! Everyone who works here is incredibly friendly and helpful. They take extra time to ensure dogs have a positive first experience and this really worked for Pixie. After two days Pixie wagged her tail as soon as we entered the shop and by day 4 she was pulling me to get into the space! They all know Pixie by sight and can tell me who she has played with and other fun things about her time there. We are so happy to have found a place where Pixie can come and have fun and be well cared for." – Sandra Campbell
My dogs love the place
"I really like the place but at least 2 bad experiences with the same rude secretary/ "Sunny" she was very disrespectful and even raised her voice to me when I asked why she couldn't charged my credit card on file.
Update: spoke with the owner today and he was very helpful. At the beginning he got the story wrong but he listen to me and after all he explained why he prefer that I pay on store with my card and I super understood. Like I mentioned before, my dogs love the place and I'm happy to help." – Daizy Ferigotti
5. Pet Parlour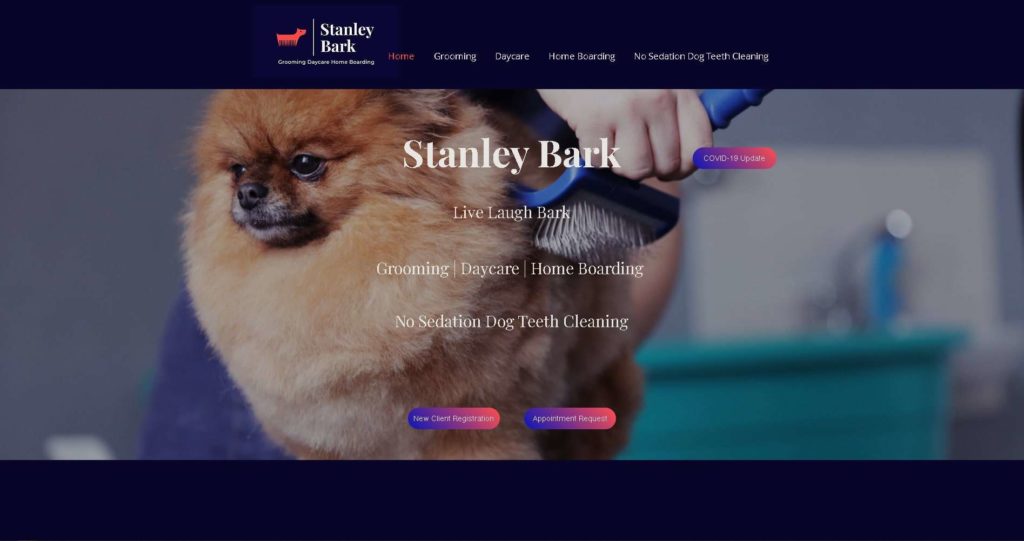 Test
Info
SERVICES
Grooming

Daycare

Home Boarding

No Sedation Teeth Cleaning

ADDRESS
1786 Alberni St, Vancouver
CONTACT NUMBER
+1 604-568-5056
WEBSITE
https://www.stanleybark.com/
OPERATING HOURS
Monday - Friday: 7:30am-7:30pm

Saturday: 10am-5pm
Stanley Bark is located at West End Coal Harbour in downtown Vancouver.
They offer a variety of services, such as grooming, daycare, home boarding and the no-sedation dog teeth cleaning.
For Stanley Bark's daycare service, they provide your canine friend much-needed socialization, exercise and playtime. This will help your pet from engaging in inappropriate behaviours through brain stimulation and exercise.
Group walks will also be included in the daycare service and this will consist of only 2-3 pups at a time.
Stanley Bark can is only limited to small and medium-sized breeds due to space capacity, however. Moreover, we learned that they do consider bigger breeds in a very limited number – besides mandating that they are well-mannered.
This is part of why the company requires all dogs to come in for assessment prior to checking in. They also do this to check health and vaccination requirements, of course.
Puppies should be in the minimum required age of 4 months and should have their 3rd set of vaccines or have their 1st set but should be accompanied by titre test.
Keep in mind that young male puppies will not be accepted if they are showing signs of excessive marking and mounting. Hence, your pup may not be accepted if he has a few behavior issues.
As for their home boarding service, Stanley Barks will make sure to provide sleeping arrangements that can be on your dog's beds, crates, or wherever they are acclimatized to.
That being said, it is worth noting that the company can only take in a limited number of dogs to ensure their maximum comfort.
Grooming is also part of their services, along with their signature "No sedation teeth cleaning" service. This procedure will help prevent gum disease, improve oral health, and reduce gum inflammation.
The entire procedure can take up to about 60 to 90 minutes, which is pretty standard. What makes us excited about it, though, is the sedation-free aspect – sedation is always a risk, especially for older dogs, so any chance to evade it in this procedure is welcome.
Good facility
A lot of attention paid to comfort 
Does not offer pick-up or drop-off
Not 24-hours
Can only accommodate small to medium dogs
Customer Reviews
Lovely staff
"Lovely staff and they did an amazing job grooming our shy and nervous dog, making it seem like no problem at all. We had tried taking him to a couple of places before being recommended here and they gave up on our dog. They just didn't know how to treat him like these guys did. Thanks so much, we'll see you again soon!!" – Mike Glen
The Stanley Bark team did an amazing job grooming our pup, Misha
"James and the Stanley Bark team did an amazing job grooming our pup, Misha! We've taken Misha to other dog grooming salons but this was the first time he received the deshedding treatment. I'm so glad James suggested this because his fur type definitely needed it. Misha's fur felt so soft and lightweight, similar to when he was a puppy. We're very happy customers and will be back again soon. Thank you, James!" – Jennifer Bantugon
A Guide to Finding the Right Dog Daycare
When it comes to searching for dog daycare, you would want the best for your little pooch. Below is a guide to help you find the right dog daycare that fits perfectly.
Tour the facility
Above all else, you want to make sure that the place you're checking your pup into has a good, clean facility and is as secure as it is safe for rambunctious, four-legged animals. Always look out for proper gating, solid fencing, safe floor surfaces and good ventilation, as examples.
Find out if the dogs are grouped appropriately
Again, safety is the number one priority. Some dogs are not keen on getting grouped with other dogs, so it would be wise to ask if dogs are grouped well and if so, ask how they're separated.
Check the staff training and capacity for emergency medical care
When it comes to choosing dog daycare, make sure that the staff are properly trained and have experience working with dogs.
Not only that, but it is important that the staff are trained on how to correctly and safely carry out first aid in the event of an unfortunate injury. An emergency medical care plan should also be ready.
FAQs About Dog Daycare Services in Vancouver
---
Check out our other reviews to find more services that can benefit you or your furry friend, by the way.
For example, if your doggo has just made a mess of your carpets or rugs, see our list of the best carpet cleaners in Vancouver.
Or, if you're looking for a companion for your current canine companion, see our reviews of the best animal shelters in Vancouver, where you can pick up another four-legged friend!
Related Articles for Dog Daycare in Vancouver