Where to Eat Korean Corn Dog in Vancouver
Korean corn dogs in Vancouver can be found on Jervis Street, Vaness Avenue, Robson Street, and Coquitlam areas. These businesses sell a wide variety of corn dogs, from traditional Korean style to mozzarella, potato, and many more.
So grab a napkin (or two) and join us on a culinary adventure through the world of Korean corn dogs!
But before we get to our list, let's explore how this iconic street dish won the hearts of both locals and visitors.
What are Korean Corn Dogs?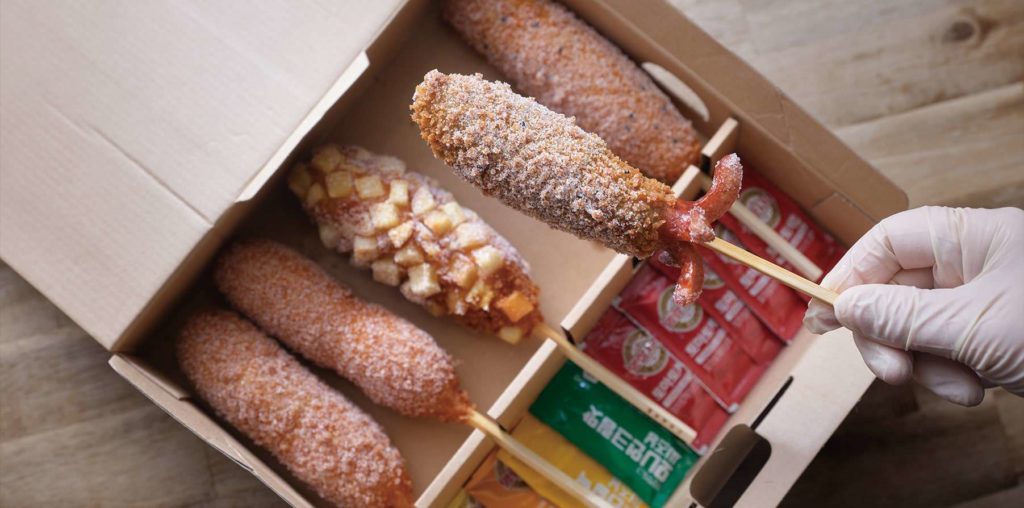 Corn dogs, otherwise known as "gamja hot dogs," are believed to have arrived on Korea's shores in the 1980s. They're widely popular among both adults and children and have become one of the most beloved street foods in Korea.
They're referred to as "hasdogeu" in Korean, and their traditional form consists of a sausage or mozzarella cheese block on a stick covered in a sweet panko-coated batter and fried.
Korean corn dogs evolved further throughout time, with sellers experimenting with different batters, fillings, and toppings.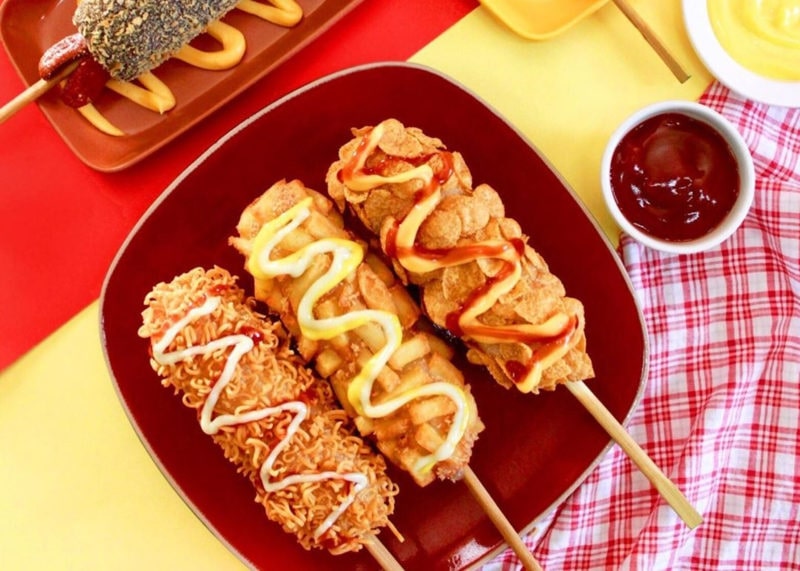 They're now stuffed with everything from hot dogs and sausages to squid and lobster and coated in everything from breadcrumbs to potato flakes.
If you're wondering how the Korean corn dog differs from the American corn dog, the main difference is in the batter.
American corn dogs are breaded with cornmeal, while Korean corn dogs are breaded with yeasted dough or rice flour. Corn dogs are also topped with sugar in Korea.
Where to Enjoy a Korean Corn Dog in Vancouver
1. Ssong's Hotdog
| | |
| --- | --- |
| RATES | CAD 4 - 10 |
| WEBSITE | https://www.ssongshotdogus.com/ |
| ADDRESS | 795 Jervis Street, Vancouver, BC |
| CONTACT DETAILS | Phone: 778-917-9595 |
| OPERATING HOURS | Monday - Sunday: 10:00 AM - 08:00 PM |
Ms. Ssong started Ssong's Hotdog in 2013. She wanted to serve hotdogs in a unique way, so she came up with her own batter mixes and gave customers a choice of flavors.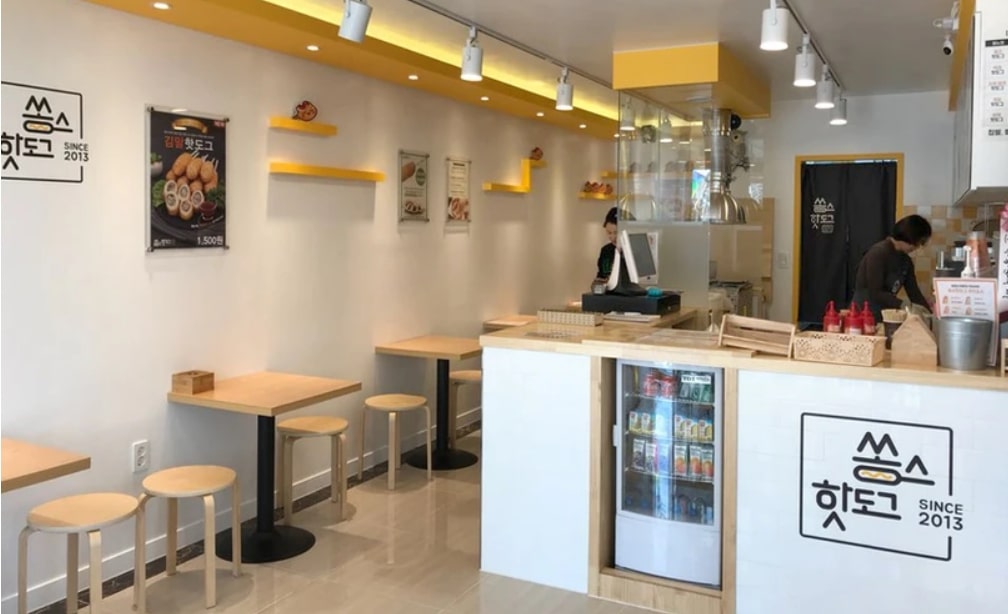 This place makes hotdogs from scratch right in front of the customer by coating sausages with freshly made batter mixtures and deep-frying them.
While their iconic corn dog with mozzarella cheese is a must-try, they also serve a wide variety of fillings such as spicy sausage, fish cake, and even spicy seaweed.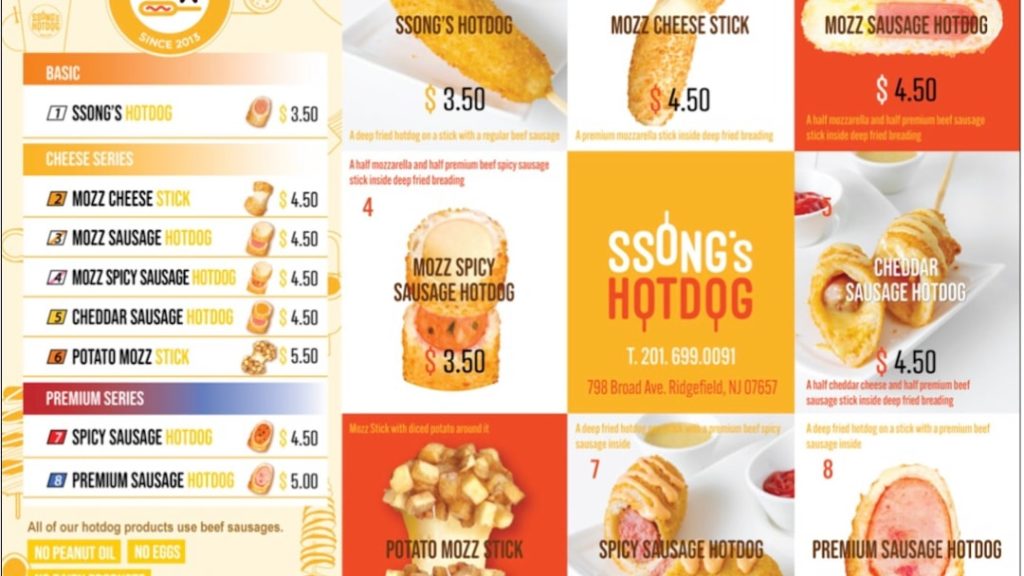 Customers can also add ketchup, mustard, mayonnaise, Parmesan cheese, and spicy sauces to their orders to make them more tasty.
Apart from that, Ssong's Hotdog also has a wide selection of drinks to refresh your palate. Whether you're into the classic lemonade drink or you want to try healthy drinks, this business has Asian pear juice, Aloe Kiwi, and Aloe Mango drinks.

2. Dog Eat Corndog
Dog Eat Corndog is a Korean corn dog food truck that's located outside the Joyce-Collingwood Skytrain station.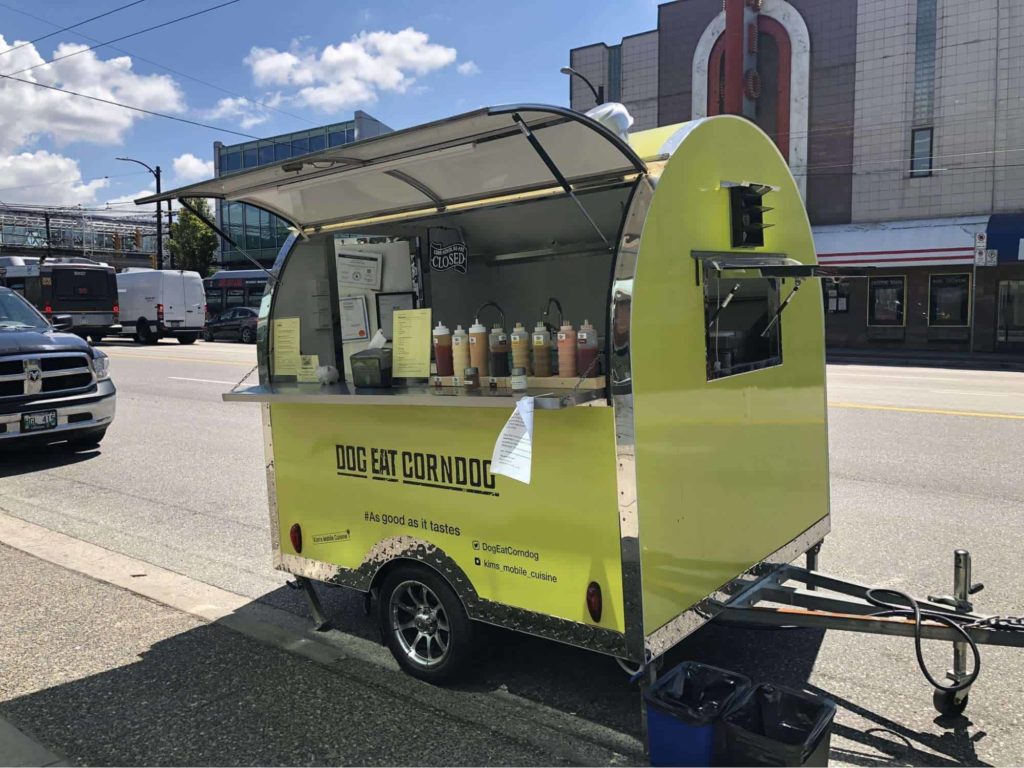 This corn dog stand has 8 different takes on the classic corn dog on their menu, each with distinct flavors, from all-cheese to vegetarian dogs to chicken dogs.
And don't forget about the toppings – Dog Eat Corndog have over 9 different sauces to choose from, ranging from ketchup, mayo, and gochujang to honey garlic.
Their dough and sauces are handcrafted, and they make sure to make them fluffy but not oily.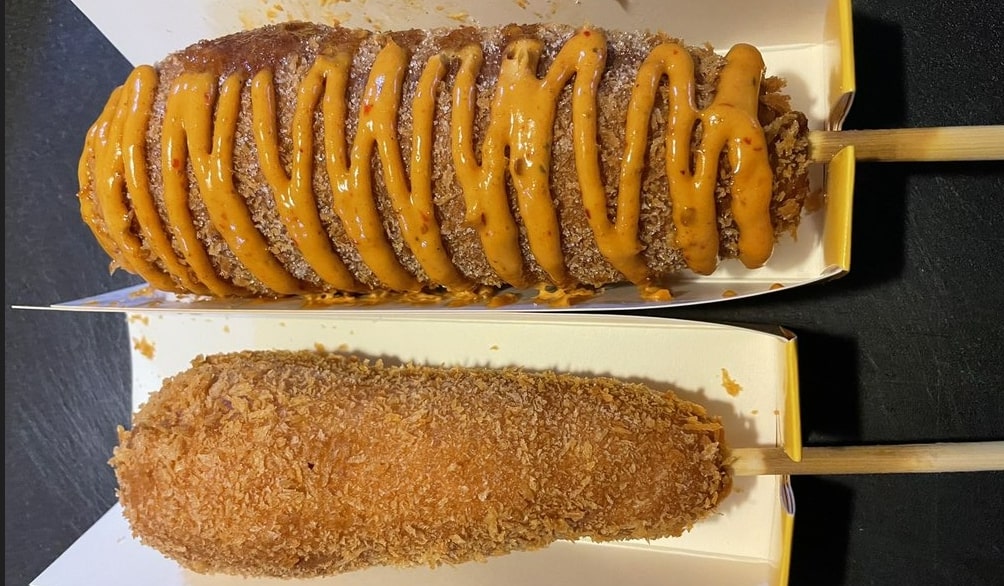 The vendor will also ask you if you prefer to have sugar on top of your corn dog, which complements all their available flavors nicely as it adds a sweet kick to it.

3. Chung Chun Rice Hot Dog
| | |
| --- | --- |
| RATES | CAD 3.99 - 6.99 |
| WEBSITE | https://chungchunricedog.ca |
| ADDRESS | 1795 Robson St, Vancouver, BC V6G 1C9, Canada |
| CONTACT DETAILS | Phone: 604-423-5529 |
| OPERATING HOURS | Monday - Sunday: 11:30 AM - 11:00 PM |
Chung Chun Rice Hot Dog provides a trendy take on corn dogs as they put sticky rice on their corn dogs. Sticky rice in dough fermented for 120 minutes distinguishes the Chungchun Hotdog. Thus, the flavor is significantly chewy and crisp.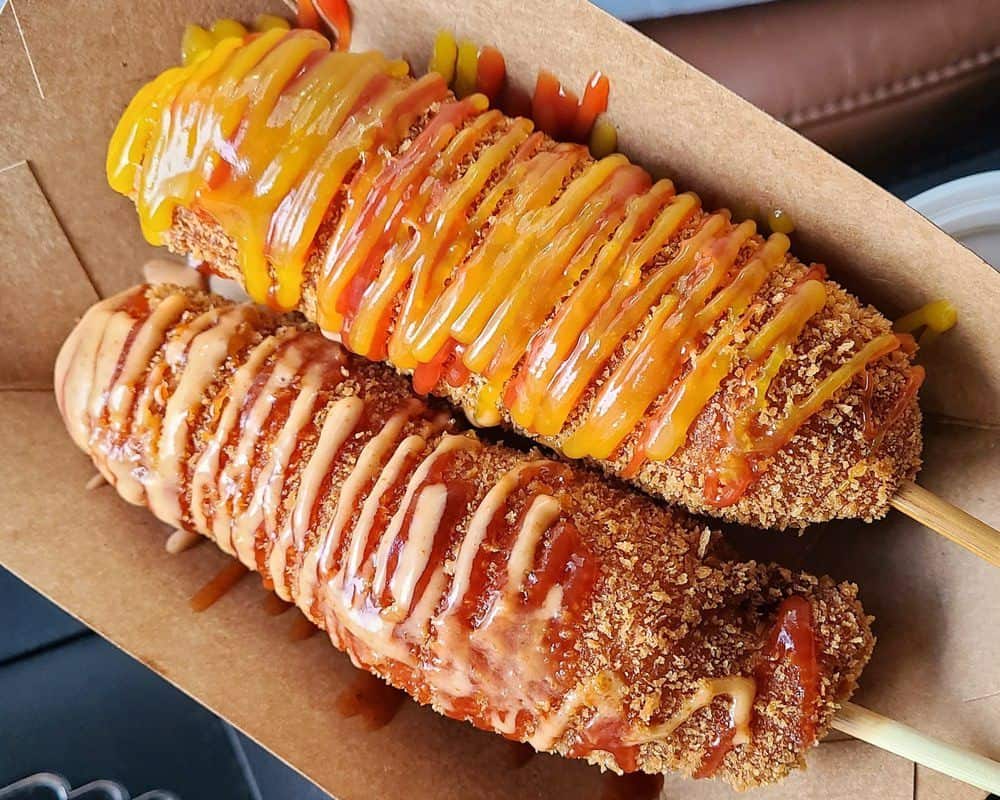 This fusion of classic American corn dogs with a uniquely Asian twist has proved to be hugely popular among customers, with the Chung Chun Rice Hot Dog now having branches across the world.
This business has more than 200 locations in Southeast Asian countries like Korea, Australia, the United States, China, and many more.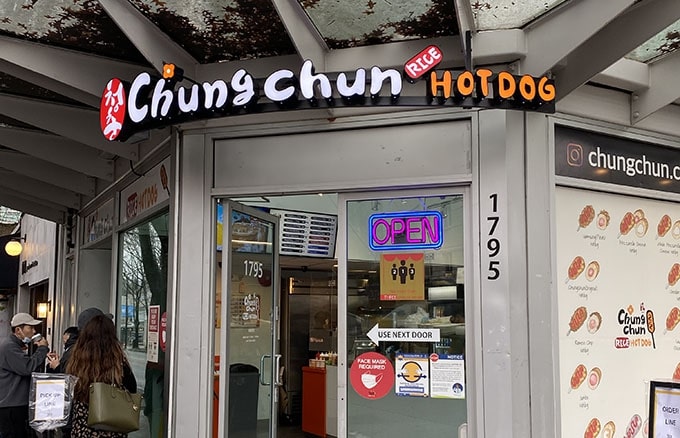 Their corn dogs are also saucy, with a fried, crisp exterior and juicy, sausage, cheese, and other fillings. And speaking of filling, Chung Chun Rice Hot Dog offers a variety of options, including classic hot dogs, mozzarella cheese, and even sweet potato.

4. TOKKi
RATES
CAD 2.50 - 3.50
WEBSITE
https://tokki.webflow.io/
ADDRESS
2078-1163 Pinetree Way Coquitlam, British Columbia, Canada V3B 8A6
CONTACT DETAILS
Phone: 604-552-0036
OPERATING HOURS
Monday - Saturday: 11:00 AM - 07:00 PM

Sunday: 11:00 AM - 06:00 PM
TOKKi offers reasonably priced Korean street food, including kimbap, kimchi fried rice, tonkatsu, tteokbokki, omurice, and corn dogs, making them a one-stop shop for Korean street food cravings.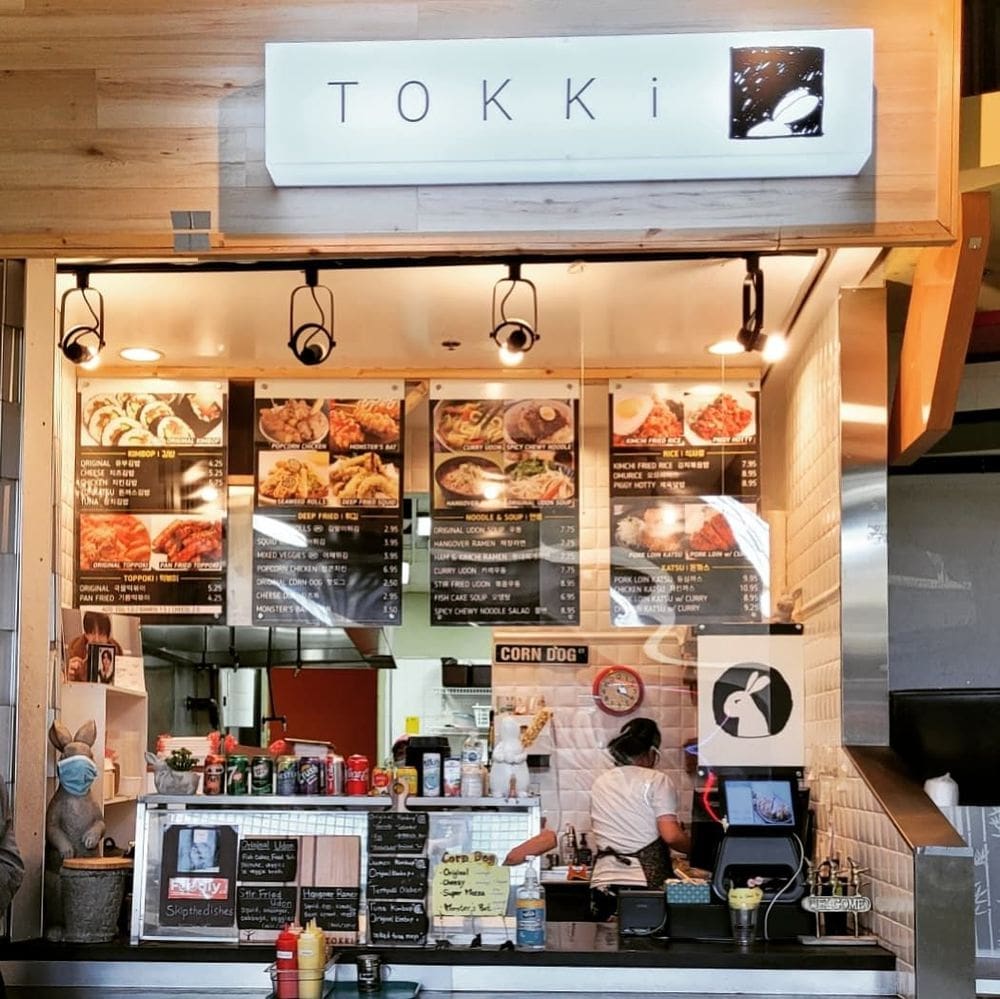 This establishment's corn dog features crispy potato thorns outside and cheesy and salty fillings, making it crunchy on the outside and juicy on the inside.
The delicious combination of flavors and textures makes TOKKi's corn dog a popular item for people looking for a unique and flavorful snack.
It's also a great idea to pair these with their original toppoki, which can also serve as a spicy sauce for their original kimbops that come in chicken, tonkatsu, or tuan flavors.
Not to mention the star of the show, Ttoki's namesake dish, the tteokbokki. This popular Korean street food is made with chewy rice cakes cooked in a spicy sauce, and is best paired with corn dogs.
You can even dunk your corn dogs in it for an extra spicy kick!

5. Arirang Hot Dog
| | |
| --- | --- |
| RATES | CAD 5.99 - 6.49 |
| WEBSITE | http://arirangfnb.com/ |
| ADDRESS | 1163 Pinetree Way Suite 2082 Henderson Place Mall Coquitlam, BC V3B 8A9 |
| OPERATING HOURS | Monday - Sunday: 10:00 AM - 07:00 PM |
Arirang Hot Dog is a global franchise company that specializes in sweet and savory hot dogs and croquettes.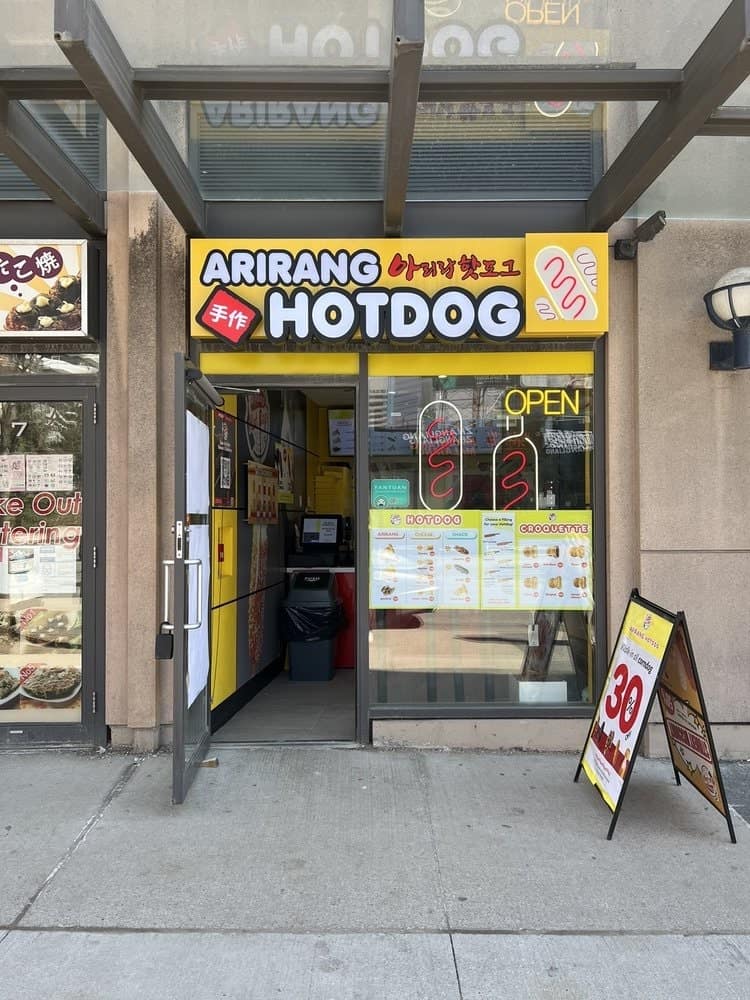 This business has a wide variety of corn dogs on its menu, such as potato, poutine, mozzarella, and many more. Arirang Hotdog also serves churros, oreo, and honey-coated corn dogs for those who prefer their corn dogs on the sweeter side.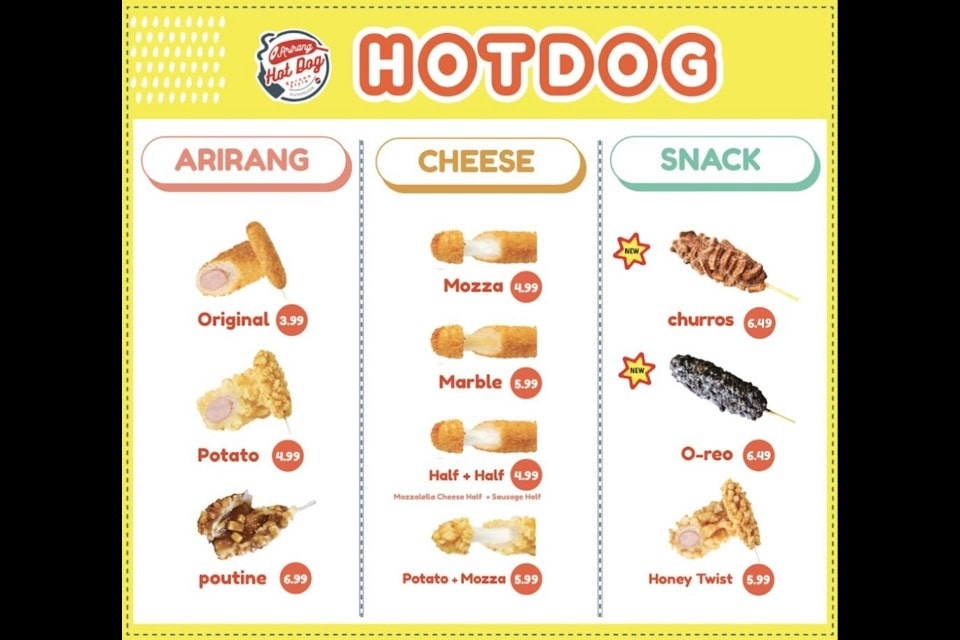 It's also great that customers can choose their own filling, with unique options such as beef sausage, squid ink, pork sausage, and many more.
The combination of sweet and savory flavors, along with a wide variety of hot dog fillings and toppings, makes Arirang Hot Dog a great spot to get this unique and delicious snack.

---
Corn Dogs' simplicity is part of its appeal. It's not called comfort food for nothing. Whether you're a beginner or an expert and whether you prefer a ton of condiments or just mustard and ketchup, we think that there's something for everyone here.
If you have any other suggestions on where to eat Korean corn dogs in Vancouver, please let us know!
In case you'd also like to try other Asian cuisines, check out these related articles: