The 5 Best Companies for Dishwasher Repair in Vancouver
Stuck with a broken dishwasher? We tried to find the best dishwasher repair companies in Vancouver to help out everyone who's only now experiencing what it's like to go without this hugely useful appliance.
To find out which repair services were best for this, we asked different people about their go-to companies for dishwasher repairs. After that, we researched the ones that topped our survey by ourselves! 
How much does getting your dishwasher repaired cost in Vancouver?
The cheapest dishwasher available costs around $400. Compared to that, having it repaired is significantly cheaper.
We listed down the common dishwasher problems here and the average price of the replacement parts.
Parts
Cost
Pump
$160-350
Motor
$350-550
Heating
Filter: $50-95
Sprayer: $70-125
Water inlet valve: $85-150
Doorlatch: $150-250
We didn't include the labor cost in this table as it will be different for each company here.
The Best Companies for Dishwasher Repair in Vancouver
We carefully reviewed the companies below and looked for the pros and cons of each one. Check out our notes to see which one suits you best.
1. Harmonious Appliance Servicing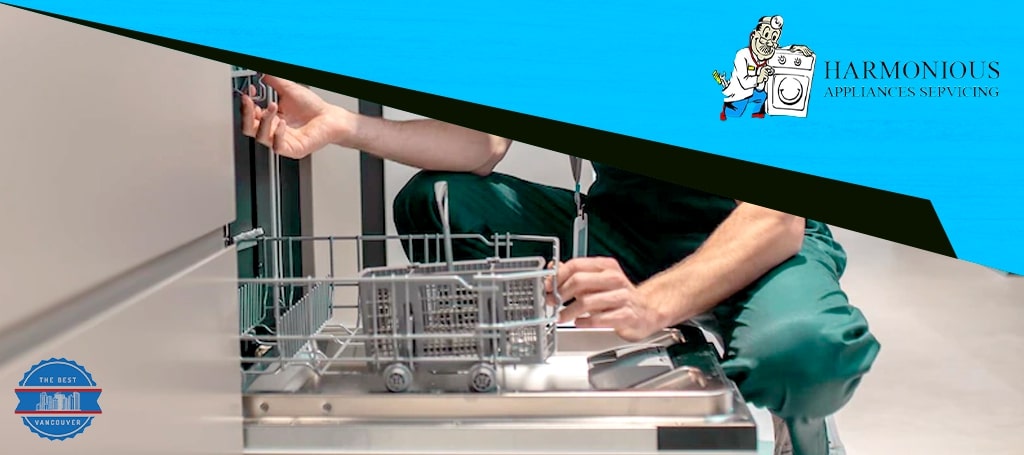 This company lives up to its name, we think. Just about every client we asked said they provided their service harmoniously, making the repairs as straightforward as possible.
Even if they don't have an online form to allow contact to them, it's pretty easy to book their service through a call. They have a same-day repair offer as well, which we found easy to book through a call.
They're also open 7 days a week. We always like this because it offers a lot of flexibility for those who need to schedule a repair.
As for their dishwasher repairs, they can easily fix ones from the major brands in Vancouver like LG, Whirlpool, and Crossley. It may not be as wide of a range as other companies, but our survey of past clients indicates that customers have had nothing to complain about when it comes to their work on models from those brands.
We were a little bit let down after we found out that they don't have a service warranty though. While it's probably not pressing thanks to their great repair skills, a warranty would have been a nice way to reassure customers of their service.
All in all, though, this is still a top-tier dishwasher repair company in Vancouver. And from everything we've heard and seen, they can be trusted for their efficient and high-quality repairs.
Offers a same-day repair service
Call line is open the whole week
Can fix the major dishwasher brands
No online contact form 
No service warranty
Customer Reviews
Here are some reviews showing their dishwasher repair experience:
"I had a problem with my dishwasher & I called to request a visit. Instead of booking a time slot immediately, Saeed took time to tell me what to do over the phone.
He fixed my problem with no charge. He was so helpful and his attitude was so positive.
I'll recommend him and definitely my first go to if anything goes wrong with any of my appliances." – Bahareh Houshangi
"Saeid came to fix my washing machine 30 minutes after I called him on a Sunday morning. He fixed our washing machine quickly and offered lots of helpful tips for maintenance. He even gave me tips for our dishwasher! He was very friendly and efficient, and I would definitely recommend him for repairs! Thank you!" – Dawna Chow
2. Neptune Appliance Repair and Service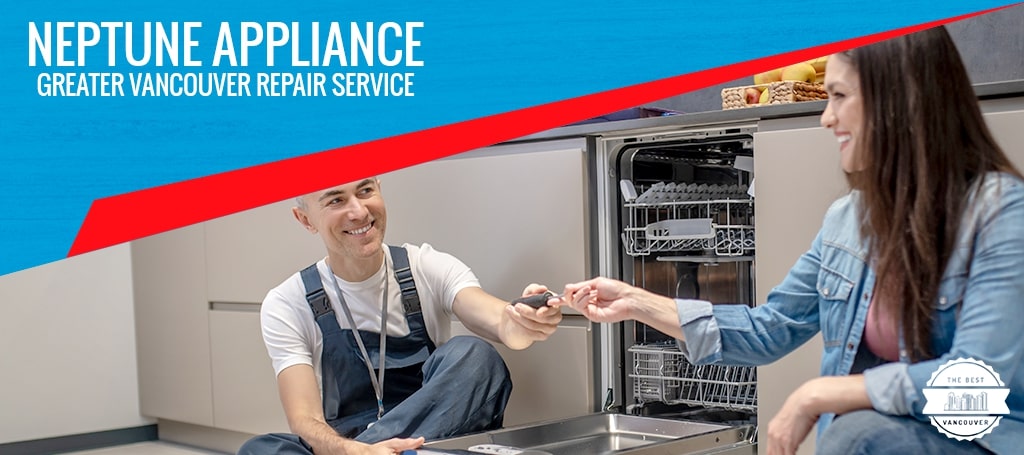 SERVICES
Appliance repair for the following:

Air Conditioning
Garburators
Dishwashers
Display Cooler
Deli Display Coolers
Dryers
Freezers
Icemakers
Ovens
Ranges
CONTACT NUMBER
604-218-5621
WEBSITE
https://neptuneappliance.ca/
OPERATING HOURS
Monday-Friday 8:00am-6:00pm
This company is one of the most highly recommended appliance repair services in Vancouver. But with their 13 years of experience in the business, it's really no surprise that so many people like this appliance repair company.
One thing many (and we!) like about this company is that they give you free tips on your dishwasher problems if they think there's no need for repairing. So, while they're a pretty well-known company in the Vancouver area now, their small company charm is still there.
They don't have a warranty for their work, though, which again is a bit disappointing for us. However, they make up for that with their actual customer service.
They have a 24-hour service, for one thing. Honestly, this is more than what we expect from appliance companies in the city, so it's a welcome feature.
And while they're also not BBB-accredited, their A+ rating on BBB shows that there are no major complaints about their service. If there are any, they most likely already have responded and fixed those complaints too.
With those things in mind, like most Vancouverites, we also highly recommend this company to those looking for a dishwasher repair service in Vancouver that is experienced and efficient.
13 years of service
Can give free tips for minor appliance problems 
Available 24 hours a day
No service warranty
Not accredited on BBB
Customer Reviews
These are some of the reviews from previous customers:
"Great service. Friendly.
Fixed my fridge quickly and for reasonable price." – Dana Thorp
"Jerry is a lovely person to work with. His professionalism is exemplary. He has amazing work ethic- very fast and reliable. Most importantly, he is knowledgable, honest and affordable. Highly recommended!" – Romy Jay
3. Combined Appliances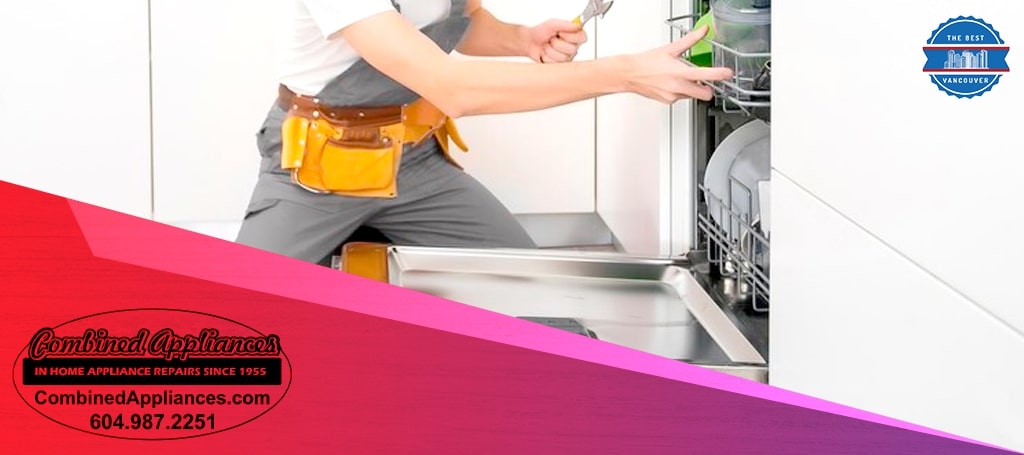 | | |
| --- | --- |
| SERVICES | Appliance Repairs |
| ADDRESS | #106 – 1861 Welch Street, North Vancouver V7P 1B7 |
| CONTACT NUMBER | 604-987-2251 |
| WEBSITE | https://combinedappliances.com/ |
| OPERATING HOURS | Monday-Friday 8:30am-4:30pm |
This BBB-accredited company may not be open for 24 hours but they still remain one of the most highly trusted companies in Vancouver, based on our survey. Their A+ rating on their BBB profiles shows it all.
Combined Appliances is also one of the oldest appliance repair companies in Vancouver. They have been in the business for 60 years and have continuously proven trustworthy with their customers.
One of their big selling points is that they make sure that their technicians are highly experienced before sending them out. There's virtually no chance of you getting a technician with little experience working on models from your dishwasher brand.
They used to sell repair parts, but not any longer. That's a shame, but their customers say that the replacement parts they use for repairs here still seem to be of good quality even now.
Just be aware, they don't guarantee a same-day service like other companies on this list. With that said, this company is still deemed one of the most dependable companies in Vancouver for dishwasher repairs.
More than 60 years of experience
Technicians have years of experience
Can do 24-hour service
BBB accredited 
Not open 7 days a week 
No same-day service guarantee
Customer Reviews
These reviews show what it's like to get Combined Appliances:
"I have used these guys a couple of times and have always found both the office staff and technicians helpful, honest and professional. When my repaired fridge starting acting up again after their 1st visit, they returned and replaced another part promptly and at no extra charge. Rarely do you get customer service like this. Thanks Colton! RECOMMENDED." – Matt Soutar
"I would highly recommend Combined. Very professional and communicative throughout the entire process. Reasonable pricing and all explained up front. No surprises." – Melanie V.
4. Priority Appliance Service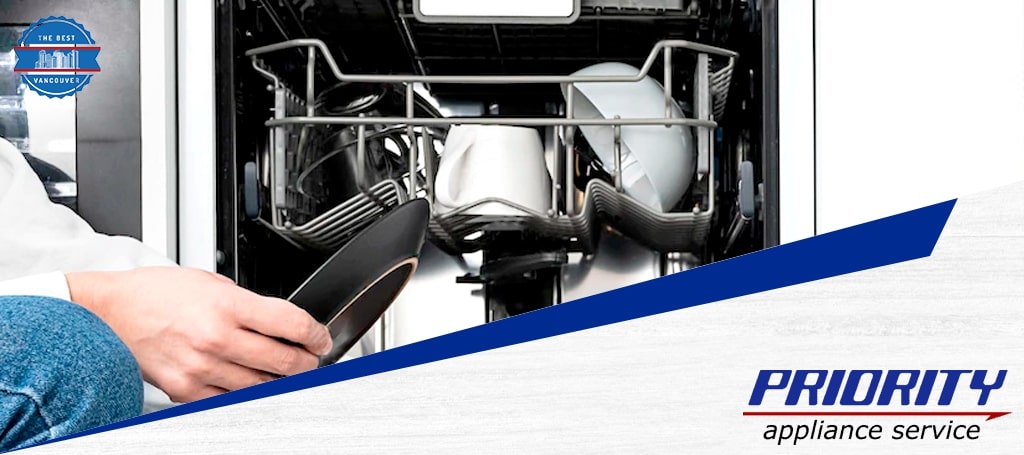 SERVICES
Dishwasher
wine cooler
Refrigerator
ice maker
Freezer
Washer
Dryer
Range
Stove
wall oven
Cooktop
Microwave
hood fan
built-in coffee machine
ADDRESS
Head Office: 120 – 4611 No. 6 Road, Richmond, BC V6V 2L3
CONTACT NUMBER
604-736-9897
WEBSITE
https://priorityappliance.com/
OPERATING HOURS
Monday-Friday 8:00am-4:00pm
Although the head office of this company is in Richmond, they still serve the Metro Vancouver area. And from what we hear, Priority Appliance Service is a company known for providing great appliance repair service to its customers.
They claim that their technicians are highly trained and their performance is set to a high standard. And really, with their 40 years of service, we also feel reasonably sure that this company already knows how to maintain the repair quality of their technicians.
We talked to a lot of customers who also said that even though they don't have a service warranty, there's no need to panic about their quality here. Many people and even appliance-dealers attested to the skills of their technicians of Priority Appliance Service.
In fact, they're chosen by many brands to be an authorized warranty service. Aside from that, they can also repair many brands and can even help out with out-of-warranty dishwashers from GE, Whirlpool, Amana, and many more.
Overall, we find their technicians highly skilled and recommend this company to those who want to have their dishwasher fixed by a trusted company.
Trusted by appliance brands
Technicians are highly trained
40 years in the business
Can repair out-of-warranty appliances 
No service warranty 
Not open 7 days a week 
Short operating hours
Customer Reviews
These customer talk about their experience with Priority Appliance Service:
"Moe was very professional, friendly, and informative. He fixed our dishwasher in a record amount of time and I would definitely use this company again." – Stephanie O.
"Both my Fisher & Paykel oven and dishwasher needed repair. I called Priority Appliance Service and they were very helpful. The technician, Will, called before coming out to service my appliances to determine the problem. When Will arrived at his scheduled time, he was professional, efficient and helpful. He kept me informed throughout the whole process. Great service, thanks Will and Priority Appliance Service!" – Rose Ries
5. Solution Appliance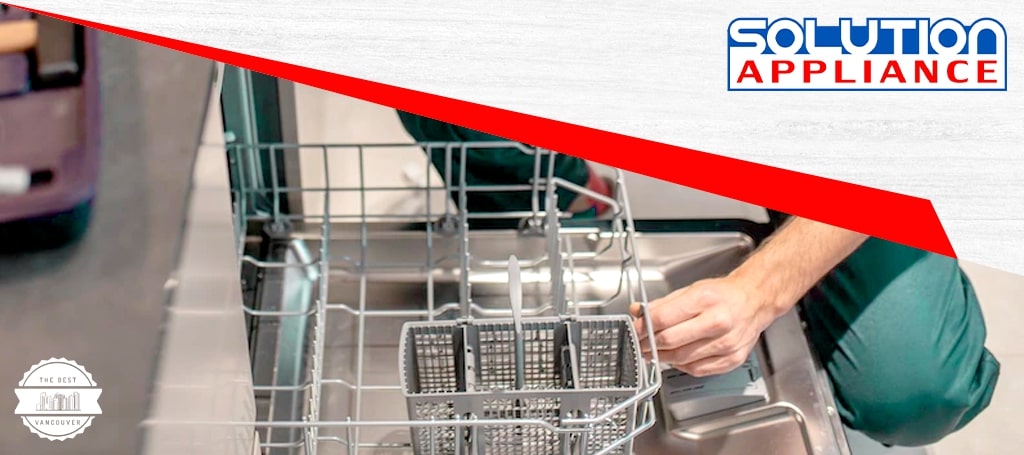 SERVICES
Appliance Installations
Appliance Repairs
CONTACT NUMBER
604-256-3569
WEBSITE
https://solutionappliance.ca/
OPERATING HOURS
Monday-Friday 9:00am-5:00pm
This company's 95% customer retention rate is nothing to scoff at. This rate shows that previous customers trust them enough to repair one of their broken appliances again.
15 years in the business have also given them an ample amount of experience. Within those years, they have served more than 80,000 customers and fixed their appliances, dishwashers included, to their satisfaction.
Even if they aren't open 7 days a week, their service and parts warranty makes up for it. If your dishwasher breaks down again for the same reason, their technicians will fix it again for free.
As for their parts warranty, it says they'll be able to replace parts within 3 months, which is honestly pretty good.
We also like that they're not just limited to the major dishwasher brands in Vancouver but they can repair almost every well-known brand (except for Miele, for some reason).
So, while they don't have a same-day repair guarantee, if you want a reliable and customer service-oriented dishwasher repair company in Vancouver, then you likely can't go wrong with Solution Appliance.
High customer retention rate 
15 years of experience in the business
Offers service and parts warranty
Can repair almost all well-known dishwasher brands in Vancouver
No same-day repair guarantee
Not open for the whole week 
Customer Reviews
These reviews show what customers like about this company:
"I had the pleasure of working with Solution Appliance and can't say enough good things about my experience. The appliance repair service was excellent and seamless." – Jennings Aidan
"The repairman was great! He was able to diagnose and fix the problem in our dishwasher quickly. Very personable and easy to deal with. The pricing for appliance repair is very reasonable with Solution Appliance! I would highly recommend!" – Carol Rankins
FAQs About Dishwasher Repair
---
With Vancouver's best dishwasher repair companies, we're pretty sure you can say goodbye to manually washing the dishes in no time!
If you think a company deserves to be in this list, send us a message so we can review them too!
Now, why not revamp your kitchen all the way through and add some new, modern-looking cabinets to go with a newly-repaired dishwasher? You can refer to our list of the best kitchen cabinets in Vancouver to find out where you can get new ones!