The 5 Best Movie Theatres in Vancouver
Whether you're a film buff or an average movie-goer, there's no place quite like the cinema. The unique atmosphere, booming sounds, and larger-than-life pictures of a theatre really take movie viewing to the next level.
To help you find a cinema worth frequenting, we've assembled a list of the best movie theatres in Vancouver.  As a means of proving that our list isn't all talk and no show, we've also included patron reviews, theatre breakdowns, and other useful facts.
How Much Do Movie Theatres Cost in Vancouver?
If you intend to watch a movie at a theatre, you'll need to purchase tickets for your film of choice. To give you an idea of how much movies can cost, we've put together this simple table:
Theatre
Ticket price
The Vancity Theatre
Adult – $15
Senior – $13
Student – $10
Member – $12
The Cinematheque
Membership fee – $3/year (required)
General admission – $12
Seniors/ Students – $10
Rio Theatre
Adult – $15
Student/ Senior – $13
Child below 13 – $13
Fifth Avenue Cinemas
Children (3 – 13 years old) – $7.99 to $8.99
Adults (14 years old +) – $10.99 to $12.99
Seniors (65+) – $8.50 – $10.50
Odeon International Village Cinemas
Children (3 – 13 years old) – $7.99 to $8.99
Adults (14 years old +) – $10.99 to $12.99
Seniors (65+) – $8.50 – $10.50
Oh, and remember that no movie-going experience would be complete without a plethora of snacks and drinks. So, unless you're following a very strict diet, be sure to factor in the cost of some food.
The Best Movie Theatres in Vancouver
Now that you have a broad idea of ticket prices, it's time to see which of these cinemas is right for you. So, sit back, relax, and get ready to see the best movie theatres in Vancouver.
1. The Vancity Theatre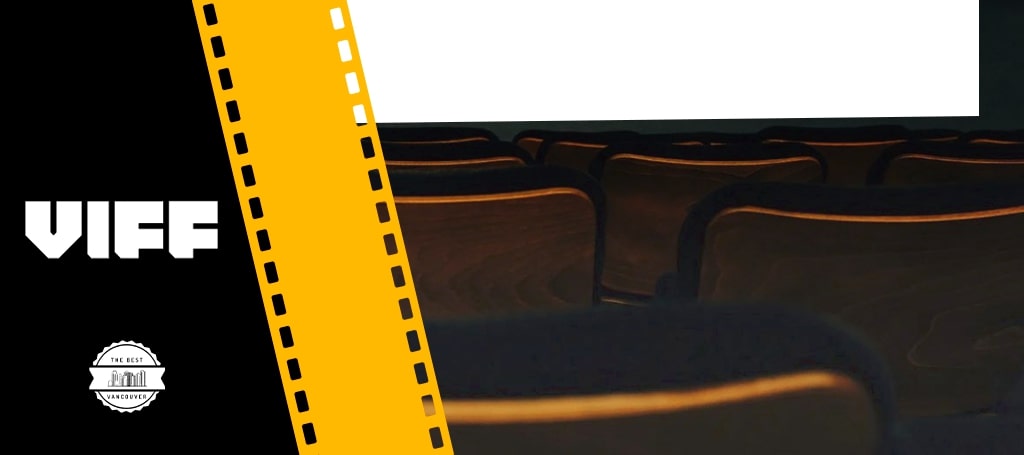 SERVICES
Independent film screening
VIFF hosting
Cultural film screening
WEBSITE
https://www.viff.org/Online/
ADDRESS
VIFF Centre, 1181 Seymour St, Vancouver, BC V6B 3M7, Canada
CONTACT DETAILS
Phone number: (604) 683-3456
Email:

[email protected]
The Vancity Theatre screens a wide variety of new and old films with a healthy mix of independent, cultural, and contemporary genres. As the one and only venue for the prestigious Vancouver International Film Festival, this place is a true gem among cinemas.
When these folks aren't screening 300 different films for a crowd of over a hundred thousand people, they typically show both award-winning and critically underrated films. Visiting this theatre is a great way to expand your film repertoire and develop your taste.
While the experience of viewing independent films isn't for everyone, each movie is carefully selected by the theatre's board of directors. This ensures only the highest quality of films with each and every show.
Though their prices are slightly higher than others, this theatre's top-class facilities provide a unique experience that you just don't get at other film venues. If you'd like to catch a show but worry about COVID exposure, these folks also offer 2-day online rentals for just 10$.
Official venue for the VIFF
Top-class sound systems, projectors, and seats
Offers online movie rentals
Screens award-winning movies
Prices are higher than other cinemas
Doesn't show mainstream movies
Customer Reviews
There's a reason this place is the official venue for the VIFF and if you don't believe us, maybe you'll believe these patron reviews:
"Spark Animation Festival, Serbian and Turkish film festivals, VIFF, and lots of other activities happening throughout the year. There's popcorn and beer at the concession stand, however you can't go into the auditorium with alcohol. There's a balcony on the second floor. Third floor is for staff only. Wheelchair accessible washrooms." – Denz B.
"A regular patron of Vancity Theatre, I have nothing but positive things to say. They provide a wonderful atmosphere, the seats are great no matter where you sit, and volunteers and staff are mostly friendly and helpful. The films shown are to my liking and a refreshing alternative to what mainstream theatres are offering." – Maret C.
2. The Cinematheque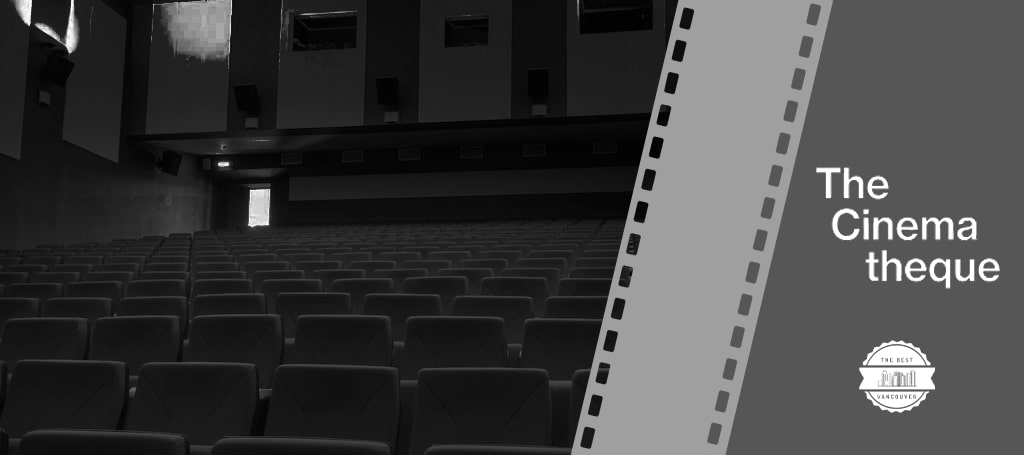 SERVICES
Indie film screening
Festival film screening
Local film screening
New release screening
WEBSITE
http://www.thecinematheque.ca/
ADDRESS
1131 Howe St, Vancouver, BC V6Z 2K8, Canada
CONTACT DETAILS
Phone number: (604) 688-8202
OPERATING HOURS
Monday: 9 am – 5 pm
Tuesday: 9 am – 5 pm
Wednesday: 9 am – 5 pm
Thursday: 9 am – 5 pm
Friday: 9 am – 5 pm
Saturday: closed
Sunday: closed
Among cinemas, few can boast of being both a media education center as well as a contemporary movie theatre. This one can, though.
As a film-study establishment, The Cinematheque keeps a collection of well over 2,000 different films. These 2,000 films are mainly made up of Canadian motion pictures which also include historical films and art projects.
To keep things interesting, the theatre rotates these films and mixes them with new local releases every now and then.
Straight off the bat, this should tell you that this particular theatre isn't for your average movie-goer. On the whole, this cinema is best-suited for people with a great fondness for cinema culture and films in general.
Now, if you're the curious type, don't let our words discourage you as this theatre and its staff are more than welcoming to new patrons. If you're not sure what to watch, simply ask an attendant and they'll be more than happy to recommend a show that is suited to you.
Has a collection of over 2,000 films
Shows historical, art, and indie films
Screening rooms are very quiet, and spacious
Caters mainly to historical/indie film buffs
Customer Reviews
Despite not showing mainstream movies, this theatre has all the services of a mainstream cinema and then some:
"These guys have great service, an AMAZING film selection, and have adapted covid amazingly. They spaced seats from one another and made pathways so you don't have to cross over anyone. Buy your tickets in advance online, order snacks then too and they'll deliver them to you in the theater." – Melody M.
"Great alternative cinema. Great to go to during Covid: lots of distance between used seats, seating reservation, pre-buy at concession online and they delivery to your seat instead of lining up. All that and great non-mainstream and classic films." – Patrick A.
3. Rio Theatre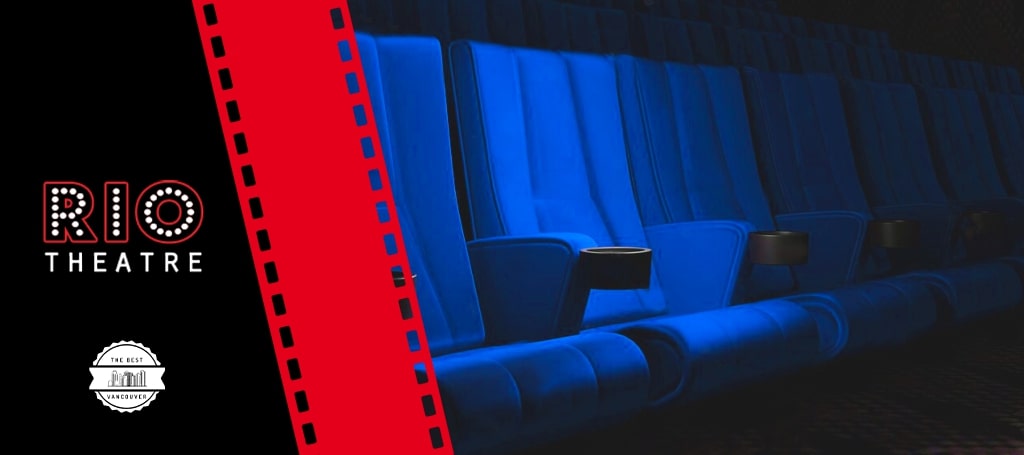 SERVICES
Live theatre events
Classic movie screenings
Horror movie screenings
New release screenings
Indie film screenings
WEBSITE
http://riotheatre.ca/
ADDRESS
1660 E Broadway, Vancouver, BC V5N 1W1, Canada
CONTACT DETAILS
Phone number: (604) 879-3456
Email:

[email protected]

OPERATING HOURS
Monday: 3:30 pm – 9 pm
Tuesday: 3:30 pm – 9 pm
Wednesday: 3:30 pm – 9 pm
Thursday: 3:30 pm – 10 pm
Friday: 3:30 pm – 10 pm
Saturday: 3:30 pm – 10 pm
Sunday: 3:30 pm – 9 pm
Stepping into the Rio Theatre is a lot like traveling through cinema history and getting lost along the way. This place just oozes classic cinema vibes and you'll notice this right away with the classic theater signboard, neon lights, and front-and-center ticket stand.
Now, while the theatre looks old-school, the films it screens are from a wide range of ages in cinema. You have your standard horror/slasher films like "Friday the 13th" as well as classic films like "Indiana Jones and the Raiders of the Lost Ark".
Not only do these folks pull from different time periods, but they also draw from different film cultures. This is made evident through their showings, which even feature Japanese animated movies like "Kiki's Delivery Service" by Studio Ghibli's legendary Hayao Miyazaki.
These examples are just a taste of the diversity and novelty that the Rio Theatre offers. Because of these endearing traits, this place is a real cinema treasure for movie-goers of all ages.
Shows an extremely wide variety of films
Great for both children and adults
Newly renovated theatre space
Also shows live musical events
Shows start late in the afternoon
Customer Reviews
With everything from horror and suspense, to adventure and anime, this theatre has it all, and it's a clear favorite with many Vancouverites:
"Went to see a film for the first time in over a year. The seating was limited and spread out. It was very calm inside. The usher made me relax with his calm manner in explaining the protocols. I forgot just how loud cinemas are. I quite enjoyed myself and will return soon." – Mark G.
"An important Commercial Drive entertainment hub. In addition to movies, we've seen excellent live music, comedy, and burlesque shows. Comfortable seats. Great screen & sound. Licensed, too. Recently revised to Sports Bar status in order to navigate the Covid-19 restrictions. Midnite madness, cult classics, and eclectic programming makes the Rio a popular and essential East Van experience. Grab your popcorn " – John P.
4. Fifth Avenue Cinemas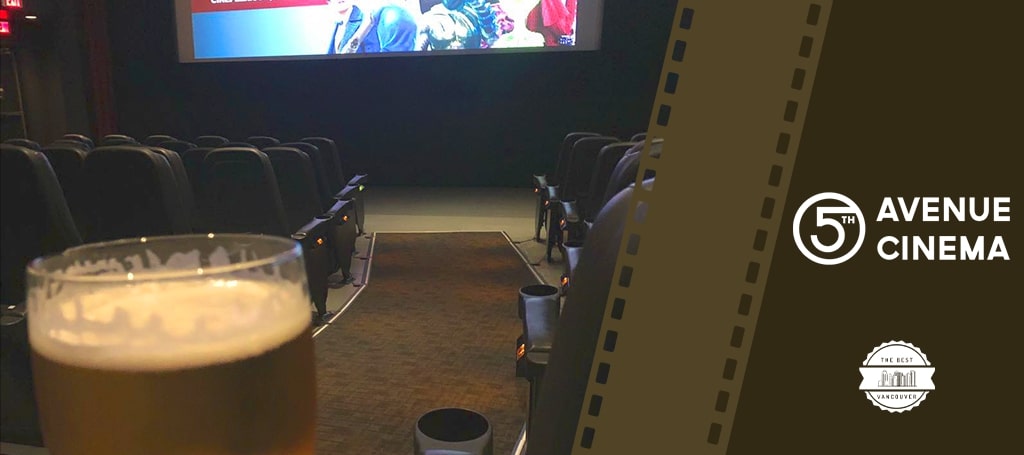 SERVICES
Movie screening
Full-service bar
Adults only theatre
In-house food delivery
WEBSITE
https://www.cineplex.com/Theatre/fifth-avenue-cinemas
ADDRESS
3123 W Broadway, Vancouver, BC V6K 2H2, Canada
CONTACT DETAILS
Phone number: (604) 734-7469
OPERATING HOURS
Monday: 3 pm – 10 pm
Tuesday: 12 pm – 10 pm
Wednesday: 3 pm – 10 pm
Thursday: 3 pm – 10 pm
Friday: 12:15 pm – 10:15 pm
Saturday: 12 pm – 10:15 pm
Sunday: 12 pm – 10 pm
The Fifth Avenue Cinema is sort of like the love child between your favorite sports bar and an upscale movie theatre. Being an amalgam of these two establishments, this place proudly serves alcohol and chow while also screening movies.
As part of the Cineplex chain of movie theatres, this cinema mainly shows mainstream movies and new releases. This can be a bit of a downer for old-school film buffs, but an ice-cold beer or a nice glass of white wine should make for a fine pick-me-up.
As in a real bar in true Vancouver fashion, patrons below the age of 19 years old are not allowed into the cinema. Thanks to this convenient rule, parents and couples can have a safe haven for movie dates, and general unwinding time.
To add to the comfort of sipping on a beverage, having a meal, and watching a movie, this cinema is equipped with reclining seats complete with footrests. So, in this theatre, patrons can quite literally kick up their feet, sit back, and enjoy the show.
Serves alcohol and food
Orders are delivered right to your seat
No children allowed
Doesn't show classic/indie films
Customer Reviews
Thanks to its great food, reliable service, and wonderful amenities, this cinema has seen its fair share of five-star reviews:
"When you want to enjoy the movie with some alcohol and no kids but don't want to pay VIP price, here is the place. The theater size seemed a little smaller than ones from Metrotown and International village but I like the sophisticated and comfortable environment." – Mari E.
"This place is more of a lounge rather than a regular theatre it has come forth seats and you're able to get drinks and real food while watching your movie which is really nice. This is my theatre of choice." – Jesse K.
5. Cineplex Odeon International Village Cinemas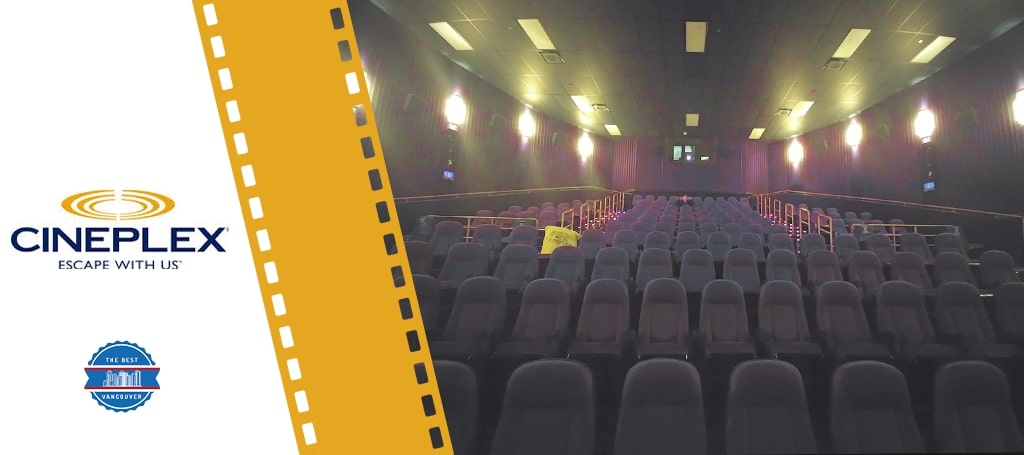 Sometimes you just can't beat the classics, and that's exactly what the Odeon International Village Cinemas bank on. This theatre is a no-nonsense movie-screening establishment that shows classic movies and new releases.
As one of the few standard cinemas in downtown Vancouver, this place sees its fair share of Vancouverites. Along with this, the fact that it's located inside the International Village Mall also helps with exposure.
That said, sometimes screenings can get pretty packed and you'll have to resort to making early ticket reservations or catching late showings. Along with this, the mall closes earlier than the cinema itself so you may have to take a bit of a stroll on the way out.
But despite these few flaws, this theatre ticks all the boxes expected of a modern movie house since they've got a full snack bar, great seats, drinks, and of course, popcorn. So, if you're in the downtown area and you'd like to catch a flick, this theatre is definitely a great option.
Great for groups
Located in downtown Vancouver
Opens relatively early
Screenings are sometimes packed
Customer Reviews
Here's what patrons had to say about the Odeon cinemas:
"The experience was good. We went to watch Godzilla vs King Kong. The seats reclined okay but the mall actually closed at 9pm. We sound and the picture quality was good, me and my wife had a good time there. One of the few movie theatres (cineplex) in downtown. Given a chance I would go back to the theatre again as the tickets were also on the cheaper side ($14)." – Saptarshi M.
"So nice to be back in theaters again, and this one happens to be one of my favorites. Often showing movies no other theater would and supporting many many many foreign films, this theater always has a unique list to choose from. A great place to go for a show, and their covid regulations are on point!" – Tristan L.
FAQs About Movie Theatres
---
From old-school historical films to heart-racing blockbuster movies, there's a cinema out there for just about every genre. Now that you're familiar with the best movie theatres in Vancouver, we hope you'll have an easier time finding your scenic cinema haven.
Aside from that, feel free to check out our other lists of the best things the city can offer. For example, if you want to look like you're weathering age as well as your favourite actor, you may want to check out our list too of the the best botox clinics in Vancouver!